Famous Wood Sculptures – Discover Notable Wooden Sculptures
People throughout the world have utilized accessible materials such as wood and stone to convey their most fundamental beliefs throughout history. A short glance at some of the world's finest auction houses and art galleries reveals that wood-carved sculptures remain as prevalent and popular as ever. Wooden sculptures have long piqued the curiosity of artisans and designers due to the ease of carving. Today we will explore famous wood sculptures as well as the wood sculptures' artists.
An Introduction to the Art of Wood Carving Sculpture
Wooden art sculptures have a long and varied history. Wood was one of the first materials that early people learned to use, along with clay, stone, and animal parts. It is still important now, as many products in our daily lives are made from this robust structure. There are several methods to alter it, one of which is wood carving, which goes back to ancient Egypt.
The Egyptian Museum in Cairo houses a wooden sculpture of a man dating back to around 4,000 BC. This work was one of the earliest in a long line of wood sculpture art.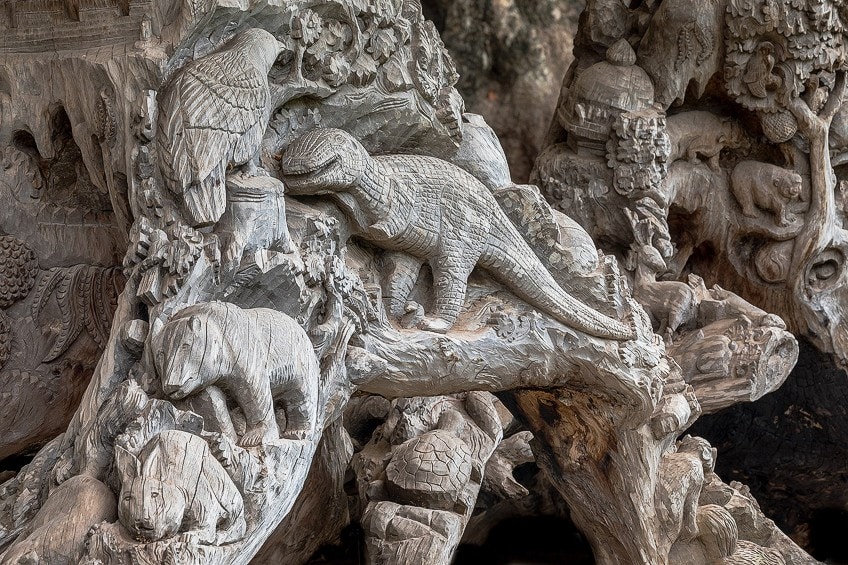 Carved tree with reliefs of a dinosaur, bird, bear, rabbit, and turtle, as seen in the garden of the Buddhist temple of Haw Phra Kaew in Vientiane, Laos; Basile Morin, CC BY-SA 4.0, via Wikimedia Commons
Artists are still working in this timeless medium today. Some cut and treat the wood in order to get a smooth, cloth-like finish to their wood carving sculptures. Others appreciate its angular shape and incorporate it immediately into their wood-carved sculptures.
Although the artists' techniques differ, one thing is consistent in their wooden art sculptures: they always convert the hard form into something delightfully unexpected.
Our List of Famous Wood Sculptures
Who are the wood sculptures artists and what are their most famous wood sculpture artworks? Art has continued to grow century after century, distinguished by the subtle thoughts that perpetuate the traditions of our forefathers.
With the intention of sharing the beauty, knowledge, and talent blended by the exceptional master wood sculptors, we have created a list of the world's most notable wood sculptures below.
Above all, it is difficult to confine art inside rigid boundaries. As a result, we firmly think that our carefully picked collection will serve as an inspiration to those who wish to go on the road of wood sculpture art and feast their eyes. But we can be assured that as time passes, this collection will continue to grow and evolve.
Spaghetti Bench (2008) by Pablo Reinoso
| | |
| --- | --- |
| Date Completed | 2008 |
| Artist | Pablo Reinoso (1955 – Present) |
| Medium | Wood, steel |
| Dimensions (cm) | 253 x 168 x 320 |
| Location | Carpenter's Workshop Gallery |
Pablo Reinoso used public seats of inconspicuous design as a starting point for his work Spaghetti Bench. These seats straddle cultures and have an out-of-place and out-of-date feel about them. Reinoso develops benches and other furnishings that, after serving their purpose as furniture, revert to become branches that may grow and climb. They are no longer at the behest of a function, but rather to reclaim their lives and condition.
We may argue that the ambition of wood boards has been disclosed; that they have joy while accomplishing what is required of them — becoming furniture.
Thus, people may finally communicate themselves freely by merging architecture, wandering around areas, discovering gaps, and following their inclinations. Reinoso has been developing and making sculptural seats since he was 15 years old. Throughout his nearly 50 years as an artist, he has experimented with various seating and sculptural shapes.
At its foundation, each piece is a bench, but its structure has been extended and twisted into an item that represents a little chaos and a lot of fun.
Sud (2012) by Aron Demetz
| | |
| --- | --- |
| Date Completed | 2012 |
| Artist | Aaron Demetz (1972 – Present) |
| Medium | Linden Wood |
| Dimensions (cm) | 210 x 70 x 65 |
| Location | Terreno Baldio |
Aron Demetz's cruder, often disturbing life-size sculptures fashioned in wood and metal reject conventionally refined depictions of the human figure. Despite using numerous classic wood carving techniques, Demetz avoids smoothing or varnishing his pieces to portray their inherently rough and brutal textures.
The artist also explores his material, putting it through various natural processes.
To counteract the gravity of his sculptures, Demetz frequently includes mushrooms, wood shavings, or paint. He pursued wood carving in Val Gardena, Italy, an area known for its artisan culture, and sculpting at the Nuremberg Academy of Fine Arts. Demetz's wooden sculptures explore the human shape and display exceptional carving talents.
He used the material to emphasize both the harmony and the tension between man and nature.
Amoebic Sculptures (2012) by Henrique Oliveira
| | |
| --- | --- |
| Date Completed | 2012 |
| Artist | Henrique Oliveira (1973 – Present) |
| Medium | Plywood, PVC |
| Dimensions (cm) | 150 x 90 x 30 |
| Location | Linz, Austria |
Henrique Oliveira, a young Brazilian artist, has created several new works, each one emphasizing his capacity to turn three-dimensional environments into a high-octane atmosphere of free-flowing vitality stronger than before. Natural materials are painstakingly combined to form typically large-scale, biological masses in the sculptures, with the aesthetic evoking confronting human characteristics in some respects.
The mixed-media work may be seen, but it can also be experienced in a profoundly immersive way.
For example, one of his most recent pieces has an interior that can be accessed and is provocative, tactile, and extremely detailed, immersing the viewer in the depths of an entirely different universe. After having studied social media, Oliveira's chosen career took a different turn and he decided to "paint" with wood, a material that is frequently used in the artist's sculptures. His exposure to his father's woodshop as a child informed the distinctive contours, rivulets, and amoebic characteristics of Oliveira's work.
Oliveira is able to bind the audience to his creation by urging them to investigate, inquire about, and most importantly, continue to be intrigued.
SEAT (2012) by Yong Ju Lee
| | |
| --- | --- |
| Date Completed | 2012 |
| Artist | Yong Ju Lee (1979 – Present) |
| Medium | Wood |
| Dimensions (cm) | Unspecified (300 wooden chairs) |
| Location | Freedom Park, Atlanta |
SEAT is made of around 300 basic wooden chairs that are arranged and piled in a sine wave surface that is pulled into an unstable vortex emerging from the ground. It formalizes the change of chairs from separate usable items to architectural and temporal components of an obscurely occupiable structure. When approaching, visitors learn that sitting in any of them amounts to a purposeful act of occupation that cannot be taken for granted as normal; a brief social compact to reconfigure their notion of sitting articulated as architecture.
The rotational difference in groups zones the structure.
Chairs on the near edge are adjusted to provide for the outward sight of the city and its surroundings. Chairs bend inward at the vortex's base to provide an intimate, compressed place for guests to speak and observe an upwards flow of chairs surpassing their purpose.
Chairs hung above the ground between these zones re-create the sitting object's role as structure, adornment, and enclosure.
The chairs are additively constructed using a modified "corbelling" procedure that involves joining chairs progressively starting at the corners and edges and working towards the middle. At times, the outcome is reminiscent of Persian Muqarnas. The chairs are held together with simple lag screws, rivets, and screws that are obscured.
Scholar's Rock (2013) by Ben Butler
| | |
| --- | --- |
| Date Completed | 2013 |
| Artist | Ben Butler (1975 – Present) |
| Medium | Aspen and cedar |
| Dimensions (cm) | 177 x 157 x 43 |
| Location | K Imperial Fine Art |
Ben Butler is a Tennessee-based sculptor who also works in New York. In addition to several museum and gallery shows, he has created commissioned artworks and installations in a variety of media for guesthouses, hospitals, gardens, and other public areas around the country, including the Crosstown Arts Theater and the Hyatt Regency Chicago. His wood-carved sculptures express his belief that objects are not permanent and finite, but rather the product or remnant of continuing processes.
They provide proof of unseen influences and highlight the contrast between human and non-human beings.
Surprising complexity comes from basic, enduring processes all across the natural world. When the order of things is not obvious, complexity is sometimes misunderstood as chaos. In our haste to know, we frequently overlook the great invisible forces at work. His reaction is to play with the borders between the simple and the complicated, as well as between the complex and the overpowering. His work rarely starts with sketches or predetermined notions.
He likes to approach materials directly, playing for lengthy periods of time and uncovering previously unknown possibilities for a construction system.
Dumbriës tl ega (2018) by Willy Verginer
| | |
| --- | --- |
| Date Completed | 2018 |
| Artist | Willy Verginer (1957 – Present) |
| Medium | Linden wood |
| Dimensions (cm) | 230 x 115 x 50 |
| Location | Zemack Contemporary Art, Tal Aviv |
Willy Verginer creates dramatic and irreverent hyperrealistic wood sculpture artworks. This wood carving sculpture depicts a young boy playing in the water, surrounded by litter such as soda pop bottles and tin cans. Willy Verginer's sculptures are detached and present the visitor with a whole new plane of magical suspension.
Verginer creates his own distinct visual language that merges painting and sculpture.
Beginning with traditional woodwork as done in his hometown of Bressanone, he gradually deviated from standard patterns and developed his own style. His sculptures exude majesty while appearing vulnerable. Verginer creates and gives the wooden art sculptures a high emotional intensity while wresting their anonymity by shifting between forceful and subtle details. By doing so, he communicates through the wooden sculpture and opens up a new level of contact between the artwork and the observer.
Verginer's meticulously drawn sculptures include youngsters with their heads peeping through cardboard boxes, red-eyed animals with hooves caught in tires, and bespectacled businessmen crouching on top of donkeys. A recurring subject in his art is the deadpan contrast of contemporary industrial with bucolic animal life, as well as a geometric demarcation in color.
Verginer's works remark on current pollution and environmental deterioration, and their human subjects are implicated as passive witnesses or even active perpetrators of this damage.
Matchstickmen (2019) by Wolfgang Stiller
| | |
| --- | --- |
| Date Completed | 2019 |
| Artist | Wolfgang Stiller (1961) |
| Medium | Wood, polyurethane |
| Dimensions (cm) | 155 cm each |
| Location | Miart Gallery, London |
The continuous collection of burnt matches by Wolfgang Stiller are gigantic and bizarre versions of the book-bound lookalikes, often stacked up side by side or symbolically organized. The German artist molds face shapes in bright red or gradient-lined black, indicating prior use, that perch atop the five-foot-tall square pillars.
The generic figurines, aptly labeled "Matchstickmen", span the range of human emotion, from painful looks and sorrow to joy and peace.
Stiller started the collection more than a decade ago while living in China, and the first wooden incarnations represented his surroundings. They now include a greater range of identities and are occasionally cast in bronze for bigger outdoor installations. The Matchstickmen series might be dismal and even depressing, whether nestled into a large-scale box mimicking a coffin or placed as emblems like the Star of David to recall ancient tragedies.
However, Stiller tells Colossal they're also referring to the volatility and impermanence of existence.
Loredana (2019) by Bruno Walpoth
| | |
| --- | --- |
| Date Completed | 2019 |
| Artist | Bruno Walpoth (1961) |
| Medium | Walnut Wood |
| Dimensions (cm) | 63 x 77 x 36 |
| Location | Private Collection |
The artist emphasizes that his painting is not intended to convey any messages, but rather to capture a time in human history. The seated stance of the wooden naked figure, with her arms held out in front of her and her closed eyes, makes the observer wonder about her mental condition and gives the impression that she has a soul. Bruno Walpoth produces interesting human wooden sculptures. The textural irregularities of the sculptures give the trees from whence they came to a figurative vitality.
Walpoth coats his sculptures with semi-translucent paint to keep the wood grains visible.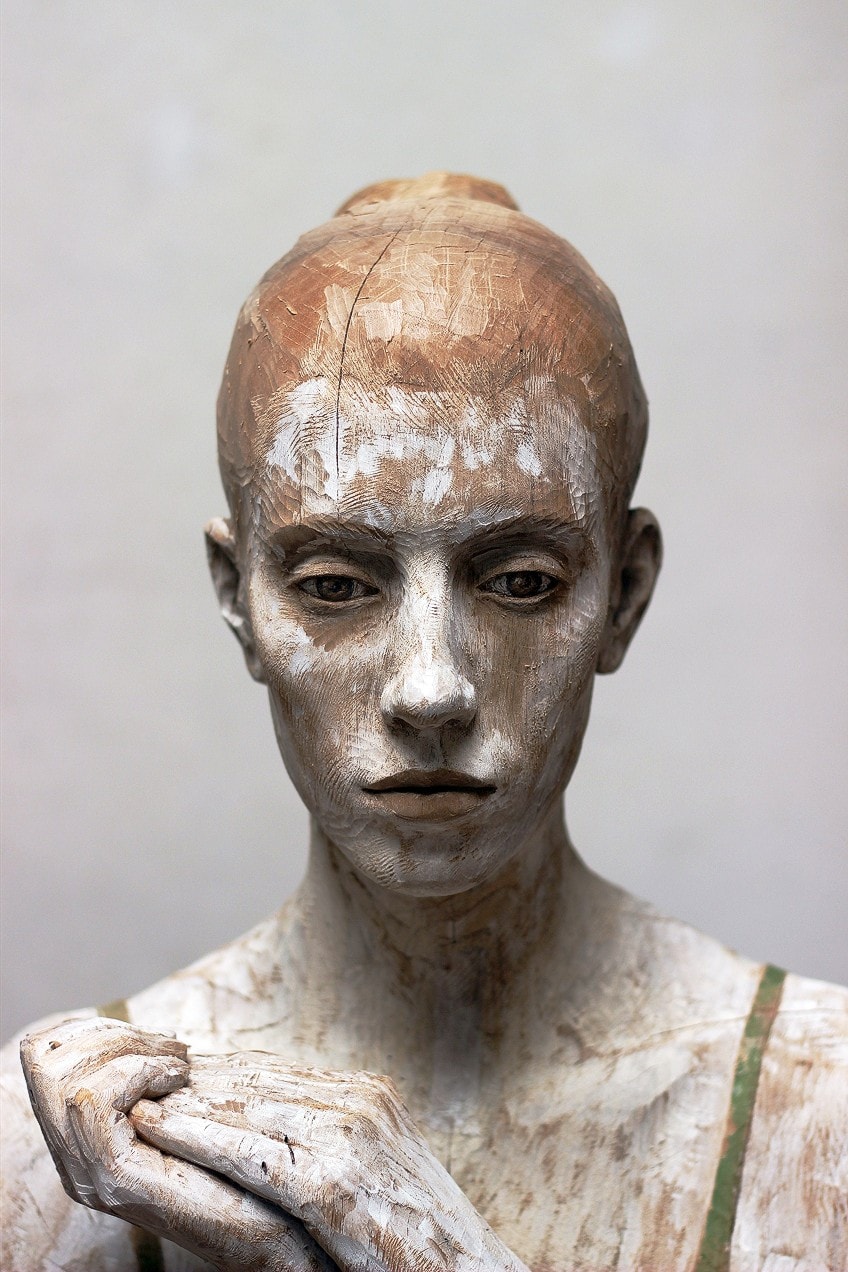 Atelier III wooden sculpture by Bruno Walpoth; ManfredK, CC BY-SA 4.0, via Wikimedia Commons
The figures have a sense of life and humanity, even if they appear pensive and deep in thought. Growing up in a family of prominent woodcarvers, Walpoth has joyfully decided to follow in their footsteps, infusing his own current thoughts into the technique. Walpoth is inspired by all types of art other than wood carving and sculpting and tackles massive slabs of wood with a creative eye.
He converts them into finely detailed figures in the shape of men and women.
No. 177 Girl with Shoes (2019) by Mario Dilitz
| | |
| --- | --- |
| Date Completed | 2019 |
| Artist | Mario Dilitz (1973 – Present) |
| Medium | Walnut Wood |
| Dimensions (cm) | 96 x 29 x 17 |
| Location | Sladmore, London |
This wood carving sculpture is made from walnut wood. It depicts a naked girl holding shoes in her hands. The capacity to portray the human body, to convey and translate its language, is something that sculptor Mario Dilitz clearly possesses. He creates sculptures of remarkable intensity and appeal by blending sculptural expertise and technical abilities with contemporary themes.
His wood-carved sculptures, the majority of which are life-size, are constructed of high-quality laminated wood.
The wood obtains new solidity through a process of destruction and reconstruction. He juxtaposes the visual beauty of his wooden art sculptures with the content of current concerns in a profound engagement with the uncertainties of human existence.
On the one hand, Mario Dilitz reveals human nature's conflicts; on the other, he wonderfully unites them in his art.
Lion of Hope (2021) by Jurgen Lingl-Rebetz
| | |
| --- | --- |
| Date Completed | 2021 |
| Artist | Jurgen Lingl-Rebetz (1971 – Present) |
| Medium | Wood |
| Dimensions (cm) | 182 x 138 x 150 |
| Location | Leonhard's Gallery |
This magnificent wood carving sculpture depicts a majestic lion. Jürgen Lingl-Rebetez is a sculptor noted for creating lifelike busts of animals out of a single piece of wood using a chainsaw. Since Lingl-Rebetez began painting as a youngster, he has fostered a passion for the natural environment.
Early in his 20s, he began painting but subsequently became an apprentice wood sculptor under the tutelage of famous German woodcarver Hans-Joachim Seitfudem.
Lingl-Rebetez relocated to Switzerland in 1996, when he started using his distinctive power tool in a method compared to sketching in three dimensions. With a knife, hammer, and chisel, he refines his carvings of huge cats, horses, owls, and other animals, but the wood remains rough-hewn, giving the sculptures their lifelike character. By painting certain sections of his creatures' bodies, Lingl-Rebetez gives them even more life.
That concludes our look at famous wood sculptures and the wood sculptures artists who created them. Sculptures made of wood have a long and rich history. Wood, along with clay, stone, and animal parts, was one of the first materials that early people learned to employ. It is still significant now since many things in our everyday life are produced from this strong structure. Even today wood sculpture art is as popular as ever, so get out there and explore the wonderful world of wooden art sculptures!
Take a look at our wood sculpture webstory here!
Frequently Asked Questions
Why Is Wood Sculpture Art Popular?
Artists continue to work in this ageless medium today. Some people cut and treat the wood to get a smooth, cloth-like surface on their wood carving sculptures. Others admire its angular appearance and instantly incorporate it into their wood-carved creations. Although the artists' approaches vary, one aspect of their wooden art sculptures is consistent: they always transform the harsh shape into something wonderfully unexpected.
When Did Wood Art Sculpture Start?
There are various ways to trace it, including wood carving, which dates back to ancient Egypt. The Egyptian Museum in Cairo displays a 4,000-year-old wooden sculpture of a man. This was one of the first works in a long line of wood sculpture art. Wooden sculptures have surely been made much longer than that though, as it is a readily-available material.
Isabella studied at the University of Cape Town in South Africa and graduated with a Bachelor of Arts majoring in English Literature & Language and Psychology. Throughout her undergraduate years, she took Art History as an additional subject and absolutely loved it. Building on from her art history knowledge that began in high school, art has always been a particular area of fascination for her. From learning about artworks previously unknown to her, or sharpening her existing understanding of specific works, the ability to continue learning within this interesting sphere excites her greatly.
Her focal points of interest in art history encompass profiling specific artists and art movements, as it is these areas where she is able to really dig deep into the rich narrative of the art world. Additionally, she particularly enjoys exploring the different artistic styles of the 20th century, as well as the important impact that female artists have had on the development of art history.
Learn more about Isabella Meyer and the Art in Context Team.
Cite this Article