Henry Moore – Discovering the Life of English Sculptor Henry Moore
Henry Moore was, without a doubt, the archetypal English sculptor of the previous century. Non-Western artwork influenced early examples of Henry Moore's art, while famous European reformers were later inspirations, and Moore unified these facets through a powerfully felt humanism. Henry Moore's sculptures frequently returned to the themes of mother and child and reclined figures, and he also employed abstract shapes to make comparisons between the human figure and nature. While the English sculptor was best known for his abstract statues, Henry Moore's drawings of subways during the war were another often forgotten part of his output.
A Henry Moore Biography
| | |
| --- | --- |
| Nationality | British |
| Date of Birth | 30 July 1898 |
| Date of Death | 31 August 1986 |
| Place of Birth | Castleford, Yorkshire, England |
Henry Moore's fascination with the countryside and wildlife has contributed to the notion that he has strong roots in British art traditions, but his gently hopeful, redemptive perspective of mankind has also won him international acclaim. Moore's technique was founded on direct cutting, and he discarded the modeling phase.
Moore admired the ferocious commitment that direct cutting offered with materials like stone and wood. He stressed the need of the sculptor "getting the solid shape, as it were, into his mind – he connects himself with its gravitational center."
Childhood
Henry Moore was born to a mining engineer father and a housewife, and his frequently economically distressed father urged him to receive an education and a proper profession. Moore's father's vehement aversion to the excessive physical existence of mining produced difficulty when Moore eventually chose sculpture as a career, a job his father considered manual work.
Moore started sculpting in wood and clay, influenced by Michelangelo, at his institution in Castleford, where a few of his relatives had studied and where he had received a scholarship.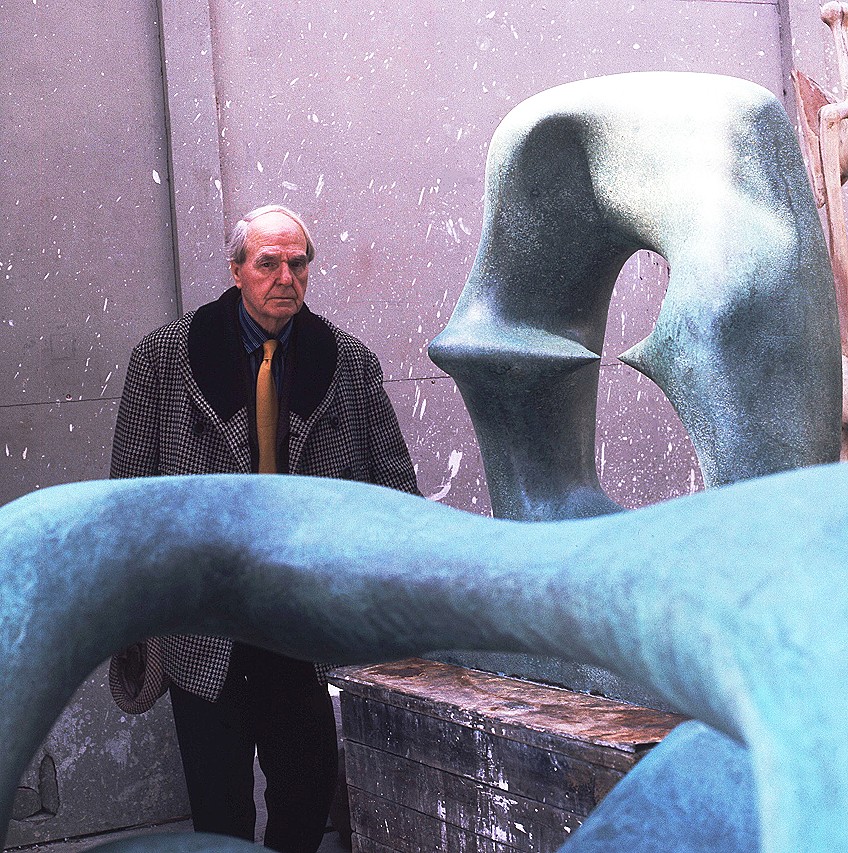 Photograph of artist Henry Moore, standing next to his sculpture Working Model for Oval with Points, taken in 1975; Allan warren, CC BY 3.0, via Wikimedia Commons
Early Training
Moore received an ex-grant serviceman in 1919, following a brief spell of teaching and serving in the Civil Service Rifles unit during World War I, and attended Leeds School of Art, establishing himself as the academy's first sculpting student. Barbara Hepworth met him there and had a big impact on him. During his stay, he spent a lot of time in the British Museum researching its ethnographic collection, which influenced his later monumental representational pieces.
In 1924, he spent six months touring France and Italy, where he was influenced by the works of Masaccio, Giotto, and Michelangelo.
Henry Moore's sculpture Reclining Woman (1930), exhibited at the National Gallery of Canada; Gbuchana at English Wikipedia, CC0, via Wikimedia Commons
When he returned to Paris, he joined lessons that convened at the Louvre on a regular basis. And it was in Paris, at the Musée d'Ethnographie, that he came upon a plaster model of an Aztec sculpture from around 900 to 1000 AD known as the Chacmool, that would have a significant effect on his initial studies.
The "Chacmool" stimulated his desire to carve straight, solitary figures that concentrated on bulk and shape.
Mature Period
Moore obtained a seven-year post as a tutor at London's Royal College of Art after finishing his education. In 1928, he earned his debut public contract from the London Underground, West Wind. During this period, he also wedded Kyiv-born art pupil Irina Radestsky, and they moved to north London to enter an ensemble of architects, painters, and writers that included Ben Nicholson, Barbara Hepworth, Gabo, and Piet Mondrian. Moore was named Head of the Sculpture Department at the Chelsea School of Art in 1932.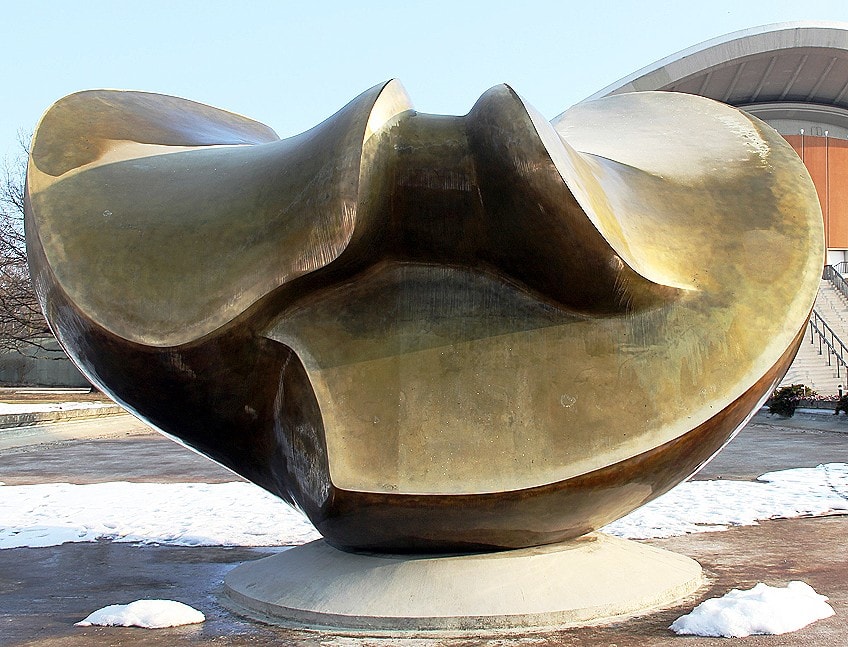 Large Butterfly (1986) by Henry Moore; OTFW, Berlin, CC BY-SA 3.0, via Wikimedia Commons
During this time, he co-founded the Seven and Five Society with Hepworth, her business partner Ben Nicholson, and several other abstract modernists. They went to Paris regularly to see works by Braque, Picasso, and Giacometti. Moore decided to abandon his relatively short involvement in Surrealism after his involvement as an event planner of the "London International Surrealist Art show" in 1936 and decided to return to his Modernist representational work in 1937.
His career-changing moment came through the purchase of Mother and Child to a private buyer, whose public demonstration of the famous work sparked two years of mass demonstrations and scandal in his extremely conservative Hempstead neighborhood.
When World War II broke out, Moore was compelled to leave his teaching position and receive a commission as a war illustrator. During this period, Henry Moore's drawings depicted Londoners hiding from bombing raids on subway platforms. He described being stunned by the sight of the humans sprawled along with the platform, which seemed almost like cocoons or sleeping creatures. Moore's home was destroyed in 1940, so he and his family relocated to a farmhouse near Perry Green, United Kingdom, where he worked and lived for the remainder of his busy career.
Late Period
Moore visited the United States for the first time in 1946 to see his exhibition at New York's Museum of Modern Art. At the same time, the birth of his child, Mary, and the loss of his mother modified his generally single-figure work to represent his newfound family structure, and he became engaged in the mother and child subject. Henry Moore's sculptures, however, became increasingly abstract.
Moore became intrigued by the concept of poking holes in the formerly integrated shape of his sculptures, and toying with the juxtaposition of positive vs negative space.
Family Group (1950) by Henry Moore, located at the Barclay School in Hertfordshire in the United Kingdom; Henry Moore, CC BY-SA 2.0, via Wikimedia Commons
In 1950, he produced Family Group, his earliest large-scale bronze, which was requested by a school in Stevenage. Moore's public projects were in high demand throughout the 1950s. Prices for his works skyrocketed, and his reputation as an international sculptor grew. Moore recruited trainees and assistants to his studio as he received larger and more demanding commissions, like UNESCO's Reclining Figure, a decision that, although practical, garnered condemnation from certain art world purists.
By the 1970s, Henry Moore's artwork was being shown in over 40 exhibitions a year, and he was one of the planet's most successful and profitable living creatives.
The Henry Moore Foundation, which today oversees his house as a museum and Gallery, was created at the end of that decade to encourage the preservation and exposure of his public works. Many awards were showered upon him, notably a knighthood (which he declined).
Legacy
Moore became linked with contemporary sculpture in England, America, and worldwide throughout his lifetime, exposing a large public to modern forms such as primitivism and Surrealism. Indeed, he is nearly associated with the numerous global organizations whose largest public sculptures, expressing their humanitarian mission, stand outdoors.
His fame has dwindled after his death, owing in part to his copious output in his later years and in part to a dislike for his warm, often cloying humanism.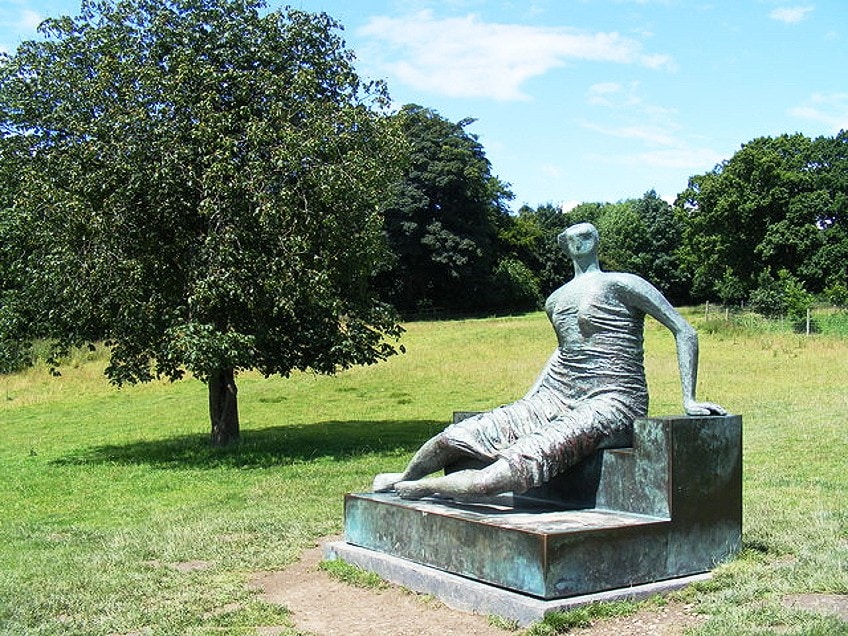 Reclining Figure (1957 – 1958) by Henry More, located at Yorkshire Sculpture Park in the United Kingdom; David Sands / Reclining Figure at Yorkshire Sculpture Park
Nonetheless, he had a significant influence on the generation that followed him, influencing people as disparate as Eduardo Paolozzi, William Turnbull, and – since they were once employees in his workshop – Phillip King and Anthony Caro.
Henry Moore's Artworks
Henry Moore's paintings of the World War two subways were influenced by his personal experiences of seeing the devastation firsthand of the effects of war. However, it is Henry Moore's sculptures that have received the most public acclaim. The English sculptor preferred direct carving. His devotion to direct carving was linked to his conviction in the principle of "truth to materials." The notion was that the sculptor should honor the inherent qualities of substances such as wood and stone, allowing them to show through in the completed sculpture.
Moore thought that material has its own energy, "a strong life of its own," and that it was his mission to show it.
Moore was inspired by both the Constructivist approach and, to a far larger degree, Surrealism throughout the 1930s, his most prolific and adventurous decade. He learned the value of abstract form from the first, and much of his concern with adding psychological as well as human depth to his sculpture came from the latter. Surrealism, on the other hand, influenced his mature style.
The Arch (1963 – 1969) by Henry Moore, located at the Kunst in Schwäbisch Hall; Chandravathanaa, CC BY-SA 4.0, via Wikimedia Commons
This fueled his passion for biomorphic shapes while also implying how the human figure may be disassembled into bits and reduced to fundamentals. Moore's fascination with non-Western artwork gave most of his early work a frontal appearance, but as he grew older, he became more concerned about using three dimensions. This inspired him to incorporate "holes" into his sculpture so that the thing appears to emerge out of a missing core. Moore's shapes were influenced by both the human body and the natural environment.
He frequently borrowed ideas from things such as pebbles, shells, and bones, and the way he invoked them in his sculpture urged the observer to see the natural environment as one continuously different artwork, constantly generated by natural phenomena.
Moore's art depicts mankind as a tremendous natural force by referencing both the natural environment and the human body at the same time.
Reclining Figure (1929)
| | |
| --- | --- |
| Date Completed | 1929 |
| Medium | Brown Horton Stone |
| Dimensions | 47.7 cm |
| Current Location | Leeds City of Art |
Moore's initial figure in brown Hornton stone was greatly inspired by an Aztec artwork, the Chacmool character, which he saw a cast of in a Paris museum. Moore considered the Chacmool figure to be the most influential piece in his early career because of its "stillness and attentiveness, a sense of preparedness – and the full presence of it, with the legs falling down like columns."
Moore's Reclining Figure, which he learned about partially through Roger Fry's book, demonstrates the influence of non-Western culture on his initial studies. Moore's early renditions of the reclining figure, a topic that would become significant to his matured approach, are also included in this painting.
Reclining Figure (1982) by Henry Moore, located in the Kunst in Schwäbisch Hall; Chandravathanaa, CC BY-SA 4.0, via Wikimedia Commons
Four-Piece Composition: Reclining Figure (1934)
| | |
| --- | --- |
| Date Completed | 1934 |
| Medium | Cumberland Alabaster |
| Dimensions | 270 mm x 520 mm x 280 mm |
| Current Location | Collection of the Tate |
Four-Piece Composition demonstrates the significant influence Surrealism had on the English sculptor in the early 1930s, replacing his previous focus on non-Western art. The painting may have been inspired by Woman with Her Throat Cut (1932) by Alberto Giacometti, as this would have given Moore the concept of fracturing the body and scattering it over its base.
Moore's painting is etched with fine lines, a method he used frequently in the 1930s.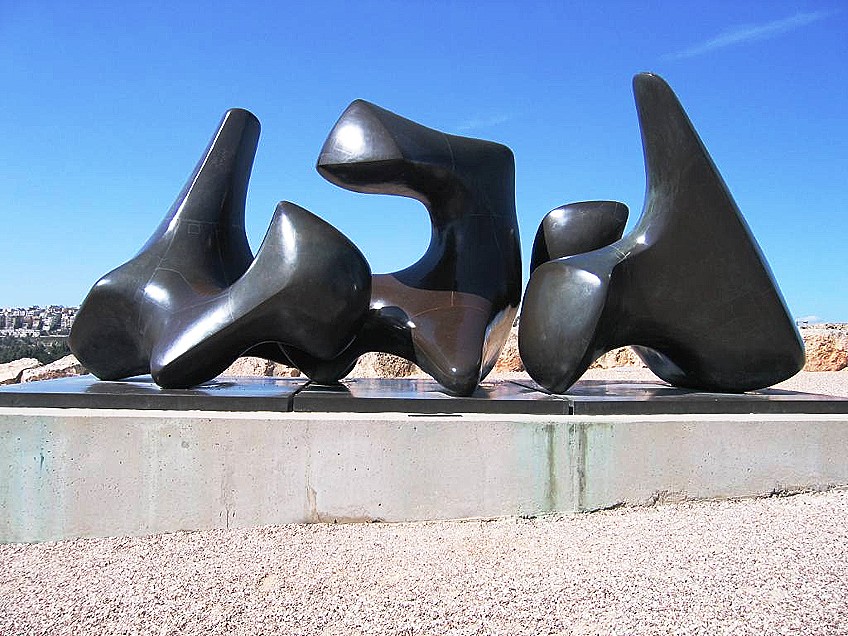 Vertebrae (Three Piece Sculpture) by Henry Moore, located at the Israel Museum in Jerusalem; Talmoryair, CC BY-SA 3.0, via Wikimedia Commons
He may have gotten this concept from Joan Miró, but it might also have come from the works of Moore's colleague, Ben Nicholson. In this regard, Henry Moore's artwork reveals how he merged apparently opposing currents such as Surrealism and Constructivism.
Bird Basket (1939)
| | |
| --- | --- |
| Date Completed | 1939 |
| Medium | Lignum vitae and String |
| Dimensions | 37 cm x 41 cm x 23 cm |
| Current Location | Henry Moore Foundation |
It has been speculated that this sculpture was influenced by non-Western art, namely friction drums manufactured on the Oceanic island of New Ireland. It also shows how Moore merged components of Constructivism as well as Surrealism in the 1930s, since the biomorphic shape of the sculptures definitely originates from the first, while the regularity of the strings may stem from the other.
Moore's concern with open and closed shapes is also evident in the piece.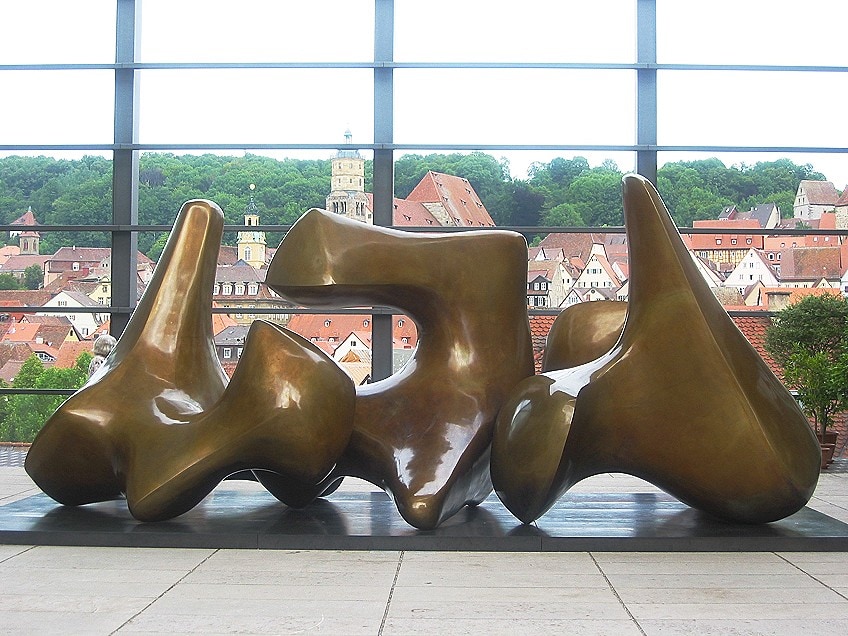 Three Piece Sculpture: Vertebrae (1968 – 1969) by Henry Moore; Chandravathanaa, CC BY-SA 4.0, via Wikimedia Commons
He was interested in the ways it was feasible to detect consistencies between the mass of an item and the space surrounding it – possibly the way the area around the Bird Basket grabs it instead of the other way around. Even though we can see through the strings to the hard bulk of the sculpture's body, the strings help to accentuate the space around the figure.
Helmet (1940)
| | |
| --- | --- |
| Date Completed | 1940 |
| Medium | Bronze |
| Dimensions | 31 cm x 24 cm x 15 cm |
| Current Location | Henry Moore Foundation |
This is Moore's first sculpture to use the concept of interior and exterior shapes. He didn't return to the notion until the end of the 1940s, but it became essential to him, offering another way to express the juxtaposition between soft and hard that his works frequently indicate.
This painting may have been influenced by a depiction of ancient Greek tools.
Sheep Piece (1971 – 1972) by Henry Moore, located in Switzerland; Roland zh, upload on 12. März 2009, CC BY-SA 3.0, via Wikimedia Commons
However, Moore has stated that it might also have been influenced by his fascination with armor or by a statement made by the artist and author Wyndham Lewis about slicing into a lobster and discovering it is soft within its hard shell.
Tube Shelter Perspective (1941)
| | |
| --- | --- |
| Date Completed | 1941 |
| Medium | Pencil, Ink, Wax, Watercolor |
| Dimensions | 48 cm x 43 cm |
| Current Location | Tate, United Kingdom |
Moore was requested to be an authorized War Artist before the start of WWII, but he was rejected because he felt his style wasn't appropriate for the role. Nonetheless, he and his spouse were required to find safety on the platforms of Belsize Park underground station after a severe air assault while returning from supper with colleagues one night during the war, and he was startled by what he saw. "It was like a massive city at the earth's core. When I first saw it, I noticed hundreds of figurines strung all along the platform."
When he returned to his studio, he sketched the figures from memory, and he went on to create three sketchbooks full of Henry Moore's drawings. Moore's larger works, including "Tube Shelter Perspective", were eventually acquired by the War Artists Committee and given to exhibitions around England to assist in promoting confidence.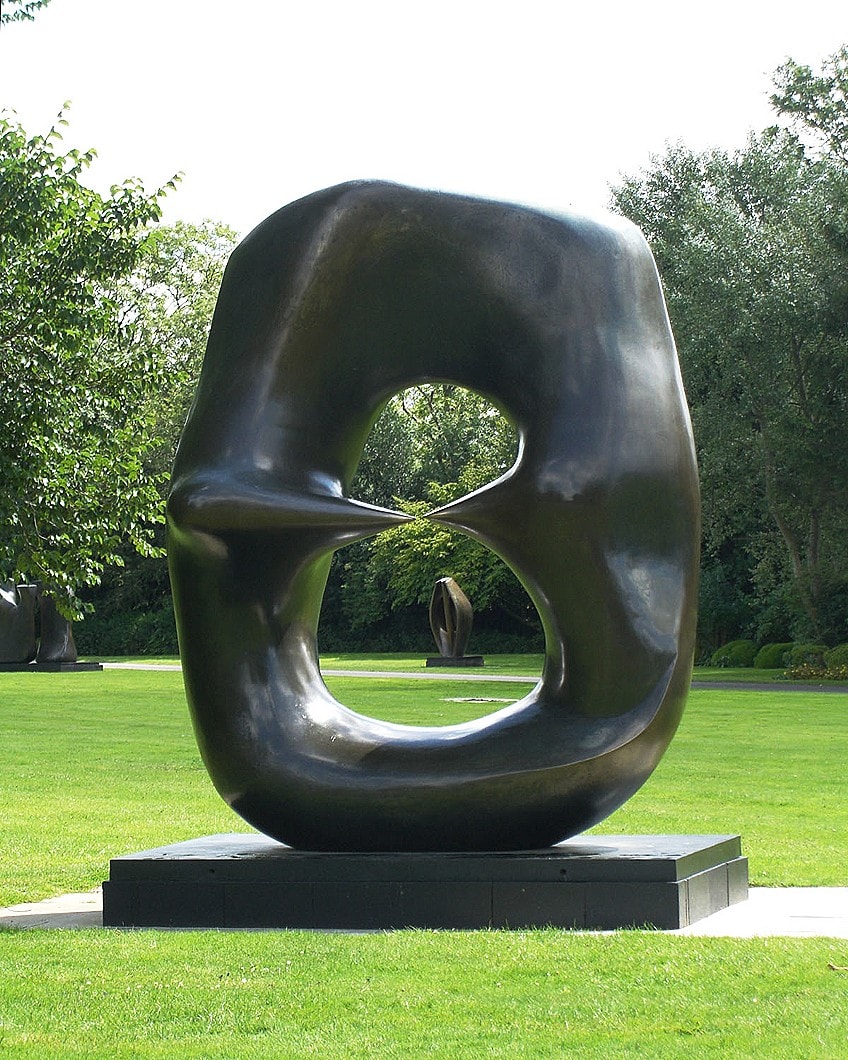 Oval with Points (1968 – 1970) by Henry Moore, located at the Henry Moore Foundation in the United Kingdom; Jynto, Public domain, via Wikimedia Commons
Reclining Figure (1958)
| | |
| --- | --- |
| Date Completed | 1958 |
| Medium | Travertine Marble |
| Dimensions | 4.9 m x 2.4 m |
| Current Location | UNESCO Headquarters, Paris |
Moore's first significant international assignment for public art was to create a sculpture for the UNESCO headquarters in Paris. Later in his career, he would become identified with similar endeavors. It also prompted him to create his biggest sculpture yet, a 16-foot-long figure.
Moore was initially commissioned by UNESCO to make a bronze sculpture but believed that the dark material would have deemed the work useless against the building's glass backdrop.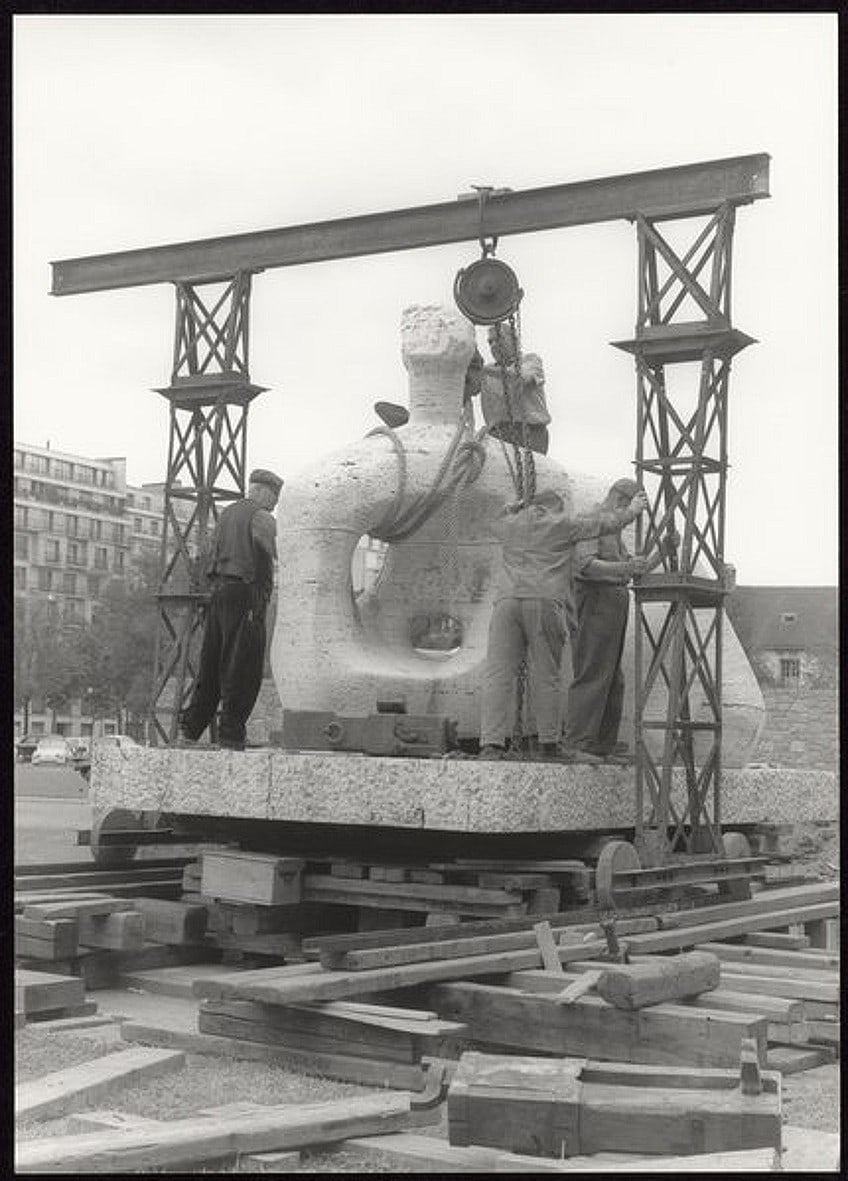 The UNESCO piece, created by Henry Moore, being moved in 1963 to allow for building work; UNESCO / Dominique Roger, CC BY-SA 3.0 IGO, via Wikimedia Commons
Instead, he utilized travertine marble, the very same material as the roof of the structure. This sculpture, which weighs 39 tons and is made up of four distinct slabs of material, is a monument to his flexibility. It has been compared to a modern-day Athena, the Greek deity of knowledge.
Recommended Reading
The above Henry Moore biography gives us some insight into Henry Moore's paintings and sculptures. Yet, there is always much more to discover about this English sculptor. Here are a few book recommendations to help you learn more about Henry Moore's drawings and statues.
Henry Moore's Sheep Sketchbook (2008) by Henry Moore
When the loading and crating for a big show made it difficult for Henry Moore to work in his sculpting studios, he retired to a modest studio overlooking a sheep field. Moore created this wonderful flock of sketches and drawings over several months, while sheep were suckled and shorn. Sheep are as prevalent in the English countryside as hedgerows, but Moore took a fresh look at them. Ewes are nursing their offspring, lambs are frolicking in the meadow, and sheep with full coats of wool are bloated and stately. Many of Henry Moore's drawings allude to themes that run throughout Moore's work.
First created under Moore's personal supervision
Charms anyone who sees these tender, vigorous drawings
Many of the sketches evoke important themes in all Moore's work
View on Amazon
Henry Moore: On Being a Sculptor (2013) by Henry Moore
Moore spent the last years of his life finishing projects for large-scale public monuments in nations all around the world. Moore's later popularity has helped to obfuscate the radical character of his accomplishment. Moore advocated direct carving, creating abstract sculptures drawn from the human body, disregarding the influences of his tutors, and being inspired by works from various civilizations he encountered in museums. He was a member of the Modernist Seven and Give Society, as well as Unit One later on.
These three forceful, polemical works, penned by Henry Moore in the 1930s, lay out his beliefs about sculpture, arguing for material truth, openness to different sculptural traditions, and an appreciation of the importance of size. This volume, accompanied by archive pictures and with a preface by Moore's child Mary Moore, provides new views into Moore's working techniques and inspiration while also speaking directly to creators today.
Kindle edition available
Archival photographs and an introduction by his daughter
Gives new insights into Moore's working methods and inspiration
View on Amazon
Henry Moore: From the Inside Out (2019) by Claude Allemand-Cosneau
Henry Moore is most known for his massive outdoor sculptures, which can be found in many major cities across the globe. Less well-known are the sculptor's plaster works, which reflect an essential step in his work's evolution before the final bronze statues. Moore's sculptures are shown in this book, together with a substantial collection of his sketches and carvings from the latter decades of his life. Leading academics' commentary provides viewers with a greater grasp of the artist's method of his works and the growth of his worldview.
Commentary by leading scholars
Collection of Moore's plasters, drawings, wood, and stone sculptures
Offers a unique perspective on Moore's creative and technical process
View on Amazon
Henry Moore was an English sculptor whose naturally structured, abstract metal and stone forms represent the greatest embodiment of the humanist tradition in art in the 20th century. Much of Henry Moore's sculptures are enormous, and he is best known for a series of reclining nude statues. Moore received widespread critical recognition during his existence; he was the first contemporary British sculptor to accomplish such a feat.
Frequently Asked Questions
Who Was Henry Moore?
Henry Moore is widely regarded as the most important English sculptor of the 20th century. His cast bronzes, which are monumental, abstract, and figurative, infer animal and human forms through gracefully bending natural contours and rectilinear connections. Moore's career began with his research of the then-current trend of Primitive art, which brought the inspiration of non-Western forms of art into a Modernist approach. Moore traveled widely over Europe, meeting artists of the avant-garde such as Georges Braque and with religious symbolism. Moore's influence was already deemed classic after WWII, and the artist was the focus of great curiosity and appreciation, including a big 1946 retrospective.
Why Was Henry Moore's Art Unique?
Henry Moore was influenced not just by the forms of natural things, but also by the environment itself. As a child, he was inspired by the dramatic elements of the Yorkshire landscape near where he resided. Not only did Henry Moore draw inspiration from nature, but he also created many of his works for outdoor locations. He believed that the natural elements of the area will highlight how his artworks are perceived. Sketching was utilized by Henry Moore to figure out how to translate the shapes of the items that influenced him into the unusual and wonderful shapes for his amazing works.
Isabella studied at the University of Cape Town in South Africa and graduated with a Bachelor of Arts majoring in English Literature & Language and Psychology. Throughout her undergraduate years, she took Art History as an additional subject and absolutely loved it. Building on from her art history knowledge that began in high school, art has always been a particular area of fascination for her. From learning about artworks previously unknown to her, or sharpening her existing understanding of specific works, the ability to continue learning within this interesting sphere excites her greatly.
Her focal points of interest in art history encompass profiling specific artists and art movements, as it is these areas where she is able to really dig deep into the rich narrative of the art world. Additionally, she particularly enjoys exploring the different artistic styles of the 20th century, as well as the important impact that female artists have had on the development of art history.
Learn more about Isabella Meyer and the Art in Context Team.
Cite this Article