As one of the most inspiring figures in Modern British art, Barbara Hepworth pioneered an organic form of sculpture that had never been seen before. Her sensitive use of material transformed the language of modern sculpture. Instead of creating a sculpture to exist within the world, Hepworth's sculptures contained minimal and immersive lyrical spaces inside the object itself. Viewing her work, you can envision yourself living within its harmonious world. Barbara Hepworth's biography is explored in this article, along with the mastery of her art.
Artist in Context: Who Was Barbara Hepworth?
Dame Jocelyn Barbara Hepworth was born on the 10th of January 1903 to Gertrude and Herbert Hepworth. Her father, who was a civil engineer, often took her along on trips around the countryside, which fostered her early appreciation of natural forms and textures.
Throughout her long career, Hepworth established herself as one of the most influential mid-20th-century artists renowned for her poetic sculptures.
The following section takes a more in-depth look at Barbara Hepworth's biography.
| | |
| --- | --- |
| Date of Birth | 10 January 1903 |
| Date of Death | 20 May 1975 |
| Country of Birth | Wakefield, England |
| Art Movements | Modernism, Abstract art |
| Mediums Used | Sculpture |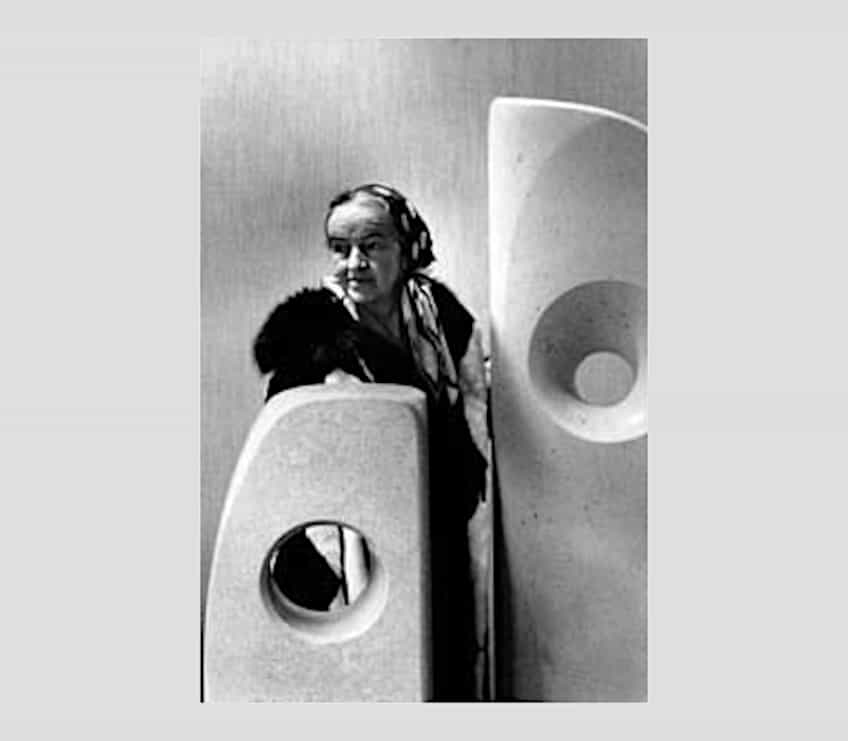 Photograph of Barbara Hepworth taken in 1966; Erling Mandelmann / photo©ErlingMandelmann.ch
Education and Early Influences
At age 15, while attending Wakefield Girls' High School, Hepworth decided to become a sculptor. After finishing high school, she received a scholarship to study at the Leeds School of Art (1919-1921) and another scholarship to attend the Royal College of Art (1921-1924). She became lifelong friends with Henry Moore, one of her fellow students at both institutions. This friendship and mutual influence played an important role in the development of their work.
Hepworth's earlier work, similar to that of Moore, was more naturalistic, as in her sculpture, Torso (1928), a classical figurative work carved out of Hopton Wood Stone.
A shift in Hepworth's career occurred when she entered the Prix de Rome competition in 1924. Hepworth came second in the competition to John Skeaping, who created sculptures of animals. She, however, still received a scholarship that allowed her to travel with Skeaping, where they would study in Italy from 1924 until 1925. She married Skeaping in Rome in 1925 and their son, Paul Skeaping, was born in 1929. The couple, however, got divorced in 1933.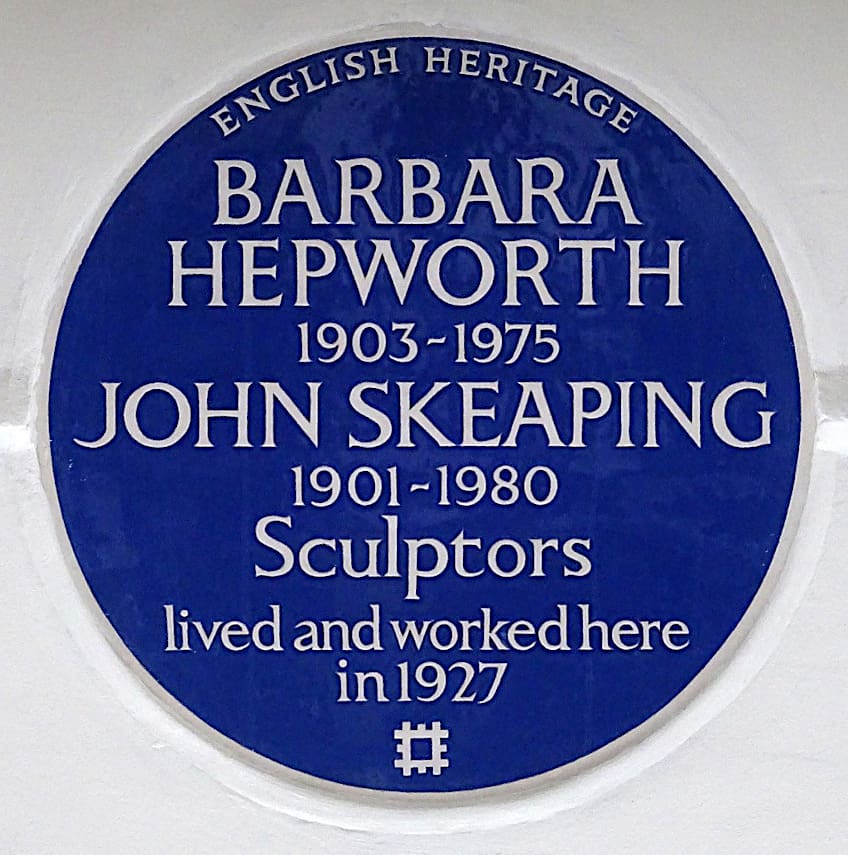 Blue plaque erected in 2020 by English Heritage at Hepworth and Skeaping's home at 24 St Ann's Terrace, St John's Wood, London, NW8 6PJ, City of Westminster; Spudgun67, CC BY-SA 4.0, via Wikimedia Commons
Hepworth met Ben Nicholson, an Abstract painter, in 1931. They developed a relationship over the years while Hepworth and Skeaping were separated, though not yet divorced. During this time, Hepworth shared a studio with Nicholson, and they lived close to Henry Moore and other artists in Hampstead. Hepworth and Nicholson had triplets a year after her divorce from Skeaping.
Nicholson was devoted to Abstraction, and he deeply inspired Hepworth's early development. Nicholson's dramatic influence in Hepworth's earlier work can be seen in her sculpture Pierced Form (1932), for example.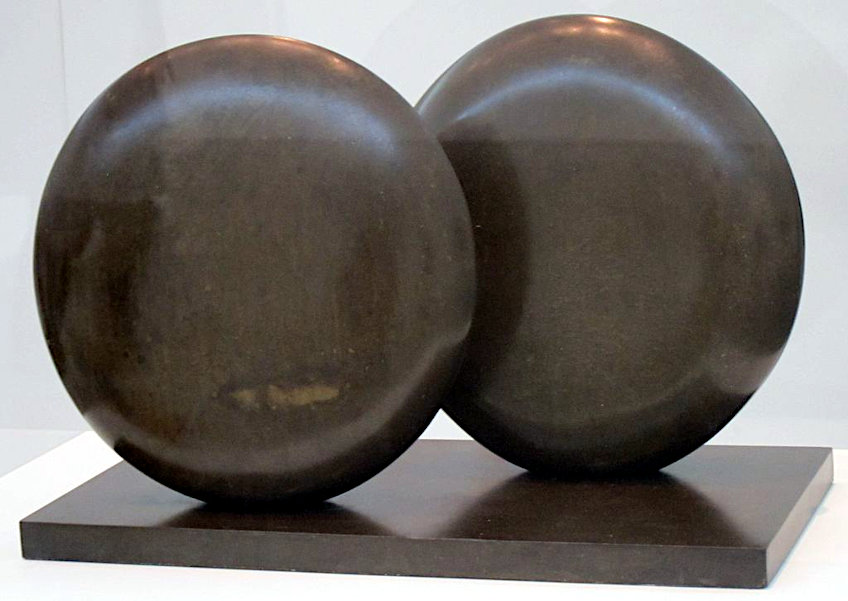 Discs in Echelon by Barbara Hepworth (1935 bronze cast 1959); Wmpearl, CC0, via Wikimedia Commons
Hepworth's sculptures were initially naturalistic and were similar to that of her friend, Henry Moore. However, from her earliest works, she already began to disguise finer details in simple forms. Hepworth's sculptures had fully transitioned into her signature Abstract style by the mid-1930s, when she started to create works like Nesting Stones (1937), which was evermore inspired by nature. Having learned stone cutting whilst living in Italy, her early sculptures were both made from stone and wood. Her love for carving wood, however, continued to intensify.
Both Hepworth and Moore shared this growing love for direct wood carving, but while Moore's work remained representational, her work became ever more abstract, mimicking the simple forms and shapes found in nature.
Mature Period
The 1930s and 1940s were the most prominent development years in Hepworth's artistic practice. Her newfound love for Abstraction blossomed and she experimented with the balance and harmony between space, mass, and shape. With her growing development, she encountered important Modern artists of the time, including Mondrian, Picasso, and Miró.
Hepworth began exhibiting extensively in both Paris and the UK and both she and Nicholson were part of the "Abstract-Creation" group in Paris. After being together since 1931, Hepworth and Nicholson got married in 1938.
In 1939, with the outbreak of World War II, the newly married couple relocated to St Ives in Cornwall. They were invited by art critic Adrian Stokes to stay in St Ives and they initially stayed in his home, until finding a cottage to rent. During this time, Hepworth was raising the young triplets in a small cottage, leaving her little time and space for sculpture. Instead, she focused on creating drawings and studying, with the occasional sculpture. Among the works Hepworth created during this period, is a series of drawings of surgeons operating, including her more famous oil and pencil drawing The Scalpel 2 (1949).
Pelagos by Barbara Hepworth (1946); Sailko, CC BY 3.0, via Wikimedia Commons
Despite not creating as many sculptures during this time, Hepworth was immensely inspired by the natural beauty of the tiny seaside location. Her work soon showed the influence of the ocean and the rocky landscape of the area.
When she started immersing herself fully in sculpture again, she experimented with various materials including copper, which can be seen in works like Forms in Movement (Galliard) (1956). Hepworth and Nicolson both loved living in the seaside town and they soon bought a house and studio in St Ives. While the couple's marriage broke down in 1951, Hepworth continued to live and work in this home and studio for the rest of her life.
Photograph of Barbara Hepworth's Studio Garden; THOR, CC BY 2.0, via Wikimedia Commons
Interesting Barbara Hepworth Facts
Hepworth was an incredibly talented artist and had a long and successful career. Her personal life was also very interesting, but it was not without pain and tragedy. The following ten Barbara Hepworth facts provide a bit more information about Hepworth's life and career.
Barbara Hepworth pursued art from a young age and, by the age of 16, she was already a scholarship student at the Royal College of Art.
Hepworth established the Penwith Society of Arts after living and working for ten years at St Ives. In doing this, Hepworth and Nicolson broke away from the more traditional arts in the area and started to promote Modernist art and Abstraction instead.
Hepworth created a remarkable series of 80 drawings and paintings of surgeons at work in operating theaters. She created these over a two-year period in the 1940s in Post-War Britain.
Hepworth represented Britain in 1950 at the 25th Venice Biennale alongside artists John Constable and Matthew Smith.
Hepworth began working with bronze in 1956, a material that allowed her to work more finely whilst being sturdy enough to transport abroad with less risk of damage.
Hepworth lost her eldest son, Paul, to a tragic plane crash while serving with the Royal Air Force.
Hepworth was awarded Dame Commander status in 1965, under the Order of the British Empire.
In 1970, Hepworth published a book on her life and work. The book was titled A Pictorial Autobiography, and was re-published in 1993.
Hepworth's studio in St Ives still stands today as the Barbara Hepworth Museum and Sculpture Garden and can be visited by the public.
Hepworth preferred her sculptures to be exhibited outside so that viewers could see the connection between the natural shapes of the work and the surrounding nature that inspired it.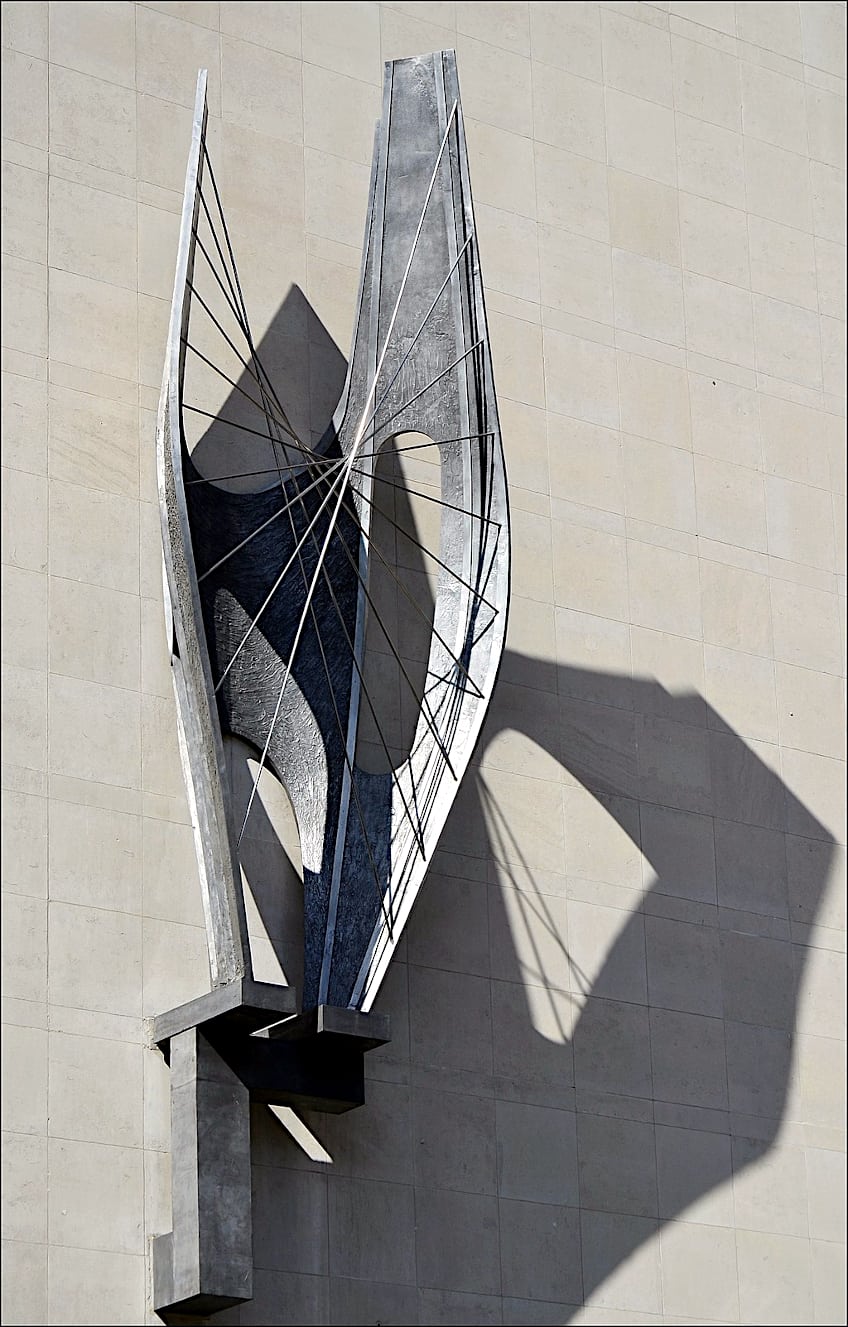 Winged Figure by Barbara Hepworth (1963); Images George Rex from London, England, CC BY-SA 2.0, via Wikimedia Commons
Important Barbara Hepworth Sculptures
In British Modernist art, Barbara Hepworth's sculptures are among the most inspiring. Her lyrical work is full of movement, balance, and harmony that mesmerizes the viewer. She was one of the most inspirational artists of the 20th century and below, we explore some of her seminal works.
Figure of a Woman (1929 – 1930)
| | |
| --- | --- |
| Artwork Title | Figure of a Woman |
| Date | 1929 – 1930 |
| Medium | Corsehill stone |
| Size (cm) | 53.3 x 30.5 x 27.9 |
| Collection | Tate Collection |
In Figure of a Woman (1929-1931), we see Hepworth's naturalistic style mixed with the beginnings of Abstraction. This figure is carved out of Corsehill stone, an indigenous red British sandstone quarried in Dumfriesshire. From an early stage in her career, Hepworth was drawn to direct carving.
By using direct carving, she was able to gain a level of intimacy with the material that was not possible with more modern sculpting methods and materials.
This relationship with the material allowed her to be guided by the natural shapes and forms of the stone. This relationship became even more prominent in her later wood sculptures.
Mother and Child (1934)
| | |
| --- | --- |
| Artwork Title | Mother and Child |
| Date | 1934 |
| Medium | Pink Ancaster stone |
| Size (cm) | 26 x 31 x 22 |
| Collection | Wakefield Permanent Art Collection (The Hepworth Wakefield) |
Hepworth's Mother and Child (1934) is a small Abstract sculpture made from pink Ancaster stone. When Hepworth created Mother and Child, one of several linked sculptures, she was pregnant with triplets.
Unlike Henry Moore, her friend and peer, who usually sculpted mother-and-child pieces as single figures, Hepworth took a significant shift by creating her maternal pieces as two separate bodies.
The child figure is separate from the mother, yet there is a tangible intimacy in the work as both are made from the same block of stone. The stone is beautifully polished, resembling both pebble and flesh. Detached yet intimate, these multi-part linked sculptures mark an even more decisive shift to the abstract in Hepworth's practice.
Wave (1943 – 1944)
| | |
| --- | --- |
| Artwork Title | Wave |
| Date | 1943 – 1944 |
| Medium | Wood, paint, string |
| Size (cm) | 30.5 x 44.5 x 21 |
| Collection | Scottish National Gallery of Modern Art, Edinburgh, United Kingdom. |
By the time Hepworth created Wave (1943–1944), her work had become entirely abstract. Sculptures like Wave had become the artist's trademark style, characterized by open spaces, hollowed-out cavities, and perforations that make the interior as noteworthy as the exterior. The interior space within the sculpture is accentuated by the white paint that lines the inside of the stunningly carved curve. To further emphasize and define the sculptural voids, she drew taut strings across the openings, creating a striking visual balance, harmony, sensitivity, and tension.
In this sculpture, Hepworth draws inspiration from the landscape of Cornwall, where she lived at the time. Towards the end of the Second World War, Hepworth produced a variety of sculptures that were representative of this style of work.
These works often combined organic form with natural materials, such as wood and string. Hepworth's use of string was inspired by mathematical models and how it existed in nature. It is also possible that her use of string was inspired by Naum Gaboused, a Russian Constructivist sculptor whom she knew well. Gaboused used nylon thread in his work from around 1938.
Orpheus (Maquette 2) (Version II) (1956, Edition 1959)
| | |
| --- | --- |
| Artwork Title | Orpheus (Maquette 2) (Version II) |
| Date | 1956, edition 1959 |
| Medium | Copper alloy and cotton string on wooden base |
| Size (cm) | 114.9 x 43.2 x 41.5 |
| Collection | Tate Collection |
Hepworth continued to push the boundaries of her Abstract work, and by the 1950s, she found novel ways to include different materials in her work. Many artists of the time were inspired by Hepworth's work as a pioneer in Abstract art and innovative materials and techniques. In addition to carving, she began combining sheet metal, such as copper, with materials like string and wood. She also started casting bronze work and found that working with metals enabled her to create thin, delicate pieces that could be transported internationally. Her work, however, stayed signature to her style and always drew inspiration from nature, geometry, and mathematics.
New influences ae apparent in the title of this work, which references Orpheus, the ancient Greek musician and poet. With its striking form and balance, this rhythmic artwork combines a wide range of influences and ideas, including nature, mathematics, harmony, tension, music, poetry, and mythology.
Single Form (In Memory of Dag Hammarskjöld) (1961 – 1964)
| | |
| --- | --- |
| Artwork Title | Single Form (In Memory of Dag Hammarskjöld) |
| Date | 1961 – 1964 |
| Medium | Bronze with granite base |
| Size (m) | 6.4 (h) |
| Location | United Nations Plaza, New York |
Hepworth's monumental Abstract sculpture, Single Form, is her most significant public commission and one of her largest works. The sculpture was commissioned by the Jacob and Hilda Blaustein Foundation and stands in the United Nations Plaza in New York.
The work was commissioned as a memorial sculpture to the United Nations Hepworth secretary-general Dag Hammarskjöld, who tragically died in an airplane crash in 1961.
Hammarskjöld and Hepworth were friends, and he was an admirer and collector of her work. Hepworth never provided a clear symbolic interpretation of the work but mentioned that he kept Hammarskjöld's philosophy of life in mind when creating the work. She also explained that she wanted the work to reflect the nobility of her friend and that it should display ideas of solidarity and continuation.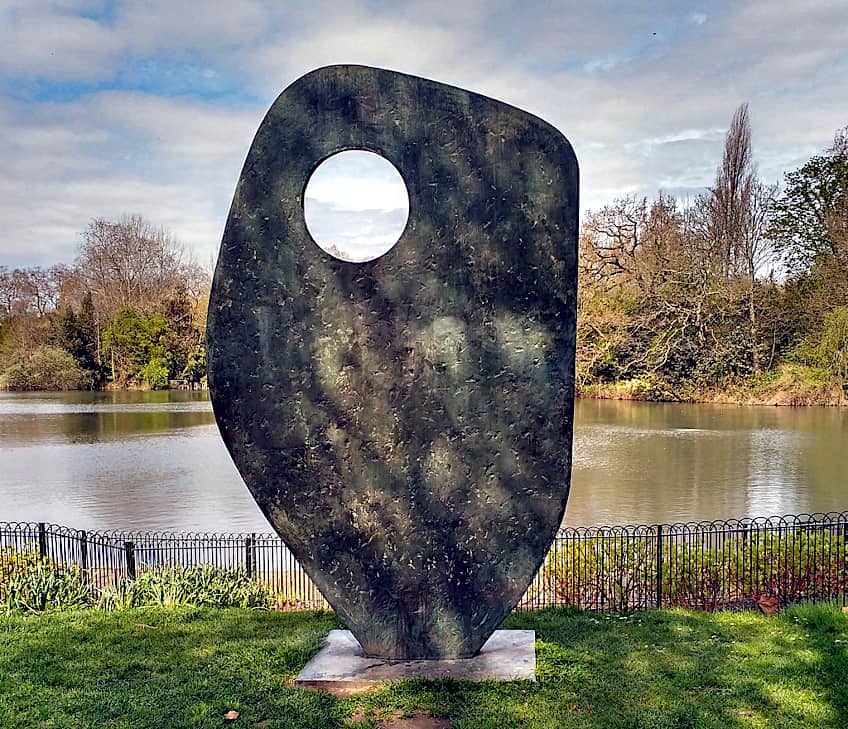 Single Form (In Memory of Dag Hammarskjöld) by Barbara Hepworth (1961-64); AndyScott, CC BY-SA 4.0, via Wikimedia Commons
The sculpture certainly has a prominent presence that communicates a sense of stability and grace. With its organic and broad oval shape, the work portrays a character that is stable but not rigid. Near the top of the work is a circular hole, that resembles a viewfinder or window looking out to possible futures.
Having never worked at such a monumental scale before, she sketched the form, in actual size, on the floor of one of her St Ives studios, which was a former dance hall. This allowed her to familiarize herself with the form and she worked in eight-hour shifts to carve the shape that would later be cast in bronze. The sculpture was unveiled during a ceremony on 11 June 1964 at the United Nations headquarters.
Book Recommendations
For generations of artists to follow, Hepworth left a rich legacy. Hepworth inspires not only through her art but also through her way of life. The books below are wonderful for artists, art lovers, or anyone who appreciates the beauty, simplicity, and calm reverence of natural elements and the human spirit.
Pictorial Autobiography (1998) by Barbara Hepworth
This book, written by Hepworth herself, is a pictorial record of the artist's life and work. From her childhood to her first marriage to John Skeaping and her second marriage to Ben Nicholson, the book includes writings by the artist spanning more than 40 years. Illustrating her transition from naturalism to organic Abstraction, this publication gives a rich insight into the artist's development into an international sensation.
An overview of Barbara Hepworth's career by the artist herself
Hepworth's life and work described through images of her work
Ideal visual resource for students and Hepworth enthusiasts
View on Amazon
Barbara Hepworth (British Artists) (2013) by Penelope Curtis
This book, written by a director of Tate Britain, explores the life and work of Barbara Hepworth. In this Tate publication, Hepworth's work is surveyed with a focus on the formal qualities of her sculpture, its simplicity, and harmony. The book considers the tragedies in Hepworth's life and explores the artist's attempts at holding on to the beauty of her practice when going through difficult times.
Important new contextualization of Barbara Hepworth's work
Includes a theoretical analysis of Hepworth's formal innovations
Ideal introduction to the life and work of Barbara Hepworth
View on Amazon
Barbara Hepworth: Art & Life (2021) by Eleanor Clayton
This newly released book is a stunning biography of the artist, featuring 161 illustrations. Focusing on the more interdisciplinary aspects of her work, the author provides a fresh analysis of Hepworth's life and work. Hepworth's interests in dance, poetry, music, science, politics, and technology are examined and provide a deeper understanding of her philosophy of life and art. While other publications on the artist mostly focus on her Modernist sculptures, this book includes a plenitude of usually overlooked works, including her drawings and public commissions.
Explores Barbara Hepworth's art beyond her best known works
Provides rare insight into her vast range of influences and interests
Well illustrated and includes Hepworth's letters and journal entries
View on Amazon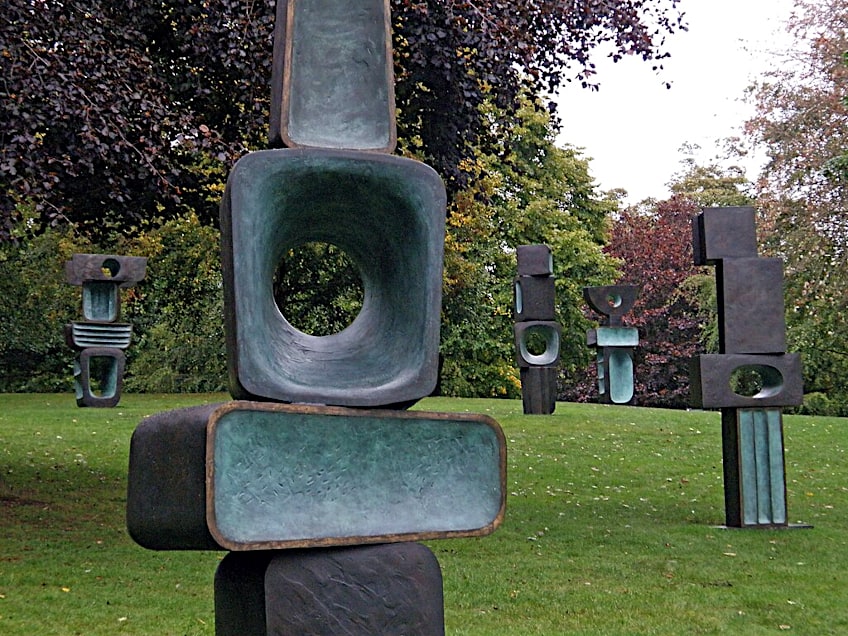 Family of Man by Barbara Hepworth (1970); Amanda Slater from Coventry, West Midlands, UK, CC BY-SA 2.0, via Wikimedia Commons
As a Yorkshire native, Barbara Hepworth lived in St Ives for more than 30 years, studied at the Royal College of Art at 16, raised triplets, received honorary doctorates from five universities, was a Cornish bard, Dame Commander of the Order of the British Empire, and a world-renowned sculptor. Her life revolved around her creative aspirations and curiosity about the natural world. Known as a pioneer of Abstract British art, Barbara Hepworth left a legacy of poetic sculptures that continue to inspire generations of artists.
Frequently Asked Questions
Who Was Barbara Hepworth?
Barbara Hepworth (1903-1975) was a prominent British sculptor. She was a pioneer in Modernist abstract sculpture and created work with sensitivity, balance, rhythm, and harmony. Her powerful lyrical work continues to inspire many artists to this day.
How Did Barbara Hepworth Die?
You may be wondering, exactly how did Barbara Hepworth die? The answer to this question is unfortunately quite tragic. Hepworth died in 1975 in a fire in her home at St Ives. After her passing, her home and studio were preserved as the Barbara Hepworth Home and Sculpture Garden and are managed by the St Ives branch of the Tate Modern.
Chrisél Attewell (b. 1994) is a multidisciplinary artist from South Africa. Her work is research-driven and experimental. Inspired by current socio-ecological concerns, Attewell's work explores the nuances in people's connection to the Earth, to other species, and to each other. She works with various mediums, including installation, sculpture, photography, and painting, and prefers natural materials, such as hemp canvas, oil paint, glass, clay, and stone.
She received her BAFA (Fine Arts, Cum Laude) from the University of Pretoria in 2016 and is currently pursuing her MA in Visual Arts at the University of Johannesburg. Her work has been represented locally and internationally in numerous exhibitions, residencies, and art fairs. Attewell was selected as a Sasol New Signatures finalist (2016, 2017) and a Top 100 finalist for the ABSA L'Atelier (2018). Attewell was selected as a 2018 recipient of the Young Female Residency Award, founded by Benon Lutaaya.
Her work was showcased at the 2019 and 2022 Contemporary Istanbul with Berman Contemporary and her latest solo exhibition, titled Sociogenesis: Resilience under Fire, curated by Els van Mourik, was exhibited in 2020 at Berman Contemporary in Johannesburg. Attewell also exhibited at the main section of the 2022 Investec Cape Town Art Fair.
Learn more about the Art in Context Team.