Walter Sickert – Infamous Impressionist and Inspiring Innovator
Murder, art, and the emergence of the Avant-Garde movement in the late 19th and early 20th centuries, Britain coincided with the rise of one of London's best Impressionist painters, Walter Sickert, who was both celebrated and subjected to scrutiny as a suspect in a series of gruesome murders. This article will introduce you to the legendary artist and provide an in-depth Walter Sickert biography, including some of his most famous paintings and exhibitions.
Walter Sickert: Artist, Suspect, Fan, and the British Avant-Garde
Walter Sickert is one of art history's most interesting artists, as his life and work coincided with the serial murders of the notorious Jack the Ripper, who terrorized the citizens of London and whose identity remains a mystery.
Aside from being a suspect to many theorists and interested serial murder fanatics, Walter Sickert was first and foremost an artist and champion of the British Avant-Garde during the turn of the 20th century.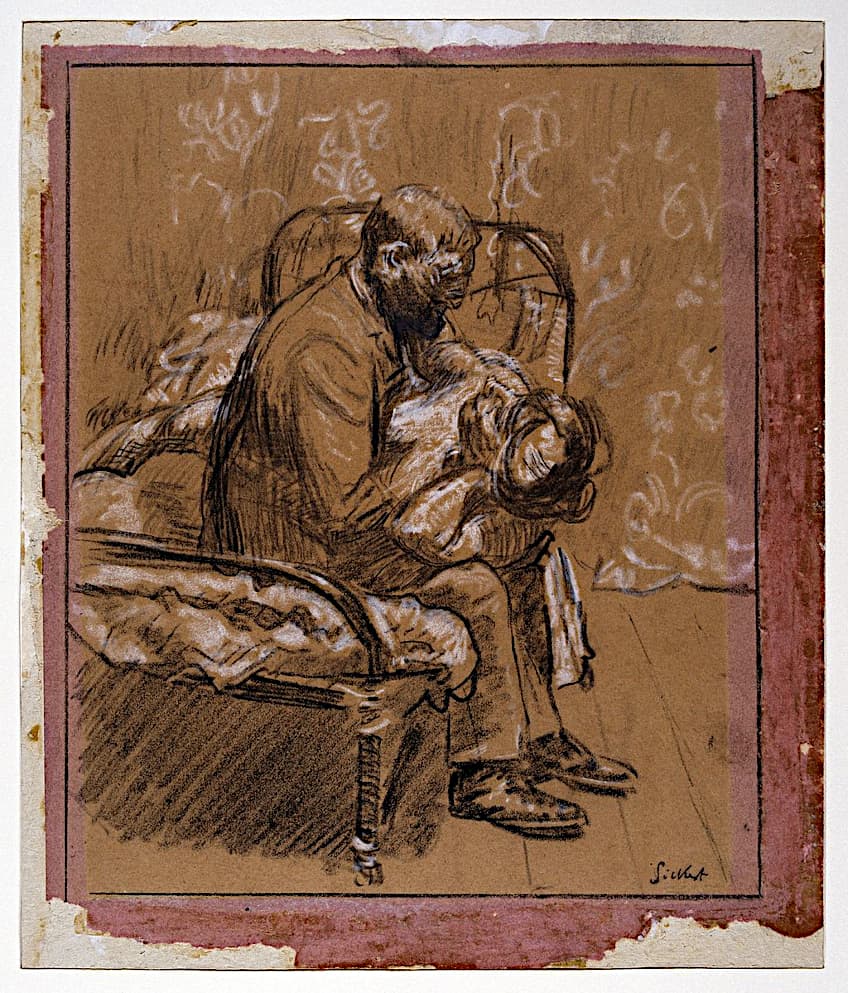 Persuasion (formerly known as Camden Town Murder or La Belle Gâtée) by Walter Sickert (c. 1908); Walter Richard Sickert, Public domain, via Wikimedia Commons
While many theories pointing to Walter Sickert being Jack the Ripper have been dismissed, Sickert himself was known to have had a deep interest in the killings and even created various artworks based on the events. Below, you will find a comprehensive overview of Walter Sickert's biography.
A Walter Sickert Biography
| | |
| --- | --- |
| Artist Name | Walter Richard Sickert |
| Date of Birth | 31 May 1860 |
| Date of Death | 22 January 1942 |
| Nationality | German |
| Associated Movements | Post-Impressionism, Modernism, Expressionism, British Avant-Garde |
| Mediums | Painting, drawing, printmaking |
Born in Munich, Germany in 1860, Walter Richard Sickert was the last son of the Danish artist Oswald Sickert and his wife Eleanor Henry, who was an illegitimate child of Richard Sheepshanks, an astronomer. Sickert grew up in London, England, and eventually obtained a British national identity.
Photograph of Walter Sickert taken by George Charles Beresford in 1911; George Charles Beresford, Public domain, via Wikimedia Commons
Sickert was schooled at the University College School in 1870 and was then transferred to King's College School until he was 18. Sickert's first passion was surprisingly not painting but acting and even featured in small works for Sir Henry Irving's company.
In 1881, Sickert began pursuing his studies in art at the Slade School where he only remained for a few months. Thereafter, he moved on to become an etching assistant to James Whistler, an important American artist of the American Gilded Age.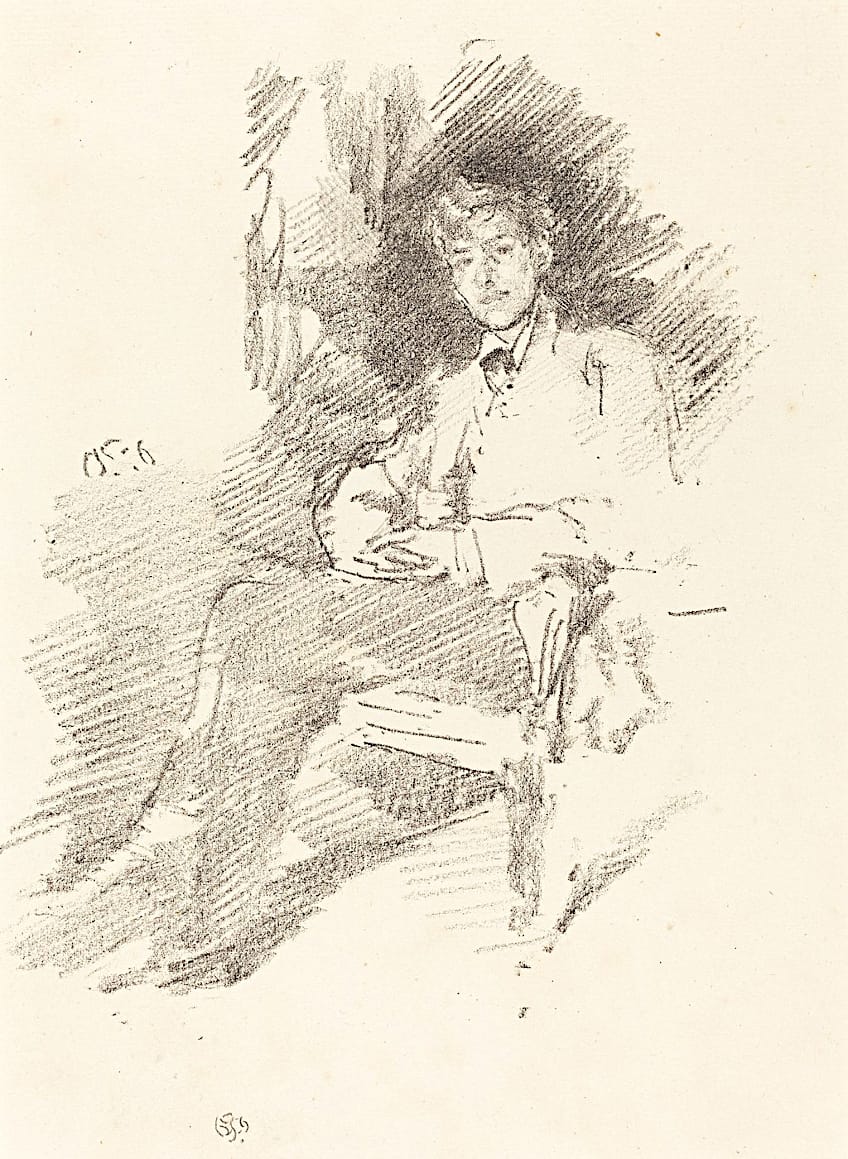 Portrait of Walter Sickert by James McNeill Whistler (1895); National Gallery of Art, CC0, via Wikimedia Commons
Sickert's first few paintings can be seen mimicking the teachings of Whistler with his style reflecting the alla prima technique. Some of his famous early works include Dieppe Harbour, France (1885), Self-Portrait (1896), Nude Figure Reclining (1912), and Barnsbury (c. 1931).
Influences and Artistic Themes
In 1883, Walter Sickert came into contact with another master of Impressionism, Edgar Degas, who introduced the young Sickert to emphasis and pictorial space in drawing. These two approaches to drawing played a great role in Sickert's later paintings. Exposure to incredible artists, like Degas, had a profound impact on Sickert's artistic development and personal artistic approach to Impressionism.
Sickert grew to favor somber coloration in his work and often took the advice of Degas who encouraged him to paint from memory and sketches in order to escape the so-called tyranny of nature that the Impressionists were so fond of. Sickert later became a member of a group of Realist artists called the New English Art Club, who drew influence from the painting styles promoted in France.
Sickert also conjured up controversy in 1888 when he exhibited a painting of a famous music hall singer, Katie Lawrence at Gatti's (1888), which received heavy criticism for being vulgar and "too tawdry for art". This first debacle can be considered the artist's debut of his interest in sexually provocative painting that was to follow. The 1880s was also a time when the artist frequented France, where he kept a mistress and potentially a child. Sickert dove into art criticism and became a writer for many publications, including The Whirlwind.
Gatti's Hungerford Palace of Varieties. Second Turn of Katie Lawrence by Walter Sickert (1888); Walter Sickert, Public domain, via Wikimedia Commons
One of Sickert's popular themes in painting was urban culture, which was evident in his acquisition of many studios in areas populated by the working-class citizens of London.
One of his studios was situated in Camden Town, where the gruesome Camden Town murder took place. The murder involved a prostitute who had her throat slit in her sleep by a man, who apparently left in the morning after spending the evening with her. The shocking news of the murder was immediately all over the press and soon after the event, Sickert began painting female nudes on beds. Sickert even titled one of his paintings after the murder in Camden Town, which caused a stir in the art world.
The Camden Town Murder or What Shall We Do for the Rent? By Walter Sickert (1908); Walter Sickert, Public domain, via Wikimedia Commons
The painting, The Camden Town Murder (1908), is one of four paintings that Sickert dedicated to the event with the other three paintings containing specific titles that address issues around the event. The painting was initially titled What Shall We Do for the Rent?
Additional Affiliations
Sickert was also involved in the Avant Garde scene and led a small group of avant-garde artists, which included the likes of Jacob Epstein, Lucien Pissarro, Augustus John, and Wyndham Lewis. In addition to this collective, Sickert headed the Camden Town group of painters and formally established the small society in 1911.
The Camden Town group was driven by the influences of Expressionism and post-Impressionism and often focused on themes depicting scenes of banal suburbia.
Sickert then became a teacher at the Westminster School of Art, after which he established his first private school, Rowlandson House, in 1910, which only ran for four years under the financial support of Sickert's former student, Sylvia Gosse.
Miss Hudson at Rowlandson House by Walter Sickert (c. 1910); Walter Sickert – painted about 1901, Public domain, via Wikimedia Commons
In 1924, Walter Sickert was elected the Associate of the Royal Academy. Since then, his health took a turn for the worse and in 1926, he suffered a minor stroke. In 1927, the artist briefly scrapped his first name Walter and swapped it for his middle name, intending for himself to be known as Richard Sickert. It seemed his health scare impacted his outlook on his identity and art practice. Soon, he even changed his style and approach to art-making.
He stopped drawing altogether and chose to paint images of photographs that his third wife had taken in the newspaper. After this period, many art critics suggest that this is when his work began to decline. Around 1929 Sickert produced his last etching.
The Hanging Gardens by Walter Sickert (1929); Walter Sickert, CC0, via Wikimedia Commons
Throughout his lifetime, Walter Sickert gained a large following, including figures such as Winston Churchill and his wife. Churchill even stated that Sickert granted him "a new lease on life as a painter".
We can conclude that Sickert's influence and character made quite an impression on those he taught. Throughout his lifetime, Sickert was married three times and eventually passed away in 1942, with most of his later works depicting scenes from Bath, Somerset, where he died.
The Front at Hove (turpe senex miles turpe senilis amor) (1930); Sailko, CC BY-SA 4.0, via Wikimedia Commons
Famous Walter Sickert Paintings
After reviewing the life of Walter Sickert and his many encounters with prominent figures, it is only fitting to look at some of his most famous paintings. Below, are a few examples of Walter Sickert's paintings that played a significant role in bolstering his artistic career. Whether it is through scandal or admiration, you are guaranteed to enjoy these paintings!
Queenie Lawrence on the Stage at Gatti's by Walter Sickert (c. 1888); Walter Richard Sickert, CC BY-SA 4.0, via Wikimedia Commons
Café des Tribunaux, Dieppe (c. 1890)
| | |
| --- | --- |
| Date | c. 1890 |
| Medium | Oil on canvas |
| Dimensions (cm) | Support: 60.3 x 73, and frame: 83 x 96.4 x 11 |
| Where It Is Housed | Tate Gallery, London |
Café des Tribunaux, Dieppe was first exhibited under its former title Dieppe during an 1891 exhibition by the New English Art Club. Sickert's painting attracted a significant amount of positive attention compared to the rest of the exhibition, which was criticized as not being potent enough to amaze the viewer.
Café des Tribunaux, Dieppe by Walter Sickert (1890); Walter Sickert, Public domain, via Wikimedia Commons
The scene in the painting, Café des Tribunaux, was a famous landmark of Dieppe situated in the town of the Puits Salé. Here, two streets lead up from the harbor; the Rue Street Jacques and the Grande Rue, which converge. Café des Tribunaux, Dieppe illustrates the view running down the Grande Rue, which was considered a hub for shoppers.
Dieppe was a popular destination for British tourists during this time and the Café des Tribunaux was a stop everyone had to make. Sickert used Dieppe as the source of inspiration for many paintings and was a recurring area of study for the artist.
La Hollandaise (c. 1906)
| | |
| --- | --- |
| Date | c. 1906 |
| Medium | Oil on canvas |
| Dimensions (cm) | Support: 51.1 x 40.6, and frame: 72.2 x 63 x 10.4 |
| Where It Is Housed | Tate Gallery, London |
Walter Sickert indulged in the subject of the female nude, which can be seen in the painting above. The painting, La Hollandaise, also known as The Dutch Girl, was created around 1906 and depicts a nude woman believed to be a sex worker. Sickert conceals the woman's identity using Impressionist brushwork on her face and emphasizes the light shining through the window on her body.
The Dutch Girl is a reference to the nickname given to a character who played a sex worker in a French novel by Honoré de Balzac. At first glance, the subject of the painting is recognizable only via the skillful placement of colors.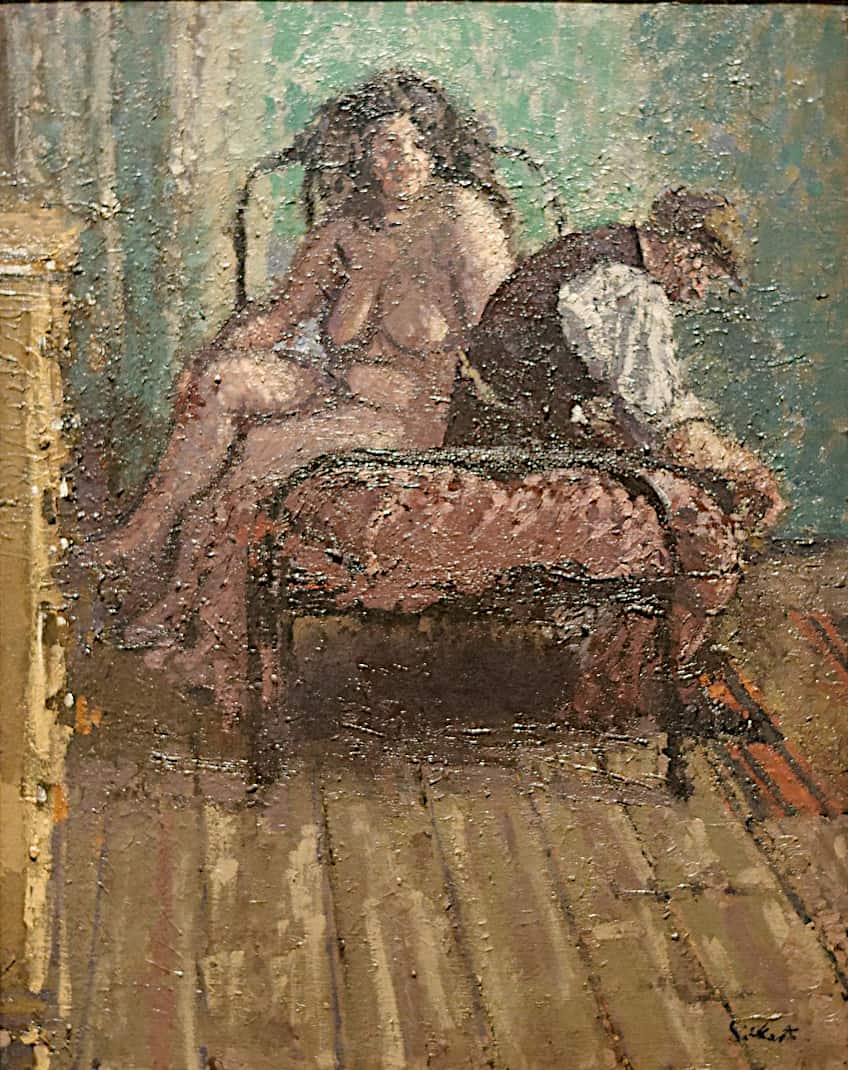 Dawn Camden Town by Walter Sickert (c. 1909); Yelkrokoyade, Public domain, via Wikimedia Commons
Upon closer inspection, one can observe the many rough brushstrokes that leave one's mind with the task of filling in the details. This famous Sickert painting is one of several others that depict a nude woman in a dimly-lit environment with a cheap iron bed. Around this time he also began using clothed male figures in these paintings, like the man sitting on the bed in Dawn Camden Town (c. 1909), creating discomforting juxtapositions.
Jack the Ripper's Bedroom (1906 – 1907)
| | |
| --- | --- |
| Date | 1906 – 1907 |
| Medium | Oil on canvas |
| Dimensions (cm) | 50.8 x 40.7 |
| Where It Is Housed | Manchester Art Gallery, Manchester, England |
Inspired by the current events of his time, Sickert was invested in the mystery of the identity of Jack the Ripper who committed a series of murders fueled by his hatred for women. Sickert chose to paint the bedroom after his landlady claimed that her previous tenant was, in fact, the killer. This was the perfect opportunity for Sickert to capture the state of the room, which was possibly once the refuge of the highly sought murderer.
Jack the Ripper's Bedroom by Walter Sickert (c. 1907); Walter Sickert, Public domain, via Wikimedia Commons
The painting illustrates a grim-looking bedroom viewed through an open doorway. The foreground contains a wooden chair in the hallway and various furniture items highlighted by the pink light seeping from the window blinds in the room.
The lodging was located at 6 Mornington Crescent and is an eerie reminder of the invisible presence of Jack the Ripper that haunted many.
Ennui (1914)
| | |
| --- | --- |
| Date | 1914 |
| Medium | Oil on canvas |
| Dimensions (cm) | Support: 152.4 x 112.4, and frame: 174.1 x 134 x 11 |
| Where It Is Housed | Tate Gallery, London (on loan from Petit Palais, Musée des Beaux-Arts de la Ville de Paris, Paris, France) |
From April to September 2022, Tate Britain hosted a major retrospective of Walter Sickert's career, which featured over 150 artworks gathered from more than 70 private and public collections. The Walter Sickert retrospective is considered one of the most extensive Tate Britain exhibitions in over 30 years. One of the featured works was Ennui, which reflects the English translation of its title, "boredom", and showcases two figures: a man smoking and a woman with slouched shoulders, in a room.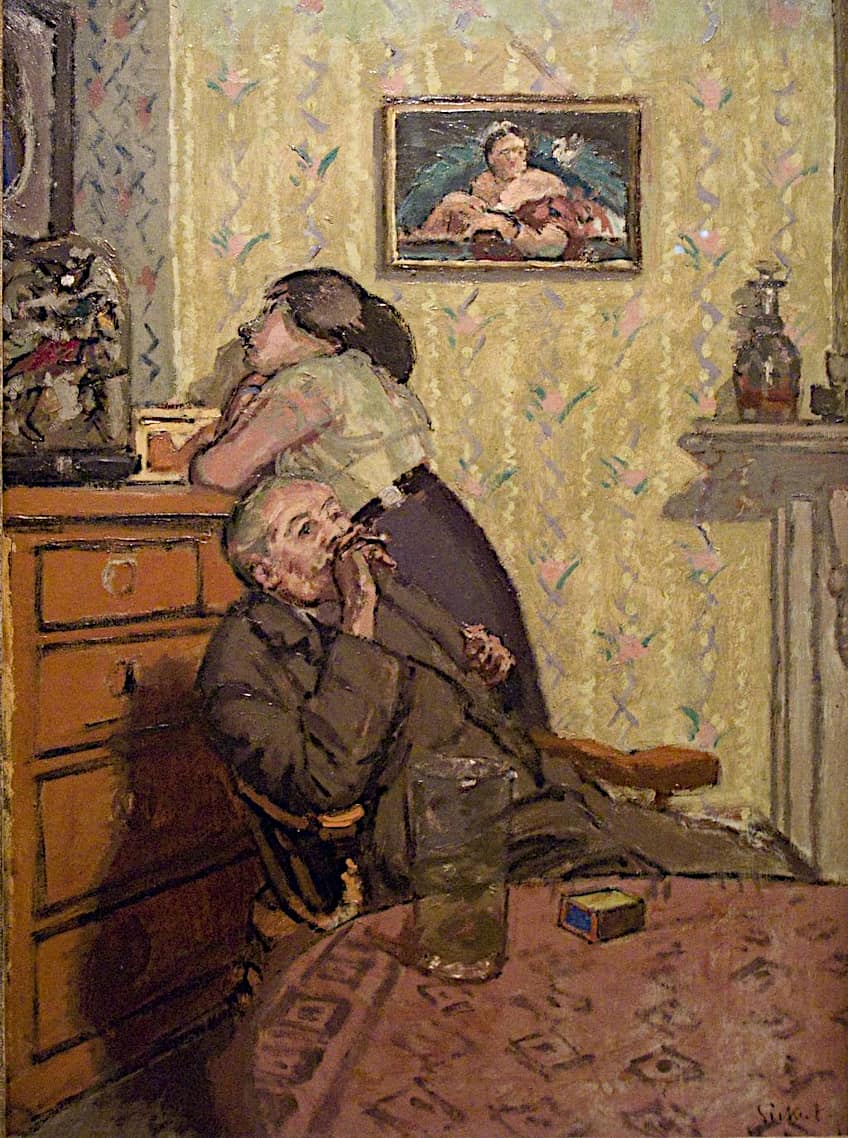 Ennui 2nd version by Walter Sickert (1914); Walter Sickert, Public domain, via Wikimedia Commons
In 1914, the painting received high praise from the curator of the Holburne Museum in Bath, Hugh Blaker, who published a letter in the Observer claiming that this was one of "the finest pictures painted in England".
The painting was purchased almost immediately after the art connoisseur's public display of admiration and fell into the collection of the Tate Gallery in 1924. Since then, Ennui is recognized as one of Sickert's most famous works of art. Although there are other versions of this painting with the same theme, it is still regarded as the one painting that is "the most complete manifestation of the subject".
Miss Earhart's Arrival (1932)
| | |
| --- | --- |
| Date | 1932 |
| Medium | Oil on canvas |
| Dimensions (cm) | Support: 71.7 x 183.2, and frame: 86.5 x 198.7 x 6 |
| Where It Is Housed | Tate Gallery, London (on loan from Petit Palais, Musée des Beaux-Arts de la Ville de Paris, Paris, France) |
​​This famous Walter Sickert painting illustrates the arrival of Amelia Earhart who was incredibly famous for being the first woman to fly across the Atlantic on her own. Sickert used a newspaper photograph to paint this image of a mass of spectators awaiting the pilot's return at Hanworth. The painting took Sickert five days to finish and once exhibited, it garnered the attention of many.
Throughout the 1930s, Sickert took to press material for inspiration for his paintings, and the news of Earhart's arrival, of course, piqued his interest. Earhart took residence in Hanworth for several days at the home of the American ambassador, Andrew Mellon. Ever since her arrival at Hanworth, Earhart became an international sensation and was hosted all over London, even receiving a private meeting with the Prince of Wales.
Sickert presents a different angle into Earhart's stardom since most media images depicted the aviator standing next to her plane while waving at fans. The photograph from the Daily Sketch chose to focus on the crowd who stood in the rainy weather to catch a glimpse of Amelia Earhart. Sickert made use of his preferred color palette to represent the crowd and included hues of olive green, blue, and parts of the canvas that were still visible. The single individual in the center painted with a red coat is the element that catches the viewer's gaze and adds a sense of vibrancy to the scene. Earhart can be seen as a pale face that is almost lost among the crowd of fans and emphasizes her reputation as opposed to merely a representation of her physical body.
Book Recommendations About Walter Sickert
Of the many wonderful Walter Sickert paintings that feature in Tate Britain's exhibitions for Walter Sickert, the ones above stand out the most. These paintings do not reflect the artist's entire artistic development and variety in style, which is why we suggest picking up an extra book. Below, we have provided you with a list of top book recommendations to help you gain more insights into the work and life of Walter Sickert.
Walter Sickert and the Camden Town Group (1995) by Maureen Connett, Walter Sickert, and Camden Town Group
This five-star rated book by Maureen Connett, Walter Sickert, and the Camden Town Group is one of the best books available in hardcover on Amazon. This book tells the fascinating account of the witty German artist who was an eclectic leader and teacher to the group of aspiring painters known as the Camden Town Group. This book is among the best buys if you are looking for a comprehensive breakdown of a Walter Sickert biography and stories from the members of this collective who admired Sickert.
Traces the careers of major members of the Camden Town Group
Explores Sickert's artistic training and innovations
Provides insight into Walter Sickert's the complex social interactions
View on Amazon
Walter Sickert: A Life (2014) by Matthew Sturgis
This book by Matthew Sturgis will benefit those who are comfortable with reading without visuals. While the book does not include illustrations of Sickert's artworks, the textual content provides rich insight into Walter Sickert's biography and contains details on the artist's life beyond painting, including his career as a cartoonist, illustrator, polemicist, and teacher. Sturgis also includes an appendix that details the posthumous legacy of Walter Sickert as a character in the case of solving the identity of the London serial killer, Jack the Ripper.
Well-researched and comprehensive account of Sickert's life
Explores the influence of Sickert's radical innovations on British art
Convincingly debunks the "Sickert was Jack the Ripper" theory
View on Amazon
Walter Sickert (2022) by Emma Chambers
This newly released monograph on Walter Sickert serves as an accompanying text to one of the most extensive Tate Britain exhibitions in art history. This book is a must-have for any Sickert fan and includes more than 200 images from the 2022 Walter Sickert retrospective exhibition as well as a number of scholarly essays and reflections on the artist and his relevance in Contemporary art.
Written to accompany a major new exhibition of Sickert's work
Tracks the changes in Sickert's style over the span of his career
Explores his radical innovations in subject-matter and technique
View on Amazon
Walter Sickert definitely makes the top of the list of the most interesting artists whose works have revolved around sensational events in European history. As a radical agent for change, art education, and Modernism, Sickert's artistic career is an important case study for Contemporary artists and scholars alike. He may not be Jack the Ripper but he is a noteworthy figure of British art history.
Frequently Asked Questions
Was Walter Sickert Jack the Ripper?
Walter Sickert was not Jack the Ripper. There is no evidence that points to Walter Sickert as being the serial killer, Jack the Ripper, although, the artist was intrigued by the news of the murders in the press and used the subject matter to create realistic paintings, which caused the public to suspect him as somehow being involved. To this day, the identity of Jack the Ripper has not been confirmed or discovered, but this does not mean that Sickert was a definite suspect.
What Was Walter Sickert Famous For?
Walter Sickert was famous for being an eclectic Impressionist who helped influence many young artists in various art styles that paved the way for Modernism. Sickert was also celebrated for his paintings of urban scenes and for using ordinary people as primary subjects in his paintings. Sickert's famous works revolve around celebrities, local events of the 19th century, and news from the press.
Where Can You View Walter Sickert's Paintings?
You can view Walter Sickert's paintings at the Museum of Modern Art in New York, Tate Britain in London, the Art Gallery of New South Wales in Sydney, and the Phillips Collection in Washington D.C.
Isabella studied at the University of Cape Town in South Africa and graduated with a Bachelor of Arts majoring in English Literature & Language and Psychology. Throughout her undergraduate years, she took Art History as an additional subject and absolutely loved it. Building on from her art history knowledge that began in high school, art has always been a particular area of fascination for her. From learning about artworks previously unknown to her, or sharpening her existing understanding of specific works, the ability to continue learning within this interesting sphere excites her greatly.
Her focal points of interest in art history encompass profiling specific artists and art movements, as it is these areas where she is able to really dig deep into the rich narrative of the art world. Additionally, she particularly enjoys exploring the different artistic styles of the 20th century, as well as the important impact that female artists have had on the development of art history.
Learn more about Isabella Meyer and the Art in Context Team.
Cite this Article