Maliheh Afnan was a pioneering artist whose work has played a meaningful part in the evolution of contemporary Middle Eastern art. Afnan's artistic journey was shaped by her experiences of expatriation and cultural disruption. Her artistic practice evolved from her early explorations of calligraphy and geometric abstraction to a more intuitive and expressive approach in later years. In this article, we will delve into Maliheh Afnan's artworks, examining her contributions to the development of Middle Eastern art and the unique aesthetic vision that underpins her practice. We will also answer the questions, "how did Maliheh Afnan die?", "where was Maliheh Afnan born?", and "how did Maliheh Afnan's context influence her art?".
Artist in Context: Who Was Maliheh Afnan?
| | |
| --- | --- |
| Date of Birth | 24 March 1935 |
| Date of Death | 6 January 2016 |
| Nationality | Iranian |
| Art Style | Contemporary art |
| Notable Artworks | Wartorn (1979), Of Numbers (1980), and Veiled Nonsense (2009) |
Birth and Early Life
Maliheh Afnan was born in Haifa, Palestine in 1935. She came from a family of artists and intellectuals, and her early education was steeped in art and culture. She began her formal art training at the Byam Shaw School of Art in London in 1953, where she studied textile design, but quickly turned her attention to painting. In 1958, Afnan moved to Paris to study at the Académie de la Grande Chaumière and the Ecole des Beaux-Arts. While in Paris, she was exposed to the work of the Abstract Expressionist painters, which had a profound impact on her artistic development.
She also became deeply interested in calligraphy and Islamic geometric abstraction, which would become recurring themes in her work.
Influences and Recognition
Afnan's artistic career was influenced by her experiences of displacement and cultural dislocation. In 1948, her family had no choice but to run from their home in Haifa due to the Arab-Israeli War and settled in Lebanon. Afnan spent much of her childhood and adolescence moving between different countries, including Egypt, Jordan, and France. Her experiences of living in different cultures and environments informed her artistic practice, which was characterized by a desire to bridge cultural divides and celebrate the diversity of the human experience.
In the 1960s, Afnan's work began to gain recognition in the art world. She exhibited in solo and group shows in Paris, London, and the United States, and was associated with the New Vision Group, a collective of artists dedicated to promoting modern art in the Arab world. Her work was also featured in the landmark exhibition Ten Arab Artists at the Institute of Contemporary Arts in London in 1963.
Growth and Career Development
In the 1970s and 1980s, Afnan's work evolved to incorporate a more intuitive and expressive approach. She experimented with different mediums, including printmaking, collage, and assemblage, and continued to explore the themes of calligraphy and geometric abstraction. Her work became more personal and introspective, reflecting her interest in mysticism and spirituality. Throughout her career, Afnan was committed to promoting cultural exchange and understanding. She was a founding member of the Society of Modern Arab Art in Paris and participated in numerous cultural exchange programs between the Middle East and Europe.
She also taught art at the American University of Beirut and the Royal College of Art in London, where she inspired generations of young artists.
Maliheh Afnan Artworks
Maliheh Afnan was a prolific artist whose work explored a wide range of themes and styles throughout her career. In this section of the article, we will examine three of her most famous artworks and analyze their artistic and cultural significance.
Eminence Grise 2 (1995)
| | |
| --- | --- |
| Date | 1995 |
| Medium | Oil pastel on paper |
| Type | Drawing |
| Dimensions (cm) | 18 x 16 |
| Art Movement | Modern art |
| Location | The Museum of Modern Art, New York City, United States |
According to Maliheh Afnan in an interview with Hans Ulrich Obrist in London in April 2010, her interest in creating portraits began during her time in Paris, though she is unsure of what exactly sparked this interest. She initially drew quick caricatures using ink on paper before eventually developing them into paintings. Maliheh Afnan's series of portrait paintings developed from these caricatures, known as Personages, do not involve any models as subjects. Instead, she begins by drawing an ink line on paper, allowing the line to transform into a figure emerging from her own memories and imagination. Eminence Grise 2 (1995) is an example of this.
This resulting image from the initial intuitive line drawing surprised Afnan.
The face appears like a ghost from her past. Each figure in the series carries an air of mystery and unknown history. Afnan refers to these portraits as "personages," meaning they are not based on any specific individuals, but instead are anonymous and imagined. She draws inspiration from all the faces she has seen throughout her life, and interestingly, the portraits tend to be of old, male figures who bear the marks of their life experiences on their faces, again, as in Eminence Grise 2.
Veiled Series (2000 – 2010)
| | |
| --- | --- |
| Date | 2000 – 2010 |
| Medium | Mixed media and gauze on paper |
| Type | Collages |
| Dimensions (cm) | Various sizes |
| Art Movement | Modern art |
| Location | Various locations |
Maliheh Afnan's series Veiled showcases her experimentation with gauze, which she painted in black or brown, and incorporated into her artwork in the early 2000s. The series was a response to the Western world's focus on Muslim women's veils, offering alternative interpretations of the idea of concealment that every human employs.
In these works, Afnan removed the veil from the head and placed it over emotions, truths, feelings, and threats, creating pieces with titles such as Veiled Melancholia (N/A), Veiled Testament (2006), and Veiled Confrontation (2009).
Afnan's choice of paper as a medium is intentional, as she believes that each sheet has its unique potential for absorption, rigidity, or malleability, which can yield different textures, transparencies, or colors. Her art is performative, and she prefers to use ink, pen, and pencil, watercolors, and oil pastels to create compositions that are spontaneous yet well-organized. This series of works is elegant, and Afnan's preference for subtlety over fanfare is evident.
Nothing to Declare (2007)
| | |
| --- | --- |
| Date | 2007 |
| Medium | Mixed media and gauze on paper |
| Type | Collages |
| Dimensions (cm) | 43.2 x 60.6 x 2.9 |
| Art Movement | Modern art |
| Location | The Museum of Modern Art, New York City, United States |
The artwork titled Nothing to Declare is an expression of Maliheh Afnan's personal experience of crossing national borders, having been born in Palestine, raised in Lebanon, and currently residing in London. The suitcase-like shape of the artwork, created using gauze material, serves as a symbolic representation of her journey.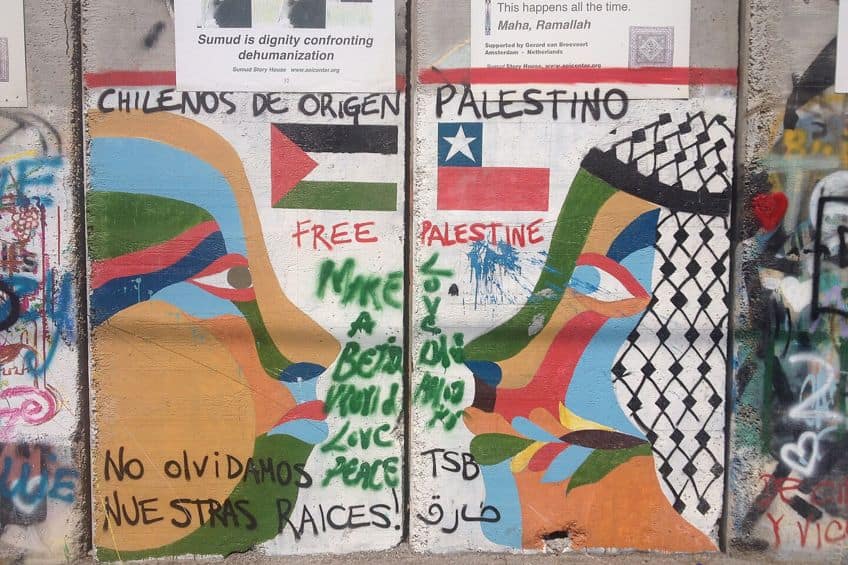 Bethlehem wall graffiti "Chilenos de origen palestino – No olvidamos nuestras raices." (2018); Jj M Ḥtp, CC0, via Wikimedia Commons
The gauze, similar to an airport detector X-ray, not only provides a visual representation of the object but also references the early Islamic and Coptic textile traditions. The artwork's direct title, inscribed in the lower left corner, adds to the piece's complexity. Despite being nearly concealed by the gauze, the title at the same time draws awareness to and undermines the role of vocabulary as a graphic and semantic feature.
In conclusion, Maliheh Afnan was a highly influential and groundbreaking artist who made significant contributions to the development of contemporary Arab art. Through her use of abstraction and calligraphy, she explored a wide range of themes and cultural traditions, reflecting her personal experiences of displacement and cultural dislocation. Afnan's artworks are notable for their unique blend of visual and cultural elements, which challenge traditional notions of Islamic art while also drawing upon its rich heritage and traditions. Her oeuvre endures as an inspiration to Modern Arab artists today.
Frequently Asked Questions
How Did Maliheh Afnan Die?
Afnan passed away in 2016 at the age of 81, leaving behind a rich artistic legacy that continues to inspire and influence artists in the Middle East and beyond. The cause of her death has not been publicly disclosed. Her work can be found in public and private collections around the world, including the British Museum, the Bibliothèque Nationale de France, and the National Museum of Women in the Arts in Washington, D.C.
What Makes Maliheh Afnan Such an Influential Artist?
Maliheh Afnan is considered an influential artist for several reasons. Firstly, her unique blend of Eastern and Western artistic traditions and techniques has made a substantial contribution to the field of Modern art. Secondly, her work often addresses themes such as identity, displacement, and memory, which resonate with audiences worldwide. Finally, Afnan's use of different mediums, such as gauze, paper, and ink, demonstrates her experimentation and innovation within the artistic process.
What Makes Maliheh Afnan's Artworks So Special?
Maliheh Afnan's artworks are characterized by a unique blend of abstraction and calligraphy, which reflects her personal experiences of cultural displacement and her engagement with the spiritual and cultural traditions of the Middle East. Her artworks are significant as examples of the ways in which contemporary Arab artists have challenged traditional notions of Islamic art and culture, while also drawing upon its rich heritage and traditions.
Nicolene Burger is a South African multi-media artist, working primarily in oil paint and performance art. She received her BA (Visual Arts) from Stellenbosch University in 2017. In 2018, Burger showed in Masan, South Korea as part of the Rhizome Artist Residency. she was selected to take part in the 2019 ICA Live Art Workshop, receiving training from art experts all around the world. In 2019 Burger opened her first solo exhibition of paintings titled, Painted Mantras, at GUS Gallery and facilitated a group collaboration project titled, Take Flight, selected to be part of Infecting the City Live Art Festival. At the moment, Nicolene is completing a practice-based master's degree in Theatre and Performance at the University of Cape Town.
In 2020, Nicolene created a series of ZOOM performances with Lumkile Mzayiya called, Evoked?. These performances led her to create exclusive performances from her home in 2021 to accommodate the mid-pandemic audience. She also started focusing more on the sustainability of creative practices in the last 3 years and now offers creative coaching sessions to artists of all kinds. By sharing what she has learned from a 10-year practice, Burger hopes to relay more directly the sense of vulnerability with which she makes art and the core belief to her practice: Art is an immensely important and powerful bridge of communication that can offer understanding, healing and connection.
Learn more about the Art in Context Team.