The first Gothic cathedrals were built in the second part of the 12th century. The building of Gothic churches required architects, stonemasons, expert carpenters, and glassworkers, and it could take hundreds of years to build, which utilized the labor and contributions of entire cities. The gothic architecture reflected the ideals, tastes, and spirituality of the time. Today we will explore the world's most noteworthy examples of Gothic church architecture, examining the reasons why they were built, how they were built, and discussing the Gothic cathedral interior and exterior elements.
Noteworthy Gothic Cathedrals
Sometimes people assume that Gothic churches are connected to the Germanic people known as the Goths who thrived in the early 400s AD. Gothic architecture only arose in the 12th century, known then as the "French Style", and it wasn't until the 16th century that it became referred to as Gothic architecture, which was a derogatory term, as the actual Goths were regarded as barbaric and primitive.
Light and verticality are essential features of Gothic Church architecture, with the glass-stained windows enabling much sunlight to enter the Gothic cathedral interior spaces.
Although examples of Gothic architecture can be observed in many palaces, town halls, and castles from the period, the style is best exemplified by the beautiful Gothic cathedrals found across Europe. Here is our list of noteworthy Gothic churches for you to explore.
Notre Dame de Paris (1163) – Paris, France
| | |
| --- | --- |
| Date Completed | 1163 |
| Architect | Pierre de Montreuil (1200 – 1266) |
| Function | Cathedral |
| Location | Paris, France |
Notre Dame de Paris is probably the most recognizable and well-known of all medieval Gothic churches. It was constructed over the ruins of two previous churches, which were erected on a Gallo-Romanesque sanctuary devoted to Jupiter's cult. Its facade, enclosed by two Gothic towers and dedicated in 1189, is one of France's most iconic landmarks.
Until the erection of the Eiffel Tower in the 19th century, the spires of the famous cathedral towered above the Parisian skyline.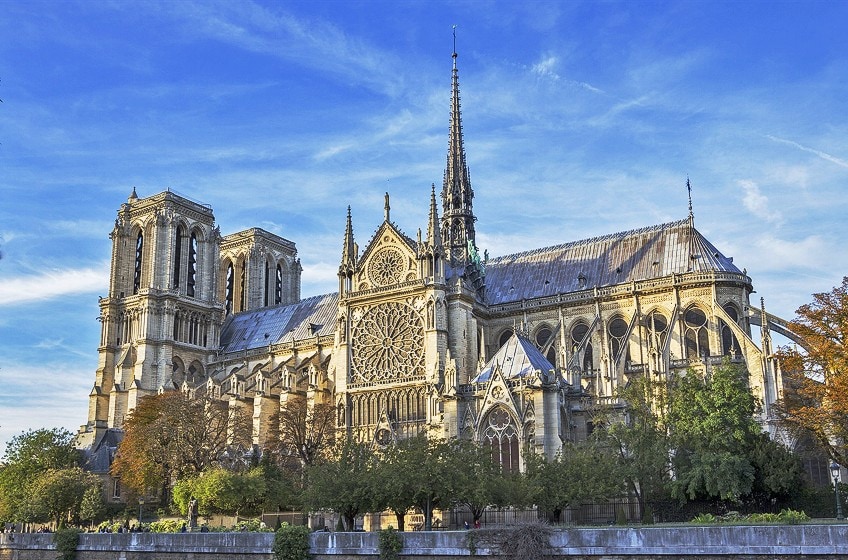 Notre Dame de Paris (1163) in Paris, France; Ali Sabbagh, CC0, via Wikimedia Commons
It has remarkable dimensions: it is a Latin cross cathedral with five naves and double aisles. Notre Dame was also one of the first structures to incorporate flying buttresses, making it a spectacular achievement of the ambitious Gothic Rayonnant style. It's tough to ignore the charm of the statues in this Gothic church.
The cathedral was designed as a "poor person's book," with sculptures telling religious stories through visuals to masses of illiterate worshippers.
Seville Cathedral (1172) – Seville, Spain
| | |
| --- | --- |
| Date Completed | 1172 |
| Architect | Alonso Martínez (c. 14th century) |
| Function | Cathedral |
| Location | Seville, Spain |
The Cathedral of Seville, conceived on a grand scale by the Canons of Seville as early as 1401, remains Europe's largest church. It does not disappoint, and not only because of its sheer enormity – the main nave rises to a breathtaking 42 meters. There is a variety of art within, not least the magnificent Main Altar, and while the architecture is predominantly Gothic, there are a few Islamic architectural aspects.
Though the main Almohad Mosque was destroyed to make place for it, certain characteristics survive.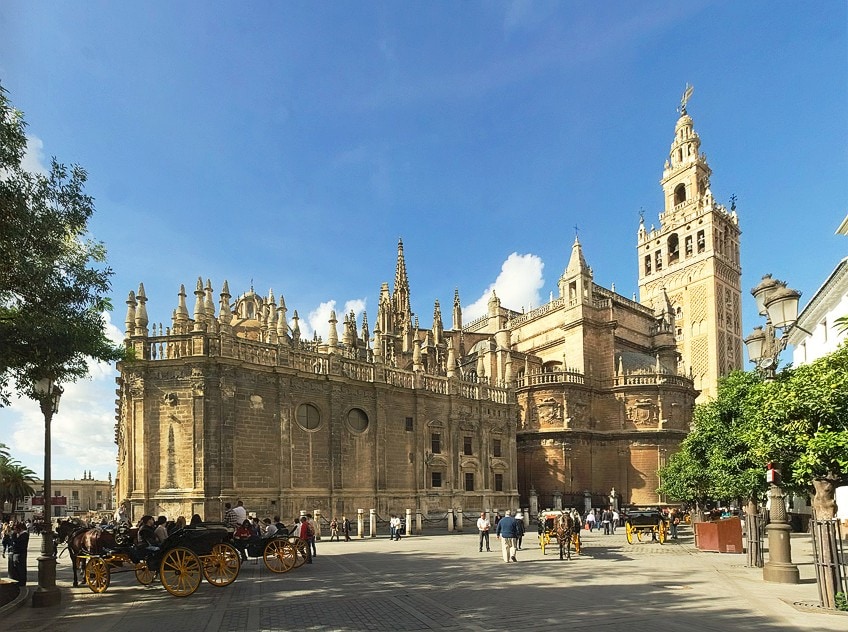 Seville Cathedral (1172) in Seville, Spain; Ingo Mehling, CC BY-SA 4.0, via Wikimedia Commons
Some are prominent, such as the Giralda tower, but others are less so. The courtyard was once a part of the mosque. It was significantly remodeled in the 13th century for use as a monastery and cemetery. Traditionally, an apse with an atrium at the east end would be expected in a Gothic Cathedral.
The Royal Chapel is the burial ground of generations of Spanish Royalty.
Chartres Cathedral (1194) – Chartres, France
| | |
| --- | --- |
| Date Completed | 1194 |
| Architect | Master of Charters (c. 12th century) |
| Function | Cathedral |
| Location | Chartres, France |
The Chartres Cathedral, dedicated to the devotion of the Virgin Mary, is a Gothic architectural landmark. Its portals, stained-glass windows, embellishments, and carved statues are in superb condition. They make the church one of the best-preserved specimens for studying the period. The western facade is contained between two towers, as is typical of French Gothic. One features a complex and thin construction with spandrels.
It's a great representation of extravagant Gothic.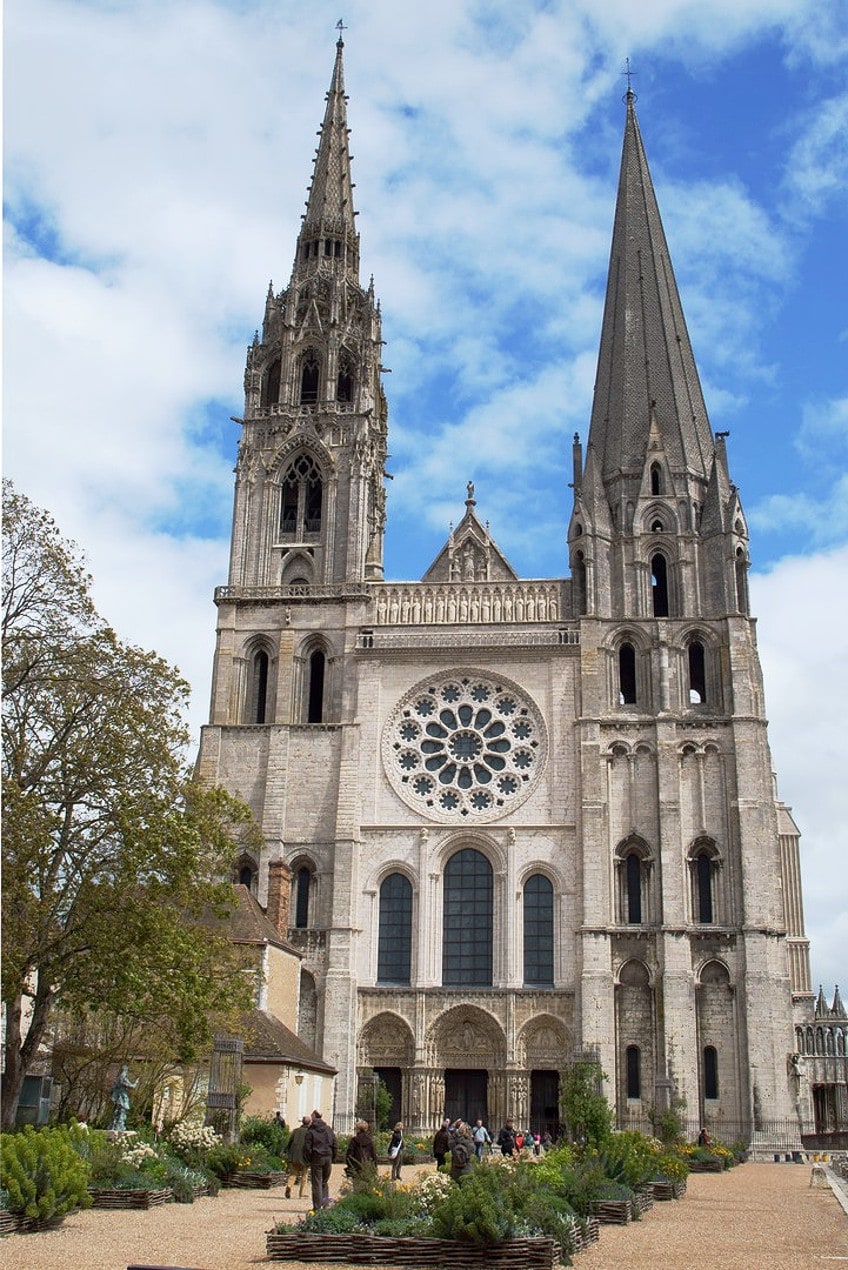 Chartres Cathedral (1194) in Chartres, France; Robin Poitou, CC BY-SA 3.0, via Wikimedia Commons
The Portail Royal has three entries with a multitude of reliefs, sculptures, and statuary columns. Their iconography, which depicts the cycles of the seasons, the constellations, and even a strange bestiary, is still tied to Romanesque influences in certain cases. Nevertheless, it is the famed labyrinth of Chartres that draws symbolists. It is situated on the main nave's floor and portrays a sanctification road that travelers must take to discriminate between evil and good.
A word of caution: there is just one exit.
Siena Cathedral (1215) – Siena, Italy
| | |
| --- | --- |
| Date Completed | 1215 |
| Architect | Giovanni Pisano (1248 – 1315) |
| Function | Cathedral |
| Location | Siena, Italy |
Despite their numerous recurring aspects, Gothic churches in Europe are all differentiated by local characteristics and national differences. In Italy, for instance, Gothic church architecture expanded throughout the country, although it was less intense compared to the other side of the Alps. For that reason, Italian gothic is often known as temperate gothic.
There are no Gothic churches in Italy that reach dizzying heights or employ the immense sculptures found in their French counterparts.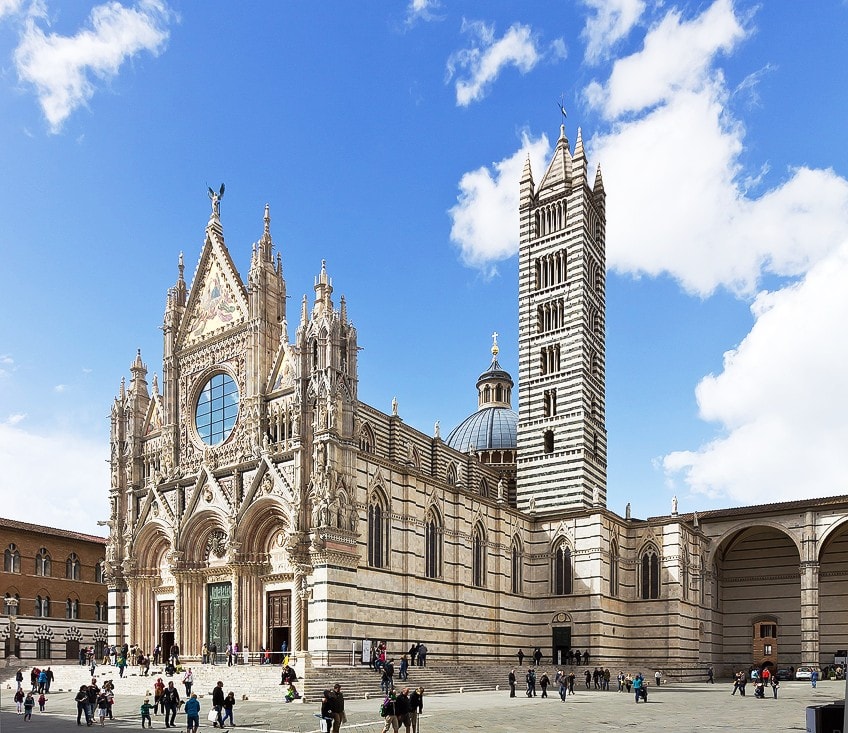 Siena Cathedral (1215) in Siena, Italy; © Raimond Spekking
The Italian Gothic church architecture was kept simple and traditional. The façade of Siena was designed on two levels and incorporates aspects of the French Gothic heritage as well as classical architecture. The utilization of polychrome marble and geometric ornamentation adds a Tuscan touch to the construction. The top level is more evocative of French Gothic churches, featuring pinnacles and gothic ornamentation.
The Gothic cathedral interior features an exquisite rose window by Duccio di Boninsegna and a carved marble pulpit by Nicola Pisano.
Zagreb Cathedral (1217) – Zagreb, Croatia
| | |
| --- | --- |
| Date Completed | 1217 |
| Architect | Hermann Bollé (1845 – 1926) |
| Function | Cathedral |
| Location | Zagreb, Croatia |
The Zagreb Cathedral's history began in the late 11th century, shortly after the founding of the Zagreb bishopric. In 1217, an early church in neo-Romanesque design was dedicated. It was severely destroyed during the Mongol invasion in 1242, but repair began shortly after. The eastern portion of the Cathedral was built in Gothic style between 1264 and 1284, with lower vaults.
Western walls, as well as lower portions of the two belfries, were built between 1366 and 1433.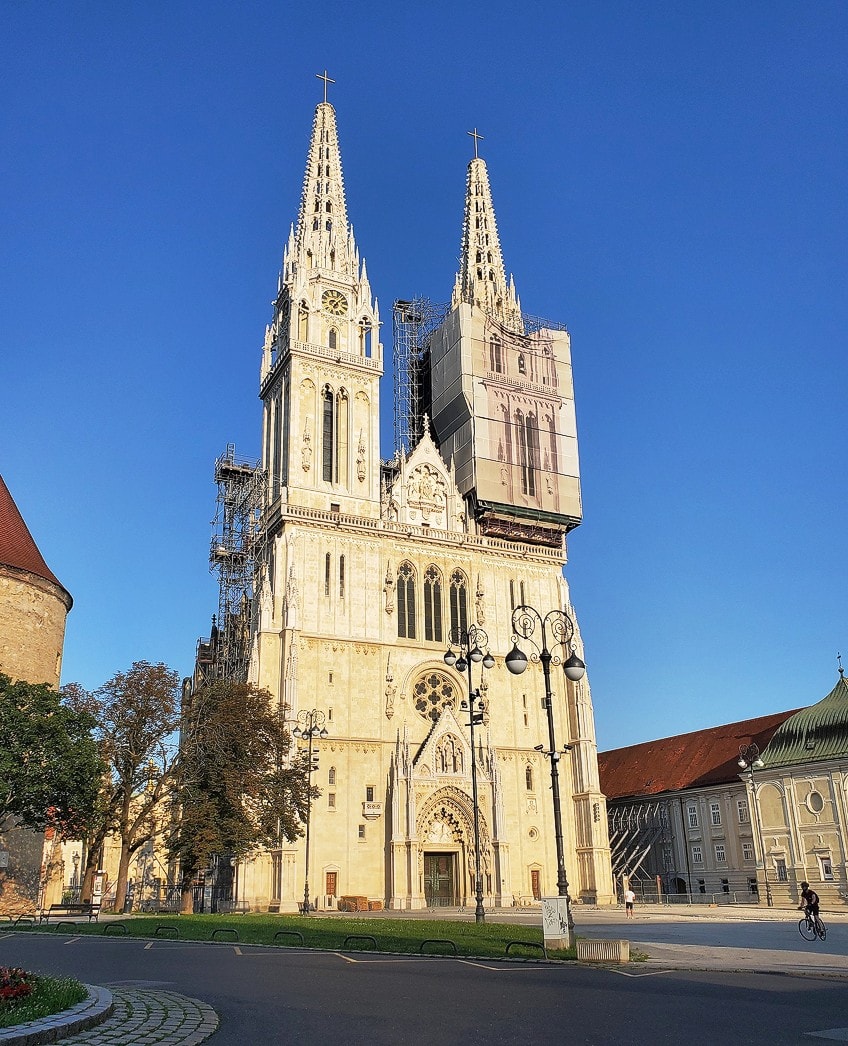 Zagreb Cathedral (1217) in Zagreb, Croatia; Ex13, CC BY-SA 4.0, via Wikimedia Commons
Vaults of identical height were completed in all of the aisles and the raised choir between 1500 and 1510. The nave was altered and elevated. By this point, the Ottoman Empire's expansion had put Zagreb in peril. The Gothic cathedral gained added baroque embellishment in the 18th century, including a baroque pulpit and beautifully adorned altars.
With the Turkish invasion gone, the fortification walls on the east and south sides were repaired and converted into the archbishop's residence.
Salisbury Cathedral (1220) – Salisbury, England
| | |
| --- | --- |
| Date Completed | 1220 |
| Architect | Richard Poore (d. 1228) |
| Function | Cathedral |
| Location | Salisbury, England |
The Anglican cathedral is one of Britain's greatest representations of early-English Gothic architecture, and it is important to note that it is one of only three churches in England without a ring of bells, the other two being Norwich and Ely. Salisbury is home to the highest church spire in the United Kingdom.
It has the world's oldest operating mechanical clock, which dates from around 1386, as well as a remarkable collection of gothic stained-glass windows, notably the "Rose Window".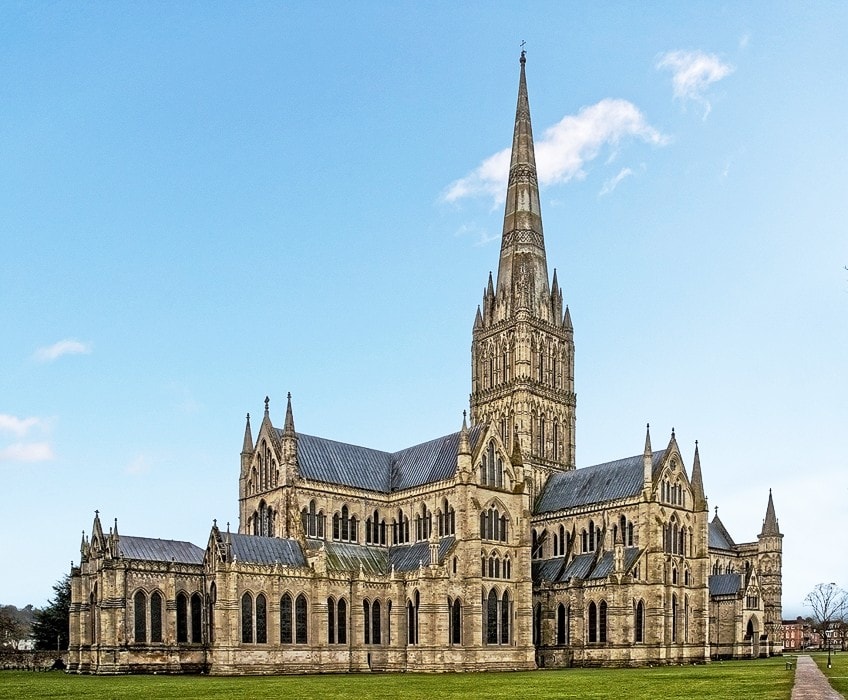 Salisbury Cathedral (1220) in Salisbury, England; Antony McCallum: Who is the uploader, photographer, full copyright owner and proprietor of WyrdLight.com, CC BY-SA 4.0, via Wikimedia Commons
The current Salisbury Cathedral was erected in just 38 years, from 1220 until 1258, under the administration of Bishop Richard Poore, who provided the site for the cathedral. It is without a doubt one of the most recognizable medieval structures in the country. The presence of possibly the single most significant artifact in English history – the Magna Carta – is undeniably the major attraction.
Since 1215, just four copies have survived, with Salisbury being the finest preserved.
Bourges Cathedral (1230) – Bourges, France
| | |
| --- | --- |
| Date Completed | 1230 |
| Architect | Guillaume de Danjeon (1140 – 1209) |
| Function | Cathedral |
| Location | Bourges, France |
From the 12th through to the 15th century, the Gothic style flourished over Western Europe until being superseded by Renaissance designs. With the erection of the Abbey of Saint-Denis, the first cathedral, France became the place from which the style would emerge and spread.
The Bourges cathedral, devoted to Saint-Étienne, the first Christian martyr, is one of the most representative, even if not the most renowned, of these French masterpieces.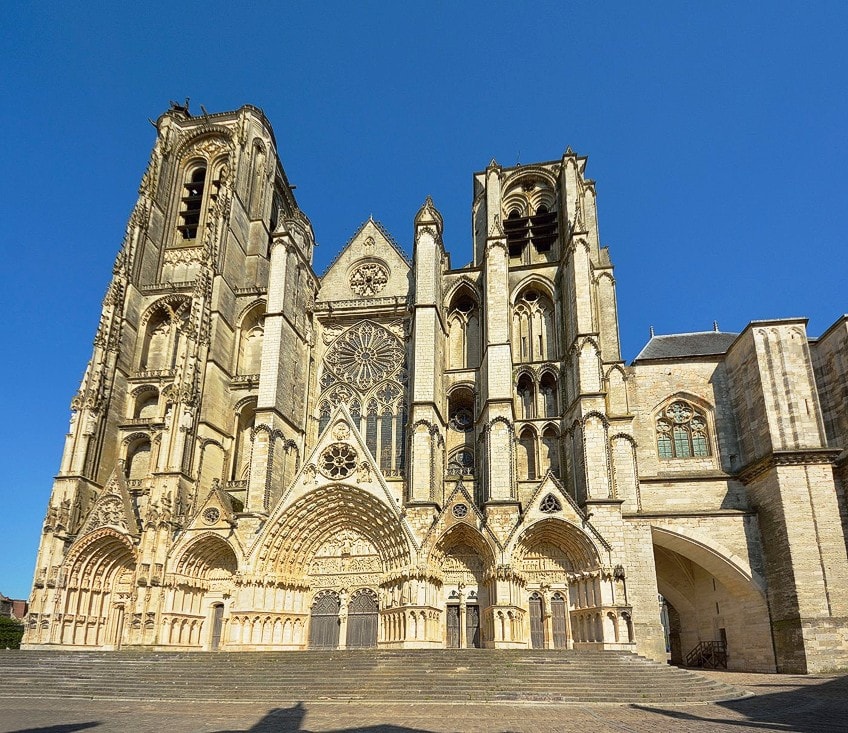 Bourges Cathedral (1230) in Bourges, France; JPRoche, CC BY-SA 3.0, via Wikimedia Commons
This majestic structure was built on the site of an older monastery starting in the late 1100s. It was closely tied to the Capetian dominance of the region, for which it would become a monument. The two asymmetrical turrets, one with lavish Gothic crockets and pinnacles, and the imposing system of double flying buttresses distinguish Bourges Cathedral.
Its carved portals are especially noteworthy, notably the one portraying the Last Judgment.
York Minster (1230) – York, England
| | |
| --- | --- |
| Date Completed | 1230 |
| Architect | Walter de Gray (1180 – 1255) |
| Function | Cathedral |
| Location | York, England |
Originally a wooden church, it was eventually constructed in stone, and King Oswald oversaw its completion. It was significantly repaired in 664 AD, and once again following a fire in 741 AD. This structure survived a bit longer but was demolished in 1069 during the Norman assault on the city. York Minster is an example of Gothic architecture. It was previously a Norman cathedral.
Archbishop Roger of Pont L'Eveque constructed a Norman choir around the end of the next century.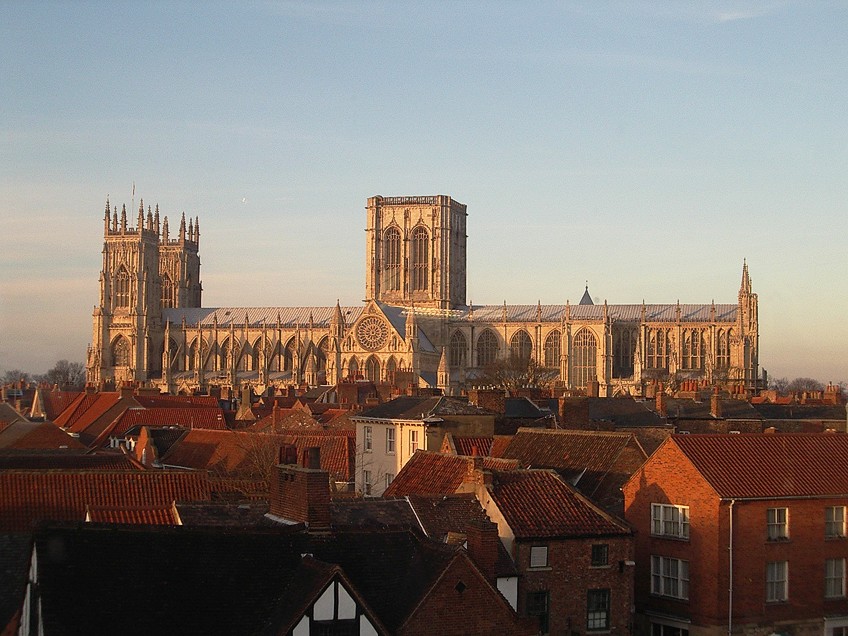 York Minster (1230) in York, England; MatzeTrier, CC BY-SA 3.0, via Wikimedia Commons
He appears to have been inspired by Durham Cathedral's design. The current building's construction started in 1220, was directed by Archbishop Walter de Grey, and lasted over 200 years. It represents almost every phase of Gothic architecture from 1230 until 1475. This design is distinguished by its pointed arches and ornate embellishments.
The original Norman structure was demolished as work continued.
Wells Cathedral (1239) – Wells, England
| | |
| --- | --- |
| Date Completed | 1239 |
| Architect | William Joy (1329 – 1348) |
| Function | Cathedral |
| Location | Wells, England |
The very first representative early-Gothic English architecture, Wells Cathedral in South-West England, broke with the prior Romanesque style. Its design exemplifies how the Gothic architecture style took on several national variants. The most notable feature of the structure is arguably the spectacular West Front, which was finished in the mid-1200s and features over 300 human figure sculptures.
Sculptures in French designs were normally positioned in the gateway, but at Wells, they cover the full façade's recesses.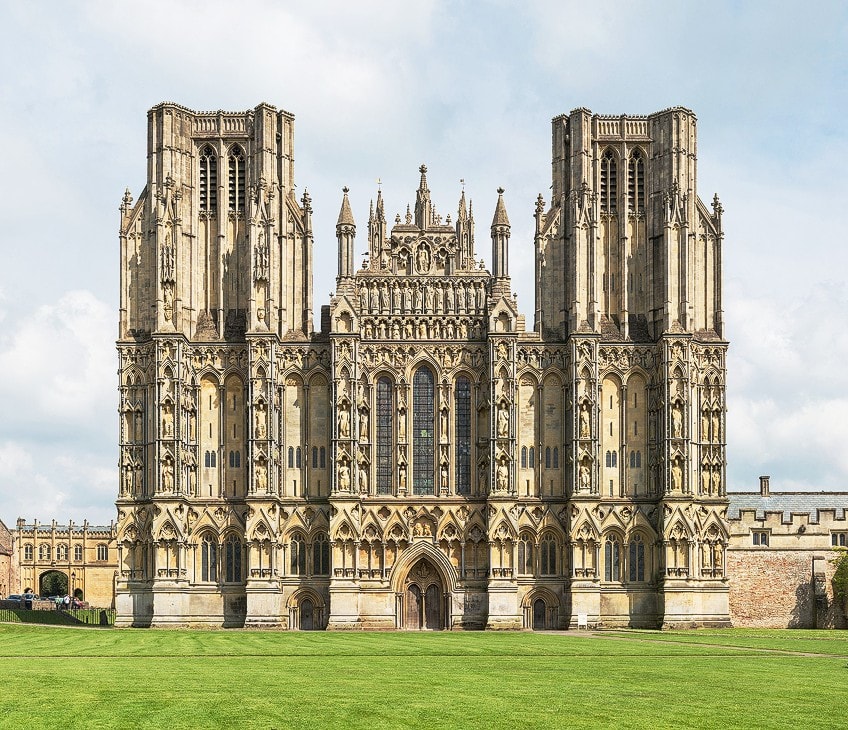 Wells Cathedral (1239) in Wells, England; Diliff, CC BY-SA 3.0, via Wikimedia Commons
Because the carved figures were painted blue, red, and white throughout the Medieval period, the impact must have been much more spectacular. Another intriguing aspect of Wells Cathedral is its musical history. The quatrefoils over the entryway have holes in them.
This allowed the choristers' voices to be heard straight from the façade, a feature that distinguishes this intricate Gothic church.
Basilica of Saint Francis of Assisi (1253) – Assisi, Italy
| | |
| --- | --- |
| Date Completed | 1253 |
| Architect | Elias of Cortona (1180 – 1253) |
| Function | Cathedral |
| Location | Assisi, Italy |
The Basilica of Saint Francis of Assisi is a popular pilgrimage destination for Catholics all around the world. Its architecture will likely amaze visitors since it is a real blend of Gothic and Romanesque features. It symbolizes the start of a new creative period.
In truth, the basilica appears to be a true twofold church, with distinct buildings and functions.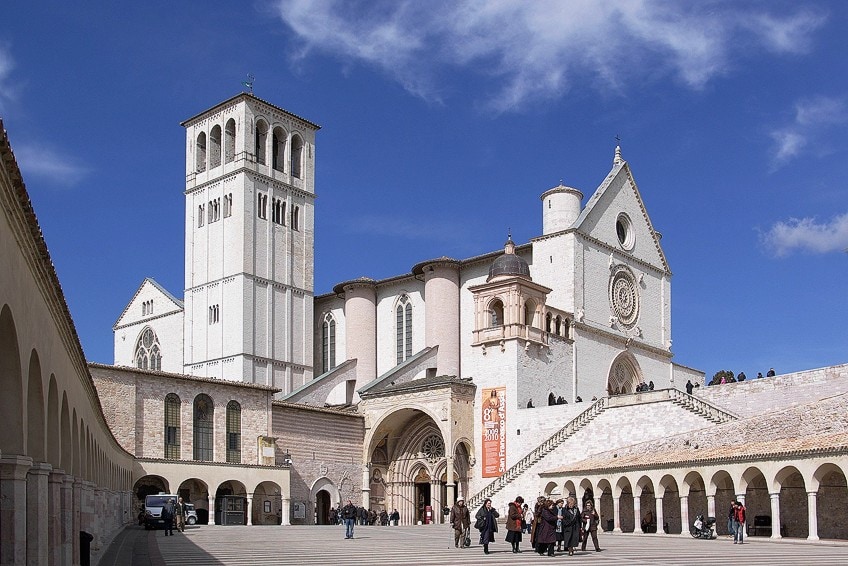 Basilica of Saint Francis of Assisi (1253) in Assisi, Italy; Berthold Werner, Public domain, via Wikimedia Commons
The Upper Basilica, more in the Gothic style, was intended for events and preaching, whilst the Lower Basilica, which included the crypt of Saint Francis, the order's namesake, was intended for reflection and more private devotion. The church's design achieves a fine and balanced unification; there are characteristics associated with the Umbrian Romanesque traditions, such as the gabled facade and the sturdy quadrangular towers, as well as parts inspired by the more contemporary Gothic style.
Pointed arches in the nave, buttresses, and ogival cross vaults are examples of this influence.
Reims Cathedral (1275) – Reims, France
| | |
| --- | --- |
| Date Completed | 1275 |
| Architect | Jean d'Orbais (1175 – 1231) |
| Function | Cathedral |
| Location | Reims, France |
Reims Cathedral is regarded as one of the most important examples of Gothic architecture in the world. What gives this structure its personality? For 800 years, it played a pivotal part in French history. The French-German reconciliation was also officially confirmed in Reims in 1962.
The buttresses at Reims Cathedral are also lovely ornamental embellishments that represent the cathedral's grandeur.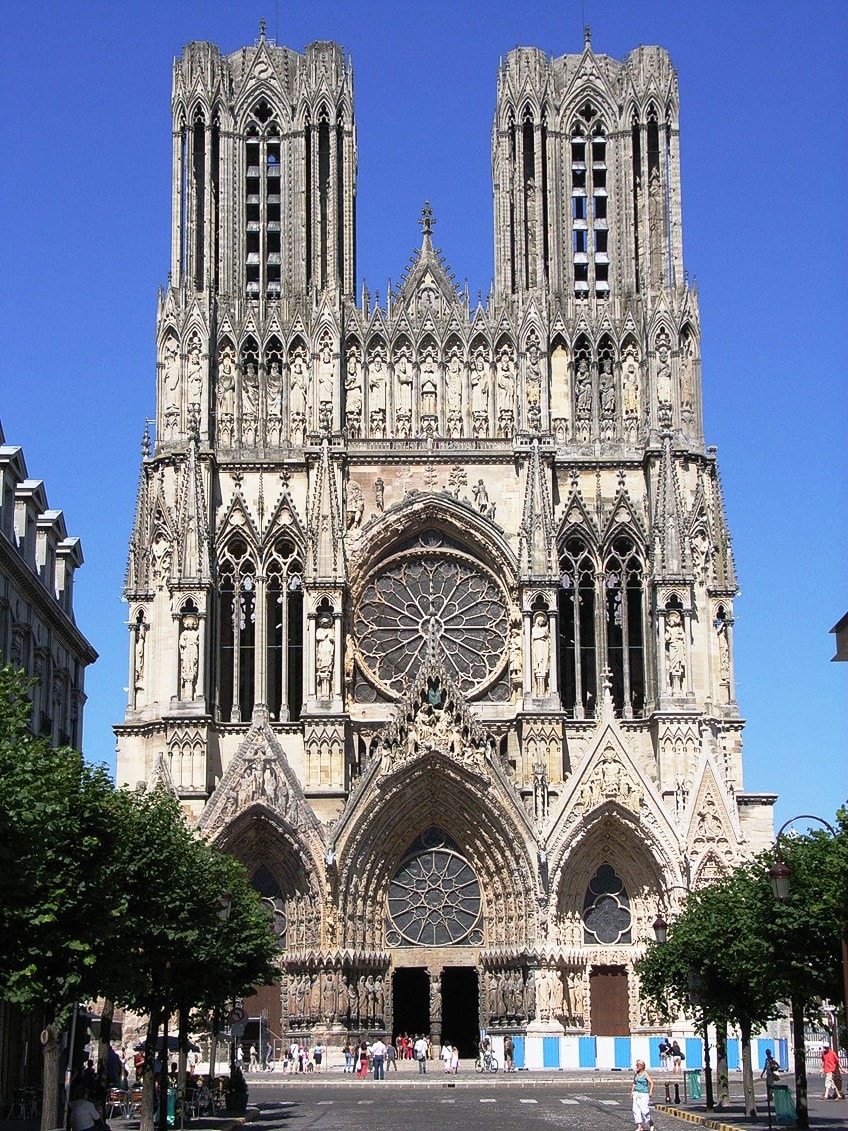 Reims Cathedral (1275) in Reims, France; bodoklecksel, CC BY-SA 3.0, via Wikimedia Commons
Because of the arches that support the building's framework, bigger apertures have been created, enabling light to penetrate through the spectacular stained-glass windows. The lit cathedral became a spectacular light display, just as its designers planned in the early 13th century.
There are also 2,300 sculptures that add to the cathedral's charm: arches, statue columns, ornamental figures both inside and outside, tabernacles, and the famed smiling angel.
Orvieto Cathedral (1290) – Orvieto, Italy
| | |
| --- | --- |
| Date Completed | 1290 |
| Architect | Lorenzo Maitani (1275 – 1330) |
| Function | Cathedral |
| Location | Orvieto, Italy |
The cathedral of Orvieto may not be one of the most well-known cathedrals in Italy, but it certainly possesses its beauty since it is a hidden jewel. It was constructed towards the end of the year 1200 by the order of Pope Nicholas IV to commemorate the Eucharistic Miracle of Bolsena, a town near Orvieto.
According to tradition, while celebrating Mass in the little community, a priest discovered that the holy body was bleeding on the corporal.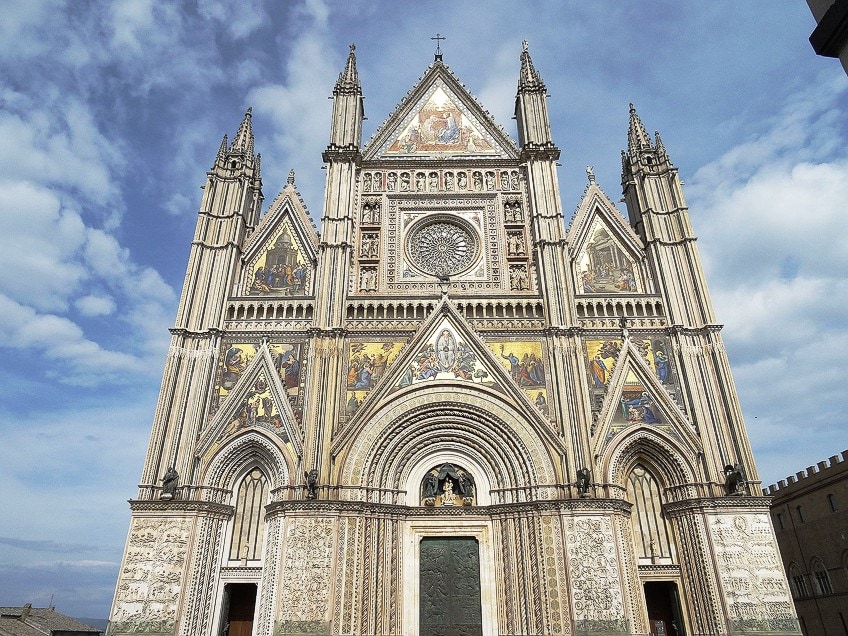 Orvieto Cathedral (1290) in Orvieto, Italy; Livioandronico2013, CC BY-SA 3.0, via Wikimedia Commons
The precious relic is presently housed in a chapel within the cathedral. Orvieto's church includes gothic characteristics based on an Italian interpretation. Its rose window, which Orcagna restored, is very noteworthy and has a unique form, with a 22-sided polygon pattern. The facade of the cathedral is exquisite and is regarded as a great work of ecclesiastical architecture.
It has three big bronze doors, stunning gilded mosaics, and a magnificent rose window.
Saint Vitus Cathedral (1344) – Prague, Czech Republic
| | |
| --- | --- |
| Date Completed | 1344 |
| Architect | Peter Parler (1333 – 1399) |
| Function | Cathedral |
| Location | Prague, Czech Republic |
St Vitus Cathedral is a Gothic church of the Roman Catholic denomination situated on the grounds of Prague Castle, rising over Prague's Lesser Town. It is without a doubt one of the most notable and recognizable monuments in Prague and throughout Czechia. The Gothic cathedral is much more than a wonderful destination of Christian devotion and religious retreat.
It can only be defined as an exceptional piece of art and an awe-inspiring sight. Seeing it with your own eyes is a once-in-a-lifetime opportunity.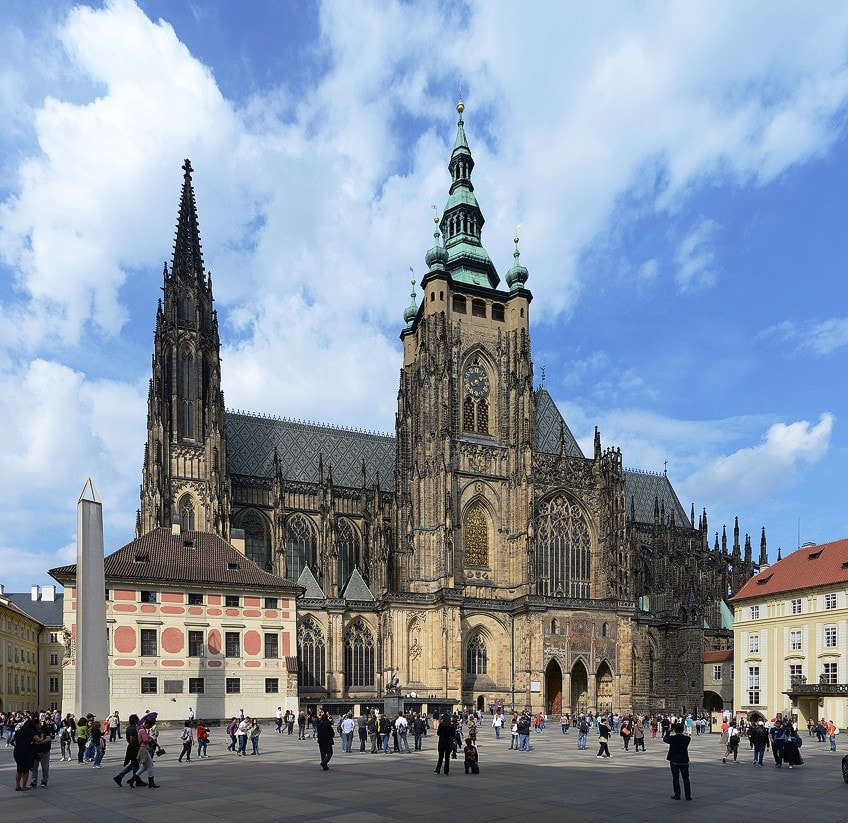 Saint Vitus Cathedral (1344) in Prague, Czech Republic; Alvesgaspar, CC BY-SA 4.0, via Wikimedia Commons
St Vitus Cathedral is regarded as one of the nation's most prominent monuments and a spiritual icon of the Czech Republic. St Vitus Cathedral has housed the bishop of the Prague diocese since the 10th century. Aside from an inconceivable number of services and other Catholic events, several Czech monarchs and queens were coronated here.
It is the last resting place of many monarchs, saints, lords, and archbishops.
Milan Cathedral (1386) – Milan, Italy
| | |
| --- | --- |
| Date Completed | 1386 |
| Architect | Donato Bramante (1444 – 1514) |
| Function | Cathedral |
| Location | Milan, Italy |
Milan is a vibrant and bustling city, but its historic cathedral is regarded as the city's heart. It is devoted to Saint Mary, and the gilded figure of the Virgin, positioned on the topmost spire, is an iconic emblem of the city. The Milan Cathedral is not intimidated by large crowds: it is the biggest church in Italy (except for the Vatican) and can hold up to 40,000 individuals. It is also lavishly ornamented with gothic sculptures, figures, and gargoyles.
Among them is the "New Law" (1810), a near-identical replica of the Statue of Liberty.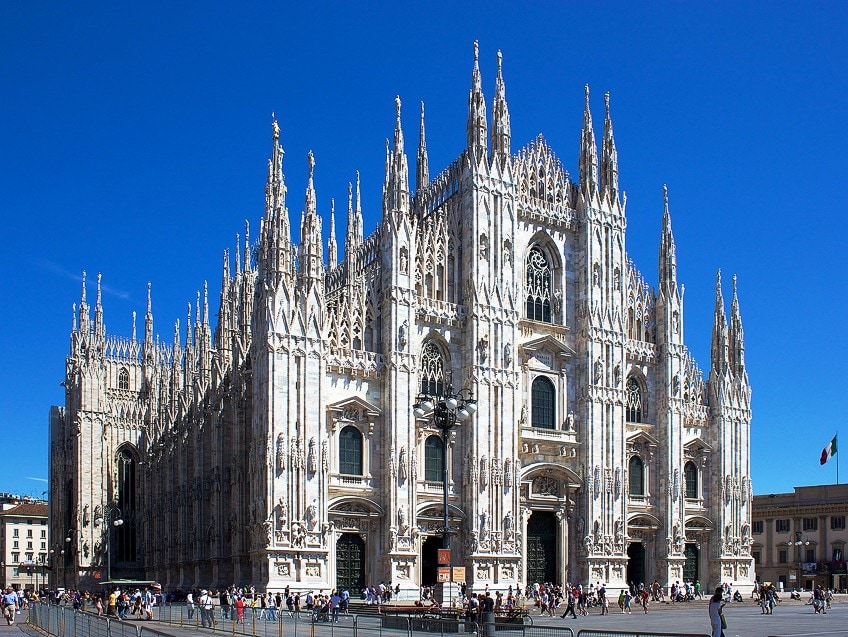 Milan Cathedral (1386) in Milan, Italy; Jiuguang Wang, CC BY-SA 3.0, via Wikimedia Commons
The building of Milan Cathedral took over 600 years and it is still not done! Its facade was inaugurated in 1418 but remained incomplete for centuries until Napoleon intervened. It is still the focus of ongoing repairs and cleanings to preserve its white and pink marble.
The preservation project was initiated by king Gian Galeazzo Visconti to commemorate his family's regional expansion.
Cologne Cathedral (1560) – Cologne, Germany
| | |
| --- | --- |
| Date Completed | 1560 |
| Architect | Master Gerhard (1210 – 1271) |
| Function | Cathedral |
| Location | Cologne, Germany |
Germany is not just known for its medieval castles and fortifications; Gothic churches also made an impression throughout the Middle Ages. Cologne Cathedral, for instance, is Northern Europe's biggest Gothic church. Its two towers with massive spires are over 150 meters tall, making it the highest structure in the world until 1884.
As a pilgrimage destination, it also ranks among the most visited locations in Germany.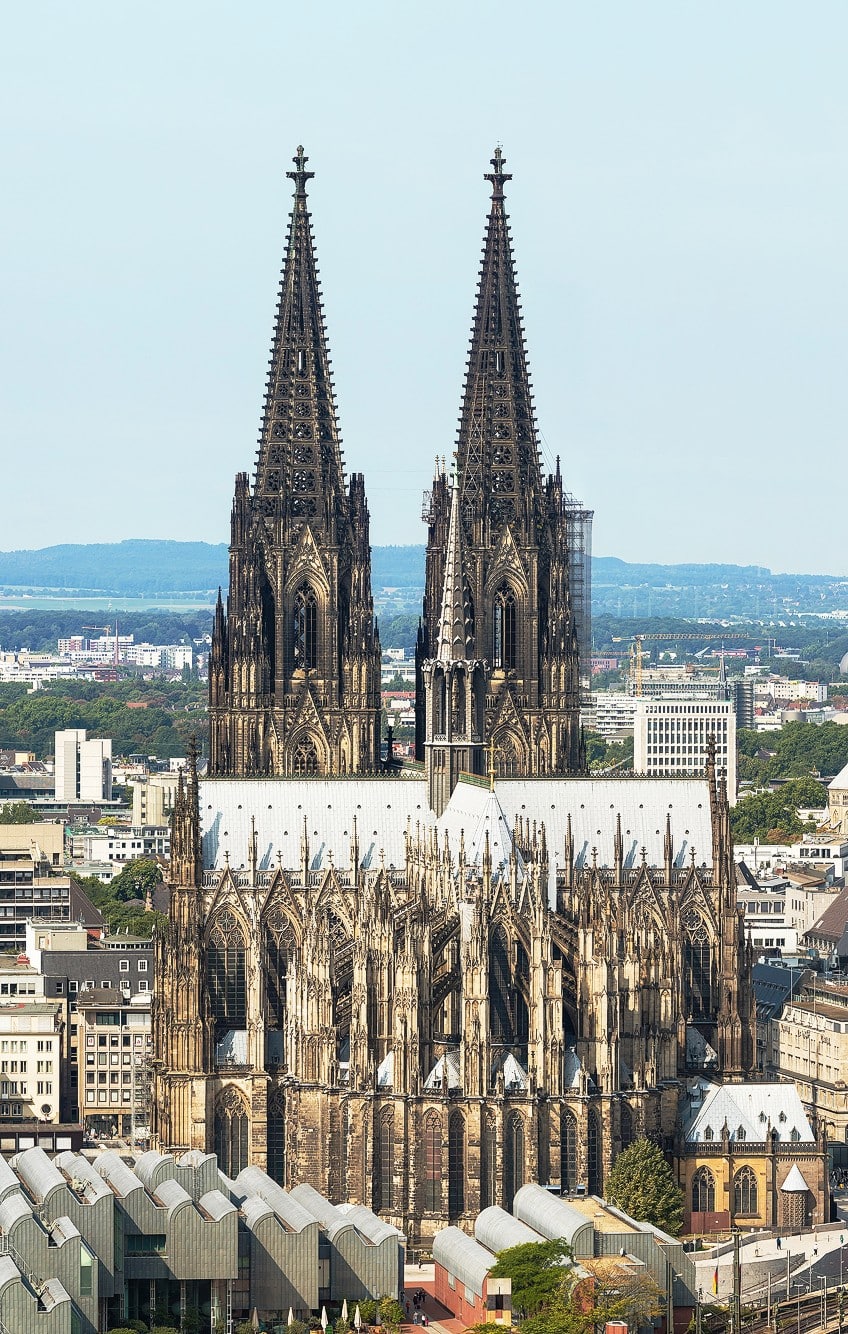 Cologne Cathedral (1560) in Cologne, Germany; Thomas Wolf, www.foto-tw.de, CC BY-SA 3.0 DE, via Wikimedia Commons
Cologne Cathedral has housed the relics of the Three Kings since the Middle Ages, which were removed from another cathedral in Milan by Frederick Barbarossa, the Holy Roman Emperor. This holy relic was incredibly important for Christian devotion and is now housed in a golden casket designed by the renowned goldsmith Nicolas de Verdun.
The Gothic cathedral has also survived many of the 20th century's worst dramatic periods.
During WWII, it was bombed 14 times, and one of its beautiful stained-glass windows was destroyed. Gerhard Richter, a modern visual artist, recreated it in 2007, producing a modern stained-glass window replete with pixels – a new kind of Gothic glasswork.
Gothic architecture has become one of the globe's most unique construction styles, both aesthetically extravagant and philosophically transcendental. Though it started in the Middle Ages, the unique genre continues to enchant today, as seen in examples of some of Europe's breathtaking Gothic cathedral architecture. While Gothic architecture appears to be a unique building style, its distinctive design has been influenced by a variety of inspirations through the ages.
Frequently Asked Questions
How Do You Define Gothic Architecture?
Gothic architecture is a European architectural form that emphasizes height and has an ornate and exquisite appearance. Despite its initial French origins, the Gothic architecture style may be found in cathedrals, castles, and other comparable structures across Europe and beyond. While the Gothic style varies depending on age, location, and kind of structure, major architectural characteristics such as pointed arches, massive stained-glass windows, flying buttresses, rib vaults, and rich ornamentation are common.
What Are the Characteristics of Gothic Cathedrals?
The gothic architecture used and altered Romanesque components to create a new architectural style with exaggerated arches, expanded vaulting, and bigger windows. Nevertheless, in addition to redefining these features, Gothic architecture discarded one crucial aspect of Romanesque construction: substantial walls. Gothic architects used flying buttresses to support higher, more delicate structures with thinner walls. These stone constructions enabled builders to build airy castles and churches that stretched toward the skies.
Justin van Huyssteen is a freelance writer, novelist, and academic originally from Cape Town, South Africa. At present, he has a bachelor's degree in English and literary theory and an honor's degree in literary theory. He is currently working towards his master's degree in literary theory with a focus on animal studies, critical theory, and semiotics within literature. As a novelist and freelancer, he often writes under the pen name L.C. Lupus.
Justin's preferred literary movements include modern and postmodern literature with literary fiction and genre fiction like sci-fi, post-apocalyptic, and horror being of particular interest. His academia extends to his interest in prose and narratology. He enjoys analyzing a variety of mediums through a literary lens, such as graphic novels, film, and video games.
Learn more about the Art in Context Team.