Onyx Color – The Shade of Black That Originated from a Rock
What color comes to mind when you think of onyx? Most people would most probably say that they are thinking of something close to black. When it comes to only dealing with the color, this is quite true. However, the onyx stone is a little more complex and can come in a variety of colors. We will briefly be dealing with the onyx stone, but our focus in this article will be on the onyx color itself. Let us get started by looking at a brief description of the onyx color!
What Color Is Onyx?
Is onyx black? The stone itself ranges in color, including an onyx black. However, they all have alternating bands of contrasting colors, such as white on black. The stones are almost never a solid color. The onyx black color below is what you can find online as a graphic color, which as you can see, is extremely close to black. There are also different versions of onyx that you can find online.
The first is a representation of the real onyx and can be described as an extremely dark gray that has little to no undertones. So, it is as close to black as you can get without being 100 percent black.
In the table below, you can identify this onyx black color by the onyx hex code, #0f0f0f. The second onyx color is different in that it has a slight greenish undertone, so can be described as a greenish-black or an extremely dark tone of green. The onyx hex code for this color is #353935.
| | | | | |
| --- | --- | --- | --- | --- |
| Shade | Hex Code | CMYK Color Code (%) | RGB Color Code | Color |
| Onyx Black | #0f0f0f | 0, 0, 0, 94 | 15, 15, 15 | |
| Onyx Green | #353935 | 7, 0, 7, 78 | 53, 57, 53 | |
Onyx Color: A Brief History
The onyx color is quite obviously linked to the stone, which is where the color originates from. As we have mentioned, the onyx stone comes in different colors besides black, including red and green, among others. Onyx is a sedimentary rock that is mostly found in caves and is formed by chalcedony, a silicate mineral that usually creates contrasting layers of color to form the onyx. The different varieties of onyx include the following.
Black onyx: There is a very rare solid black onyx you can find in nature. However, the common black onyx is usually more grayish and is treated to produce the black color.
Sardonyx: An onyx stone that has a brown base, with alternating bands of orange, red, and yellow.
Cornelian onyx: This type of onyx contains a red base with lighter red and white bands of color.
Niccolo onyx: This particular onyx has a black base with light blue and gray bands that are almost translucent.
Blue onyx: An onyx stone that produces a beautiful crystal blue, with white and brown bands.
The term "onyx" is derived from the Greek word "onux", which implies a nail or claw, which is what the stone color looked like. Since Ancient times, onyx has been used to create beautiful sculptures and jewelry. In many cultures, the onyx was known to have protective powers, and onyx items were often worn by warriors. In Ancient Egypt, craftsmen were known to create onyx bowls and other decorative items.
Some say that the gemstone was even worn by Cleopatra. During the 1920s and for a few years after that, many art sculptures were displayed on a Brazilian green onyx plinth.
Today, the onyx gemstones are still quite popular for their unusual beauty and affordability. The onyx stone has also become quite popular as an interior design feature, for its unique and elegant look. You also now have many popular paint colors based on the onyx color.
Meaning of the Onyx Color
The onyx gemstone has been associated with protection and strength throughout history, similar to the meaning of the black color. It is also said that the onyx stone itself has grounding properties and helps to release negative energy. Onyx is said to also have powerful spiritual healing abilities. The stone helps to boost happiness and provide emotional stability.
You could also say that it provides safety and security, similar to the meaning of black.
Similar Shades of Onyx
Since onyx is a shade of black, you can have variations of this color to produce a monochromatic color scheme. Similar colors to onyx will then be a darker, more pure black, or lighter shades of gray, such as charcoal or a general gray.
| | | | | |
| --- | --- | --- | --- | --- |
| Shade | Hex Code | CMYK Color Code (%) | RGB Color Code | Color |
| Onyx Black | #0f0f0f | 0, 0, 0, 94 | 15, 15, 15 | |
| Black | #000000 | 0, 0, 0, 100 | 0, 0, 0 | |
| Charcoal | #36454f | 32, 13, 0, 69 | 54, 69, 79 | |
| Gray | #808080 | 0, 0, 0, 50 | 128, 128, 128 | |
Different Color Combinations for the Onyx Color
Black and gray tones are not found on the more common color wheel, so the traditional color combinations do not work the same as when you work with a particular hue like green. However, black and gray are considered neutrals, and can easily be paired with most colors.
Pairing onyx with white creates a nice contrast, along with other neutrals like beige or cream.
You can also pair onyx black with lighter shades of gray to create a look that provides more depth. Since it is a well-balanced shade of black, it can work easily with both warmer and cooler colors. The onyx black will look great with a muted blue, green, or red, which softens the contrast, making it easier on the eyes.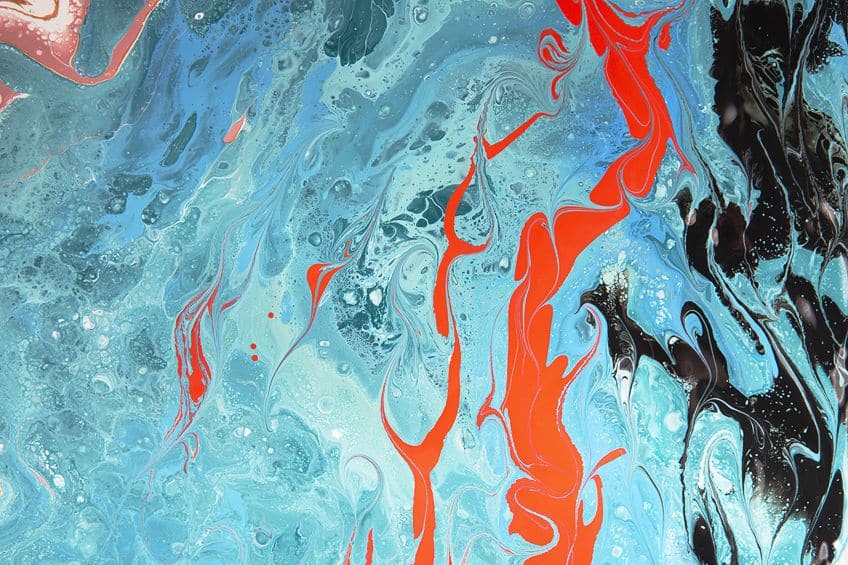 | | | | | |
| --- | --- | --- | --- | --- |
| Shade | Hex Code | CMYK Color Code (%) | RGB Color Code | Color |
| Onyx Black | #0f0f0f | 0, 0, 0, 94 | 15, 15, 15 | |
| Muted Blue | #82b0d1 | 38, 16, 0, 18 | 130, 176, 209 | |
| Muted Green | #a9d1b0 | 19, 0, 16, 18 | 169, 209, 176 | |
| Muted Red | #a36e65 | 0, 33, 38, 36 | 163, 110, 101 | |
However, if you choose another onyx color that has an undertone, then you can follow the various color combinations for that particular hue. For example, the onyx green. This onyx color will work well with other neutrals like white and gray, as well colors like various green and blue shades. This time, you can also use different color combinations, as you have the green hue to work from. For example, complementary colors like a muted magenta, can add warmth and contrast.
| | | | | |
| --- | --- | --- | --- | --- |
| Shade | Hex Code | CMYK Color Code (%) | RGB Color Code | Color |
| Onyx Green | #353935 | 7, 0, 7, 78 | 53, 57, 53 | |
| Muted Dark Magenta | #9d629d | 0, 38, 0, 38 | 157, 98, 157 | |
How to Use the Onyx Color
When dealing with paint colors, you can simply use black paint to represent the onyx color. However, you can also create black by mixing all three primary colors, which include yellow, red, and blue. Simply mix equal amounts of each to create a black color.
You should understand that many paints are not pure colors and may contain undertones, which can affect the outcome of the blended colors.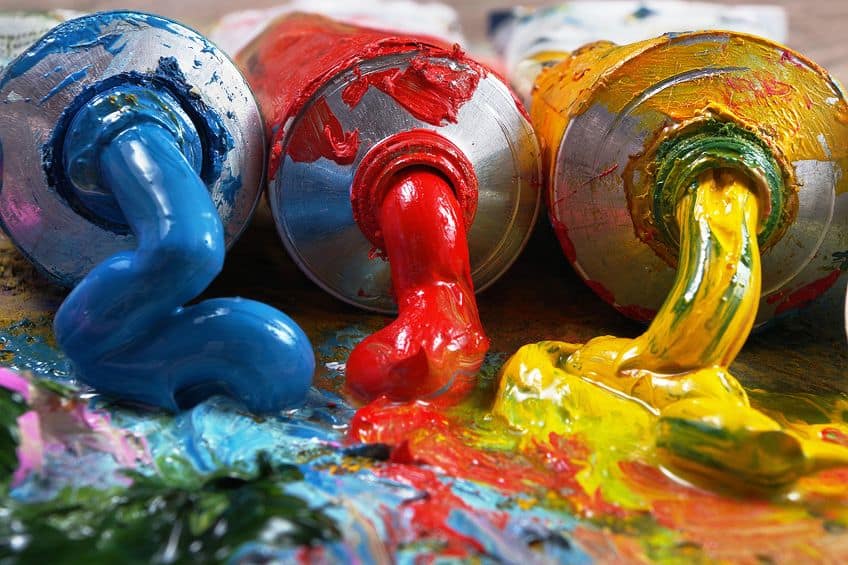 So, experiment with different types of blue, red, and yellow paint to see what variations of black you can make. For example, consider mixing phthalo blue and burnt umber to create an interesting deep black. There are quite a few versions of onyx paint colors that are used for interior designs, which makes the color quite popular in this area.
Using Onyx Black in Interior Designs
Since the onyx black color is not pure black, it appears slightly less dominating and has more of a cocooning and welcoming feel to it. But can you paint the walls with it? Yes, you can but the room should have enough natural light or lighting, which creates quite a stunning look. However, when used as an accent color and paired with white, it also provides a nice contrast and appears less domineering. Try out some of the below ideas when working with the onyx color.
Use the onyx color as an accent wall in an otherwise neutral-themed space, to create a nice focal point that adds a bit of drama to the space.
Simply paint the inside of a door, which can contrast with white walls.
You can also bring in onyx as an accent color with accessories and furniture.
Layer the onyx color with shades of gray to create a more layered look.
In the kitchen, consider onyx color cabinets with white marble tops and wooden flooring.
Bring in pops of green or blue, as well as orange or shades of red. Something like a simple leafy plant can do the trick.
Include metal or natural elements, for example, brass light fixtures and wooden floors, which can bring in more warmth and a luxury feel.
You can also consider darker exteriors, as these are becoming quite popular. Colors like black onyx work amazingly well with white window trims and doors to provide a beautiful contrast. You can also think of using the color for smaller areas like the garage door or painting just the outside of the front door.
Some have also chosen to use only the roof tiles in an onyx-black shade.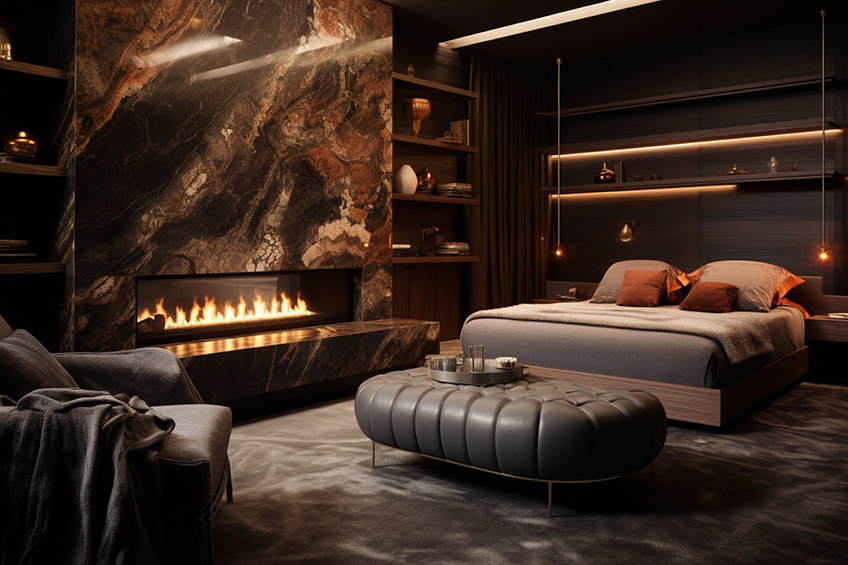 The onyx stone itself is also popular as part of interior design. Again, remember, the onyx stone does come in different colors. However, it can all be used as kitchen countertops, wall panels, bathroom, or vanity tops as well as floor or wall tiles and backsplashes. The onyx stone adds a modern look to the design and also works wonderfully with other natural elements, such as wood, concrete, glass, and brass.
Instead of simply choosing black as a color for your next design, consider other options like the onyx color, which can provide a slightly more versatile look. When choosing a paint color, always remember to check for undertones and to test the color out in different lighting situations, especially if you are going to use a dark color scheme like onyx black. This way, you can never go wrong!
Frequently Asked Questions
What Color Is Onyx?
Is onyx black? The onyx color is not quite 100 percent pure black but is very close to it. Since it only has very small yet equal amounts of red, green, and blue, it is considered a neutral. However, you can also get variations that have a certain hue undertone, such as the onyx green color.
What Colors Pair Well With Onyx Black?
The onyx black color pairs equally well with most hues, like various shades of blue, green, and red. However, it stands out the most when paired with white, which is another neutral. You will need to be more careful if the onyx color has a dominating undertone, as some color combinations can seem a bit off-balance if paired incorrectly.
What Are Some Other Uses for Onyx Black?
You can find onyx black in various beauty and cosmetic products, such as lipstick, nail polish, and hair dye. There are also clothing items and accessories, like handbags, that come in an onyx color.
In 2005, Charlene completed her Wellness Diplomas in Therapeutic Aromatherapy and Reflexology from the International School of Reflexology and Meridian Therapy. She worked for a company offering corporate wellness programs for a couple of years, before opening up her own therapy practice. It was in 2015 that a friend, who was a digital marketer, asked her to join her company as a content creator, and this is where she found her excitement for writing.
Since joining the content writing world, she has gained a lot of experience over the years writing on a diverse selection of topics, from beauty, health, wellness, travel, and more. Due to various circumstances, she had to close her therapy practice and is now a full-time freelance writer. Being a creative person, she could not pass up the opportunity to contribute to the Art in Context team, where is was in her element, writing about a variety of art and craft topics. Contributing articles for over three years now, her knowledge in this area has grown, and she has gotten to explore her creativity and improve her research and writing skills.
Charlene Lewis has been working for artincontext.org since the relaunch in 2020. She is an experienced writer and mainly focuses on the topics of color theory, painting and drawing.
Learn more about Charlene Lewis and the Art in Context Team.
Cite this Article