Maxfield Parrish's paintings of beautiful surroundings and delightful characters charmed the public during America's Golden Age of Illustration. Maxfield Parrish's artwork has been used for book illustrations, large murals, and magazine covers. A large number of Maxfield Parrish's prints for children's books, which are still widely popular, are the product of his initial battle to earn a living as an illustrator around the beginning of the 20th century.
Maxfield Parrish's Artwork and Life
Few of us can forget the first time we saw one of Maxfield Parrish's prints as children. Everybody knows Parrish's wonderful universe, which is frequently woven with the hue of lapis lazuli in its finest form. His usage of this hue was so influential that a specific cobalt blue was dubbed "Parrish Blue".
His idealistic pictures of feminine grace and beauty dressed in classical costumes against backdrops of electrifying violets, bright reds, and rich luminous earth tone paint produced an exquisite universe.
Painting by Maxfield Parrish for the 30th August 1923 edition of Life magazine; LIFE Magazine, Public domain, via Wikimedia Commons
Other pictures depicted sceneries decorated with thick clouds in a fairy tale atmosphere of princesses and knights sleeping beneath pediments, and they were equally harmonious, utopian, and cherished. Maxfield Parrish became undoubtedly the most famous and well-known illustrator in early 20th century America as a virtue of his capacity to generate such majestic grandeur.
His sumptuous coloristic qualities, amazing precision, and academic excellence were widely acknowledged by the American public in the 1920s, and he was honored with unprecedented national acclaim. In fact, in the year 1925, it is estimated that around one out of every four American families had a print of one of his artworks in their homes.
A Maxfield Parrish Biography
| | |
| --- | --- |
| Nationality | American |
| Date of Birth | 25 July 1870 |
| Date of Death | 10 March 1966 |
| Place of Birth | Philadelphia, United States |
Maxfield Parrish was an artist and illustrator from the United States whose artwork influenced the Golden Age of Illustration. He is well-known for his unusual color intensity, idealistic neoclassical iconography, and financial prosperity.
Challenging the stereotype of the hungry artist, Parrish received his first assignment before graduating from art school and went on to acquire enormous success throughout the first part of the 20th century.
Early Life and Education
The son of a painter and etcher, Maxfield Parrish was born in Philadelphia. His birth name was Frederick, but he eventually modified it to Maxfield. He grew up in a Quaker household. He began painting for his own entertainment as a youngster, had shown great skill, and his family supported him.
In 1884, his parents accompanied him to Europe, where he saw Italy, England, and France, was introduced to architectural design, and paintings by the great artists, and attended Dr. Kornemann's Paris school.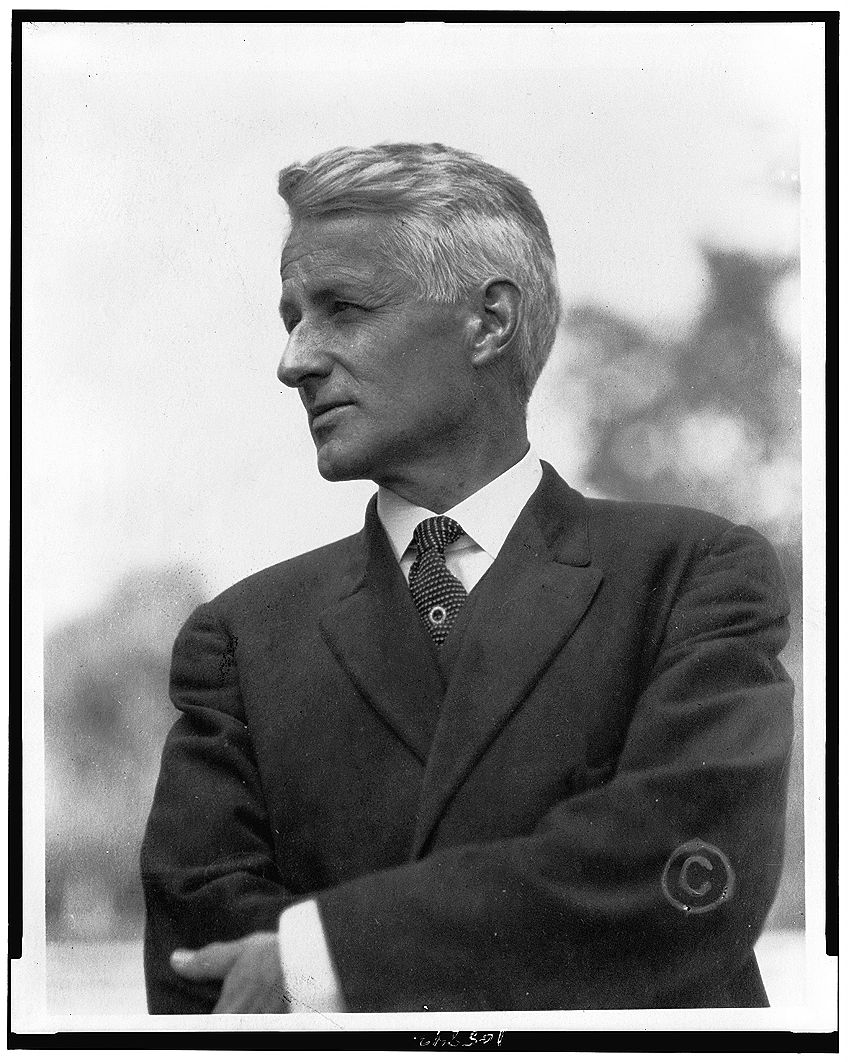 Half-length portrait of Maxfield Parrish, taken in 1920; Miscellaneous Items in High Demand, PPOC, Library of Congress, Public domain, via Wikimedia Commons
Parrish then enrolled at Haverford School and afterward pursued architectural design for a couple of years at Haverford College starting in 1888. Parrish left the school and moved to Annisquam, Massachusetts, where he and his father had a painting workshop. With his father's support, he enrolled at the Drexel Institute of Art, Science, and Industry.
Career
Parrish started an artistic profession that spanned more than a half-century and shaped visual arts in America. Throughout his profession, he created around 900 artworks, and Maxfield Parrish's paintings were featured in greeting cards, calendars, and magazine covers.
The majority of Parrish's early artworks were in white and black.
Maxfield Parrish's artworks appeared in Harper's Bazaar's Easter Edition in 1885. He has also contributed to numerous other publications, such as Scribner's Magazine. Les Maîtres de l'Affiche featured one of his paintings for The Century Magazine. He also produced L. Frank Baum's Mother Goose in Prose children's book in 1897. He had become a part of the Society of American Artists by 1900. In 1903, he returned to Europe to explore Italy.
The Dinky Bird (1904) illustration by Maxfield Parrish, exemplifying his characteristic use of androgynous figures; Maxfield Parrish, Public domain, via Wikimedia Commons
Until the 1920s, Parrish accepted several orders for commercial painting. Among the numerous prominent undertakings in Parrish's more commercially focused artworks were Eugene Field's Poems of Childhood (1904) and such conventional works as Arabian Nights in 1909. A Wonder Book and Tanglewood Tales (1910), and The Knave of Hearts (1925) all include books drawn by Parrish.
In 1910, Parrish was commissioned to produce 18 panels for the Curtis Publishing Company complex, which was under development at the time. It would require six years to complete the massive job in the end. Curtis hired Parrish to paint a big mural for the building foyer in 1914 before the murals were finished.
Throughout the 1910s and 1920s, he worked for major publications such as Hearst's and Life. He also designed advertisements for Edison-Mazda Lamps, Wanamaker's, Colgate, and Oneida Cutlery.
The Lantern Bearers (1908) by Maxfield Parrish, for the 10th December 1910 edition of Collier's magazine; Maxfield Parrish, Public domain, via Wikimedia Commons
From 1904 through 1913, Parrish worked for Collier's. The artist was then given a six-year contract to deal with them solely. In 1916 and 1923, he created posters for D.M. Ferry Seed Company, which assisted him in gaining popular attention. Daybreak, his most well-known piece, was created in 1923. It depicts feminine figures in a landscape setting. The artwork also has Parrish blue hues.
Nevertheless, in the 1920s, Parrish abandoned illustrating in favor of painting. Parrish started working on enormous murals in his forties, rather than merely children's books, while he was in his 40s.
His paintings frequently depicted androgynous nudists in surreal surroundings. He made a career by selling posters and calendars showing his artwork. Susan Lewin began posing for several paintings in 1904 and eventually became Parrish's long-term assistant. Parrish contributed to calendar graphics for General Electric from 1918 until 1934. In 1931, Parrish said to tabloids "I'm done with females on rocks," and decided to concentrate on landscapes rather.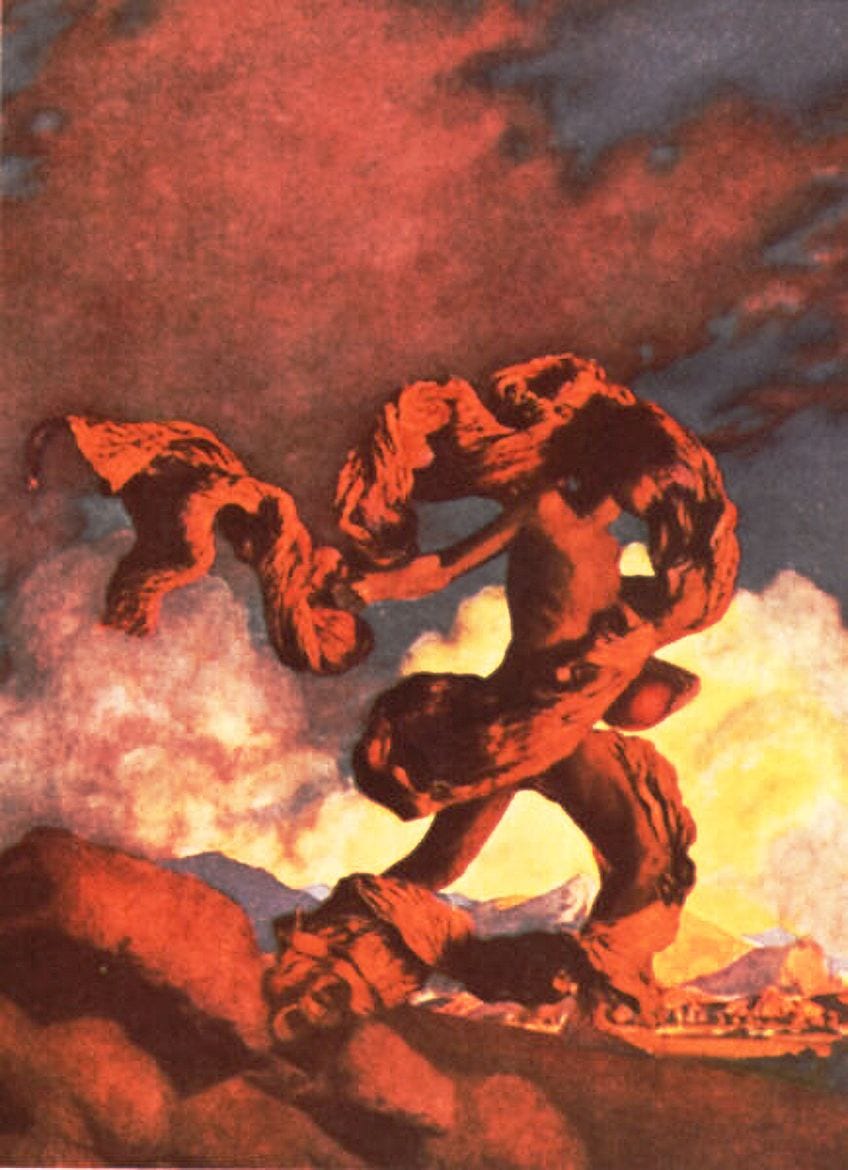 Cadmus Sowing the Dragon's Teeth (1908) by Maxfield Parrish, for a 1910 edition of Collier's magazine; Maxfield Parrish, Public domain, via Wikimedia Commons
By 1935, Parrish had devoted himself entirely to painting landscapes. He benefited from them, even though they were never as successful as his previous efforts. He would frequently construct scale models of the fictional landscapes he desired to paint, experimenting with various lighting configurations until settling on a favored view, which he would photograph as the foundation for the picture, for instance, The Millpond.
He produced until he was 91 years old and resided in Plainfield. He was also an ardent machinist, referring to himself as "a mechanic who liked to make art."
Personal Life
Maxfield Parrish first met his wife-to-be, Lydia Ambler Austin, an art instructor, while attending Drexel. On the 1st of Jun, 1895, the two were married and relocated to Philadelphia. Lydia was a beautiful art instructor who subsequently became one of the earliest documentarians of African-American slave music from the Deep South, for 58 years.
Nonetheless, he had a lovely mistress and one of the most passionate partnerships of the century. Susan Lewin was his continuous partner for almost 55 years. They would end up having four offspring together. In 1898, they moved to Cornish and erected a home that was given the title of "The Oaks."
Beautiful vistas surrounding the house and an adjoining workspace stimulated Parrish's sketches.
Princess Parizade Bringing Home the Singing Tree from Arabian Nights (1906) painting by Maxfield Parrish; Maxfield Parrish, Public domain, via Wikimedia Commons
In 1900, Parrish was diagnosed with Tuberculosis (TB). During his illness, he found how to combine oils and glazes to produce bright hues. To improve his condition, Parrish worked in Castle Hot Springs, from 1900 until 1902. Jean, Parrish's child, modeled for Ecstasy soon before departing for Smith College. Parrish was diagnosed with arthritis.
In the late 1950s, he received his final commission. However, by 1960, his arthritis had rendered him unable to paint.
His later years were spent confined to a wheelchair. When he failed to marry his lover Susan in 1960, some few years following Lydia's passing, she reacted by marrying a longtime acquaintance. Despite being 90 years old, He was still actively creating, but after hearing of Susan's wedding, he never produced art again.
Legacy
Maxfield Parrish's artwork influenced the works of many other respected and valued artists, including Vasarely, who accumulated his works, and Andy Warhol, who also accumulated his artwork, with recurring, repeatable Pop Art designs.
His legacy influenced the Photorealist, Realist, and Superrealist groups. He was respected but virtually disregarded until his rediscovery in 1964 when he was in his 90s.
Dream Garden, a glass-mosaic mural by Maxfield Parrish and made by Louis Comfort Tiffany, exhibited at the Curtis Publishing Company in Philadelphia; Smallbones, CC0, via Wikimedia Commons
Unfortunately, relatively few of Parrish's unique works have ever been viewed by modern art audiences. His existence was rich and fulfilling, and he did not struggle as many other troubled painters have. Mysterious puzzles, on the other hand, lingered through his life: a father whom he admired had a broken marriage in the 1890s, typhoid sickness, TB, and a son who subsequently committed suicide.
He had an unhealthy obsession with the financial side of his art, but he seldom spent a cent.
In essence, it all summed up to life straight out of a movie script. Parrish was said to be a handsome person who had hidden his amazing skill away in the isolated hills of New Hampshire, where he had established his personal fantasy existence and just never left.
Maxfield Parrish's Paintings and Technique
While most of Maxfield Parrish's artwork was not displayed in museums, it was popular with the general public. The Art Nouveau style popularized the use of printing for advertising on a large scale. Because of advances in technology, lithography has become a very popular art medium, allowing for the use of many colors and bigger letter types.
Millions were charmed by Parrish's work. His greeting cards, advertisements, magazine covers, and calendar designs were shown in public spaces such as dorms, living areas, salons, coffee houses, reception areas, clothing stores, and laundromats. The Great Depression did not deter artists, since reproductions of fine art grew more popular during this period.
Fantasy vistas, breathtaking vistas, ethereal fairies, legendary creatures, fortresses, and water features could be seen everywhere in Maxfield Parrish's prints. Parrish was a talented painter who seldom worked from life. He rarely drew and instead relied on pictures and a projector. In Parrish's machine workshop, which was situated at The Oaks, he made his own tools.
Puss-in-Boots (1913) painting by Maxfield Parrish; Maxfield Parrish, Public domain, via Wikimedia Commons
For his landscape setups, he also created costumes, cutouts, and miniature constructions. He created murals on panels and sent them to customers, who were mainly major city hotels. He illustrated several children's books, including Arabian Nights. He created advertising for many large corporate brands such as General Electric, Jell-O, and Fisk Tires. He also created background scenery for Broadway and regional productions. Maxfield Parrish's paintings are distinguished by their use of brilliant colors, and the hue Parrish blue was titled after him.
Through glazing, he was able to obtain such a bright hue. Over a basic rendering, layers of transparent paint and oil medium glazes are applied. Parrish is well renowned for his representations of magical settings filled with beautiful young ladies. He employed finely defined contours and beautifully drawn, natural backdrops, and his distinctive colors create a magical and idyllic feeling in his paintings.
Parrish often utilized a monochrome underpainting of blue and white in his artworks.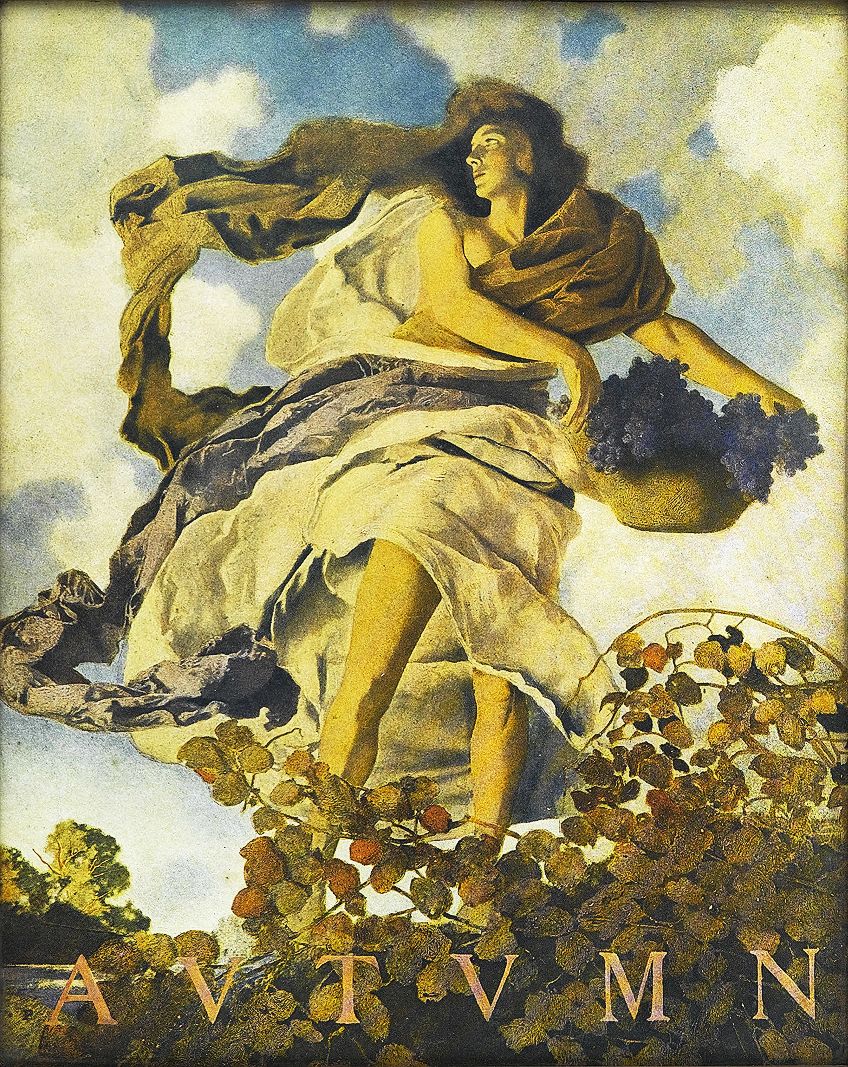 Autumn (1905) print by Maxfield Parrish, illustrating John Keats' poem Autumn; Maxfield Parrish, Public domain, via Wikimedia Commons
In Maxfield Parrish's artwork, he employed a variety of different novel approaches. He'd photograph models in black-and-white geometric prints and transfer the images onto his creations. This approach enabled him to dress his figures in geometric patterns while properly expressing deformation and draping.
Maxfield Parrish's paintings were also created by photographing, enlarging, or projecting items. He would cut out these images and glue them on his painting. He would eventually apply a transparent finish on them. The approach used by Parrish gives his artworks a more three-dimensional appearance.
Parrish's compositions outside proportions and interior divisions were meticulously calculated in line with geometric concepts such as the golden ratio. Parrish was motivated by Jay Hambidge's Dynamic Symmetry theory in this piece.
Cultural Influences of Maxfield Parrish's Prints
Maxfield Parrish's paintings continue to have an impact on popular culture. The 1985 cartoon Penguin Dreams and Stranger Things features themes from Daybreak and The Lute Players on the cover. Daybreak influenced the artwork for The Princess Bride. Caribou, a record by Elton John, features a Parrish backdrop.
In 2001, Parrish was honored with a memorial stamp series issued by the United States Postal Service recognizing American designers, notably Parrish.
Midsummer Holiday Number print for The Century publication of August 1897; Artist Posters, Public domain, via Wikimedia Commons
The sleeve of the Moody Blues record The Present features a variant of the Parrish picture Daybreak. Dali's Car, utilized Daybreak as the cover image for their single album, The Waking Hour, in 1984. Enya was influenced by Maxfield Parrish's artwork. Parrish's work, The Young King of the Black Isles, inspired the cover picture for her 1995 album The Memory of Trees. Branduardi's record, La pulce d'acqua, released in 1977, includes nine inlay full-color print copies of painter Mario Convertino's paintings, one of which is definitely influenced by Parrish's artwork Stars.
Famous Maxfield Parrish Paintings
His systematic, almost mechanical approach to painting resulted in spectacular color and lighting effects. He integrated the new method of printing technology into old masters' approaches and began with a monochromatic underpainting before layering on translucent glazes. He varnished in between each coat.
Here are a few examples of Parrish's output.
Daybreak (1922) painting by Maxfield Parrish, located in a private collection; Maxfield Parrish, Public domain, via Wikimedia Commons
Cover of Mother Goose in Prose by Frank Baum (1897)
Cover of Whist in Reference invented by John T. Mitchell (1897)
Cover of The Golden Age by Kenneth Grahame (1900)
Cover of The Dream Days by Kenneth Grahame (1902)
Illustrations in The Arabian Nights by Kate Douglas Wiggin and Nora Archibald Smith (1909)
Illustrations in Lure of the Garden by Hildegarde Hawthorne (1911)
Illustrations in The Knave of Hearts by Louise Saunders (1925)
Recommended Reading
Parrish left a substantial legacy of paintings behind him over his lengthy career. If you would like to learn more about his art or perhaps dive into a Maxfield Parrish biography, then look no further! Here are some relevant books for you to check out!
Maxfield Parrish (1997) by Coy Ludwig
We are delighted to reintroduce this iconic work into print. A compilation of Parrish's lifestyle and artwork, it is an important element of any Parrish collection. The publisher has supplied a value guide for some of the goods with Parrish photos for collectors. There are illustrations of some of Parrish's most renowned book images. His iconic magazine covers as well as all the vistas he did for Brown and Bigelow, who reprinted them as calendars are also featured.
The section on Parrish's approach is one of the book's highlights, delving further into his materials, favored methods, and distinct style of painting. Furthermore, there is a lengthy piece from an unreleased essay by Maxfield Parrish, Jr. that explains his father's glazing method and the use of photography in his works step by step. This authoritative work also includes many fascinating extracts from Parrish's unreleased letters with relatives, colleagues, and clients.
A wonderful compilation of the life and work of Maxfield Parrish
An essential part of any Parrish library collection
Examines his materials, favorite methods, and unique way of painting
View on Amazon
Maxfield Parrish & the Illustrators of the Golden Age (2000) by Margaret Wagner
Maxfield Parrish is most known for his astonishing paintings—technical tours de force whose topics varied from the uplifting to the ludicrous. However, Parrish is best understood from the perspective of his own life and circumstances. This book beautifully gives that background by providing an overview of his excellent book drawings as well as the age when illustration thrived.
This book is a vibrant Parrish biography and a portion of the lucid chronological assessment of a distinctive era in American art, drawing on the documents of the American Illustrators Gallery and other social resources to introduce creations by Parrish and their peers. The Maxfield Parrish Family Trust has granted permission for the reproduction of Parrish's works.
Includes 70 full-color reproductions of Parrish's works
Provides an overview of his brilliant book illustrations
Elaborates on the era when the field of illustration flourished
View on Amazon
Maxfield Parrish: Painter of Magical Make-Believe (2011) by Lois Harris
The Golden Age is shaped by fantasy. Maxfield Parrish was a national figure in the mid-1920s. Until Norman Rockwell, he was regarded as the most renowned American illustrator, and he was recognized for having reshaped the direction of creative arts in the U.S. The first color reproduction posters revealed his work's bright colors and architectural intricacy. His images have appeared in magazines, commercials, greeting cards, and menus. This children's biography includes images of the artist as well as illustrations of the vivid fantasy realms he was known for making.
An excellent biography for children
Contains photographs of the artist
Illustrated with the colorful dreamlands he was known for
View on Amazon
Parrish has had a lengthy career and great financial success. By the 1920s, he had become the highest-paid professional artist in America. He was very well respected for his imaginative illustrated works, as well as his idealistic neo-classical iconography. The remarkable compositions stand out because of their rich tones and intense colors, which create an otherworldly, surreal atmosphere. Parrish claimed that portraying landscapes was his genuine love, and he included aspects of landscape art into many of his works. Maxfield Parrish's artwork has appeared on book covers, enormous murals, and magazine covers. Many of Maxfield Parrish's prints for children's books, which are still very famous today, are the product of his early attempt to generate income as an illustration artist around the beginning of the early 20th century.
Frequently Asked Questions
Where Is the Maxfield Parrish Museum?
There is not a Maxfield Parrish museum solely dedicated to his works. However, one can explore his art in many other museums around America. One can visit such places as the Birmingham Museum of Art in Alabama, the United States, to see some examples of Maxfield Parrish's paintings.
What Was Maxfield Parrish Known For?
Maxfield Parrish was an American artist and illustrator whose work influenced the Golden Age of Illustration. He is well-known for his remarkable color intensity, idealistic neoclassical iconography, and wealth. Parrish defied the cliche of the starving artist by receiving his first commission before graduating from art school and went on to achieve considerable success over the first half of the 20th century. While the majority of Maxfield Parrish's work was not placed in museums, it was well-received by the general population. The Art Nouveau style pioneered the use of large-scale printing for advertising. Lithography has become a very popular art medium as technology has advanced, allowing for the use of numerous colors and larger letter kinds. Parrish's paintings enchanted millions. His greeting cards, advertisements, magazine covers, and calendar designs were displayed in public places like dorms and coffee shops.
What Kind of Art Did Maxfield Parrish Make?
He painted murals on panels and delivered them to clients, most of whom were large metropolitan hotels. Parrish worked as an illustrator for a number of children's books, including Arabian Nights. He designed advertisements for a variety of significant business companies, including General Electric, Jell-O, and Fisk Tires. He also designed backdrops for Broadway and regional companies. The use of a saturated and vivid color palette in Maxfield Parrish's paintings distinguishes them, and the color Parrish blue was named after him.
Isabella studied at the University of Cape Town in South Africa and graduated with a Bachelor of Arts majoring in English Literature & Language and Psychology. Throughout her undergraduate years, she took Art History as an additional subject and absolutely loved it. Building on from her art history knowledge that began in high school, art has always been a particular area of fascination for her. From learning about artworks previously unknown to her, or sharpening her existing understanding of specific works, the ability to continue learning within this interesting sphere excites her greatly.
Her focal points of interest in art history encompass profiling specific artists and art movements, as it is these areas where she is able to really dig deep into the rich narrative of the art world. Additionally, she particularly enjoys exploring the different artistic styles of the 20th century, as well as the important impact that female artists have had on the development of art history.
Learn more about the Art in Context Team.