Most people have heard of the color purple and lavender, but the color mauve may be something less familiar. Is it a shade of purple or blue and how did the color get its name? To help answer these questions and to discover more about the color mauve, read further to find out.
What Color Is Mauve?
The mauve color originates from the mallow flower, which in French is known as mauve. The flower and color can be described as a lighter shade of purple, with a bluish undertone. When delving into color theory and color wheels, mauve purple can be found on the color wheel, sitting between pink and violet.
You can say that the mauve color falls within the purple color family and tends to lean towards the pink side. There are also many shades of mauve, some having brighter tones, while others are more subdued.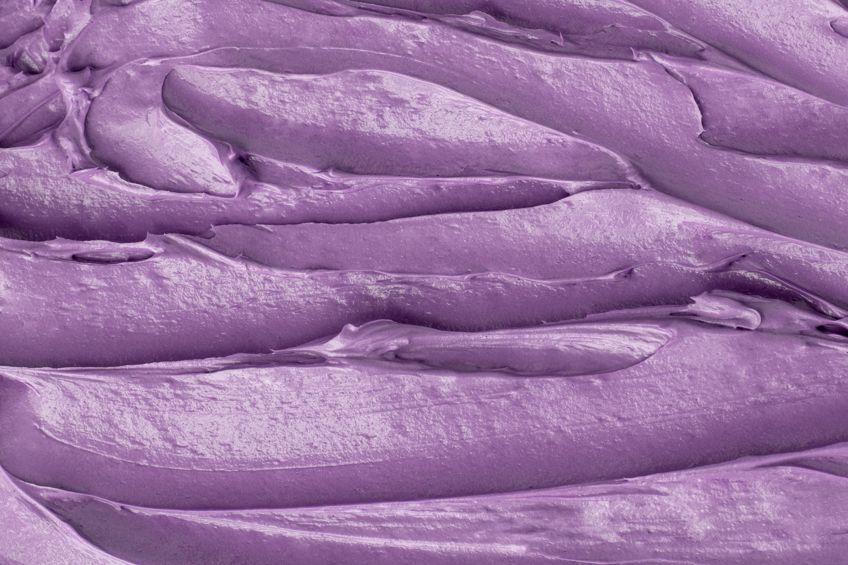 When comparing mauve with purple below in the table, you can observe the variances. You might say mauve is close to a lighter shade of magenta, but as you can see, mauve contains more blue, while magenta has more red and is more vibrant in color. Mauve may even become confused with light or pale violet, which is quite easy, but it is more of a darker version of mauve. So, the color mauve does have unique qualities amongst all other similar shades and hues.
| | | | | |
| --- | --- | --- | --- | --- |
| Shade | Hex Code | CMYK Color Code (%) | RGB Color Code | Color |
| Mauve | #e0b0ff | 12, 31, 0, 0 | 224, 176, 255 | |
| Purple | #800080 | 0, 100, 0, 50 | 128, 0, 128 | |
| Pale Magenta | #f984e5 | 0, 47, 8, 2 | 249, 132, 229 | |
| Pale Violet | #cf9fff | 19, 38, 0, 0 | 207, 159, 255 | |
Mauve Color: A Brief History
We have already learned that the mauve color name comes from a plant that has a similar hue. The word mauve itself was first used in the late 18th century, which has been stated in the Oxford English dictionary. However, mallow, which is the flower that mauve was named after, was also used earlier to describe the color in the early 17th century. In earlier years, mostly before the 18th century, the color was produced as a dye, which was obtained from various plants, minerals, as well as insects. This made the dye difficult to produce, which in turn, made it difficult to come by and therefore expensive. So, if you were lucky enough to be wearing any fabrics dyed with the mauve color, you were most definitely of higher society or even royalty.
Most colors the average person wore during these times, were more than likely browns and dull beige colors.
One of the downsides to these mauve dyes, besides the expense, was that they faded rather quickly after being washed and exposed to sunlight. As progress goes, something synthetic, cheaper, and better came along. The first synthetic dye was discovered by a chemist named William Henry Perkin in the mid-19th century, who discovered the color quite by accident when trying to create quinine, which is a medication that treated malaria.
As it turned out, some kind of residue was formed that turned a mauve color, and this is what eventually came to be known as the first aniline dye. The color was originally named Tyrian purple; however, it was later renamed mauve. The color is also known as mauveine, aniline purple, or Perkins's mauve. The color became popular and was noticed by the wife of Napoleon III, Empress Eugenie, and not long after Queen Victoria also donned a dress the color of mauve and wore it to the wedding of her daughter.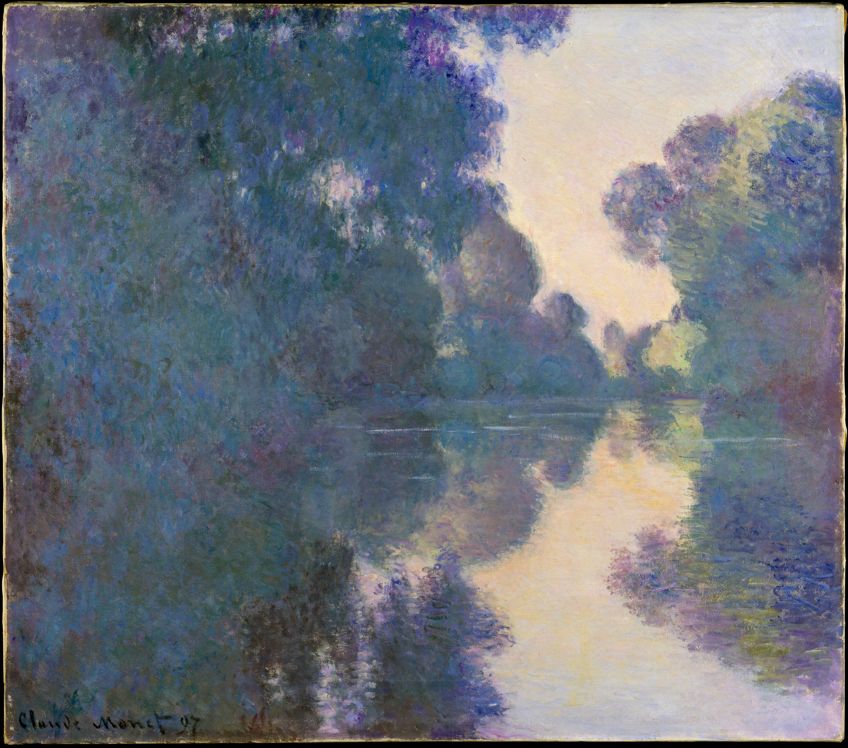 Morning on the Seine near Giverny (1897) by Claude Monet; Claude Monet, CC0, via Wikimedia Commons
As the saying goes, all of this exposure set the ball rolling, and it took off in society. The color became a superstar during the late 19th century. This period, where the dye became affordable to the masses, is also sometimes called the "Mauve Decade" in Europe as well as the United States. Perkins even has a biography about his life written by Simon Garfield, with the simple title of "Mauve". The craze eventually petered out due to the creation and influx of other synthetic dyes of similar hues. However, the color regained some popularity in the 80s again.
Purple has been used in abundance in art over the years, but violet and mauve are not as well known. Purple is from the red family, while violet, as well as mauve, have bluish undertones. These colors did, however, become popular with impressionists, especially with artists like Monet. Some examples include Impression Sunrise (1872) and Morning on the Seine near Giverny (1897).
Today, the color mauve is again becoming a popular choice for many in all types of design fields from fashion and art to web design and interior design. This is because there are now many more choices and shades of mauve, it has become quite a versatile color to work with.
Mauve Color Meaning
Since the mallow flowers grow during the springtime, the color itself is often associated with femininity and renewal. However, the mauve color can also stir up feelings of nostalgia and romance. As it is closely linked to purple, it is also related to luxury as well as royalty. The color also represents purity, youth, and idealism.
Various Shades of Mauve
When designing, there are always beautiful color schemes you can create, and today you can easily identify colors by their hex codes, and various other codes that help you to precisely understand the color percentages involved.
So, below are a few shades of mauve and their identifying codes for easy reference.
Old Mauve
The color and name of old mauve were first recorded in the English language in 1925. The color is composed of more red, so can be described as being dark and desaturated pink. Being more from the red family, it is considered a warm color.
| | | | | |
| --- | --- | --- | --- | --- |
| Mauve Shade | Mauve Hex Code | CMYK Mauve Color Code (%) | RGB Mauve Color Code | Mauve Color |
| Old Mauve | #673147 | 0, 52, 31, 60 | 103, 49, 71 | |
Mauve Taupe
The name mauve taupe was first recorded in English in 1925 and is quite close to old mauve as it is also a dark, desaturated pink.
The color is also a popular lipstick choice that goes by the name of Raspberry Glace.
| | | | | |
| --- | --- | --- | --- | --- |
| Mauve Shade | Mauve Hex Code | CMYK Mauve Color Code (%) | RGB Mauve Color Code | Mauve Color |
| Mauve Taupe | #915f6d | 0, 34, 25, 43 | 145, 95, 109 | |
Crayola Mauve
This is a color that can be found as one of the Crayola colors known as Mauvelous, which was introduced in 1993. The color can be described as a soft red, which will work nicely alongside a soft cyan color for contrast.
| | | | | |
| --- | --- | --- | --- | --- |
| Mauve Shade | Mauve Hex Code | CMYK Mauve Color Code (%) | RGB Mauve Color Code | Mauve Color |
| Crayola Mauve | #ef98aa | 0, 36, 29, 6 | 239, 152, 170 | |
Opera Mauve
This color name was first recorded in English in 1927 and is a lighter desaturated pink or can also be described as a medium, lighter magenta shade.
The color can also be categorized as being a member of the violet color group.
| | | | | |
| --- | --- | --- | --- | --- |
| Mauve Shade | Mauve Hex Code | CMYK Mauve Color Code (%) | RGB Mauve Color Code | Mauve Color |
| Opera Mauve | #b784a7 | 0, 28, 9, 28 | 183, 132, 167 | |
Mauve Desert
This color is from a popular paint brand named Benjamin Moore. The color can be seen as a dusty mauve or a grayish red. The color has warm undertones, but it is not overwhelming and is pleasant to look at. The paint could look nice in a bedroom or any room where you want to add a little mystery and mood.
| | | | | |
| --- | --- | --- | --- | --- |
| Mauve Shade | Mauve Hex Code | CMYK Mauve Color Code (%) | RGB Mauve Color Code | Mauve Color |
| Mauve Desert | #b0a2a4 | 0, 8, 7, 31 | 176, 162, 164 | |
Chaise Mauve
This is another paint color, but this time from another popular paint brand, Sherwin Williams. This is also a grayish red but is a little softer and has a cozier feel to it.
For a simple combination, use the chaise mauve with white.
| | | | | |
| --- | --- | --- | --- | --- |
| Mauve Shade | Mauve Hex Code | CMYK Mauve Color Code (%) | RGB Mauve Color Code | Mauve Color |
| Chaise Mauve | #c0b1b2 | 0, 8, 7, 25 | 192, 177, 178 | |
Twilight Mauve
Lastly, we have twilight mauve from the paint brand Valspar, which is a shade of purple that has a dusty-like appearance. The color can be described as a grayish red, with cool brownish undertones. Instead of a shade of brown, this could add a little more color to a space.
| | | | | |
| --- | --- | --- | --- | --- |
| Mauve Shade | Mauve Hex Code | CMYK Mauve Color Code (%) | RGB Mauve Color Code | Mauve Color |
| Twilight Mauve | #c8aeaf | 0, 13, 13, 22 | 200, 174, 175 | |
What Colors Go With Mauve?
The color wheel is the go-to aid when you want to know what colors go with mauve. There are some terms you should learn so that you can start choosing color schemes that work. If you are trying to create a color scheme or mauve color palette, the best option would be to choose two or three colors. Form these colors, select one chief color, and apply the other colors as accents. This can work in both web design as well as interior design. Below are some recommendations for your basic mauve color combinations.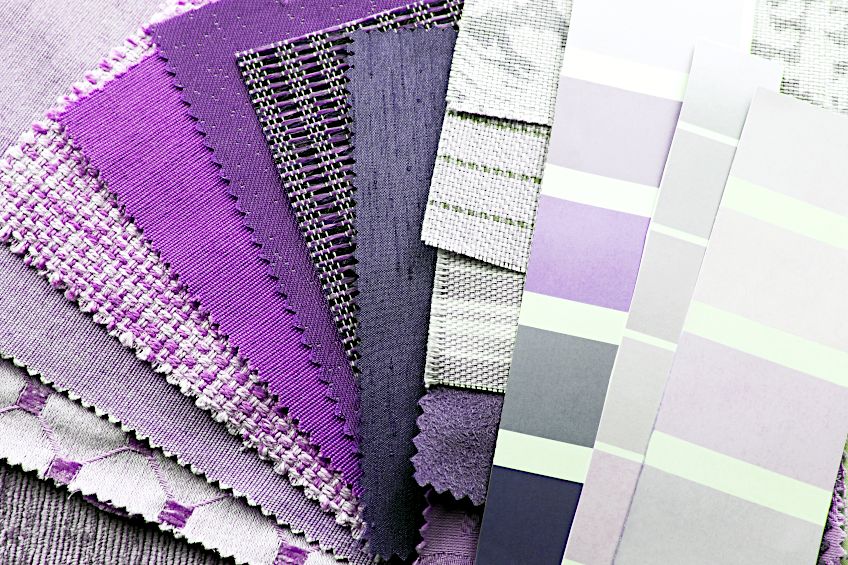 Complementary Mauve Color
These colors are on opposite sides when looking at the color wheel. For example, when choosing red, you will find that green is the complementary color. In this case, since mauve is located in-between your violet and pink colors.
The tea green color works as a complementary color, which makes the colors stand out and form a contrast.
| | | | | |
| --- | --- | --- | --- | --- |
| Shade | Hex Code | CMYK Color Code (%) | RGB Color Code | Color |
| Mauve | #e0b0ff | 12, 31, 0, 0 | 224, 176, 255 | |
| Tea Green | #cfffb0 | 19, 0, 31, 0 | 207, 255, 176 | |
Split Complementary Colors
These are two colors, instead of one, and are located one on each side of the complementary color of mauve. In this case, it will be a pale yellow and mint green color that can work well with mauve. Since purple and yellow are complementary colors, various shades of mauve and yellow can also work and makes an appealing contrast. Softer shades might be a better choice as these are easier on the eyes. Gold and mauve can also make a beautiful combination.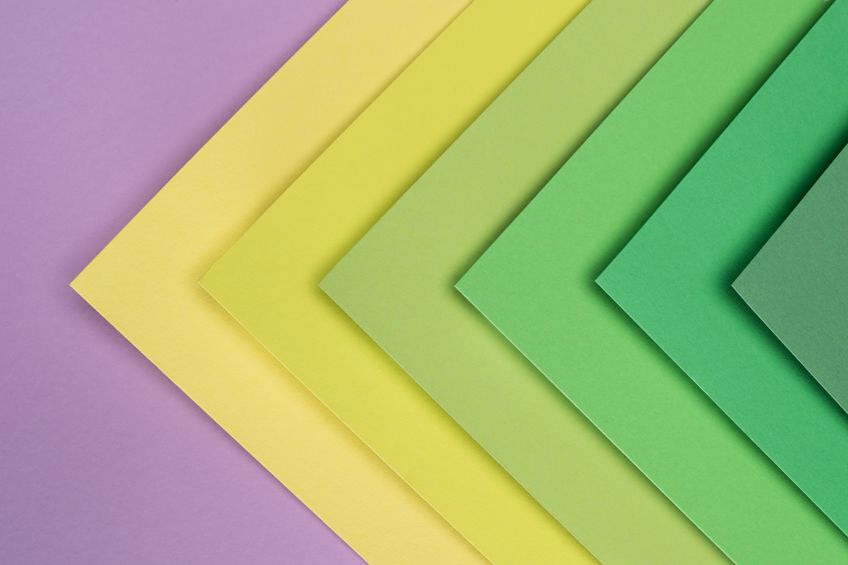 | | | | | |
| --- | --- | --- | --- | --- |
| Shade | Hex Code | CMYK Color Code (%) | RGB Color Code | Color |
| Magic Mint | #b0ffb9 | 31, 0, 27, 0 | 176, 255, 185 | |
| Mauve | #e0b0ff | 12, 31, 0, 0 | 224, 176, 255 | |
| Tidal | #f7ffb0 | 3, 0, 31, 0 | 247, 255, 176 | |
Black and Grey
Black and mauve is a sophisticated and more formal combination that is popular as a wedding color scheme. Gray is another neutral color that can work wonderfully with mauve.
A variation of gray you can also try that works is mauve and silver.
| | | | | |
| --- | --- | --- | --- | --- |
| Shade | Hex Code | CMYK Color Code (%) | RGB Color Code | Color |
| Black | #000000 | 0, 0, 0, 100 | 0, 0, 0 | |
| Mauve | #e0b0ff | 12, 31, 0, 0 | 224, 176, 255 | |
| Gray | #808080 | 0, 0, 0, 50 | 128, 128, 128 | |
Analogous Colors
Analogous colors have similar characteristics and are located close next to each other, or on the same side of the color wheel. Blue and mauve work well and create a sophisticated, cool look, that has a slightly warm and calming touch.
| | | | | |
| --- | --- | --- | --- | --- |
| Shade | Hex Code | CMYK Color Code (%) | RGB Color Code | Color |
| Pale Blue | #b9b0ff | 27, 31, 0, 0 | 185, 176, 255 | |
| Mauve | #e0b0ff | 12, 31, 0, 0 | 224, 176, 255 | |
| Pale Violet | #f4e3ff | 4, 11, 0, 0 | 244, 227, 255 | |
Triadic Mauve Color Combinations
Once again, when looking at the color wheel, these colors can be identified as they are evenly spaced from each other in a triangle form. Since purple can work with yellow and orange, you could also pair mauve with orange.
Keeping colors, and a similar tone can help to keep things more consistent.
| | | | | |
| --- | --- | --- | --- | --- |
| Shade | Hex Code | CMYK Color Code (%) | RGB Color Code | Color |
| Aero Blue | #b0ffe0 | 31, 0, 12, 0 | 176, 255, 224 | |
| Mauve | #e0b0ff | 12, 31, 0, 0 | 224, 176, 255 | |
| Pale Orange | #ffe0b0 | 0, 12, 31, 0 | 255, 224, 176 | |
Monochromatic Mauve Colors
This type of color combination is easy to work with. Monochromatic means using a single color, but all the colors are slightly different and can vary from light mauve colors to darker mauve colors. This type of mauve color palette will always look clean and has a soothing effect.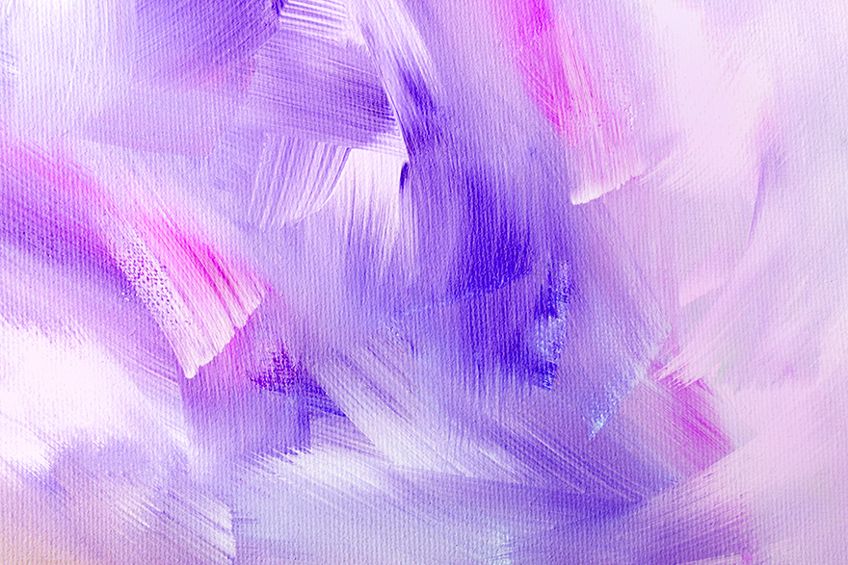 | | | | | |
| --- | --- | --- | --- | --- |
| Shade | Hex Code | CMYK Color Code (%) | RGB Color Code | Color |
| Mauve | #e0b0ff | 12, 31, 0, 0 | 224, 176, 255 | |
| Light Violet | #c264ff | 24, 61, 0, 0 | 194, 100, 255 | |
| Very Pale Violet | #f4e3ff | 4, 11, 0, 0 | 244, 227, 255 | |
Designing With the Color Mauve
Purple is a calming and creative color, and this translates over to the color mauve. The mauve color can also be associated with luxury and can work with many colors, so it is an ideal color to use for websites related to art or fashion. The color is also great for wellness and spa web designs.
In fashion design, purple has recently become a trending color, and this includes all the shades of purple from pastel lilacs and mauve to deeper purple colors. Some fashion professionals suggest that when you wear mauve, it should be combined with a darker and richer shade of burgundy and purple.
This combination gives a feeling of luxury and elegance. For example, consider choosing an outfit that consists of a mauve shirt or blouse, and combine it with a marron pair of pants or a blazer. However, you can also go for a more subdued look, and combine mauve with grays and taupe colors. For example, a cream-colored shirt with a light mauve cardigan, with a pair of dark denim pants.
A Few Tips on Interior Design and the Color Mauve
When painting with mauve, you could consider choosing more saturated mauve colors. These colors lean towards pastel and taupe colors, making them a little more on the neutral side. You can then use different shades of your chosen color to create a layered look. If you want a feminine and romantic look for a bedroom, try painting the walls a dusky shade of mauve and then paint the roof a rich shade of pink, or keep it white for a cleaner look.
Besides white, mauve can also work well with other neutrals like gray or cream. These provide a little more color than a simple beige, which can appear a bit washed out when paired with mauve. When creating a mauve color palette, always consider the best colors that could work as described above with complementary colors and all the other options you can choose. Mauve can work wonderfully with a shade of blue added in as an accent color.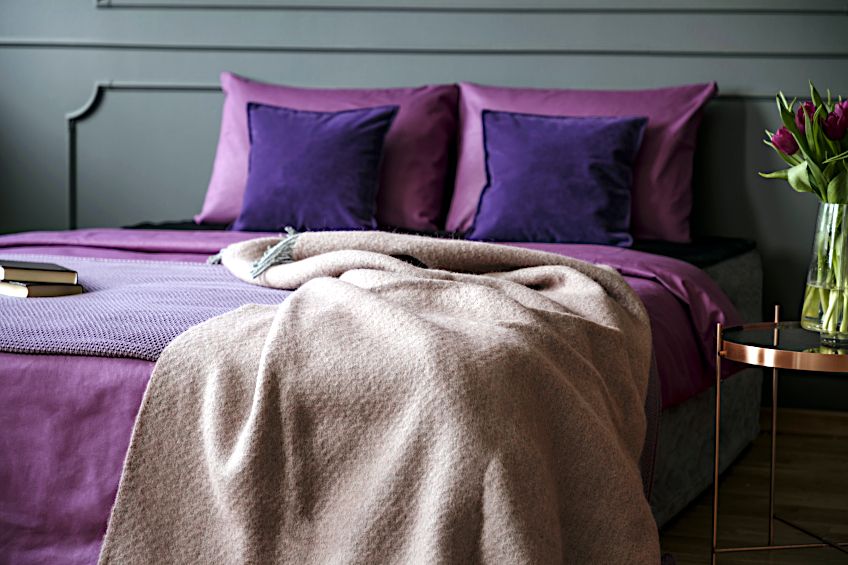 The color mauve can work both ways, as your main color of choice as well as an accent color. If you think mauve can be a bit too much as your main choice, simply bring in the color with the room accessories. For example, mauve cushions, patterned rugs, or even furniture. Since mauve is linked to purple, which has such an extensive history, try and bring in a more vintage look. For example, an antique dresser or a gilded mirror.
Mauve is a more popular color for the bedroom, as it creates a cozy and calm atmosphere. Painting an entire room in a mauve color can create a comforting feel, or if this might be too much for you, bring in mauve in layers. For example, mauve textiles, pillows, and blankets. Consider bringing in a darker shade of gray to balance the softness of the mauve.
For a trendier look, you might even consider bringing mauve into the kitchen.
Creating a Mauve Color With Paints
A color wheel is the best way to determine what colors will work with each other and blend properly. This visual chart places colors like your primary and secondary colors and all other colors in-between onto a wheel shape. You can then see where all the colors are and where they are placed in relation to each another. Mauve is a color located on the color wheel in the middle of violet and pink. So, what colors would you need to make a mauve color?
The basic answer to this question is blue and red, which gives you purple, and since mauve has more of a tint to it than true purple, you need to also include a little white. Try not to add too much white, as this will lead to a more lavender color, and try to use a little redder than blue when blending colors. As you go, you can adjust your colors until you reach the perfect mauve color.
Some paint colors you can try using include alizarin red, cobalt blue, and titanium white. You could also experiment with something like dioxazine purple, and then add in white and cobalt blue. The simplest option would be to purchase an already made mauve color paint for your art project.
The color mauve is an elegant and flexible color that can be used in many ways. The color is relatively easy to work with and you should be able to create an amazing mauve color palette for all your painting and designing projects.
Take a look at our color mauve webstory here!
Frequently Asked Questions
What Color Is Mauve?
You could say the color is a mauve purple, as it is a shade of purple. When examining the color wheel, the mauve color can be found sitting between pink and violet. There are also variations in the color mauve from darker shades to lighter tones.
What Colors Go With Mauve?
The mauve color is seen as a cool color, along with colors like green and blue, which is why these colors work well together. However, warmer colors like yellow and orange will create a beautiful contrast, helping to make each other stand out. Shades of pink can also work well with mauve.
How Do You Mix Mauve Paint Colors?
When mixing paints to create mauve, you need to experiment and create your own mauve color palette. The basic colors you will need include blue and red, and to this, you can then add a little white to create mauve.
Can Mauve Be Classified as a Neutral Color?
Not technically a neutral color, but there are many shades of the color mauve, from your darker to lighter varieties. Many of the light mauve color shades and dusty or earthy colors can be used as neutral colors. These more neutral shades of mauve work great as an interior design color.
In 2005, Charlene completed her Wellness Diplomas in Therapeutic Aromatherapy and Reflexology from the International School of Reflexology and Meridian Therapy. She worked for a company offering corporate wellness programs for a couple of years, before opening up her own therapy practice. It was in 2015 that a friend, who was a digital marketer, asked her to join her company as a content creator, and this is where she found her excitement for writing.
Since joining the content writing world, she has gained a lot of experience over the years writing on a diverse selection of topics, from beauty, health, wellness, travel, and more. Due to various circumstances, she had to close her therapy practice and is now a full-time freelance writer. Being a creative person, she could not pass up the opportunity to contribute to the Art in Context team, where is was in her element, writing about a variety of art and craft topics. Contributing articles for over three years now, her knowledge in this area has grown, and she has gotten to explore her creativity and improve her research and writing skills.
Learn more about the Art in Context Team.