Julie Mehretu is a contemporary artist whose complex abstract landscapes explore humanity's connectedness through identity and place. Her multi-layered and chaotic mark-making considers the cumulative effects of urban sociopolitical change of specific places over time. In this article, we take a closer look at the life and work of Julie Mehretu, an artist that was included in Time magazine's list of 100 most influential people in 2020.
Artist in Context: Who Is Julie Mehretu?
Julie Mehretu, an Ethiopian-American painter, creates multi-layered, large-scale abstract landscapes that captivate audiences worldwide. Mehretu's work explores migration, displacement, and cultural identity through unique layering and composition. For her innovative contributions to contemporary art, she has been honored with multiple awards. She is one of her generation's most influential artists, inspiring and challenging audiences worldwide.
| | |
| --- | --- |
| Date of Birth | 16 November 1970 |
| Country of Birth | Addis Ababa, Ethiopia |
| Art Movements | Contemporary art |
| Mediums Used | Painting, drawing, and printmaking |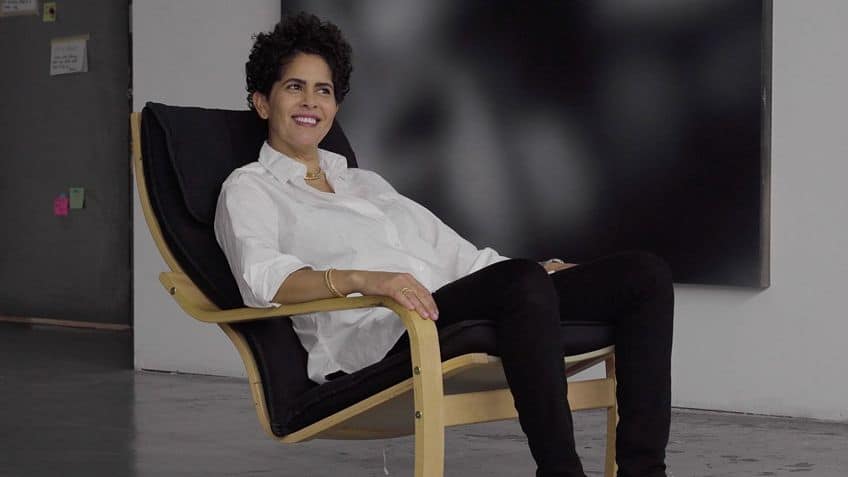 Inside the Studio with Julie Mehretu (2020) filmed and published by Galerie Magazine; Galerie Magazine, CC BY 3.0, via Wikimedia Commons
Childhood
Julie Mehretu was born the first of three children in Addis Ababa, Ethiopia, on November 16, 1970. Assefa Mehretu, her father, was an Ethiopian professor of economic geography, and Doree Mehretu, her mother, was an American teacher and Peace Corps volunteer. As a child, Mehretu immersed herself in Ethiopia's culture and history. Mehretu's family was forced to flee Ethiopia when she was seven years old due to political unrest. They relocated to the United States, where Mehretu attended East Lansing High School in Michigan.
As a young girl, she spent most of her time drawing in notebooks.
Mehretu remained connected to her Ethiopian heritage despite being uprooted from her homeland at a young age. Her family and community exposed her to traditional Ethiopian music and dance, and this influence can be seen in some of her later artwork. Mehretu's parents supported her artistic interests and encouraged her to pursue them. Her mother, in particular, was a strong role model for her and helped shape her worldview. Mehretu has stated that her mother's experiences with the Peace Corps and traveling around the world inspired her to explore themes of migration, displacement, and cultural identity in her artwork.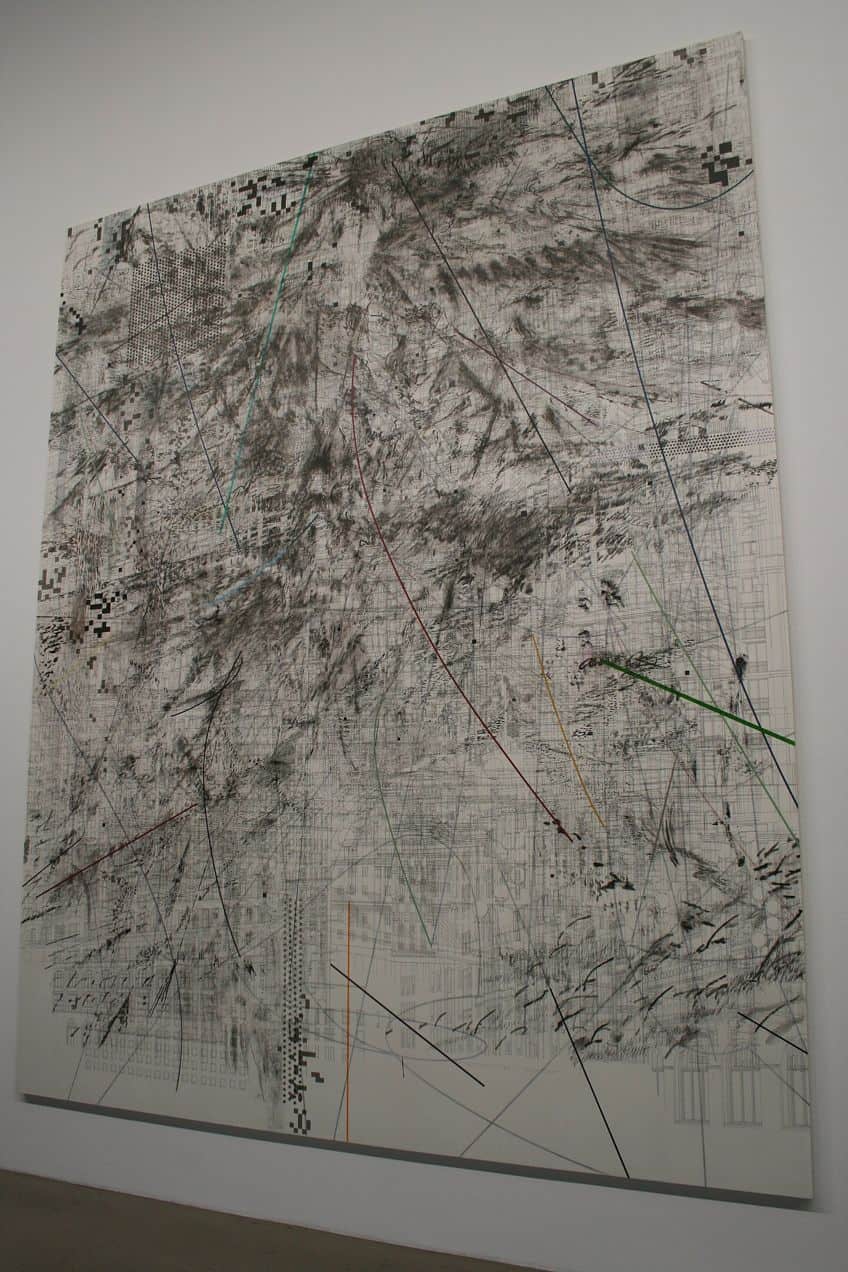 Mogamma (A Painting in Four Parts), (2012) by Julie Mehretu; Ksd13, CC BY-SA 3.0, via Wikimedia Commons
Education
After High School, Julie Mehretu went on to study art at Kalamazoo College in Michigan, where she earned a Bachelor of Fine Arts degree in 1992. She initially spent a year as an exchange student, studying abroad at Cheikh Anta Diop University in Dakar, Senegal, where she was inspired by the work of local artisans. Upon her return, Mehretu explained that she had a renewed determination. She was introduced to printmaking at Kalamazoo and began experimenting with various techniques such as etching and lithography.
Mehretu went on to earn an MFA from the Rhode Island School of Design (RISD) after graduating from Kalamazoo.
At RISD, she continued to concentrate on printmaking while also dabbling in painting and drawing. She was especially interested in investigating the relationship between architecture and landscape, and she began incorporating architectural drawings and diagrams into her work. Mehretu collaborated with several influential artists and instructors at RISD and was especially influenced by her teacher Michael Young.
Early Career
Mehretu moved to New York City to pursue her career as an artist after receiving her MFA from the RISD in 1997. At first, she had to juggle odd jobs with her art-making to make ends meet. Despite the challenges, Mehretu was determined to make a name for herself as an artist. Two of Mehretu's artworks were chosen to be included in the Exit Art exhibition in SoHo in 1999 and she participated in several group shows, including the Museum of Modern Art's Greater New York exhibition in 2000. The following year, Mehretu was invited to an artist residency at the Studio Museum in Harlem. Merethy quickly became one of the most influential artists working in America and her work piqued the interest of various collectors and art dealers, including Christian Haye of The Project Gallery in Harlem. Her 2001 solo show at The Project Gallery sold out before the opening.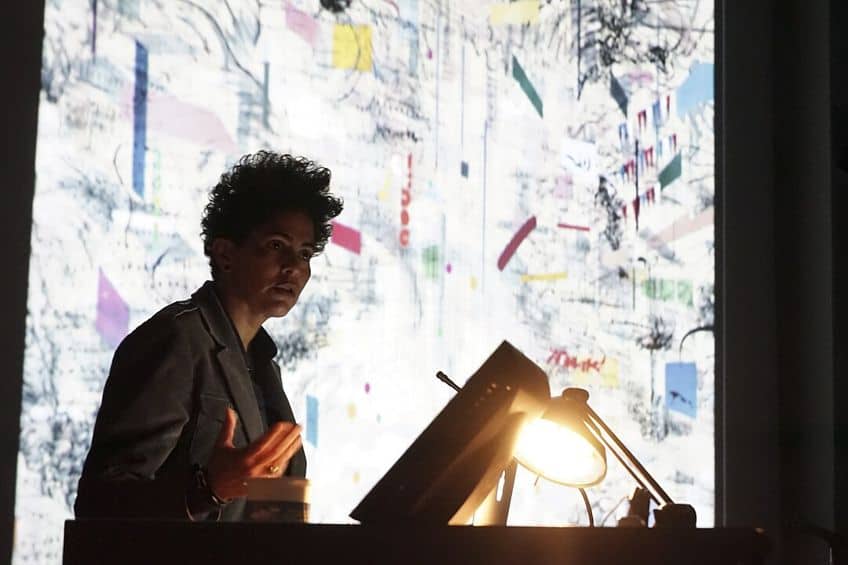 A Presentation by Julie Mehretu (2014); Columbia GSAPP, CC BY 2.0, via Wikimedia Commons
Mehretu developed her signature style of layering abstract shapes and lines to create complex, multi-dimensional compositions during this time. Her paintings were influenced by her travels to various cities and navigating unfamiliar environments. She was also influenced by her Ethiopian heritage and the political unrest that had forced her family to flee the country. Mehretu's practice evolved further during a six-month residency in Berlin in 2006.
After Mehretu was unhappy with the results of a paint layer she had applied to one of her works, she began to experiment with erasing specific areas in order to reveal the underlying drawings and paintings.
In 2010, the Guggenheim Museum in New York exhibited a series of paintings based on these experiments called Grey Area (2007-2009). Following these works, Mehretu was awarded a five million dollar commission by Goldman Sachs to create a work for the lobby of their headquarters. Mehretu titled the 80-foot-long commission simply Mural (2010). Art critic Calvin Tomkins famously called the work "the most ambitious painting [he'd] seen in a dozen years".
Mature Career
Mehretu got married to Jessica Rankin in 2008 during the time she was working on the Grey paintings and the Goldman Sachs mural. After finishing the corporate commission, the couple hosted a celebration at Mehretu's studio and invited many people from the Berlin art scene. Since this time, Julie Mehretu's mature career has been marked by critical acclaim and widespread recognition. Her work has been shown at major museums around the world, including the Guggenheim Museum in New York, the Whitney Museum of American Art, the Museum of Modern Art in San Francisco, and the Tate Modern in London.
Mogamma (A Painting in Four Parts), (2012) by Julie Mehretu; Presse03, CC BY-SA 3.0, via Wikimedia Commons
One of Mehretu's most significant projects is a monumental mural commissioned for the lobby of the San Francisco Museum of Modern Art. The mural, titled "HOWL, eon (I, II)," consists of two panels that each measure 27 feet high by 32 feet wide and was completed in 2017. The mural, composed of multiple layers of abstract shapes and lines, is an expansive exploration of the violent colonial histories of the American West and its sublime landscapes.
Mehretu has created works on paper, prints, and other multimedia projects in addition to her large-scale paintings and murals.
She has worked on a number of public art commissions, including murals for the US Embassy in Berlin, and has collaborated with architects, designers, and musicians. Mehretu's work has earned her numerous awards and honors, including a MacArthur Fellowship in 2005 and a US Department of State Medal of Arts in 2015. She has also been recognized for her activism and philanthropy, and she has used her platform to advocate for social justice and to support a wide range of charitable causes.
Three Important Julie Mehretu Artworks
Julie Mehretu has produced an abundance of impressive paintings, drawings, and prints over the past three decades, all of which can be dissected and discussed in greater depth. However, this article focuses on three exceptional works of art that are central to Mehretu's career and are regarded as seminal. This section is intended to serve as a concise introduction to Julie Mehretu's extensive body of work over the years.
Mogamma (A Painting in Four Parts), (2012) by Julie Mehretu; Ksd13, CC BY-SA 3.0, via Wikimedia Commons
Retopistics: A Renegade Excavation (2001)
| | |
| --- | --- |
| Artwork Title | Retopistics: A Renegade Excavation |
| Date | 2001 |
| Medium | Ink and acrylic on canvas |
| Size (cm) | 257.5 x 529.5 |
| Collection | Private collection |
Created in 2001, Retopistics: A Renegade Excavation is one of Julie Mehretu's earliest and most important works. The sheer size and depth of the many layers of lines of different weights and colored shapes in a range of tones and mediums wrap the viewer in a mesmerizing mix of architecture, history, and space. The work is precariously balanced between lyrical abstraction and free concept, focusing on the various experiences that people have around the world at the same time. At its core, the work is a beautiful mix of forms that seem to come from different places. These forms are laid over a series of airport blueprints from the world's most important airports, highlighting Mehretu's interest in the globalization of experience.
The work is notable for its depth, complexity, and striking use of texture and color.
Mural (2010)
| | |
| --- | --- |
| Artwork Title | Mural |
| Date | 2010 |
| Medium | Ink, acrylic, and silica on canvas |
| Size (m) | 25 x 7 |
| Collection | Goldman Sachs Building, New York City, United States |
Mural (2010) is a monumental painting situated at the entrance lobby of the Goldman Sachs tower in Manhattan. Goldman Sachs commissioned the work in 2007, but Mehretu took six months to decide whether or not to take on the project due to other exhibition commitments that filled her schedule. At the time, she was on residency at the American Academy in Berlin where she worked on a series of paintings, called Grey Area (2007 – 2009). In order to create these works, Mehretu pioneered a new method of painting in which he would erase portions of a painting in order to expose the drawing or painting underneath. This new technique inspired her so much that she decided to take on the five million dollar commission from Goldman Sachs.
Mehretu claimed that her goal with the mural was to evoke the global economy's layered convergences and paradoxes.
The painting, like most of Mehretu's, is composed of several distinct layers. The base layer consists of architectural drawings related to finance, including drawings of an early Massachusetts bank, the New Orleans cotton exchange, the New York Stock Exchange's façade, and a market gate from the ancient Greek city of Miletus. On top of this layer are geometric shapes of various sizes and colors, dynamically sweeping in from different angles across the surface of the canvas. The final layer consists of small black calligraphic marks arranged in formations that evoke moving crowds. The overall effect seems to recall the ebb and flow of a city's economy.
HOWL, eon (I, II) (2017)
| | |
| --- | --- |
| Artwork Title | HOWL, eon (I, II) |
| Date | 2017 |
| Medium | Ink and acrylic on canvas |
| Size (cm) | Two panels of 823 x 975,4 |
| Collection | San Francisco Museum of Modern Art, San Francisco, United States |
HOWL, eon (I, II) is a massive mural commissioned for the lobby of the San Francisco Museum of Modern Art that was completed in 2017. In this work, Mehretu considered the competing urges of destruction and preservation at the heart of nineteenth-century expansion in the American West. In particular, the mural examines how colonialism, capitalism, class struggle, social protest, and technological advancement have all left their marks on the physical landscape of the Bay Area.
The mural is made up of a base layer of digital reproductions of race riots, street protests, and pictures of the American West from the 1800s.
This base layer is covered with thick, bright layers of paint and ink that were applied with brushes, spray paint, and screen printing. The layered tangles of abstract gestures and erasures show a landscape that is always changing because of physical movement and struggle. This work remind us of how chaos, exploitation, and hope all played a role in making the American West what it is today.
Reading Recommendations
Audiences have been captivated by Julie Mehretu's large-scale paintings, prints, and drawings. Her dynamic and layered artworks incorporate a whirlwind of signs, symbols, and motifs into immersive compositions that often begin with architectural drawings and sketches.
Below we recommend three books that delve deeper into the life and art of Julie Mehretu.
Julie Mehretu: The Drawings (2007) by Catherine De Zegher
Despite Julie Mehretu's reputation as a painter, it is her drawings that really propel her career; she completes dozens of ambitious drawings every year, while she generally never exceeds ten paintings in a year. Mehretu's work is as dynamic as her subjects, exploring how people understand their place in the world through their identification with different communities or experiences of different places. This book is the most wide-ranging survey of Julie Merethu's drawing till date.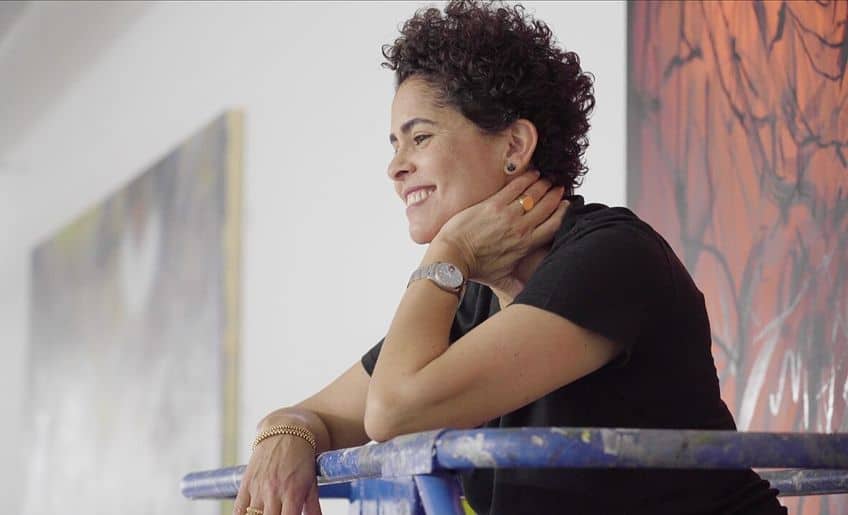 Inside the Studio with Julie Mehretu (2020) filmed and published by Galerie Magazine; Galerie Magazine, CC BY 3.0, via Wikimedia Commons
A detailed collection of the drawings that propelled Mehretu's career
Explore the link between people and their place in their world
Understand the background of these famous Mehretu drawings
View on Amazon
Julie Mehretu: City Sitings (2009) by Siemon Allen, Kinsey Katchka, and Rebecca Hart
Five works from Julie Mehretu's series City Sitings are explored in this book. This series of paintings were all created for Mehretu's exhibition at the Institute of Arts in Detroit. In these works, architectural plans and corporate logos are hidden within the seemingly abstract compositions. The process of urban change is reflected in Mehretu's work through the use of addition and subtraction.
By condensing a city's unique vitality and history, Mehretu offers viewers a fresh perspective on their immediate surroundings.
Explore the process of urban change through this collection
A collection of five works from the City Sittings series
Look out for the hidden architectural plans and corporate logos
View on Amazon
Julie Mehretu (2019) by Christine Y. Kim and Rujeko Hockley
This lavish publication accompanies an extensive survey of Julie Mehretu's work. The book is formatted to facilitate close inspection of Mehretu's enormous canvases, and it contains full-color reproductions of many of her paintings along with multiple full-page details. In addition to the photographs, numerous essays by prominent curators, academics, and authors are included. An overdue tribute, this magnificent volume explores the intersections of painting, history, geopolitics, and displacement through the lens of one artist whose work and process are themselves intertwined.
Close-up of Mogamma (A Painting in Four Parts), (2012) by Julie Mehretu; Ksd13, CC BY-SA 3.0, via Wikimedia Commons
A truly beautiful publication surveying Julie Mehretu's career
Full-color reproductions of her works with insightful comment
Explore the intersection of painting, geopolitics, and displacement
View on Amazon
In the past 30 years, Julie Mehretu has become one of the most influential figures in the American art scene. Mehretu's career has been defined by a commitment to experimentation and innovation, as well as a commitment to using her art to address important social and political issues. She is widely considered to be one of the most important artists of her generation, and her work continues to inspire and challenge viewers all over the world.
Frequently Asked Questions
What Is Julie Mehretu Known For?
Julie Mehretu is well-known for her multi-layered and large-scale abstract landscape paintings. Her works are distinguished by their intricate compositions and striking use of color and texture. She has also explored themes of migration, displacement, and cultural identity throughout her career.
Where Was Julie Mehretu Born?
Julie Mehretu was born in 1970 in Addis Ababa, Ethiopia. Due to political unrest, her family was forced to flee the country when she was a child, and she spent her formative years in East Lansing, Michigan. Julie Mehretu arrived in the United States in 1977.
What Education Does Julie Mehretu Have?
Julie Mehretu received her BFA in 1992 from Kalamazoo College in Michigan, and her MFA in 1997 from the Rhode Island School of Design.
Chrisél Attewell (b. 1994) is a multidisciplinary artist from South Africa. Her work is research-driven and experimental. Inspired by current socio-ecological concerns, Attewell's work explores the nuances in people's connection to the Earth, to other species, and to each other. She works with various mediums, including installation, sculpture, photography, and painting, and prefers natural materials, such as hemp canvas, oil paint, glass, clay, and stone.
She received her BAFA (Fine Arts, Cum Laude) from the University of Pretoria in 2016 and is currently pursuing her MA in Visual Arts at the University of Johannesburg. Her work has been represented locally and internationally in numerous exhibitions, residencies, and art fairs. Attewell was selected as a Sasol New Signatures finalist (2016, 2017) and a Top 100 finalist for the ABSA L'Atelier (2018). Attewell was selected as a 2018 recipient of the Young Female Residency Award, founded by Benon Lutaaya.
Her work was showcased at the 2019 and 2022 Contemporary Istanbul with Berman Contemporary and her latest solo exhibition, titled Sociogenesis: Resilience under Fire, curated by Els van Mourik, was exhibited in 2020 at Berman Contemporary in Johannesburg. Attewell also exhibited at the main section of the 2022 Investec Cape Town Art Fair.
Learn more about the Art in Context Team.