Eric Gill BBC Statue – Analysis of the "Prospero and Ariel" Statue
In this article, we will be discussing Eric Gill's BBC statue, Prospero and Ariel (1932). Due to revelations about the sculptor's personal life, Eric Gill's statue has become the source of much debate. The Prospero and Ariel statue was attacked by a man in 2022, sparking further controversy over Eric Gill's BBC statue.
Understanding Eric Gill's Statue: Prospero and Ariel
A vandalism event in London in January 2022 sparked a new round of discussion on how to view the legacy of a well-known artist with a history of abuse. That evening, a man broke into an Eric Gill monument that had been placed in front of the BBC's London offices. While a second individual recorded the event, the suspect spent four hours using a hammer to pound the artwork. Both were subsequently detained. Who was Eric Gill, though?
The Sculptor of Prospero and Ariel: Eric Gill (1882 – 1940)
| | |
| --- | --- |
| Nationality | English |
| Date of Birth | 22 February 1882 |
| Date of Death | 17 November 1940 |
| Place of Birth | Sussex, England |
Gill was raised in Chichester, where he studied at the community college before relocating to London. There, he started working as an apprentice for a company of ecclesiastical architects and enrolled in evening lessons for calligraphy and stone masonry. Gill quit his job as an architect and started a company that carved memorial inscriptions on monuments and gravestones. He also started creating book titles and chapter headers. Gill joined the Fabian Society when he was a young man, but he subsequently left.
Though he had first identified with the Arts and Crafts Movement, by 1907 he was speaking and agitating against what he believed to be the movement's shortcomings.
In 1913, he converted to Roman Catholicism, and he stayed one for the remainder of his life. Gill founded several artisan communities, each with a chapel at its heart and a focus on manual labor rather than more advanced industrial techniques.
Self-portrait of Eric Gill, circa 1927; Eric Gill, Public domain, via Wikimedia Commons
At Ditchling, Gill and his helpers produced several noteworthy war memorials, such as those at Chirk, North Wales, and Trumpington, near Cambridge, in addition to a large number of religious works. The Gill family relocated to a remote, abandoned monastery at Capel-y-ffin in the Welsh Black Mountains in 1924 after leaving Ditchling.
The seclusion of Capel-y-ffin fit Gill's desire to isolate himself from what he saw as a society that was becoming more secular and industrialized, and his time there turned out to be among the most prolific of his creative career.
Gill created several sculptures in Capel. At Capel, he invented the fonts Perpetua, Gill Sans, and Solus, which are regarded as some of the best of their kind. He also produced engravings for several books released by the Golden Cockerel Press. Gill and his family moved into homes near Speen in Buckinghamshire after spending four years at Capel. From then, in the final 10 years of his life, Gill rose to some notoriety as an architectural sculptor, producing big, prominent works for prominent structures in central London, notably the BBC's headquarters and the precursor to the London Underground.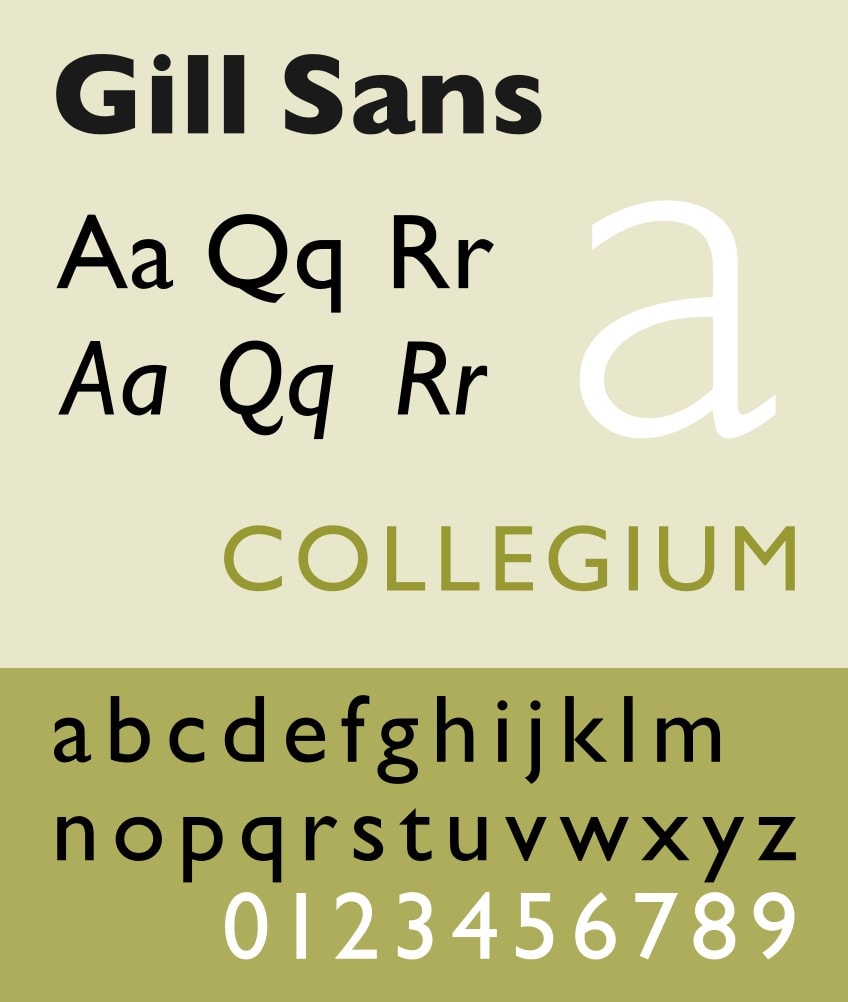 Specimen of the typeface Gill Sans, invented by Eric Gill; The original uploader was GearedBull at English Wikipedia., CC BY 2.5, via Wikimedia Commons
Despite his deteriorating health, Gill continued to work as a sculptor up to the final few weeks of his life, leaving numerous pieces unfinished that his helpers had to finish after his passing. With almost 300 produced works, including booklets and pamphlets, Gill was a prolific author on religious and societal issues. With his resistance to contemporary business, industrialization, and the use of equipment in both the home and workplace, he constantly courted conflict. He supported left-wing causes and practiced nonviolence in the years before World War II.
Gill's sexual behavior, which included multiple extramarital encounters, was not constrained by his religious convictions.
His ideas on religion and the subjects he writes about clashed with his aberrant sexual behavior, which was documented in his private journals and included experimentation on his dog and physical molestation of his daughters as well as an incestuous connection with at least one of his sisters. Numerous requests for the removal of Gill's paintings from public structures and art collections have been made since these disclosures became known in 1989.
Mother and Child (1910) by Eric Gill; Chemical Engineer, CC BY-SA 4.0, via Wikimedia Commons
Before the 1989 release of Fiona MacCarthy's biography, Gill's family and friends were the only people who knew anything about this element of his life. Robert Speaight's biography made no mention of any of it. At the time of the MacCarthy book, Gill's daughter Petra, who was still alive, said her father had "endless interest about sex" and that "we just accepted it as given." She also told her friend that she was not ashamed. Tegetmeier said that because the kids received their education at home, the girl at the time was not aware of how her father's actions might be perceived by others.
Despite the praise the book garnered and the widespread disgust that followed its release over some elements of Gill's sexual life, MacCarthy faced considerable backlash for disclosing Gill's incest during his daughter's lifetime.
Eric Gill's BBC Statue: Prospero and Ariel (1931)
| | |
| --- | --- |
| Date Completed | 1931 |
| Medium | Caen Stone |
| Dimensions (cm) | 1320 x 450 x 420 |
| Location | BBC, London |
In diaries found after his death in 1940, Gill—one of the most prominent British sculptors and typeface designers of the 20th century—detailed his sexual abuse of two of his adolescent daughters and the family dog. Since then, curators have battled with how to balance the artist's immorality with his enduring impact in England. For years, activists have urged the BBC to take the sculpture down.
Despite the recent incident, the broadcaster does not have any intentions to take down the monument.
The BBC monument, which depicts Prospero and Ariel from Shakespeare's The Tempest, was commissioned by Sir John Reith who was the news organization's director-general at the time, in the early 1930s. Ariel is shown as a nude child and is a spirit working for the magician. In the story, Ariel was the first person Prospero met when he arrived on the island. He discovered Ariel imprisoned in a cloven pine tree and released the ghost. Ariel agreed to offer Prospero a year of devoted service in exchange for Prospero returning his freedom.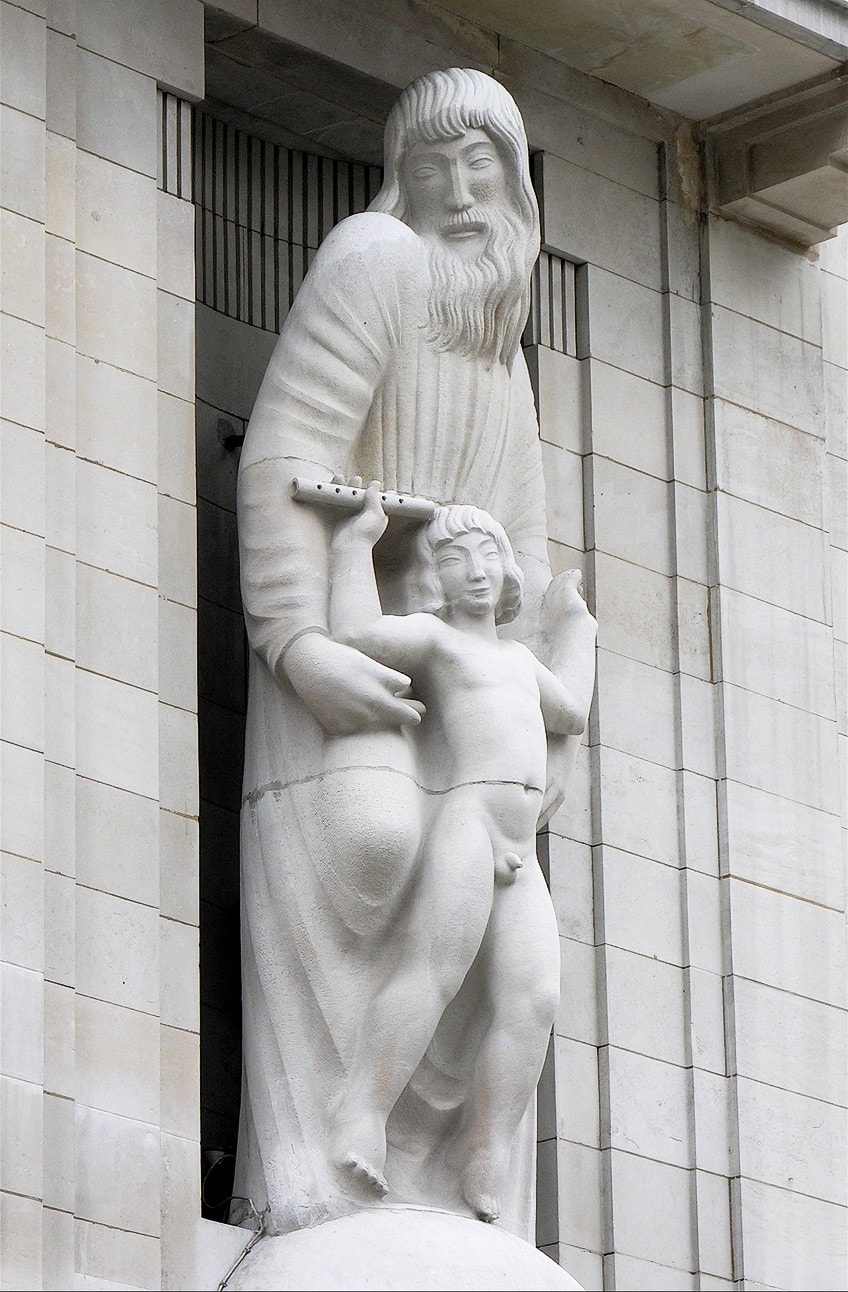 Prospero and Ariel (1931) by Eric Gill; Mike Knell from Zürich, Switzerland, CC BY-SA 2.0, via Wikimedia Commons
When the play opens, we have no idea how long Ariel has been working for Prospero. Ariel may have worked for Prospero for a great deal longer than what their contract called for given that he had been on the island for 12 years. However, it's also possible that Prospero rescued Ariel from the tree just a year before the play's events. In either case, Prospero's reluctance to liberate Ariel is a result of the enormous power Ariel has. The spirit states in the play's opening lines that he not only possesses an astounding array of skills but also has control over a large number of lesser spirits.
Because of Ariel's exceptional magical skills, Prospero mainly relies on him to carry out his intricate vengeance scheme.
Ariel has spent a lot of time with people and has picked up some knowledge about them. For instance, he seems to feel sorry for the castaways in Act V. He persuades Prospero to stop using sorcery and make peace with his foes by claiming that if he were a human, his "affections" would be "sensitive." By successfully manipulating Prospero and appealing to his compassion, Ariel moves one step closer to freedom.
Controversy and Attack
The BBC does not support Eric Gill's ideas or actions, the broadcaster said after the monument was attacked, stating: " Obviously, there are disagreements about whether it is possible to distinguish between an artist's work and the art itself. We believe that having such dialogues is the proper course of action. We don't believe that destroying the artwork is the best course of action."
A video of the incident was tweeted by BBC News cultural editor Katie Razzall with the caption: "Out front of BBC, a man is attempting to vandalize Eric Gill monument while another man live-streams shouting about pedophiles. Gill is notorious for his heinous deeds. But is this the best course of action?"
Throughout his lifetime, Gill also produced renowned devotional art, and Westminster Cathedral still displays his statues. Ministers and Clergy Sexual Abuse Survivors led a push in 1998 to have one of Gill's works removed from the church. In the meantime, the community of Ditching, where the artist resided with his family from 1906 until 1924, was outraged by a plinth built to honor his work on a World War I memorial. Recent shows have made an effort to reconsider Gill's artwork in light of his abuse.
Eric Gill: The Body, a 2017 exhibition at the Ditchling Museum of Art + Craft, was inspired by the query, "Is it possible to admire Gill's art when we know of his abuse? His studies of the human figure were the main subject of the program, which also included images of his daughters' bare bodies.
Mankind (1927) by Eric Gill; Slowking4, CC BY-SA 2.5, via Wikimedia Commons
The museum clarified its position on the creator in a comment it released in 2021, saying: "The trustees function within these positions: we utterly denounce Eric Gill's abusive behavior of his daughters with no effort to disguise, excuse, normalize, or try and reduce, yet we also have a responsibility to safeguard, showcase, and define the art we retain in our collections."
Additionally, it turned out that not all of the criticisms of Ariel were pointless. Gill likes to get into mischief. He was also phallically fixated, according to MacCarthy. His personal measurements were meticulously taken, perhaps with female aid. Since MacCarthy did not let his "weird need for the sordid" diminish her admiration of his work, Gill was undoubtedly fortunate in terms of both his biographer and the timing of these discoveries.
Gill's early reputational harm was remarkably little since it occurred long before survivors started to speak out about what had been done to them by clergymen, teachers, and within childcare centers, as well as before the testimonials of pedophiles such as Savile, and Rolf Harris.
Since they could scarcely be ignored, even ten years after the fact, an obituary in the Guardian for one of Gill's daughters could portray the incestuous rapes as parental encouragement: "He introduced Betty and Petra to the secrets of sex and chronicled the events in his journals." Gill's supporters preferred to emphasize that neither female had made a public abuse complaint. But their father, who was keeping it a secret, was certain. "This has to end", he wrote.
That concludes our look at Eric Gill's statue, "Prospero and Ariel". It's sad that the company's main structure should continue serving as a memorial to another prominent British pedophile, Eric Gill, given this historical but likely irrevocable relationship with one of the UK's most known pedophiles, Saville. "Prospero and Ariel", the most well-known public sculpture by Gill, was severely vandalized in January of 2022 in front of a crowd that included BBC viewers and many police officials. Whether it should still stand is a matter of great debate.
Frequently Asked Questions
What Is the Statue of Prospero and Ariel About?
Ariel was the first person Prospero encountered on the island in the tale. He freed the spirit after finding Ariel trapped in a cloven pine tree. Prospero promised to regain his freedom in exchange for a year of loyal devotion from Ariel. We don't know how long Ariel has been working for Prospero when the play first begins. Given that he had been on the island for 12 years, Ariel may have worked for Prospero for a significant deal longer than what their employment agreement stipulated. It is also plausible that Prospero saved Ariel from the tree a year before the events of the play. In either instance, Ariel's immense power is the cause of Prospero's reluctance to free her.
Why Is There Controversy Around Eric Gill's BBC Statue?
One of the best artists in Britain, Eric Gill, was also charged with child molesting. A guy with a hammer smashed the monument over the entrance of the BBC Broadcasting House in early 2022. The dispute surrounding the monument is not new. In 2013, after being requested to do so by organizations that support victims of sexual assault, the BBC declined.
Isabella studied at the University of Cape Town in South Africa and graduated with a Bachelor of Arts majoring in English Literature & Language and Psychology. Throughout her undergraduate years, she took Art History as an additional subject and absolutely loved it. Building on from her art history knowledge that began in high school, art has always been a particular area of fascination for her. From learning about artworks previously unknown to her, or sharpening her existing understanding of specific works, the ability to continue learning within this interesting sphere excites her greatly.
Her focal points of interest in art history encompass profiling specific artists and art movements, as it is these areas where she is able to really dig deep into the rich narrative of the art world. Additionally, she particularly enjoys exploring the different artistic styles of the 20th century, as well as the important impact that female artists have had on the development of art history.
Learn more about Isabella Meyer and the Art in Context Team.
Cite this Article