When did Polaroid cameras come out and who created Polaroid? Edwin Land was the man behind the company that released the first Polaroid camera in 1948. But the Polaroid brand has actually been around since 1937 when it initially sold polarized sunglasses. To find out more about the history of Polaroid cameras – from the beginnings to the rebirth of Polaroid cameras – check out this article below!
The Man Who Created Polaroid
| | |
| --- | --- |
| Full Name | Edwin Herbert Land |
| Nationality | Russian American |
| Date of Birth | 7 May 1909 |
| Date of Death | 1 March 1991 |
| Place of Birth | Bridgeport, Connecticut, United States |
Edwin Land enrolled at Harvard College in 1926 and took a leave of absence following the autumn semester to go to New York City to further his research on light-polarizing materials. By 1928, he had worked out how to use a magnetic field and small crystals to control dispersed vibrations of light – something that had eluded scientists for decades. This significant discovery found a wide range of uses, including polarized sunglasses, desk lights, camera filters, windows, 3-D motion movies, and optical equipment.
Edwin Land acquired his first patents for synthetic polarizing materials when he was 24 years old, in 1933. He believed that enterprise should be "committed to the understanding of human needs, and hence should do all possible to meet them". Furthermore, he described true genius as providing "the world with a unique and innovative approach to tackling unresolved challenges".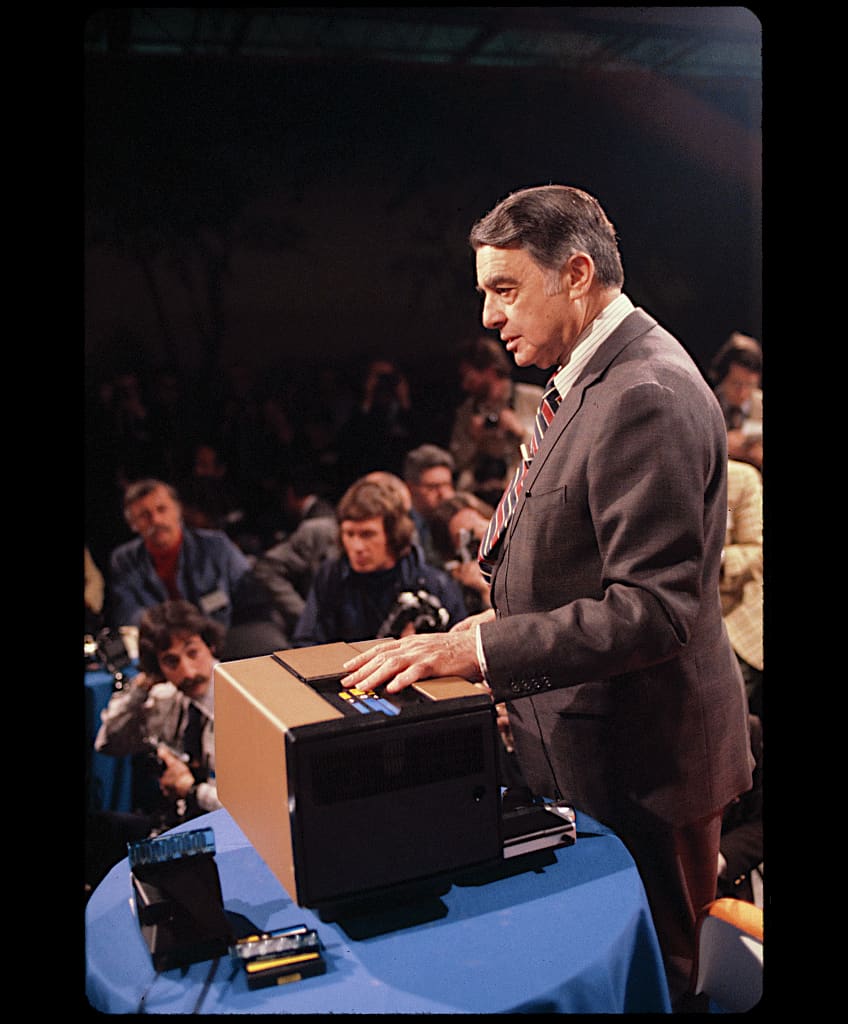 Photograph of Edwin H. Land with new Polaroid taken in 1971; Gotfryd, Bernard, photographer, Public domain, via Wikimedia Commons
Edwin Land valued the opportunity and freedom to think critically about such issues, and considered science as a critical instrument in solving them. After having dropped out of college, Edwin Land created the Land-Wheelwright Laboratories with his physics professor, George W. Wheelwright, in 1933, gradually assembling a talented team of public relations specialists, scientists, and marketers. His startup was reincorporated as the Polaroid Corp. and substantially invested in research thanks to large contributions from Wall Street titans such as Averell Harriman and J.P. Morgan.
Polaroid's revenues increased to record heights during WWII, completely mobilizing the company's workforce for the war effort. Polaroid helped define war strategy by concentrating its efforts on manufacturing polarizing filters for periscopes, gun sights, binoculars, variable-density goggles, and infrared night vision. Vectographs, another Polaroid innovation, enabled the viewing of 3-D aerial pictures, transforming reconnaissance efforts. Following the war, the company needed to immediately restructure to compensate for a drop in income, which prompted possibly its most well-known innovation: instant photography.
Land photography quickly found commercial, military, and scientific applications. In the years that followed, several technological milestones were reached, including the invention of a color process. Land's Polaroid cameras, which could generate developed images within one minute after exposure, were among the world's most popular cameras. Land's fascination with light and color culminated in the development of a new theory of color perception. He discovered numerous contradictions in the classical theory of color vision through a series of tests. Edwin Land was awarded over 500 patents for his breakthroughs in light and polymers.
Diagram showing the process of circular light polarization; Dave3457, Public domain, via Wikimedia Commons
In 1980, he stepped down as CEO of Polaroid, but he remained involved in the realm of light and color study through his work with the Rowland Institute of Science, a nonprofit organization financed by the Rowland Foundation, Inc., a firm Land formed in 1960. Rowland researchers revealed that the experience of light and color is mostly governed by the brain, instead of a spectrum system in the retina of the eye, as previously thought.
Edwin Land was regarded by many as something of a Renaissance man: an artist, scientist, businessman, and industry leader who founded one of the most inventive, research-based, and humane corporations of the 20th century, pushing it to extraordinary success. Land, a symbol of business success and progressive leadership, hoped that his company would live at the crossroads of science and art, which it did for many years.
The History of Polaroid Cameras
The Polaroid Corporation was established in 1937 by Edwin Land, an American scientist, but it was not yet known for cameras like it is today. Polaroid utilized polarization technology to develop a wide range of unusual products, such as glare-reducing eyewear for dogs and even 3D movies. During WWII, the innovative Polaroid brand developed and manufactured various items for the armed forces, including an infrared night vision apparatus and colored screens for periscopes and rangefinders.
The First Polaroid Camera
Edwin Land's little daughter asked him why she was not able to see the photo he had just shot of her while vacationing with his family in 1944. On the very same day, the renowned inventor claimed to have invented the required camera design, film, and chemicals needed to produce a camera that could instantly develop a photograph. It took another three years to actually manufacture and introduce instant camera film to the general public for the very first time. Edwin Land's creation was an important milestone in the history of photography since it reduced the medium's time-consuming conventional processing to a matter of minutes.
Polaroid Land Camera Model 95A; Jarek Tuszyński / CC-BY-SA-4.0, CC BY-SA 4.0, via Wikimedia Commons
The Polaroid Land Model 95 camera was introduced in 1948, putting this revolutionary technology into the hands of the general public. The original model contained two distinct negative and positive rolls, allowing the picture to be developed within the camera.
Polaroid initially produced only 60 units of the Land Camera, but the firm grossly misjudged demand – every single one of the units sold out in just one day. The introduction of instant photography by the Polaroid brand generated a new business line that didn't merely sell cameras. It charged roughly $1 per sheet of film that seemed to magically turn into a photograph right in front of people's eyes. With little competition, the film's sales generated enormous profit margins.
Polaroid vs. Kodak
In 1976, when the Kodak corporation introduced its own range of instant film cameras, Polaroid filed a lawsuit, accusing Kodak of stealing its unique instant photography technology. The federal court case lasted ten years with Polaroid seeking $12 billion in damages from Kodak for patent infringement. The court sided with Polaroid, ordering Kodak to stop producing instant photographs and to compensate Polaroid with $909.5 million.
The Decline of the Polaroid Brand
One ex-employee recalled that during Polaroid's heyday in the 1960s, incentives were so frequent and so substantial that Main Street Ford, which was across the street from Polaroid's Waltham facility, used to organize promotions to correspond with the instant-camera maker's bonus days. In 1977, the firm threw a $100,000 party to commemorate the 30th anniversary of instant photography. That year alone, more than six million cameras were sold by Polaroid. Edwin Land then developed Polavision, the Polaroid Instant Home Movie camera, in 1977, which was built on the Dufaycolor process. Land was well-known for his excellent presentations showcasing new technologies for the average customer. Land once even recruited a dancer to perform at a press conference to demonstrate a new camera.
The Polavision was a color system that could produce 2-minute films on self-developing cassettes. The device heralded the era of home video. Unfortunately, the device was released at a time when videotape-based systems were gaining prominence.
As a result, it did not sell well in major retailers and has been regarded as Polaroid's swan song. Edwin Land was forced to quit and leave the business he built after 40 years as chairman. The Polavision saga finally forced the corporation to write off $89 million, which included the majority of its manufactured stock.
Polaroid Polavision Land Camera for Polavision Phototape with carry-case as produced from 1978 to 1980; Museum of Science and Technology "Leonardo da Vinci", CC BY-SA 4.0, via Wikimedia Commons
Polavision's underlying technology was eventually refined to be used in the Polarchrome instant slide film system. Without Edwin Land in command, Polaroid attempted to recast itself in the 1980s by moving away from a reliance on consumer photography, a sector that was in constant decline. Polaroid declared in 1984 that it planned to join the US electronic video industry with its own range of Polaroid videotapes. At this point, Polaroid was compelled to implement drastic measures, including the layoff of thousands of employees and the closure of many factories. The 1990s witnessed the introduction of new technologies that significantly altered the field of photography: one-hour color film processing, rival single-use cameras, VHS camcorders, and, later, digital cameras.
With the PDC-2000 in 1996, the business was one of the early makers of digital cameras; nonetheless, it failed to secure a considerable market share in that sector. In addition, it produced scanners, such as the Polaroid SprintScan 4000 in 1999. The scanners garnered mixed reviews and were up against Minolta and Nikon equipment. When Polaroid declared bankruptcy in 2001, the whole series was canceled.
The Company Goes Bankrupt
On the 11th of October 2001, the Polaroid Corporation filed for bankruptcy. Within 10 months, the majority of the company had been sold to One Equity Partners, which then changed its name to Polaroid Holding Company. This new firm, however, functioned under the name of the Polaroid Corporation. This takeover was heavily criticized since it provided enormous compensation to corporate leaders while leaving investors, as well as existing and retiring employees, without anything. The corporation unveiled a proposal to reward the top 45 executives just for remaining on the job. Other employees, however, were prohibited from selling their stock before quitting their positions. The failure of top management at Polaroid to predict the impact of digital cameras on its film-selling industry is largely blamed for the company's eventual decline and demise.
Utilization of the Polaroid Brand After Bankruptcy
Following the company's bankruptcy, the Polaroid name was licensed to be used on other products. World Wide Licenses was given an exclusive license for three years in September 2002 to produce and sell various digital cameras under the Polaroid brand name for foreign distribution. Portable DVD players and plasma screens with the Polaroid brand name had also hit the market. Petters Group Worldwide announced the acquisition of PHC on the 27th of April 2005.
Petters Group Worldwide announced the acquisition of PHC on the 27th of April 2005. Petters has previously purchased bankrupt enterprises with well-known brands, as they were already established names in the industry.
The next year, Flextronics bought Polaroid's manufacturing facilities, and the decision was taken to relocate the majority of production to China. To cut costs, the corporation manufactured nearly all new products in China and other low-wage nations, prompting Polaroid to close more Massachusetts production plants. In another move, the firm relocated from Kendall Square to a decommissioned Polaroid-owned facility on Memorial Drive.
Even though the company went bankrupt, Polaroid was so entrenched in popular culture that the brand was too valuable to be allowed to vanish; Stock-Image
In 2001, Polaroid expanded its product line to include a small portable printer. The idea was that one could print pictures directly from one's mobile phone with the printer. Refills of the printing media required for the device would provide Polaroid with an additional source of revenue from the new product.
To the chagrin of dedicated camera customers, however, it ceased producing Polaroid cameras in 2007 and stopped selling Polaroid film in 2009. Following Polaroid's announcement that it will no longer produce any analog instant film, a group of previous employees purchased a Polaroid film facility in the Netherlands. The company's name was The Impossible Project.
The Impossible Project
The roughly 500,000 film packages of stock that were still in storage had been purchased by Austrian photographer Florian Kaps, the holder of the largest online retailer for SX-70 film and the creator of the web-based photo gallery for instant photos, Polanoid.net. He collaborated with André Bosman, a previous head of film production at Polaroid in Enschede, on a plan to revamp the SX-70/600 film system in partnership with Ilford Photo, and persuaded the Polaroid owners to take part. In January 2009, plans for a rebirth of Polaroid cameras under the Impossible label were unveiled. Impossible announced the availability of two monochromatic films compatible with SX-70 and 600 type cameras on the 22nd of March 2010. Then, to correspond with the new film, Impossible unveiled a new camera that was designed with a retro aesthetic with earlier Polaroid devices in mind. The camera was supposed to be released before Christmas 2010, however, the date passed with no new news.
It was easier said than done to facilitate the rebirth of Polaroid cameras. Machines at the plant were broken, chemical formulations were lost, and suppliers went out of business. But, over time, the crew accomplished the unthinkable by releasing an interesting spectrum of color and black and white film. "Since then, we have been the sole company creating film for Polaroid cameras – both classic Polaroid cameras and the new devices we have built", says Polaroid brand director Ozlem Birkalan. The crew had to start from scratch in order to manufacture new color dyes.
However, instant photography lovers may now acquire specific films online or at a few specialist outlets. In recent years, analog images have given way to digital, but for those who crave the solid, and tactile feel of a Polaroid, The Impossible Project is developing a machine that transforms digital photos into physical copies. Polaroid is now synonymous with capturing memories that you can preserve forever.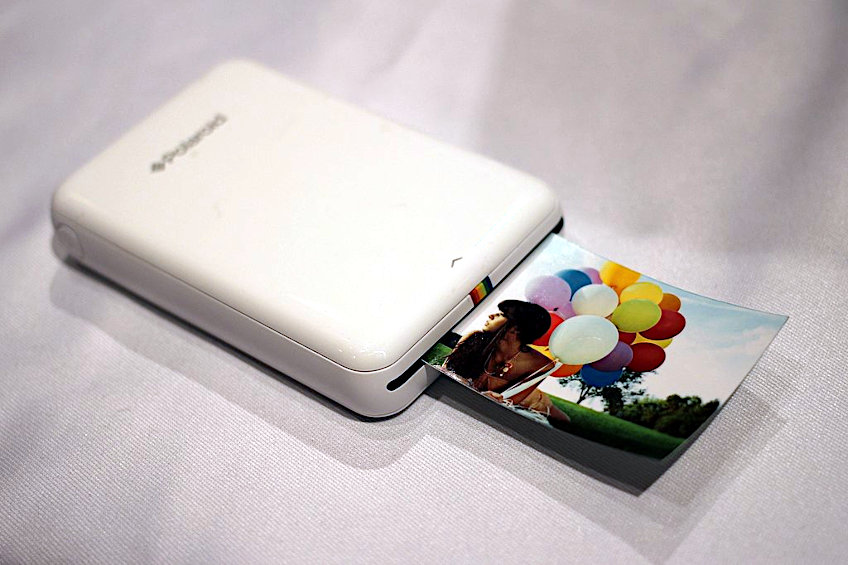 Polaroid Zip mobile printer; Maurizio Pesce from Milan, Italia, CC BY 2.0, via Wikimedia Commons
Impossible debuted the Impossible I-1 in April 2016, however, it was not designed to look like previous Polaroid cameras. It was the first camera to use I-type film, which was compatible with older 600 film since I-type film was 600 film without a battery. After renaming to Polaroid Originals, the firm produced the OneStep 2 camera in September 2017. This model was based on the first OneStep with new features, although the OneStep 2 utilizes the same type of film as the Impossible I-1, as opposed to the original OneStep, which utilized SX-70 Film.
The Polaroid Brand's Impact on Culture
Many years before they evoked sun-bleached nostalgia, dreamy recollections, and a longing for a bygone analog period, Polaroid photographs were seen as a flash of unimaginably futuristic technology. When the SX-70 instant camera debuted in 1972, the United States was still recruiting cadets for the Vietnam War, the Sony Walkman was almost a decade from its invention, and most people had to wait days, if not weeks, to view the photographs they'd taken. The SX-70 was the pinnacle of growth for many creative people, including famed filmmaker and photographer Wim Wenders, who moved to the United States from his native Germany that year.
In the early 1970s, he took 12,000 Polaroid photographs in a creative frenzy. For many artists, the format was a sign of things to come at the dawn of the digital age. For years, everyone would stand behind someone taking an instant photo and watch the entire process, not just in awe, but also with yearning – everyone wanted one. Children, in particular, went nuts for the new technology.
Nowadays, we consider it normal that we can view anything instantly on our smartphones, but it was a cultural revolution back then. Square Polaroid photos captivated the globe in the 1970s and have remained a source of interest ever since.
Photograph of Andy Warhol Taking a Polaroid Picture of Jack Ford with Bianca Jagger on the Truman Balcony (1975); National Archives and Records Administration, Public domain, via Wikimedia Commons
Their playful style has influenced artists such as Julian Schnabel and photographer Ryan McGinley. Instagram's early popularity may partly be attributed to its recreation of the form and appearance of vintage Polaroid photographs. When the concept of being social was still connected to people being social in real life, Polaroid was a true "social media". You would watch these photographs being developed – it took time, and you would watch it together – and then you would give them away. It was a genuine act of human interaction. Ironically, everything has become so surface-level nowadays – thanks to social media.
More than 45 years after the debut of the SX-70, the format's continued appeal underscores its position between photography's history and potential. It exists between the digital and the analog, between photography as a craft and photography as a reactive action – similar to the Instagram pictures it would influence, but with a deeper connection shared between creator and subject.
Photograph of a woman using a polaroid camera taken in 2007; Thomas Jantzen/SPÖ, CC BY-SA 2.0, via Wikimedia Commons
That is why the Polaroid is regaining popularity, since there is a craving for genuine interactions and actual things, rather than everything being computerized. It is still relevant today as a reflection on the world becoming more abstract and computerized – and perhaps, in some ways, not as "real".
How Polaroid Involved Artists
In the late 1960s, Polaroid enlisted the help of some of the world's most well-known artists, including David Hockney, Ansel Adams, and Andy Warhol, to test their devices. The company gave them free camera film and studio space and told them they could photograph whatever they pleased as long as they delivered the completed images to the Collections Committee. The concept was also carried to Europe, where prominent photographers such as Sarah Moon, David Bailey, and Helmut Newton were handed equipment and film. These works served as the foundation for the International Polaroid Collection. The collection developed during the 1970s and 1980s as more artists applied for film and camera sponsorships.
ICONS Polaroid and Keith Haring C-Note series; Silicon Valley, California, Fine Art and Real Estate Broker Anna D. Smith, CC BY-SA 4.0, via Wikimedia Commons
The Polaroid Project
The enormous collection was eventually shown as The Polaroid Project in 2018 at Hamburg's Museum für Kunst und Gewerbe. Over 440 images by Ansel Adams, 35 by Mary Ellen Marks, almost 200 by Phillipe Halsman, and so on through Robert Rauschenberg, Robert Mapplethorpe, Margaret Bourke-White, and Inge Morath increased the Polaroid Artists Collection to 16,000 prints by 120 renowned artists. Some of the photographs, by Edward Weston, Alfred Stieglitz, and Dorothea Lange, were displayed in Polaroid creator Edwin Land's library. Meanwhile, modern artists have continued to investigate the boundaries and significance of instant film. For many, the format represents the pinnacle of nostalgia, harkening back to a period when the future appeared brighter.
Polaroid and Initial Artist Involvement
From the start, the Polaroid brand catered to avant-garde artists and collagists, along with traditional photographers who admired film's qualities. It all started with Ansel Adams, a friend of Edwin Land and one of the world's most famous landscape photographers. In 1949, Adams agreed to work as a consultant for Polaroid. He was dealing with films, cameras, and all of the innovations, analyzing what emerged from the laboratories.
Adams conducted field testing and recorded copious notes that were later utilized to develop the next Polaroid products, soliciting the help of friends and colleagues along the way. That was the goal: to demonstrate that this new film was of high quality and not simply a gadget-y gimmick.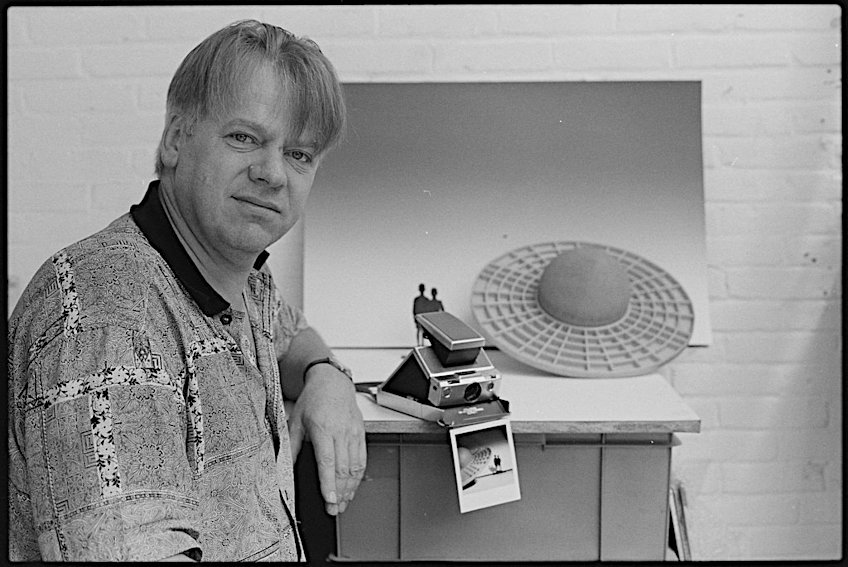 Dutch Art Photographer Piet van Leeuwen with a polaroid camera (1989); Fotopersbureau de Boer, CC0, via Wikimedia Commons
Polaroid film first generated only sepia-toned pictures, which were followed by black-and-white photographs in 1950 and eventually color photographs in 1963. Some models developed reusable negatives, allowing for editions or multiples, but others created one-of-a-kind prints. For modern artists, the latter alternative was frequently the more intriguing. What is it about Polaroid that makes it so appealing to artists? First, there was instantaneity, which meant that things could be evaluated and revised right now, rather than being sent to a lab and then forgotten about for a time. Also, everyone boasts about the "only Polaroid can achieve this" color quality.
Novel Use of Photographic Technology
The sense of community was also important – Polaroid Corporation made people feel appreciated and accepted. Artists also felt like they were on the leading edge of technology. Polaroid technology pays homage to early photographic techniques before film, such as tintypes or daguerreotypes, which produced one-of-a-kind pictures. When photography became an infinitely reproducible medium, it moved even further away from fine art, and artists valued the concept of producing a unique, non-replicable image. The introduction of the SX-70 was very exciting for consumers, but it was also considered a tool for artists to play around with and manipulate in unexpected ways. Dr. Land wasn't always pleased with such alterations to his equipment. For him, the whole selling point of the SX-70, was its all-in-one, easy, and instant developing method.
However, artists, being extremely unpredictable, did not always adhere to the guidelines or product manuals; many of them began to tinker, probe, and test the limits of what Polaroid film should or could accomplish. There was an explosion of creativity in the 1970s, and the Polaroid was like an empty canvas for many individuals. They could edit – add or delete, or do something really particular that would become their signature style of photography and film development.
Polaroid SX-70 Land Camera Supercolor Autofocus Model 2; Joost J. Bakker IJmuiden, CC BY 2.0, via Wikimedia Commons
Lucas Samaras was one such creative who was capable of finding a completely new outlet through a bit of creative destruction – though it's unknown if Edwin Land and Polaroid first approved of his intrusions.
Samaras' Polaroid work was done in two stages: from 1969 to 1971, he created his AutoPolaroids series, in which he superimposed abstract and geometric components to already developed images, many of which were self-portraits. But his Photo-Transformations series from 1973 to 1976 went a step further, utilizing a technical flaw to alter the customary process.
The artist realized that the early SX-70 film may be manipulated by hand or with other tools and equipment throughout the developing process. These experimental self-portraits vary between being fascinating and horrifying—imagine an analog version of Photoshop's "liquify" option taken to a ridiculous degree. Individual bodily parts come into focus, drifting in a cosmic fog of manipulated photographic dyes.
The history of Polaroid cameras began over a century ago with an offhand observation from the inventor's little daughter and continues to the present day. Since the first photographs were taken, photography has gone through several revisions. Advanced cameras are now ubiquitous in modern society – we carry them in our pockets and even place them on street corners and outside buildings for security. We even strap them to cars and telescopes and launch them into space – things have certainly come a long way from the first Polaroid camera!
Frequently Asked Questions
When Did Polaroid Cameras Come Out?
The first Polaroid cameras were produced in 1948. They were immediately popular because they let consumers shoot and print images instantaneously without having to wait for the film to be processed. This made photography more accessible and convenient for the average consumer. Polaroid cameras were also embraced by many creatives.
Who Created Polaroid Cameras?
Edwin Land was the person responsible for inventing the first Polaroid camera. The story goes that he was on vacation with his family and was taking photographs of their trip. His little daughter wanted to know why they could not see the images instantly, and this set the inventor off on a mission to try and develop the necessary equipment and film.
How Did the First Polaroid Cameras Work?
A Polaroid camera uses a special film that includes all of the chemicals required to develop an image. When you use a Polaroid camera, the film is subjected to light as it travels through the lens. This creates a chemical reaction in the film, resulting in a black-and-white or color picture on the film. The film that is used in Polaroid cameras is composed of many layers. The bottom layer is a backing paper that has been treated with light-sensitive compounds. The top layer is a transparent plastic sheet that has been treated with additional chemicals. When you capture a photograph with a Polaroid camera, the film advances through the camera, exposing it to light as it moves through the lens. This allows the light-sensitive chemicals on the underlying paper to react, resulting in the development of a visual impression. The film is automatically ejected from the camera once the photograph is taken. The translucent plastic sheet is then pressed against the backing paper by a sequence of rollers within the camera, activating the chemicals on the plastic sheet. These chemicals are then applied to the image on the underlying paper, producing the photograph and generating a visible image. The entire process is incredibly fast, and you can watch the image start to develop right before your eyes!
Was There a Rebirth of Polaroid Cameras?
Polaroid cameras are no longer as popular as they once had been, but they continue to have a devoted following of fans and artists who value the unusual, immediate effects they generate. In recent years, there has been a renewed curiosity in instant photography, and quite a few businesses have developed new types of Polaroid-style cameras that generate instant prints using current, digital technology. These cameras are frequently smaller and more mobile than typical Polaroid cameras, and they may generate prints of many sizes and styles. Polaroid cameras are still not as popular as digital cameras, which have lately taken over the market because of their practicality, adaptability, and reasonably low price. However, many individuals still find delight in using Polaroid cameras because of the sense of nostalgia and the hands-on, sensory experience they offer.
Jordan Anthony is a film photographer, curator, and arts writer based in Cape Town, South Africa. Anthony schooled in Durban and graduated from the University of the Witwatersrand, Johannesburg, with a Bachelor of Art in Fine Arts. During her studies, she explored additional electives in archaeology and psychology, while focusing on themes such as healing, identity, dreams, and intuitive creation in her Contemporary art practice. She has since worked and collaborated with various professionals in the local art industry, including the KZNSA Gallery in Durban (with Strauss & Co.), Turbine Art Fair (via overheard in the gallery), and the Wits Art Museum.
Anthony's interests include subjects and themes related to philosophy, memory, and esotericism. Her personal photography archive traces her exploration of film through abstract manipulations of color, portraiture, candid photography, and urban landscapes. Her favorite art movements include Surrealism and Fluxus, as well as art produced by ancient civilizations. Anthony's earliest encounters with art began in childhood with a book on Salvador Dalí and imagery from old recipe books, medical books, and religious literature. She also enjoys the allure of found objects, brown noise, and constellations.
Learn more about the Art in Context Team.