Residing in suburban areas and working in cities, we can often forget what a beautiful world we live in. Luckily, we have the best landscape photographers around the world to remind us of the world's natural beauty with their famous landscape photographs. This article will explore the most famous landscape photographers that pushed the genre into public awareness, and those that kept it there.
Exploring the Most Famous Landscape Photographers
Every day, millions of people get up and go to work, sitting in traffic for hours without a view to appreciate and finally arriving at their cubicle in a gray office block. They then switch on their laptops and computers and are greeted with the site of some breathtaking natural vista on their welcome screen. It can be difficult to focus on work and not dream of taking a vacation to the destinations we see featured on our screens. Yet, often, these images are more than mere wallpaper, they are pieces of art – a stunning landscape captured in all its pristine glory. Who are the people who have ventured into these epic locations in order to capture their beauty and share it with the world? Who created these famous landscape photographs, and who is the best landscape photographer? Let us find out as we take an in-depth look at some of the world's most famous landscape photographers.
Entrance of Kotor Bay with rocks and sunset with moody skies and rocks in the foreground (2015); Epicurus65, CC BY-SA 4.0, via Wikimedia Commons
Ansel Adams (1902 – 1984)
| | |
| --- | --- |
| Name | Ansel Adams |
| Nationality | American |
| Date of Birth | 20 February 1902 |
| Date of Death | 22 April 1984 |
| Place of Birth | San Francisco, California, United States |
The famous American environmentalist and photographer, Ansel Adams, produced images that demonstrate how significant the work that occurs after clicking the shutter button is. His works show a sincere passion for nature as a whole, with his landscape photography of the American West, particularly Yosemite National Park, being his most recognizable body of work. It's no wonder that if somebody hears the phrase "Landscape Photography", he is likely the first person who comes to mind because his devotion to landscape photography transformed his abilities into breathtaking mastery.
Perhaps one of his greatest contributions to the genre was the development of the "Zone System" – a photographic technique devised by Ansel Adams to assist photographers in controlling the exposure and adjusting the tonal range of their photos to get the appropriate contrast and detail.
His approach to photography was to picture the scene's tonal range and then utilize the Zone System to pre-visualize how the final shot will appear. He'd use a portable light meter to measure the brightness of various regions of the picture, then alter the camera settings to capture the proper tonal range. Adams was able to take photos with a wide variety of tonal values by employing the Zone System, producing images with deep shadows and brilliant highlights that were rich in texture and detail. This approach was especially useful in landscape photography, where the tonal range of a picture may be difficult to portray precisely.
Church, Taos Pueblo National Historic Landmark, New Mexico, (1942) by Ansel Adams; Ansel Adams, Public domain, via Wikimedia Commons
Brett Weston (1911 – 1993)
| | |
| --- | --- |
| Name | Brett Weston |
| Nationality | American |
| Date of Birth | 16 December 1911 |
| Date of Death | 22 January 1993 |
| Place of Birth | Los Angeles, California, United States |
The famous American photographer, Brett Weston, was well known for his modernist landscape photography. He was the great photographer Edward Weston's child, born in 1911, and started his own photography career at a young age, helping his father and subsequently taking his own photos in the 1920s. Weston contributed significantly to landscape photography through his unique utilization of abstraction and form. He was particularly fascinated with how he could utilize light and texture to create stunning abstract compositions in nature, and he regularly focused on close-up images of trees, rocks, and other natural objects.
His landscape photographs were defined by a clear sense of structure and texture, as well as a focus on producing striking, graphic compositions.
He typically utilized high-contrast black-and-white photography to emphasize the abstract elements of his subjects, and his photos were often likened to the works of contemporary abstract artists. Oceano, one of Weston's most renowned landscape series, contains photos of the sand dunes and beaches near his house in California. The series emphasizes the patterns and textures formed by the wind and sand to portray the stark beauty of the terrain in dramatic, abstract compositions.
Franco Fontana (1933 – Present)
| | |
| --- | --- |
| Name | Franco Fontana |
| Nationality | Italian |
| Date of Birth | 9 December 1933 |
| Date of Death | Present |
| Place of Birth | Modena, Italy |
Fontana's vision of the world is breathtakingly beautiful, demonstrating an unusual style of landscape photography. His landscapes have been described as vibrant and abstract. His photography reminds us that there are still new things to uncover in landscape photography. He portrays the interaction and interrelationship of colors in natural environments.
His early color photography breakthroughs in the 1960s were artistically disruptive. Fontana destroyed all the frameworks, methods, and technical choices inside the Italian tradition, according to art critics.
Fontana used 35mm cameras and distant perspectives with telephoto lenses to flatten the contours in an environment of fields and crops into bands of vivid, saturated color. His striking geometric compositions are typified by shimmering colors, and level perspectives, as well as a geometric-formalist and minimalist lexicon. Fontana's use of this method in the 1960s infused fresh life into the discipline of creative color photography, as multicolor photography was not popular at the time. Fontana's shooting style dematerializes the captured elements, which lose three-dimensionality and realism to form part of an abstracted artwork.
Takeshi Mizukoshi (1938 – Present )
| | |
| --- | --- |
| Name | Takeshi Mizukoshi |
| Nationality | Japanese |
| Date of Birth | 1 May 1938 |
| Date of Death | Present |
| Place of Birth | Toyohashi, Aichi, Japan |
Takeshi Mizukoshi, a renowned landscape photographer from Japan who dropped out of the Tokyo University of Agriculture's Department of Forestry to pursue other interests, first worked as a naturalist before becoming a mountain photographer. Although he is one of those difficult-to-find landscape photographers with very little work easily accessible through the web to examine and enjoy, the few pieces available are a beautiful tribute to nature itself. His photographs are on exhibit at several local and foreign museums and art galleries, which, aside from books, constitute the only way to truly appreciate his work.
Mizukoshi's landscape photography is characterized by a delicate, lyrical sensibility, with an emphasis on capturing the transitory, atmospheric elements of nature.
Long exposure periods and soft, diffused lighting are usually employed to create photographs that appear to radiate an ethereal quality. His landscape photography is heavily influenced by his fascination with traditional Japanese aesthetics, notably the principle of "wabi-sabi," which stresses the beauty of imperfection and impermanence. He often uses delicate, subdued tones in his works and understated beauty, conveying a sense of peaceful contemplation and introspection. The River, one of Mizukoshi's most renowned landscape series, features photos of the Tamagawa River near his house in Tokyo. The series emphasizes the interaction between light and shadow on the water's surface, capturing the placid serenity of the river and its surrounding environments.
Galen Rowell (1940 – 2002)
| | |
| --- | --- |
| Name | Galen Rowell |
| Nationality | American |
| Date of Birth | 23 August 1940 |
| Date of Death | 11 August 2002 |
| Place of Birth | Oakland, California, United States |
Galen Rowell, who grew up in the 1960s, was a world-renowned explorer, climber, and prolific photographer. Rowell began working as a full-time photographer in 1972, after landing an assignment for National Geographic that resulted in a cover story. Rowell's work was mostly centered on rock climbing and Himalayan adventure during the early part of his career, but the later half of his career saw him become an important nature photographer for many individuals and a regular columnist for Outdoor Photographer Magazine. Galen Rowell and his wife, Barbara, were tragically killed in an aircraft crash near Bishop, California, in 2002.
Galen Rowell's subsequent photographic style was strongly inspired by his athletic prowess since he first became interested in photography to chronicle his climbing escapades.
Rowell, who coined the phrase "participatory photography", preferred not to settle with what was right in front of him, and instead used his imagination in concert with his athleticism to create many of his most renowned photographs. His most famous photograph in this technique was "Rainbow Over Potala Palace." Rowell spotted the potential for a rainbow above the Potala Palace while conducting a photography course in Tibet, but was unable to capture it from the position he was standing, so he jogged a mile or so at a high elevation until the rainbow coincided with the palace.
Sebastião Salgado (1944 – Present)
| | |
| --- | --- |
| Name | Sebastião Salgado |
| Nationality | Brazilian |
| Date of Birth | 8 February 1944 |
| Date of Death | Present |
| Place of Birth | Aimorés, State of Minas Gerais, Brazil |
Sebastião Salgado is a Brazilian landscape photographer noted for his dramatic and evocative photos of global social and environmental challenges. He is generally considered to be one of the best landscape photographers as well as one of the most renowned photographers living today. and has received countless prizes and distinctions throughout the course of his career. Salgado was born in Brazil in 1944 and studied economics before switching to photography in the 1970s. He started off as a photojournalist, reporting on a broad spectrum of world events such as conflicts, famines, and other humanitarian crises for the international press.
Salgado's landscape photography is typically characterized by a deep sense of reverence and love for nature, and he usually uses black and white photography to produce images with a masterful understanding of contrast and texture.
His photographs have a timeless feel to them, evoking memories of the primeval past while simultaneously emphasizing the delicate beauty of the present. Salgado's landscape photography is heavily influenced by his environmental advocacy, and he refers to it as a "love letter to the world". He aims to express the magnificence and diversity of the natural world through his photos, while simultaneously emphasizing the urgent need to safeguard it from the harmful consequences of human activity.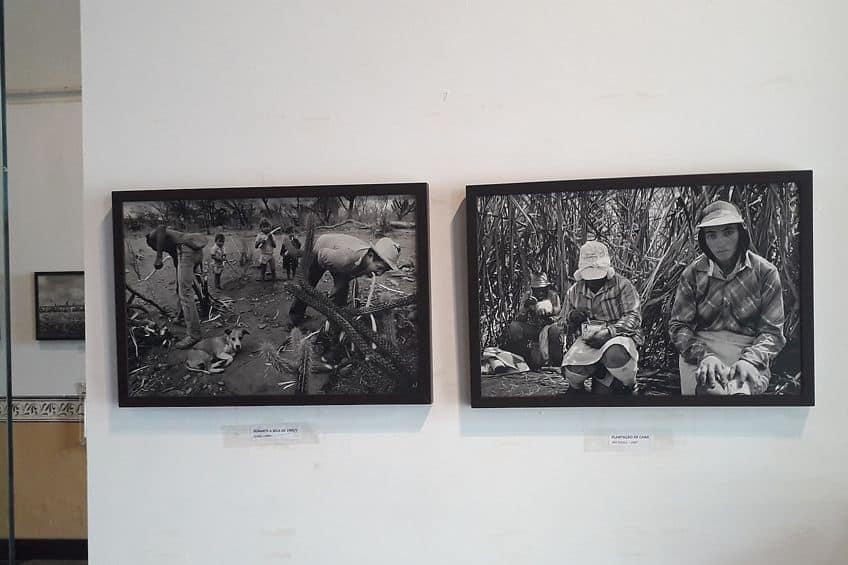 Photographic exhibition by Sebastião Salgado at the Museum of Image and Sound of Alagoas (2020); Ajmcbarreto, CC BY-SA 4.0, via Wikimedia Commons
Sally Mann (1951 – Present)
| | |
| --- | --- |
| Name | Sally Mann |
| Nationality | American |
| Date of Birth | 1 May 1951 |
| Date of Death | Present |
| Place of Birth | Lexington, Virginia, United States |
Sally Mann is a renowned American photographer who specializes in portraits, landscape photography, and still life photography. She is most known for her black-and-white images of the American South, which include architecture, landscapes, and portraiture of her friends and relatives. Mann's landscape photography regularly highlights the natural world's beauty and complexity. Her images depict nature's complexities in a way that is both personal and vast. She often shoots the landscape and environment surrounding her family farm in Virginia, serving as both her inspiration and subject matter.
Mann's work is marked by her use of large format cameras, which enable her to capture an unusual amount of detail and texture.
She employs extended exposure periods in her photography to capture the tiny subtleties of light and shadow, resulting in eerie, ethereal images. The Wetlands, a sequence of shots taken in Virginia's Great Dismal Swamp, is one of Mann's most renowned landscape photographs. The photographs capture the unsettling splendor of the swamp, with its lush foliage and foggy atmosphere, and create a sense of awe as well as dread. Mann's landscape photography has been extensively displayed and published, and she has won multiple awards for it.
Sally Mann (2011); BurnAway, CC BY 2.0, via Wikimedia Commons
Michael Kenna (1953 – Present)
| | |
| --- | --- |
| Name | Michael Kenna |
| Nationality | British |
| Date of Birth | 20 November 1953 |
| Date of Death | PResent |
| Place of Birth | Widnes, United Kingdom |
Michael Kenna, a British artist, is well-known for his unique and almost ethereal black-and-white landscapes. He has adopted an extreme approach to achieving his signature look, photographing at night with exposures up to 10 hours long. Kenna's art has a peculiar and unusual character that is rich with sparse compositions and a profoundly contemplative or even meditative quality. Throughout the years, he has exposed us to a Zen-like and a hitherto unknown universe that exists but only to him. As a consequence, the quality of his work has been widely recognized, and he serves as a continual reminder to photographers that landscapes do not just wait for us to capture them.
After beginning as a commercial photographer, Kenna happily strayed away from the industry and finally established his own style while working with renowned photographers such as Ruth Bernhard.
Kenna's photographs usually employ bold geometric forms, minimal compositions, and a narrow tonal range that highlights the interaction of light and shadow. Long exposure periods are occasionally used to achieve ethereal, dreamy images, and he typically works in the late evening or early morning hours when the light is gentle and the environment is peaceful. Many of Kenna's images have a strong sense of seclusion and silence, with an emphasis on capturing the natural world's beauty and mystique. He regularly goes to isolated regions to capture landscapes, such as places in France, Japan, and the United West, and his photos of industrial sites and urban surroundings create a feeling of calm contemplation.
Michael Kenna Portrait (2017) by Matteo Colla; © Matteo Colla, CC BY-SA 4.0, via Wikimedia Commons
Carr Clifton (1957 – Present)
| | |
| --- | --- |
| Name | Carr Clifton |
| Nationality | American |
| Date of Birth | 17 April 1957 |
| Date of Death | Present |
| Place of Birth | California, United States |
Carr Clifton, an American landscape, wildlife, and wilderness photographer, reminds us of the value of dialogue and never settles for the status quo, especially when it comes to format. Clifton has developed a significant body of work with photos that are the perfect portrayals of nature in its purest spectacular form and massive realism, using a big format 45 film camera and, later, a digital camera.
Clifton aspired to create appealing photos of beautiful locales as an early adopter of photography in the early 1970s. That same drive propels him a bit deeper into the wide outdoors today.
While National Parks have long been popular photographic subjects, He feels that beauty continues to exist and that there is much more to be captured. In brief, he argues that even though a particular location has been photographed innumerable times, there is always more to view through the lens since landscapes always evolve and disclose new aspects of themselves. It's a philosophy that should make any potential landscape photographer look at their familiar surroundings through fresh eyes.
Nadav Kander (1961 – Present)
| | |
| --- | --- |
| Name | Nadav Kander |
| Nationality | Israeli |
| Date of Birth | 1 December 1961 |
| Date of Death | Present |
| Place of Birth | Tel-Aviv, Israel |
Nadav Kander is a British photographer recognized for his landscape photography, among other genres. His artwork typically addresses issues of identity and the influence of human activities on the natural environment. Kander's landscape photography is distinguished by a sense of silence and peaceful contemplation, with broad panoramas and sweeping views of the natural environment regularly featured. He usually employs a subdued color palette and a minimalistic approach to composition, enabling the observer to focus on the landscape's fine features and textures.
Yangtze, The Long River, one of Kander's most renowned landscape series, shows the changing environment of China's Yangtze River, demonstrating the influence of industry and human activity on the natural world.
The eerie photos of abandoned houses, deserted landscapes, and polluted rivers in the series express a feeling of loss and dread in the face of fast environmental change. Kander's attitude to landscape photography is very introspective, and his photos usually leave the spectator with a significant emotional impression. He has been called a "visual poet" as he uses his camera to examine the complexity of nature and the interaction between humans and their surroundings. He captured the bleak landscapes of the Aral Sea in his book Dust, and he caught the abandoned and intriguing photographs of the restricted military zones of Priozersk and Kurchatov, two areas that didn't show on any map until long after the Cold War ended.
Nadav Kander being interviewed by Philip Dodd for his series Yangtze – The Long River (2010); CT500066, CC BY-SA 3.0, via Wikimedia Commons
That completes our list of the world's most famous landscape photographers. Thanks to their famous landscape photographs, we can enjoy the spectacular views that are so out of reach for most of us to ever attempt seeing in real life – especially considering how much effort some of them put into getting the perfect shot! Who do you think is the best landscape photographer?
Frequently Asked Questions
What Do Landscape Photographers Do?
The best landscape photographers travel to remote parts of countries to capture striking images of unusual landscapes. Some prefer to capture the raw beauty of the landscape, while others prefer to capture the essence. There are even photographers who are able to find abstract ways of presenting the natural world around us.
Why Do Photographers Choose to Take Landscape Photos?
Many landscape photographers are also avid lovers of the outdoors. Many are also environmentalists, and this is the perfect way for them to share their love and concerns with the public at large. Reminding us of the beautiful world we live in might just inspire us enough to try and do something to save it. There is also the pure beauty of the natural world to showcase, with all its range of colors, textures, and moods.
Jordan Anthony is a film photographer, curator, and arts writer based in Cape Town, South Africa. Anthony schooled in Durban and graduated from the University of the Witwatersrand, Johannesburg, with a Bachelor of Art in Fine Arts. During her studies, she explored additional electives in archaeology and psychology, while focusing on themes such as healing, identity, dreams, and intuitive creation in her Contemporary art practice. She has since worked and collaborated with various professionals in the local art industry, including the KZNSA Gallery in Durban (with Strauss & Co.), Turbine Art Fair (via overheard in the gallery), and the Wits Art Museum.
Anthony's interests include subjects and themes related to philosophy, memory, and esotericism. Her personal photography archive traces her exploration of film through abstract manipulations of color, portraiture, candid photography, and urban landscapes. Her favorite art movements include Surrealism and Fluxus, as well as art produced by ancient civilizations. Anthony's earliest encounters with art began in childhood with a book on Salvador Dalí and imagery from old recipe books, medical books, and religious literature. She also enjoys the allure of found objects, brown noise, and constellations.
Learn more about the Art in Context Team.