Gregory Crewdson – Behind the Lens of Subliminal Photography
If you enjoy the psychological tension and black-and-white visual stills from films by David Lynch and Alfred Hitchcock, you will surely be fascinated by the subliminal and uncanny photographs of Gregory Crewdson. The Contemporary photographer is currently a director of graduate studies in photography at Yale University, and was originally a member of the 1970s pop band, The Speedies, who debuted in New York and also appeared on the Jay Leno Tonight Show. In this article, we will explore the life and art of Gregory Crewdson, who remains an epic photographer of motion picture film-styled imagery and American suburbia. Keep reading for more about Crewdson's history, artistic style, and work.
Gregory Crewdson: Where Film Meets Photography
American Contemporary photographer Gregory Crewdson is a master of Contemporary photography whose photographs blur the boundaries between reality and fiction. Crewdson's photography has been described by art critics and fans as captivating and cinematic with meticulously crafted scenes that mimic film sets. Crewdson's remarkable and chilling photography truly draws out the psychological tension of a scene while exploring the melancholy of Modern America and suburbia.
Artist Name
Gregory Crewdson
Date of Birth
26 September 1962
Nationality
American
Associated Movements, Themes, and Styles
Contemporary art, staged photography, time, suspense, mystery, American suburbia, and psychological Realism
Mediums
Photography
Famous Artworks
● Twilight (1998 – 2002)

● Beneath the Roses (2003 – 2008)

● Sanctuary (2009)

● An Eclipse of Moths (2018 – 2019)
Gregory Crewdson (2007) by Christopher Peterson; Photo by Christopher Peterson. christopherpeterson.com, CC BY-SA 3.0, via Wikimedia Commons
Among his most impactful series was Beneath the Roses, which was shot between 2003 and 2008, and included many images that featured eerie setups of American suburbia through a cinematic and tense lens that is almost haunting. Crewdson's impact on Contemporary photography is held in high regard for his technical prowess and creative vision, which earned him numerous accolades, including the Lucie Award for Fine Art Photographer of the Year, the Skowhegan Medal for Photography, and a Guggenheim Fellowship. Gregory Crewdson has also exhibited in prestigious institutions such as the Whitney Museum of American Art and the Museum of Modern Art while serving as a director of graduate studies in photography at Yale University. Below, we will dive into the inner world and background of Gregory Crewdson, which will shed some light on his style, approach, and contributions to photography.
Behind the Lens: Early Life and Education
Deeply influenced by film and literature, Gregory Crewdson is currently one of the most technically meticulous and surreal Contemporary photographers of the recent decade whose works have left an indelible mark on the world of photography. Crewdson was born in 1962 in Brooklyn, New York City, where he schooled at John Dewey High School. Gregory Crewdson saw his early career in music after he joined a band called The Speedies, who released their hit song Let Me Take Your Photo in 1979.
The song was received well in the advertising sector and was included in Hewlett-Packard's advert for digital cameras in 2005.
Perhaps a prophetic start to his photography career, Crewdson soon enrolled in a Photo 101 class at Purchase College, State University of New York, which was led by Laurie Simmons. Initially, Crewdson took up the class to allegedly impress a crush, but the medium soon grew on him and he received further lessons under Jan Groover. Crewdson pursued his photography studies and obtained his MFA in Photography at Yale University, where he presently works as a director of graduate studies in the photography department.
Early Career and Influences
Gregory Crewdson's early career in photography was inspired by the photography of 20th-century street photographers like Diane Arbus, whose retrospective he attended at the Museum of Modern Art in New York. Crewdson's early photographic career took shape in his thesis project, which involved portraits of individuals from Lee, Massachusetts. Lee was the community that Crewdson was familiar with since his family also owned a cabin in the area. It was here that Crewdson developed his Natural Wonder series, which he continued to shoot between 1992 and 1997, photographing surreal scenes with insects, birds, and mutilated body parts exhibited in domestic scenes.
His first major show was at the Museum of Modern Art under the exhibition titled Pleasures and Terrors in Domestic Comfort, which showcased images from his Natural Wonder series. In 1995, Crewdson also began working on his series Hover, which he continued for two years and shot strictly in black and white with a focus on birds-eye view angles and a preference for uncanny and strange scenarios. He photographed Hover in the streets of his hometown Lee once again. In 1990, Crewdson started teaching at Sarah Lawrence College, after which he moved to three other colleges, and eventually settled at Yale University's photography department in 1993.
Photography Style and Themes
Gregory Crewdson's photography style is characterized by his visual language of cinema, film, and motion picture production aesthetics, which employ Hollywood-styled lighting, staged sets, dozens of photography assistants, makeup, and complex compositions. Between 1998 and 2008, Crewdson's photography saw the introduction of more color and increased scale, which was a surreal approach to his nuanced and uncanny cinematic images.
Gregory Crewdson's photography style is defined by its elaborate staging and large-lit scenes that incorporate motion picture film equipment. His angles also mimic those found in film productions and explore themes of an alternate American suburban life, which he creatively deconstructs to evoke the surreal, sublime, and uncanny aspects of domestic life. Of course, Crewdson had also cited influences from films such as Close Encounters of the Third Kind, Vertigo, and Safe, which impacted his style.
Additionally, Crewdson also referenced Edward Hopper and the photographic style of Diane Arbus who had a great impact on the development of his style.
Crewdson's approach to photography has been compared to that of a director with a small production budget on set, who also employs the hands and artistry of dozens of professionals and models to achieve his unique vision. Some of his best works include series like Twilight (1998-2002) and Cathedral of the Pines (2013–2014). In 2009, he also produced a series shot internationally outside of Rome called Sanctuary, which differed from his usual subject of capturing the inner lives of Western Massachusetts. In Sanctuary, Crewdson utilized a digital camera and natural light, while shooting the empty film sets of Cinecittà Studios.
Gregory Crewdson is represented by Gagosian Gallery, which describes his seminal series Twilight, as a series that evokes a sense of magnetism through desire while drawing attention to notions of the forbidden through alienation. His style is also described as psychological realism, which Crewdson evokes through his visual composition and heightened theatrical elements. Prevalent themes explored in his work also include the imagination, the fantastical, memory, decay, rebirth, the banal, as well as pain, and redemption.
Notable Awards, Publications, and Exhibitions
In 1992, Gregory Crewdson held his solo exhibition at the Houston Center for Photography and in 1997 at the Cleveland Center for Contemporary Art. In 1998, he exhibited at the Museo Nacional Centro de Arte Reina Sofía and appeared in numerous group shows throughout the 1990s and 2000s.
Crewdson has also contributed to many publications that showcase his best work. These include books like Gregory Crewdson: Fireflies (2007), Gregory Crewdson (2013), and Cathedral of the Pines (2016).
In 2012, Crewdson was also the subject of a documentary film by Ben Shapiro called Gregory Crewdson: Brief Encounters, which debuted at the South by Southwest Film Festival. To date, Crewdson has exhibited three times at the Solomon R. Guggenheim Museum with many works and prints in the collection of art museums like the Los Angeles County Museum of Art, The Museum of Modern Art, the Victoria and Albert Museum, and the Art Institute of Chicago.
Tense American Suburbia: Gregory Crewdson's Photography
Gregory Crewdson's staged tableau of American suburbia was shot in enigmatic and theatrical scenes that convey surreal landscapes and ensembles, which leave one with a sense of curiosity and suspense. Crewdson's ability to construct elaborate fictional compositions that evoke a sense of the familiar while leveraging American suburbia as a metaphor for the human psyche is remarkable. Below, we will look at a few Crewdson photos that reveal the extraordinary universe of the mundane and highlight the fantastical mindset of Gregory Crewdson.
Gregory Crewdson Exhibition (2008); Galerie Rudolfinum, CC BY 3.0, via Wikimedia Commons
Untitled (1999)
| | |
| --- | --- |
| Date | 1999 |
| Medium | Chromogenic print |
| Dimensions (cm) | 127 x 152.4 |
| Where It Is Housed | Solomon R. Guggenheim Museum, New York City, United States |
This eerie and disturbing image features all ordinary subjects and objects, however, unsettles the viewer through its depiction of a fictional realm. Like many of Crewdson's photographs, meaning is elusive and one can only find more questions than answers.
His direct lack of meaning or symbolism is unsettling and unconventional in that it performs the aesthetic of film narratives seen in works by Steven Spielberg and Alfred Hitchcock, but also performs doubly in its function as a reflection of Crewdson's repressed psyche.
Untitled is a surreal image that features a man displaced from the context of a lawn or garden and appears hypnotized by the ominous light emanating from the broken floorboards. The photo was shot as part of Crewdson's series, Twilight, which alludes to themes of the unknown, subconscious, and supernatural.
Untitled from Twilight (1999)
| | |
| --- | --- |
| Date | 1999 |
| Medium | Chromogenic print |
| Dimensions (cm) | 121.9 × 152.4 |
| Where It Is Housed | Private collection |
Crewdson's Twilight series also featured this iconic photo, which captured a pregnant woman standing on the front lawn of her home in the evening while an ominous light shines on her from above. The scene reminds one of an abduction scene from a sci-fi-thriller movie and was shot out of a kitchen window such that the viewer becomes an active observer of the strange scene.
The mysterious effect of the light and its unknown source throws the viewer into a surreal scene filled with conspiracy and speculation, yet is made comfortable through familiar elements seen in the juxtaposition of warm and cool light.
The Disturbance (2014)
| | |
| --- | --- |
| Date | 2014 |
| Medium | Digital pigment print |
| Dimensions (cm) | 114.4 x 146.2 |
| Where It Is Housed | The Broad, California, United States |
Themes of alienation, the unknown, and a disconnect between the photographer and subject are ongoing elements of Gregory Crewdson's photography. The Disturbance is one such image that evokes a sense of uncertainty and tension through the depiction of an icy landscape visible through large windows, of which one is made aware of the sense of vulnerability in the woman facing the windows.
According to an interview with Crewdson, the role of the viewer and the projected narrative that they introduce to an image when viewing his obscure compositions is important to the interpretation of the image.
Themes such as dread also feature in his photographs, which are never as resolved as the narratives in movies. A key tip that Crewdson shares concerning shooting content, in general, was to embrace the idea that the image will always fail in some way or present a gap in the vision between the artist's imagined image and the actual image produced in real time. With the limits of photography, Crewdson also advises one to let go of images that appear imperfect and move on to the next image since each viewer also arrives at the artwork with their own projections.
Book Recommendations
Gregory Crewdson is certainly a unique photographer whose ability to sustain ambiguity and mystery in his images is widely admired. To learn more about Gregory Crewdson's photography, you can pick up one of these highly-rated books from Amazon that provide insight into some of his best series.
These books will present some of his works in high-quality images and provide insightful comments and biographical information.
Gregory Crewdson (2013) by Gregory Crewdson, Jonathan Lethem, Et al.
This comprehensive overview covering the world of Gregory Crewdson and exclusive images of fireflies shot in black and white is perfect for those looking for a definitive monograph of Gregory Crewdson. Featuring a series of short narrative stories for each series penned by Jonathan Lethem, Melissa Harris, and Nancy Spector, one can enjoy the 30-year survey of the unique creative vision of Gregory Crewdson and his dramatic painterly view of American suburbia.
Michael Kimmelman and Gregory Crewdson into the MAXXI of Rome discussing his last photographic work "Sanctuary" (2011); Thambar, CC BY-SA 3.0, via Wikimedia Commons
A comprehensive survey of Crewdson's 30-year career
Includes images from many of his series, old and new
Images are accompanied by short stories for each series
View on Amazon
Gregory Crewdson: Alone Street (2021) by Cate Blanchett, Gregory Crewdson, and Joyce Carol Oates
Alone Street is one of the best buys for those seeking insight into Gregory Crewdson's psychogeography venture of post-industrial New England. The monograph traverses through two of Crewdson's major series, Cathedral of the Pines (2016) and An Eclipse of Moths (2020), and illustrates the imaginative storytelling and depth of Crewdson's process.
One can immerse themselves fully in the careful composition of light, color, and emotional tension of Crewdson's work while enjoying a few behind-the-scenes images and storyboards that demonstrate the artistry behind Crewdson's powerful series.
An elegant combination of two major bodies of work
The photographs explore the psychogeography of small towns
Includes behind-the-scene images and storyboards
View on Amazon
Gregory Crewdson: Eveningside (2023) by Jean-Charles Vergne and Gregory Crewdson
This sublime collection of photographs is part of a trilogy of the best works of Gregory Crewdson, who is one of the best photographers of the fading American dream. The book encompasses three series produced between 2012 and 2022 and offers fans insight into the most recent decade of creative productivity that propelled Crewdson into the world of Contemporary photography.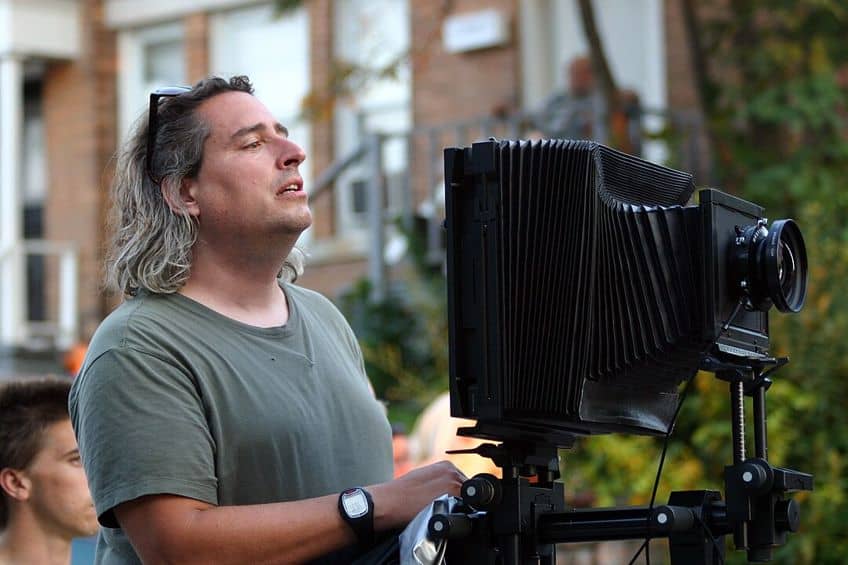 Gregory Crewdson setting up a shot with his 8×10 camera on location in Pittsfield, Massachusetts at the corner of Seymour Street and Madison Avenue (2007); Photograph by Christopher Peterson. christopherpeterson.comSacredhands (the author) at en.wikipedia, CC BY-SA 3.0, via Wikimedia Commons
Take a look at three series produced between 2012 and 2022
The third part of a trilogy exploring Crewdson's photographs
Includes high-quality photographs and insightful comments
View on Amazon
The imaginative and surreal photographs of Gregory Crewdson are curated and controlled visual agents that evoke and inspire a sense of "the spectacle of life". Through mundane and familiar scenes, Crewdson is truly able to evoke otherworldly realities that make us question our worldview and the potential of the unknown and unexplored aspects of reality that evade us every day. Crewdson's critical focus on the failure of the American dream and the surreal disparities within history are important notions to ponder over. By highlighting these themes, Crewdson prompts viewers to reflect on the complexities within society, while raising awareness about broader socio-cultural issues.
Frequently Asked Questions
Who Is Gregory Crewdson?
American photographer Gregory Crewdson is a famous Contemporary artist who explores themes such as American suburbia, the unknown, and uncanny aspects of the mundane. Crewdson's images are highly staged and are inspired by the eccentric visual languages of films directed by filmmakers like Steven Spielberg and Alfred Hitchcock.
What Is Gregory Crewdson's Photography Style?
Gregory Crewdson's approach to photography can be described as surreal and melancholic, which manifests itself as staged scenes that disrupt the borders of reality and fiction. Crewdson's images are imaginative and are inspired by visual modes of storytelling as seen in film and cinema. Gregory Crewdson's choice of equipment includes a phase one digital medium-format camera, as well as a Sinar P2 F 8×10″ film camera with 210mm and 300mm lenses.
What Is the Value of Gregory Crewdson's Photographs?
According to auction records, Gregory Crewdson's photographs have been sold for up to $169,000, depending on the medium and size of his printed works.
Jordan Anthony is a film photographer, curator, and arts writer based in Cape Town, South Africa. Anthony schooled in Durban and graduated from the University of the Witwatersrand, Johannesburg, with a Bachelor of Art in Fine Arts. During her studies, she explored additional electives in archaeology and psychology, while focusing on themes such as healing, identity, dreams, and intuitive creation in her Contemporary art practice. She has since worked and collaborated with various professionals in the local art industry, including the KZNSA Gallery in Durban (with Strauss & Co.), Turbine Art Fair (via overheard in the gallery), and the Wits Art Museum.
Anthony's interests include subjects and themes related to philosophy, memory, and esotericism. Her personal photography archive traces her exploration of film through abstract manipulations of color, portraiture, candid photography, and urban landscapes. Her favorite art movements include Surrealism and Fluxus, as well as art produced by ancient civilizations. Anthony's earliest encounters with art began in childhood with a book on Salvador Dalí and imagery from old recipe books, medical books, and religious literature. She also enjoys the allure of found objects, brown noise, and constellations.
Learn more about Jordan Anthony and the Art in Context Team.
Cite this Article