Famous Norwegian Artists – 11 Influential Artists from Norway
During the 19th century, Norwegian art acquired international acclaim, owing mostly to its creation of excellent landscape paintings. Romantic nationalism in Norway flourished in the mid-19th century, emphasizing the Norwegian environment and historical identity. The 20th-century Expressionism highlighted notable Norwegian painters, particularly Edvard Munch. Today, we shall be taking a closer look at the most famous artists from Norway.
Exploring the Most Famous Norwegian Artists
Despite its location on the European continent's northern periphery, Norway has produced a number of important artists, including Norwegian painters, authors, and composers. In fact, there are many iconic artists from Norway whose art is valued both in their home country and abroad and commands high auction prices.
The Artist Fan by Hans Heyerdahl (1898); Hans Heyerdahl, Public domain, via Wikimedia Commons
With so much great Norwegian art to choose from, we have compiled a list of the most famous Norwegian artists to make your introduction to Norwegian painters both informative and interesting.
Johan Christian Dahl (1788 – 1857)
| | |
| --- | --- |
| Artist Name | Johan Christian Dahl |
| Nationality | Norwegian |
| Date of Birth | 24 February 1788 |
| Date of Death | 14 October 1857 |
| Place of Birth | Bergen, Norway |
The Norwegian artist Johan Christian Dahl was born in 1788 in Bergen. Despite spending most of his working life in the city of Dresden, Germany, Dahl's paintings played a significant role in the country's national Romantic artworks, earning him the moniker "Father of Norwegian Painting". Dahl traveled to Copenhagen to study after initially beginning his creative career as a decorative artist in his hometown.
Dahl eventually became one of the professors at the Dresden Academy of Arts, where he mentored future Norwegian icons like Jacob Calmeyer and Thomas Fearnley.
Dahl's expressive and intricate paintings are distinguished by exceptional precision, particularly in his oil studies of cloud patterns in the sky.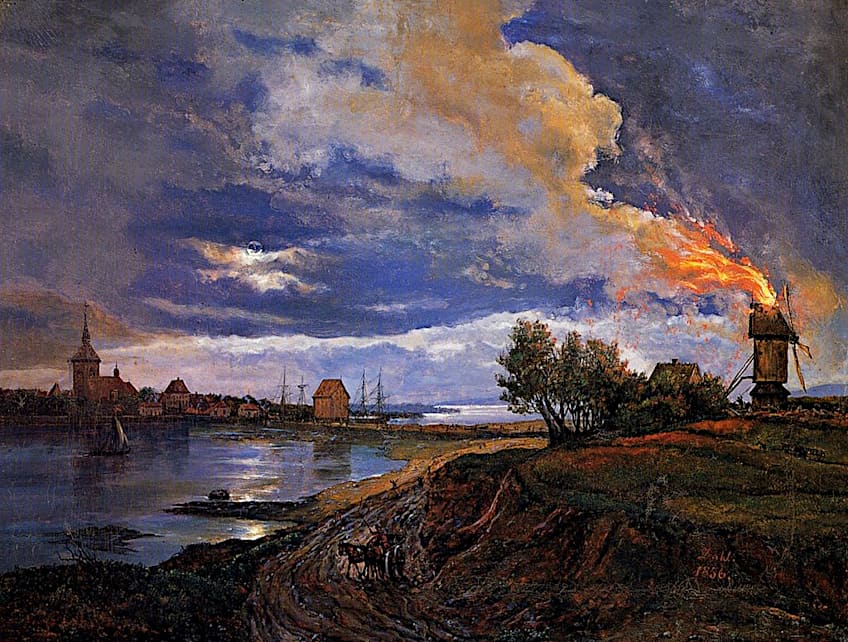 Burning Windmill at Stege by Johan Christian Dahl (1856); Johan Christian Dahl, Public domain, via Wikimedia Commons
Dahl believed that a landscape painting should not only portray a particular view but should also communicate something about the character and nature of the region – the greatness of its history as well as the lives and efforts of its contemporary citizens. The ambiance was usually idyllic, but also sometimes quite melancholy. He added snow to a summer landscape painting not to illustrate the light and colors of snow, but to utilize snow as a metaphor for death.
Dahl softened his landscapes, infusing aspects of genre painting by imbuing them with anecdotal materials, in contrast to the strongly Romantic paintings also appearing at the time.
Peder Balke (1804 – 1887)
| | |
| --- | --- |
| Artist Name | Peder Balke |
| Nationality | Norwegian |
| Date of Birth | 4 November 1804 |
| Date of Death | 5 February 1887 |
| Place of Birth | Helgøya, Norway |
Peder Balke mostly painted northern Norwegian landscapes in a decorative and romantic manner. He traveled extensively over Europe and even sold many works of art to France's last monarch, Louis Philippe I.
Although Balke was essentially forgotten following his passing in 1887, curiosity about his artwork was reignited in 2014 when an exhibition of his art was held at the National Gallery in London.
In 1830, Balke walked all the way through Telemark, Vestfjorddalen, Røldal, a Kinsarvik, and then on to Bergen, then walked back via Vossevangen to Valdres, and over the mountains all the way to Hallingdal. He made small drawings along the way that subsequently evolved into paintings. He also visited Germany, Russia, Paris, and London. Peder Balke is represented in numerous significant art collections in Sweden and Norway, in addition to the 17 works held at the National Gallery in Oslo.
North Cape by Peder Balke (c. 1860's); Peder Balke, Public domain, via Wikimedia Commons
Hans Fredrik Gude (1825 – 1903)
| | |
| --- | --- |
| Artist Name | Hans Fredrik Gude |
| Nationality | Norwegian |
| Date of Birth | 13 March 1825 |
| Date of Death | 17 August 1903 |
| Place of Birth | Christiania, United Kingdoms of Sweden and Norway |
Gude's career was not defined by sudden shifts and changes, but rather by a gradual advancement that steadily responded to general aesthetic trends.
Gude's early paintings depict peaceful, sun-drenched landscapes of Norway, presenting a romantic, yet realistic, vision of his homeland.
Gude started to paint seascapes and other coastal scenes around 1860. Gude struggled with figure drawing at first, so he worked with Adolph Tidemand on several of his paintings, creating the landscape and letting Tidemand create the figures. Later, while in Karlsruhe, Gude would focus on his figures and begin filling his works of art with them. Gude began by painting mainly in oils in a studio, based on sketches he made previously in the field.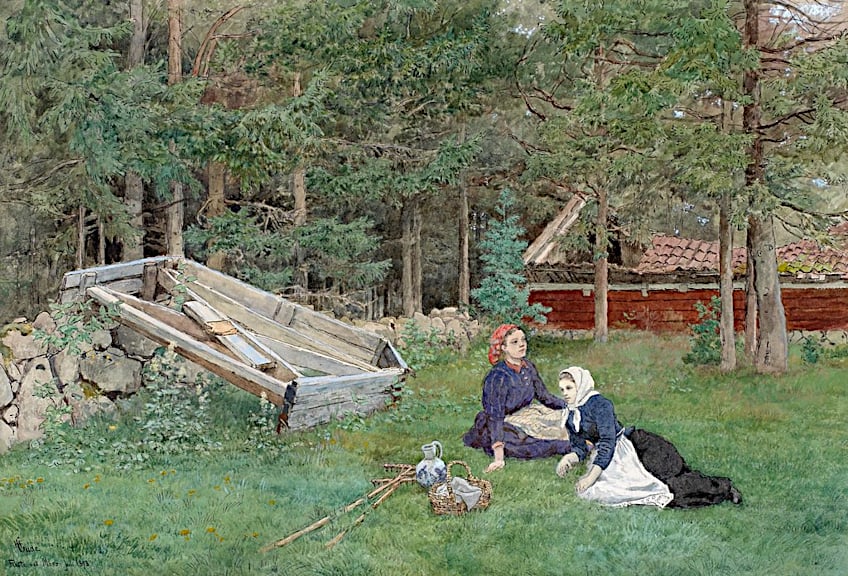 The Old Snow Plow at the Edge of the Forest by Hans Gude (1893); Hans Gude, Public domain, via Wikimedia Commons
However, as the Norwegian artist evolved, he started to produce his paintings en plein air and extolled the benefits of doing so to his students. Gude would subsequently paint in gouache and watercolors in an effort to keep his art new and evolving, and while they were not as well accepted by the general population as his oil paintings, many other artists appreciated his works.
Gude spent 45 years working as a professor of art and mentored three generations of Norwegian artists. He, therefore, played a significant part in the advancement of Norwegian art.
Harriet Backer (1845 – 1932)
| | |
| --- | --- |
| Artist Name | Harriet Backer |
| Nationality | Norwegian |
| Date of Birth | 21 January 1845 |
| Date of Death | 25 March 1932 |
| Place of Birth | Holmestrand, Norway |
Harriet Backer was a Norwegian artist who was a trailblazer for female painters in the Nordic region and other parts of Europe. Margrethe, her younger sister, was also a painter. She was also the Senior Matron at the Royal Palace, and she had eight children on top of her profession, leaving her little time to dedicate to an artistic career.
Backer began her career in a different way than her sisters. Initially, she was really interested in writing books and stories and becoming an author.
When her family relocated to Christiania in 1856, she enrolled at the Nissen School for Governesses, which was the highest level of education available to girls at the time. Backer excelled in languages, learning French, German, Italian, and English. She took a painting lesson at a local painting school, where she was introduced to the world of art.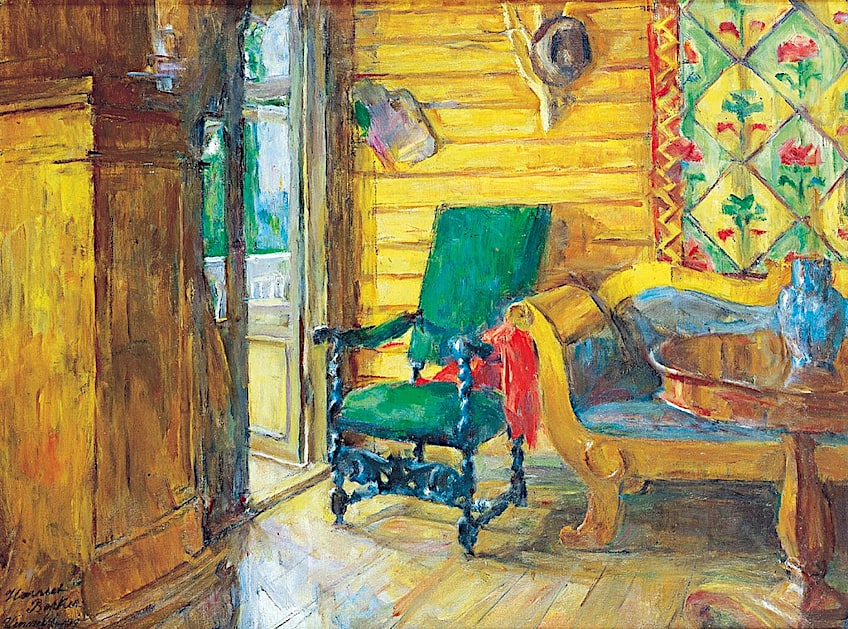 Interior from Vendelsborg by Harriet Backer (1924); Harriet Backer, Public domain, via Wikimedia Commons
Backer studied art at Knud Bergslien's school and is well known for her intricate interior scenes which conveyed rich colors and superb lighting. She traveled extensively with her sister, concert pianist Agathe Backer Grøndahl, which exposed her to various museums and the greater art world. Backer founded an art school in 1892 with the goal of teaching and promoting the careers of young female painters. Backer received several honors throughout her career, including being named a Knight of the Order of St. Olav.
She was one of Norway's most significant artists as well as one of the few female artists to attain renown while still living.
Backer created over 180 pieces of art, the majority of which were based on local subjects. Her labor was both slow and meticulous and she made her debut in Paris in 1880.
Frits Thaulow (1847 – 1906)
| | |
| --- | --- |
| Artist Name | Frits Thaulow |
| Nationality | Norwegian |
| Date of Birth | 20 October 1847 |
| Date of Death | 5 November 1906 |
| Place of Birth | Oslo, Norway |
Frits Thaulow was born in the Norwegian city of Christiania in 1847. He would eventually become one of the country's most widely renowned artists, capturing the Norwegian landscape and light with great sensitivity. Thaulow was one of the first Norwegian painters to paint in Skagen, a town in northwestern Jutland that became famed for its Skagen Painters. He traveled there in 1879 with his friend Christian Krohg, who convinced him to stay for the duration of the summer and autumn. Thaulow's little boat transported them from Norway.
Watermill by Fritz Thalow (1892); Fritz Thaulow (1847-1906), Public domain, via Wikimedia Commons
Thaulow, who specialized in maritime painting, adopted the favorite subject matter of Skagen, fishermen, and boats on the shoreline.
The artist then returned to Norway in 1880 following his time in Skagen, becoming one of the most significant emerging individuals in the Norwegian art scene.
In 1892, Thaulow moved to France and remained there until he eventually passed away in 1906. While there, he soon realized that the Parisian cityscapes did not suit him.
Christian Krohg (1852 – 1925)
| | |
| --- | --- |
| Artist Name | Christian Krohg |
| Nationality | Norwegian |
| Date of Birth | 13 August 1852 |
| Date of Death | 16 October 1925 |
| Place of Birth | Vestre Aker, Oslo, Norway |
Some artists have had a significant and long-lasting influence despite never gaining international prominence.
Christian Krohg, for instance, is nowadays little-known outside of his native country of Norway but was a major impact on Nordic and Northern European art far into the 20th century.
He was influential in Edvard Munch's artistic advancement, the director of the Oslo State Academy of Art, a prolific author, and regarded as something of a political and social crusader. His family expected him to pursue law, but his ambition was to become a painter. As a form of compromise, he studied law at university for four years while also attending an art school and his draftsmanship improved dramatically after that.
Three Reefs by Christian Krohg (before 1900); Christian Krohg, Public domain, via Wikimedia Commons
After his father died and he finished his legal studies in Oslo, he traveled to Karlsruhe, Germany, to pursue his artistic studies further, where he was instructed by Hans Gude, among several other prominent artists. Krohg traveled to Skagen, near the northern point of Jutland in Denmark, in 1879, at the suggestion of fellow artist Frits Thaulow, where he joined the group of Norwegian artists who painted mostly in Impressionist style. Following his stay at Skagen, Krohg began teaching at an art school for women, which, like others around Europe, was attempting to tackle the rising demand from aspiring female painters, as well as the traditional views that prevailed in the major art academies at the time.
Theodor Kittelsen (1857 – 1914)
| | |
| --- | --- |
| Artist Name | Theodor Kittelsen |
| Nationality | Norwegian |
| Date of Birth | 27 April 1857 |
| Date of Death | 21 January 1914 |
| Place of Birth | Kragerø, Norway |
Theodor Kittelsen is a well-known Norwegian artist. Kittelsen is renowned for his depictions of fairy tales and folklore, particularly trolls, in addition to his environmental paintings. Diderich Aall, a Norwegian shipowner, lawyer, and art collector, noticed his ability for sketching and encouraged him to enroll at the drawing school of Wilhelm von Hannos in Christiania. Kittelsen returned to Norway permanently in 1887 after studying in Paris and Munich.
Nature was a huge influence on him here, and it would inspire much of his subsequent work as an artist.
Kittelsen's approach incorporated Neo-Romantic and naive painting influences.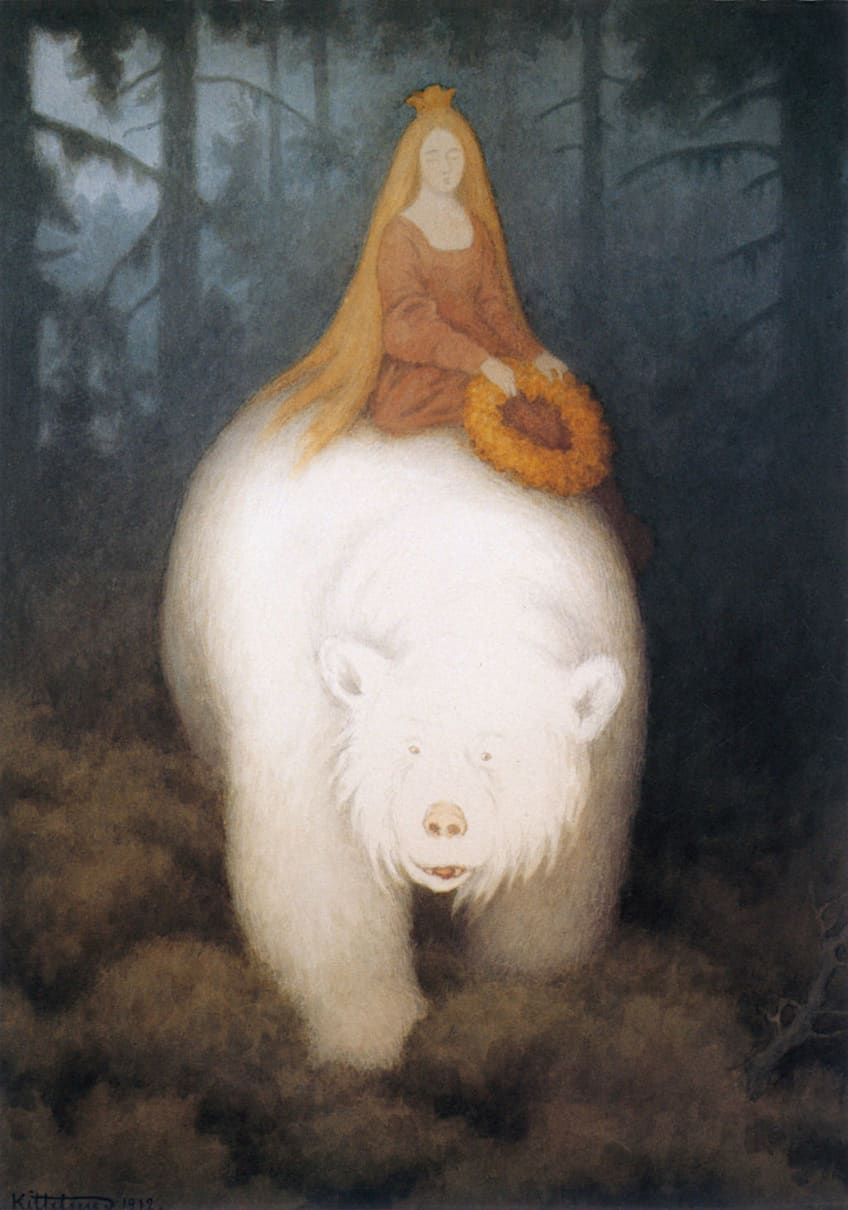 White-Bear-King Valemon by Theodor Kittelson (1912); Theodor Kittelsen, Public domain, via Wikimedia Commons
His emphasis on Norwegian themes, mythology, and fairytales has earned him a high level of respect and recognition in Norway, but he has received little worldwide recognition. Kittelsen died on the 21st of January, 1917, at the age of 61, leaving behind a widow and nine children. Although his life was far from a fairytale, it was certainly committed to fairytales, and his magnificent artwork has endured long after his passing. Kittelsen's artwork, as well as that of other Norwegian fairytale painters such as Erik Werenskiold, may be found in the National Museum of Oslo.
Edvard Munch (1863 – 1944)
| | |
| --- | --- |
| Artist Name | Edvard Munch |
| Nationality | Norwegian |
| Date of Birth | 12 December 1863 |
| Date of Death | 23 January 1944 |
| Place of Birth | Ådalsbruk, Norway |
Edvard Munch is the most well-known Norwegian painter to this day. Death and the fear of acquiring a mental disorder that ran in his family dominated his upbringing. Despite the fact that he did not get significantly ill or suffer from the dreaded mental disorder, his health remained poor. During the winter months, he was regularly poorly and was often away from school for extended periods of time. Munch would sketch to keep himself occupied while he was not at school. This finally led to his enrolling at the Royal School of Art and Design. Kristian Krogh, a renowned painter, tutored him here. He also knew nihilist Hans Jaeger, who affected Munch's work by influencing him to live a bohemian existence.
The Artist and his Model by Edvard Munch (between 1919 and 1921); Edvard Munch, Public domain, via Wikimedia Commons
Munch's painting style was influenced by realism and impressionism. He also visited Europe, where he was influenced by painters like Vincent van Gogh, Paul Gauguin, and Henri de Toulouse-Lautrec. The Scream is Munch's most renowned work and one of the world's most recognizable paintings. It has been generally regarded as portraying modern man's global angst.
During the Nazi occupation of Norway during WWII, his paintings were labeled degenerate. Munch's artwork has luckily survived and is now on exhibit at the Munch Museum in Oslo.
Gustav Vigeland (1869 – 1943)
| | |
| --- | --- |
| Artist Name | Gustav Vigeland |
| Nationality | Norwegian |
| Date of Birth | 11 April 1869 |
| Date of Death | 12 March 1943 |
| Place of Birth | Mandal Municipality, Norway |
Vigeland studied painting in Copenhagen and Oslo before spending six months in Paris in 1893. While there, he attended the workshop of Auguste Rodin, whose impact can be seen in Vigeland's early works, which are extraordinarily realistic and emotive. Vigeland's early works were primarily realistic reliefs and portrait busts. He was influenced by medieval sculpture around the year 1900, and as a result, adopted a more simplistic and stylized technique. He quickly began work on the project that would consume him for the remainder of his career: an expansive series of gigantic sculptures for an Oslo park.
Part of the Vigeland Installation by Gustav Vigeland in Frogner Park, Oslo (between 1924 and 1943); Antti T. Nissinen, CC BY 2.0, via Wikimedia Commons
Vigeland created around 200 different sculptural pieces for Frogner Park, including an entrance, fountain, bridge, mosaic labyrinth, circular stairway, and carved-figure stone forest.
The different stages of human existence, as explored mainly in granite and bronze, formed the cornerstone of Vigeland's works in the park.
Vigeland was a complicated individual, quiet and timid in many respects, but yet incredibly strategic. This is particularly apparent given the number of busts he created at the turn of the century. It is believed that Vigeland was influenced by neo-romanticism and symbolism. Some of his early works have a certain severe realism about them as well.
Kjartan Slettemark (1932 – 2008)
| | |
| --- | --- |
| Artist Name | Kjartan Slettemark |
| Nationality | Norwegian |
| Date of Birth | 6 August 1932 |
| Date of Death | 13 December 2008 |
| Place of Birth | Naustdal Municipality, Norway |
Kjartan Slettemark was born in 1932 in Norway and rose to prominence as one of the country's most notable modern painters throughout the 1960s. Slettemark created work in traditional mediums like painting and sculpture, as well as performance and conceptual art. As a political artist, he addressed topics ranging from housing shortages and police control to the Vietnam War. For a little under 50 years, Kjartan Slettemark was an influential figure on the Norwegian art scene, as well as an innovator in both art activism and performance.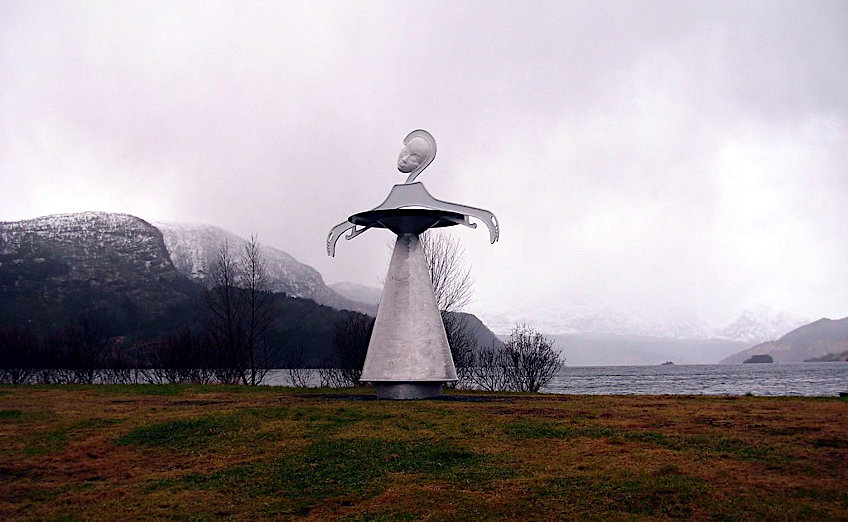 Budeia by Kjartan Slettenmark; Helge Høifødt, Public domain, via Wikimedia Commons
With early activities like the occupation of Stockholm's Moderna Museet, his trips abroad with a passport featuring Richard Nixon with a beard, and his surprising appearances dressed as a poodle, he quickly became one of the nation's most talked about artists.
Slettenmark transitioned from being an anti-authoritarian activist to generating works with a more introspective character over time.
As opposed to criticizing the system and authority, his work adopted a conciliatory tone. Since his death in 2008, Slettemark's art has sold for high prices at auctions as well as in Sweden, where he spent most of his life.
Odd Nerdrum (1944 – Present)
| | |
| --- | --- |
| Artist Name | Odd Nerdrum |
| Nationality | Norwegian |
| Date of Birth | 8 April 1944 |
| Date of Death | Present |
| Place of Birth | Helsingborg, Sweden |
Odd Nerdrum, a provocative modern artist, was born in Helsingborg in 1944. During the 1960s, Nerdrum led the Norwegian neo-romantic movement, which was comprised of young artists who, in the mid-20th century, rejected politicized art in favor of pursuing their own ideals in nostalgic landscapes and portraiture. Nerdrum's art often relies on earlier works but incorporates new features and subtleties. His symbol-laden paintings garner praise both worldwide and inside his own country.
Nerdrum began his training at the Norwegian National Academy of Fine Arts, but was disillusioned with the direction of contemporary art, particularly Rauschenberg's work, and decided to learn for himself how to paint in a Neo-Baroque style, mostly influenced by Rembrandt's work.
Nerdrum had put himself in direct opposition to most of the school's curriculum, as well as his principal painting professor and the other students. Nerdrum's method of painting relies on traditional methods such as grinding and mixing all of his own color pigments, working on a canvas that has been manually stretched instead of pre-stretched canvas, and working from live models, usually himself and, in numerous instances, people from his own family. Odd Nerdrum has labeled himself a kitsch painter, associating with kitsch as opposed to the realm of modern art. Nerdrum's proclamation was initially assumed to be a joke, but with the publishing of articles and books on the issue, Nerdrum's attitude may now be regarded as an implied critique of modern art.
That completes our list of famous Norwegian artists. Our list of notable artists from Norway starts in the late 1780s and leads right up to the present day, proving that Norwegian painters have enjoyed a long history of success in their profession. Landscapes are particularly popular in Norwegian art. This list is by no means exhaustive, though, and there are many other great artists from Norway that you should definitely take some time to explore!
Take a look at our Norwegian artists webstory here!
Frequently Asked Questions
What Subjects Are Popular With Artists from Norway?
Norwegian artists have drawn inspiration from the spectacular natural landscapes of Norway, which include its luscious mountains, fjords, forests, and coastal vistas. The interaction of light and shadow in these settings, as well as the changing seasons, offers multiple opportunities for creative study. Norwegian painters also take inspiration from the rich Norse mythology of gods and stories. For millennia, themes from Norse mythology of heroes and magical animals have been represented in Norwegian art. Many artists from Norway have focused on capturing rural populations' daily life. Images from traditional Norwegian folk dances and costumes are also often featured.
Who Are the Most Famous Norwegian Artists?
Throughout the years, Norway has produced many notable artists, authors, and musicians. Notable artists from Norway include iconic figures such as Johan Christian Dahl, Peder Balke, Hans Frederik Gude, Harriet Backer, Frits Thaulow, Christian Krohg, Theodor Kittelsen, Edvard Munch, Gustav Vigeland, Kjartan Slettemark, and Odd Nerdrum. Each of these artists from Norway brought something significant and unique to the world of art in the country, with some even becoming important figures in the academic art institutions that would instruct future generations of artists in Norway.
Isabella studied at the University of Cape Town in South Africa and graduated with a Bachelor of Arts majoring in English Literature & Language and Psychology. Throughout her undergraduate years, she took Art History as an additional subject and absolutely loved it. Building on from her art history knowledge that began in high school, art has always been a particular area of fascination for her. From learning about artworks previously unknown to her, or sharpening her existing understanding of specific works, the ability to continue learning within this interesting sphere excites her greatly.
Her focal points of interest in art history encompass profiling specific artists and art movements, as it is these areas where she is able to really dig deep into the rich narrative of the art world. Additionally, she particularly enjoys exploring the different artistic styles of the 20th century, as well as the important impact that female artists have had on the development of art history.
Learn more about Isabella Meyer and the Art in Context Team.
Cite this Article