Michael Craig-Martin's artworks range from conceptual art to drawing and painting. Michael Craig-Martin is largely known for his work teaching and fostering the members of the Young British Artists. This article will explore Michael Craig-Martin's biography and renowned artworks. Read further below, as we find out more about all the Michael Craig-Martin facts that would interest you!
Michael Craig-Martin's Biography and Art
| | |
| --- | --- |
| Artist | Michael Craig-Martin |
| Nationality | Irish |
| Date of Birth | 28 August 1941 |
| Place of Birth | Dublin, Ireland |
| Art Style | Conceptual art |
Spanning a career of over four decades, Michael Craig-Martin's artwork has been featured in galleries and exhibitions across the globe. He is also renowned for his time teaching at Goldsmiths College, London. His efforts were acknowledged in 2016 when he was knighted by the Queen. Below, let us explore his early life and career.
Michael Craig-Martin (left), and Keith Milow at the artists' opening ("varnishing day") in Burlington House in 2015; Rowead, CC BY-SA 4.0, via Wikimedia Commons
The Early Life and Career of Michael-Craig Martin
Michael Craig-Martin, the Irish artist, was born in Dublin but grew up mainly in the United States, specifically Washington, D.C. Craig-Martin attended a Roman Catholic school managed by nuns for eight years before moving on to the English Benedictine Priory School, where students were given the opportunity to gaze at religious iconography in stained-glass windows and illuminated glass panels.
His fascination with art began after meeting one of the priests who happened to be an artist and he was also influenced by an exhibit of Mark Rothko's artwork at the Phillips Collection.
Michael Craig-Martin attended Lycée Français in Bogotá, Colombia, which was also where his father was employed at one point. Drawing exercises at the Lycée taught by artist Antonio Roda significantly broadened his understanding of art. Back in Washington, D.C., he took further lessons taught by local artists, and in 1959, he enrolled at Fordham University in New York for English Literature and History, while simultaneously beginning to make paintings.
Midway through 1961, he began studying art at the Académie de la Grande Chaumière in Paris. That autumn, he enrolled in one of Yale University's painting courses, where Josef Albers, a former department head, had a significant influence on the course's curriculum through his multidisciplinary experiments on form and color and his minimalist theories.
"Everything I have learned about color comes from that course", Craig-Martin subsequently commented. Artists Al Held and Alex Katz taught the course.
Work
Since 1966, Michael Craig-Martin has worked and lived in London. From his early box-like creations in the late 1960s, he gradually shifted to the utilization of everyday household objects. In the late 1970s, he started making line drawings of everyday things, gradually developing an ever-expanding lexicon of imagery that is the cornerstone of Michael Craig-Martin's artwork to this day.
The primary focus of his work switched to painting in the 1990s, with the same variety of bold delineated patterns and vibrant color schemes used in both works on canvas and more intricate wall painting installations.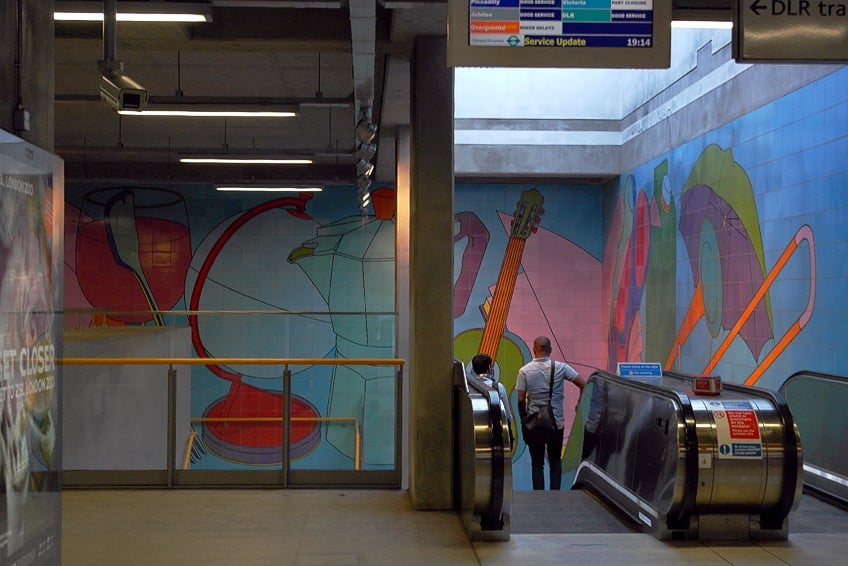 Interior view of the western entrance building of the Woolwich Arsenal DLR Station, Woolwich, Southeast London. The tiled mural is by Michael Craig-Martin; Kleon3, CC BY-SA 4.0, via Wikimedia Commons
Craig-Martin has been creating powder-coated steel designs that depict common objects and hang from the air like line drawings since 2011. In 2014, his first series was presented at the Chatsworth House in Derbyshire's garden, where the sculptures were buried into the earth.
Involvement With the Young British Artists
Michael Craig-Martin taught at Goldsmiths College starting in 1973 and had a major influence on the developing YBA generation, notably Damien Hirst, throughout the 1980s. Craig-Martin was also instrumental in publicizing the Freeze exhibition to established people in the art world.
Michael Craig-Martin's influence has been explored in "Schools of Thought", an article by the Observer about British art mentors.
Famous Michael Craig-Martin Artworks
Michael Craig-Martin is represented in London by Gagosian Gallery as well as Cristea Roberts Gallery. He held his first solo show in 1969 at the Rowan Gallery in London. Since then, Craig-Martin has exhibited on a regular basis both in the United Kingdom and overseas. Let's explore the most well-known of Michael Craig-Martin's artworks.
The Oak Tree (1973)
| | |
| --- | --- |
| Date Completed | 1973 |
| Medium | Glass shelf and metal brackets |
| Dimensions (cm) | 253 (above the ground) |
| Location | National Gallery of Australia, Canberra, Australia |
In 1973, Michael Craig-Martin produced An Oak Tree, and it is currently on display with the associated text, which was initially published as a booklet. The message is written in red print on white; the object in the artwork is a French Duralex glass that holds water to a level specified by Michael Craig-Martin and is displayed on a glass shelf with matte gray-colored brackets attached to a wall. The text of the artwork is protected by glass and fastened to the wall with four bolts.
Michael Craig-Martin has emphasized that the components should be kept in perfect condition and that if they deteriorate, the brackets must be resprayed and the shelf and glass replaced.
The text offers an argument in an arrangement of questions and answers that explains that it is not just a glass of water, but is actually a fully-grown oak tree that was formed without changing the glass of water's accidents. These accidents are defined in the text as color, weight, feel, and size. The glass is not meant to be seen as a symbol, according to the text. He transformed the glass of water's substance into that of an oak tree. The text then goes on to explain that he did not alter its look. The real oak tree was present, but it was in the guise of a glass of water. It went on to say that calling it a glass of water would no longer be truthful. It could be called anything, but the fact that it is an oak tree remains unchanged.
The Oak Tree (1973) by Michael Craig-Martin; The original uploader was Pixel23 at English Wikipedia., CC BY-SA 2.5, via Wikimedia Commons
The impossible is intentionally stated, and the piece investigates the absurdity of the assertion, which employs the concept of transubstantiation in a comparable manner to the Catholic religious concept that wine and bread, despite seeming unaltered, are transformed into Christ's flesh and blood. Michael Craig-Martin grew up Catholic and served as an altar boy.
He feels that both the viewer's and the artist's beliefs played an important role in art, and in "An Oak Tree" he deconstructed the artwork in order to disclose its single fundamental and essential component, namely the belief it represents.
An Oak Tree was a watershed moment in his creative development. Before it, Craig-Martin was preoccupied with deconstruction, and after it, he was attempting to put the fragments back together. Following that, he concentrated on drawings of practical items and flat areas of color, with the objective of removing meaning, which is both unstable and persistent, though he claims that people's need to develop meanings and associations makes this goal unattainable.
That completes our look at all of the important Michael Craig-Martin facts. Michael Craig-Martin, an important artist in British conceptual art, examines the connection between images and objects, utilizing the human potential to envision nonexistent forms via pictures and symbols. Over the last 40 years, his primary focus has been the perceptual conflict between objects, language, and representation. Craig-Martin's early work frequently combined readymade artworks into sculpture and referenced American Minimalism. "An Oak Tree" (1973) exemplifies his conceptual clarity, consisting of a glass of water on a shelf and a paragraph written by Craig-Martin stating that the glass of water is, in reality, an oak tree. This focus on semantics, and the interaction between object and rhetoric, is a central topic in his work.
Frequently Asked Questions
Who Is Michael Craig-Martin?
Michael Craig-Martin is a conceptual artist from Ireland. Michael Craig-Martin's artwork is regarded as playful and varied, often resulting in candy-colored paintings of everyday objects and accompanying texts. Michael Craig-Martin is well recognized as the teacher of several Young British Artists, including Gary Hume and Damien Hirst, while they were studying at Goldsmiths in London. Michael Craig-Martin's artwork can be found in the collections of the Museum of Modern Art in New York City, the Centre Pompidou in Paris, the Tate Gallery in London, and many other notable institutions.
What Is the Most Famous Michael Craig-Martin Artwork?
The most well-known example of Michael Craig-Martin's artwork is An Oak Tree (1973). This is regarded as conceptual artwork and represents the Catholic Church's practice of asserting that the bread and wine consumed are actually the body and blood of Christ. He asserted this by using a glass of water as a representation of an oak tree, stating that it was not a symbol, but rather the actual oak tree itself conveyed in another form.
Isabella studied at the University of Cape Town in South Africa and graduated with a Bachelor of Arts majoring in English Literature & Language and Psychology. Throughout her undergraduate years, she took Art History as an additional subject and absolutely loved it. Building on from her art history knowledge that began in high school, art has always been a particular area of fascination for her. From learning about artworks previously unknown to her, or sharpening her existing understanding of specific works, the ability to continue learning within this interesting sphere excites her greatly.
Her focal points of interest in art history encompass profiling specific artists and art movements, as it is these areas where she is able to really dig deep into the rich narrative of the art world. Additionally, she particularly enjoys exploring the different artistic styles of the 20th century, as well as the important impact that female artists have had on the development of art history.
Learn more about the Art in Context Team.