The Ecstasy of Saint Teresa by Gian Lorenzo Bernini is the focal point of the Cornaro Chapel's white marble sculptural ensemble, which is situated in an elevated shrine. Bernini's statue of Saint Teresa is widely regarded as one of the High Roman Baroque sculpture masterpieces. The Ecstasy of St Teresa's face portrays Saint Teresa of Jesus, a woman of Spanish nobility who became a nun.
The Ecstasy of Saint Teresa by Gian Lorenzo Bernini
This famous masterpiece was ordered by Cardinal Federico Cornaro for his personal chapel. We recognize Saint Teresa of Avila in it, the Spanish nun. She is shown atop a cloud, implying her ascent to the heavens, with beams of gold light flowing down on her. Natural light is infused into the area from a secret window above it. As a look of rapture fills Teresa's face, a winged angel wields a lance poised to be thrown into her chest.
This piece exemplifies Bernini's artistic genius and innovation in marble treatment, like the wrinkles of Teresa's gowns, instead of the restrained pleats of traditional statues, are portrayed swirling around the saint, lending to the illusion of motion.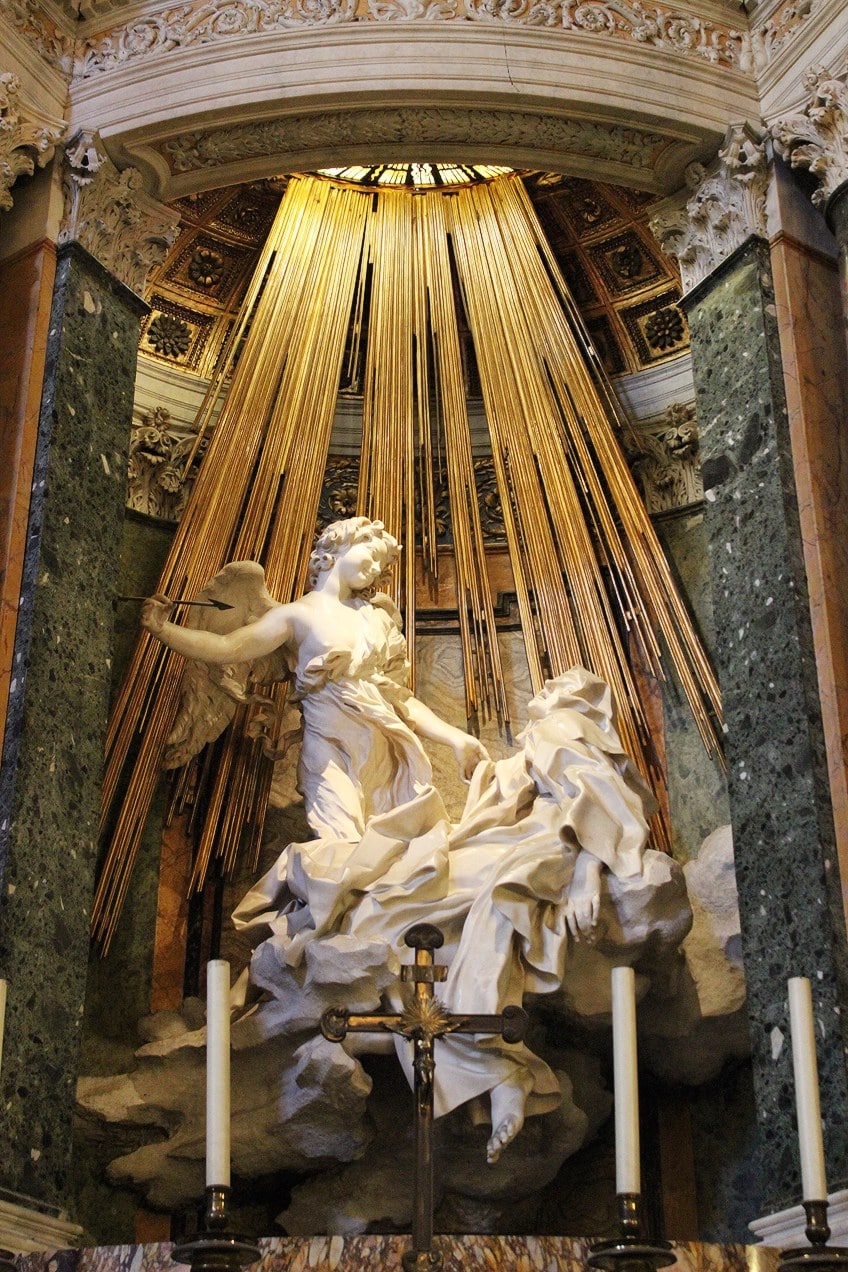 The Ecstasy of Saint Teresa (1652) by Gian Lorenzo Bernini, Santa Maria della Vittoria, Rome; Miguel Hermoso Cuesta, CC BY-SA 4.0, via Wikimedia Commons
An Introduction to Gian Lorenzo Bernini
Gian Lorenzo Bernini, the prominent Italian designer and sculptor, was driven by passion above all else. His great spiritual devotion, along with a lifetime examination of sculptural forms, culminated in the advancement of an energetic and vibrant style, centered on intense emotional expressionism, that fully reflected the Baroque era.
He, like Michelangelo preceding him, had become a prodigy of stone while being as adept in other mediums.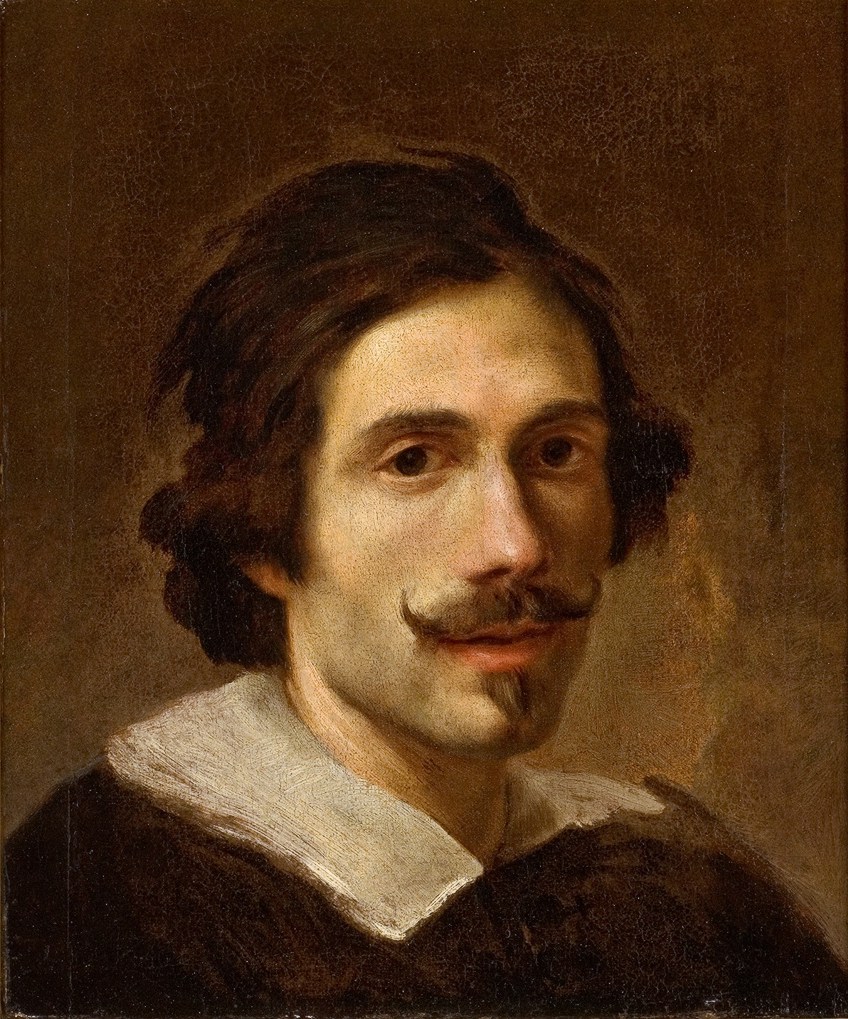 Portrait d'homme (1623-1625) by Gian Lorenzo Bernini, a presumed self-portrait; Gian Lorenzo Bernini, Public domain, via Wikimedia Commons
His approach and perspective were so inventive that they ushered in a new period in European sculpting that continues to impact the medium to this very day. Along with his colleagues, painter and architect Pietro da Cortona, and architect Francesco Borromini, Bernini was a crucial influence in the establishment of Roman Baroque architecture.
Through an ambitious urban planning initiative undertaken under his sponsorship by the influential Roman Popes of the era, his ideas assisted to reinstate Rome to her previous architectural splendor.
Bernini's stress on finding beauty in observing persons and environment rather than studying Classical sculptures or Renaissance art was a departure from conventional methods of generating work. His growing emphasis on human feeling and sensuality influenced subsequent painters right through to the modernist era. His dramatic representation of the body was also novel in painting, bringing a technical skill that is still studied today.
In his art, Bernini promoted the notion of "speaking likeness." He believed that documenting a subject in the middle of a discussion, or just as they were about to say a phrase, was the most realistic approach to convey the genuine personalities of his models. Bernini revolutionized the function of sculptural statues, which were previously confined to functioning as official portraits for graves.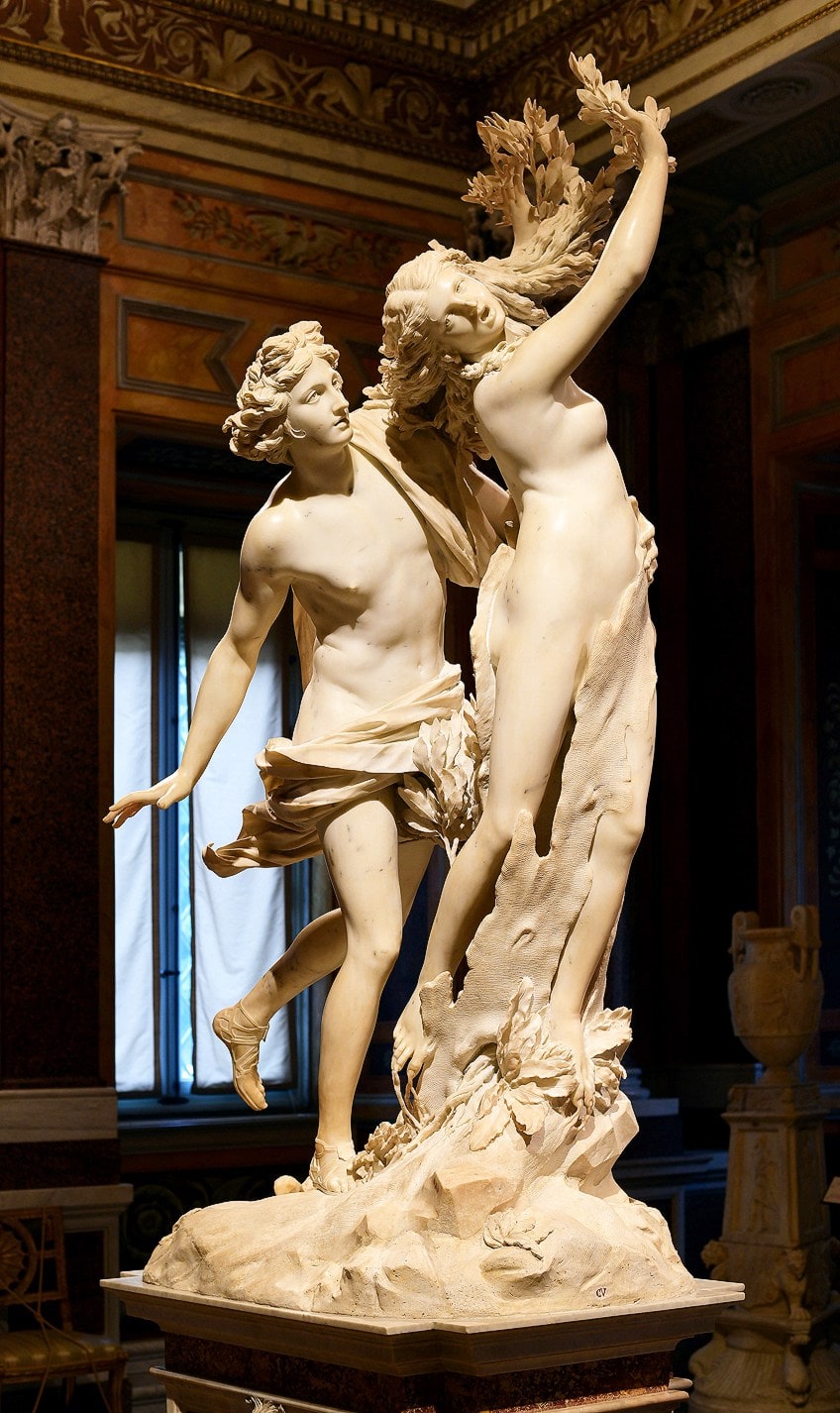 Apollo and Daphne (1622-1625) by Gian Lorenzo Bernini; Gian Lorenzo Bernini, CC BY-SA 4.0, via Wikimedia Commons
They had become a form of art in his hands, presenting casual pictures of the living, a method that had not been frequently employed since Ancient Rome. Bernini revolutionized the way statues were displayed. He frequently produced them "in the round," which refers to pieces that stand alone in large areas and are supposed to be seen from all angles by the observer, boosting the cumulative total experience and interaction with a sculpture.
Bernini, who was heavily influenced by the theater, penned, supervised, and performed in pieces, particularly carnival satires.
This panache for drama impacted not only his architectural style and sculpting, but also the layout of concert sets and cinematic equipment, as well as a wide range of ornament art pieces such as light fixtures, tables, wall hangings, and even animal coaches, all of which exemplified the Baroque adoration of specifics and the elaborately decorated. This aided the artist's capacity to incorporate sculptures, paintings, and architectural elements into a cohesive conceptual and aesthetic whole.
Bernini's Statue of Saint Teresa
| | |
| --- | --- |
| Created By | Gian Lorenzo Bernini |
| Year Created | 1652 |
| Medium | Marble |
| Location | Santa Maria Della Vittoria, Rome |
Considered to be one of the most prominent instances of the Counter-Reformation school of Baroque sculptures, this statue is meant to portray spiritual components of the Catholic religion. The painting represents a "religious ecstasy" experience in the life of a cocooned Spanish mystical nun.
Despite its importance as a work of religious art, commentators disagree as to whether Teresa is reaching an extreme experience of divine ecstasy or a bodily orgasm.
Some religious contemporaneous observers were outraged that Bernini would devalue such a heavenly event by presenting it sexually. Historians, on the other hand, have cast doubt on the assumption that Bernini meant anything of the such. Instead, they believe Bernini exploited the experience's sensual nature as a catapult to a new and greater level of spiritual awareness. The Ecstasy of Saint Teresa by Gian Lorenzo Bernini is a pivotal achievement in distinguishing Bernini as being one of the greatest sculptors of all time.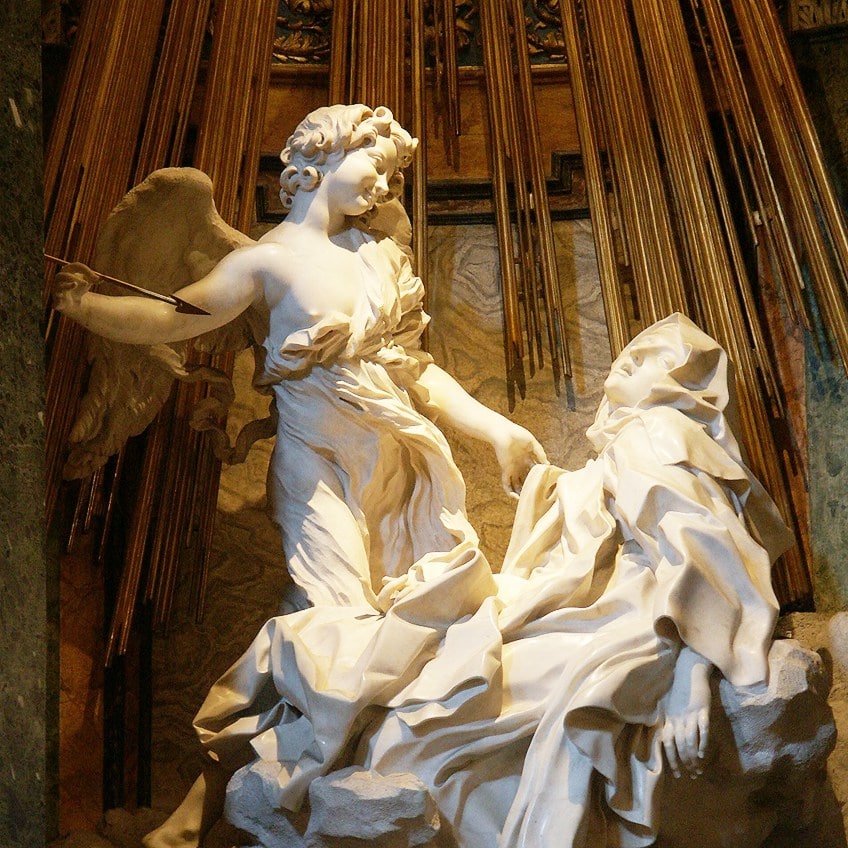 A close-up of Gian Lorenzo Bernini's The Ecstasy of Saint Teresa (1652), Santa Maria della Vittoria, Rome; Dnalor 01, CC BY-SA 4.0, via Wikimedia Commons
The Patron: Cardinal Federico Cornaro
Bernini, Rome's premier artist at the time, labored on the artwork from the year 1647 until 1652, during the reign of Innocent X, from whom he got no favor because of his long friendship with Innocent's predecessor, the lavish Urban VIII. Bernini was commissioned by Venetian Cardinal Federico Cornaro, who chose the convent of Santa Maria Della Vittoria of the Carmelites as the location for his burial chamber.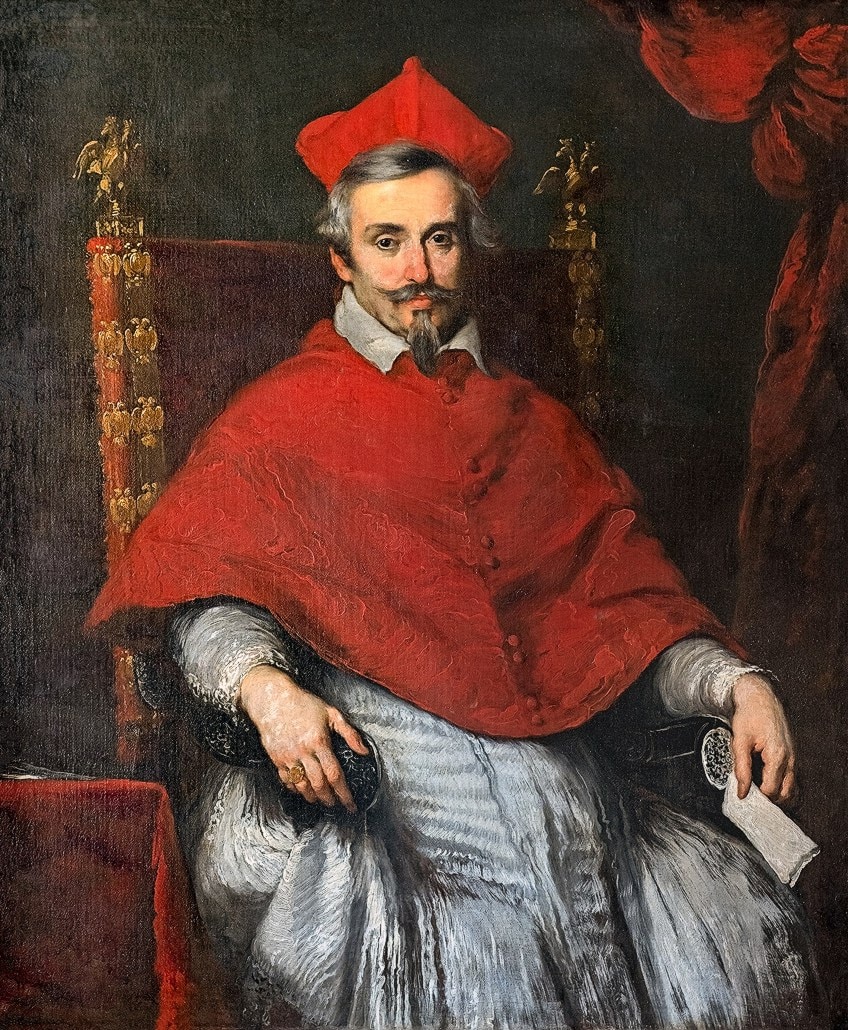 Portrait of Federico Cornaro (c. 1640) by Bernardo Strozzi; Bernardo Strozzi, CC BY-SA 4.0, via Wikimedia Commons
The left transept was chosen for the chapel because it formerly housed a picture of 'St. Paul in Ecstasy,' which was substituted by Bernini's portrayal of a mystical encounter experienced and described by the very first Carmelite saint, who had been canonized only a few years earlier, in 1622. Bernini also built the chapel's interior, which has a beautiful blend of architecture, sculpture, and art, with his artwork of St. Theresa serving as the focal point.
Bernini was paid 12,000 scudi for this, which was a substantial sum in that period.
The Subject: Teresa of Ávila
A woman of nobility from Spain, Teresa of Ávila was drawn to the Catholic Church's convent life. She was a Carmelite sister, a prominent Spanish visionary, a spiritual reformist, a writer, a secluded life philosopher, and a theorist of contemplative prayer. Over 400 years after her death, she was named a Doctor of the Church.
During the Catholic Reformation, she restructured both male and female Carmelite Orders. John of the Cross, a younger Spanish Carmelite monk, and mystic, later joined the society she founded. It eventually resulted in the establishment of the Discalced Carmelites. In 1580, an official papal edict approving the break with the previous order was issued. Teresa, a social star in her hometown, had been afflicted by family loss and sickness as a child.
In her later years, she had become the primary figure of a religious and spiritual revival movement founded of deep conviction and polished by austere discipline.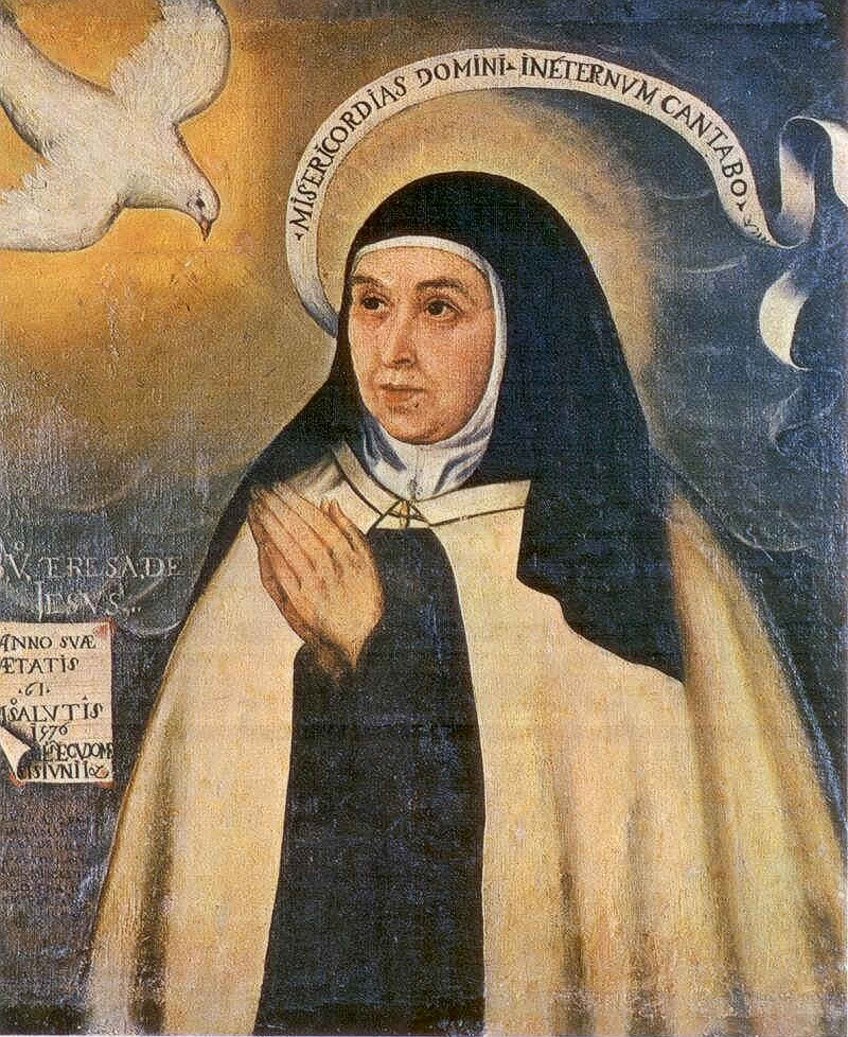 A painting of Teresa of Ávila, in the Carmelite Convent of Seville by Father Juan de la Miseria, 16th century; Fray Juan de la Miseria, Public domain, via Wikimedia Commons
She was also at the center of a heated ecclesiastical dispute as she addressed widespread neglect in her convent against the context of Protestant reform sweeping across European territories and the Spanish Inquisition implementing church regulation in her hometown. The ramifications would continue far beyond her own lifetime.
"A weary traveler, defiant, and obstinate woman who, under the guise of adoration, devised terrible teachings, trying to move just outside of the convent against the regulations of the Council of Trent and her clergymen, trying to teach as a mentor against Saint Paul's commands that female must not instruct," according to one pope's legate. Her fame has expanded after her death, resulting in several depictions.
Historians, philosophers, anthropologists, neurologists, novelists, and painters, as well as many regular individuals interested in Spirituality and mysticism, have all cited her as an influence.
Composition
To start, the Cornaro Chapel is exquisitely created as a tribute to Saint Teresa. Its spatial design, use of lighting, trompe l'oeil fresco art, and materials of marble, gilded wood, and gilt bronze make it an ideal vehicle for such a statement of piety. The marble sculpture itself is a wonderful blend of movement and stillness, its whiteness contrasted with the polychrome marble surround, exactly positioned above the altar as if it were a heavenly happening in mid-air. However, the drapery portrays the swooning nun's "agitation."
Bernini's amazing attention to detail is seen in the painstaking carving of the Angel's left hand's little finger, as well as his right hand's thumb and forefinger.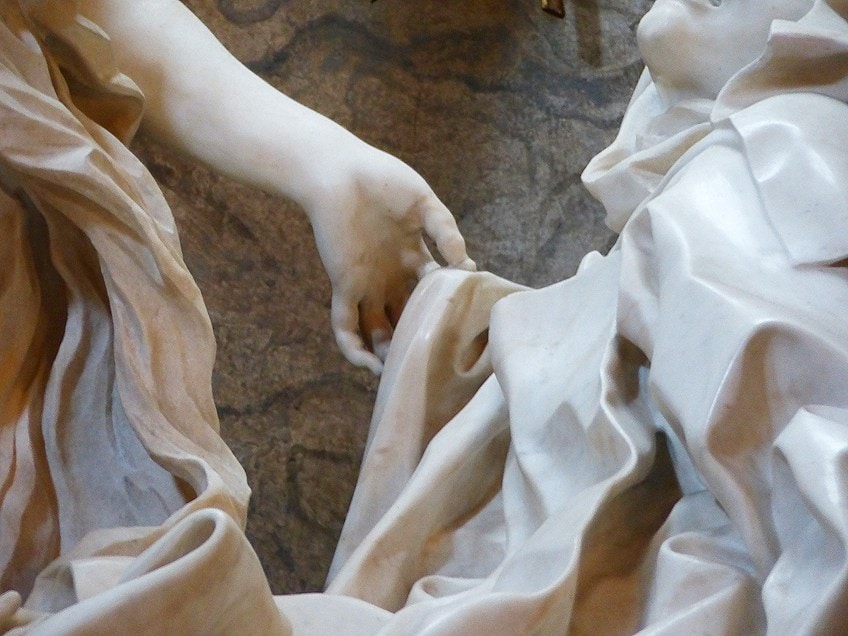 A detail of Bernini's The Ecstasy of Saint Teresa (1652), Santa Maria della Vittoria, Rome; Benjamín Núñez González, CC BY-SA 4.0, via Wikimedia Commons
Bernini very certainly used techniques pioneered by Mannerist artists while constructing his Ecstasy of Saint Teresa. For example, the simple devotion, floating draperies, and heavenward stare of the Beata Michelina, a picture by the prominent Mannerist religious painter Federico Barocci, might be seen as the inspiration for Bernini's masterwork.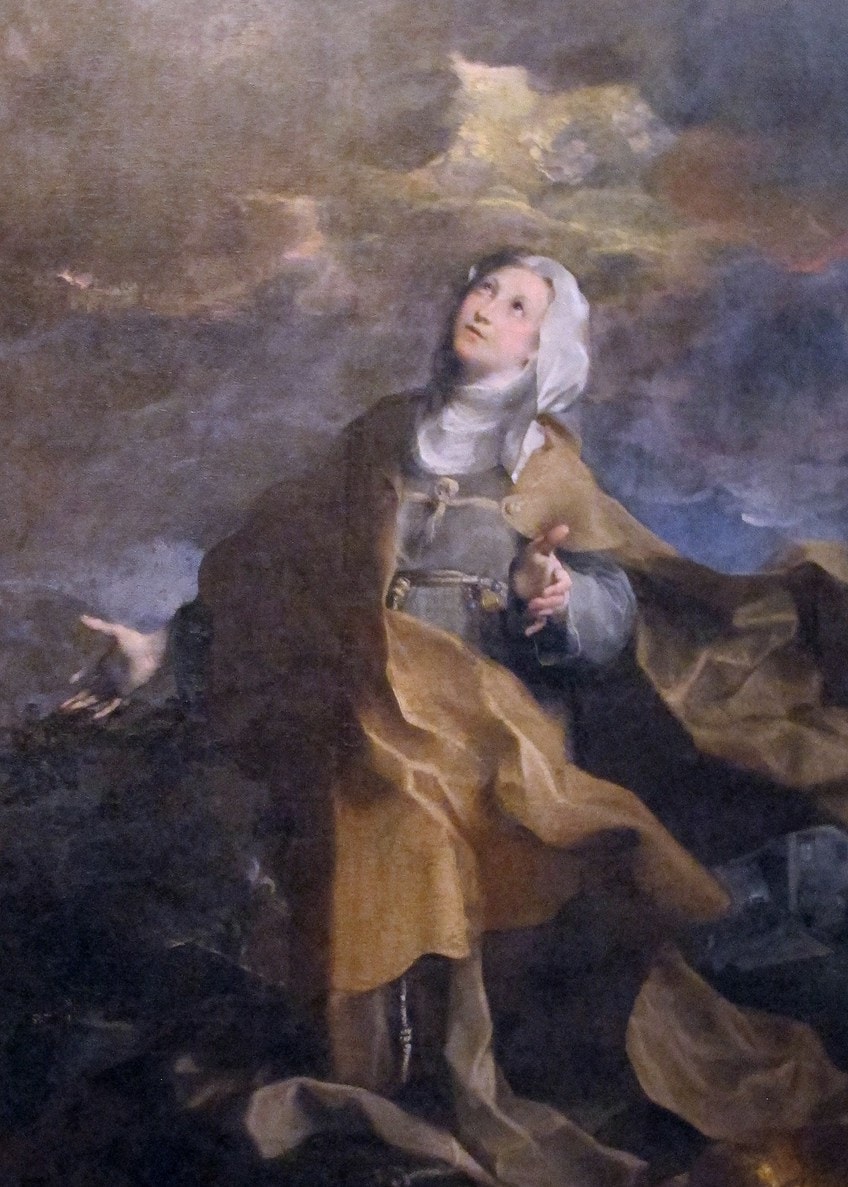 Beata Michelina (16th century) by Federico Barocci; Adri08, CC BY-SA 4.0, via Wikimedia Commons
Bernini essentially conceived the chapel as a sculpture theater. The latter is housed in a recess above as well as behind the altar and is flanked by two marble columns. It is lighted dramatically by natural light beams from a secret window above. This natural sunlight reflects off a sheaf of vertical gilded bronze columns behind the statue, which are designed to seem like sun rays. The Chapel's ceiling is frescoed with trompe l'oeil representations of a sky populated with cherubs high above.
The ceiling of the Santa Maria della Vittoria in Rome; Sailko, CC BY 3.0, via Wikimedia Commons
Saint Teresa's sculpture is made up of two white marble figures: Teresa herself, represented sleeping on clouds, and an angel towering above her, wielding a golden spear aimed towards Teresa's heart. This sculptural group depicts Teresa's autobiographical encounter of religious rapture when an angel came before her with a gilded spear: "He looked to me to be thrusting it into my heart at moments, and to leave me all in flames with a deep loving god. The agony was so excruciating that I moaned, yet the pleasure of this excruciating pain was so overpowering that I couldn't wish it away. The spirit is now content with nothing other than God."
Note that Teresa communicates her passionate love for God in sensual passion, a technique that is part of a long history of what is known as "bridal spirituality."
Bernini depicts Teresa falling in near-erotic bliss, closed eyes and mouth wide, and both visible extremities hanging limp, to capture the real gravity of her encounter. Her ruffled, heavy drapery contributes to the energy and drama of the image, and the roughness of the material contrasts with her face's purity. Teresa is gazing passionately at the childish angel as he proceeds to stab her chest with his holy love spear, sealing her wonderful connection with God. Bernini added two sets of witnesses sculpted in life-size statues on either side of Tereasa to codify and verify the scenario as a true spiritual experience sanctioned by the Catholic Church.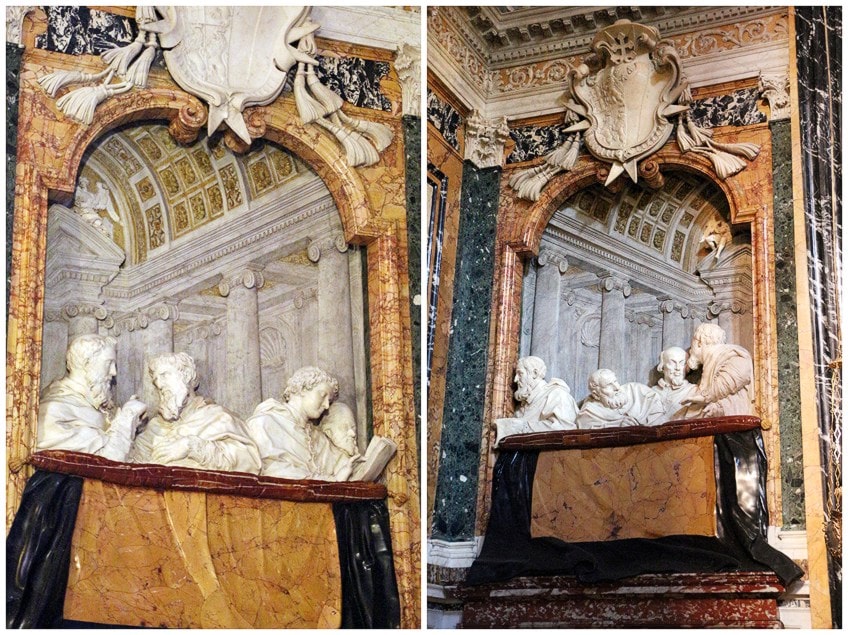 LEFT: The first group of witnesses made up by the four male Cornaro family members, Cornaro chapel in Santa Maria della Vittoria in Rome; Sailko, CC BY 3.0, via Wikimedia Commons | RIGHT: The second group of witnesses to the right of Bernini's statue, depicting the male church and state representatives, Cornaro chapel in Santa Maria della Vittoria in Rome; Sailko, CC BY 3.0, via Wikimedia Commons
The first group, made up of four male Cornaro family members, is positioned to the left of the altar, as if in a theater box. A second group, composed of male church and state representatives, is placed to the right. Only in the setting of the chapel's wider size can one fully comprehend the visual effect and spiritual meaning of the Ecstasy.
In truth, the work is not an independent work, but rather the pivotal core of a more complicated composition that includes not just sculpture, but also paintings and architecture—all planned by Bernini.
The darker, textured marble columns and curved niche wherein the Ecstasy are placed, for instance, add to the brilliance and vitality of the picture while creating the illusion that the wall has split up to reveal St. Teresa's vision.
In some ways, we are gazing at a dream of a dream, one that Bernini has constructed for the devout who adore at the altar, and especially for the Cornaro family. An illusionistic window on each wall perpendicular to the altar wall has sculptural resemblances of relatives, some of whom leaning over the crest in the vicinity of Bernini's sculpture, rapt eyewitnesses to the miraculous.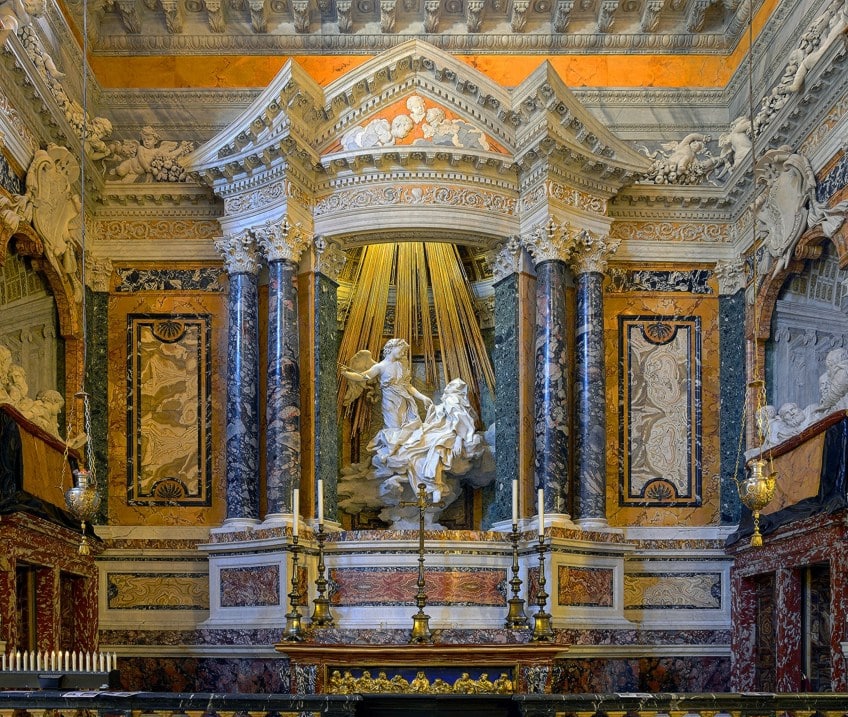 Bernini's The Ecstasy of Saint Teresa (1652) in the Cornaro Chapel of the Santa Maria della Vittoria in Rome; Livioandronico2013, CC BY-SA 4.0, via Wikimedia Commons
Interpretations
The Cornaro family appears to be watching the spectacle from their boxes, and the chapel depicts a moment when God intrudes on an earthly body. Caroline Babcock describes Bernini's "orgiastic" grouping's blending of sensuous and spiritual pleasure as both purposeful and influential on painters and authors of the day. "The transverberation has become a medium of connection between heaven and earth, between material and soul," remarked Irving Lavin.
Even though Bernini's point of difference for his characterization of Teresa's spiritual encounter was her own explanation, there were many specifics about the encounter that she never stipulates, such as the situation of her body, and that Bernini merely provided from his own creative fantasy, all with the purpose of raising the episode's the nearly transgressively alluring charge:
"Surely no other sculptor, prior or after Bernini, braved as much in changing the saint's visage in painting the situation."
The conventional reading of Bernini's Statue of Saint Teresa is simple. The sculpture depicts the Saint's overwhelming spiritual satisfaction in serving Christ. Bernini uses imagery that indicates sensuous pleasure to portray the palpable aspect of Teresa's encounter – a representation of her adoration of God and longing for spiritual unification with him. The piece adheres to the goals of the Catholic Counter-Reformation art movement, which aimed to explain the secrets of Catholicism as clearly as possible.
This concludes our look at Bernini's statue of Saint Teresa. "The Ecstasy of St. Teresa" by Gian Lorenzo Bernini depicts a scene from the saint's spiritual autobiography. Teresa recalls an angel wielding a fire-tipped spear who repeatedly pierces her heart, causing her to experience spiritual bliss. "The pain was so intense," she adds, "that I had to groan numerous times." The pleasure created by this profound suffering is so intense that one cannot wish it away, nor is one's soul happy with anything other than God."
Frequently Asked Questions
What Expression Is on the Ecstasy of St Teresa's Face?
A cupid-like angel holds an arrow in Bernini's sculptural ensemble. His sensitive touch and slender frame provide him with a graceful aura. Teresa falls, her face flung back and her eyes shut, overpowered by the sensation of God's love. Her actual form seemed to have dematerialized behind her robe's voluminous fabric. Twisting fabric folds energize the landscape, as bronze rays appear to pour down heavenly light from an unseen source. The combined impression is one of high drama, with the ethereality of the piece of art denying its actual nature. Despite being fashioned of thick marble, the saint and angel appear to glide weightlessly on a cloud.
Who Was St Teresa?
Teresa of Ávila, originally a noblewoman from Spain, was drawn to the Catholic Church's convent life. She was a Carmelite nun, a well-known Spanish visionary, a religious reformist, a writer, a secluded life philosopher, and a mental prayer theologian. She was designated a Doctor of the Church 400 years after her death. She reorganized both female and male Carmelite Orders during the Catholic Reformation. Later, John of the Cross, a younger Carmelite monk from Spain, as well as a mystic, joined the group she established. It finally led to the formation of the Discalced Carmelites. In 1580, a formal papal decree approving the deviation from the previous edict was issued.
Isabella studied at the University of Cape Town in South Africa and graduated with a Bachelor of Arts majoring in English Literature & Language and Psychology. Throughout her undergraduate years, she took Art History as an additional subject and absolutely loved it. Building on from her art history knowledge that began in high school, art has always been a particular area of fascination for her. From learning about artworks previously unknown to her, or sharpening her existing understanding of specific works, the ability to continue learning within this interesting sphere excites her greatly.
Her focal points of interest in art history encompass profiling specific artists and art movements, as it is these areas where she is able to really dig deep into the rich narrative of the art world. Additionally, she particularly enjoys exploring the different artistic styles of the 20th century, as well as the important impact that female artists have had on the development of art history.
Learn more about the Art in Context Team.