When it comes to coloring, there is no medium quite as vibrant as that of markers. Trying to find the best markers for coloring can be difficult as not all markers work in the same way or are suited to every project. Luckily, there are many variations of coloring markers available today, allowing you to find the ones that are best suited to your requirements. In this article, we are going to discuss an assortment of coloring pens as well as provide you with some recommendations for the best colored markers out there.
Pens for Adult Coloring Books
Those who love to color know that there are many different coloring mediums and pens to choose from. When looking for the right pens for adult coloring books, there are a few things to consider, including the type of pen or marker you need, the surface you are using, the colors and sizes of coloring markers, and your price range.
Coloring pens and markers are often used for various illustration and design work or hand lettering due to their bright and quick-drying colors. This will depend, of course, on the type of coloring marker you choose to work with. Using colored markers is easy, providing you with a smooth application and finish. Another convenient attribute they have is that most colored markers can be refilled or even have their tips replaced so that they can last forever!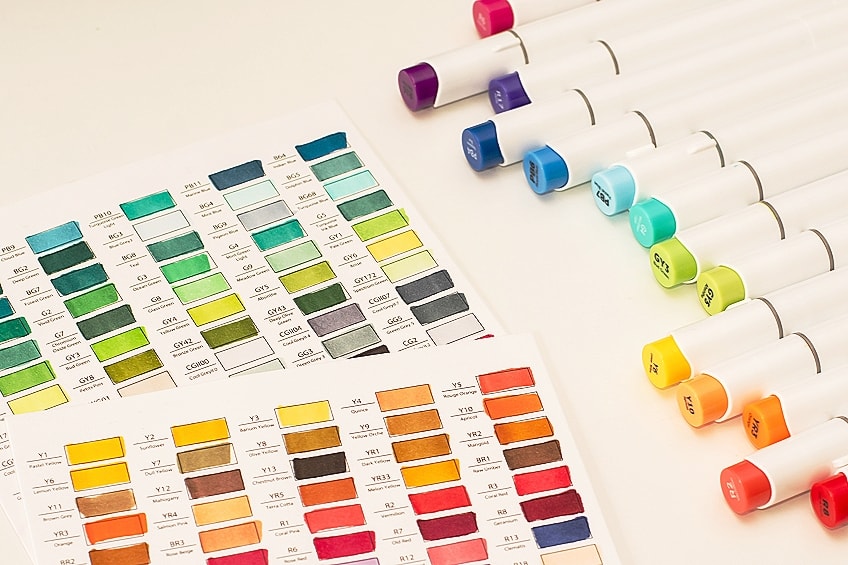 These pens are great for adult coloring, art and design, and even outdoor projects for beginners and advanced users alike. Some colored markers are also good for blending and color mixing. These can be used in the same way one would use watercolor paints or oil paints, except they dry much faster and most do not run the risk of smudging. This makes it easy to use different techniques, play with colors, and find what works for you.
Coloring book markers fall into four different categories: alcohol-based, pigment-based, water-based, and oil-based markers. When using paper, cardboard, or canvas, the best coloring markers would be water and pigment-based ones, as these are easily absorbed and will show up with vibrant colors. Alcohol and oil-based inks would be better suited to tougher surfaces where they cannot seep through, such as ceramics, metal, glass, and plastics. These will also be more durable markers for use outdoors. There are also different types of color pigments within your markers, which include either paints, dyes, or inks. These are then combined with a base such as water, a solvent, or alcohol in order to give you the effects we see today.
Let us take a look below at what different adult coloring markers are available and what they are used for.
Gel Pens
Gel pens are wonderfully smooth and opaque upon application, allowing for more of a contrast and color variation on your surface. Made using a water-based gel and ink, these pens work well for fine detailing and smaller areas too. They are also available in various colors, including pastels and glitters. The neon-colored gel pens show up particularly well on black papers and cardboards if you are looking to add a pop of color to your illustration or writing work.
Using gel ink may not be as controlled as other pen or coloring mediums. This is because the gel within the pen is much thicker than usual water-based inks. So, your roller is often not as easily or completely coated in the gel when you are drawing or writing. Another downside to using gel pens is their high smudge factor. Because these are made with a water-based gel, they take longer to dry than other inks.
PROS
Beautiful pigments
Smooth application
Ultra-fine tip
Various color options
Easily accessible
Affordable
CONS
Better for detail and outline work
Difficult to provide full coverage, so can look scratchy when coloring
Ink has a longer drying time
High potential for smudging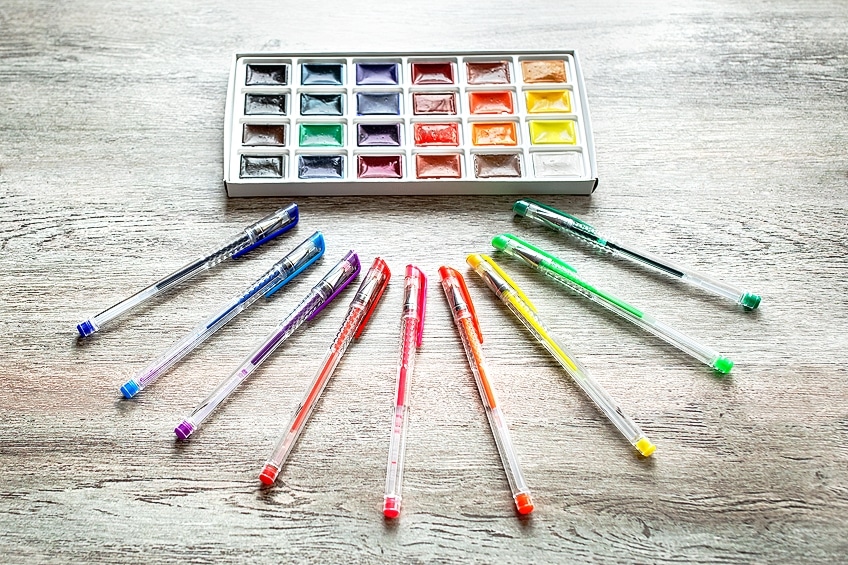 Fine Line Markers
These water-based coloring markers are best used for fine details or writing and calligraphy. Fine line markers are readily available and usually come in an assortment of colors. They are made with a very thin plastic or fiber tip, which allows you to create controlled outlines and intricate lettering.
Fine liners can also be used to color in or shade smaller areas with bright splashes of color, although they are not made to saturate large areas with color. Because of the ultra-fine tips, these will not bleed through the page, but you may run the risk of tearing through if you apply too much pressure on thinner paper.
PROS
Super-fine tips
Great for fine detail and lettering
Amazing color ranges available
Easy to use
Entry-level to professional ranges available
CONS
Not for large areas of color
Cannot be refilled
Brush Pens and Markers
Brush pens are similar to felt tip markers in the way they work. However, these are made with different materials and the idea is to mimic the effect of a paintbrush. The different variations of brush pens include natural hair, which is usually from a weasel or sable, and these will be most like using a paintbrush. Then there are the synthetic ranges, which are made using nylon, and finally, you also get the plastic tips which are usually ultra-fine and firm for producing consistent lines and details.
The tip you choose will also have an impact on your work and what techniques you will be able to achieve. For example, using a hard, fine-tipped pen as opposed to using a soft, natural-haired, thick one. This explains why many artists choose these coloring markers for lettering and calligraphy. Brush pens are useful as they come in different tip sizes too, meaning that you could use a broader tipped pen for larger areas or thicker, bolder outlines. Brush pens also come in different color and medium options, such as watercolor brush pens. These are made using a watercolor medium, which means they will work better on thicker pages and will blend well for coloring.
PROS
Different tip options available
Different tip sizes available
Can mimic paintbrush effects
Great for calligraphy and writing
Various color options available
Different paint or ink mediums available
CONS
Can be expensive
Black is the most popular color choice
Natural hair options are more pricey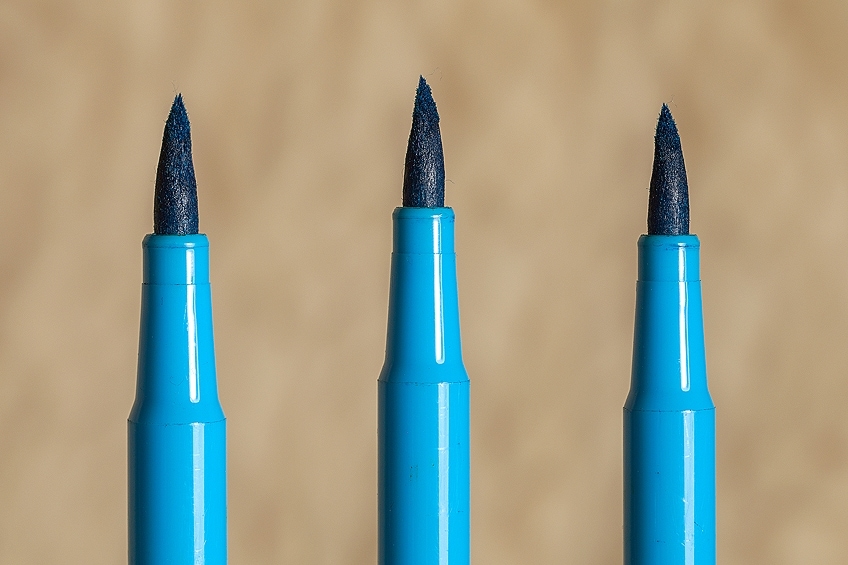 Permanent Markers
We have all used a permanent marker for some sort of branding or other long-term details around the house. These are alcohol-based, multipurpose coloring markers, durable enough to go on different surfaces. Permanent markers can be used on paper, cardboard, stone, metal, wood, and the list goes on. They really are an all-purpose medium.
These are perfect to use when you cannot afford any smudging, or when you need a marker that will stand up to the elements. Permanent markers dry within seconds and are fully absorbed into porous surfaces, making them the most durable marker option.
PROS
Permanent
Quick-drying
Waterproof and weatherproof
Smudge-proof
Refillable
Suitable for nearly all surfaces
Durable tip
Come in a few different colors
Inexpensive
CONS
Cannot be removed with water
Only black is weather-resistant
Strong smell
Now that we have an idea of the different coloring markers available, let us look at the different ink varieties and how they work.
Ink Varieties in Your Colored Markers
We know that colored markers and pens come in different mediums. Here, we will take a closer look at the ink variations and what projects they work best for.
Pigmented Ink: This type of marker is evident in the way the colors stick to the surface of your paper. This ink will not bleed through and will not be absorbed directly into your paper or other surfaces. These are made by keeping the color pigments separate from the water or gel base and not mixed in, thereby also making them water-resistant.
Dye Ink: These are more liquid than pigmented inks as the dyes are mixed in completely with the ink. This allows for better absorption and is best used on thicker cards or even canvas materials. These markers can be used for color mixing, blending, and washes.
Permanent Ink: Just as the name implies, these are what permanent markers are made from. Added to the ink is a chemical resin that gives this range of markers their waterproof and permanent qualities. These can be used on most surfaces and are toxic.
Alcohol Ink: These coloring markers are the easiest to blend with. Being alcohol-based, they are very fluid and sometimes even transparent, making them great for layering. A bonus when experimenting with this ink is that it can be used with rubbing alcohol to create some beautiful liquid effects on porcelain, plastics, and ceramics. These are, of course, permanent.
Oil-Based Ink: These are, as with using oil paint, very slow-drying markers. This means they are useful for those wanting to try to add texture and layers to their work. The added time allows for more workability and manipulation of your medium.
Translucent Ink: This type of ink is most found in watercolor markers. These allow for lighter layers, accents, and highlighting capabilities. They can be used with other mediums and most can be used with water so as to increase their fluidity and blending capabilities.
Opaque ink: This ink is as its name suggests: flat and thick upon application. It is often used in chalk coloring markers as it will not bleed through your page and allows for harder lines and better control.
Best Colored Markers
Now that we have covered the different types of coloring markers, their inks, and what they are used for, let us take a look at some five-star recommendations for the best adult coloring markers on the market.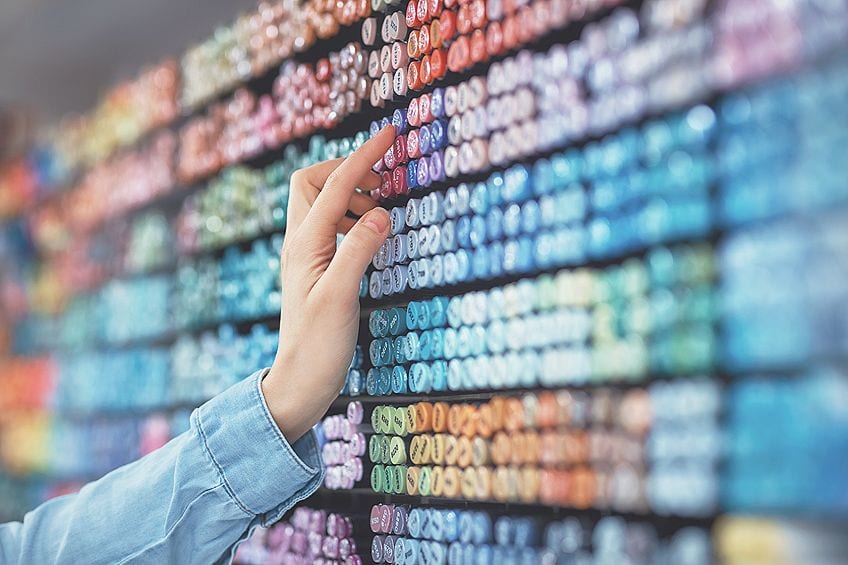 Best Markers for Adult Coloring Books: OHUHU Dual-Tipped Art Markers
Ohuhu is fast gaining a reputation for offering the best markers for adult coloring books. This set of 60 colors is made with non-toxic and water-based inks. Offering flexible dual tips, these coloring pens are brilliant for shading, blending, and whatever else you need them for. The fine tip is best used for writing, outlining, and detailed areas, while the thicker brush tip is best for coloring large areas and blending.
Although they are water-based, these Ohuhu markers will not smudge or bleed through your pages. These color-capped and coded markers are also perfectly organized in a convenient holster for easy storage and travel. An added benefit of these color markers is their design; Ohuhu has implemented their own unique casing to ensure a comfortable grip, allowing you to use these markers for long hours.
Dual-tipped with a brush tip for shading and fine tip for small details
Set of 60 vibrant, highly pigmented colors with labeled color code
Fast-drying for easy layering and mixing without smudging
View on Amazon
PROS
Non-toxic
No smell
Water-based
60 colors
Dual tip
Comfortable grip
Great for blending and color mixing
Carry case
Good price
CONS
Colors vary in opacity and consistency
Tips may fray easier than other designs or brands
Best Markers for Coloring: CALIART Dual-Tipped Alcohol-Based Permanent Markers
These permanent coloring pens are alcohol-based, making them perfect for any project! With 81 colors to choose from, you will have no shortage of inspiration. Being alcohol-based, these smudge-proof coloring markers can also be used outdoors, as they are waterproof and weather-resistant. If you are buying them solely for their coloring capabilities, then it is best to use them on thicker paper to prevent bleeding through.
These versatile markers can be used on a range of surfaces, both indoors and outdoors. These markers are dual-tipped, meaning you have two tip sizes, allowing you to write and create controlled lines as well as color in and shade bigger areas. The best part about this set is the compact carry bag, which is great for storing your markers and taking them with you wherever you go. These adult coloring markers are great for blending and shading work too, as they come with a blending stick which allows a smooth finish.
Alcohol-based permanent markers with 81 smudge-proof c

olors

Dual tips and round pen holder with broad chisel and fine point nibs

Color-coded caps allow for ease in organization and quick identification
View on Amazon
PROS
81 colors
Includes atravel bag
Can be used on most indoor and outdoor surfaces
Great for blending and shading
Comes with a blending stick
Affordable
CONS
Alcohol-based, so will bleed through coloring books or thin paper
The Best Coloring Pens: TANMIT Fine Point Gel Pens Set
This set of 36 gel pens includes the following sets of colors: six pastel shades, four classic colors, six neon shades, eight metallic pens, and 12 glitter colors. With so many options, you are spoilt for choice! Tanmit gel pens are also safe to use and non-toxic. These comfortable rubber-grip gel pens are perfect for adult coloring books, scrapbooking, office work, or school. The pens are all packed neatly away in a clear storage pouch for easy access and reference.
These gel pens contain 25% more ink than other brands. This range also dries faster and will not seep through the paper you are using. Tanmit gel pens are best used for small areas of color, as they have a very fine point. Their pens glide on smoothly, and you should find their rich colors to be highly durable.
Premium quality pens with colored rubber grips for easy identification
36 different color types, being glitter, metallic, neon, pastel, and classic
Non-toxic, acid-free pens are perfect for writing, drawing, and sketching
View on Amazon
PROS
Five different color types available in one pack
36 different colors in total
Easy grip
Smooth gel application
Quick drying time, so will not smudge like other brands
Good value for money
Non-toxic
Can be used for coloring, writing, journaling, schoolwork, and more
CONS
Gel may stiffen (just place your pen in some lukewarm water to soften it again)
Do not produce good coverage on larger areas that require more saturation
Can look scratchy if over-applied
The Best Brush Pens: ARTEZA Watercolor Real Brush Pens
Arteza Real Brush Pens are high-quality paint brush pens. These are made with nylon tips, ensuring smooth and supple application. Their tip is made with a tapered point, allowing you to use it for fine lines as well as broad strokes. Being water-based, these pens can be used with water to create your own watercolor works and allow for beautiful blending and color mixing. They can be used alone too for coloring, calligraphy, sketching, and more.
This set consists of 96 stunning colors, allowing you more options for creative expression. Using these brush pens provides you with more control and precision than one would achieve with watercolor paints, but with the same beautiful results.
Premium paint pens offer richer colors and finer, more flexible tips

Can be used dry or with water to create delicate watercolor effects

Brush pens have a soft, supple tip made of durable nylon brush hairs
View on Amazon
PROS
Effects like that of a paintbrush
Can use with water for watercolor techniques
96 amazing colors
Real brush tips
Great pigment
Easily bendable
Water-based and non-toxic
Great brand
CONS
No dual tip
Tips are naturally very wet and may bleed through thinner paper
Stray bristles may fall out after heavy use
The Best Fine liner Marker Option: DYVICL Fine liner Fine Point Pens
This complete set of coloring pens contains 100 beautiful colors. These are the perfect markers for child or adult coloring, work, school, or play. Dyvicl fine liners are water-based and will not bleed through your page, making them ideal for journaling and adding color to thinner workbooks. Their inks have been designed to resist smudging and over-saturating the page. The 0.4 mm tip is the perfect tool for tight spots and attention to detail.
They have also included 50 cute stickers in this set, so that your inspiration can run wild. These fine liners come in a plastic, easy-to-store storage case with a color reference chart on the back. However, their caps and pens are not color-coded.
Fineliner color pens set contains 100 unique brilliant colors

Ultra-thin fine point with fine metal-clad tip for precision & durability

Water-based ink, acid-free, non-toxic, and minimal bleed-through
View on Amazon
PROS
100 colors
Good for thinner papers
Less chance of bleeding through your pages
Tiny tip works great for small details and writing
Value for money
Quick-drying
Entry-level set
CONS
Not dual-tipped
Not good for large areas of color
Not good for shading or blending
Caps are not color-coded
The Best Permanent Coloring Markers: SHARPIE Fine Point Permanent Markers
When one hears the word Sharpie, we all know what someone is talking about. This brand of markers is of a high quality and is very affordable, making it the most-used coloring marker. This set of permanent markers comes with 12 bright colors that can be used on paper, wood, plastic, and metal. The brilliant thing about these markers is their almost instant drying time – no more smudging or smearing your art!
The Sharpie brand pride themselves in their inks' resistance to fading and moisture. This makes it great for use on fabrics or outdoor surfaces as well. Because these are fine points, they will be best used for writing, work, and school or other craft projects. These will not work well for blending or covering larger areas and surfaces with color.
Proudly permanent ink marks on paper, plastic, metal, and more

Intensely brilliant colors create eye-popping, vibrant impressions

Remarkably resilient ink dries quickly and resists fading and water
View on Amazon
PROS
Affordable
Well-known brand
Permanent ink
Bright colors
Fade- and water-resistant
CONS
Fine point not suitable for large areas or shading
Will come through thinner paper
Using Pens for Adult Coloring Books
With so many great products to start us off, we can now move onto some helpful tips and techniques for coloring with markers. Depending on the coloring markers and paper you have chosen, these tips may just come in handy.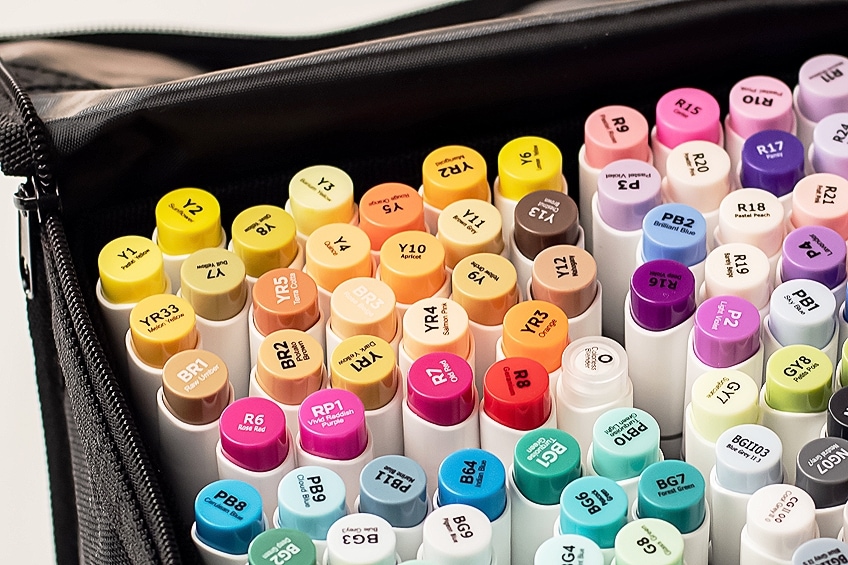 Picking the Best Coloring Book Markers
Having looked at the brands and product reviews, we know now which coloring markers are great for which jobs. Before we can purchase them, however, we must make sure that the brand we choose has filled all our project requirements. Below is a list of requirements you will need to look out for.
Size
Take a look at the various markers available in the size that you will require. For example, if you are mainly going to use them as coloring pens, then you will need thicker tips and markers that are good for blending. There are three different variations here:
Fine Point: This is for fine details or writing and illustration.
Brush Tip: This is used for better coverage and smooth, brush-like finish.
Broad/Chisel Tip: This is used for bigger areas and blending colors.
Materials
Take note of what medium your colored marker is, what material the nib is made from, whether the grip is comfortable, whether it comes with a storage container, and so on. When doing broad areas, a softer and more supple tip would assist in providing an even layer of color and allow for soft and easy blending. When wanting to have a more defined or controlled approach, using a harder marker tip would be best.
Colors
It is always important to test your colors out before starting your project. This is because many shades do not appear as they are presented on their cap or box. They may come out brighter or sometimes much lighter on your page than what was depicted. Their final color will depend on the paper you are using, whether it was exposed to other colors, and the type of marker or brand you are using. Remember to wait for your marker color to dry on the page, as this will be the final color.
Lightfastness
While this quality is relevant for art mediums, it is not exactly one that is associated