Emma Littleton – Academic and Content Writer
Story and Background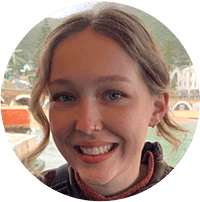 Emma completed her Bachelor's Degree in International Studies at the University of Stellenbosch. She majored in French, Political Science, and History. She graduated cum laude with a Postgraduate Diploma in Intercultural Communication. However, with all of these diverse interests, she became confused about what occupation to pursue. While exploring career options Emma interned at a nonprofit organization as a social media manager and content creator. This confirmed what she had always known deep down, that writing was her true passion.
Growing up, Emma was exposed to the world of art at an early age thanks to her artist father. As she grew older her interests in art and history collided and she spent hours pouring over artists' biographies and books about art movements. Primitivism, Art Nouveau, and Surrealism are some of her favorite art movements. By joining the Art in Context team, she has set foot on a career path that has allowed her to explore all of her interests in a creative and dynamic way.
Emma's Role at Art in Context
Emma has been working for artincontext.org as an author and content writer since 2022. She writes about the topics of art history.
Education
2021 – 2021, Postgraduate Degree, Intercultural Communication, Stellenbosch University, South Africa
2018 – 2020, Bachelor of Arts, International Studies, Stellenbosch University, South Africa
2022 – today, Author and
2022 – 2022, Self-employed
2022 – today,
2022 – 2022,
Reader's Favorites by Emma
All Blog Posts by Emma Littleton
Contact Emma Littleton