Vicente Manansala – Discover the Famous Filipino Cubism Artist
Filipino Cubism artist Vicente Manansala's influence on the advancement of Philippine art originates from his singular focus on discovering innovative ways of conveying national identity. He is regarded as as a pivotal player in the creation and dissemination of Cubism in the country and as a respected member of the Thirteen Moderns. His artistic ability stems from his original art studies in the Philippines, which he expanded on during his academic days abroad, when he was exposed to the masterpieces of Georges Braque and Pablo Picasso. However, whereas other Cubist artists broke figures down into simple shapes and then laid them out on a two-dimensional plane, Vicente Manansala's artworks evolved into a hybrid translucent method that stayed loyal to the three-dimensional form. Below, we will learn more about Vicente Manansala's paintings, as well as Vicente Manansala's biography.
Exploring Vicente Manansala's Biography
| | |
| --- | --- |
| Artist Name | Vicente Silva Manansala |
| Nationality | Filipino |
| Date of Birth | 22 January 1910 |
| Date of Death | 22 August 1981 |
| Place of Birth | Macabebe, Pampanga, Philippine Islands |
Vicente Manansala, a Filipino Cubism artist, was one of his nation's very first Abstractionists. Cubist artwork and sketches of contemporary life have been recognized for bridging the divide between urban and rural life at the time. Through the prism of abstract style, the artist regularly portrayed the evolution of the nation under the influence of America.
In Vicente Manansala's artworks, he studied a number of topics such as intimacy, culture, and poverty.
Early Life
Vicente Manansala, born in 1910, started building reproductions of the Sagrada Familia at a young age, honing his artistic skills. Vicente Manansala, the second of eight children, learned the value of hard labor at a young age as a shoe shiner and newsboy in Intramuros. He displayed an early drive to create by making kites and charcoal drawings on paper as a young boy.
He started painting at the age of 15 under Ramon Peralta in a poster and sign painting studio.
He also exhibited outstanding abilities in creating oil paintings at the University of the Philippines School of Fine Arts, earning him multiple fellowships. Following his graduation from university, he proceeded to pursue his art studies further at the School of Fine Arts in Canada with UNESCO funds, and subsequently in Paris with Ferdinand Leger.
In 1960, he came to the United States to learn about stained glass, then to the Otis School of Drawing in Los Angeles.
Later Painting Career
Vicente Manansala's paintings have long been regarded as the greatest in the entire city. In his painting, Madonna of the Slums, a mother and child from the countryside are shown as urban squatters after moving to the city. Jeepneys combined elements of regional traditional culture with the problems caused by crowded cities. Manansala pioneered translucent cubism, in which delicate tones, forms, and patterns of person and surroundings are expertly juxtaposed. Kalabaw, a composition by Manansala, is a great instance of his use of this translucent style.
Vicente Manansala had a direct impact on Angelito Antonio, Malang, Norma Belleza, and Manuel Baldemor, his fellow Neo-Realist Filipinos, among others.
Artist Vicente Manansala and his works on a 2010 stamp sheet of the Philippines; Philippine Postal Corporation, Public domain, via Wikimedia Commons
Manansala made use of shape and form repetition. He painted common scenes that accurately mirrored the interactions between society and family units in order to further develop national identity. Color manipulation, which was an important aspect of his creative expression, developed into Transparent Cubism. Vicente Manansala was a part of the avant-garde modernist movement led by Victorio Edades.
He took part in his debut solo show in 1951 at the Manila Hotel.
Vicente Manansala's Legacy
Malang Santos, Manuel Baldemor, Norma Belleza, Antonio, Mario Parial, and Antonio Austria were all impacted by Manansala's natural approach to diverse issues. Through his decades-long career, he has effectively ushered in three art revolutions, produced an own cubism style, and impacted many artists worldwide.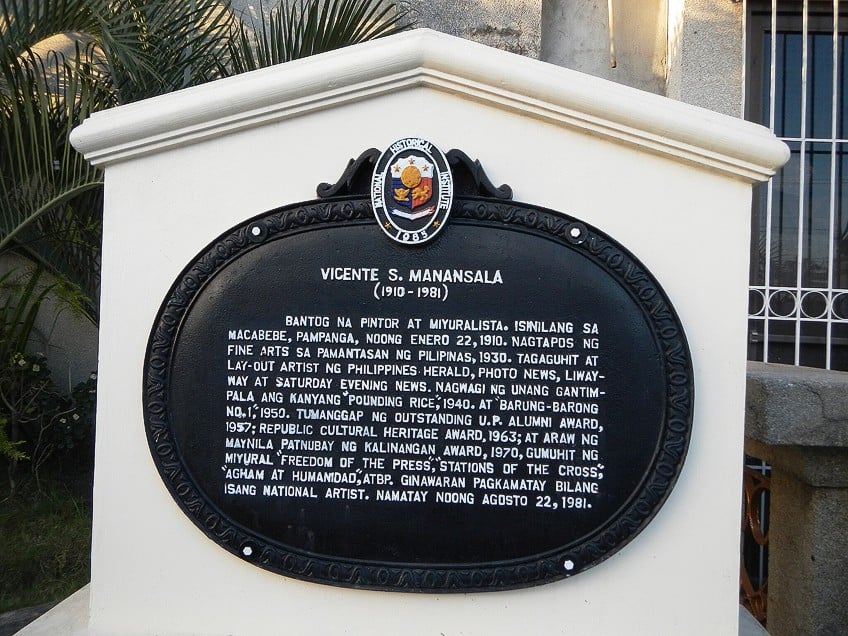 Vicente Manansala's marker in Macabebe, Pampanga, outside the town hall; Ramon FVelasquez, CC BY-SA 3.0, via Wikimedia Commons
Despite this, he only had eight solo exhibits during his lifetime. Vicente Manansala died in the Philippines in 1981. Vicente Manansala's art is included in public collections including the Holy Angel University, Lopez Memorial Museum, the Honolulu Museum of Art, and the Philippine Center.
Vicente Manansala's Artworks
After World War Two, there was a considerable societal awareness of cultural identities, which the artist started to express in his own artwork with the required sensitivity. His canvases utilized repetitions of form and shape to illustrate ordinary occurrences of life. Even his vivid still lifes provide significant insights into legacy, tradition, and connection.
Although the artist experienced a black-and-white phase, he discovered a great benefit in color manipulation, which became a significant feature of his art.
Madonna of the Slums (1950)
| | |
| --- | --- |
| Date | 1950 |
| Medium | Unspecified |
| Dimensions | 86 x 61 |
| Location | National Museum, Manila, Philippines |
Vicente Silva Manansala painted Madonna of the Slums in 1950. Painted in the same method as Manansala, it depicts two individuals who are believed to originate from the countryside and have become shanty inhabitants of the populous metropolis. As shown in the work of art, the mother is cuddling her infant while the background depicts dwellings in slums or overcrowded areas. This might be seen as the mother and her child's desire to find sanctuary after becoming separated from growth.
Manansala concentrated on showing Manila after World War Two, where people struggled under poverty and had no alternative but to live in the city's slums. This artwork is a narrative of individuals who are barely living due to the poverty that has existed in the past and continues to exist in the present.
This artwork continues to advocate for people who live in the country's neglected areas and have no option but to survive with few resources. The clear cubism approach used by Manansala highlights the subject and statement of his works of art, rendering them even more striking. As we can see, the line was used to provide the artwork with the illusion of depth. The artist was quite diligent about making sure the colors had the appropriate intensity and value to attract attention to the places that required highlighting.
As one of the members of the Neo-Realists and the Thirteen Moderns, he was considered to be one of the artists at the forefront of the country's modernist movement. Vicente Manansala's artworks were always representational, with the exception of a few abstract pieces. Vicente Manansala's paintings have been hailed as masterpieces that bridged the gap between city and barrio cultures.
Frequently Asked Questions
Who Is Vicente Manansala?
Vicente Manansala was a Cubist painter and printmaker from the Philippines. Manansala tackled topics of culture and poverty via his representations of modern Filipino life. The younger Filipino artists of his period, such as Manuel Baldemor and Angelito Antonio, were greatly influenced by his integration of social critique and painting.
What Kind of Art Did Vicente Manansala Make?
His whole artistic career was defined by his preference for the cubism painting technique, translucent cubism, and a few abstract pieces. His paintings are well-known for bringing together rural and urban cultures, and most of the time, they depict regional life. His paintings typically depict jeepneys, cockfights, female sellers, and other things that reflect the culture and people of the nation. Following the end of World War Two, circa 1945, he concentrated on conveying national culture, which mirrored the social milieu and reality.
Isabella studied at the University of Cape Town in South Africa and graduated with a Bachelor of Arts majoring in English Literature & Language and Psychology. Throughout her undergraduate years, she took Art History as an additional subject and absolutely loved it. Building on from her art history knowledge that began in high school, art has always been a particular area of fascination for her. From learning about artworks previously unknown to her, or sharpening her existing understanding of specific works, the ability to continue learning within this interesting sphere excites her greatly.
Her focal points of interest in art history encompass profiling specific artists and art movements, as it is these areas where she is able to really dig deep into the rich narrative of the art world. Additionally, she particularly enjoys exploring the different artistic styles of the 20th century, as well as the important impact that female artists have had on the development of art history.
Learn more about Isabella Meyer and the Art in Context Team.
Cite this Article