Wangechi Mutu, a Kenyan-born artist, centers her work on the female body. Through her collages, sculptures, and video works, Mutu creates powerful matriarchal hybrid figures from elements of human, plant, animal, and mechanical forms. Her figures exist within otherworldly realms that investigate cultural identity, the female body, colonial history, and global consumerist culture. This article provides a more in-depth look at the fascinating work of a contemporary artist whose work is both timely and pertinent.
Artist in Context: Who Is Wangechi Mutu?
Wangechi Mutu is a Kenyan-born artist whose work has received international acclaim for exploring gender, race, and cultural identity. Mutu's work is known for its striking imagery, which combine collage, drawing, and painting, as well as her inventive use of materials. Mutu, who was born in Nairobi, Kenya in 1972, moved to the United States in the early 1990s to pursue her art studies. She has since exhibited her work in major museums and galleries all over the world, and she has established herself as one of the most prominent contemporary artists working today.
Childhood
Wangechi Mutu was born on June 22, 1972, in Nairobi, Kenya. She was born to a middle-class family. Her mother, Tabitha Wambura Mutu, and she her father, Gethoi Gichuru Mutu, are both from Nyeri, Kenya. Her family is part of the Kikuyu, one of the original, precolonial nations of Kenya.
In Wangechi Mutu's mature career, she looks back at how her father's career journey influenced her own career choices. During Mutu's childhood, her father was a teacher at a secondary school, and later at university. He also worked as a civil servant, though Mutu recalls him being unhappy with this occupation. In an interview, Mutu explains that her father found ways to express his creative side. At some point, Mutu's father worked as a radio DJ at his own radio station and he would later start to write poetry and biographies. Another interest that would later influence Mutu's art, was her father's fixation with indigenous trees.
Mutu explains that her father finally settled on his passion for researching and writing and that he continues to lecture often.
Mutu explains that her mother is another important influence on her art. She describes her mother, who was trained as a nurse and midwife, as a healer. The personality and essence of Mutu's mother, who is an incredibly caring and nurturing figure in her life, can be seen in many of Mutu's powerful and maternal collages and sculptures.
During her childhood in Kenya, from 1978 to 1989, Mutu attended an all-girls Catholic school called the Loreto Convent Msongari. While Mutu knew she had a talent for art, she felt like her talent wasn't developed during her years in Kenya. She explains that the school she attended as a child was very strict and academic, with a dull daily schedule. The art classes in the school consisted mostly of making still-life drawings, with little exploration into anything beyond basic drawing techniques.
Despite her lack of stimulation in school, Mutu achieved high academic marks and she participated in many extracurricular activities, including sports, theatre, and choir practices. At the age of 15, Mutu performed in a school play where she played the only male lead in a girls-only school production. Richard Leakey, one of Mutu's earliest mentors, came to see the performance. After Mutu's performance, Leakey suggested that Mutu apply to study further at one of the United World Colleges in Wales.
Education
Mutu soon transferred to the United World College of the Atlantic in Wales, where she graduated in 1991. This school, Mutu explains, was much more stimulating for her. The school was an international school that promoted a multicultural approach to education, focussed on diplomacy and intercultural development.
Although Mutu was originally hesitant to study so far away from her family, she felt like she didn't quite fit in with her life in Kenya and she was excited about the opportunity to leave. Mutu describes her years at the United World College to be transformative in her personal development and she would never return to live in her parents' home again. Mutu discovered she was an artist during this time. After graduating in Wales, Mutu applied to art schools in New York City.
Wangechi Mutu was 18 years old at the time and felt like she had enough time ahead of her to take risks.
Witnessing the many detours her father had to take in his career to finally settle on what made him happy, Mutu was determined to pursue her passion from the start. Moreover, Mutu explained that she decided to apply to study in the United States as she had a better chance to receive financial aid. Mutu initially enrolled at the Parsons School of Art and Design, but after discovering that the courses were more focused on design, rather than art, she transferred to the Cooper Union for the Advancement of the Arts and Science, where she graduated with a BFA in 1996.
During this time in New York City, Mutu frequently visited galleries and museums and met many people who inspired her, including Fred Wilson, Hans Haacke, Thelma Golden, and Glenn Ligon. Mutu says that this period was a pivotal and formative one in her life. She explains: "I couldn't have asked for a more amazing moment to enter art school and the discourse on art, race, feminism, etcetera."
Wangechi Mutu: Intertwined Exhibition at New Museum (2023); Kiraface, CC BY-SA 4.0, via Wikimedia Commons
After graduating from the Cooper Union, Mutu decided to enroll at Yale University and graduated with an MFA in sculpture in 2000. Yale was instrumental in Mutu's development as an artist, where she perfected her signature style that incorporates elements of collage, drawing, painting, and sculpture. Mutu explains that there were other black students at Yale at the time that offered her companionship. Some of these students include Sol Sax and Rina Banerjee.
Mutu's time at Yale was also marked by an expansion of her artistic inquiry into questions of gender and cultural identification. Due to financial constraints at the time, Mutu frequently made use of found objects in her works. She was influenced by the writings of African American feminist theorists like bell hooks and Audre Lorde as well as the works of feminist artists like Judy Chicago and Yoko Ono.
Art Career
After graduating from Yale, Mutu moved to Brooklyn, New York, where she started to build a career as an artist. She took part in a number of group exhibitions and quickly gained recognition for her creative use of mediums and techniques as well as her provocative themes. During this time, Mutu felt especially inspired by the works of Ana Mendieta and Frida Kahlo.
Around the year 2002, Mutu began working extensively with collage on Mylar. These works always incorporated the female body, which Mutu transformed into mythological hybrid figures through collage. These hybrid figures were futuristic and cyborg-like, incorporating shapes of humans, animals, and plants. During this time, Mutu often used fashion magazines to inspire the poses that the figures would assume. She would then dissemble and distort them beyond recognition, creating her own unique fictional female characters.
In 2003, Mutu had her first solo exhibition at the Contemporary Arts Center in Cincinnati, Ohio. The exhibition, titled I am Speaking, Are You Listening? was an important moment in her career.
Featuring a series of collage works, the exhibition explored themes of gender and cultural identity. Since this exhibition, Mutu has exhibited her work in galleries and museums around the world, including the Whitney Museum of American Art in New York, the Museum of Contemporary Art in Sydney, and the Centre Pompidou in Paris. She has also been the subject of several solo exhibitions, including a major retrospective at the Nasher Museum of Art at Duke University in 2013.
Throughout her career, Mutu has also dedicated herself to training and guiding upcoming artists. Harvard University, Cooper Union, and Parsons School of Design are just a few of the universities and organizations where she has taught. She was welcomed as a faculty member of the Yale School of Art in 2019, where she now mentors and inspires the upcoming generation of artists. Mutu has participated in a number of charitable endeavors in addition to her art practices. She is on the board of directors of Creative Time, a non-profit with offices in New York that funds public art initiatives, and she has worked with a number of groups that support and assist artists from underrepresented communities.
Mutu has maintained a strong connection to her African roots despite her international success. She maintains artist studios both in the United States and in Kenya. Throughout her career, she has worked to support and promote African art and artists. She has spoken frequently about the value of maintaining a connection to one's cultural heritage. She established the nonprofit AFRICA'SOUT! in 2017, with the mission of fostering cultural exchange between Africa and the rest of the world and supporting African artists.
Mutu's personal life has also served as an inspiration for her work. She is the mother of two children, and her experiences as a mother have influenced many of her works. She has discussed the difficulties of juggling motherhood and her artistic career, but she has also emphasized the importance of using one's experiences and personal struggles as fuel for creative expression.
Important Wangechi Mutu Artworks
Using collage, sculpture, and printmaking, Wangechi Mutu's most significant works examine issues of gender, race, and cultural identity. Because of her daring use of unconventional materials and methods, as well as her willingness to defy preconceived notions, she has emerged as a major figure in contemporary art.
Below we briefly discuss six of her most important works.
Riding Death in My Sleep (2002)
| | |
| --- | --- |
| Artwork Title | Riding Death in My Sleep |
| Date | 2002 |
| Medium | Ink and collage on paper |
| Size (cm) | 152.4 x 111.76 |
| Collection | Collection of Peter Norton, New York City, United States |
This early work by Mutu features motives and techniques that would continue to feature in her later work. The methods used in this became the foundation of Mutu's ongoing exploration of cultural hybridization and displacement.
Mutu assembled this alien-looking woman's face using features from many different cultures; her baldness adding to the otherworldliness of her appearance. The figure's body is both stunning and repulsive, with multi-colored patterns that could be skin, a bodysuit, or something else entirely. Mushrooms, which are parasitic fungi with no roots and can grow in dark, damp places, are scattered across the landscape.
The motive of the mushrooms could possibly be a symbol of immigration.
A Shady Promise (2006)
| | |
| --- | --- |
| Artwork Title | A Shady Promise |
| Date | 2006 |
| Medium | Mixed media on mylar |
| Size (cm) | 222.25 x 276.23 |
| Collection | Private collection |
Although Mutu never makes such explicit associations, her large diptych A Shady Promise (2006) could be interpreted as both a contemporary Annunciation scene and a critique of religion. As the sun shines down from the upper left, a confident female figure in sunglasses sits astride a tree trunk that is rooted in each panel of the diptych.
A radiant and ethereal winged creature perches on the tree on the left panel, and another, which could possibly be a metaphor for the Holy Spirit, rests upon the woman's head on the right panel. It's hard not to think of the "blood diamonds" that are mined and sold in Africa to finance wars and insurgencies.
We are reminded of this when looking at the long, thin blades of grass that have their shapes cut from images of diamonds.
Root of All Eves (2010)
| | |
| --- | --- |
| Artwork Title | Root of All Eves |
| Date | 2010 |
| Medium | Mixed media, ink, paint, and collage on mylar |
| Size (cm) | 246.4 x 137.2 |
| Collection | Collection of George Hartman and Arlene Goldman, Toronto, Canada |
This collage merges the idea that women are inherently evil, as in the Adam and Eve tale, with the stereotype of Africa as the "dark continent" from which evil emanates.
The central figure in the collage, with her glamorous sunglasses, military uniform, and amputated arm, represents the balance of power and failure that has been present in Africa's civil wars for decades. The female figure's throne grows deep into the earth, giving her access to unknown dark forces. In this work, Mutu addresses the West's lack of understanding of African history, cultures, and religions.
She does this by referencing both the remnants of colonialism and the evil spirits that are thought to have brought bad fortune upon Africa.
Eat Cake (2012)
| | |
| --- | --- |
| Artwork Title | Eat Cake |
| Date | 2012 |
| Medium | Video installation (black and white), sound |
| Duration | 12 min and 51 sec |
| Collection | Collection of the artist |
Mutu wears a gothic gown, jewelry, and heels in this video work. In contrast to her glamorous attire, her hair is a mess and her fingernails are long as she digs into a massive three-tiered cake.
This stark contrast creates a strange and unsettling tension in the work. It's possible to interpret her ritualistic movements and the forested setting of the video as an attempt to re-establish a connection with the forest's earthly and ethereal realms.
In contrast, her lavish attire and ravenous appetite seems to comment on how contemporary society and Capitalism encourage excessive consumer culture that alienates us from nature.
End of Eating Everything (2013)
| | |
| --- | --- |
| Artwork Title | End of Eating Everything |
| Date | 2013 |
| Medium | Animated video (color), sound |
| Duration | 8 min |
| Collection | Nasher Museum of Art at Duke University, Durham, United States |
This film is the first Wangechi Mutu artwork that features animation. The animated video expands on the drawing practice that underpins all of Mutu's work. The animation features a magical and destructive creature that is voiced by musical performer and recording artist Santigold.
In this collaboration, Mutu created a narrative that features a strange alien creature with an insatiable appetite. Throughout the video, the creature moves about with flailing arms, tentacles, and spores that emit smoke into the atmosphere like a polluting factory. The film comments on consumption-driven greed within contemporary society.
The film ends in a sinister apocalypse that is both hopeful and frightening.
MamaRay (2020)
| | |
| --- | --- |
| Artwork Title | MamaRay |
| Date | 2020 |
| Medium | Bronze, edition of 3 |
| Size (cm) | 165.1 x 487.7 x 365.8 |
| Collection | Nasher Museum of Art at Duke University, Durham, United States |
MamaRay (2020) is arguably the most impressive Wangechi Mutu artwork to date. The sculpture took three years to complete and it is monumental, with a wingspan of 12 feet and a length of 15 feet. This massive bronze sculpture by Mutu features a hybrid of a woman and a manta ray.
The sculpture has a dark brown, almost black patina with delicate gold ribs protruding from its torso. The wide-set eyes have been narrowed to slits, giving the figure a look of intense scrutiny. The figure looks supernatural, powerful, and distinctly matriarchal. Despite the serious nature of the figure, there is also great balance, strength, and tenderness in the work.
The hybrid nature of the work is aligned with Mutu's philosophy that privileges harmony with nature, rather than mastery over it.
Reading Recommendations
Mutu's work over the past two decades has been a fantastical constellation of strong women, hybrid creatures, and mythical landscapes. Below are two books that go into greater detail about Wangechi Mutu's life and work.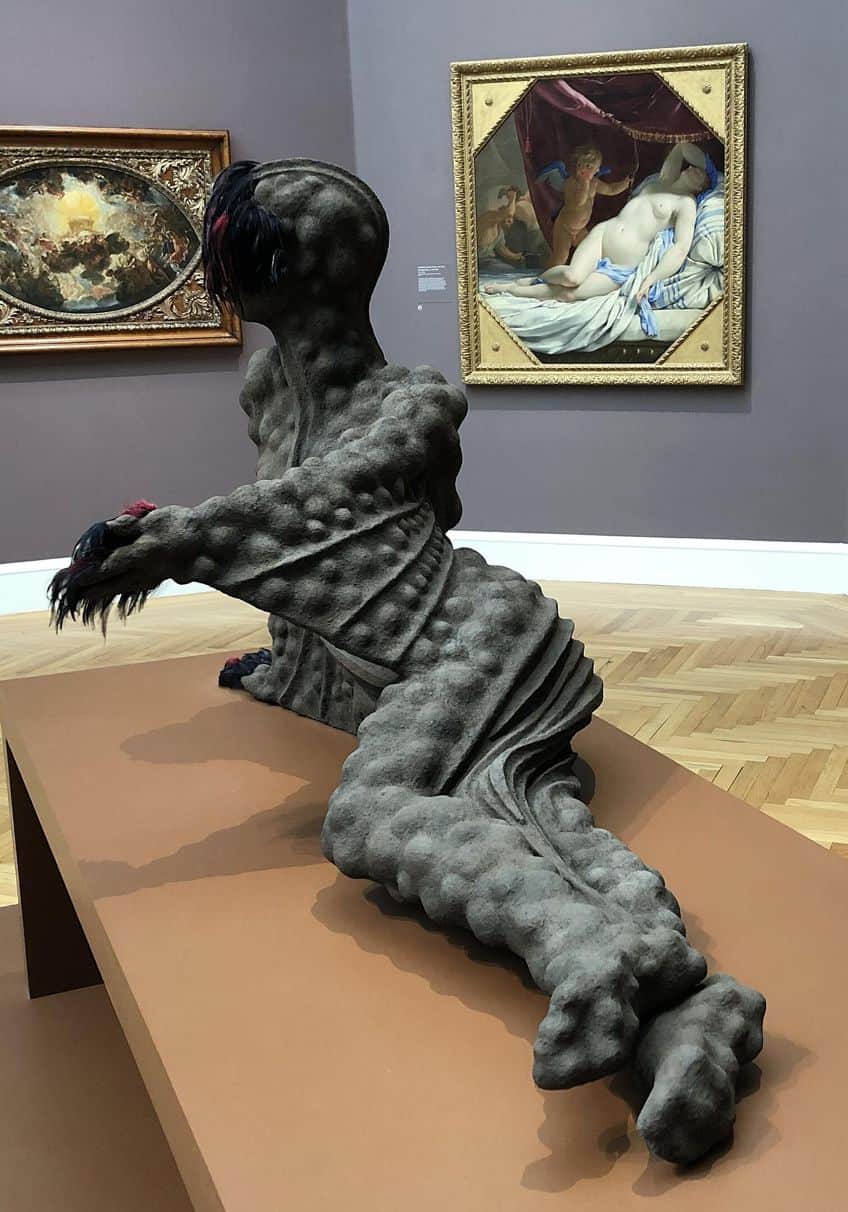 Outstretched (2019) by Wangechi Mutu; Stevensaylor, CC BY-SA 4.0, via Wikimedia Commons
Wangechi Mutu: I Am Speaking, Are You Listening (2021) Wangechi Mutu, edited by Isaac Julien Claudia Schmuckli
In her artistic practice, Wangechi Mutu dismantles the boundaries between human, animal, plant, and machine. This stunning book accompanies the breathtaking exhibition of new work by Mutu, showcased at the Legion of Honor in San Francisco.
This is the most comprehensive book on the work of Wangechi Mutu up to its date of publication.
The most comprehensive monograph of Wangechi Mutu's work
A contemplation of Afrofuturism, fantasy, and postcolonialism
Discover many of her works alongside insightful commentary
View on Amazon
Wangechi Mutu: Intertwined (2023), edited by Margot Norton and Vivian Crockett
This impressive monograph accompanies the major solo exhibition of Wangechi Mutu that opened in February 2023 at the New Museum in New York City. The book boasts an expansive survey of the artist's career that is mapped chronologically. The impressive survey on Mutu's work starts with her early sculptural work in the 1990s, to her works created during her university career in the 2000s, to her most recent collages, sculptures, and video works.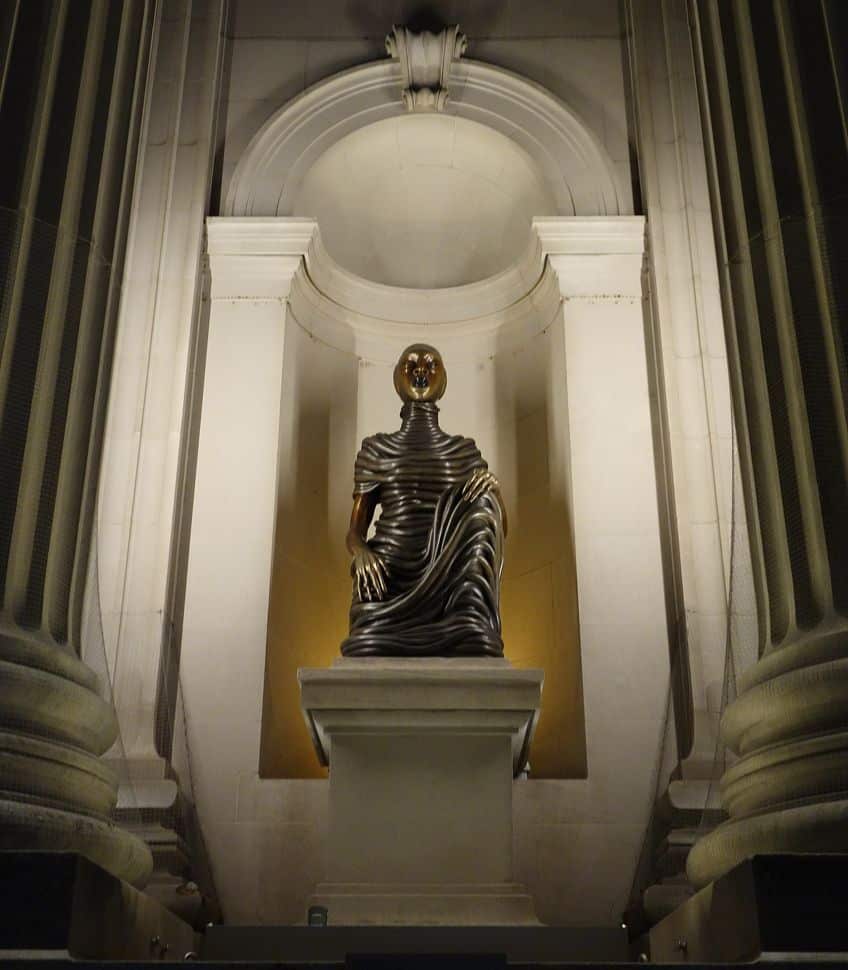 The Seated (2019) by Wangechi Mutu; Allison Meier, CC BY-SA 2.0, via Wikimedia Commons
A comprehensive survey of Wangechi Mutu's famous works
Explore thematic through-lines across her career to date
Discover sculptures in the Tate Modern and other museums
View on Amazon
Through her unique style and innovative techniques, Wangechi Mutu guides her audience through metamorphoses of the physical, mental, and political. Her work tackles some of the most pressing issues of our time, including the effects of historical violence on women and our interconnectedness with one another, the natural world, and all forms of life. Over the past thirty years, Wangechi Mutu is now recognized as one of the most influential artists working today. Her work both challenges current issues and stereotypes, while presenting alternative visions of the future that are rooted in feminist and Afrofuturist ideals and interspecies harmony.
Frequently Asked Questions
What Is Wangechi Mutu Known For?
Wangechi Mutu is well-known for her artwork that questions established ideas about gender, race, and individuality through collages, sculptures, and installations. The objectification of women, the effects of colonialism on African culture, and the confluence of race and gender are just some of the topics she has tackled in her works, which frequently incorporate science fiction and mythological elements alongside depictions of the female body.
Where Has Wangechi Mutu Exhibited Her Work?
Wangechi Mutu's work has been exhibited in numerous solo and group exhibitions around the world, including the Whitney Biennial, the Venice Biennale, and the Museum of Modern Art in New York. She has also had solo exhibitions at the Deutsche Guggenheim in Berlin, the Museum of Contemporary Art in Sydney, and the Museum of Contemporary Art in North Miami.
Chrisél Attewell (b. 1994) is a multidisciplinary artist from South Africa. Her work is research-driven and experimental. Inspired by current socio-ecological concerns, Attewell's work explores the nuances in people's connection to the Earth, to other species, and to each other. She works with various mediums, including installation, sculpture, photography, and painting, and prefers natural materials, such as hemp canvas, oil paint, glass, clay, and stone.
She received her BAFA (Fine Arts, Cum Laude) from the University of Pretoria in 2016 and is currently pursuing her MA in Visual Arts at the University of Johannesburg. Her work has been represented locally and internationally in numerous exhibitions, residencies, and art fairs. Attewell was selected as a Sasol New Signatures finalist (2016, 2017) and a Top 100 finalist for the ABSA L'Atelier (2018). Attewell was selected as a 2018 recipient of the Young Female Residency Award, founded by Benon Lutaaya.
Her work was showcased at the 2019 and 2022 Contemporary Istanbul with Berman Contemporary and her latest solo exhibition, titled Sociogenesis: Resilience under Fire, curated by Els van Mourik, was exhibited in 2020 at Berman Contemporary in Johannesburg. Attewell also exhibited at the main section of the 2022 Investec Cape Town Art Fair.
Learn more about the Art in Context Team.