Famous Fashion Photographers – The Best Model Photographers
Model photography is a massive global business, comprising beautiful internationally renowned models, stunning locations, top global brands, iconic fashion photos, and the world's best fashion photographers. These model photographers are in high demand due to their iconic fashion photography that graces magazines and billboards worldwide. Today we will explore the most famous fashion photographers that are largely responsible for the world's best editorial high fashion photography.
Our List of Famous Fashion Photographers
One of the key components in the fashion business nowadays is model photography. Because of this, fashion companies frequently employ professional model photographers. This is because the average photographer does not understand what it takes to create iconic fashion photography. Only the best fashion photographers have the skill set to create the editorial high fashion photography required by the fashion world's prestige publications.
Who are the creators of the world's most iconic fashion photos? Let us find out more by diving right into our list of famous fashion photographers.
Edward Steichen (1879 – 1973)
| | |
| --- | --- |
| Nationality | American |
| Date of Birth | 27 March 1879 |
| Date of Death | 25 March 1973 |
| Place of Birth | Bivange, Luxembourg |
Edward Steichen is regarded as one of the forerunners of contemporary iconic fashion photography and one of the most significant additions to the development of 20th-century photography, even though Baron Adolphe De Meyer is traditionally regarded as one of the earliest fashion photographers. He was a significant figure in the Pictorialist and Photo-Secession movement in the early 1900s before becoming a pioneer in modernist and model photography.
His images captured the fluidity and delicateness of the clothing that characterized the designs and fashions of the 1920s and 1930s.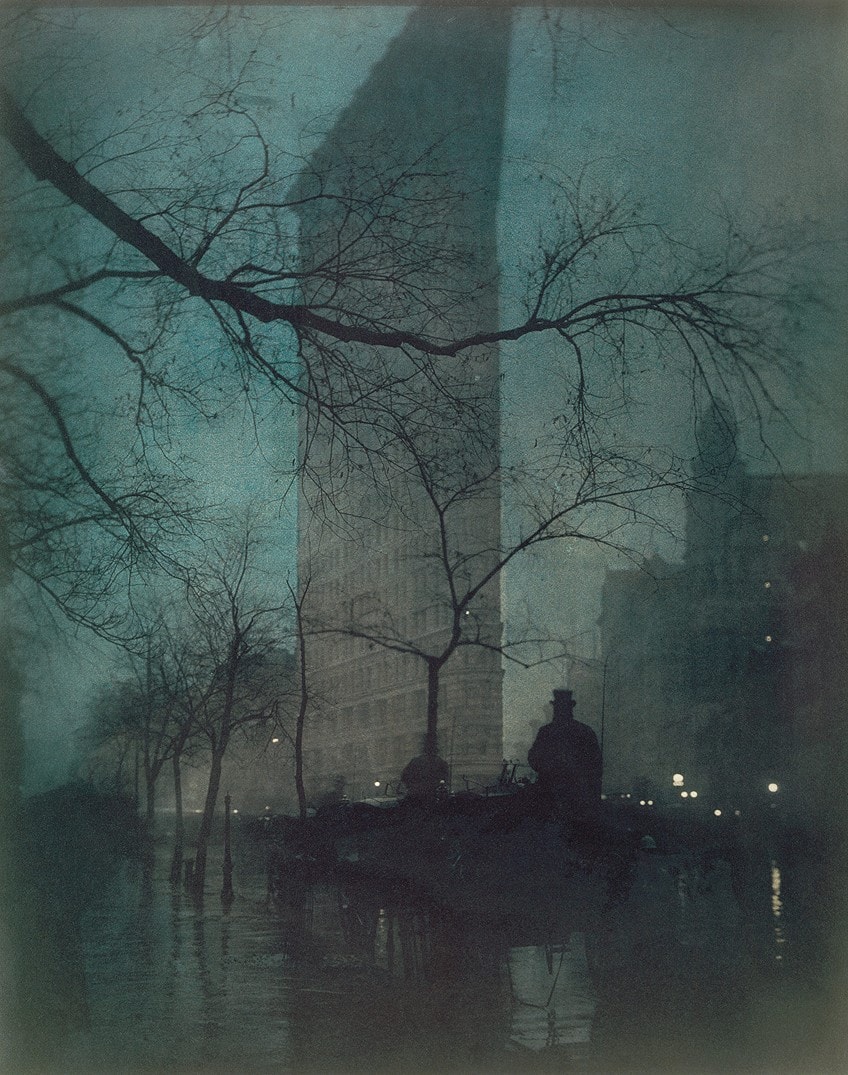 Photograph of the Flatiron Building (1904) by Edward Steichen; Edward Steichen, Public domain, via Wikimedia Commons
By using photography, Steichen created a collection of images of ball dresses created by renowned French fashion designer Paul Poiret to promote fashion as art. For Vanity Fair and Vogue, he also produced several fashion and celebrity photos. His compositions usually put focus on the figure and their attire, enhancing the works' glitz and refinement with elaborate backgrounds and settings.
The technical expertise of Steichen, particularly his command of light, transformed the field of editorial high fashion photography.
George Hoyningen-Huene (1900 – 1968)
| | |
| --- | --- |
| Nationality | Russian-American |
| Date of Birth | 4 September 1900 |
| Date of Death | 12 September 1968 |
| Place of Birth | Saint Petersburg, Russia |
Editor Anna Wintour featured Huene's Divers (1930) with shots by famous fashion photographers Horst P. Horst, Edward Steichen, Lee Miller, and Cecil Beaton when asked to name her favorite Vogue images from the magazine's lengthy history.
George Hoyningen-Huene, who was in his 20s, relocated to Paris where he encountered Man Ray, with whom he worked to produce a collection of fashion images in 1924.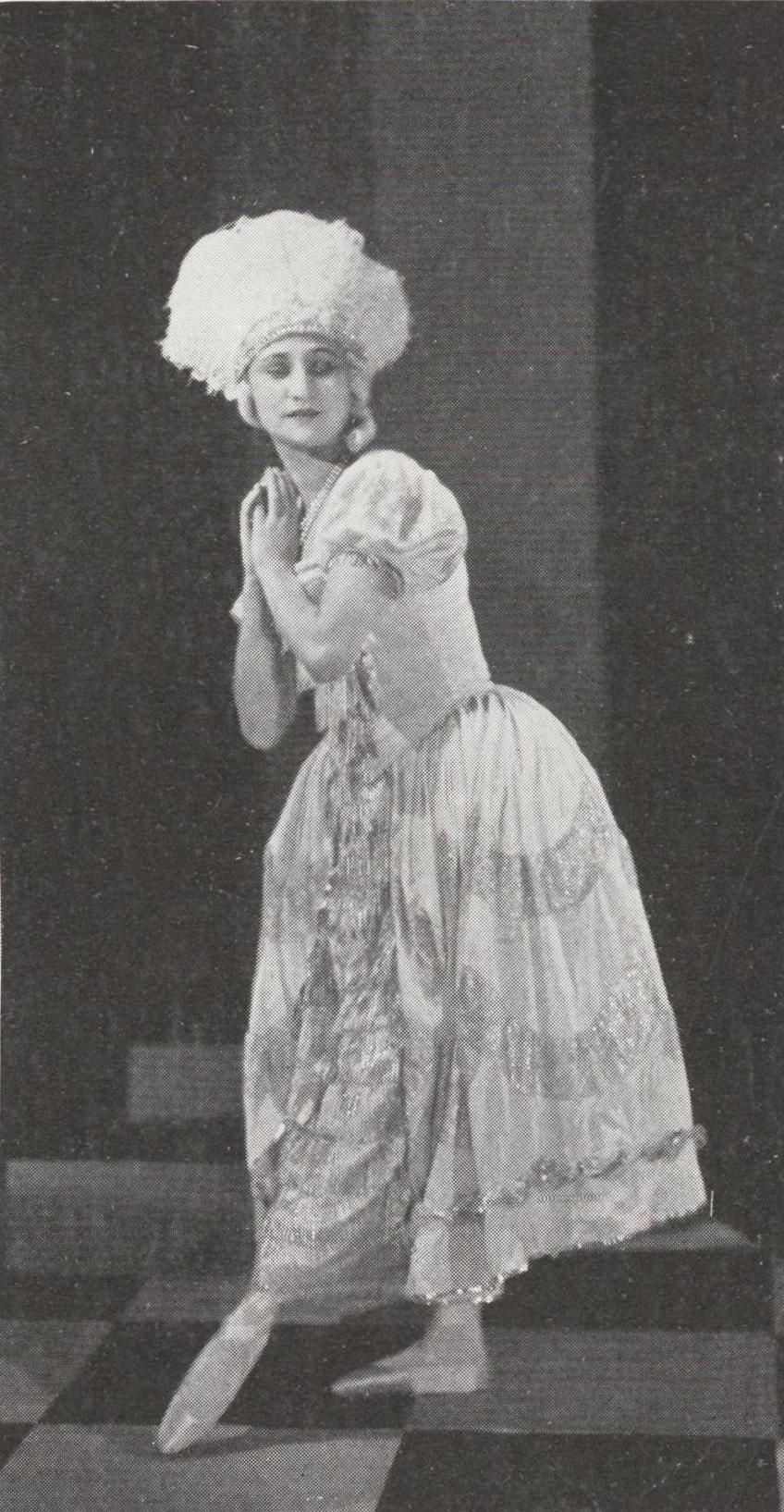 Photograph of Camille Bos in The Priestess of Korydwen at the Opera, taken by George Hoyningen-Huene on 1 March 1927 for the March issue of Vogue; George Hoyningen-Huene, Public domain, via Wikimedia Commons
Salvador Dal, Pablo Picasso, and the Surrealists Jean Cocteau and Paul Éluard were all members of Huene's inner group. He soon progressed to the post of Chief Photographer at the French Vogue after being one of the first to capture the aesthetic of the prominent fashion houses of Paris, such as Chanel, Balenciaga, and the jeweler Cartier. He had a job in Hollywood in 1946.
Some of the most memorable pictures of the Golden Age of Hollywood are Huene's portraits of the cinema stars of the day, including Charlie Chaplin, Ingrid Bergman, Greta Garbo, Ava Gardner, and Katharine Hepburn.
The 1930s and beyond's aesthetic was shaped by George Hoyningen-unrivaled Huene's ability to balance color, form, light, shadow, and the restrained appearance of his paintings. One of the very first fashion photographers to utilize male models in picture sessions, he also produced several timeless photographic works that are included in the collections of renowned institutions across the globe, including the MoMA in New York.
Cecil Beaton (1904 – 1980)
| | |
| --- | --- |
| Nationality | English |
| Date of Birth | 14 January 1904 |
| Date of Death | 18 January 1980 |
| Place of Birth | London, the United Kingdom |
With a solo show in London in 1926, Sir Cecil Beaton began his career as a social and fashion photographer. He soon signed a contract with Vogue and spent the next 30 years there. Beaton spent his entire life being fascinated by glitz and high society, and in 1937 he was appointed court cameraman to the British Royal Family.
In addition, he found success as a stage and costume designer for theatrical and motion picture projects, most particularly for "My Fair Lady" (1956) and "Gigi" (1958), for which he received three Academy Awards for costume and art direction.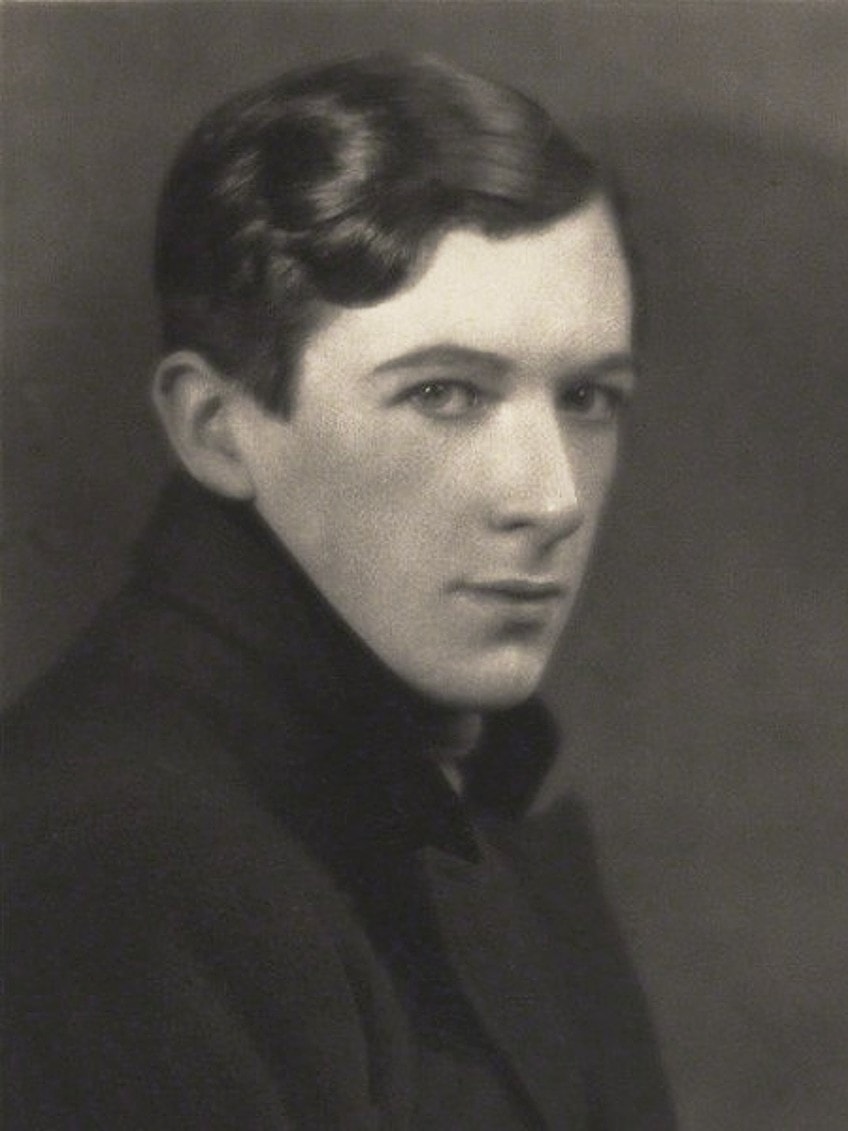 Photograph of Cecil Beaton by James Lafayette, taken in the early 1920s; James Lafayette (1853–1923), Public domain, via Wikimedia Commons
Horst P. Horst (1906 – 1999)
| | |
| --- | --- |
| Nationality | German-American |
| Date of Birth | 14 August 1906 |
| Date of Death | 18 November 1999 |
| Place of Birth | Weißenfels, Germany |
Horst P. Horst, a virtuoso of lighting and composition and one of the German fashion photographers, experimented with revolutionary and surrealist layouts as well as avant-garde methods including double exposures, which led to the creation of some of the most famous fashion photographs ever. Horst met many creative people throughout his work, including Coco Chanel and the fashion photographers Hoyningen-Huene and Cecil Beaton.
Horst had replaced his master Hoyningen-Huene as the main photographer for French "Vogue" by the middle of the 1930s.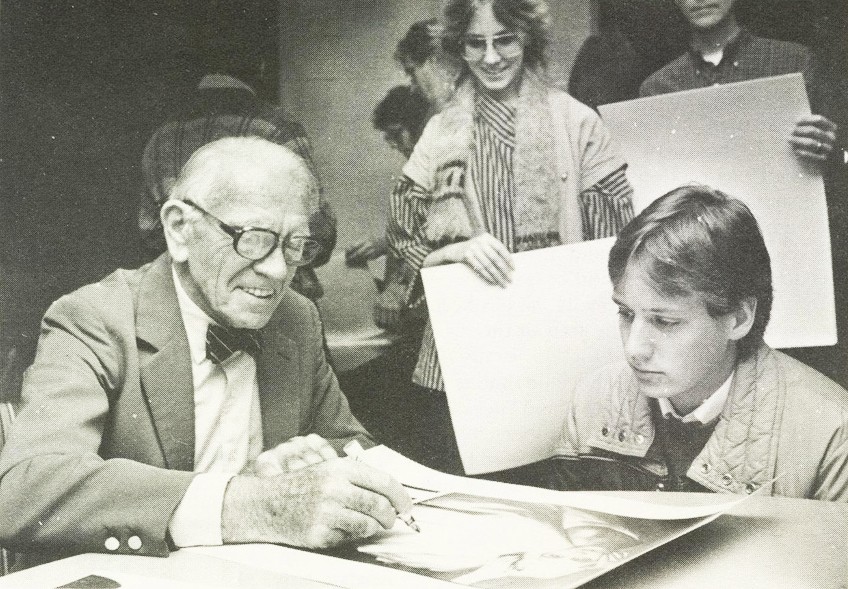 Photographer Horst P. Horst signing autographs in 1984; Rochester Institute of Technology, Public domain, via Wikimedia Commons
The magazine commonly used his photos in its British, French, and American editions. Horst first collaborated with Salvador Dali in the 1930s when he dabbled with surrealism by shooting his friend Elsa Schiaparelli's bizarre clothing ideas. Horst's most famous image is Mainbocher Corset, which was captured in 1939 in the Paris Vogue studios on the eve of World War II.
In fact, Horst immigrated to America the following morning in order to flee the looming battle. There, he began working for American "Vogue", where he would spend the remainder of his life.
Lee Miller (1907 – 1977)
| | |
| --- | --- |
| Nationality | American |
| Date of Birth | 23 April 1907 |
| Date of Death | 21 July 1977 |
| Place of Birth | Poughkeepsie, United States |
A woman has arrived at last! Lee Miller was among the most significant model photographers of the 20th century in addition to being a WWII reporter for Vogue. In the history of iconic fashion photography, her fashionable self-portraits, in which she acted as both a subject and a photographer, are exceptional.
Vanity Fair would name her one of the "most outstanding living photographers" just a few years after she first took up a camera.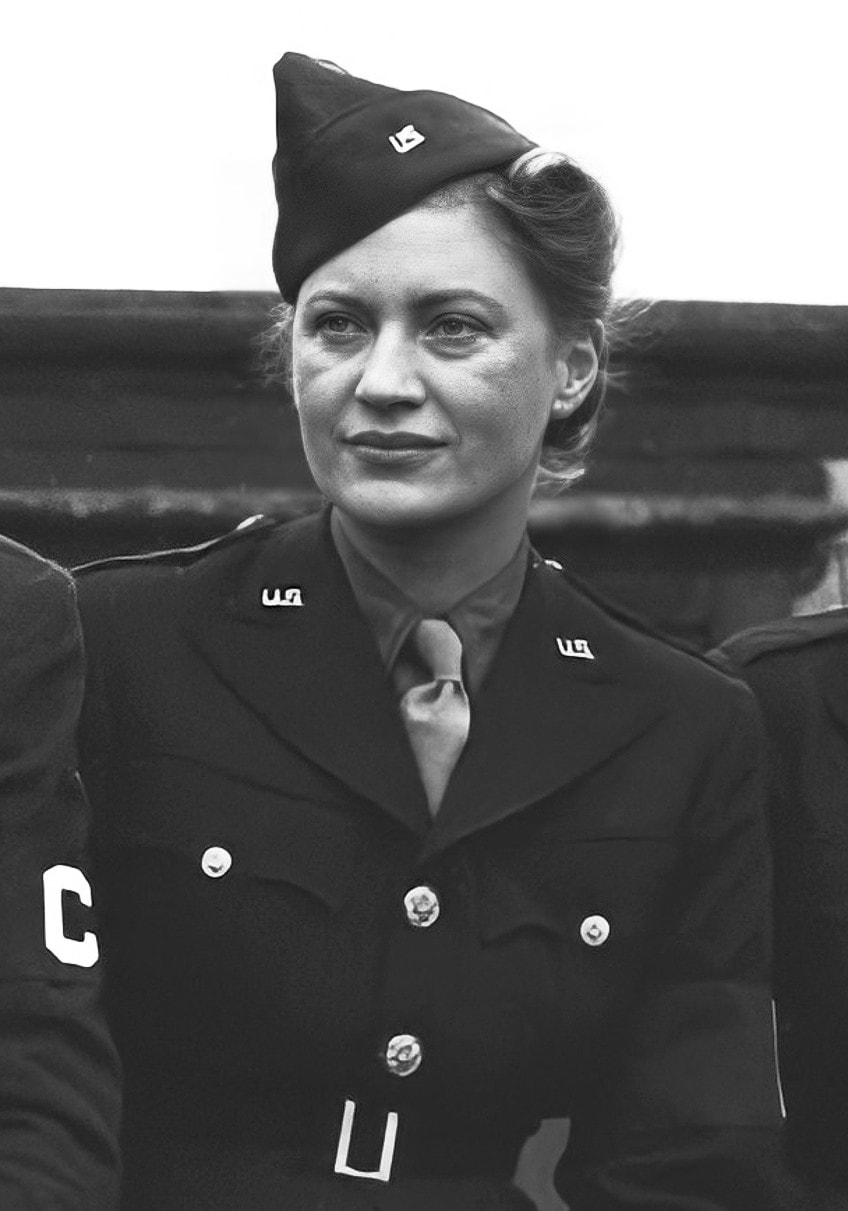 Photograph of female war correspondent Lee Miller taken in 1943. Miller covered the U.S. Army in the European Theater during World War II (U.S. Army Center of Military History); U.S. Army Official Photograph, CC BY-SA 4.0, via Wikimedia Commons
Under the guidance of her partner, Man Ray, Miller developed into a well-known Surrealist. She then joined the military effort during World War II and documented everything. The fashion industry comes to light as the foundation of Miller's creative growth and a crucial prism through which to view the impacts of war on the lifestyles of women in the 1940s and 1950s.
Miller documented remarkable acts of fashion-inspired resistance, and her images of women's unflinching spirit—even during war—remain a vital part of both fashion and world history.
Norman Parkinson (1913 – 1990)
| | |
| --- | --- |
| Nationality | English |
| Date of Birth | 21 April 1913 |
| Date of Death | 15 February 1990 |
| Place of Birth | London, the United Kingdom |
As Norman Parkinson likes to call himself, he is "the most obscure of famous fashion photographers." In comparison to the studio sessions of modern model photographers, this British photographer, who is barely known in France, reinvented iconic fashion photography from the 1950s to the 1970s by taking it outside.
Instead of being placed as plain clothes hangers for the clothing items, models are made to appear alive, sensuous, and enhanced by breathtaking landscapes. Parkinson added a relaxed and informal elegance to portrait and fashion photography that went beyond the severe formality of his forebears.
He became the go-to photographer for musicians, presidents, superstars, and prime ministers thanks to his images, which ushered in the era of the supermodel.
Photographing the British Royal Family both in private and public, as well as notable individuals from the theater, music, and film industries including The Beatles, Audrey Hepburn, Twiggy, David Bowie, Grace Coddington, Iman, Jerry Hall, and numerous more, he was a constant presence at historic events. Parkinson's photos have a reputation for being expertly crafted and fusing grace with British charm.
His work is frequently featured in magazines like "Vogue" and "Harper's Bazaar".
Irving Penn (1917 – 2009)
| | |
| --- | --- |
| Nationality | American |
| Date of Birth | 16 June 1917 |
| Date of Death | 7 October 2009 |
| Place of Birth | Plainfield, the United States |
By joining the staff of Vogue magazine just before the 1950s, Irving Penn redefined American iconic fashion photos following World War II. He changed the opulent backgrounds that had traditionally dominated the art of model photography in the 1940s by employing white paper backdrops and dramatic compositions to highlight form.
The fashion photographer solely took pictures in studios and used the clothing as his only background and accessories.
Photograph of Russian ballerina Altynai Asylmuratova, taken by Irving Penn in 1990; Неизвестно, CC BY-SA 4.0, via Wikimedia Commons
He captured images of numerous well-known figures in the art and fashion worlds, including Picasso, Woody Allen, and Yves Saint Laurent. His ability to capture a genuine connection with the model in his photos was the key to his success. From 1950 to 1995, Penn also took pictures for the publication in Paris of the haute couture ensembles in addition to those taken in the studio.
Till the end of his life, Penn created enduring and iconic fashion photos using a surprising array of designs and styles against the same stage curtain that was purchased for him in Paris in 1950.
Helmut Newton (1920 – 2004)
| | |
| --- | --- |
| Nationality | German |
| Date of Birth | 31 October 1920 |
| Date of Death | 23 January 2004 |
| Place of Birth | Berlin, Germany |
Helmut Newton, who was born in Berlin in 1920 to a Jewish family, obtained his first camera when he was 12 years old. He frequently neglected his academic pursuits in favor of photography. In 1938, just after Kristallnacht, he left the growing Nazi persecution in Germany. He worked in Australia and Singapore throughout World War II, spending some time in the Australian army. In the 1950s, he later started a photographic studio and relocated to Europe.
He started working in Paris for French Vogue in the 1950s and 1960s as his fame rose, progressing to "Playboy", "Harper's Bazaar", "Elle", and other magazines while regularly touring the globe for assignments.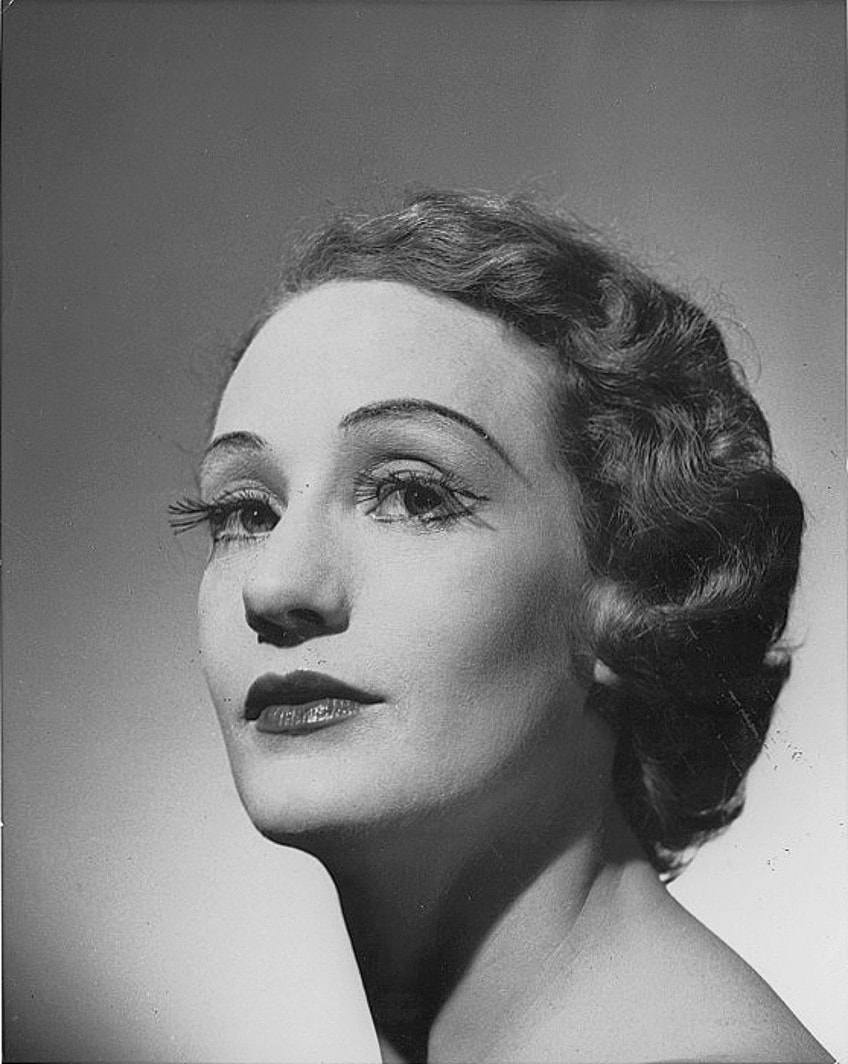 Portrait of Laurel Martyn, taken by Helmut Newton in 1952; Helmut Newton, Public domain, via Wikimedia Commons
Newton's work has been described as intense and transgressive, integrating themes of dominance and submission, sexual exploitation, violent behavior, and stubbornly overt sexuality into the tales of his images that represented models as masculine or feminine, or a distorting of the two.
Newton is recognized for the spectacular lighting and the unorthodox postures of the subjects in his photographs.
While primarily working for French Vogue in the 1970s, he initially attained an international reputation; throughout the years, his notoriety and influence rose. Instead of shooting in studios, he liked to capture models in contentious situations in interiors or on the streets. His distinctive style evolved into one of spectacular compositions and bold lighting.
Richard Avedon (1923 – 2004)
| | |
| --- | --- |
| Nationality | American |
| Date of Birth | 15 May 1923 |
| Date of Death | 1 October 2004 |
| Place of Birth | New York, the United States |
One of the best fashion photographers of the post-war period, Richard Avedon's iconic photographs contributed to the development of the American perception of fashion, beauty, and culture during the second half of the 20th century.
Avedon started working as a freelance photographer at the age of 22, largely for "Harper's Bazaar". He took pictures of models when they were out in public after the magazine at first refused to let him use a studio.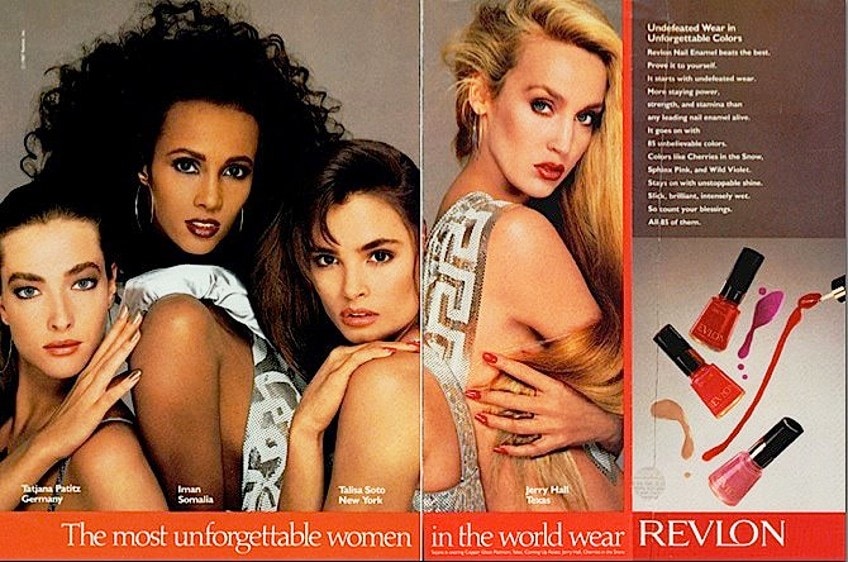 Photograph for a Revlon advertisement by Richard Avedon, taken 20 August 1985; Photograph by Richard Avedon, Hand-enameled Chainmail by Douglas Ferguson, Public domain, via Wikimedia Commons
His models were often positioned in glamorous, stereotypically French settings like nightclubs and cafés in his photographs from this time, which were frequently shot in and around Paris. Avedon brought a distinctively American spirit to France, where he soon established a reputation for his ability to capture clothing in novel and creative ways.
He has one of the most significant and impactful contributions to photography, especially in the areas of glamour and portraiture.
From the 1940s until his passing in 2004 he was in high demand due to his elegance, originality, and penetrating eye. The time saw Avedon play a significant role in shaping and defining American visual culture, equal in importance to his great opponent, Irving Penn. Avedon was so well-known by 1957 that Audrey Hepburn and Fred Astaire's character, Dick Avery, in the film Funny Face, which was released the same year, was based on him. Astaire portrayed Avery in the movie, which focused on Avedon's early career.
Guy Bourdin (1928 – 1991)
| | |
| --- | --- |
| Nationality | French |
| Date of Birth | 2 December 1928 |
| Date of Death | 29 March 1991 |
| Place of Birth | Paris, France |
Guy Bourdin, one of the fashion photographers, was born in France in 1928 and is best known for his very experimental work. From 1955 until the end of the 1980s, Bourdin, who primarily worked in color, was a significant contributor to French Vogue, pushing the boundaries of fashion photography and presenting bold, frequently provocative images with a distinctive and personal aesthetic. He did this by exploring the spaces between the ridiculous and the sublime.
Bourdin was originally a painter who became famous for his provocative stories and surreal aesthetics. His obsessive perfectionism fundamentally altered the rules of commercial photography.
Bourdin was also a major fan of Alfred Hitchcock's MacGuffin method, which used images to create murder scenes while erasing all conventional standards of morality and beauty. His strong friendship with Man Ray, who produced the catalog forward for Bourdin's debut solo show in 1952, is sometimes seen as the source of the Surrealist influence in his work.
Over the course of his more than 40-year career, Bourdin worked for some of the top fashion firms and periodicals on the planet.
David Bailey (1938 – Present)
| | |
| --- | --- |
| Nationality | English |
| Date of Birth | 2 January 1938 |
| Date of Death | NA |
| Place of Birth | Leytonstone, United Kingdom |
Fashion photographer David Bailey, who is regarded as one of the forerunners of current photography, is recognized for taking some of the most powerful pictures during the past 50 years. Bailey became interested in Henri Cartier-photography Bresson's while serving in the Royal Air Force.
His 1960 appointment to British "Vogue" marked his first formal entry into the field of fashion photography.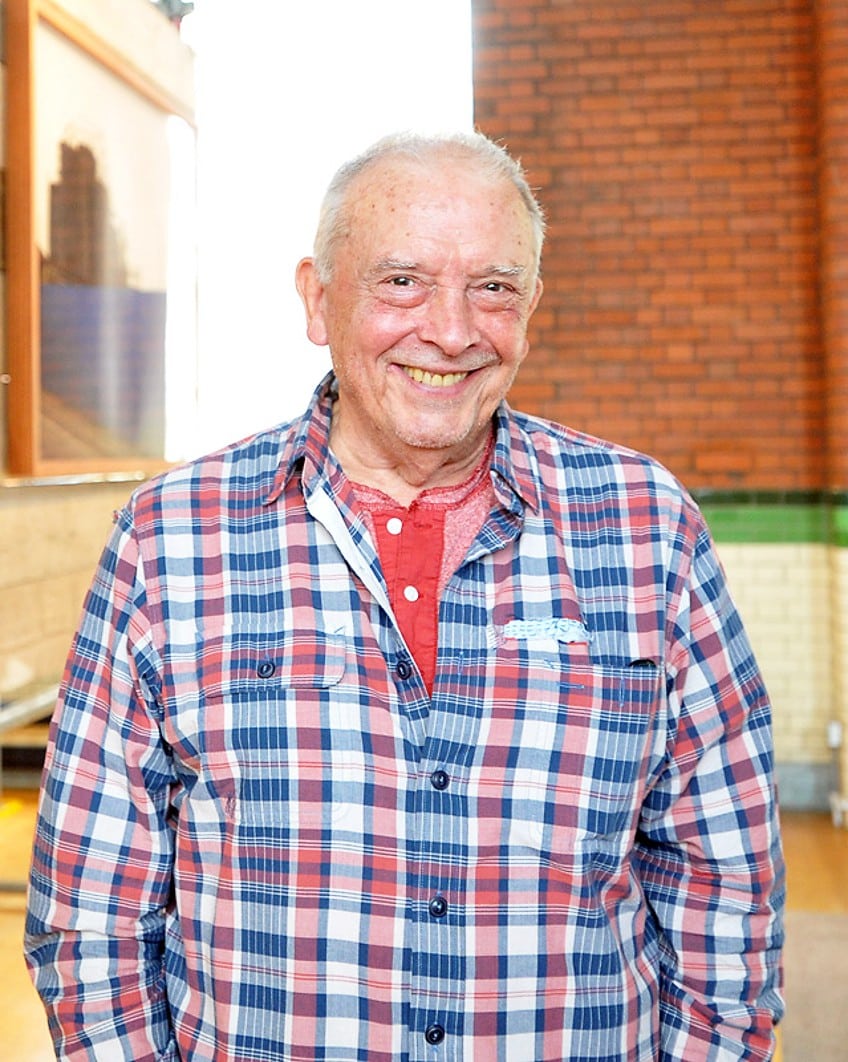 Portrait of British photographer David Bailey at the opening of his East End exhibition in 2012; Ben Broomfield, CC BY-SA 3.0, via Wikimedia Commons
For more than 15 years, he stayed connected to the magazine, first as a member of the staff and subsequently as a freelancer. The artist attracted media attention during the 1960s and 1970s as a result of a run of high-profile unions with Catherine Deneuve, Jean Shrimpton, and Marie Helvin. It's noteworthy to note that Bailey served as inspiration for the role of a London professional photographer played by David Hemmings in the 1966 Michelangelo Antonioni film, Blowup.
He ushered in a new era of fashion photography with his use of stark black and white backdrops, sharply cropped images, and precise lighting.
Steven Meisel (1954 – Present)
| | |
| --- | --- |
| Nationality | American |
| Date of Birth | 5 June 1954 |
| Date of Death | NA |
| Place of Birth | New York, the United States |
Steven Meisel, who is renowned for his avant-garde, arresting, and thought-provoking fashion images, worked with some of the biggest names in the industry before securing the exclusive right to photograph Italian Vogue covers starting in 1988. His images are notable for the way they convey his admiration of feminine elegance and the sensuality that emanates from it. Meisel found and made well-known several significant supermodels, makeup artists, and fashion designers while primarily working for the Italian and American editions of Vogue.
These individuals included Naomi Campbell, Christy Turlington, Ross Van Der Heide, and Laura Mercier.
It should be mentioned that one of the highlights of this photographer's career was his work with Madonna. He has always been intrigued by beauty and models, as seen by his ardent passion for drawing ladies in a notebook, which for most of his boyhood, served as a substitute for all toys. His illustrations were inspired by publications like Harper's Bazaar and Vogue.
Steven developed an obsession with models like Veruschka, Twiggy, and Jean Shrimpton as a result of these publications.
When he was 12 years of age, Meisel recruited several older pals to phone modeling agencies and pose as Richard Avedon's secretary to meet some well-known models. Meisel came upon Twiggy in this manner when he was waiting for her to show up at a phony rendezvous outside Melvin Sokolsky's studio.
Petra Collins (1992 – Present)
| | |
| --- | --- |
| Nationality | Canadian |
| Date of Birth | 21 December 1992 |
| Date of Death | NA |
| Place of Birth | Toronto, Canada |
Petra Collins, a Canadian artist, photographer, fashion model, and actor, was born on December 21, 1992. She first gained notoriety in the early 2010s. Her approach to the female gaze has some influence on the feminine, dreamy quality of her photographs. In high school, Collins started snapping photos.
While helping Richard Kern on a shoot, she got to know him, and he ended up mentoring her.
Collins simultaneously started to appear often in Ryan McGinley's photographs and later on developed into one of his protégés. Collins made her first forays into the art world by participating in exhibitions of her work and organizing exhibitions that included The Ardorous, her art collective.
That wraps up our look at the world's best fashion photographers. With their unique take on editorial high fashion photography, they have risen to the ranks of the most famous fashion photographers in the world! As we have seen, iconic fashion photography is not easy to produce, and these famous model photographers deserve to be placed in the spotlight for a change, instead of just behind the cameras.
Take a look at our fashion photographers webstory here!
Frequently Asked Questions
What Do Fashion Photographers Do?
The way clothing is shown in commercials, catalogs, and fashion periodicals is the work of fashion photographers. To make sure they are projecting the ideal image for the company, they collaborate closely with designers and fashion companies. They may work in studios or do location shooting.
Can Anyone Become a Model Photographer?
As with all skill sets, learning to become a fashion photographer takes time. Yet, it is easier to start trying your hand at model photography than ever before! Everyone has a camera on their phone, so start playing around first and see if it really interests you.
Jordan Anthony is a film photographer, curator, and arts writer based in Cape Town, South Africa. Anthony schooled in Durban and graduated from the University of the Witwatersrand, Johannesburg, with a Bachelor of Art in Fine Arts. During her studies, she explored additional electives in archaeology and psychology, while focusing on themes such as healing, identity, dreams, and intuitive creation in her Contemporary art practice. She has since worked and collaborated with various professionals in the local art industry, including the KZNSA Gallery in Durban (with Strauss & Co.), Turbine Art Fair (via overheard in the gallery), and the Wits Art Museum.
Anthony's interests include subjects and themes related to philosophy, memory, and esotericism. Her personal photography archive traces her exploration of film through abstract manipulations of color, portraiture, candid photography, and urban landscapes. Her favorite art movements include Surrealism and Fluxus, as well as art produced by ancient civilizations. Anthony's earliest encounters with art began in childhood with a book on Salvador Dalí and imagery from old recipe books, medical books, and religious literature. She also enjoys the allure of found objects, brown noise, and constellations.
Learn more about Jordan Anthony and the Art in Context Team.
Cite this Article