Famous Street Photographers – Looking at the Best Urban Photographers
Street photography is among the most complex and intriguing photographic genres. The best street photography taps into collective psyches, covering many topics, from moments of anguish and suffering, a world catastrophe, regular human contact in our civilization, or even a snapshot of everyday existence. Urban photographers capture moments we take for granted and elevate them to art. In this article, we shall be exploring famous street photographers and their dynamic street portraiture photography.
Famous Street Photographers Throughout History
The beauty of ordinary life is captured in street photography. The best street photographers display a certain level of improvisation. It is a manner of looking at the world in which we live. Let us take a deeper look at our list of top famous street photographers.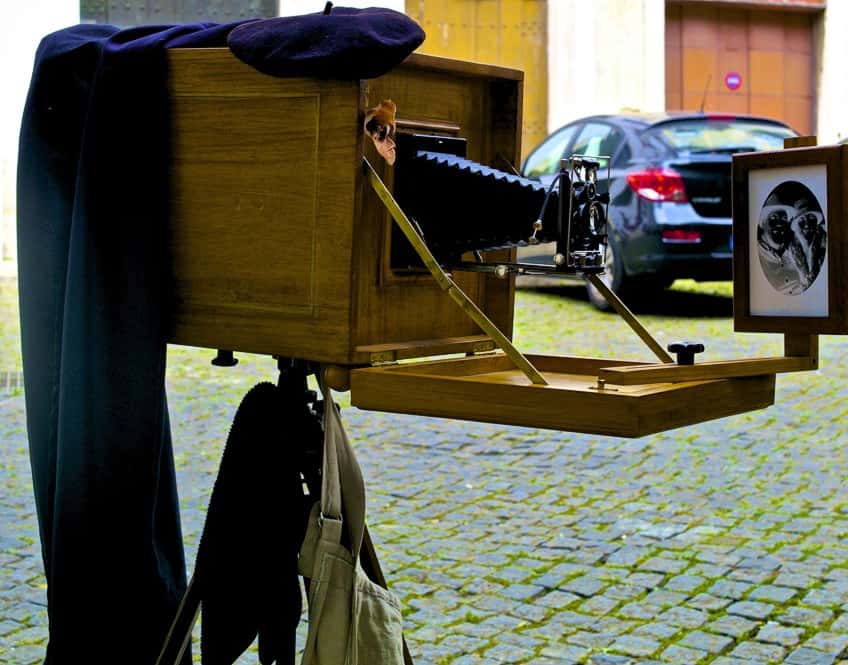 The photographic equipment of a street photographer; Pedro Ribeiro Simões from Lisboa, Portugal, CC BY 2.0, via Wikimedia Commons
André Kertész (1894 – 1985)
| | |
| --- | --- |
| Nationality | Hungarian |
| Date of Birth | 2 July 1894 |
| Date of Death | 28 September 1985 |
| Place of Birth | Hungary |
André Kertész was one of the urban photographers from Hungary who rose to prominence as one of the medium's most prominent pioneers. "I merely stroll about, viewing the object from various perspectives until the image parts organize themselves into an arrangement that impresses my eye," he famously said, emphasizing the emotional impact above technique.
Kertész is well recognized for his contribution to photojournalism, in which he used highly dynamic setups in his renowned photo essays.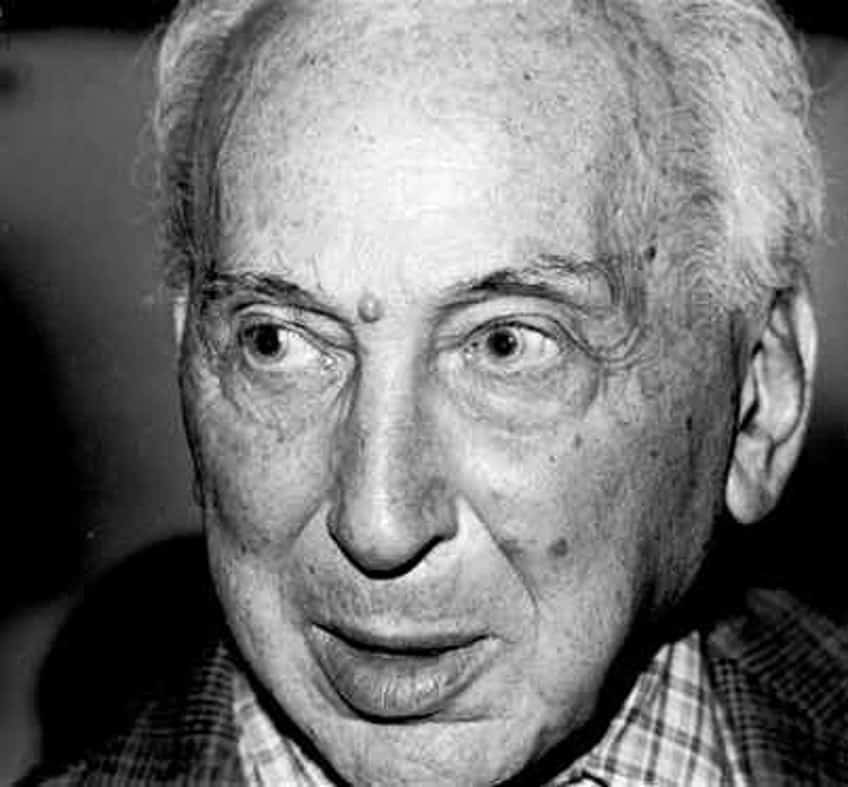 Andre Kertész in the New York Public Library, 1982; Arpadi at English Wikipedia, Public domain, via Wikimedia Commons
He exhibited notable compassion for the subjects in his street portraiture photography, putting aside political or societal preconceptions regardless of who he photographed. Kertész Andor was born on the 2nd of July, 1894 in Budapest, Austria-Hungary, into a Jewish middle-class family. Despite his family's expectations that he would follow a commercial career, he finally relocated to Paris and fell in love with its bohemian lifestyle.
He met Sergei Eisenstein, Piet Mondrian, and many other Dadaists around the mid-1920s.
Kertész later relocated to North America, where he worked for publications such as Harper's Bazaar, Vogue, and House & Garden, as well as presenting solo exhibits in 1946 at the Art Institute of Chicago and again in 1964 at The Museum of Modern Art in New York.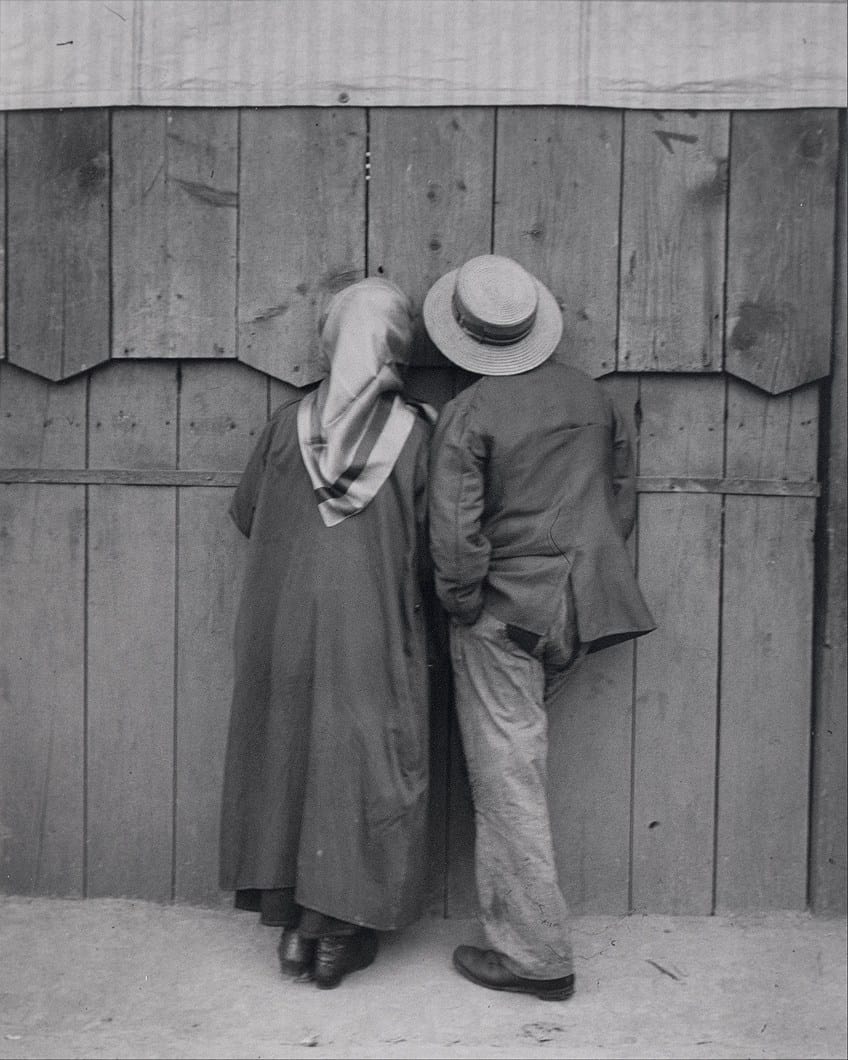 Circus, Budapest, 19 May 1920 (1920) by Andre Kertész; Denver Art Museum, Public domain, via Wikimedia Commons
He captured images on the sidewalks of Paris and New York. He experimented with unusual camera angles and distorting. Despite the fact that he inspired many 20th-century photographers, notably Cartier-Bresson, Kertész felt undervalued. His artwork was on the cutting edge of photography as a form of art.
Critics at the time had difficulty categorizing photography in general. Kertész's photography, in particular, as well as other types of visual art.
Henri Cartier-Bresson (1908 – 2004)
| | |
| --- | --- |
| Nationality | French |
| Date of Birth | 22 August 1908 |
| Date of Death | 3 August 2004 |
| Place of Birth | Chanteloup-en-Brie, France |
Henri Cartier-Bresson's lyrical documentary approach has instinctively captured crucial events in human existence all around the world. In terms of the exact visual arrangement, his images endow spontaneous events with significance, mystery, and comedy, and his work, while extremely difficult to reproduce, has impacted many other photographers.
His images may be described in a single phrase: "the decisive moment" – that wonderful moment when the universe comes into seeming order and significance and can be captured by a skilled photographer.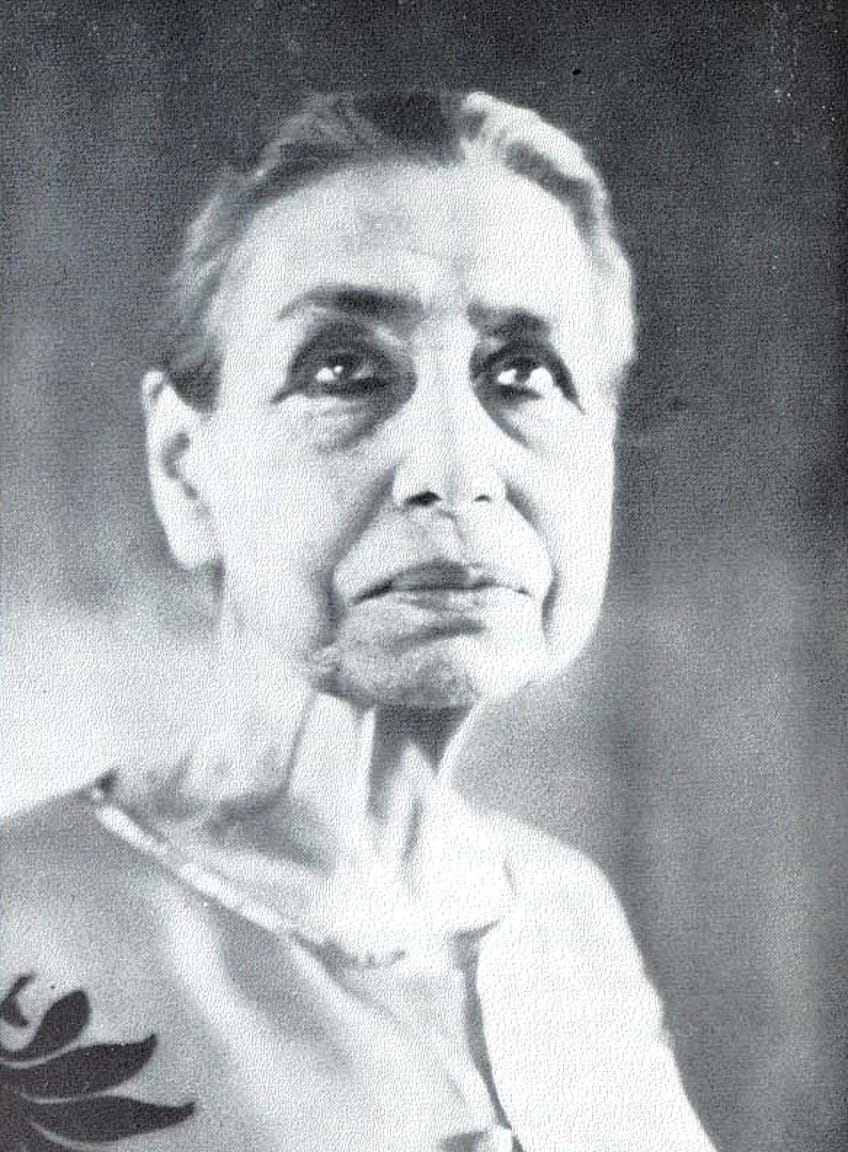 A photograph of Mirra Alfassa, commonly referred to as "The Mother", taken by Henri Cartier-Bresson; Henri Cartier Bresson, Public domain, via Wikimedia Commons
Cartier-Bresson grew up in Chanteloup and attended Cambridge University from 1928 to 1929. He began photography in 1931 and bought his first Leica camera in 1933. The next year, he attended an anthropological journey to Mexico, and in 1935, he learned cinematography with Paul Strand.
In 1936 and 1939, he worked as an assistant to Jean Renoir, and in 1937, he directed his own documentary, "La Retour", or "The Return".
In 1940, he was enlisted into the French military's film and photography section and was taken captive by the Germans the following year. He broke free after three years in prison and started working for the French underground.
In 1943, he completed a sequence of portraits of painters such as Pierre Bonnard, Henri Matisse, and Georges Braque.
Cartier-Bresson shot the capture and liberation of France in 1944 and 1945. He co-founded the Magnum agency with David Seymour, Robert Capa, and George Rodger in 1947, and he spent the following 20 years exploring the world.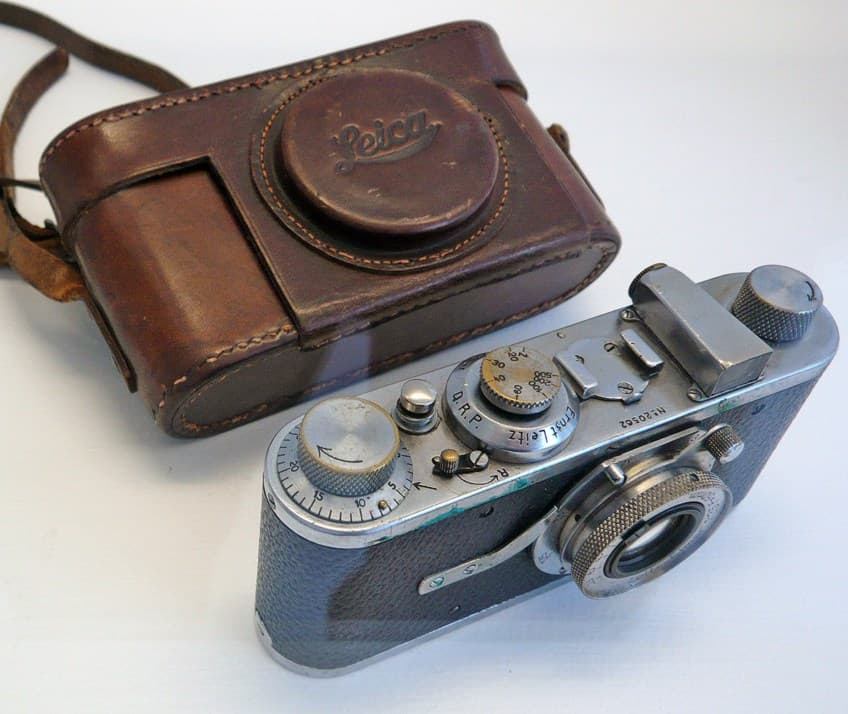 Henri Cartier-Bresson's first Leica (model Leica I); Les Hotels Paris Rive Gauche – AlainB, CC BY-SA 2.0, via Wikimedia Commons
Robert Doisneau (1912 – 1994)
| | |
| --- | --- |
| Nationality | French |
| Date of Birth | 14 April 1912 |
| Date of Death | 1 April 1994 |
| Place of Birth | Gentilly, France |
Robert Doisneau's photography was focused on capturing genuine street scenes. He preferred life's strange juxtapositions and beautiful moments. Doisneau, a timid gentleman, began by photographing features of the street itself. He then shot youngsters before moving on to adults. This urban photographer was born in Gentilly, a Paris suburb, in 1922. After an unremarkable childhood behind the walls of a traditional middle-class household, Robert was 15 when he enrolled in the Estienne School of Art in Paris and started developing medicine box labels.
In 1931, he worked as a camera technician at André Vigneau's studios, where he discovered artistic channels that would inspire him.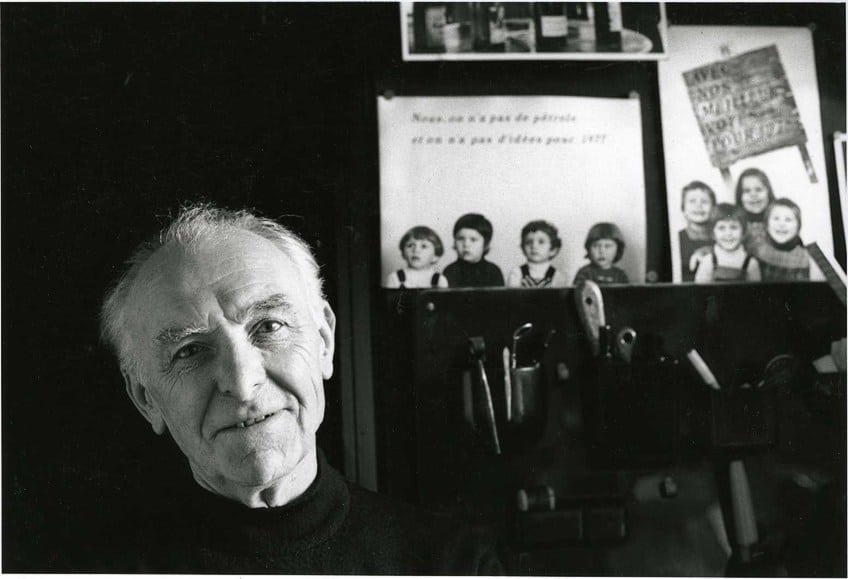 French photographer Robert Doisneau, photographed by Bracha L. Ettinger in his studio in Montrouge, 1992; Bracha L. Ettinger, CC BY-SA 2.5, via Wikimedia Commons
The four years he spent shooting for Renault's advertising department, where he was sacked for being consistently late, led him to the appealing job of independent photographer. World War II broke out soon after, putting a halt to his plans.
Later, amid the Parisian post-war euphoria, he hoarded the images that would be met with tremendous success, adamantly traveling where "there is nothing to see," selecting stealthy places; little joys illuminated by the reflections of sun rays on the city's asphalt.
He passed in April 1994, leaving behind 450,000 pictures that tell an amusing tale of his life with a compassionate and watchful eye that must not conceal the depth of his ideas, his scornful attitude toward authority and power, and his constantly free-thinking mind.
Saul Leiter (1923 – 2013)
| | |
| --- | --- |
| Nationality | American |
| Date of Birth | 3 December 1923 |
| Date of Death | 26 November 2013 |
| Place of Birth | Pittsburgh, Pennsylvania |
As a youngster in Pittsburgh, the American artist Saul Leiter grew fascinated by photography and painting. After relocating to New York City in 1946, his vivid imagination and constant attention to artistic practice propelled him to become one of the mid-20th century's most famous street photographers.
He was a lifelong scholar of the art of all types due to an instinctive natural curiosity, and he maintained his spirit of discovery and improvisation throughout his lengthy career, in both his fashion photographs and his personal works.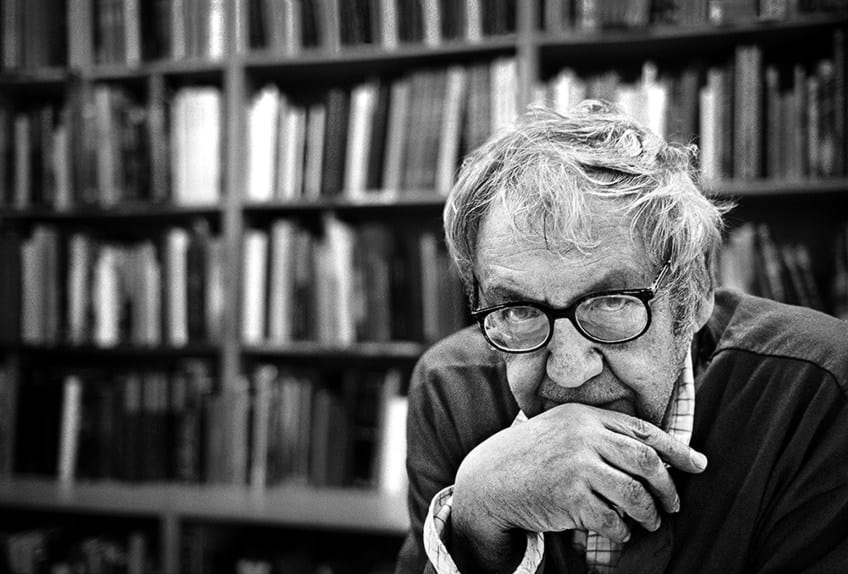 Saul Leiter in New York, 2008; Pierre Belhassen, CC BY-SA 4.0, via Wikimedia Commons
In the late 1940s, Leiter started to experiment with color photography in New York, using materials such as Kodachrome. Early Color, his debut book, was published in 2006 and featured radically creative compositions and a pioneering command of color that forever transformed the annals of photography.
Despite his occasional defense of the employment of color in fine-art photography, Leiter refused to explain or justify his own works. Leiter stated, "I don't even have a philosophy – I've got a camera." Leiter's extensive black-and-white works, many of which he printed himself, exhibit an equally aggressive compositional technique, frequently shifting the focus from forefront to background and experimenting with shadow and reflected interactions.
These photos, like Leiter's color shots, draw curiosity and emotion from commonplace scenes. Though Leiter is most known for his photography, he describes painting as his first love.
Diane Arbus (1923 – 1971)
| | |
| --- | --- |
| Nationality | American |
| Date of Birth | 14 March 1923 |
| Date of Death | 26 July 1971 |
| Place of Birth | Manhattan, New York |
Arbus' style is described as "A frontal portrait in a square shape, straight and uncomplicated. Her innovative use of flash in daytime separated the people from the background, adding to the dreamlike character of the images."
Her techniques included developing close personal contact with her subject and re-photographing some of them over time.
Despite being frequently published and receiving some aesthetic appreciation, Arbus found it difficult to maintain herself via her work. "There was no demand for collecting pictures as works of art during her lifetime, and her prints generally sold for $100 or less." Her letters show that money was a constant source of stress and worry for her.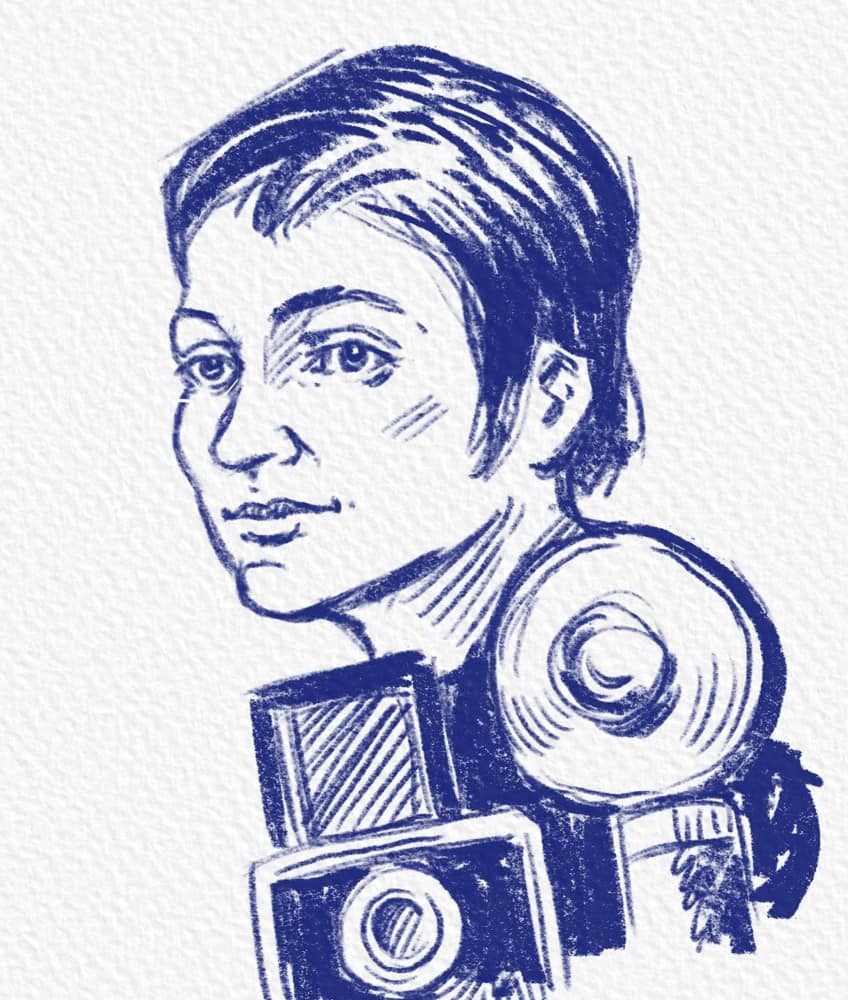 A picture of Diane Arbus after a photograph from Roz Kelly, late 1960s; Fduriez, CC BY-SA 4.0, via Wikimedia Commons
It has been argued that Arbus' photography had such an impact on other photographers that it is difficult to remember how unique it was. She has been described as a fundamental figure in contemporary photography and has had an impact on three generations of photographers, and she is largely regarded as one of the 20th century's most significant artists. She shot her people in familiar surroundings, such as their homes, streets, workplaces, and parks. She is known for pushing the boundaries of acceptable subject matter and breaking rules about the proper distance between photographers and subjects.
She was able to achieve a remarkable psychological depth in her work by embracing rather than objectifying her subjects.
Robert Frank (1924 – 2019)
| | |
| --- | --- |
| Nationality | Swiss |
| Date of Birth | 9 November 1924 |
| Date of Death | 9 September 2019 |
| Place of Birth | Zürich, Switzerland |
Robert Frank started to study photography in 1941 and worked for professional photography and graphic design firms in Geneva, Zurich, and Basel for the following six years. He traveled to America in 1947, when he was hired by Alexey Brodovitch to take fashion photographs for Harper's Bazaar. Although a few journals praised Frank's unconventional use of the 35mm Leica for design work, he loathed the confines of fashion magazines and left a few months later. Between 1950 and 1955, he worked as a freelance photographer for Look, LIFE, Charm, Vogue, and other magazines.
He also garnered support from notable New York artists such as Walker Evans, Franz Kline, Willem de Kooning, and Edward Steichen, who became a powerful American champion of Frank's photography.
Evans recommended him to seek a Guggenheim Fellowship, which allowed him to travel throughout the country in 1955 and 1956, photographing for his most successful book, The Americans, which was published in 1957. After its release in the United States in 1959, he spent an increasing amount of time creating films that exemplified the avant-garde filmmaking of the time.
Since 1970, Frank has split his time between Nova Scotia and New York, producing still images as well as videos. The Americans was among the most innovative books in photographic history, and its release in the U. S. ignited debate.
Most Americans who saw it at the time were caught aback by Frank's caustic depiction of American society and his casual attitude toward traditional photography.
Vivian Maier (1926 – 2009)
| | |
| --- | --- |
| Nationality | American |
| Date of Birth | 1 February 1926 |
| Date of Death | 21 April 2009 |
| Place of Birth | New York, New York |
Vivian could be depended on to vehemently espouse her own highly liberal perspective to everyone who listened or didn't. Vivian, who was not very materialistic, would come to build a collection of storage lockers filled to the brim with discovered artifacts, art publications, news cuttings, home videos, and knickknacks.
The narrative of this nanny, who has now stunned the globe with her photography and, by chance, caught some of the most fascinating marvels and eccentricities of urban America in the last half of the 20th century, appears to be beyond imagination.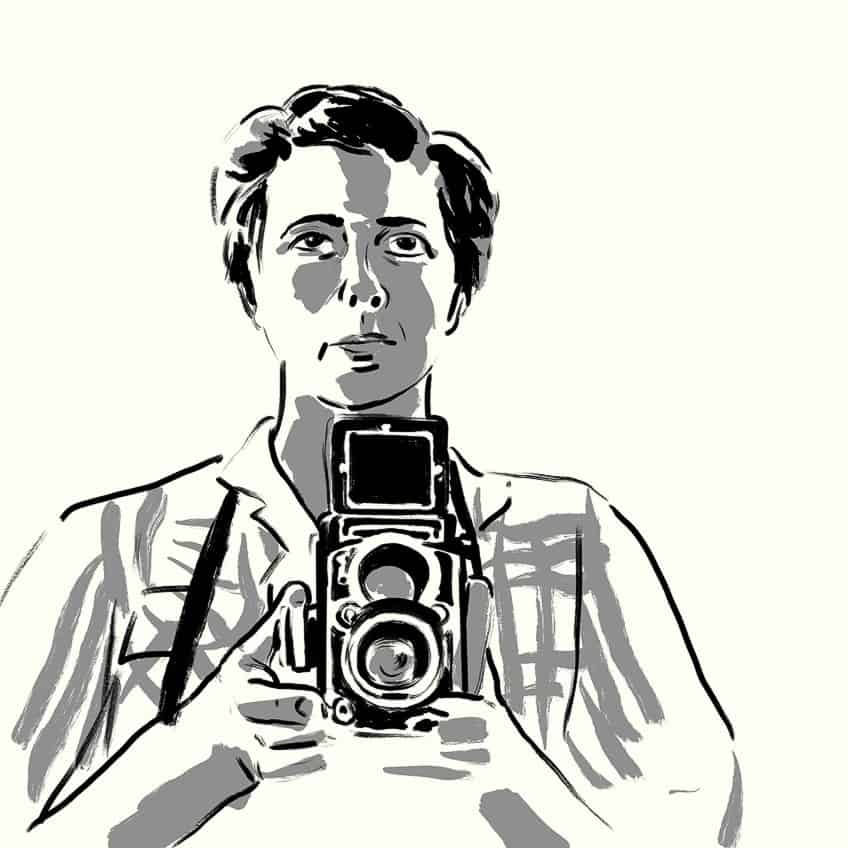 Portrait of Vivian Maier, photographer; Aureliamoz, CC BY-SA 4.0, via Wikimedia Commons
Vivian moved across Europe and North America before she returned to New York City in 1951. She'd taken up photography only two years before, and she'd scoured the streets of New York, honing her creative skills. By 1956, Vivian had left for Chicago, where she would serve as a caretaker for the remainder of her life. In her spare time, Vivian would take images that she carefully concealed from prying eyes.
Maier left behind a corpus of work consisting of over 100,000 negatives after taking photographs throughout the late 1990s.
Vivian's love for documenting also included a series of homemade documentary videos and sound files. Maier's huge corpus of work would be found in 2007 at a local thrift auction business on Chicago's Northwest Side. It would ultimately have an influence all around the world and impact the life of the person who promoted her works and introduced them to the public's attention, John Maloof.
Garry Winogrand (1928 – 1984)
| | |
| --- | --- |
| Nationality | American |
| Date of Birth | 14 January 1928 |
| Date of Death | 19 March 1984 |
| Place of Birth | Bronx, New York |
Garry Winogrand grew up in New York City and grew fascinated with photography while working as a weatherman in the army. He studied art at City College and Columbia University, where he also learned how to develop and print his work. He began studying with Alexey Brodovitch in 1951. Following that, he was employed by commercial photography firms, freelanced for periodicals, and performed personal work.
During his lifetime, Winogrand's images were frequently displayed, including at the George Eastman House and the Museum of Modern Art.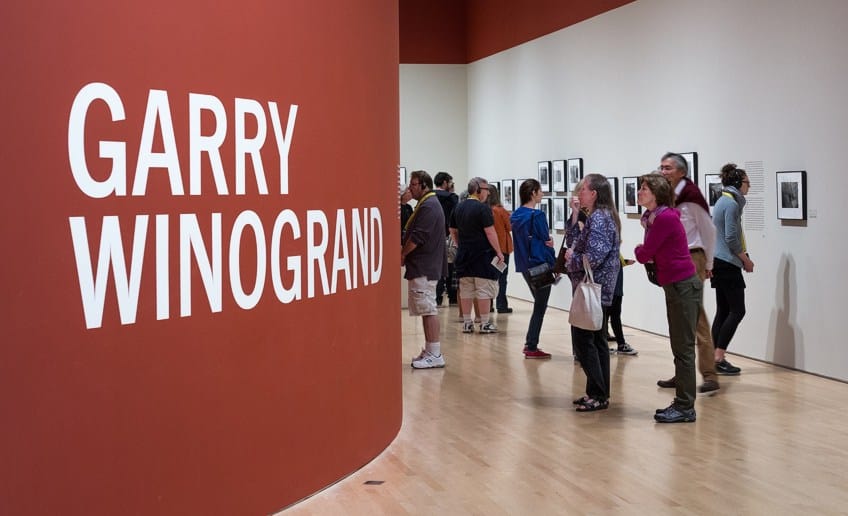 Gary Winogrand exhibition at the San Francisco Museum of Modern Art, 2013; Frank Schulenburg, CC BY-SA 3.0, via Wikimedia Commons
As a "social landscape" documentarian, he was frequently associated with urban photographers such as Lee Friedlander and Danny Lyon. Winogrand was awarded three Guggenheim Fellowships in order to create "photographic portraits of American society," research "the influence of the television on occurrences," and photograph California. He lectured photography at Cooper Union in New York, the School of Visual Arts, and the Art Institute of Chicago, among other places, and produced seven picture books.
Garry Winogrand's images are refined, random observations of everyday life that showcase his skill with the 35-millimeter camera.
He liked visual puns and slanted exposures; he stated he photographed "to see what the world appears like in photos." Despite his playful attitude, his formal clarity and absurdist respect for the visual world were major advances that resonate in the work of many modern photographers.
Elliott Erwitt (1928 – Present)
| | |
| --- | --- |
| Nationality | American |
| Date of Birth | 26 July 1928 |
| Date of Death | N/A |
| Place of Birth | Paris, France |
Elliott Erwitt was born in Paris in 1928 to a Russian family and spent his youth in Milan before moving to the United States through France in 1939. He became interested in photography as a youngster in Hollywood and was employed in a commercial darkroom before dabbling with photography at Los Angeles City College. In 1948, he relocated to New York and began taking cinema studies at the New School for Social Research in return for cleaning employment.
In 1949, Erwitt traveled across Italy and France with his faithful Rolleiflex camera.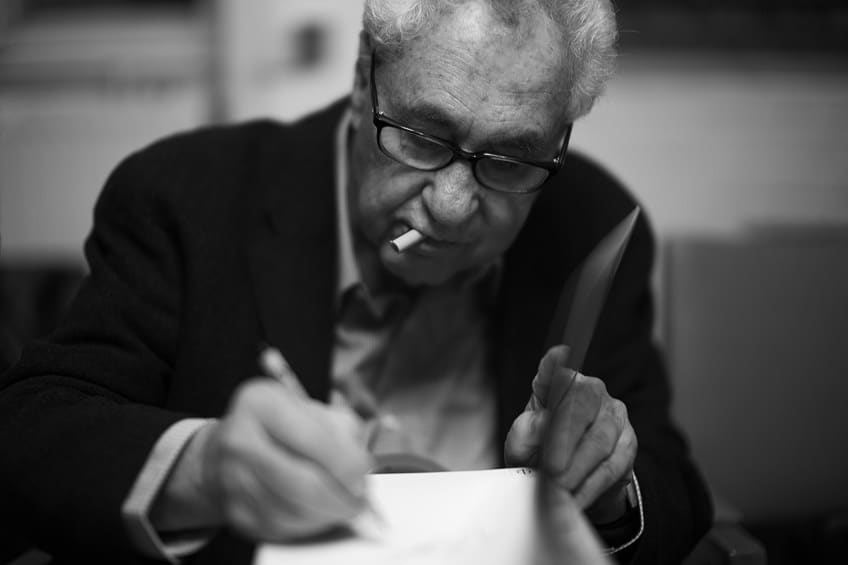 Magnum photographer and filmmaker Elliott Erwitt in the WestLicht, the center of photography in Vienna, 2012; Alfred Weidinger, CC BY 2.0, via Wikimedia Commons
He was enlisted for military duty in 1951 and performed numerous photographic responsibilities while working in an Army Signal Corps unit in France and Germany. Erwitt then met Robert Capa, Edward Steichen, and Roy Stryker in New York. Stryker first engaged Erwitt to work for the Standard Oil Firm, where he was developing a photographic collection for the company and later contracted him to participate in a project chronicling Pittsburgh.
In 1953, Erwitt joined Magnum Photos and began working as a freelance photographer for renowned illustrated magazine giants during that golden era. He is still available for hiring and works for a range of commercial and journalistic organizations. Erwitt was Magnum's director for three years in the late 1960s. He subsequently changed to cinema, producing many important documentaries in the 1970s as well as 18 comedy features for HBO in the 1980s.
Erwitt became noted for beneficent humor and a humanistic sensitivity reminiscent of Magnum's spirit.
Fan Ho (1931 – 2016)
| | |
| --- | --- |
| Nationality | American |
| Date of Birth | 1 February 1926 |
| Date of Death | 21 April 2009 |
| Place of Birth | New York, New York |
Fan Ho's photographic career began at the age of 14 when his father gave him his first Kodak Brownie camera. In 1949, he earned his first prize in Shanghai, during the first year of his career. After moving to Hong Kong with his parents and continuing to pursue his love for photography, he bought the Rolleiflex at the age of 18 and used it to record all of his notable work.
Fan Ho anxiously awaited "the decisive moment," which was frequently a clash of the unexpected, set against a very cleverly crafted background of geometrical architecture, patterns, and texture.
He frequently used backlighting effects or a mix of smoke and light to create drama and mood. His favorite places to be at dusk were the streets, lanes, and marketplaces, or life on the sea. His fondness for ordinary Hong Kong residents is what makes his art so incredibly human: merchants, street vendors selling vegetables and fruit, children playing in the streets or doing their schoolwork, and individuals crossing the street.
He never planned to establish a historical record of the city's structures and monuments; instead, he tried to capture the character of Hong Kong, its struggle, and its tenacity.
Fan Ho was most productive in his teens and 20s, producing his most significant oeuvre before the age of 28. His effort was not overlooked at the time. In his day, he competed in salons and earned around 300 local and international medals and titles. His ability was also recognized by the film business, where he began as an actor before transitioning to film directing until his retirement at the age of 65.
Today we have explored the most famous street photographers, known for creating the best street photography of the last several decades. We can thank these prominent urban photographers for exposing the public to vital street portraiture photography that gives them a new perspective on the world they view every day. We hope that maybe it inspires you to grab your own camera and capture the world from your personal viewpoint.
Take a look at our street photographers webstory here!
Frequently Asked Questions
What Is Street Portraiture Photography?
Street portraiture photography includes the subject's face. It's almost definitely staged, and it'll be photographed on the street. It has a real feel about it. You're not bringing a model along, and you never know if the person you approach will give you permission to photograph them. One would be able to control several aspects of the photo after you have been granted permission. The best street photographers are able to direct their subject to stand in front of an intriguing background, tilt their face more towards a light source, or manage their facial expression.
Can Anyone Do Street Photography?
If you have a camera or phone, then you are well on your way to creating your own street portraiture photography. The best street photographers are not only concerned with their equipment. New urban photographers emerge every day, and each offers a unique narrative based on their background, location, and view of the world. Start now and one day you could be among the famous street photographers yourself!
Jordan Anthony is a film photographer, curator, and arts writer based in Cape Town, South Africa. Anthony schooled in Durban and graduated from the University of the Witwatersrand, Johannesburg, with a Bachelor of Art in Fine Arts. During her studies, she explored additional electives in archaeology and psychology, while focusing on themes such as healing, identity, dreams, and intuitive creation in her Contemporary art practice. She has since worked and collaborated with various professionals in the local art industry, including the KZNSA Gallery in Durban (with Strauss & Co.), Turbine Art Fair (via overheard in the gallery), and the Wits Art Museum.
Anthony's interests include subjects and themes related to philosophy, memory, and esotericism. Her personal photography archive traces her exploration of film through abstract manipulations of color, portraiture, candid photography, and urban landscapes. Her favorite art movements include Surrealism and Fluxus, as well as art produced by ancient civilizations. Anthony's earliest encounters with art began in childhood with a book on Salvador Dalí and imagery from old recipe books, medical books, and religious literature. She also enjoys the allure of found objects, brown noise, and constellations.
Learn more about Jordan Anthony and the Art in Context Team.
Cite this Article