Modern portrait painters have a long history of portraiture from which to draw inspiration. Modern portrait painting is the latest iteration of a genre that goes back centuries. Artists were the first to record visual glimpses of humanity before photography. Ancient Egyptians are thought to have produced some of the earliest images on stone surfaces in order to immortalize their kings and deities, and the trend has continued right up to Contemporary portrait painters.
Famous Modern Portrait Artists
Throughout the ages, the traditional genre was designated for painting religious dignitaries and royalty. The area's top artists would have been commissioned to produce works of art that were meant to portray the "real essence" of their sitters. As a result, early portraits were frequently an artistic portrayal of the individual's character rather than a real likeness. Portraits have evolved along with human civilization through many periods and aesthetic trends.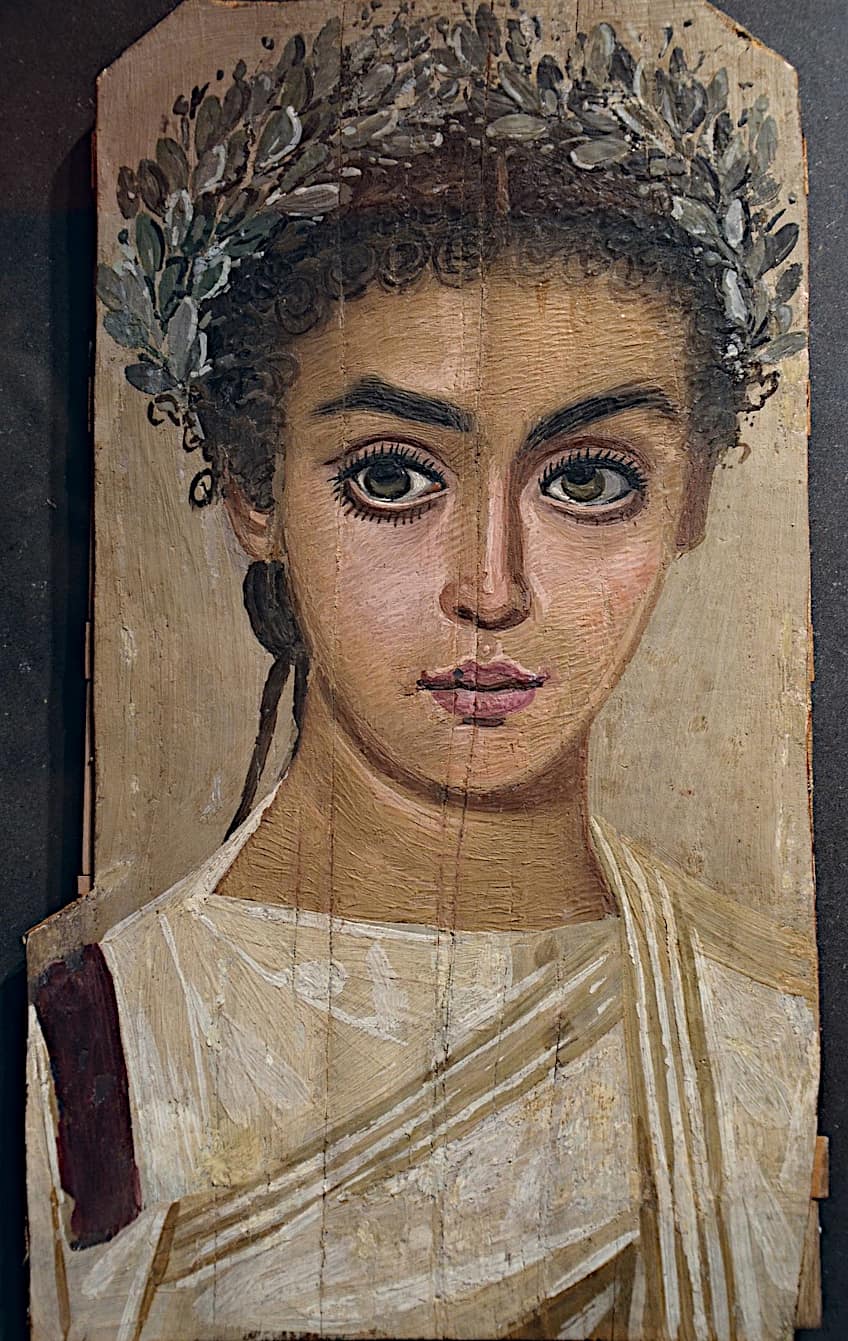 Roman-Egyptian mummy portrait of a girl (120-150 CE); Following Hadrian, CC BY-SA 2.0, via Wikimedia Commons
Artists established their own approaches, from noble portraiture of the Renaissance era to pictures of middle-class lifestyle during the Realism movement, and some even began producing their own self-portraits.
Famous artists like Mary Cassatt, Vincent van Gogh, Pablo Picasso, and Gustav Klimt specialized in expressing human emotion, and they inspired many of today's modern portrait painters who are pushing the age-old genre in new ways with their unique modern portrait artworks. Here is our list of some of the most famous modern portrait artists.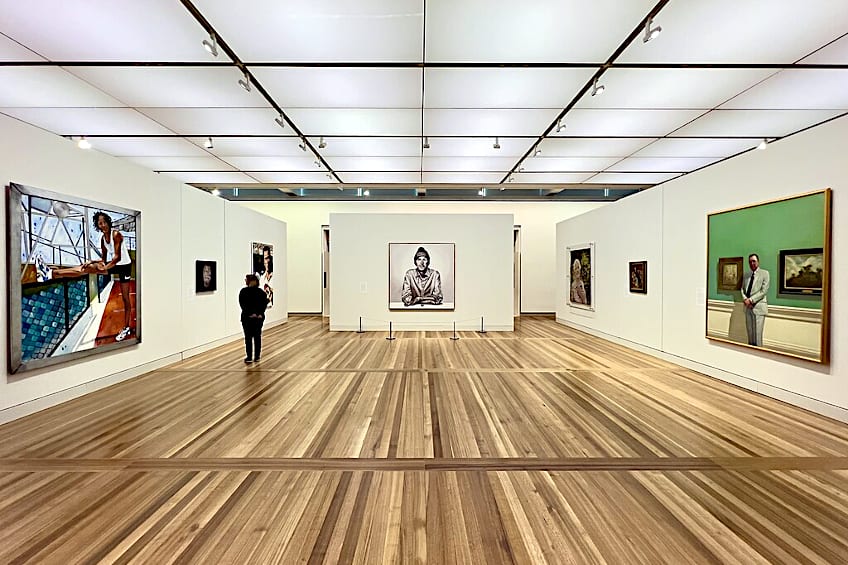 Modern portraiture on display at Australia's National Portrait Gallery in Canberra in 2022; Kgbo, CC BY-SA 4.0, via Wikimedia Commons
Francis Bacon (1909 – 1992)
| | |
| --- | --- |
| Artist Name | Francis Bacon |
| Date of Birth | 28 October 1909 |
| Date of Death | 28 April 1992 |
| Place of Birth | Dublin, Ireland |
Francis Bacon was a British figurative painter of Irish origin who was recognized for his stark, frightening images. His subjects, which centered on the human form, included portraiture of popes, self-portraits, and portraits of intimate friends, with abstracted individuals occasionally isolated in geometrical constructions. Bacon, while rejecting numerous categorizations of his work, stated that he aimed to depict "the savagery of actuality". With his own style, he established himself as one of modern art's heavyweights.
Bacon stated that he viewed pictures "in series", and his work, which includes around 590 intact paintings as well as many others destroyed, often focused on a single topic for extended periods of time, frequently in triptych or diptych styles.
Study after Velázquez's Portrait of Pope Innocent X by Francis Bacon (1953); https://www.bildkunst.de/homepage, CC BY-SA 4.0, via Wikimedia Commons
Lucian Freud (1922 – 2011)
| | |
| --- | --- |
| Artist Name | Lucian Michael Freud |
| Date of Birth | 8 December 1922 |
| Date of Death | 20 July 2011 |
| Place of Birth | Berlin, Germany |
Lucian Freud exclusively portrayed those close to him – family, wives, friends, mistresses, and himself – using his uncompromising studies of psychology and anatomy.
For more than 60 years, his unmistakable style remained consistent, owing to the strong rapport he maintained with his generally naked models, which resulted from extremely extended sitting sessions.
Lucian Freud, one of the most renowned artists of figurative realism in the UK and internationally, managed to avoid the avant-garde effects of Conceptual and Pop art by remaining conventional, yet remarkably careful and consistent. His self-portraits are equally numerous since he portrayed himself constantly until his death.
Gerhard Richter (1932 – Present)
| | |
| --- | --- |
| Artist Name | Gerhard Richter |
| Date of Birth | 9 February 1932 |
| Date of Death | Present |
| Place of Birth | Dresden, Germany |
Gerhard Richter is widely considered one of the most important modern painters in the world. During his nearly 50-year career, the German painter has developed an extraordinary and wide spectrum of work, including portraits. Richter started to make black and white portraits from discovered images in 1962, as well as portrayals of intimate members of the artist's family, such as Betty. Even though he frequently relies on photos, his works cannot be classified as photorealistic art. As an artist, he is more concerned with deceiving the observer. He paints images to show the common distortions of reality caused by technological reproduction.
Richter's approach to portraiture is unorthodox in the sense that he is not particularly concerned with expressing the sitter's character. Richter is primarily interested in exploring issues about truth and appearance. So, by concealing the identity of the persons represented and warping machine-made realities through his paintings, his portraits offer a fascinating glimpse into how we see the world.
Georg Baselitz (1938 – Present)
| | |
| --- | --- |
| Artist Name | Georg Baselitz |
| Date of Birth | 23 January 1938 |
| Date of Death | Present |
| Place of Birth | East Germany |
He is perhaps one of the most contentious modern portrait painters working in the 21st century. Georg Baselitz was born in East Germany and was expelled from art school due to his allegedly immature worldviews.
He was a renegade from the start, refusing to follow any idea or theory.
In 1963, one of his first shows took place in West Germany, and two of his paintings were taken as a result. Both artworks showed a person with a massive penis, which sparked outrage. However, this occurrence catapulted him to the international scene, where he became recognized for his upside-down portraiture. Among others, he would depict his wife Elke and his acquaintances. With the exception of producing his modern portrait artwork upside-down, Baselitz adhered to conventional portraiture norms. Baselitz was able to create a picture that was free of its subject using this simple method.
Chuck Close (1940 – 2021)
| | |
| --- | --- |
| Artist Name | Charles Thomas Close |
| Date of Birth | 5 July 1940 |
| Date of Death | 19 August 2021 |
| Place of Birth | Monroe, Washington, United States |
Chuck Close is noted for his unique conceptual portraiture, in which he transposes his people from images into visual data structured by gridded compositions. Close utilized painting to help him cope with his learning handicap throughout his infancy and youth. He continued to hone his creative abilities by taking private art courses and sketching and working from live figures. As an undergraduate at the University of Washington and subsequently at Yale, he started to imitate the techniques of Willem de Kooning and Arshile Gorky, classifying himself as a third-wave Abstract Expressionist, and as he studied this language, he shifted from biomorphism to figuration.
Close eventually moved away from the gestural approach that had characterized his undergraduate work and toward Pop-inflected representations before adopting commercial illustration and art techniques.
Installation view of exhibitions of portraits by Chuck Close taken in 2013; Guildhallofeasthampton, CC BY-SA 4.0, via Wikimedia Commons
Brenda Zlamany (1959 – Present)
| | |
| --- | --- |
| Artist Name | Brenda Zlamany |
| Date of Birth | 1959 |
| Date of Death | Present |
| Place of Birth | New York, United States |
Zlamany is fascinated by the complexities of portraiture in the digital age. The painted portrait has not become obsolete in the postmodern, post-photography era. The act of developing a picture stroke by stroke creates a link between the painter and the subject in modern portrait painting. In an age of high-speed, filtered experience, this connection is unique. Nevertheless, much needs to be discovered in terms of who is depicted and how.
Zlamany aspires to push the frontiers of modern portrait artwork by making pieces with and about marginalized individuals in society and in culture. She aspires to confront schisms in creative and social discourse through mixed media artworks.
Elizabeth Peyton (1965 – Present)
| | |
| --- | --- |
| Artist Name | Elizabeth Joy Peyton |
| Date of Birth | 1965 |
| Date of Death | Present |
| Place of Birth | Danbury, Connecticut, United States |
Peyton's portraits of art luminaries and celebrities explore issues of youthfulness, celebrity, and beauty. While at the same time, the paintings are deep while remaining unpretentious.
Peyton creates a degree of closeness that is subtly mirrored in the represented people, allowing the spectator to have a greater understanding of their aspirations, deceptions, and worries.
Her modern portrait artworks are identified with American culture in the late 20th century. She has portrayed Noel Gallagher, Lady Diana, and Kurt Cobain, among many others. Peyton would not ordinarily be acquainted with the folks she was portraying on an intimate basis. She would utilize images from magazines, music videos, and album covers as templates for her portraiture. She painted German Chancellor Angela Merkel, showing her as a formidable, yet relatable and charming figure, and used it for the cover of American Vogue in 2017.
Installation view of portraits showing Nick (2004) and Julian (2006) by Elizabeth Peyton taken in 2006; Guildhallofeasthampton, CC BY-SA 4.0, via Wikimedia Commons
Jonathan Yeo (1970 – Present)
| | |
| --- | --- |
| Artist Name | Jonathan Yeo |
| Date of Birth | 18 December 1970 |
| Date of Death | Present |
| Place of Birth | London, United Kingdom |
One of the most renowned and creative contemporary portrait painters now working in Britain is the artists Jonathan Yeo. He uses a variety of mediums and methods to produce a wide body of work that goes beyond the conventional boundaries of portraiture. He is best known for his unique, highly figurative paintings and stunning collages.
Yeo's consistent advancements in topic and story, as well as his connection with society, continue to push the boundaries of the modern portrait artwork genre and regenerate it for the 21st century.
When it comes to Yeo's modern portrait paintings, it is unusual in many aspects. To begin with, in the era of digital photography, he depicts celebrities, politicians, and other prominent persons of our day in the age-old mediums of paint and collage. These are not just paint-on-canvas pieces; instead, he uses cut-out material from magazines to produce realistic collage portraiture.
Nat Rothschild by Jonathan Yeo (2014); Jonathan Yeo, CC BY-SA 4.0, via Wikimedia Commons
Amy Sherald (1973 – Present)
| | |
| --- | --- |
| Artist Name | Amy Sherald |
| Date of Birth | 30 August 1973 |
| Date of Death | Present |
| Place of Birth | Columbus, United States |
Sherald and Kehinde Wiley were the first black artists to contribute a real presidential portrait to the National Portrait Gallery in Washington, D.C. She portrayed the First Lady for the first time as an Afro-American lady. Sherald has spent her entire career largely attempting to look at ideas of culture and legacy.
She wants to reorient the black heritage in American art history by using modern portrait painting to reveal unanticipated stories. "I want to see anything other than a black body in a painting", she said, "so I'm painting the pieces of art I want to see in museums".
Sherald is well known for her "stylized realism", in which her subjects are shown against overly saturated backdrops as brilliantly clothed individuals with grayscale skin tones.
Craig Wylie (1973 – Present)
| | |
| --- | --- |
| Artist Name | Craig Wylie |
| Date of Birth | 1973 |
| Date of Death | Present |
| Place of Birth | Zimbabwe |
The goal of Craig Wylie's modern portrait artworks is to make use of the potential for figure art in the 21st century. Although the artist from Zimbabwe is most renowned for his hyper-realistic portraits, he is also drawn to color and texture. Everything he does is based on fact, but he picks and organizes his themes according to his very clear ideas. Wylie is an extremely organized and, in certain ways, smart artist.
Even though he methodically planned and completed his works, the final product always exudes spontaneity. Photographs, according to the artist, are only used as a form of a sketchbook and not as the basis for his portraits. As a result, he never intended to create an exact replica of one image using paint.
Wylie was honored with a commission to paint the portrait of Dame Kelly Holmes for the National Portrait Gallery as part of the first prize of the 2008 BP Portrait Award. The painting was completed in 2012.
Kehinde Wiley (1977 – Present)
| | |
| --- | --- |
| Artist Name | Kehinde Wiley |
| Date of Birth | 28 February 1977 |
| Date of Death | Present |
| Place of Birth | Los Angeles, United States |
Half-Nigerian, half-Afro-American artist Kehinde Wiley focuses only on portraiture. He is renowned for elevating his historically neglected black figures by imitating the compositional approach and precision of Old Masters. He would utilize vivid backdrops that were inspired by leafy designs or other elements seen in traditional fabrics.
Wiley's art is frequently referred to as "bling-bling baroque" since he combines traditional methods with a striking, contemporary aesthetic.
Michael Jackson was notably depicted by Wiley as King Philip II in the traditional style of an equestrian picture. He pictured the female lead in Judith and Holofernes as a black person grasping a head with white skin. To express his opposition to the white nationalist movement, Wiley portrayed his take on one of the most well-known themes in art history. Wiley also appropriates the language of monumental figurative sculpture with his works in bronze.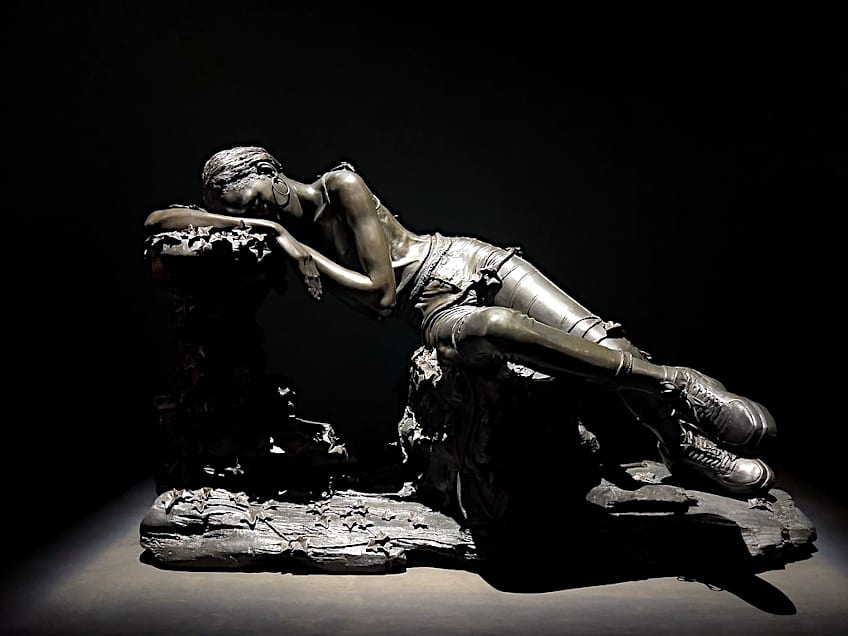 Morpheus by Kehinde Wiley (2022); Dale Cruse, CC BY 2.0, via Wikimedia Commons
That concludes our list of famous modern portrait artists. Even in the digital age, contemporary portrait painters still exist, and many still thrive. Modern portrait painters have adapted the genre to more current tastes, adding their unique twist to an age-old genre. With their modern portrait artworks, they have ensured that a new generation of admirers can appreciate the skill and talent that goes into portraiture painting.
Frequently Asked Questions
Who Are Famous Modern Portrait Artists?
There are many artists that still create portrait paintings in the modern world. Although many may now work in the digital realm, many famous modern portrait artists still utilize traditional mediums such as paint. These include Jonathan Yeo, Amy Sherald, and Craig Wiley.
What Medium Is Used for Modern Portrait Painting?
Nowadays, there are many possibilities for contemporary portrait painters. Some prefer traditional paint, while others have moved on to tablets. Despite the medium used, it is always the artist's unique style and vision that separates them from the rest.
Isabella studied at the University of Cape Town in South Africa and graduated with a Bachelor of Arts majoring in English Literature & Language and Psychology. Throughout her undergraduate years, she took Art History as an additional subject and absolutely loved it. Building on from her art history knowledge that began in high school, art has always been a particular area of fascination for her. From learning about artworks previously unknown to her, or sharpening her existing understanding of specific works, the ability to continue learning within this interesting sphere excites her greatly.
Her focal points of interest in art history encompass profiling specific artists and art movements, as it is these areas where she is able to really dig deep into the rich narrative of the art world. Additionally, she particularly enjoys exploring the different artistic styles of the 20th century, as well as the important impact that female artists have had on the development of art history.
Learn more about the Art in Context Team.