We are living in a time when our culture is becoming more socially responsible and active. Creative fields, including fashion, architecture, and visual arts are leading the way in conversations around sustainability, the environment, and social consciousness. In art, sustainability has led to the development of pioneering works that use innovative materials and media to convey powerful messages about climate change, political policy, and social injustice. So, what does "sustainability" mean? What is Sustainable art? This article engages with questions like these and more while looking at examples of work by Sustainability artists.
What Does Sustainability Mean?
Ideas about sustainability vary across literature and over time, making it difficult to pin down a precise definition. In our era, known as the Anthropocene, sustainability can be broadly understood as a societal goal that strives for the healthy co-living of humans and other species on planet Earth. The Anthropocene era, derived from anthropo, the Greek word for "man", refers to a geological unit of time, wherein the human impact on the earth has started to show devastating consequences, such as climate change, natural imbalances, and the extinction of multiple plants and animal species. The social shift towards living more sustainably aims to reduce the negative effect that humans have on the planet in the hopes of safely living on the earth with other species in more healthy ecosystems for many generations to come.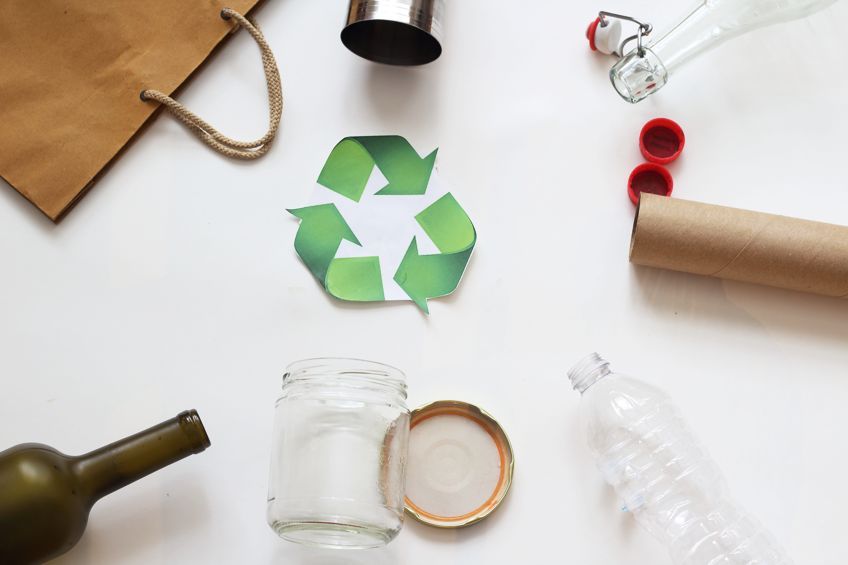 What Is Sustainability in Art?
Sustainable art can be defined in a variety of ways, as can most aspects of the art world. Some artists are primarily concerned with expressing environmental issues, while others use environmentally friendly materials and studio practices in their work. Additionally, Sustainable art isn't just limited to visual arts; it's also prevalent in architecture and fashion, among others. By employing circular economies and closed-loop fashion, designers and manufacturers are finding ways to use less water in the manufacturing process, use more eco-friendly color dyes, and extend the life cycle of clothing. Musicians, writers, performers, and filmmakers are also showing increasingly more interest in engaging with issues of sustainability and the environment in their work.
To better understand Sustainable art in the visual arts, we will briefly discuss the history of its development in the following section.
A Short History of Sustainable Art
Even though the term 'Sustainable art' is relatively new, qualities of sustainability have been practiced by many creatives from many cultures long before a term was invented for it. African art, for example, has a long history of art and culture that is made with natural materials that are respectful of nature, from functional and sculptural works of clay and wood that get passed on through generations, to creative expression through body painting, fashion, and weaving practices, to briefly name a few. Another example is the culture of upcycling, seen also in African art, but perhaps most notably in Japanese culture. Kintsugi, for example, is the practice of celebrating imperfection and avoiding waste by repairing broken ceramics and pottery with traces of gold. Upcycling remains a dominant Sustainable art form used by many fine and contemporary artists today. The following subtitles briefly discuss the development of sustainability in art into the different types of Sustainable art that are practiced today.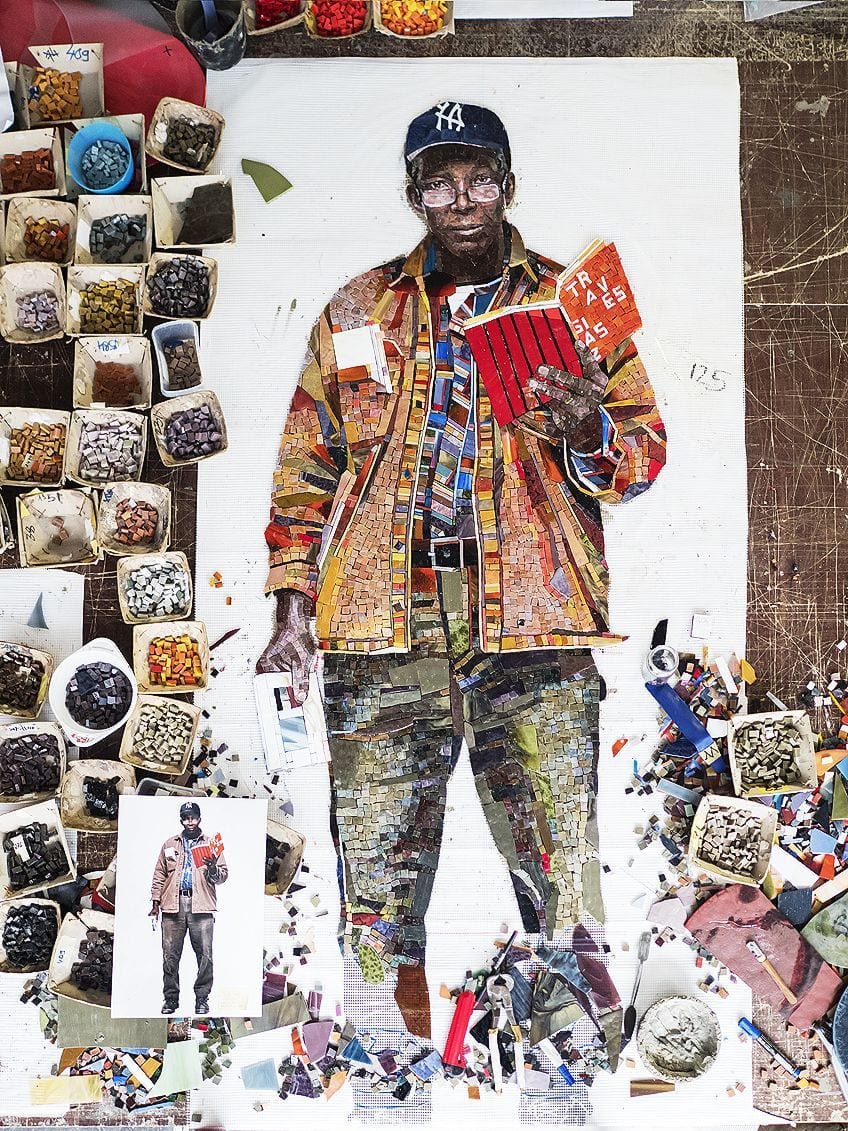 Landscape Paintings
The Western art world's shift to sustainability started with the 19th-century Romantic artists' resistance to industrialization and shift of focus to nature in their paintings. While these artists had not yet considered sustainability in terms of materials, they introduced a shift in thinking at the time that honored and glorified the natural world in their work. An example of such work includes paintings by artists such as John Constable, Caspar David Friedrich, and Thomas Cole.
This same focus on nature continued to inspire many modern paintings, especially Impressionist artists like Claude Monet who continuously made nature his subject.
Land Art
Artists have since, especially from the 1950s onwards, started to develop their thinking so that nature is no longer simply the subject of paintings, but becomes the actual material they used to create work. It is also around this time that scientists' concerns about global warming started to grow. The first warnings of climate change in the mid-20th century had only gotten more urgent into the 21st century. The world is becoming increasingly aware of the importance of the climate crisis, which has prompted several artists to work with themes related to sustainability in their art. Sustainability is a central theme through which artists are highlighting these issues in their work and they are making a real impact on social awareness through their work.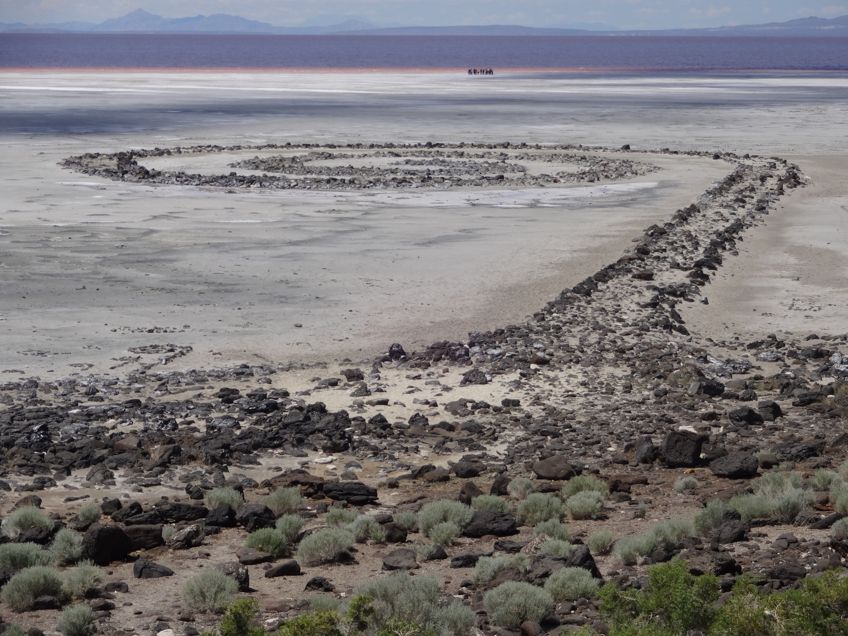 Spiral Jetty (1970) by Robert Smithson; Retis, CC BY 2.0, via Wikimedia Commons
Many artists began challenging the traditional gallery model in the 1970s by creating work that is site-specific and uses the earth and environment as mediums. These works were called Land Art, Earth art, or Earthworks. Arguably the most famous example of Land art is Robert Smithson's Spiral Jetty (1970). Smithson created the work on the shore of the Great Salt Lake in Utah by forming a spiral shape with more than 6,000 tons of earth and basalt rock. The massive spiral was 460 meters long and 4,6 meters wide and the aim was for the work to interact with the changing conditions of the water, land, and wind in the landscape, and over time to disintegrate and become a part of the landscape.
The lake fills up at times with fresh water from surrounding rivers, but it has no outlet and thus becomes a basin dense with minerals, especially salt. The high density of minerals means that very little life can be sustained here.
Smithson's intervention into the landscape can be seen as a kind of sculptural work that uses nature itself as the medium. The year that the Spiral Jetty was made, 1970, is also the year that the first "Earth Day" was held in America, signaling the early movement of environmental activism. Taking art out of the gallery space into nature was still a relatively new idea in Western art and Smithson's work inspired many other artists to pursue Land art. Some other artists famous for Land art in this era include Andy Goldsworthy and Agnes Denes. Many contemporary artists still use Land art as a type of art to deal with issues around the environment and sustainability.
Conceptual Art
Conceptual art, also called information and idea art, emerged around the same time that Land art did. In Conceptual art, the idea behind the artwork is the most important aspect of the work and it is even more significant than the end product. Similar to Land art, Conceptual art is also often site-specific, though it does not necessarily use earth as material. Conceptual artists could, however, use any material of their choosing, given that the material adds to the idea or meaning of the work.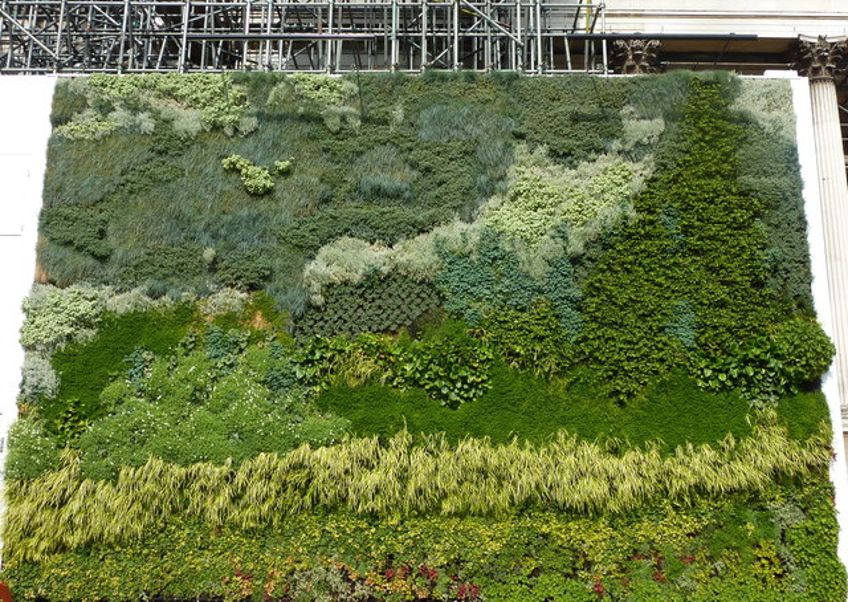 Bringing Art to Life as Never Before at the Tate Modern (2011); "Bringing Art to Life as Never Before" at the National Gallery, Trafalgar Square by pam fray, CC BY-SA 2.0, via Wikimedia Commons
There can thus be many similarities between Conceptual art and Land art, and some Land art can be considered as being conceptual. To distinguish between the two, one can see Land art can be seen as an artist interacting within a specific natural landscape, the end product is the most important and is predominantly sculptural and site-specific. While Conceptual art can take similar shapes to Installation art and Land art, the idea is always central and the most important in the work. For this reason, many Sustainability art projects and installations can fall under the category of conceptual art as it is the idea of, for example, the climate crisis, social change, or sustainability that is the most important aspect of the work.
Important Sustainability Artists
The conceptual nature of Contemporary art means that many artists today prioritize the idea behind their work and make conscious decisions about the meaning behind the materials they use, the locations they exhibit, and how the experience of their work can inspire change. Many contemporary artists today deal with issues around the consequences of global warming and environmental conservation.
The following five artists are exceptional examples of Contemporary artists who engage with these issues through Sustainability art projects and their artistic practices.
Agnes Denes (1931- Present)
Among the most well-known environmental artists in the world is Agnes Denes, a Hungarian-American artist, and pioneer in the field. Throughout her career, she has engaged with natural landscapes, creating thriving spaces from desolate ones. With a highly collaborative approach, Denes often pushes the boundaries of art and extends her work into activism. Her work is often site-specific, uses nature as her medium, and is conceptual in nature. One of her most famous works is the ambitious Wheatfield — A Confrontation, created in 1982. As a result of this work, Denes gained recognition as a leading figure in Conceptual art and Land art.
Tree Mountain (2013) by Agnes Denes; Strata Suomi, CC BY 2.0, via Wikimedia Commons
In Wheatfield – A Confrontation, Denes' cultivated a two-acre wheat field on a deserted plot of land that is overlooked by the World Trade Center. Many collaborators helped over a period of three months to prepare the soil, plant, and harvest the wheat. By revitalizing a plot of urban wasteland in front of a building that is a symbol of power, Denes seemed to ask the policymakers and other powerful people important questions about the importance of environmental conservation, wealth divides in the city, and the prioritizing of urban development over natural rehabilitation. The plot of land has since been developed into the Battery Park City neighborhood and the work only lives on in photographs and people's memory.
El Anatsui (1944 – Present)
The internationally acclaimed artist El Anatsui has been transforming simple found materials into stunning assemblages that have captivated his audience since he first started making art. Anatsui was born in Ghana and currently lives and works in Nigeria. While terms like "recycling" and "zero waste" are rather new in our societies, Anatsui has been embracing these practices throughout his career. His sculptural painting-like collaged works become large installations that transcend categories and often include waste material, such as disregarded bottle caps, old tins, driftwood, nails, railway sleepers, and cassava graters.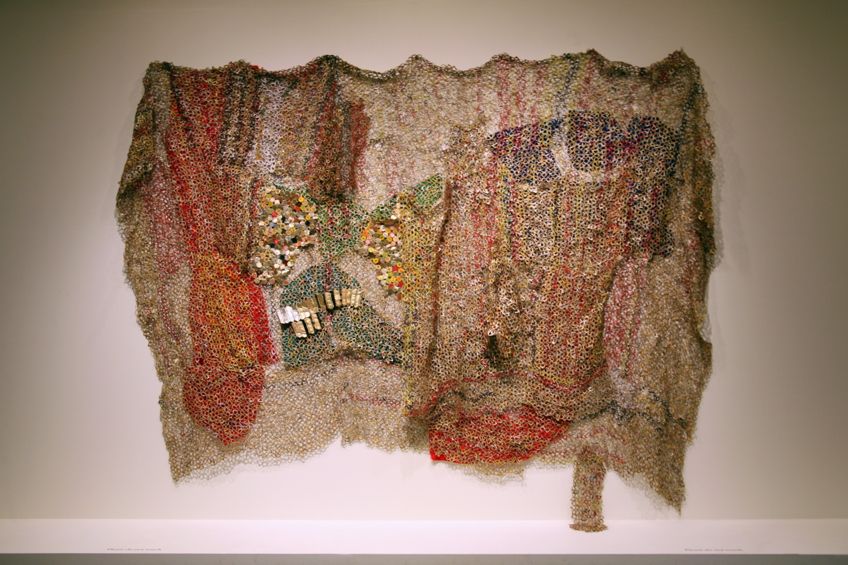 Aluminum and copper wire (2006) by El Anatsui; Cliff from Arlington, Virginia, USA, CC BY 2.0, via Wikimedia Commons
Anatsui's works are layered with meaning. Not only is he transforming waste into something beautiful and striking, but he is also commenting on Africa's colonial history, global consumerism, and the problematic practices of extraction and waste. Among his most famous works are a series of monumental wall hangings made from caps, seals, and cans reclaimed from Nigerian alcohol distilleries, which originated through trade with Europe.
To create these works, thousands of metal pieces and caps are flattened, folded, and woven together with copper wire, resulting in massive intricate works layered with histories of labor, economic exchange, exploitation, and waste.
Andy Goldsworthy (1956 – Present)
Known for his site-specific sculptures and Land art, Andy Goldsworthy is a prominent environmental artist. Goldsworthy was born in England and worked on different farms from the age of 13. The repetitive nature of farm work inspires his sculptural process, which relies heavily on routine and rhythm. He once said that his artistic process is "like picking potatoes". Goldsworthy uses natural materials in his work, like stone, clay, flower petals, and wood, and claims that his main goal is to foster a connection between his viewers and nature. Viewing nature as a collaborator in his work, Goldsworthy engages with the natural cycles of creation and decay. Through his work, he often celebrates nature's organic patterns and brings people's attention to the beauty of the natural world.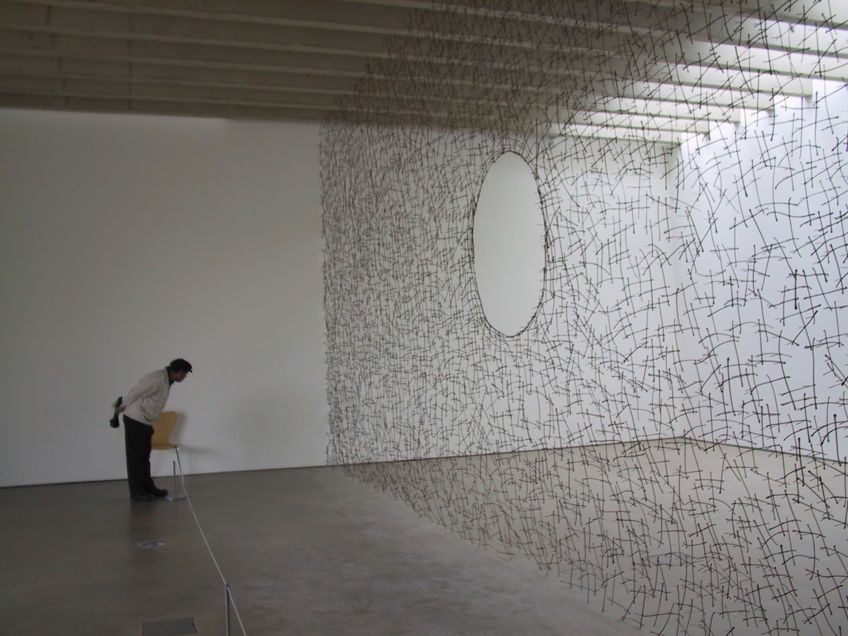 Exhibition at West Yorkshire Sculpture Park (2007) by Andy Goldsworthy; Nicholas Smale from Stockport, UK, CC BY 2.0, via Wikimedia Commons
Olafur Eliasson (1967 – Present)
Artist Olafur Eliasson's work exemplifies how artists use sustainable materials to highlight the dangers of climate change. Born in Denmark in 1967, Eliasson moved to Iceland at the age of four when his parents got divorced. His father was a landscape painter and fostered Eliasson's passion for art and nature from a young age. A year after graduating from the Royal Danish Academy of Fine Arts in Copenhagen, Eliasson had his first solo show. Eliasson established his experimental studio, called Studio Olafur Eliasson, in Berlin in 1995. The studio functions as a kind of laboratory and consists of a team of collaborators and scientists from different fields that assist the artist in realizing his ambitious ideas.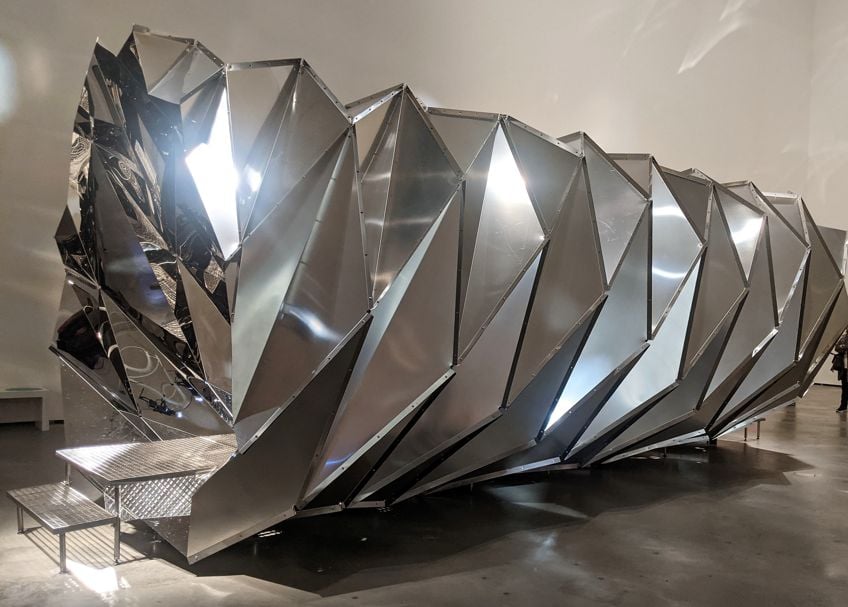 Bizitza Errealean at the Guggenheim Museum (2020); Makeip, CC0, via Wikimedia Commons
Eliasson is best known for his sculptural and immersive large-scale installations that engage with natural elements such as light, water, and temperature. In 2003, Eliasson became a household name when he represented Denmark at Venice Biennale and later that year installed The Weather Project, arguably his most famous work to date, in the Turbine Hall of Tate Modern in London. In the work, Eliasson created an entire weather system of a fictional landscape with a massive looming sun made by thousands of light bulbs with haze machines that formed clouds of fog. Another seminal work by the artist is his Ice Watch (2014), where the artist placed 30 massive blocks of ice taken from the melting glaciers of Iceland and transported them to London.
The ice blocks were left to melt in front of the Tate Modern and served as a warning of the severity of climate change. The work evoked rapid public response.
Maya Lin (1959 – Present)
Maya Lin is an American landscape architect and contemporary artist. When she was only 21 years old, Lin won a contest to design the Vietnam Veterans Memorial in Washington. Even though the monument remains Lin's best-known work, she has also been an environmental activist throughout her career, and this ethos has long permeated her work. The critical engagement with site and place is at the heart of Maya Lin's work, which reflects systems of nature and encourages her audience to contemplate the complexity and serenity of the natural world.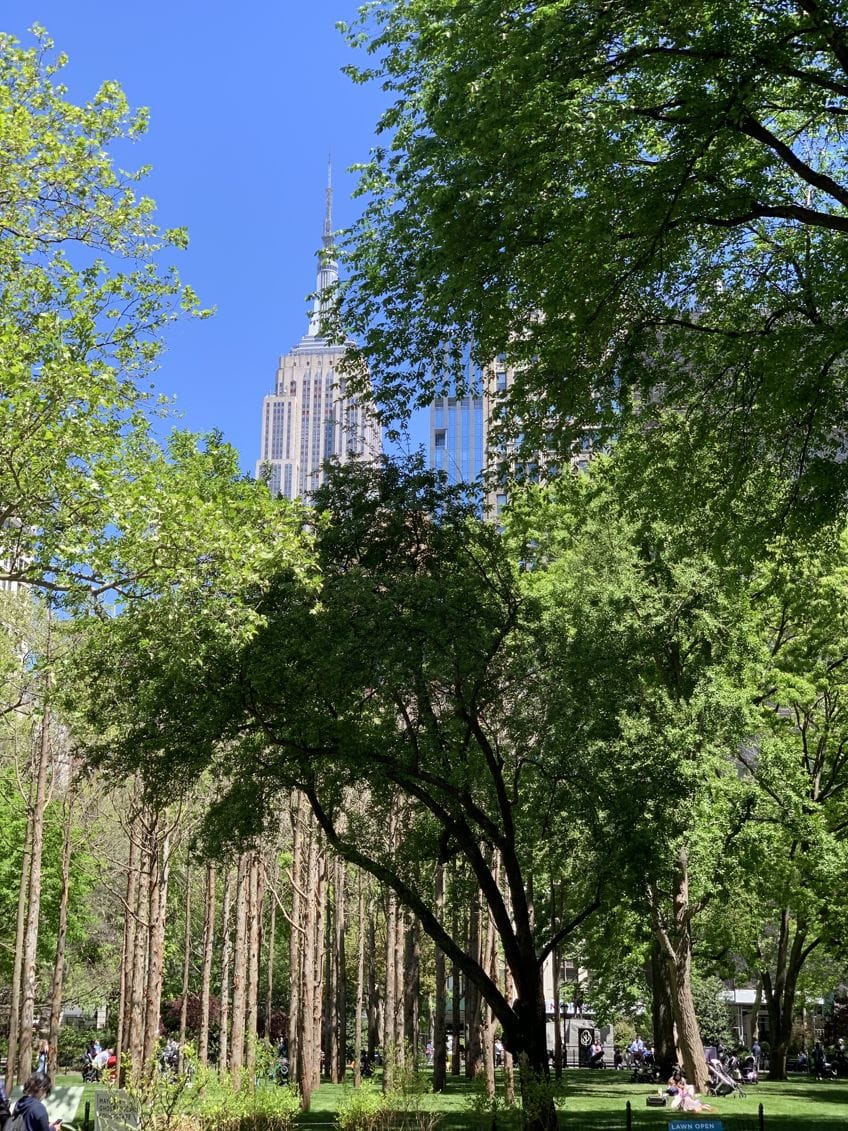 Ghost Forest (2021) by Maya Lin; oinonio from New York City, USA, CC BY-SA 2.0, via Wikimedia Commons
One of Lin's large-scale installations, called Ghost Forest, was realized in May 2021 when the artist planted 49 massive cedar trees in Madison Square Park, Manhattan. The trees, however, were dead and the artist salvaged them from New Jersey's Pine Barrens. The trees, like many others around the world, are dying due to a loss of biodiversity caused by insect infestations and saltwater infiltrations caused by rising sea levels. Planted in the greenery of the park, the dead trees serve as a reminder of the destructive effects of climate change.
Book Recommendations
Environmental and Sustainable art is a rapidly growing genre of art. Artists are finding innovative and exciting ways to inspire change and affect communities. This article was but a small glimpse into the incredible work that artists are doing in response to the threats that face our planet's future. Whilst broadening our understanding of this crisis, the books below take a deeper dive into the remarkable Sustainability art projects taken on by various contemporary artists.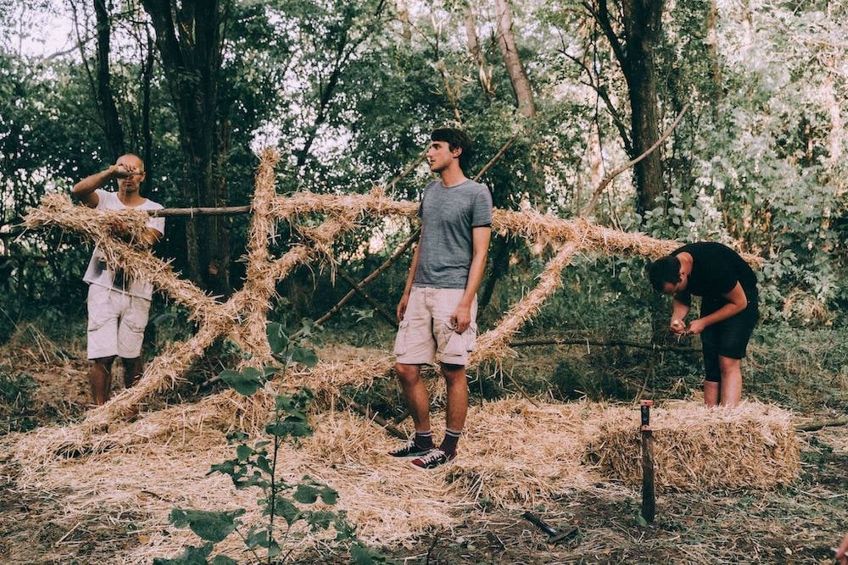 Land Art Tour in Đakovo (2020); Culture Network, CC BY-SA 3.0, via Wikimedia Commons
Land & Environmental Art (Themes and Movements) (1998) by Jeffery Kastner and Brian Wallis
This insightful book covers both the 1960s Land Art movement and later examples of environmental art. Illustrated with stunning photographs, drawings, and project notes, the book includes the works of Ana Mendieta, Robert Smithson, Peter Fend, and Mierle Laderman Ukes, amongst others. The book also includes documentation of the artist's ideas, their cultural context, and their philosophical views on the climate crisis and sustainability.
Documents the land art movement of the 1960s
Tracks environmental art in the more modern era
Earthworks, environments, and performances by leading artists
View on Amazon
To Life! Eco Art in Pursuit of a Sustainable Planet (2012) by Linda Weinraub
This book is a documentation of the growing environmental art movement from A to Z. Including a wide range of artists, the book was the first international publication that explored how 20th and 21st-century artists respond to environmental concerns. These artists are all pioneers in the field of Sustainable art and the publication uses their work as a guide to how we can integrate activism and environmental awareness into our personal and professional lives.
Documenting the progression of the eco-art movement
Presents a panorama of artistic responses to environmental issues
Contemporary artists who explore our changing planet in art
View on Amazon
Undermining: A Wild Ride Through Land Use, Politics, and Art in the Changing West (2014) by Lucy R. Lippard
Including over 200 beautiful color illustrations, this book provides a new perspective on how artists engage with our rapidly changing environment. The book is authored by the award-winning art critic and historian Lucy R Lippard and is a must-have for those interested in contemporary environmental art. In this book, Lippard draws from her background of living in a New Mexico village when she addresses themes involving culture, industry, and landscape, focusing on aspects such as land art, mining, fracking, ruins, Indian land rights, water, photography, and the Old West.
A combination of text and full-color images of artwork
Explore the intersection of art, the environment, and politics
Reconsider the way we treat our world for art and industry
View on Amazon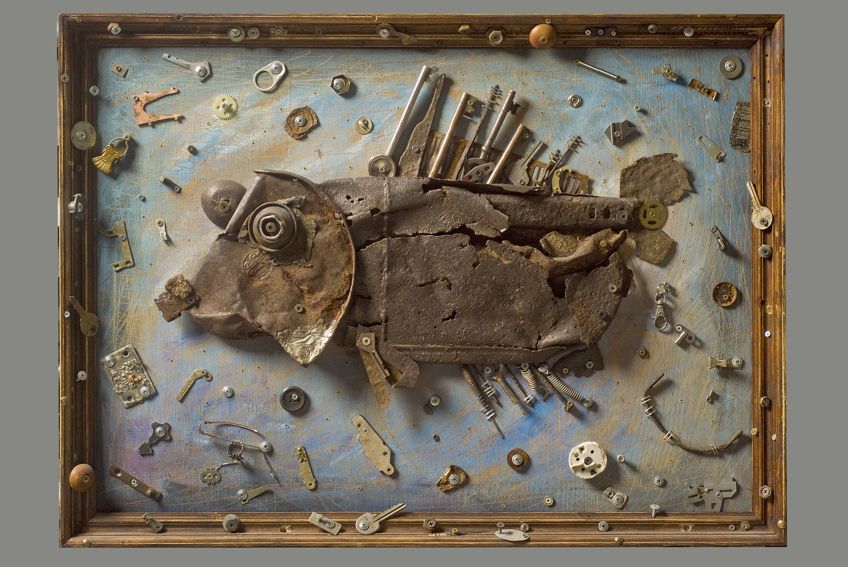 With society becoming more aware of its environmental impact and the threatening future of our planet, artists are embracing more Sustainable art practices and working with scientists to help raise awareness of the urgency of the climate crisis. Sustainability means being conscious of how we consume and manufacture products, and making choices that do not harm the planet. Artists are embracing the vision of a better future for all and are continuously striving to affect change in our societies through their practices.
Take a look at our sustainability in art webstory here!
Frequently Asked Questions
Why Is Sustainability in Art Important?
Art, throughout the ages, has been a driving force of human expression that influences the ways society perceives the world. By focusing on themes such as sustainability, artists are raising awareness and affecting change in society that can have real effects on the future of our planet.
What Is the Purpose of Environmental Art?
Environmental art not only raises awareness of issues such as the global climate crisis, but it is also a way for artists to express their ideas with minimal impact on the ecosystems of the planet. By using materials that are natural and sustainable, artists can also be responsible consumers and creatives within their professional lives. Artists focusing on themes of sustainability and the environment encourages communication and dialogue that can result in people's participation in conversation projects and ideas.
Is Land Art Sustainable?
Land art is considered the first Sustainable art movement. By using natural materials, such as stone, wood, earth, and water, Land art is creating work that is centered around nature. Many contemporary artists, however, have moved away from land art projects that interfere too much with the landscape and that can, in turn, become more disruptive than doing good. The key to practicing Land art ethically is for artists to collaborate with scientists and environmental specialists to ensure that their artwork's interference with the landscape will raise awareness without causing harm, or will assist in the rehabilitation of the relevant ecosystems.
Chrisél Attewell (b. 1994) is a multidisciplinary artist from South Africa. Her work is research-driven and experimental. Inspired by current socio-ecological concerns, Attewell's work explores the nuances in people's connection to the Earth, to other species, and to each other. She works with various mediums, including installation, sculpture, photography, and painting, and prefers natural materials, such as hemp canvas, oil paint, glass, clay, and stone.
She received her BAFA (Fine Arts, Cum Laude) from the University of Pretoria in 2016 and is currently pursuing her MA in Visual Arts at the University of Johannesburg. Her work has been represented locally and internationally in numerous exhibitions, residencies, and art fairs. Attewell was selected as a Sasol New Signatures finalist (2016, 2017) and a Top 100 finalist for the ABSA L'Atelier (2018). Attewell was selected as a 2018 recipient of the Young Female Residency Award, founded by Benon Lutaaya.
Her work was showcased at the 2019 and 2022 Contemporary Istanbul with Berman Contemporary and her latest solo exhibition, titled Sociogenesis: Resilience under Fire, curated by Els van Mourik, was exhibited in 2020 at Berman Contemporary in Johannesburg. Attewell also exhibited at the main section of the 2022 Investec Cape Town Art Fair.
Learn more about the Art in Context Team.