Dating as far back as 100,000 years, the art found in South Africa is considered by archaeologists to be the oldest known art in the world. In the modern era, South African contemporary art is an amalgamation of diverse and eclectic creations influenced and shaped by the trials South African people experienced under colonization and apartheid, and the various tribes, languages, cultures, and races of the country. Below, we will have a look at a brief overview of South African art and discuss the nine South African contemporary artists that you should know.
A Brief History of South African Art
Colonialism had a significant impact on South African art. Laws enforced during the years of apartheid prevented black people in South Africa from attending formal art education institutions, resulting in their work not being categorized as "art" but as "craft". One of the ways they could receive artistic training was through informal art centers. From about 1947 to the 1990s, the artists who received informal training from these art centers passed their knowledge onto younger generations of creators.
The large inequality gap in South Africa means that the people who influence what is classified as "fine art" are generally the privileged and rich.
The Soweto Riots that took place in 1976 resulted in retaliation against segregation and prompted a re-evaluation of the classification of certain artworks created by black South Africans. Venda sculpture was one of the first artistic styles to receive attention, as it appealed to white patrons and was later classified as "traditional art" rather than "craft". Other art forms, such as photography and beadwork, were gradually added to the South African art canon.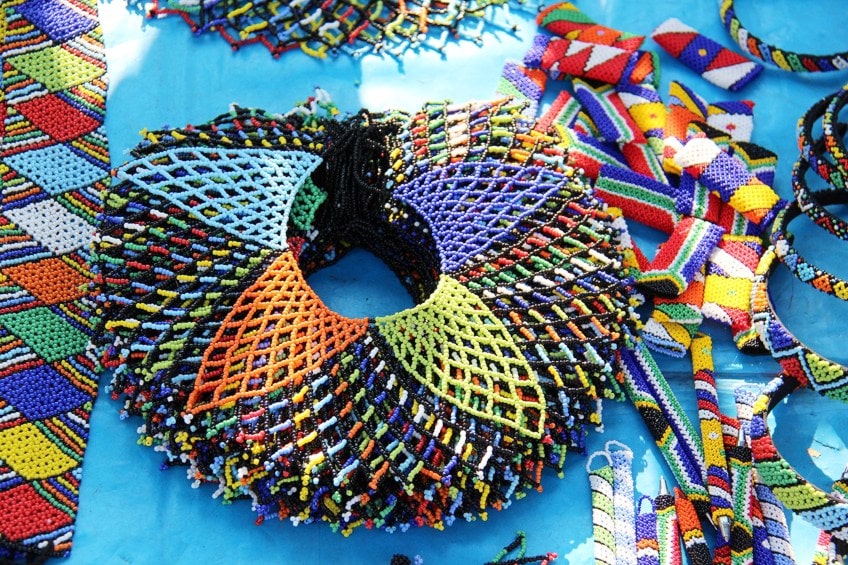 An example of South African beadwork at the Bruma Flea Market in Johannesburg; Aurobindo Ogra, CC BY-SA 3.0, via Wikimedia Commons
Two major art events that had an important impact on the global and local awareness of South African art were the Johannesburg Biennales, Africus (1995), and Trade Routes (1997). Black South African artists now had a way of expressing how society had been influenced by apartheid. In the post-apartheid era, artists have been given the freedom and the means to protest social, political, and environmental issues.
However, not all South African art is political and there have been issues with viewers assuming the meaning of art, and even pressure from collectors, for works to be for a political cause.
Today, there are many well-known South African contemporary artists of various races, cultural backgrounds, and traditions that produce art based on a variety of subjects and whose art can be seen in collections all over the world.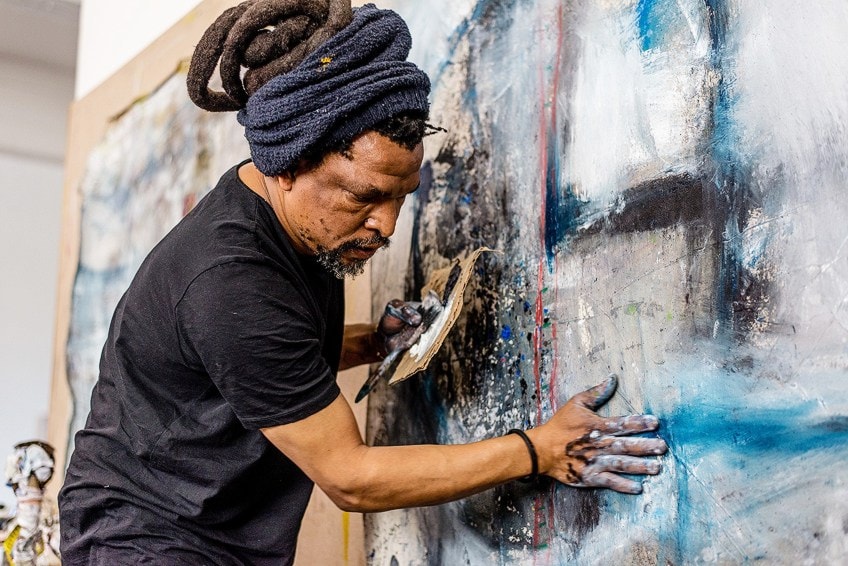 Johannesburg-based artist, Thokozani Mthiyane, at work on a painting, 2021; Art Eye Gallery, CC BY-SA 4.0, via Wikimedia Commons
The Contemporary South African Art Scene
There has been a boom in the South African and African art market, grabbing the attention of collectors from around the world, along with a rise in the number of art galleries and venues opening, with many exhibitions and art fairs being held throughout the year.
The Zeitz Museum of Contemporary Art Africa, which was founded in Cape Town in 2017, shows contemporary art by both emerging and established South African artists, and the "FNB Art Joburg" in Johannesburg is considered the most important show of African contemporary art, supporting the growing number of artists on the continent.
With regards to galleries, there is Everard Read in Johannesburg, Cape Town, and Franschhoek, named after the late Everard Read who was the doyen of art dealers in South Africa. There is also Knysna Fine Art, owned by his son, Trent Read, as well as other spectacular galleries such as the Goodman Gallery, SMAC, and private enterprises such as the Rupert Museum.
Top South African Contemporary Artists
Artists in South Africa form a dynamic group of creators who each interpret their environment, political and socio-economic realities, and rich traditions in diverse ways with a powerful impact. The following are nine South African artists that you should know about that have and are contributing to the evolution of the South African art scene.
Penny Siopis (1953 – Present)
| | |
| --- | --- |
| Artist Name | Penny Siopis |
| Birth Date | 1953 |
| Where the Artist Was Born | Vryburg, North West Province |
| Mediums Used | Painting, installation, film |
Penny Siopis is one of South Africa's celebrated female artists and an honorary professor at the Michaelis School of Fine Art. In her work, she explores what she calls, "Poetic Vulnerability" through topics such as violence, shame, sexuality, migration, history, and memory in a variety of media, including painting, installation, and film.
She became known for her impasto "cake" paintings during the 1980s that consisted of heavily layered oil paint that she applied using cake decorating tools, such as pipe bags and palette knives.
South Africa artist Penny Siopis and some of her paintings, 2017; Penny Siopis, CC BY-SA 4.0, via Wikimedia Commons
The thick paint changes over time with the outside surface drying long before the inside, leading to cracking and wrinkling of the surface of the paint and becoming a metaphor for time and its effect on the body. In these works, Siopis challenges conventional ideas of beauty and Western ideals regarding female skin, while at the same time commenting on a larger social issue of food and decay.
Her "history paintings" reflect on colonialism and question the genre of history painting in the European art historical tradition, incorporating the techniques of collage and assemblage to distort the image.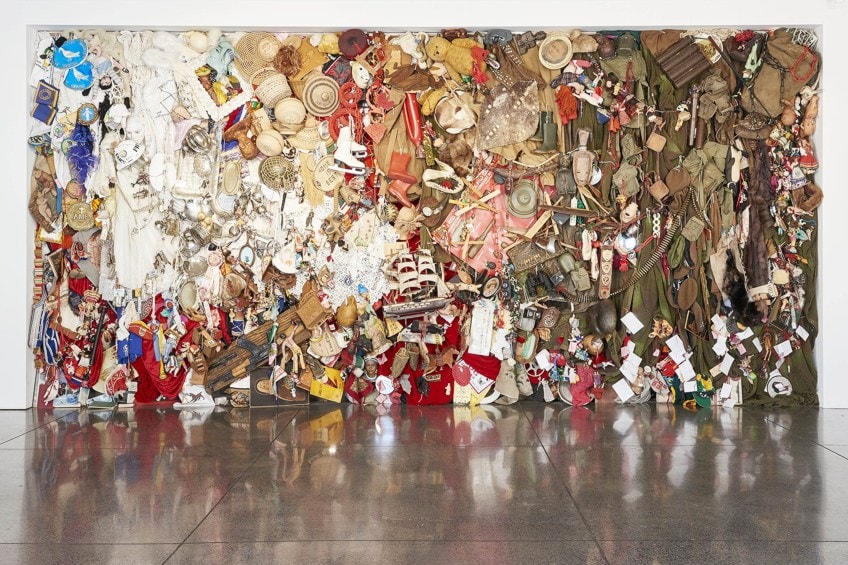 Charmed Lives installation by Penny Siopis at the Wits Art Museum, 2015; Penny Siopis, CC BY-SA 4.0, via Wikimedia Commons
Her later "Pinky Pinky" works, "Shame paintings", ink and glue paintings, installations, and films demonstrate her talent to bring together diverse references and media in a way that challenges boundaries and addresses personal and political change.
Some of Penny Siopis' works include:
Birthday Cake (1982)
Pinky Pinky (Model Prisoners) (2002)
Transfigure III (2017)
William Kentridge (1955 – Present)
| | |
| --- | --- |
| Artist Name | William Kentridge |
| Birth Date | 1955 |
| Where the Artist Was Born | Johannesburg, Gauteng Province |
| Mediums Used | Charcoal drawing, prints, animated film |
William Kentridge is considered one of South Africa's most important artists. Born in Johannesburg, his work is a form of self-reflection, indicating his passion for social justice as he investigates the effects that apartheid and colonialism have had on South Africa.
His parents were both anti-apartheid lawyers from whom he learned the importance of questioning.
Having obtained a degree in African Studies and Politics at the University of the Witwatersrand in 1976, he then studied art at the Johannesburg Art Foundation. While studying there, he was greatly influenced by the graphic works of Dumile Feni. Kentridge has also had experience in television and filmmaking and dedicated part of his career to the theater.
South African artist William Kentridge at an exhibition opening at the ACMI, Melbourne, Australia, 2012; Peter Campbell, CC BY-SA 3.0, via Wikimedia Commons
South African artist William Kentridge is renowned for his prints and drawings, although he is perhaps best known for his animated films, a process in which he draws with charcoal and erases while recording the process on camera.
His expressionistic video compositions are then projected, playing on a loop, telling deeply personal and sometimes brutal stories that express Kentridge's mixed feelings regarding his country.
Some of William Kentridge's works include:
Felix in Exile (1994)
Stereoscope (1999)
Art in a State of Hope (2000)
Deborah Bell (1957 – Present)
| | |
| --- | --- |
| Artist Name | Deborah Bell |
| Birth Date | 1957 |
| Where the Artist Was Born | Johannesburg, Gauteng Province |
| Mediums Used | Painting, etching, sculpture |
Deborah Bell is a celebrated artist of South Africa, working in a variety of media on canvas and paper, as well as printmaking and producing large-scale bronze sculptures. She studied at the University of the Witwatersrand where she received her Bachelor of Fine Arts Honors Degree and Master's Degree in Fine Arts. Her earlier work focused on political narratives, and she collaborated on several projects with contemporaries such as Robert Hodgins and William Kentridge that have gained historical importance.
This work was superseded by her more recent exploration into the boundary between the physical and the spiritual, mortality and immortality, the mundane and the mythic.
Her style and subject matter reflect Bell's fascination with ancient civilizations and artifacts. Her work is characterized by poised simple figures and shapes, incorporating symbolic images and iconography drawn from various cultures such as Egyptian, Chinese, African, Greek, and early Christian European, as well as philosophies of the Buddhist faith.
Her work is immediately recognizable among South African painting artists and sculptors for the stillness portrayed in her imagery, evoking a sense of calm in the viewer.
Her recent work features figures on a personal journey accompanied by animals such as wolves, lions, and horses and modes of transport such as chariots and boats. But her latest body of work illustrates a feeling of coming home and the end of the quest for transcendence, an acceptance of our physical materiality and who we are.
Some of Deborah Bell's works include:
Interval (2008)
Reveal (2014)
Sentinels (2020)
Jane Alexander (1959 – Present)
| | |
| --- | --- |
| Artist Name | Jane Alexander |
| Birth Date | 1959 |
| Where the Artist Was Born | Johannesburg, Gauteng Province |
| Mediums Used | Sculpture, photography, video, photomontage |
Jane Alexander is a prominent South African artist who has received international respect for her eerie figurative sculptures, installations, and photomontages. Having grown up under the apartheid regime, her work is heavily influenced by that political and social environment and the global aftermath.
Alexander became well known early in her career and is especially known for her work, "Butcher Boys" (1985–1986), an important work she created as a student at the University of Witwatersrand, which is now part of the South African National Gallery collection.
Consisting of three life-size figures with horns sitting on a bench, their distorted and grotesque appearance leaves them vulnerable and stripped of identity. This sculpture, along with other works by Alexander, comments on the abuse of power and the ill-treatment of people during the apartheid era. Her more recent work reflects on the outcome of apartheid and draws worldwide comparisons regarding migration, and political and cultural conflict.
Some of Jane Alexander's works include:
African Adventure (1999-2002)
The Sacrifices of God are a Troubled Spirit (2004)
Harbinger in Correctional Uniform, Lost Marsh (2007)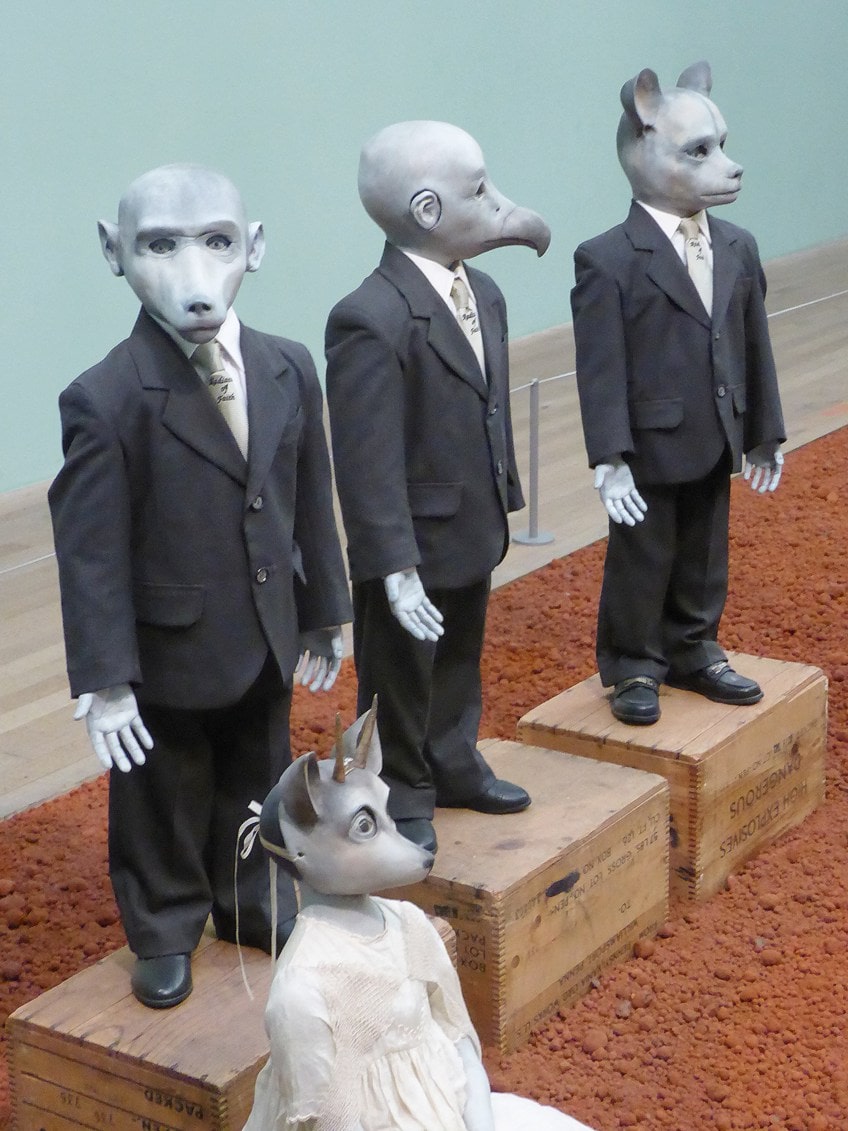 African Adventure (1999-2002) by Jane Alexander at the Tate Modern in London, England; Ardfern, CC BY-SA 4.0, via Wikimedia Commons
Zanele Muholi (1972 – Present)
| | |
| --- | --- |
| Artist Name | Zanele Muholi |
| Birth Date | 1972 |
| Where the Artist Was Born | Umlazi, KwaZulu-Natal Province |
| Mediums Used | Photography, film, and installation |
Zanele Muholi is a visual activist and artist born in Umlazi in KwaZulu-Natal. They work primarily with photography, film, and installation capturing the lives of black lesbian, gay, transgender, intersex, and bisexual people in South African townships. Muholi studied at the Market Photo Workshop in Newtown, Johannesburg specializing in Advanced Photography, completing her Master of Fine Art in Documentary Media at Ryerson University in Toronto.
They have won numerous awards for their arresting portraits and are an Honorary Professor at the University of the Arts, Bremen.
South African artist Zanele Muholi speaking at the International Gay and Lesbian Film Festival, 2011; International Gay and Lesbian Film Festival «Side by Side», CC BY-SA 3.0, via Wikimedia Commons
In 2006, Muholi started an ongoing project entitled, Faces and Phases, which was a response to the discrimination and violence experienced by the LGBTI community in South Africa. The series of portraits depicts black transgender and lesbian individuals in hopes of counteracting the negative stigma attached to queer people, contributing toward a history of homosexuality in South Africa that is more accurately represented and democratic.
In their more recent series, Somnyama Ngonyama (Hail the Dark Lioness), Muholi becomes both the creator and the subject as they sit in front of the camera. The self-portraits experiment with various archetypes and characters that reference events in the political history of South Africa.
In addition, Muholi darkens their skin, exaggerating their skin tone to emphasize the reclamation of their dark skin, counteracting the popular cultural images of black women in today's media.
Some of Zanele Muholi's works include:
ID-Crisis (2003)
Bester I, Mayotte (2015)
Qiniso, The Sails, Durban (2019)
Michael MacGarry (1978 – Present)
| | |
| --- | --- |
| Artist Name | Michael MacGarry |
| Birth Date | 1978 |
| Where the Artist Was Born | Durban, KwaZulu-Natal Province |
| Mediums Used | Mixed media, film |
Michael MacGarry is a multi-award-winning South African artist who works in a variety of media, including photography, installation, sculpture, and film. He studied at the University of the Witwatersrand, receiving his Master's Degree in Fine Art, and is currently a Ph.D. candidate in Art History at the university. MacGarry's work has been exhibited internationally, with his subject matter focusing on socio-political, economic, and environmental issues, especially in the context of his home country.
MacGarry's most recent exhibition, Genre Pictures (2022) at Everard Read continues his emphasis on socio-political and economic stories in his series of large-scale works created with sewn salvaged cement packet paper, as well as sculptures made mostly with found objects, aluminum, and steel.
His concern for the human impact on the planet and questions regarding what is left for the future is a theme that runs through all the works featured in the show, portrayed with a modern and almost minimalist aesthetic.
Some of Michael MacGarry's works include:
Purchase Intent (2021)
David (2022)
The Starry Plough (2022)
Phillemon Hlungwani (1979 – Present)
| | |
| --- | --- |
| Artist Name | Phillemon Hlungwani |
| Birth Date | 1979 |
| Where the Artist Was Born | Thomo Village, Giyani, Northern province |
| Mediums Used | Print, charcoal, and pastel drawing |
Phillemon Hlungwani is seen to be one of the most accomplished artists currently working in the contemporary South African art scene. He was born in the rural Thomo Village of Giyani in Limpopo and where he first developed his love and skill for creating art. He then studied at the Johannesburg Art Foundation and moved on to the Artist Proof Studio where he learned printmaking.
Hlungwani's work is collected both locally and internationally and is characterized by scenes depicted of rural life, and formal and informal settlements, portraying a strong sense of community and traditional values.
Each of his works is titled with a proverb in xiTsonga, his first language, communicating how a member is either maintaining or failing to uphold the values of the people of a particular community. In Hlungwani's narratives, he shows the people as being intimately linked to their environment and each other, with drawn lines and arcs that interweave and connect the various parts of each work. Although his work is often monochromatic, using dark charcoal or black ink to depict the figures, trees, animals, and landscapes, he sometimes adds pops of color to the protagonists' clothing or other items in the picture.
Some of Phillemon Hlungwani's works include:
Xibombi Xi Bomba Na N'wana Waxona, I (2011)
Ndlela hi komba hi lava va nga rhanga va yi famba, I (The old people can show us where to go because they have experienced it before I) (2015)
Manana, I Wa Nkoka Eka Mina (Mother, You Are So Special to Me) (2022)
Jan Tshikhuthula (1983 – Present)
| | |
| --- | --- |
| Artist Name | Jan Tshikhuthula |
| Birth Date | 1983 |
| Where the Artist Was Born | Tzaneen, Limpopo Province |
| Mediums Used | Print, charcoal, and pastel drawing |
Jan Tshikhuthula is an artist that deserves attention for his printmaking making, charcoal, and pastel drawing on paper. He was born in the small town of Tzaneen in Limpopo where he developed his love for landscape drawing and painting. He trained at the Motongoni Art Academy from 2005 and thereafter studied at the Artist Proof Studio in Johannesburg in 2009, which created opportunities for him to work with industry leaders such as William Kentridge and Kim Berman.
The printmaking skills he learned there played a major role in his artistic style, which is characterized by graphic lines and expressive movement.
Tshikhuthula's journey from rural Tzaneen to the urban city of Johannesburg is depicted in his work, shown through jagged edges and expressive use of line, combining urban inspiration into his landscapes of open land. The use of industrial water installations, taps, buckets, and windmills in his compositions are inspired by his grandfather who worked on industrial water systems.
This subject matter contrasts strikingly with the colors of the Venda landscapes, giving them a moody and almost apocalyptic feel.
Some of Jan Tshikhuthula's works include:
Beyond Imagination (2017)
Lwendo lwa duvha V (2018)
Ha mpofu / A Village Where my Mother was Born (2022)
Blessing Ngobeni (1985 – Present)
| | |
| --- | --- |
| Artist Name | Blessing Ngobeni |
| Birth Date | 1985 |
| Where the Artist Was Born | Tzaneen, Limpopo Province |
| Mediums Used | Mixed Media Collage |
Blessing Ngobeni is a South African artist whose graphic style is receiving international attention. He primarily works in mixed media, combining paint and collage on canvas to create challenging imagery that conveys strong political messages, bringing awareness to the abuse of power, and environmental as well as socio-economic issues.
After a turbulent, abusive experience in early childhood, Ngobeni left the small town of Tzaneen in Limpopo province at the age of 10 for the Johannesburg slums, where he was homeless and became involved in crime. He was arrested for armed robbery and during the six years in prison, he decided to change his life circumstances and began making art.
After his release, he pursued art on a professional level and quickly became one of the most thought-provoking and exciting contemporary artists in South Africa.
Having been compared by many to the late American artist, Jean-Michel Basquiat, Ngobeni's surreal and often disturbing imagery, combined with graphic, distorted figures that contrast with bright, rich colors forces the viewer to confront difficult truths.
Some of Blessing Ngobeni's works include:
Brutality (2016)
Mask and Struggle (2016)
House Goat (2017)
There are many outstanding artists in South Africa who have contributed to the rich tapestry of South African art and if you have felt inspired by the nine artists above, we encourage you to continue your exploration into South African painting artists, sculptors, and photographers.
Frequently Asked Questions
What Is South African Contemporary Art?
South African art is made by artists living within the country of modern South Africa, and contemporary art in South Africa refers to work produced by artists of the present day who are usually still alive. Contemporary art is not just about how the work looks but is often about the ideas and messages it conveys to the viewer.
Who Are the Most Well-known South African Artists?
Many South African artists have made a significant impact on the art industry and South African art history. Some of them are William Kentridge, Jacobus-Hendrik Pierneef, Irma Stern, Gerard Sekoto, George Pemba, Alexis Preller, Penny Siopis, Walter Battiss, Jane Alexander, Robert Hodgins, John Meyer, Sydney Kumalo, Dumile Feni, Deborah Bell, and many more.
Jaycene-Fay Ravenscroft is a writer, poet, and creative living in South Africa with over 6 years of experience working in a contemporary art gallery. She completed her Bachelor of Arts degree, majoring in Art History and Ancient History at the University of South Africa, with additional subjects in Archaeology and Anthropology.
With a passion for learning, Jaycene-Fay is very much inspired by symbology and the connection between everything in this world. Trained to analyze and 'critique' art, she is passionate about exploring the meaning behind each artwork she encounters and understanding how it connects to the artist's cultural, historical, and social background. Writing is Jaycene-Fay's way of having a finger in every pie: to research, share knowledge, and express herself creatively.
Learn more about the Art in Context Team.