Heinrich Lossow was a German artist known for his portraits, interiors, and genre paintings. However, Lossow is most well-known for his pornographic artworks. The most famous of Heinrich Lossow's paintings is The Sin painting. Let's find out more about Lossow's life and artwork and learn how people reacted to his sensuous artworks.
The Life and Work of Heinrich Lossow
| | |
| --- | --- |
| Name | Heinrich Lossow |
| Nationality | German |
| Date of Birth | 10 March 1843 |
| Date of Death | 19 May 1897 |
| Place of Birth | Munich, Kingdom of Bavaria |
In many ways, Heinrich Lossow was typical for his period, a proficient genre painter brought up by an artistic household in an artistic neighborhood. What made him famous, aside from his talent, were certain subject matter, most notably an artwork from 1880 portraying a nun being sexually assaulted by a church leader through a gate at the Church. It is known as The Sin painting.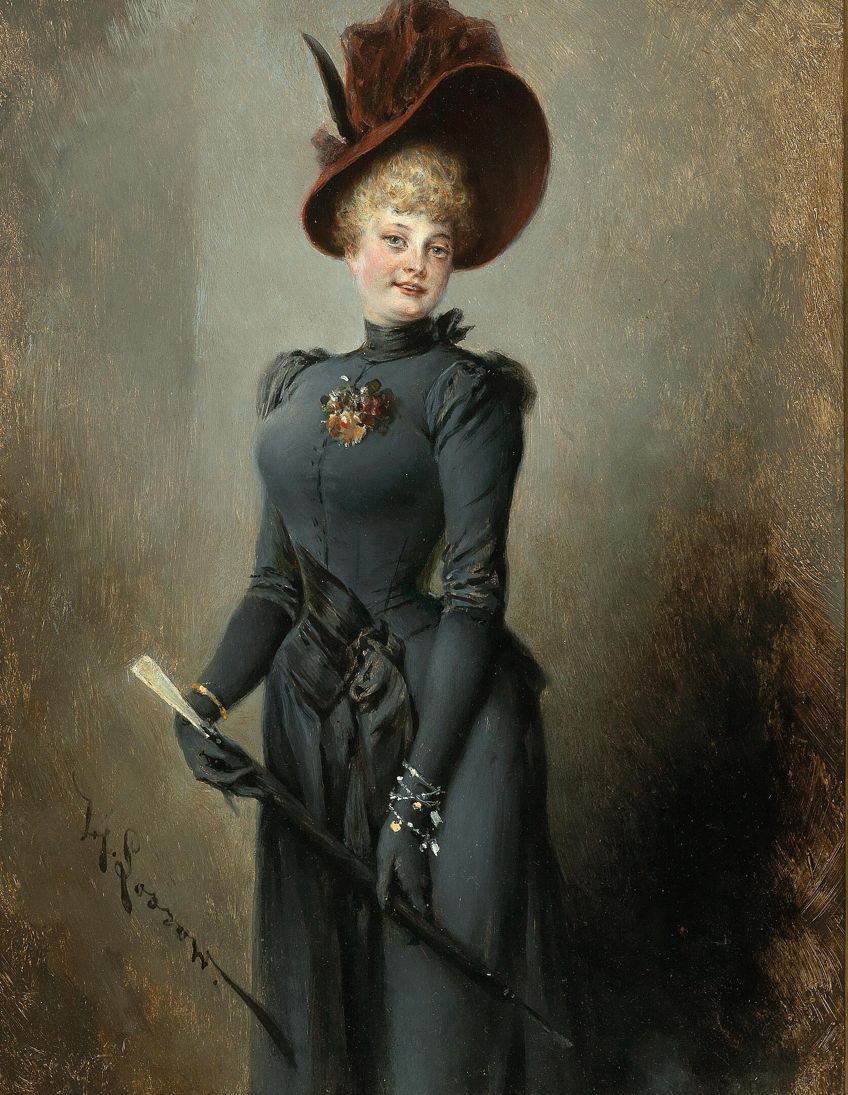 Portrait of a Lady in a black dress with a wine-red hat and Umbrella (1897) by Heinrich Lossow; Heinrich Lossow, Public domain, via Wikimedia Commons
The Biography of Heinrich Lossow
Heinrich Lossow was a painter, illustrator, and curator from Germany. Lossow was the son of artist Arnold Hermann Lossow, who traveled to Munich from Bermen to train under Ernest Mayer in 1820. Carl, Friedrich, and Heinrich Lossow were Arnold H. Lossow's three sons. Heinrich Lossow was raised in an artistic family and exhibited an early talent for sketching and painting. Carl went on to become a history artist, whereas Friedrich went on to become a wildlife artist. Heinrich would live longer than any of his brothers. Heinrich began his training with his father Arnold before enrolling in Munich's Academy of Fine Arts.
He studied at Karl Theodor von Piloty's studio. Around the year 1870, he traveled to France and Italy to hone his painting skills.
Lossow started to distinguish himself as an artist of historical and genre settings after finishing his studies. His early artworks were largely inspired by the Romantic era, with a focus on brilliant colors and striking lighting. In the 1860s, he started using a more realistic approach, with more attention to detail and a more subdued color palette. Lossow's style was in high demand, and he kept busy with artworks and engravings of idyllic pastoral settings populated by cupids and nymphs.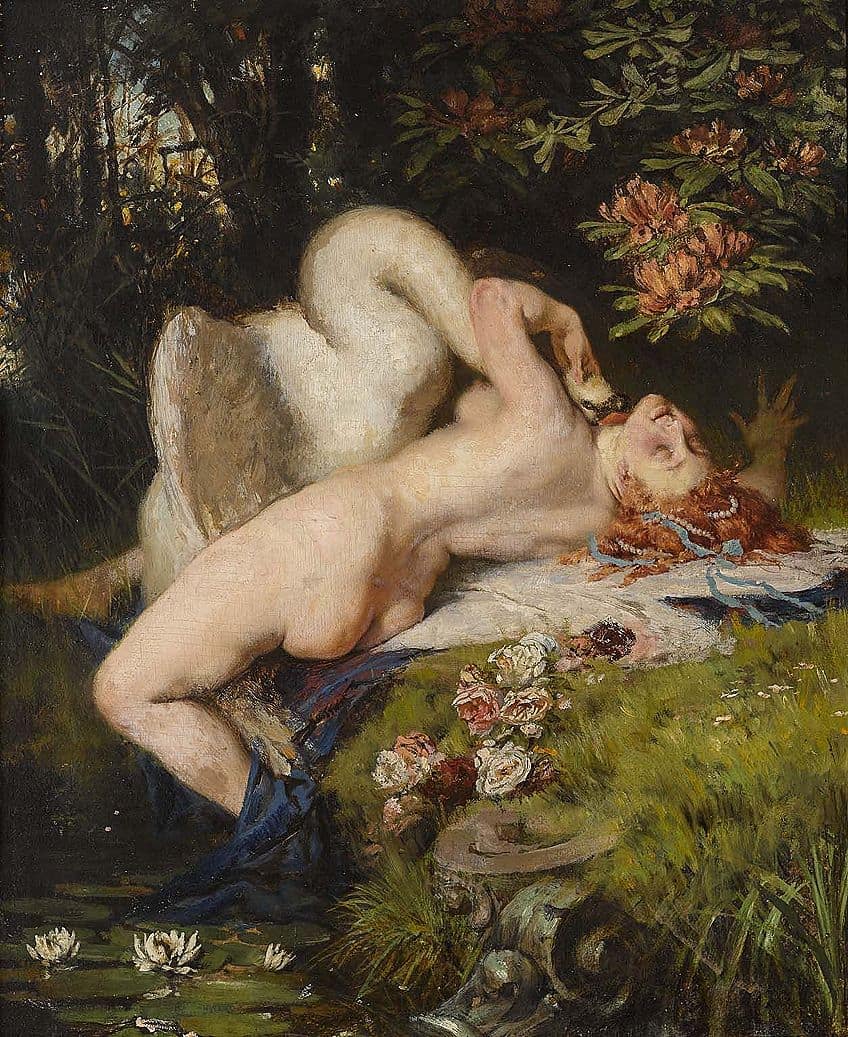 Leda and the Swan (n.d) by Heinrich Lossow; Heinrich Lossow, Public domain, via Wikimedia Commons
Although most of Heinrich Lossow's paintings were more conventional, including the publication of a collection of paintings for a revised release of Shakespeare's The Merry Wives of Windsor, erotic subjects appear to have been on his mind a lot as he approached middle age, as this was also the time when he created the collection of illustrations entitled Ein Treue Diener. In his free time, he was a prominent pornographer, and some of his most obscene works can be viewed online. Lossow displayed his work extensively during his career, both in Germany and internationally. He was commissioned for various murals and ornamental works, notably a sequence of paintings at the Bavarian Ministry of Defence in Munich.
He also served as a book artist, illustrating a number of well-known novels and pieces of poetry.
Lossow was married to an artist and fellow Academy of Fine Arts student, Therese Heigel. The two artists had four children together, two of whom went on to pursue careers as painters. Heinrich Lossow passed away on the 19th of May, 1897, in Munich. He left a substantial corpus of work, which included paintings, sketches, and illustrations. His art stands out for its attention to detail, historical authenticity, and incorporation of dramatic lighting and color. His works are now housed in a number of significant art collections worldwide, including the Museum of Fine Arts in Boston and the Bavarian State Painting Collections in Munich.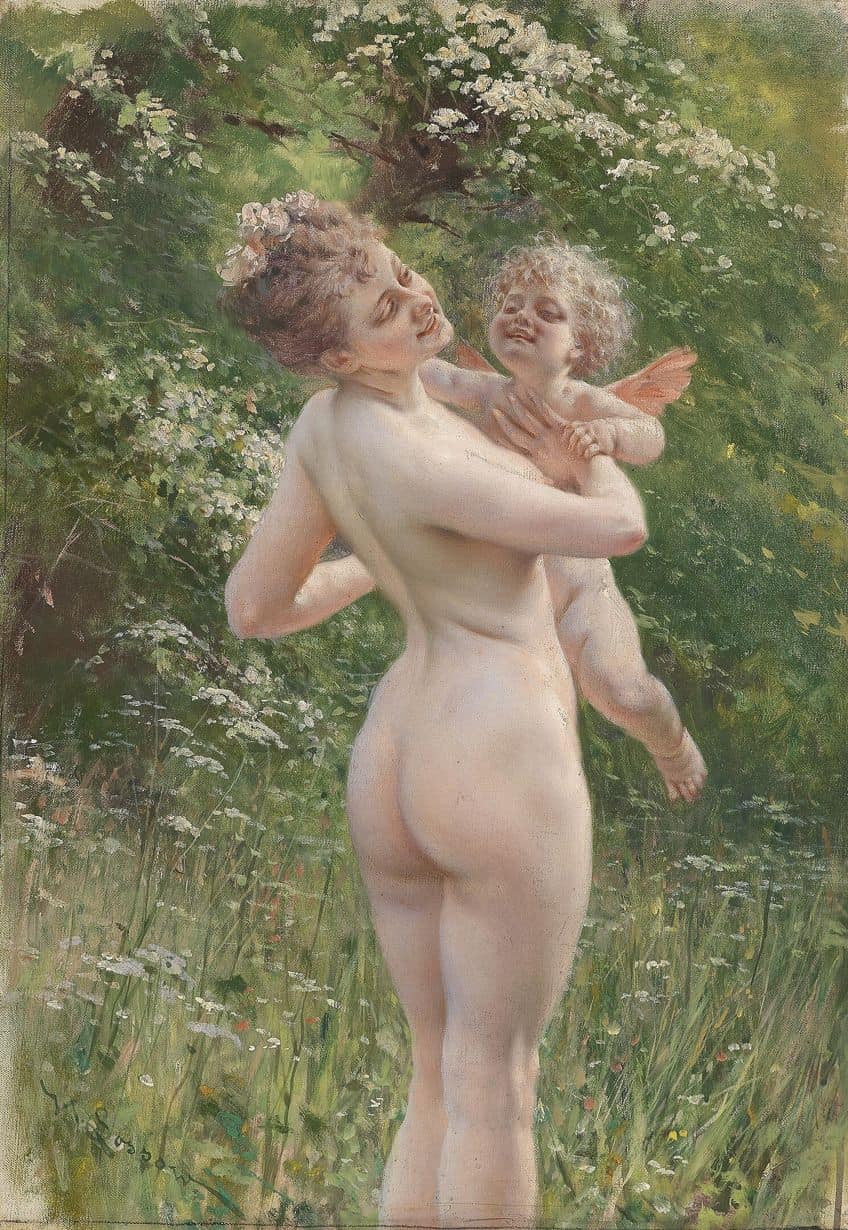 Love Whispers (1897) by Heinrich Lossow; Heinrich Lossow, Public domain, via Wikimedia Commons
The Art of Heinrich Lossow
Lossow was well-known for his extremely detailed and realistic paintings, which frequently depicted historical or mythological events. His work is distinguished by a crisp, almost photographic manner, with a concentration on architectural details. Lossow's work is typically described as academic or realistic, reflecting the influence of the 19th-century German art academy's highly detailed and realistic approach. His use of vivid color and precise attention to architectural aspects, on the other hand, reflect a certain romanticism and interest in exotic or historical topics.
One of Lossow's most infamous works is The Sin painting.
The plot of the "Banquet of Chestnuts" is thematically tied to The Sin painting. This was the name given to a scandalous meal supposedly hosted at the Papal Palace on the 30th of October, 1501 by the son of Pope Alexander VI, Cardinal Cesare Borgia. The banquet account was recorded in the Latin notebook of Protonotarius the Apostle and Master John Burchard's ceremonies, although its authenticity is debatable.
The Sin (1880) by Heinrich Lossow; Heinrich Lossow, Public domain, via Wikimedia Commons
Cesare Borgia held a feast at his rooms in the Vatican on the evening of the 31st October 1501, with 50 prostitutes, known as courtesans, who danced in the day with the servants and other individuals present, initially in their clothes and then nude. Following supper, lit candles were taken from the tables and placed on the floor, with chestnuts spread around them, which the nude courtesans picked up while creeping on all fours between the candelabra. How true this story is can be hard to discern, but it made for excellent gossip in its day.
Not much information is available online about the life and art of the German painter, Heinrich Lossow. It is known that he was a talented artist who enjoyed painting in the Romantic and Rococo styles, and was capable of creating beautifully detailed and life-like paintings. He was also known to be a rather busy pornographer when he was not creating normal artwork, and his most well-known artwork also had a pornographic element to it, titled The Sin (1880).
Frequently Asked Questions
Was Heinrich Lossow a Famous Artist?
He was a well-known artist who had a great career as a painter in his day. He was a representative of the Munich School, which was a group recognized for its realistic style. Heinrich Lossow's paintings were frequently shown in Germany and the rest of Europe throughout his lifetime, and he earned several accolades and distinctions for his work. Collectors and customers coveted his works, and he counted many important persons among his clients.
Who Created The Sin Painting?
It was produced by Heinrich Lossow. It was said to be based on actual events involving the Pope's son and prostitutes. How true the event is has been the topic of much debate among art scholars.
Isabella studied at the University of Cape Town in South Africa and graduated with a Bachelor of Arts majoring in English Literature & Language and Psychology. Throughout her undergraduate years, she took Art History as an additional subject and absolutely loved it. Building on from her art history knowledge that began in high school, art has always been a particular area of fascination for her. From learning about artworks previously unknown to her, or sharpening her existing understanding of specific works, the ability to continue learning within this interesting sphere excites her greatly.
Her focal points of interest in art history encompass profiling specific artists and art movements, as it is these areas where she is able to really dig deep into the rich narrative of the art world. Additionally, she particularly enjoys exploring the different artistic styles of the 20th century, as well as the important impact that female artists have had on the development of art history.
Learn more about the Art in Context Team.