Simone Leigh: the name that is on everyone's lips in the art world in 2022. Not only is Simone Leigh the first black woman to represent the United States at the 59th Venice Biennale, the oldest and most important international exhibition of contemporary art, but she also won the Golden Lion award for the best participant in the central exhibition, curated by Cecilia Alemani. Leigh's work has been in high demand worldwide and her artistic career has been developing consistently for more than 30 years. This article takes a deeper look into the life and work of this celebrated multidisciplinary artist.
Artist in Context: Who Is Simone Leigh?
Simone Leigh never considered herself an artist until 2001, when she was raising her daughter as a single mother in Brooklyn. As a young aspiring artist, she struggled with the art world's view of ceramics, her most-loved medium, as a material for hobbyists and crafters. Even so, she has managed to carve out a beautiful career for herself as a ceramicist and multidisciplinary contemporary artist.
Leigh is a dynamic and energetic artist who has built a remarkable career through her dedication and consistency. Her craftsmanship and talent seem to have no limits.
Childhood and Early Education
Simone Leigh was born in 1967 in Chicago, Illinois, to Gilbert and Claire Leigh. Leigh's father, a Nazarene preacher, was originally from Jamaica. Her mother, who was also a Nazarene missionary, was born in New York but spent her childhood in Jamaica. Leigh's father was a preacher at a Nazarene church in Chicago's South Side when Leigh was born as the youngest of four.
Leigh's mother took her children to exhibitions and concerts, exposing them to as much culture as possible.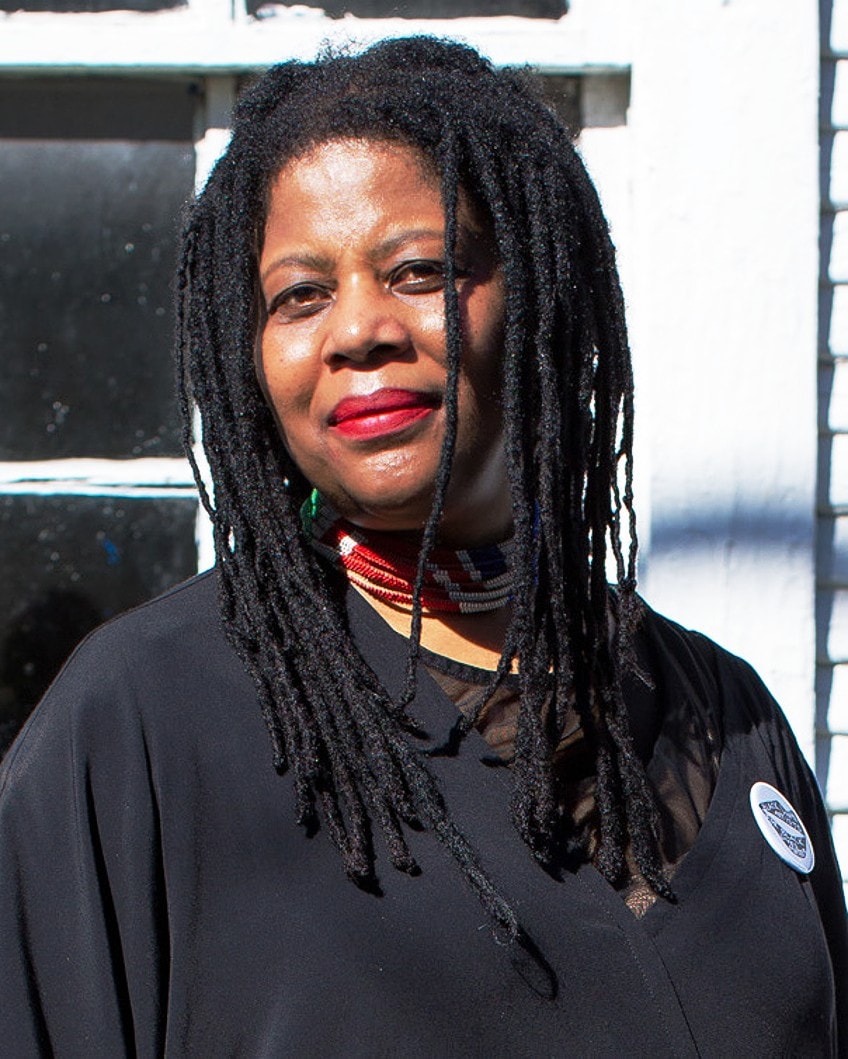 Portrait of artist Simone Leigh by Tiffany Smith in 2017; Tiffany I. Smith, CC BY-SA 4.0, via Wikimedia Commons
Despite this exposure to different cultures, the children were raised in a very strict religious home. Leigh's parents, however, valued their children's education and she attended a public school in Hyde Park, called Kenwood High. Leigh enrolled at Earlham College in Indiana after graduating from high school, convincing her parents that it was Christian. Disaster would soon hit, however, as her parents discovered, by hiring a private investigator, that Leigh was in a sexual relationship.
She was given an ultimatum: attend a Christian college or lose their support.
Later Education and a Turn to Sculpture
At the age of 19, Leigh chooses to leave, losing contact with them for nearly a decade. Being financially cut off, Leigh was forced to take a leave of absence from Earlham. As a licensed nurse, she worked in a state hospital until she became legally independent from her father and could apply for student loans. Upon returning to Earlham, Leigh set her sights on becoming a social worker. However, after taking a philosophy course about women, her perspective began to change.
As a result of her rejection of Nazarene morality, Leigh developed a deep interest in philosophy, which broadened her mind and introduced her to a variety of cultural perspectives.
Earlham's Department of Japanese Studies provided Leigh with courses in Japanese history, literature, film, calligraphy, and art. Leigh became more determined to break from Western cultural norms after reading Edward Said's "Orientalism". Leigh found her voice developing more through immersing herself in post-structuralist feminist writings.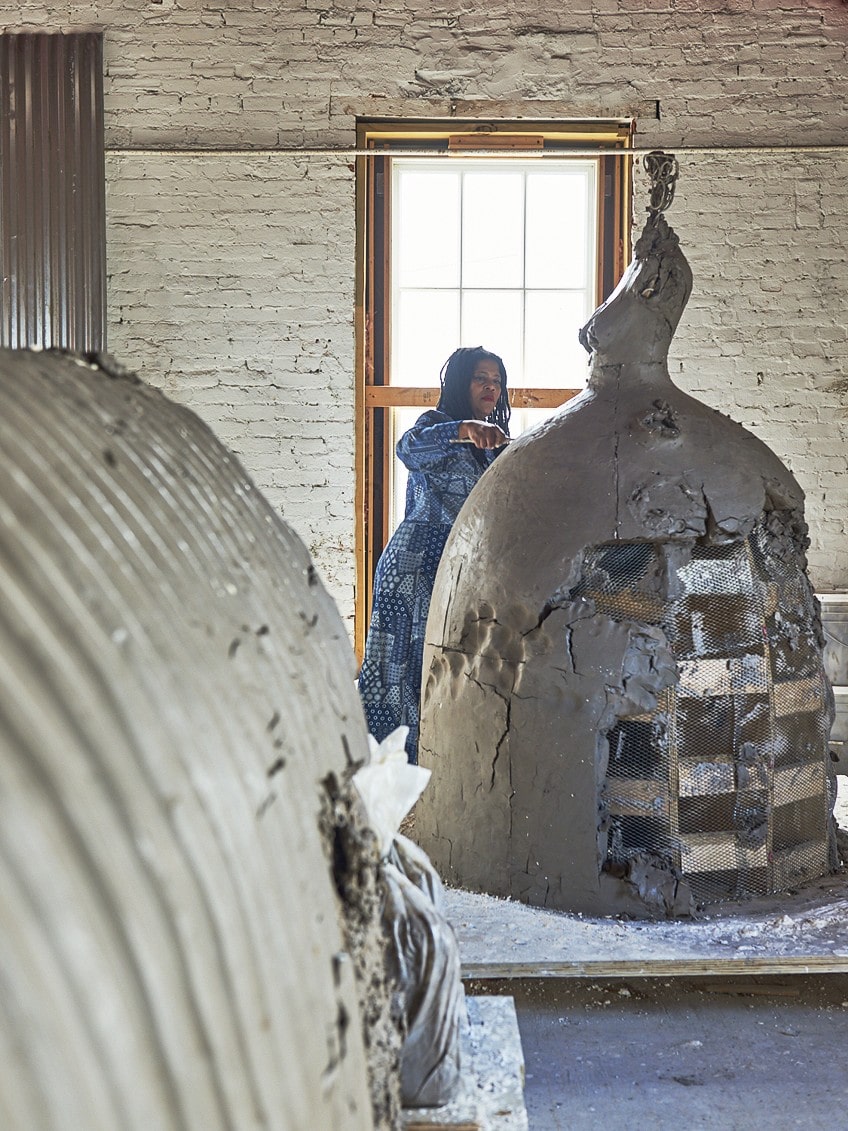 Simone Leigh working in her studio; Kknodell, CC BY 4.0, via Wikimedia Commons
Her work would become increasingly focused on the lived experiences of Black women. Leigh was introduced to clay by Michael Thiedeman, a well-known pottery expert specializing in Chinese, Japanese, and Korean ceramics. Leigh's attraction to the medium was immediate. Here Leigh discovered her love for making sculptures. She developed her interest in African vessels during an internship at the Smithsonian National Museum of African Art, to which Thiedeman persuaded her to apply.
In order to gain access to the pottery studio, Leigh decided to major in art instead.
Early Career
Leigh moved to New York after graduating from Earlham in 1990. Here she found a job at a pottery store, where she could work on her large terracotta water pots after hours. Leigh explained her interest in the water pots by saying that for her it was the perfect form to embody the "anonymous labor of women" all over the world.
In 1992, Leigh moved to Virginia where she joined a white bohemian commune that created functional pottery.
While she initially enjoyed her stay at the commune, it was short-lived as she wanted to experiment with her creations beyond the limits of functionality and found it difficult not to live in a Black community. Leigh returned to New York in 1993. Yuri Marder, a professional photographer she didn't know at the time, shared an apartment with her in Williamsburg, where she supported herself through temporary jobs such as firing subway tiles and tutoring very young children. By this point, Leigh was financially struggling and estranged from her entire family except for her brother Whitney.
Photograph of artist Simone Leigh by Shaniqwa Jarvis, taken in 2022; Rellamell, CC BY-SA 4.0, via Wikimedia Commons
Leigh continued to create large water pots when she was able to focus on her work, and she occasionally sold them. Leigh fell in love with her roommate and married him in 1994. The wedding was attended by her sister Stephanie and brother Whitney, as well as her father, who was not invited. The unexpected appearance of her father re-established their relationship, which had been damaged for years. In 1996, Leigh gave birth to her daughter, Zenobia, and became a full-time mother for five years. During this time, Leigh's marriage was under strain and she divorced Marder in 2001.
Mother and daughter moved to a loft in Brooklyn with ample natural light that inspired Leigh to return to her clay work.
Here she started to experiment with more abstract shapes and experimental sculptures. In this loft, Leigh would host gatherings with a variety of different individuals, including friends with their children, teachers, artists, academics, filmmakers, and feminists. It was only in 2001, when she had her first show at Rush Art Gallery in New York, that Leigh called herself an artist.
Mature Period
From this point on, Leigh participated in several group exhibitions and had a solo show at Momenta Art in Brooklyn in 2004. Additionally, she began receiving residencies, where other artists and museum curators recognized her work. While her daughter was spending summers with her father, Leigh traveled abroad. She visited South Africa, Nigeria, and Namibia, where she learned about their colonial histories. In Nigeria, she met the curator Bisi Silva, who started showcasing her work outside of America.
In 2010, Simone Leigh's artworks afforded her a prestigious residency at the Studio Museum in Harlem, which included an exhibition that attracted prominent art world figures.
In 2012, she exhibited at an alternative-art space in Chelsea, called the Kitchen. Here, Leigh exhibited three large hanging sculptures and, for the first time, a video work. Although Leigh had previously resisted working with any other medium than clay, she enjoyed the collaboration required by video work. Her 2016 exhibition, "The Waiting Room", included physical and spiritual health guides as a social initiative.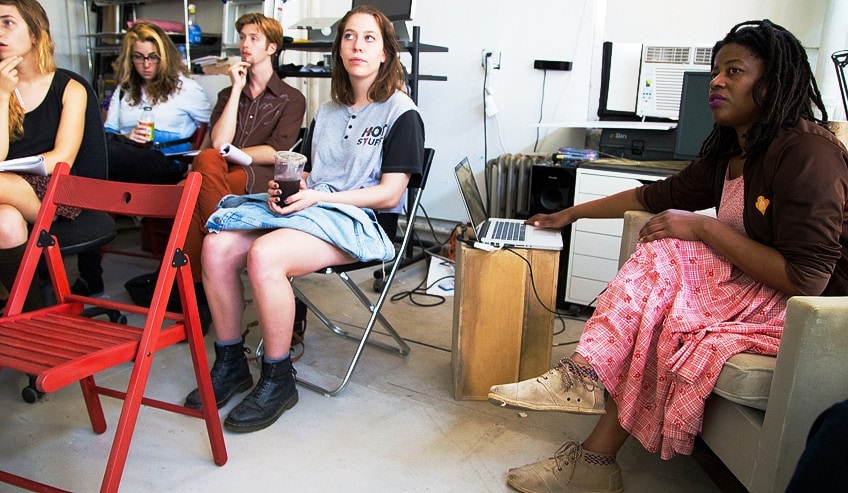 Simone Leigh giving a lecture to the New York Arts Practicum in 2013; Arts Practicum, CC BY-SA 2.0, via Wikimedia Commons
Leigh had two more prolific exhibitions in 2016, at the Tate Exchange in London and the Hammer Museum in Los Angeles, which marked a turning point in her career. Through these exhibitions, Leigh was able to reach a wider international audience. Leigh won the Hugo Boss prize in 2018 and exhibited at the Whitney Biennial in 2019. With her growing success and increased support, Leigh's work continued to develop both conceptually, and in scale.
Leigh's initial sculptures of water pots had steadily grown and developed into larger-than-life full-bodied abstract female figures.
Seminal Simone Leigh Artworks
From 2016 until now, Leigh's career has skyrocketed. Simone Leigh's artworks have been exhibited widely throughout the world, including at MoMA PS1, Studio Museum in Harlem, Yerba Buena Center for the Arts, Hammer Museum, Tilton Gallery, Contemporary Arts Museum Houston, Kunsthalle Wien in Vienna, L'appartement 22 in Rabat, Morocco, and the AVA Gallery in South Africa, among others. Leigh has also been a prominent social activist, especially committed to the protection of black lives.
A number of prestigious awards have been presented to her, and her work has been featured extensively in several prominent publications. Below, we unpack some of her most prolific artworks to date.
The Waiting Room (2016)
| | |
| --- | --- |
| Artwork Title | The Waiting Room |
| Date | 2016 |
| Medium | Installation, performance, guided sessions |
| Location | The New Museum, New York |
In 1867, two former enslaved people founded the "United Order of Tents", a secret society that is still in operation today that brings together Black women nurses. An investigation into this society is what prompted one of Leigh's most influential works; a project called Free People's Medical Clinic (2014). In Leigh's project, which was supported and partly organized by Creative Time, the Stuyvesant Mansion in Brooklyn was transformed into a health center offering free HIV testing, health screenings, yoga, and more.
Instead of physical objects, the work relies mainly on interactions and conversations as an activist art project.
Leigh's work was greatly influenced by this project, which later evolved into one of her most famous works, The Waiting Room (2016). The Waiting Room was exhibited from June to September 2016 at the New Museum in New York City. Featuring an alternative vision of health care shaped by the experience of an African-American female, this exhibition honors Esmin Elizabeth Green, who passed away from blood clots sitting in the Brooklyn hospital waiting room for 24 hours.
Free holistic healthcare, such as herbalism, meditation, and yoga sessions, were all part of the exhibition.
As part of this exhibition, the public was allowed to take part in lectures, self-defense, home economics, and self-awareness workshops, as well as Taiko drumming lessons and museum internships for LGBTQ youth.
Brick House (2019)
| | |
| --- | --- |
| Artwork Title | Brick House |
| Date | 2019 |
| Medium | Bronze |
| Size (cm) | 490 (height) x 270 (diameter) |
| Weight (kg) | 2,700 (5,900 pounds) |
| Locations | New York City; Philadelphia |
Simone Leigh's sculpture, Brick House, a 16-foot high and 9-foot-wide bronze bust of a Black woman was unveiled on the High Line in New York City in the Spring of 2016. This powerful sculpture dominated Tenth Avenue, clearly visible to pedestrians and commuters.
Simultaneously figurative and abstract, the mysterious and looming female figure has long braids, and her large torso is architectural, referencing the traditional Mousgoum building style from Cameroon.
The High Line in New York has become a landmark destination for public art, and it rotates with new contemporary works every eighteen months as curated by Cecilia Alemani, who would later include the sculpture in her Milk of Dreams exhibition at the Venice Biennale. With the help of the Stratton studio in Philadelphia, Leigh cast her first bronze sculpture, Brick House, from a full-scale clay model. The artist believed it was important to cast at full scale, as more modern methods such as scanning and enlarging models diminish the artist's presence.
Leigh was surprised to discover how comfortable she was working on such a large scale, and this discovery would influence many of her future works. The title of the work was inspired by a documentary film about St. Louis, a city made mostly of brick.
Moreover, in black culture, a brick house refers to the strength of a woman who protects and cares for her family and community.
This sculpture became part of Leigh's Anatomy of Architecture body of work, which combines architectural forms from different cultures with human anatomy. There exist three other editions of Brick House: one owned by Leigh herself and two acquired by influential collectors Glenn and Amanda Fuhrman, who donated one to the University of Pennsylvania.
Last Garment (2022)
| | |
| --- | --- |
| Artwork Title | Last Garment |
| Date | 2022 |
| Medium | Bronze |
| Size (cm) | 137.2 x 147.3 x 68.6 |
This Simone Leigh sculpture is inspired by an image taken by a white American photographer, Carlton Harlow Graves (1867-1943). The image, titled Mammy's Last Garment, Jamaica (1879), captures a Jamaican woman, hunched over, washing clothes in a river. These kinds of images became typical in Jamaican postcards in the late 19th century. In this sculpture, Leigh referenced the photograph and worked with a live sitter to create a model in clay before casting it in bronze.
The sculpture has impeccable detail and includes over 800 tiny sculpted rosettes that form the woman's hair.
The sculpture was installed at Leigh's exhibition at the Venice Biennale, located in the first room as you enter the U.S. gallery. The hyper-realistic sculpture stands with her feet in an expansive reflecting pool, creating a Zen-like atmosphere in the space. The quiet, yet powerful, feeling created by this installation is in line with Leigh's theme for the U.S. pavilion, which is titled "Sovereignty".
Indeed, all of the work in the exhibition resonates with a sense of independence and self-governance.
Cupboard (2022)
| | |
| --- | --- |
| Artwork Title | Cupboard |
| Date | 2022 |
| Medium | Raffia, steel, and glazed stoneware |
| Size (cm) | 344.1 x 315 x 315 |
Cupboard (2022) is a monumental Simone Leigh sculpture created by Leigh that is nearly three and a half meters tall and which forms part of a larger body of similar works that she has been developing over several years. The majority of the sculpture is a dome-shaped raffia structure that resembles both a kind of skirt or dress and a hut-like building, alluding to Leigh's interest in African architecture.
The raffia-covered skirt/building-like shape gives the work the appearance of a thatched roof.
This mimics the roof of the U.S pavilion of the Venice Biennale, where the work is exhibited, which Leigh had entirely covered with thatch. A clay sculpture resembling a cowrie shell sits atop the large raffia dome, perhaps referencing cowries as currency during the African slave trade or the spiritual significance of cowrie shell divination.
Reading Recommendations
Simone Leigh is currently one of the most famous American artists, and books on her work are being published at an increasing rate. If you are interested in learning more about Simone Leigh's work, or how he transformed ceramics from a supposed crafter's medium into some of the most impressive works of contemporary art, then these books are a must-have.
Fired Up! Ready to Go!: Finding Beauty, Demanding Equity: An African American Life in Art. The Collections of Peggy Cooper Cafritz (2018) by Peggy Cooper Cafritz
Cooper Cafritz compiled one of America's most important collections of artworks by artists of color following decades of art collecting. In 2009, this extraordinary collection of more than 300 works was destroyed in the biggest residential fire in Washington, D.C. history. The collection included works by Kara Walker, Kerry James Marshall, Yinka Shonibare, Kehinde Wiley, Carrie Mae Weems, and many more. There are 200 of the lost works in this beautifully illustrated volume, along with works she has collected since the fire, and contributions from prestigious curators and artists, including Simone Leigh.
Features important contributions by preeminent curators and artists
Beautifully illustrated volume features 200 of the works that were lost
Lists new works that Cafritz has collected since the fire
View on Amazon
Women's Work: From Feminine Arts to Feminist Art (2022) by Ferren Gipson
Western art has historically divided decorative and applied arts – such as textiles and ceramics – from the supposedly high art of painting and sculpture. Reclaiming these materials and methods, artists began expressing their identity through them. This book tells the story of a radical change in these mediums, highlighting artists whose experimentation and invention defied these hierarchies. Featuring biographical entries on each artist, as well as beautiful images of their work, this book tells the stories of these visionary artists and explores their artistic legacy.
A bold celebration of the innovative artists reclaiming 'women's work'

Complete with beautiful images of their artwork

Biographical entries on each artist featured
View on Amazon
Bienalle Arte 2022: The Milk of Dreams (2022) by Cecilia Alemani
This book is the epic two-part catalog of 213 artists' ambitious works that form part of the 2022 Venice Biennale. The first part of the book is structured around the conceptual basis of Cecilia Alemani's inspiring curation for The Milk of Dreams. In the second part of the catalog, lavishly illustrated texts explore the various projects on display at the biennale, including the participating countries' pavilions and all collateral events.
Lavishly illustrated texts explore the projects on display in Venice
Accompanies the 2022 biennial's exploration of metamorphosis
Includes 213 artists from across the world
View on Amazon
A calm and confident quality permeates Simone Leigh's work. Black womanhood is the unwavering core of her multidisciplinary practice. Through a strong feminist stance, Leigh uses her artistic voice to reframe women's experiences as central to society. One can only wait in excited anticipation to see what she will create next.
Frequently Asked Questions
What Is Simone Leigh Best Known For?
Apart from Brick House and The Waiting Room, Leigh's Anatomy of Architecture series (2016 – ongoing) is probably her most famous. This sculptural series combines images of black women with elements from traditional and contemporary architecture and culture. Among her references are 19th-century African American face pots and early Egyptian terracotta pottery.
What Type of Artist Is Simone Leigh?
Simone Leigh is a contemporary artist and she describes her work as auto-ethnographic. Her most common mediums are salt-glazed ceramics and bronze sculptures, often employing shapes that reference African art. Her work also has a strong social activism focus, where she creates performance-influenced installations and works seen as social practice.
Who Represents Simone Leigh?
Simone Leigh is currently represented by Matthew Marks Gallery. Before this, she was represented by Hauser & Wirth (from 2019 – 2021), by Luhring Austine Gallery (2016 – 2019), and by David Kordanky Gallery in 2019.
Chrisél Attewell (b. 1994) is a multidisciplinary artist from South Africa. Her work is research-driven and experimental. Inspired by current socio-ecological concerns, Attewell's work explores the nuances in people's connection to the Earth, to other species, and to each other. She works with various mediums, including installation, sculpture, photography, and painting, and prefers natural materials, such as hemp canvas, oil paint, glass, clay, and stone.
She received her BAFA (Fine Arts, Cum Laude) from the University of Pretoria in 2016 and is currently pursuing her MA in Visual Arts at the University of Johannesburg. Her work has been represented locally and internationally in numerous exhibitions, residencies, and art fairs. Attewell was selected as a Sasol New Signatures finalist (2016, 2017) and a Top 100 finalist for the ABSA L'Atelier (2018). Attewell was selected as a 2018 recipient of the Young Female Residency Award, founded by Benon Lutaaya.
Her work was showcased at the 2019 and 2022 Contemporary Istanbul with Berman Contemporary and her latest solo exhibition, titled Sociogenesis: Resilience under Fire, curated by Els van Mourik, was exhibited in 2020 at Berman Contemporary in Johannesburg. Attewell also exhibited at the main section of the 2022 Investec Cape Town Art Fair.
Learn more about the Art in Context Team.