Postmodern Architecture – What Is Postmodern Architecture?
What is Postmodern architecture? Postmodern architecture is a movement that originated in the 1960s as a response to modern architecture's rigidity and lack of diversity. Postmodern characteristics may be defined as an eclectic mix of traditional and contemporary styles used to construct unique works of architecture that strive to appear unlike anything else that came before them. Postmodern architects are responsible for some of the most divisive and controversial buildings of our time.
What Is Postmodern Architecture?
Postmodern architecture emerged in the 1960s and 1970s as a response to the dominant Modern architectural designs of the mid-20th century. Postmodernism architects viewed the old style as being too serious and austere; constructed from sleek contemporary materials such as glass and steel, the buildings felt soulless and lifeless.
They felt that the idealistic concept that Modernism was a style suitable for the masses had resulted in designs that were lacking a distinct character and sense of vitality.
The History of Postmodern Architecture
The architect and writer Robert Venturi was an influential figure in the early days of the movement, and several of his books, such as Complexity and Contradiction in Architecture (1966) and Learning from Las Vegas (1972) promoted the concept of architecture that was less formal and boring than the Modernism movement. In place of modernism's practical principles, Venturi advocated highlighting the facade, integrating historical aspects, making nuanced use of unique building materials, and using deconstruction and variation to make the architecture appealing and interesting.
Postmodern architects encouraged architects to respect existing regional architecture rather than projecting a utopian dreamland based on their own desires. They felt that architecture should be designed with people in mind and that these structures should be adaptive to their requirements. Decorative and aesthetic components, according to Postmodernism architects, satisfy a society's needs for diversity and interaction. It was their intention to pay homage to the past without being restricted by it, welcoming a diverse range of influences, but not adhering to any formal set of principles dictated by them either.
The most remarkable Postmodern structures radiate character, humor, and an irreverent take on preceding architectural trends, discarding traditional aesthetics and preconceptions of what was regarded as tasteful or not.
Postmodern architecture incorporates a combination of diverse styles, which may seem weird to the uneducated, verging toward the kitsch. Postmodernism thrived during the 1980s and flourished throughout the 1990s, leaving behind a legacy of bold architectural designs, first in the United States, then in nations like Japan, Europe, and Australia. Postmodernism has had an enduring influence on contemporary architecture right up to the present day, and modern architects still embrace its freestyle attitude.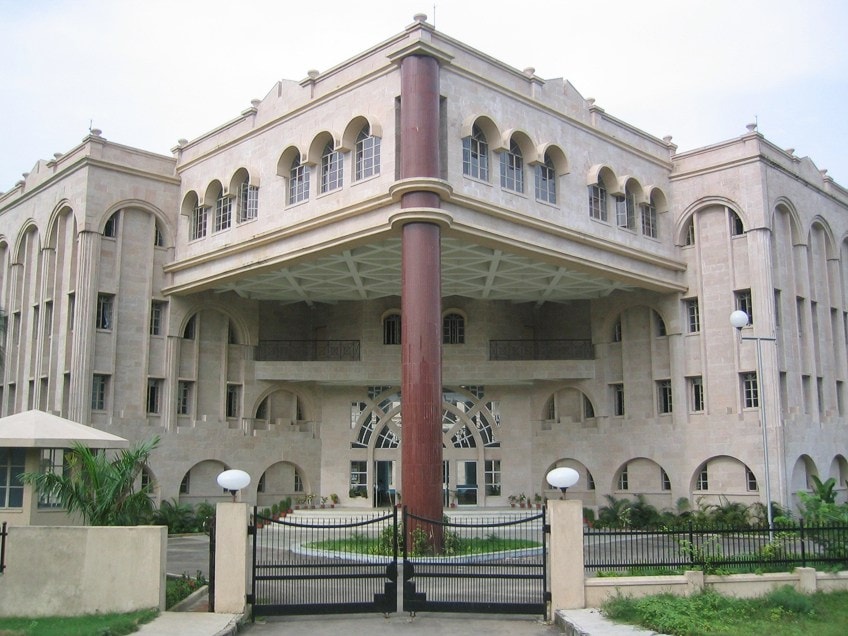 Front entrance of the West Bengal National University of Juridical Sciences, a Postmodern building in Kolkata, West Bengal, India; Tdatta at English Wikipedia, Public domain, via Wikimedia Commons

Postmodern Architecture Characteristics
The writings of Robert Venturi were extremely influential in the formation of the movement, and his ideas regarding contradiction and complexity were important aspects of their beliefs. The Modernist architects felt that "less is more" and that architecture should be about functionality, viewed as machines to live in. Curved lines, ornamental details, asymmetry, vibrant colors, and design aspects that were taken from earlier periods characterized Postmodern architecture.
The colors and textures have nothing to do with the construction or functionality of the building.
Rejecting modernism's "puritanism," it pushed for a return to ornamentation and incorporation of references sourced from previous eras. Postmodern architecture frequently blended innovative new shapes with the seemingly contradictory aspects of classicism. Postmodern architecture regularly employs the principle of fragmentation to divide huge buildings, with the decoration and aesthetic of each segment indicating its particular function.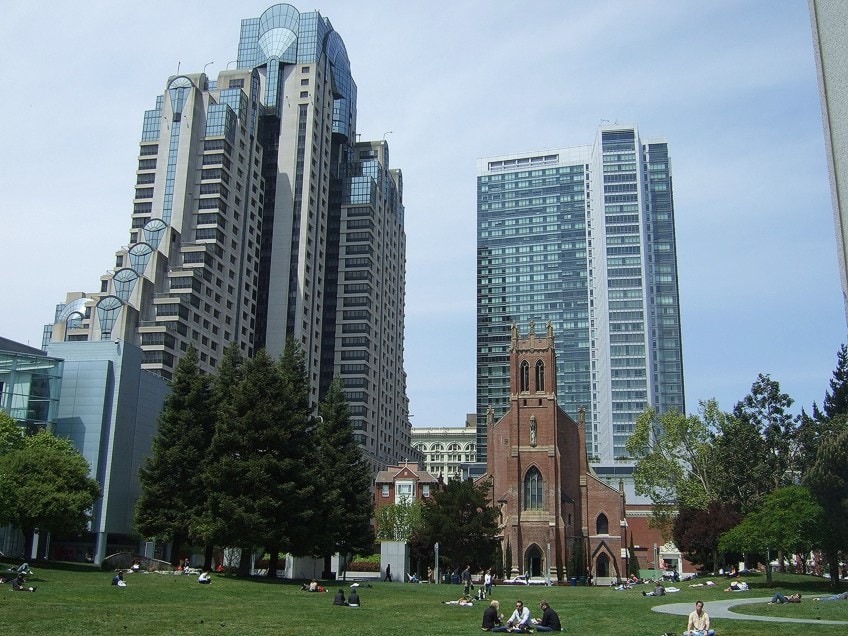 Yerba Buena Gardens, featuring the Postmodern Four Seasons Hotel in San Francisco, California, USA; Sebastian Wallroth, Public domain, via Wikimedia Commons
Another characteristic of Postmodern architecture is the utilization of asymmetrical forms – you will rarely see a symmetrical and orderly Postmodernist building. Some of them are so tilted and asymmetrical that they seem to be on the verge of toppling to the ground. The use of color in Postmodernism architecture is another one of its defining characteristics. Often, materials such as stones, ceramic tiles, and colored glass were incorporated into the facade to add vibrancy to the structure.
A sense of humor was also a necessary part of any design; a theatrical campness that sought to exaggerate the design and remove any desire for it to be taken too seriously.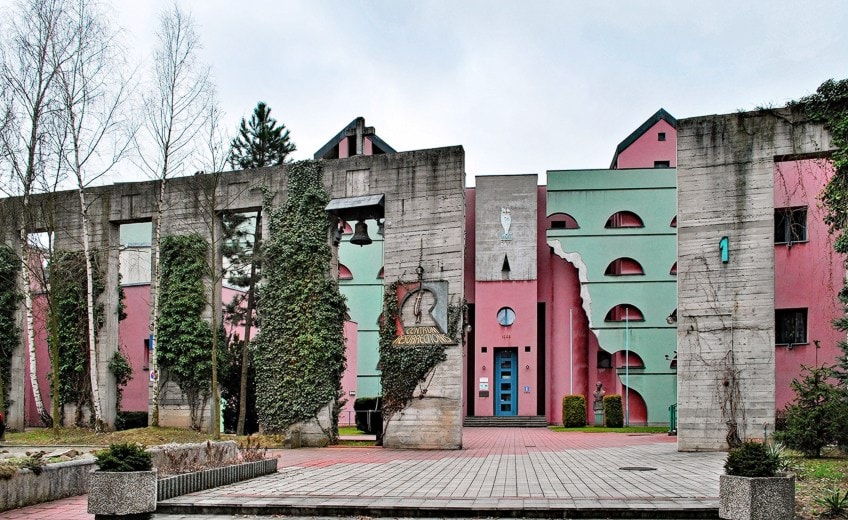 Convent and Seminary of the Resurrectionist Congregation, 1984 Postmodern design. Located at 1 Pawlickiego street, Kraków, Poland; Zygmunt Put, CC BY-SA 4.0, via Wikimedia Commons
Important Postmodernism Architects
Postmodernist architects all shared a common desire to change the rigid formality of the Modernist movement. Yet, they all drew from extremely varied sources of inspiration and combined them in unique ways. This meant that there was not necessarily an overarching aesthetic in the movement, but rather a set of conceptual ideals that resulted in each architect producing a personalized interpretation of what the style embodied.
Philip Johnson (1906 – 2005)
| | |
| --- | --- |
| Nationality | American |
| Date of Birth | 8 July 1906 |
| Date of Death | 25 January 2005 |
| Place of Birth | Cleveland, Ohio, United States |
Philip Johnson aspired to experiment with the ornamental style of post-modern architecture after developing modern architecture in the United States. As a result, he changed his style by utilizing historical features to create a new type of building. The first Postmodern buildings were erected by Philip Johnson and the AT&T building was the first of its kind.
Johnson established a new standard for contemporary Postmodern architects with his works.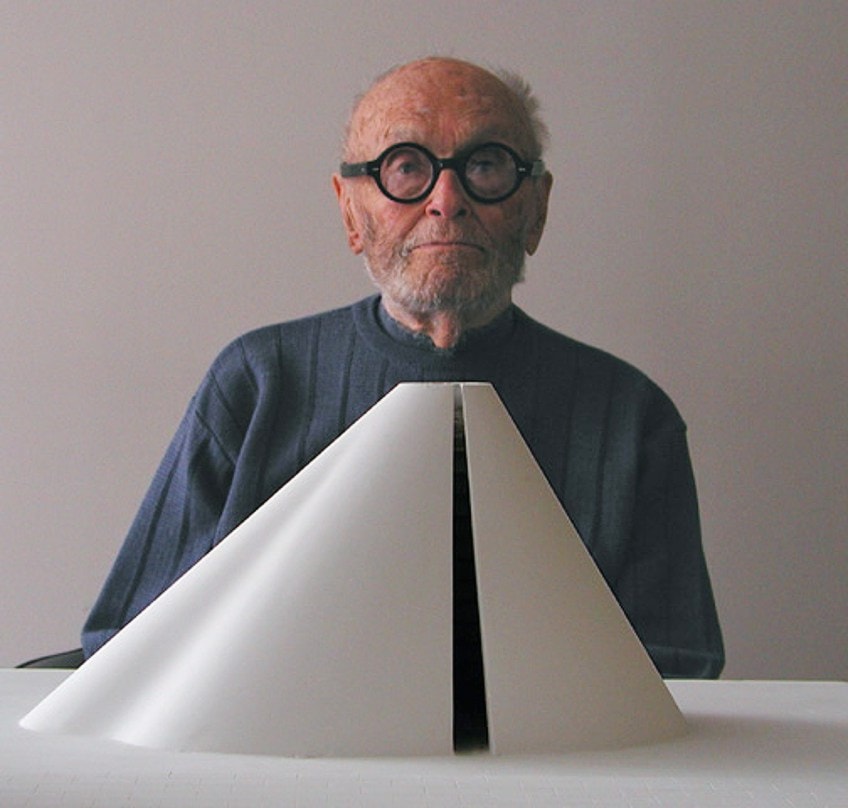 The famous American architect Philip Johnson at his office in Seagram Building, Manhattan in 2002; Bpfilardo at the English-language Wikipedia, CC BY-SA 3.0, via Wikimedia Commons
Robert Venturi (1925 – 2018)
| | |
| --- | --- |
| Nationality | American |
| Date of Birth | 25 June 1925 |
| Date of Death | 18 September 2018 |
| Place of Birth | Philadelphia, Pennsylvania, United States |
Robert Venturi, the pioneer of Postmodern architecture, felt that "less is a bore," and his designs mirrored this belief. With the Vanna Venturi House in the late 1950s, he was the first architect to experiment with post-modern architecture, which he created in Philadelphia for his mother.
Venturi initially drew inspiration from modern architecture and following that, he focused on combining practical functionality with aesthetic appeal to give it a Postmodern feel.
Robert Venturi was drawn to hybrid, ambiguous, and contorted components. In his designs, he never utilized clean, clear, and simple elements, and his work also features innovative use of colors, patterns, and textures. He also felt that a building's back should never be the same as its front. Venturi's Postmodern approach is not restricted to the building; he also applied it to furniture designs.
Robert Venturi in Rome, 2008; todd sheridan from New York, United States, CC BY-SA 2.0, via Wikimedia Commons
Charles Moore (1925 – 1993)
| | |
| --- | --- |
| Nationality | American |
| Date of Birth | 31 October 1925 |
| Date of Death | 16 December 1993 |
| Place of Birth | Benton Harbor, Michigan, US |
Charles Moore began his architectural career during the modernist era and continued to work during the period of Postmodernism. As a result, he mastered both entirely opposing styles. He developed the notion of a 'sense of place' to reflect post-modern architecture by utilizing colors and lighting in an innovative way in both outdoor and interior areas.
Charles Moore's most well-known work in Postmodern architecture is the Piazza D'Italia in New Orleans in the United States.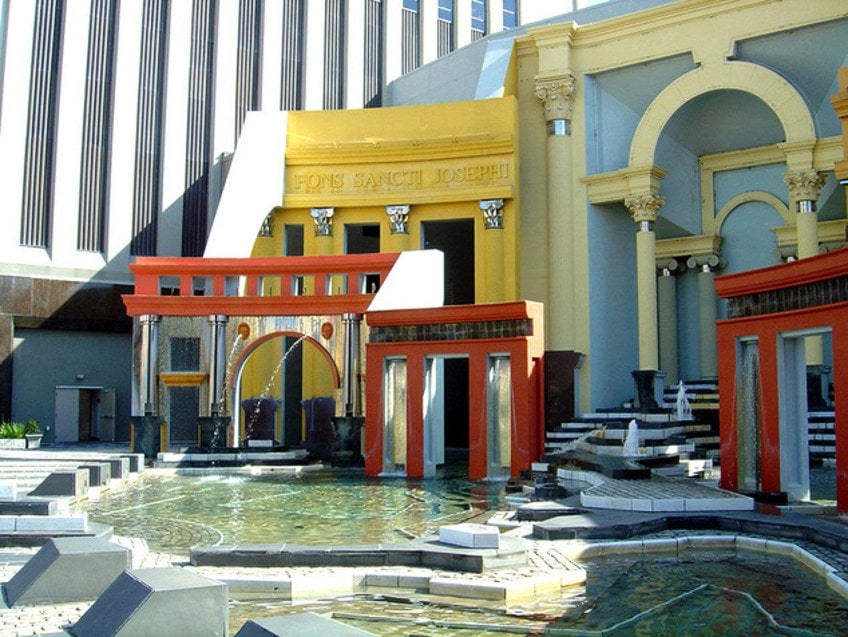 The Piazza d'Italia (1975-1980) in New Orleans, designed by architect Charles Moore; Novikava20, CC BY-SA 4.0, via Wikimedia Commons

Moore viewed architecture and life as theater and planned the spaces so that people could play the role they choose. Charles Moore's concept was to design structures that are both human and emotive. He also believed in architecture that is accessible to everybody and his structures were filled with great joy. He also intended that his buildings be accessible to the general public. He sought to return to the Postmodern movement by rejecting modernism.
We can observe the sense of bliss and love that he wanted to offer to the residents in his Postmodern houses and buildings.
César Pelli (1926 – 2019)
| | |
| --- | --- |
| Nationality | Argentine-American |
| Date of Birth | 12 October 1926 |
| Date of Death | 19 July 2019 |
| Place of Birth | San Miguel de Tucumán, Argentina |
César Pelli is well-known for designing some of the world's highest structures. Among them are the Salesforce Tower and Petronas Tower. His aim was to select a building shape that was both appropriate for the modern day and related to the past.
Pelli's concept is seen in his Postmodern structures, which combine classic, modern, and recently developed forms.
His Postmodern structures include classical columns as well as unconventional ledges, which were thought to be somewhat unique for a skyscraper. Unlike many of his contemporaries, Pelli never acquired a trademark aesthetic, never forcing his structures on their environment and always fulfilling the client's requirements.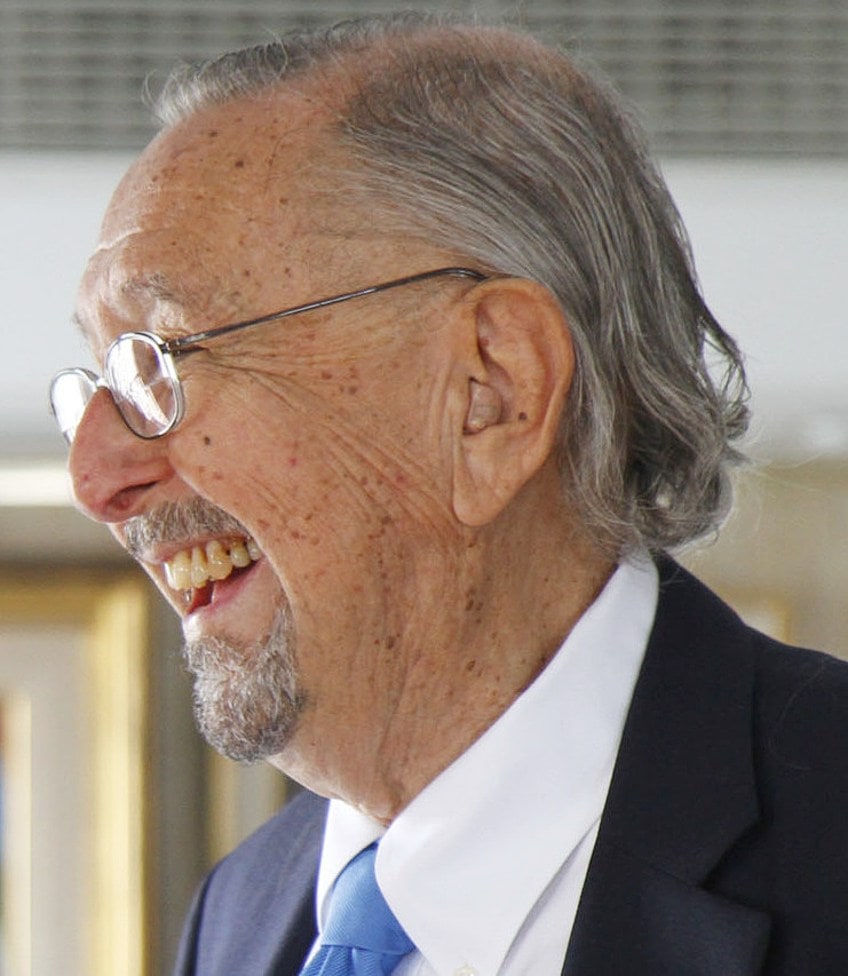 Argentine architect César Pelli, who was distinguished with the 2012 Konex Award for Brilliant Visual Arts in Buenos Aires, 2012; Gobierno de la Ciudad de Buenos Aires from Ciudad Autónoma de Buenos Aires, Argentina, CC BY 2.0, via Wikimedia Commons
James Stirling (1926 – 1992)
| | |
| --- | --- |
| Nationality | British |
| Date of Birth | 22 April 1926 |
| Date of Death | 25 June 1992 |
| Place of Birth | Glasgow, United Kingdom |
James Stirling, a British architect, grew up in one of the industrial powerhouses of Britain, Liverpool, and started his career by undermining the Modern Movement's theoretical principles. Stirling formed a distinct set of architectural ideals that express themselves in his projects, citing inspirations ranging from Colin Rowe, through Le Corbusier, as well as Italian Renaissance architects and the Russian Constructivist movement.
His architecture, which has been labeled as "nonconformist," has continually irritated traditionalists. Stirling had a comprehensive awareness of architectural history thanks to his tutor Colin Rowe, but he never accepted a single theory.
British architect James Stirling at the inauguration of the "library" in the Giardini della Biennale di Venezia, 1991; Gorup de Besanez, CC BY-SA 3.0, via Wikimedia Commons

His career started with designs more linked with what would eventually be classified as the high-tech style but grew into structures that were a succession of energetic and typically colorful combinations. Stirling's stylistic motifs provided the final push that liberated architecture from the clutches of postwar European Modernism, as he converted the Modernist doctrine of "form follows function" into exaggeration by celebrating the manifestation of a building's purpose with his grandiose detailing.
Stirling's work is still widely influential, and the cyclical wave of history has proven that the fundamental significance of his oeuvre may be found in all contemporary architectural activity.
Bucklersbury Passage in London, designed by architect Sir James Stirling, 1998; Txllxt TxllxT, CC BY-SA 4.0, via Wikimedia Commons
Frank Gehry (1929 – Present)
| | |
| --- | --- |
| Nationality | Canadian-American |
| Date of Birth | 28 February 1929 |
| Date of Death | N/A |
| Place of Birth | Toronto, Canada |
Frank Gehry is well known for his deconstructive approach, which is part of the Postmodern architectural movement. His buildings have substantially distinct architectural aspects from other Postmodern architects, such as fractured, disorderly, and fragmented elements.
His buildings were typically made of unconventional materials such as corrugated steel.
These materials gave his structures an unpolished look. His deconstructive post-modern approach may be seen in the Guggenheim Museum and the Walt Disney Concert Hall. His style is defined by his dramatic architectural characteristics and odd forms. His distinctive buildings have garnered a lot of attention and drawn a multitude of tourists and he has been dubbed "the most influential architect of his generation."
Frank O. Gehry in his studio, 2010; 準建築人手札網站 Forgemind ArchiMedia at Flickr, CC BY 2.0, via Wikimedia Commons
Aldo Rossi (1931 – 1997)
| | |
| --- | --- |
| Nationality | Italian |
| Date of Birth | 3 May 1931 |
| Date of Death | 4 September 1997 |
| Place of Birth | Milan, Italy |
Rossi is most known for his contributions to the theories of architecture which grew out of a diverse range of inspirations, including architect Adolf Loos, early Italian modernism, and surrealist art. He rose to popularity in the mid-1950s as a writer for the renowned Italian architectural journal Casabella. His writings suggested that architects should be responsive to their cultural contexts, drawing on historical architectural precedent rather than reinventing forms.
He once remarked that he couldn't possibly be a Postmodern architect as he had never been a Modernist architect, to begin with.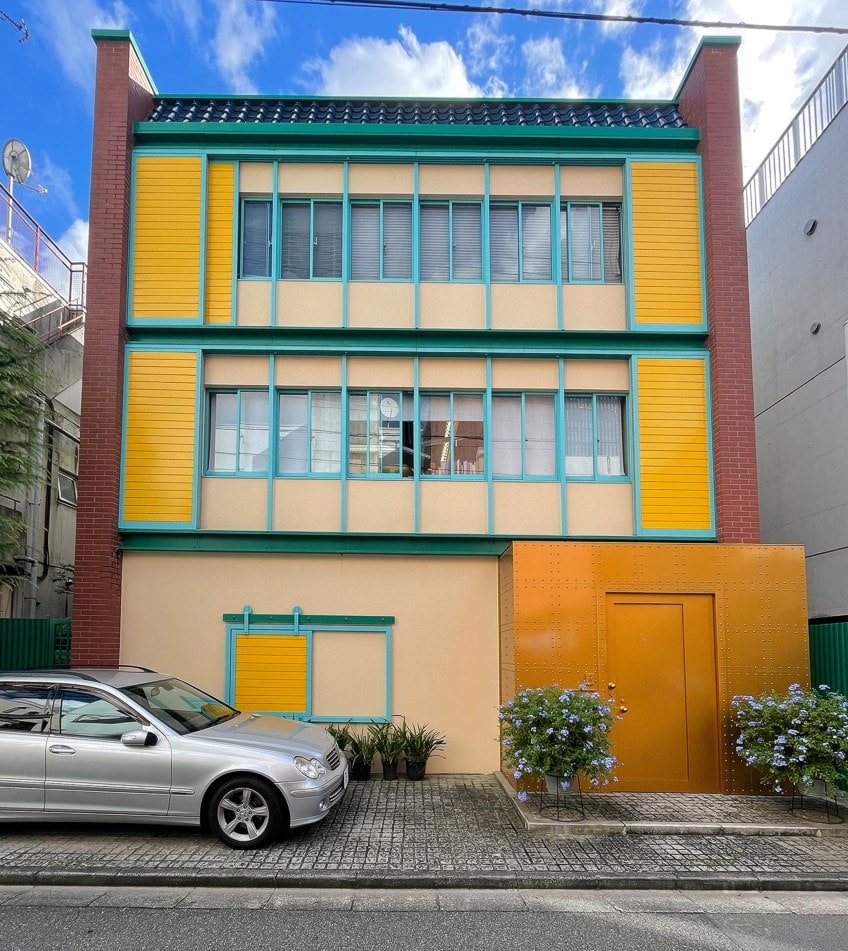 Katsumi Asaba Design Room in Minami-Aoyama, Minato-ku, Tokyo, designed by Aldo Rossi in 1991; Asabadesign, CC BY-SA 4.0, via Wikimedia Commons

Michael Graves (1934 – 2015)
| | |
| --- | --- |
| Nationality | American |
| Date of Birth | 9 July 1934 |
| Date of Death | 12 March 2015 |
| Place of Birth | Indianapolis, Indiana, United States |
After focusing on modernism for many years, Michael Graves entered the Postmodern era with his design for the Portland Building. He believed that modernism made America appear dull, and his building launched the Postmodern architecture trend in the United States. His Postmodern structures were quite inventive, and he added a sense of play and humor to the usually formal office buildings.
Michael Graves viewed Postmodernism as an approachable and welcoming architectural style and he rose to prominence by designing major public structures in this manner.
The structures he created emanated a sense of strength and vitality. He was also a product designer who created Postmodern versions of everyday ordinary products. Graves transformed monotonous Modernist architecture into an exciting Postmodern style.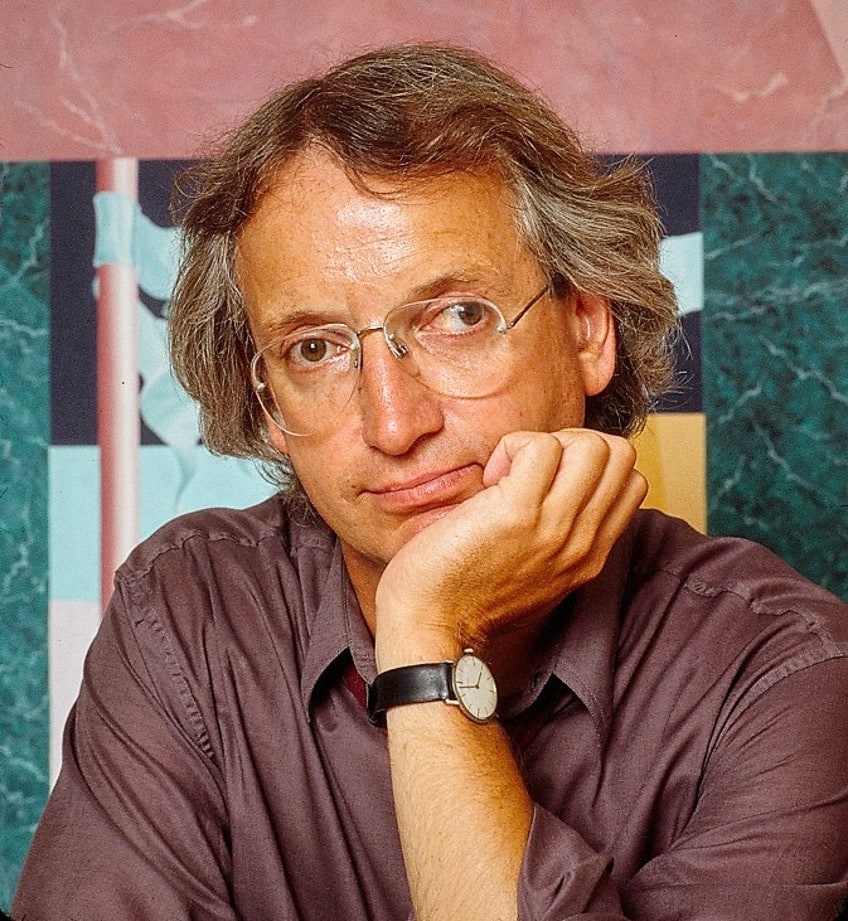 Portrait of Michael Graves, 1987; Gotfryd, Bernard, photographer, Public domain, via Wikimedia Commons
Charles Jencks (1939 – 2019)
| | |
| --- | --- |
| Nationality | American |
| Date of Birth | 21 June 1939 |
| Date of Death | 13 October 2019 |
| Place of Birth | Baltimore, Maryland, United States |
Charles Jencks was a very prolific author. During his nearly 60-year career, he wrote over 40 books as well as numerous essays and studies. Nonetheless, Jencks' most recognized, accessible, and extensively distributed work is The Language of Post-Modern Architecture, first published in 1977.
Jencks revealed and modified his interpretation of the controversial term Postmodern in regard to architecture primarily through this unorthodox publication.
It became a universal reference book over the years, heralding the dawn of the globalization era while capitalizing on the potential relationship between architecture and language. Jencks said in 1975 that Post-Modern architecture was difficult to describe because it was pluralistic and comprised a number of fragmented responses to Modern Architecture's inadequacies.
Drawing of Charles Jencks by Mihailo Grbic, 2015; Gmihail at Serbian Wikipedia, CC BY-SA 3.0 RS, via Wikimedia Commons
Terry Farrell (1939 – Present)
| | |
| --- | --- |
| Nationality | British |
| Date of Birth | 12 May 1938 |
| Date of Death | N/A |
| Place of Birth | Sale, United Kingdom |
Terry Farrell was one of the few architects who accepted the label of a Postmodern architect. Like other architects, he began experimenting with Postmodern design. Yet, he took a different approach, believing that modernism limited many things that were attainable in Postmodernism. Farrell began to like this style since it allowed him to innovate, and he once stated that in modern architecture, buildings cannot have a pitched roof; they must have a flat roof.
He thought post-modern architecture was a fresh start for his profession, even though he had already been in the industry for more than 15 years at that point.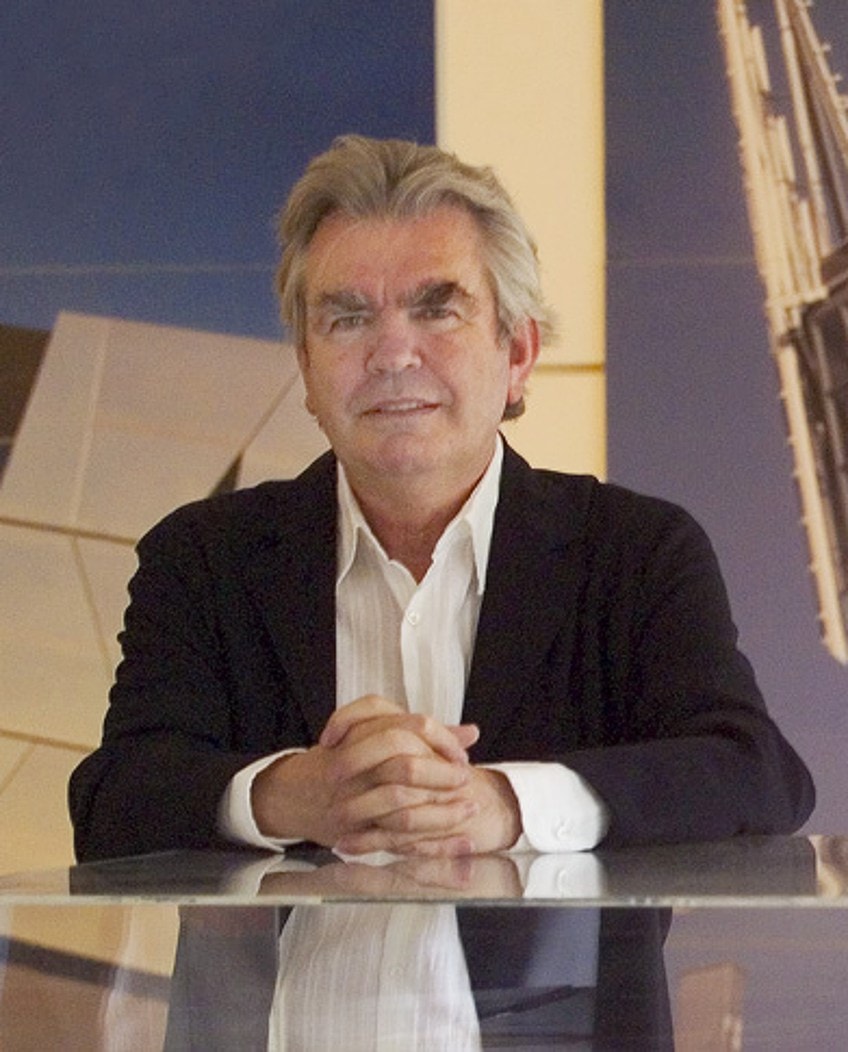 Photograph of British architect and planner Sir Terry Farrell in his studio; Terry Farrell / Alan Williams, CC BY 3.0, via Wikimedia Commons
Zaha Hadid (1950 – 2016)
| | |
| --- | --- |
| Nationality | British-Iraqi |
| Date of Birth | 31 October 1950 |
| Date of Death | 31 March 2016 |
| Place of Birth | Baghdad, Iraq |
Zaha Hadid is a world-renowned architect originally from Iraq. Hadid is popularly known for her innovative design work and was the very first female architect to receive the Pritzker Architecture Prize in 2004. She started her studies in Lebanon, where she received a mathematics bachelor's degree before studying at the Architectural Association in London in 1972. Despite creating some of the most groundbreaking designs on paper, unfortunately most of her ideas never left the drawing board.
For this reason, she gained a reputation as a "paper architect", yet no one can deny the incredible beauty of the buildings that were constructed.
Zaha Hadid in Heydar Aliyev Cultural center in Baku, 2013; Dmitry Ternovoy, FAL, via Wikimedia Commons
Postmodern houses and buildings were created as a reaction to the boring and dull buildings that had been constructed during the Modernist period. For many Postmodernism architects, the Modernist style was without character or warmth, and its formal nature was not conducive to human interaction. They wanted to take certain influences from past architectural movements and reinvigorate them by recontextualizing the elements in unique and exciting ways. Postmodern houses are colorful, and quirky, and exude a feeling of joyfulness and playfulness. Symmetry is thrown out the window in favor of weird angles and unconventional arrangements, creating an aesthetic that is fresh yet viewed as controversially erratic by the old-school architects who were adamant about perpetuating their out-of-date and dull designs.
Frequently Asked Questions
What Is Postmodern Architecture?
It is a style of architecture that can sometimes defy easy explanation or categorization. Conceptually, many of the Postmodern architects shared the same basic outlook about Modernist architecture: it was dull and rigid. They wanted to breathe new life into the urban areas by creating an invigorating architectural style that gave the past a respectful glance, and incorporated elements from various styles from the past. Yet, these were not a complete rehash of old styles, but rather new combinations of old elements mixed with modern sensibilities. Every architect had their own unique interpretation of the style, and this is probably why they are all so distinct, yet all fall under the conceptual umbrella of Postmodern architecture.
What Are the Postmodern Architecture Characteristics?
It was a melting pot of various influences. Frequently, colored glass, tiles, and colored stones were used in the facade. Abstraction of forms was also clearly present. Most Postmodern architecture can be characterized as being playful, ironic, and humorous, and designers weren't afraid to add a sense of camp to their designs.
Justin van Huyssteen is a freelance writer, novelist, and academic originally from Cape Town, South Africa. At present, he has a bachelor's degree in English and literary theory and an honor's degree in literary theory. He is currently working towards his master's degree in literary theory with a focus on animal studies, critical theory, and semiotics within literature. As a novelist and freelancer, he often writes under the pen name L.C. Lupus.
Justin's preferred literary movements include modern and postmodern literature with literary fiction and genre fiction like sci-fi, post-apocalyptic, and horror being of particular interest. His academia extends to his interest in prose and narratology. He enjoys analyzing a variety of mediums through a literary lens, such as graphic novels, film, and video games.
Justin is working for artincontext.org as an author and content writer since 2022. He is responsible for all blog posts about architecture, literature and poetry.
Learn more about Justin van Huyssteen and the Art in Context Team.
Cite this Article