Sir Peter Thomas Blake is one of the most prolific and well-recognized Pop artists since the mid-1950s and has created some of the most iconic images and paintings are known to the art movement. This article will introduce you to the great icon through a Peter Blake biography as well as some of the artist's most profound artworks.
A Peter Blake Biography
Pop art emerged in the United Kingdom and the United States as a movement that questioned the concept of what fine art was and included the integration of mass and popular culture for various reasons, the main being to express irony. Peter Blake is a famous English-born pop artist who is considered a major pioneer in the pop art movement of the United Kingdom since the middle to the late 1950s. Peter Blake was born in 1932 in Kent and received his artistic training at the Gravesend Technical College art school and the Royal College of Art.
| | |
| --- | --- |
| Artist Name | Sir Peter Thomas Blake |
| Years Alive | 25 June 1932 – Present |
| Mediums Used | Painting, printmaking, collage art |
| Associated Movements, Themes, Styles | Pop art |
Furthermore, Peter Blake also possesses a dynamic repertoire of awards and honors with the top highlights including the artist being knighted by Prince Charles at Buckingham Palace in 2002 for his contributions to art and was appointed Commander of the Order of the British Empire.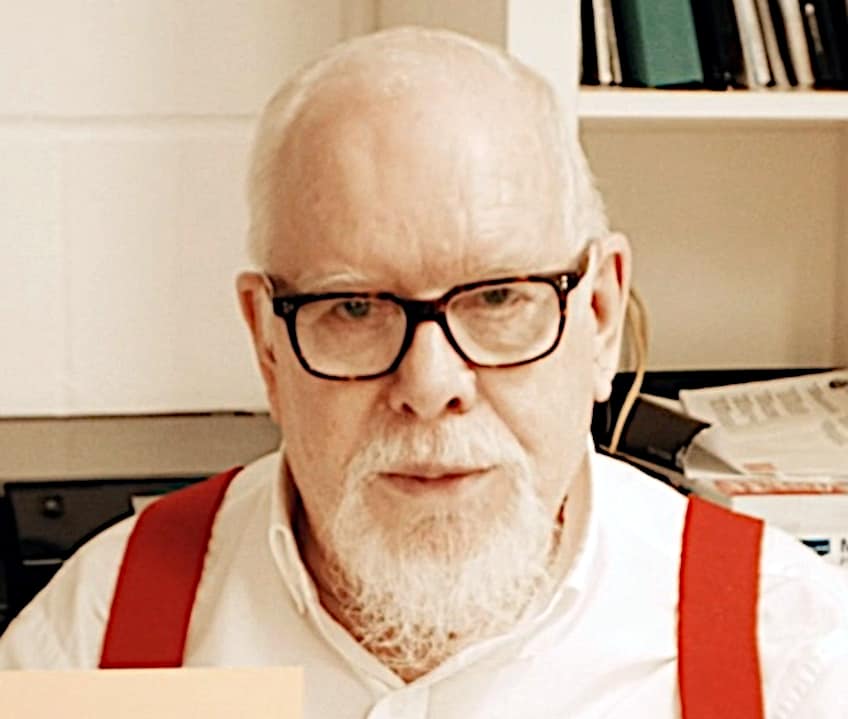 Video still of Sir Peter Blake taken in 2016; The Academy on Vimeo, CC BY 3.0, via Wikimedia Commons
Since the end of the 1950s, Peter Blake contributed to numerous iconic images as seen in his paintings that featured imagery of wrestlers, music hall entertainment, collage elements, and even advertisement imagery. In 1961, Blake participated in a group show at the Institute of Contemporary Arts as well as an exhibition called Young Contemporaries, where he exhibited with R. B. Kitaj and David Hockney.
In the same year, Blake was awarded the John Moores junior award, which boosted his image and recognition in the public eye. As a recognized pop artist, he was also featured in a pop art film by Ken Russell called Pop Goes the Easel, which aired in 1962. In 1963, the artist received representation by Robert Fraser, a London-based art dealer who was also recognized as "Groovy Bob", which further elevated Blake's status and opened up opportunities for the artist to gain acquaintance with other pioneering artists.
Peter Blake's first solo exhibition was held in 1965 at Robert Fraser Gallery and even featured on the cover of LIFE International. In 1969, after the closure of the gallery, Blake held his first exhibition with British art dealer Leslie Waddington, who continued to support Blake's career. In 1987, Blake was also featured in a charity television special by Prince Edward in The Grand Knockout Tournament.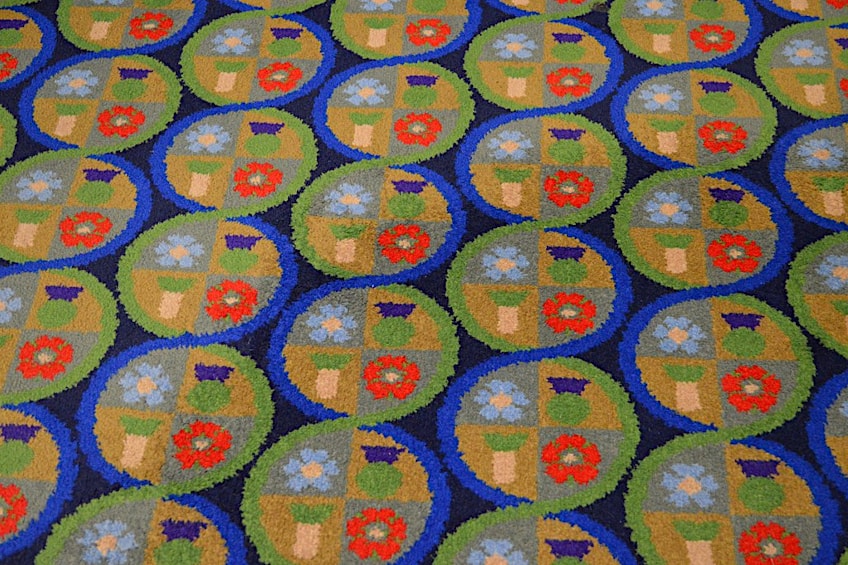 Carpet Designed by Peter Blake for the British Supreme Court; Matt Brown from London, England, CC BY 2.0, via Wikimedia Commons
Blake held retrospectives at Tate in both 1983 and 2008, with the latter at Tate Liverpool, and in 2005, he opened up his own gallery called the Sir Peter Blake Music Art Gallery, which was situated at the University of Leeds' School of Music. In 2011, the artist was awarded an honorary DMus from the university and later attained his honorary degree for Doctor of Art from Nottingham Trent University. Around 2014, the artist was elected honorary academician by the Royal West of England Academy in Bristol.
Famous Peter Blake Artworks
Among the artist's many honors and awards, one can also find incredible visual elements in these Peter Blake artworks. Below are a few famous Peter Blake paintings and collages that made the artist a pioneer of the pop art movement.
On the Balcony (1955 – 1957)
| | |
| --- | --- |
| Date | 1955 – 1957 |
| Medium | Oil on canvas |
| Dimensions (cm) | Support: 121.3 x 90.8; Frame: 132.4 x 101.7 x 50 |
| Where It Is Housed | Tate Gallery, London |
On the Balcony is one of Blake's most famous paintings that illustrates his combination of the contemporary art influence of America with the popular culture of Britain. This painting contains 32 variations of the theme "on the balcony" in addition to references to Édouard Manet and newspaper photographs of the British royal family. Other cultural references include a painting by Leon Kossoff, American cigarettes, and a photograph of John Minton, his late tutor. The painting was inspired by a painting by the American artist Honoré Sharrer called Workers and Paintings (1943), which showcases American families and their reactions to different popular paintings.
Self-Portrait with Badges (1961)
| | |
| --- | --- |
| Date | 1961 |
| Medium | Oil on hardboard |
| Dimensions (cm) | 174.7 × 121.9 |
| Where It Is Housed | Tate Gallery, London |
Self-portrait with Badges is a prime example of one of the artist's main themes and engagement with popular culture. In the painting, one can see the artist standing with one hand in his pocket and the other holding a brochure or magazine with the distinct face of Elvis Presley on the cover. Blake included many references to music, film, entertainment, and sport in his work.
This painting also shows Blake's interest in American clothing as seen in the classic blue denim jacket, embellished with numerous badges. The denim jacket was a rare fashion item in Britain at the time and so were baseball boots and the iconic figure, Elvis Presley, who had just gained fame in Britain.
What makes this painting so interesting is that it is painted in the same way that a 17th-century artist might depict their interests and accolades.
Portrait of David Hockney in a Hollywood Spanish Interior (1965)
| | |
| --- | --- |
| Date | 1965 |
| Medium | Acrylic paint, graphite, and ink on canvas |
| Dimensions (cm) | Support: 182.8 x 152.8 x 2.1; Frame: 197 x 167.4 x 3.1 |
| Where It Is Housed | Tate Gallery, London |
This painting was created from a photo taken by a leading 1960s photographer, Michael Cooper who captured David Hockney standing in front of his image titled Spanish Interior. Michael Cooper also engaged with Blake on a collaboration for the Beatles album sleeve design for Sgt. Pepper's Lonely Hearts Club Band. Although the title refers to Cooper's photograph, the setting is believed to be Los Angeles, where Blake first traveled to around 1963. The artificial quality of Blake's composition further alludes to the superficial nature of Hollywood.
The composition is also the source for the title of Blake's painting and is believed to be set during a Hollywood party symbolizing an artificial and glamorous lifestyle. The original image by Cooper shows the figure wearing tight shorts and sets a homoerotic overtone for the scene but with Blake's incorporation of balloons, the mood has lightened.
David Hockney is Blake's lifelong friend and at the time of this painting, Hockney was also an icon of British art. The painting is based on a combination of different elements. The first is the figure of Hockney, seen through his blonde hair and large spectacles. Hockney is positioned in front of Cooper's photograph, which shows a younger man stationed in a stairway. The image was selected by Hockney and enlarged to a life-sized version to fit the painting's backdrop. The painting also draws reference to Hockney's work at the time since he engaged in sourcing images of young men and homoerotic imagery from magazines for his own work.
The composition of the painting is also staged like the cover of a glossy magazine and Blake's addition of the streamers, balloons, and confetti adds a hedonistic party aesthetic. The adoption of photographic media coupled with the collaging of other elements to form a picture is characteristic of Blake's work.
Other Notable Projects and Commissions
Peter Blake received many prominent commissions from multiple public figures, including the Beatles, where he designed the cover sleeve for the band's album, Sgt. Pepper's Lonely Hearts Club Band in collaboration with his former wife, and American artist, Jann Haworth. This sleeve became a significant image of pop art and has since been among one of the most replicated and famous works from the pop art era. Blake also produced sleeves for other artists such as Paul Weller, The Who's, Eric Clapton, Pentangle, and Band Aid.
Cover for the Beatles album Sgt. Pepper's Lonely Hearts Club Band designed by Peter Blake and Jann Haworth; Yanghime TADIWODOA BBAEW, CC BY-SA 4.0, via Wikimedia Commons
Blake was also commissioned by Dodo Editions in 1968 and produced a screen print on a tinplate called Babe Rainbow, which formed part of an edition of 10,000 artworks. By 1969, Blake relocated to an area near Bath and he began venturing into scenery based on English folklore and Shakespearean characters. The wake of the 1970s saw Blake create a series of watercolor paintings illustrating the English author, Lewis Carroll's Through the Looking Glass (1871). For this project, he used Celia Wanless as a model for the fictional character, Alice.
In the early 1990s, Blake produced the artwork for the 1991 one-million-selling album by Eric Clapton, 24 Nights, after which a scrapbook of Blake's drawings was released. Blake made another public appearance in 1992 on BBC's Arena Masters of the Canvas where the artist painted a portrait for Kendo Nagasaki, a professional wrestler.
Save The 100 Club Benefit Concert Program designed by Sir Peter Blake; Rockiscookin, Public domain, via Wikimedia Commons
In 2006, Blake created a commemorative artwork for The Who, who came to play at Leeds University approximately 36 years after the release of their 1970 Live at Leeds album. In the same year, Blake also designed the artwork on the cover of Oasis' greatest album, Stop the Clocks, which was apparently created by Blake using a random selection of objects and inspiration from the Beatles' cover sleeve. According to Blake, it was a case of "using the mystery of Definitely Maybe and running away with it". Definitely Maybe refers to another album by Oasis, released in 1994.
In 2010, Blake designed the home kit of the Chelsea Football Club for promotion and in the same year, created a shopping bag for the holiday season segment of the Lucky Brand Jeans company. Following this, in 2012, Blake also designed an egg for the Dorchester Collection as part of the Big Egg Hunt and a carpet for the Middlesex Guildhall building. In 2020, Blake made a poster called London Stands Together, which was printed on numerous copies of the Evening Standard Newspaper.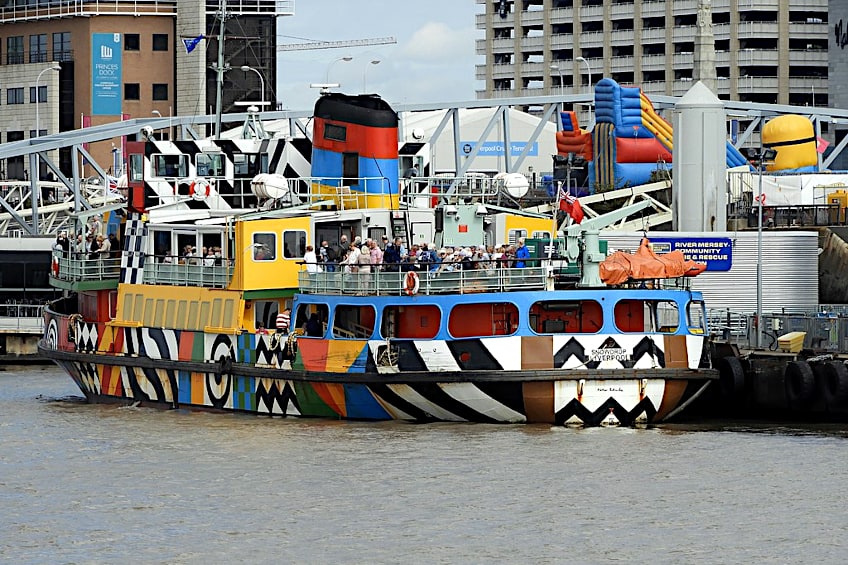 Everybody Razzle Dazzle painted in camouflage designed by Sir Peter Blake (2015); Reading Tom from Reading, UK, CC BY 2.0, via Wikimedia Commons
Top Book Recommendations
There is much to marvel at when it comes to the illustrious career of Sir Peter Blake and his contributions to the Pop art movement. Below, you will find a list of Amazon's top book recommendations that will provide you with more insights into the artist's work, including a Peter Blake biography, important paintings, and personal accounts on architecture and art.
No Place Like Utopia: Modern Architecture and the Company We Kept (1993) by Peter Blake
No Place Like Utopia: Modern Architecture and the Company We Kept is a highly-rated read for any Peter Blake enthusiast and details the narrative of the modern era through a memoir account. Blake also provides many anecdotes on his inner world around design and architecture, which he gives the reader insights into how his ideas began to take shape and be reshaped.
A memoir of both Peter Blake and modern British architecture
A vivid and scathing critique of architecture as deployed by capitalism
Ideal for scholars, students, and enthusiasts of British architecture
View on Amazon
Peter Blake (2003) by Natalie Rudd
Another best-seller, this book by Natalie Rudd outlines Peter Blake's Biography and details the artist's interest in the appropriation of popular culture via his recreation of commercial packaging and portraits of celebrities, which predated Andy Warhol. Rudd provides additional insights into Peter Blake's comprehensive oeuvre, including his work in painting, sculpture, illustration, and collage.
Comprehensive overview of Peter Blake's entire range of artworks
Well-illustrated and annotated survey of Peter Blake's art
Ideal introduction to Peter Blake and the British Pop Art Movement
View on Amazon
Peter Blake (2022) by Livingstone Marco
Described as a "superb" book that is "well-presented" and highly informative, this book by Livingstone Marco contains full-color reproductions of Peter Blake's artworks, spread across 240 pages. The book is also recommended for all who wish to have a quick catch-up on Peter Blake's biography and a fresh outlook on the Pop art era surrounding the artist's contributions to the movement.
Most up-to-date survey of Peter Blake's life and art
The most comprehensively illustrated book on Peter Blake
Includes new chapter on Blake's self-styled " Late Period"
View on Amazon
Peter Blake is an incredible icon of the British Pop Art movement and has produced some of the most iconic images of all time. His creative flair for collage making and his use of popular culture as a way to rearrange, deconstruct, reconstruct, and make new images out of the mass-produced is a talent that Peter Blake has truly mastered.
Frequently Asked Questions
Who Is Sir Peter Thomas Blake?
Sir Peter Thomas Blake is a popular Pop Art artist from England who is considered an important pioneer of the Pop art movement and popular cultural imagery of some of the world's most famous English celebrities.
What Is Pop Art?
Pop Art is a mid- to late-1950s art movement that originated in the United Kingdom and the United States, and is aimed at challenging the traditional conception of fine art by incorporating imagery from popular culture and mass culture.
What Are the Features of Peter Blake's Art?
The features of Peter Blake's art include the use of collages and photographic material used to create a composition or whole image. His compositions often include references to British celebrities, musicians, films, sports, and entertainment narratives, as seen in popular culture.