Kawaii, the cute and sweet element of Japanese culture, has become an international trend. The kawaii aesthetic can be found in fashion, art, design, and many other areas of daily life. One particularly fun way to incorporate Kawaii into your life is by coloring Kawaii Coloring Pages. In this post, we present 20 unique Kawaii Coloring Sheets of animals and other creative printables for young and old.
What is Kawaii?
Kawaii" is a Japanese word that translates to "cute" or "sweet. It is often used to describe things that are childlike, innocent and adorable.
In Japanese culture, "kawaii" has a very important meaning and is widely used. It is a part of aesthetics that can be found in many areas of daily life, such as fashion, art, advertising, and pop culture.
Kawaii culture has also gained a large following outside of Japan and is being embraced as a fashion and lifestyle trend in many countries. It is often about expressing happiness, optimism, and a sense of lightheartedness.
Typical kawaii elements include childlike drawings, pastel designs, cute animal motifs, fluffy stuffed animals and cute embellishments. Overall, Kawaii is about creating a world that is positive and loving and where you feel comfortable and secure.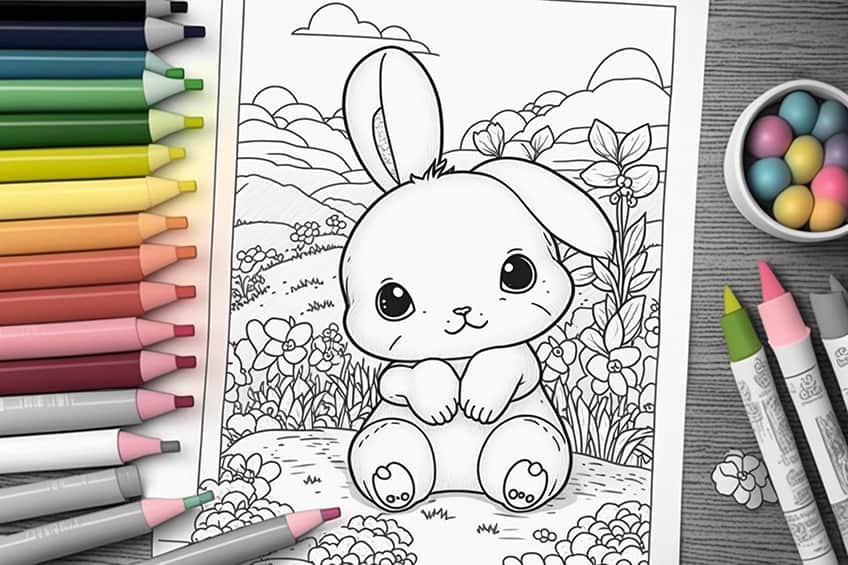 What's the History of Kawaii?
The history of Kawaii can be traced back to the 1970s in Japan, when the "Kawaii Culture" emerged as a response to the country's economic and social challenges. Japan was going through a period of rapid modernization and urbanization, which resulted in a loss of traditional values and social structures.
In this context, the Kawaii Culture offered an escape from the pressures of everyday life and provided a way for people to express themselves freely. The word "Kawaii" itself became popularized in the 1980s with the rise of the "Kawaii Boom," which saw a surge in popularity of cute and adorable characters in popular media.
Kawaii culture has had a significant influence on Japanese society and popular culture. The cute and playful designs of Kawaii have been incorporated into everything from fashion and music to food and advertising. The popularity of Kawaii has also spread beyond Japan, with Kawaii-inspired products and designs being sought after by people all over the world.
Today, Kawaii has become a global phenomenon, with a growing number of people embracing its fun, playful and optimistic spirit. Kawaii culture has also become a symbol of Japanese pop culture, with cute and adorable characters such as Hello Kitty and Pikachu becoming worldwide icons of Kawaii.
What's the Fascination behind Kawaii Coloring Pages for Kids?
There are many reasons why kawaii coloring pages are so fascinating for kids. One of the main reasons is the cute and adorable nature of kawaii designs. Kids love colorful and playful images that are easy to identify, and Kawaii coloring templates offer just that.
Kawaii coloring sheets often feature animals, food, and other objects that are typically associated with childhood. These images are easy for children to relate to and can stimulate their imagination and creativity. The playful and optimistic spirit of Kawaii can also help create a positive and upbeat atmosphere for children to color in.
Another reason why Kawaii coloring pages are so popular with kids is that they provide a fun and engaging activity that can help develop their fine motor skills, hand-eye coordination and concentration. Coloring is also a great way for kids to express themselves and explore their creativity in a safe and non-judgmental environment.
Matthew Matthysen is a multidisciplinary artist. He completed his fine art degree, majoring in History of Art and Contemporary Drawing Practice at the University of Witwatersrand, South Africa. The emphasis of Matthew's practice was a research-based approach into the philosophical effects on the human experience of the macro and micro-universe. Through various mediums, such as written and practical components, Matthew explores various ideas located within the conjoined space between science and philosophy.
Matthew has had various exhibitions before and throughout his year of studies and continues to do so. He currently works as an artist/ writer in various contexts. He has commissioned and sold various works to galleries and collectors. He currently sells work to an online gallery (Artgazette) and continues to make work for the public and private sector. Matthew continues to function as an artist, allowing his work and skills to be utilized in various areas of interest.
Learn more about the Art in Context Team.