If you live in Japan or have visited Japan, you may have noticed that the word "Kawaii" is used by many Japanese people in almost everything, and seems to be everywhere. You can find certain Kawaii designs and items in restaurants, railway stations, stores, and at almost every destination. But, what is Kawaii? In this article, we will be answering all of your questions about this curious cultural anomaly.
What Is Kawaii?
What does Kawaii mean? The word "Kawaii" is derived from the Japanese expression Kao Hayushi, which means "blushing". However, over time, the word has changed to mean "cute", which refers to a lot more and forms a large portion of the Japanese culture.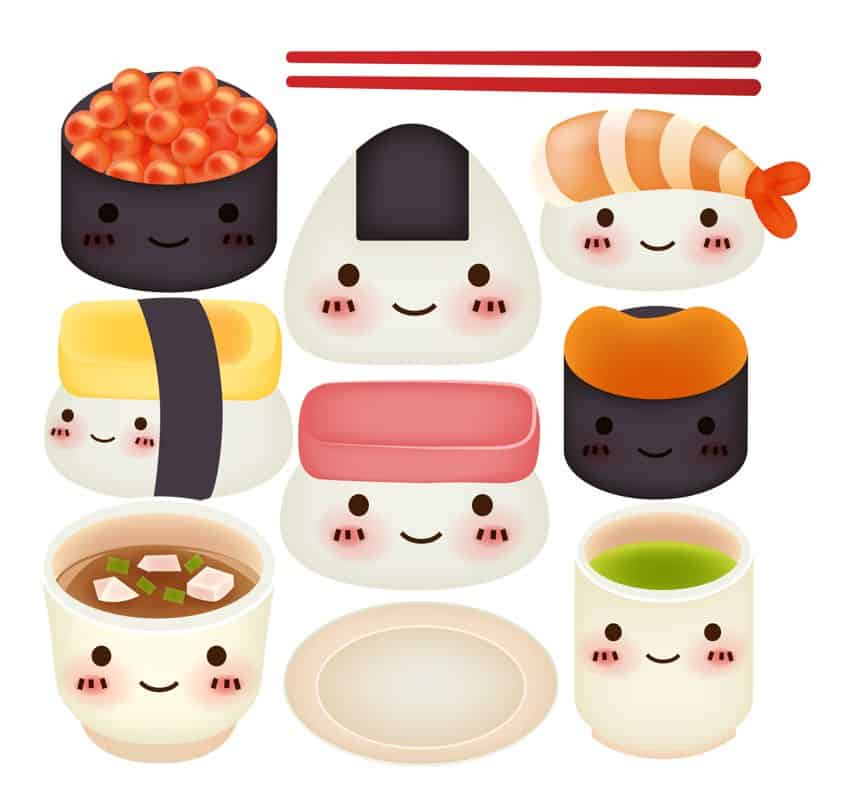 The word "Kawaii" embraces humans, items, and non-humans that portray shyness, charm, and childlike characteristics. It causes many people to think of frilly dresses, pastel colors, and anime. The concept encompasses many things and is evident in art, lifestyle, fashion, music, lifestyle, manga, anime, clothing, food, toys, entertainment as well as personal appearances and mannerisms. Kawaii can be heard on many TV shows and is spoken by old and young alike on most Japanese streets.
As a Japanese cultural trend, this concept quickly evolved into a worldwide sensation that has spread throughout many aspects of modern Western life.
Brief History of Kawaii
According to many historians, the Kawaii or Japan Cute culture is believed to have started in the 20th century. However, it may have started many years before, probably around the period 794 to 1185 AC, as the original definition of Kawaii is derived from Lady Murasaki's novel The Tale of Genji (11th century). Also, the Japanese book, The Pillow Book (1002), written by Sei Shonagon (born 966 AD), a Japanese court lady who served the Empress Teishi, clearly indicates that the Kawaii Japan cute culture had deep connections with Japanese aesthetics and spirits for a very long time.
This theory is supported by Japanese art around that time, which often portrayed animals with human characteristics.
For example, giving an animal face to a human body, which makes the subject come alive. This also attracts people, and they begin to feel a lot more affection toward it. Today, this aspect is very popular in a lot of anime, for example, cat girl.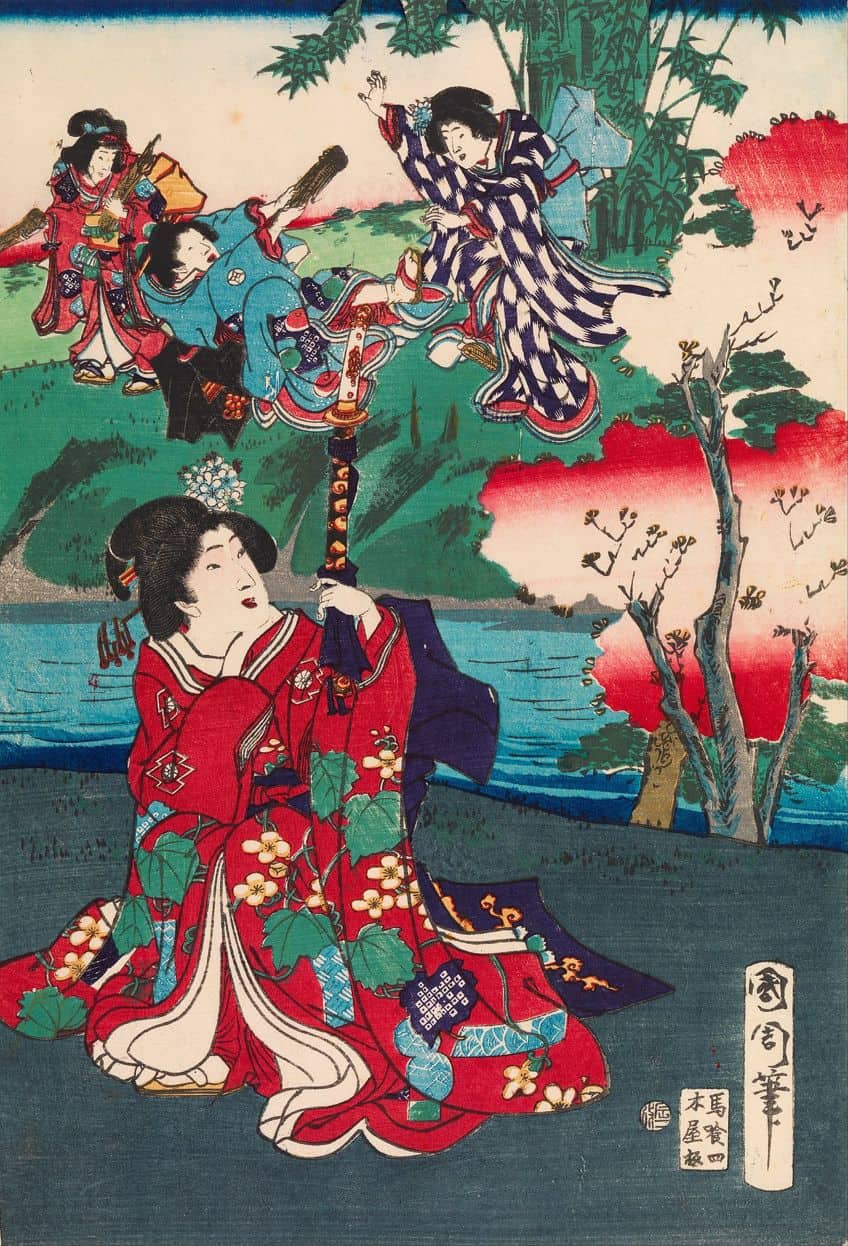 The Tale of Genji (1868) by Toyohara Kunichika; Toyohara Kunichika, Public domain, via Wikimedia Commons
It is suggested that the Japan cute culture resurfaced and became a focus in the late 1960s, when Japanese university students protested, rebelling against the authority of the prescribed academic curriculum. They refused to attend lectures and resorted to reading manga comics.
During the 1970s and 1980s, the Japanese economy grew and likewise did the consumer subcultures, where the Kawaii style of cuteness was expressed in dress, speech, handwriting, shops, products, food, and cafés. Japanese women also became more visible in the workplace and emerged as innocent, alleviating the threat of female emancipation.
With the Japanese economic crisis in the 1990s, many subcultures including Kawaii began to surface in commercial airlines and banks started to use the cute culture to increase influence amongst the traveling community. Large companies like Nissan, Sony, and Mitsubishi used Japanese anime in music and film to attract new customers.
Also, in the 1990s, the Japan cute culture brand "Hello Kitty" dramatically expanded and began to include other products that were specially aimed at adults and teenagers, rather than concentrating on pre-adolescent girls.
This trend continued well into the 21st century and the Kawaii culture seems to be everywhere, appealing to everyone, irrespective of nationality, age, or gender. This can be seen in those cute fuzzy objects that hang on the rearview mirror of cars or is evident in superhero films, comics, cartoons as well as other merchandise.
Key Characteristics of Kawaii
Kawaii characters are all different, but all of them have something in common, which is they are all designed in a very simple style. This means that they all have small, compact bodies, big heads, tiny noses, and wide eyes. They also have very little or no facial expressions at all. The characteristic of simplification is important, as the characters are designed without too much detail, but they can express a lot with only a little. Some of the Kawaii characters may be without fingers or noses, but their pose and gaze give them the expression of what is happening to them.
Facial expression is very important and can be seen in the way the eyes are drawn using little black circles, sparkles, or small dots. The closer the eyes, nose, and mouth are to the horizontal line, the sterner the face becomes, and this is the perception we have when we consider what is adorable, which is very evident in babies and puppies.
In a human facial expression, the nose and eyes are situated more toward the center of the face when we are still young, and the eyes appear to be larger. As we grow, they separate to form what an adult face looks like, and this is why, when we see characters with small mouths and big eyes, it has a Kawaii effect.
It is the lack of emotion on their faces that makes them so loveable and allows the viewer to imagine themselves as the character and form their own experience or emotion.
Consider Hello Kitty, you will notice there is no mouth, but this character still brings enjoyment to many people. Another characteristic of Kawaii characters is that they are outlined with a thick black line, and their color palette is normally pastel hues. Many Japanese women try to look cute to attract men. This means they try to enlarge their eyes to create this effect, which can be done by wearing large contact lenses, applying dramatic eye makeup, and false eyelashes. Many even go as far as to have East Asian Blepharoplasty, which is known as double eyelid surgery.
Why Is the Japan Cute Culture So Popular?
When you look at a cute picture, it can make you feel happy to some extent, causing an overwhelming warm feeling in your heart. All this is due to a simple cute object. Kawaii is also a means whereby people can express their individuality, which can be seen in areas like fashion, art, and much more. So, let us consider some of these areas in more detail.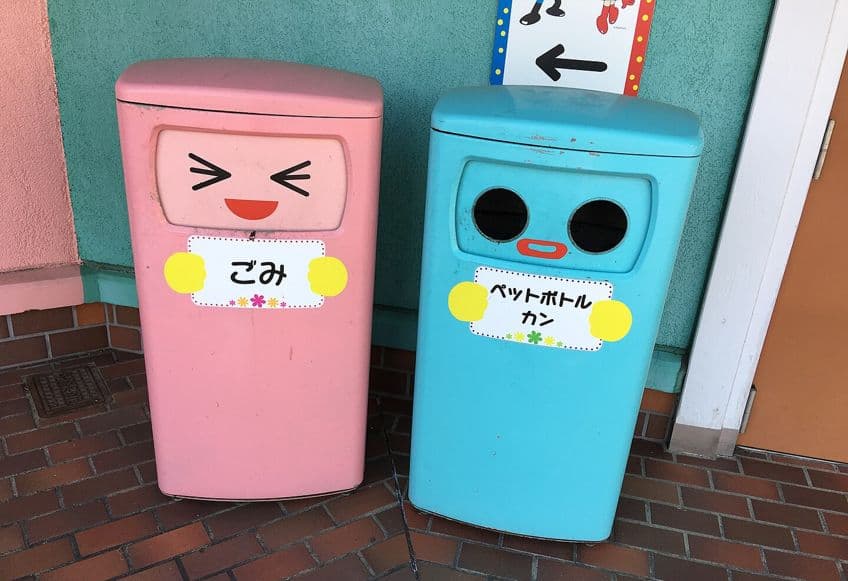 Kawaii Trash Cans (2017); Martin Lewison from Forest Hills, NY, U.S.A., CC BY-SA 2.0, via Wikimedia Commons
Kawaii in Art
The cartoon characteristics of "cuteness" is also gaining popularity in the art world developing Kawaii art styles of different genres of cuteness, like Guro-kawaii, which is grotesque but cute. There is also Ero-kawaii art style, which is erotic but cute, Kimo-kawaii, which is creepy but cute, and Busu-kawaii, which is ugly but cute.
One Japanese contemporary artist, Takashi Murakami (born 1962) is the founder of the Superflat Art Movement that follows the Japanese cute culture, especially with manga and anime. Some of his more recognizable characters are his smiling flowers and the iconic figure of Mr. DOB.
Another artist, Yoshitomo Nara (born 1959) was inspired by Kawaii and is well known for his paintings of animals and children that seem to appear to be both sinister and innocent all at the same time. In the 1990s he had around 40 solo exhibitions worldwide.
Kawaii in Fashion
Kawaii is not only found in fictional characters but also pops up in real life portrayed in a fashionable subculture. The Kawaii fashion culture is a recognizable and well-known fashion style in Japan and is referred to as Lolita fashion, which is based on fashion from the Rococo period (1740-1770). Many Japanese girls attempt to mix elements with Gothic styles to obtain a porcelain-type doll look, which looks beautiful, cute, and innocent.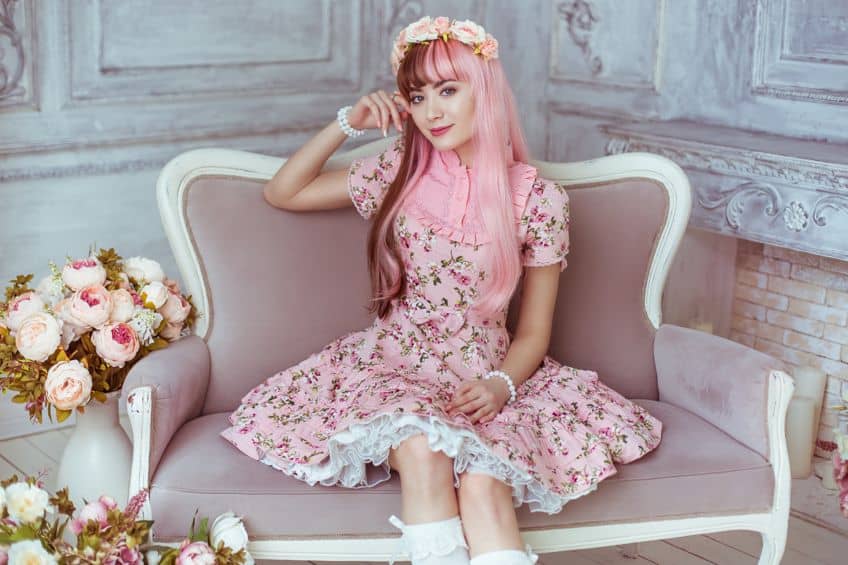 This is achieved by using ruffles, lace, bloomers, ribbons, aprons, bows, bonnets, and ruffled petticoats. Bo Peep collars also seem to be very popular as well. Themes like fruit, sweets, and flowers are used as patterns on the dress fabric. Purses also have themes like being shaped in heart forms, and fruit forms like strawberries as well as animal forms.
Kawaii in Japanese Cosplay
The costume play or cosplay is a symbol of the modern Japanese lifestyle of self-expression. They dress up in their favorite manga or anime characters or pop-culture icons, which includes all the elaborate outfits as well as all the accessories. There are also cosplay events and conventions locally and internationally, where Kawai fans celebrate the Japanese cute culture with parades. This also happens in other parts of the world, for example, in Korea, the Philippines, and many other places.
There are also international competitions, websites, social networks, and many other forms of cosplay activities.
Kawaii in Food
The Kawaii meaning is cute, so the Japanese people show a deep appreciation of how they sensually and visually experience their food. They try to turn basic lunches into something that is a work of art, and of course adorable. For example, they take fish, vegetables, rice, and meat and make a creative and adorable presentation of the dish. Cakes are also made to be vibrant and topped with smiling marshmallow faces. The whole idea is to make the food look cute, which is well-loved by all the Japanese people.
Kawaii in Video Games
There are hundreds of Kawaii games for you to play that are compatible with a PC, PlayStation, Xbox, and Switch. There are games for children as well as adults and are divided into many different categories that include some of the following.
Simulation
Role-playing games (RPG)
Casual
Calming
Adventure
Kawaii in Music
Kawaii music is full of arcade-style electronic tones, and sweet Falsetto that is known as "false voice" and is designed to reach very high notes when the vocal cords appear to vibrate at a length shorter than usual. You can increase the "cuteness" of your life by listening to sole Kawaii music.
Kawaii metal is a musical genre that combines heavy metal with Kawaiicore (J-pop metal) that surfaced in Japan early in 2010.
This genre blends Western and Eastern influences, which can be enjoyed by both cultures. The lyrics of Kawaii Metal often contain cute, lovable Kawaii themes, making them a lot less aggressive than the original heavy metal genres.
Kawaii in Pop Culture
Kawaii culture is often also referred to as Japanese pop culture, and can cover a large range of different categories that can include fashionable clothing, adorable animal mascots, colorful cafés, popular anime characters, and much more. If you are visiting Japan, then you can experience the Kawaii or Japanese pop culture in many different areas in Tokyo. Your preferred destination will largely depend on your interests. Let us now consider some of these destinations.
Claw cranes with kawaii stuffed mascots and a woman playing, Akihabara, Chiyoda, Tokyo, Japan (2019); Basile Morin, CC BY-SA 4.0, via Wikimedia Commons
Akihabara
If you are interested in shops that sell video games or anime and manga electronic goods, then Akihabara, northeast of Tokyo is the place to visit. This area has become very popular with tourists as Japanese pop culture gains popularity in many countries around the world.
Sanrio Puroland
If you are looking for some Kawaii pop culture for your kids to enjoy, then this is the place to be. It is a popular theme park that features many of your favorite anime characters, where you can greet these characters and have your photo taken with them.
You are also able to enjoy cute and attractive rides.
Harajuku Takeshita Street
This street boasts a large variety of restaurants, and you can also discover colorful shops. Discover appealing and attractive sweets that will captivate your children. You will also find unique shops that stock popular and famous anime characters like Hello Kitty, Pokémon, and much more.
Shibuya 109
There are several huge shopping centers in Tokyo, and Shibuya 109 is one of them. Here you can find 121 retail stores that stock fashionable clothing and accessories aimed at young adults that are in their teens and early twenties.
"Strawberry House", a Sanrio shop in Den'enchōfu (2011); Dick Thomas Johnson from Tokyo, Japan, CC BY 2.0, via Wikimedia Commons
Loft
This is a specialized store that stocks household goods, such as kitchen utensils, cosmetics, and office stationery. All these items are printed with popular Kawaii characters, and you can spend hours browsing through countless types of items for gifts for your friends back home.
Character Cafés
Many character cafés around Tokyo are surrounded by your favorite characters. Pokémon Café is one of them, where you can enjoy cute Pokémon themed drinks and food, and you can also buy mugs and cutlery with the Pokémon insignia on them.
Another character café is Moomin Café, where you will meet characters like Snoopy, Miffy, and Moomins.
Kawaii as a Form of Escapism
Japan is a country that has many contradictions, and one of them is that they have a formal and strict work culture, as opposed to a cute Kawaii culture. The strict work culture produces extreme pressure and stress, and Kawaii culture provides an escape from the stress, allowing people to express themselves through lifestyle, art, and fashion.
In many Western cultures after a hard day at the office, people gather at a pub for a quick drink. Others may rather indulge themselves in cuteness to relieve stress. A lot of Japanese people are compelled to wear uniforms the whole day long, so they love to wear something unique. Many regions or districts, and even companies in Japan, have their own mascots, showing that Kawaii culture is also present in the workplace.
Criticism of Kawaii Culture
The Kawaii culture is a major force both in the marketplace and in society. However, after 13 years, it has come under some criticism. Japanese women are affected and being held back; the major problem is that if a Japanese woman is not willing to be or act cute, which means they act helpless or dumb, the Japanese men will not be attracted to them.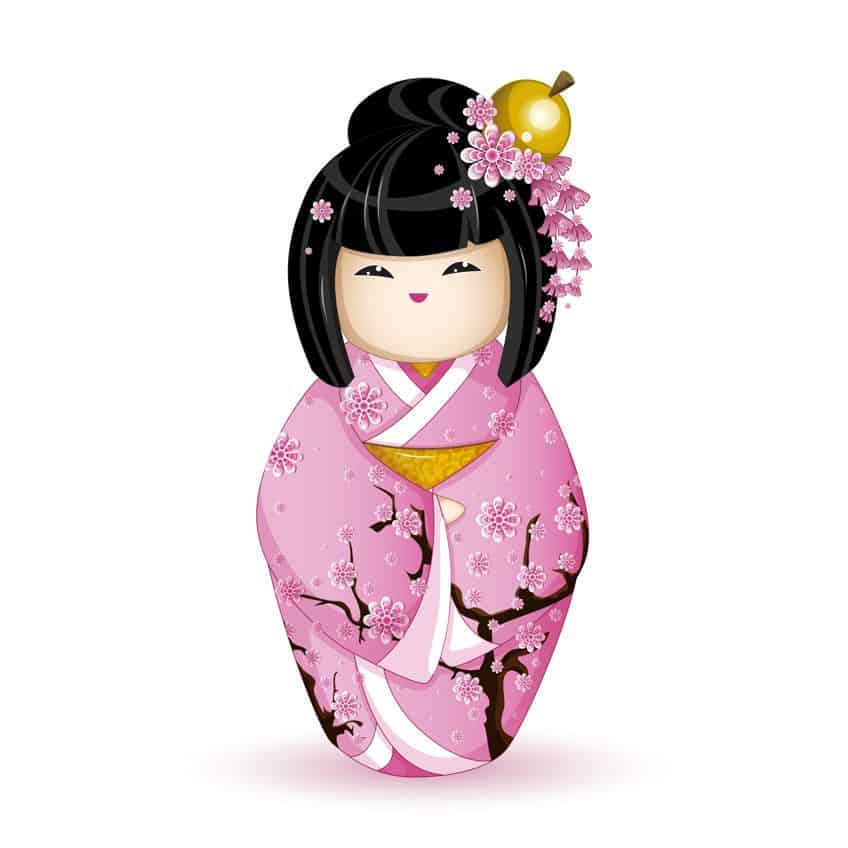 There is tremendous pressure placed on women, even in the workplace, to look cute. If they do not measure up, they are often passed over and side-lined professionally. However, the reverse is also true if the Kawaii women play the role of acting cute, they get attention and promotions. Japan's gender equality worldwide ranks 111th, a sure indication of how Kawaii is affecting their women. In the modern Western world, it is not much different, as a lot of women want to enhance their bodies to please others, very similar to the Kawaii culture. How do the young people see Kawaii culture?
They all accept cute as something beautiful, but anything that is not beautiful, ugly, or old is regarded as not cute. These people in society are then even more marginalized.
Response to This Kawaii Culture Criticism
Japanese women that are involved in the cute culture, find a sense of empowerment, which gives them an outlet for self-expression and independence. This has resulted in many of the performing artists adopting the cute culture to inspire their fans, who admire their nonconformity and independence.
Kawaii Around the World
What does Kawaii mean in other countries? The export from Japan of various Kawaii products to all parts of the world has had a huge success ever since the 1990s. Companies like The Pokémon and Sanrio make a huge income turnover from many Western consumers. Disneyland in the United States is also proof of the effect Kawaii culture can have, not only for the children but adults as well.
Japan Expo 2014 in Paris-Nord Villepinte Exhibition Center, Seine-Saint-Denis, France; ActuaLitté, CC BY-SA 2.0, via Wikimedia Commons
This huge global success of Japan cute culture has encouraged several international corporations like Motorola, Google, and Victoria's Secret, to use the cute culture as a tool to extend their consumer base, which they use in many of their advertising and media coverage campaigns.
It is amazing to see how the Kawaii cute culture has evolved over the years, and it just keeps on evolving. The traditional and much-loved Hello Kitty has been a hit for many years, but now many new characters are entering the arena, such as lazy Gudetama and Aggretsuko. What will they think of next?
Take a look at our Kawaii webstory here!
Frequently Asked Questions
What Does Kawaii Mean?
In the United Kingdom, the word Kawaii was entered into the latest edition of the Collins English Dictionary, where it is defined as a Japanese cultural and artistic style that places all the emphasis on the quality of cuteness. The characters are created with the use of bright colors, as well as having a childlike appearance.
Why Is Kawaii Popular?
It is popular worldwide, because the Kawaii cute culture puts a lot of value on young people, and older men and women emulate their youth in their dress and lifestyle. It also provides an escape from social pressure and work stress that many face every day.
Is Kawaii Scary or Cute?
What is the Kawaii meaning? It means cute, but the word Kowaii means scary. Both these words sound similar, and it is also difficult to distinguish the pronunciation of both. However, even though there is a difference, you do get some Kawaii cute characters that are also a bit scary.
Isabella studied at the University of Cape Town in South Africa and graduated with a Bachelor of Arts majoring in English Literature & Language and Psychology. Throughout her undergraduate years, she took Art History as an additional subject and absolutely loved it. Building on from her art history knowledge that began in high school, art has always been a particular area of fascination for her. From learning about artworks previously unknown to her, or sharpening her existing understanding of specific works, the ability to continue learning within this interesting sphere excites her greatly.
Her focal points of interest in art history encompass profiling specific artists and art movements, as it is these areas where she is able to really dig deep into the rich narrative of the art world. Additionally, she particularly enjoys exploring the different artistic styles of the 20th century, as well as the important impact that female artists have had on the development of art history.
Learn more about the Art in Context Team.