How to Make Resin Jewelry – Your Easy Guide to Creating Epoxy Jewelry
Recently resin crafting has become really popular, seeing the topic explode all over social media platforms and crafting blogs. For those of you who know about resin, this should come as no surprise considering how many things you can make from this seemingly miracle substance. Among the most popular creations out there has to be resin jewelry, the reality hits the sweet spot of things that are not only fun to make, but usable in your everyday life too. Wondering how to make resin jewelry of your own? It's a fun and easy way to make awesome castings that you'll be able to customize and keep forever, not to mention that they make awesome gifts for virtually any occasion!
What Is Resin Jewelry?
Before we show you how to make resin jewelry it's probably a good idea to know what resin jewelry is and more importantly what resin is as a substance. Resin is essentially a pourable liquid that hardens into something resembling plastic, or a really glossy, durable glass that can be formed into pretty much anything you can make a mold out of.
There are various types of resin that have been designed for use in certain applications, but they all follow the same formulation and application process, which is really simple. Resin kits consist of a set of molds, some resin, and a hardener. The latter are typically sold in two separate containers, the contents of which can be poured together in a 1:1 ratio and mixed.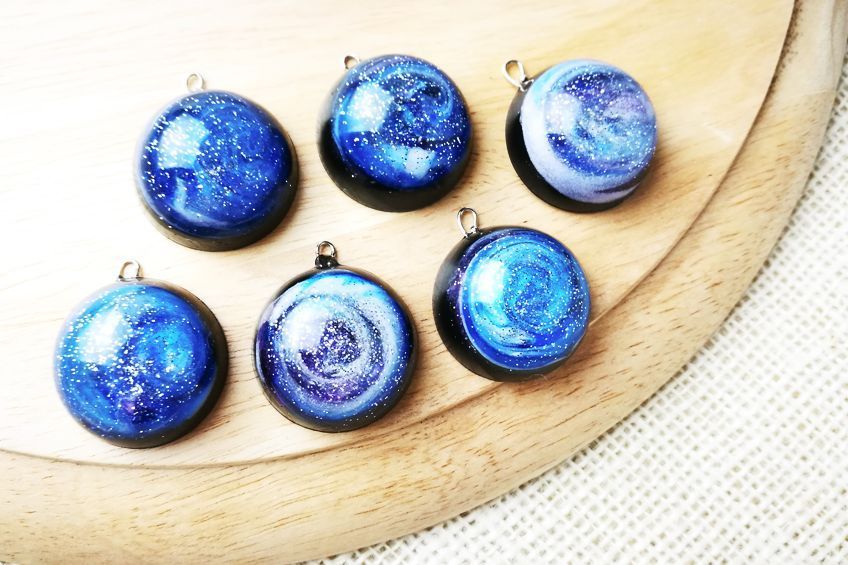 Once mixed thoroughly, they are poured into a mold of your choosing and allowed to cure for the manufacturer's recommended time period, after which they can be popped out of the mold. Resin functions by filling the negative space in a mold to make your little creations, because of this you can add virtually anything to your resin, from glitter, flowers, acrylic paint, coloring powders, and even little trinkets!
It's easy to see then why epoxy jewelry has become so popular, and why kits aimed toward making resin jewelry, in particular, are selling out all over the world. This being said, although making epoxy jewelry is pretty straightforward, it does take some practice to get your castings relatively flawless in their finish, so like most art forms it takes a few tries to get the feel for things before you develop the proficiency, you'll undoubtedly see in some Youtubers and crafting influencers.
The important thing is not to be discouraged or get overconfident in your first few attempts as jewelry resin can be a bit tricky to work with, especially when castings are small and difficult to manage.
As your skill develops, it's also important not to forget that resin contains loads of volatile organic compounds (VOCs) when in its two-part form, and during the curing stage, so never forget to work in a well-ventilated area and to wear personal protective gear such as face mask and gloves graded for use with these chemicals. As we mentioned previously, there are a few types of resin you can use as jewelry resin, so let's have a look at a few of them and their individual characteristics.
What Is the Best Resin for Jewelry Making?
Figuring out the best resin for jewelry can be tough, but there are a few things you should take into account that can make the decision a bit easier. For starters, consider where your workpiece will be spending most of its time, if you're designing evening wear jewelry you don't need something that reflects a ton of light, and if you have a time-sensitive project the last thing you need is a resin that dries slowly. Knowing this, we've found three particularly impressive resin products that we think are the best in their class, so have a look and see if they're the right fit for your next resin jewelry project.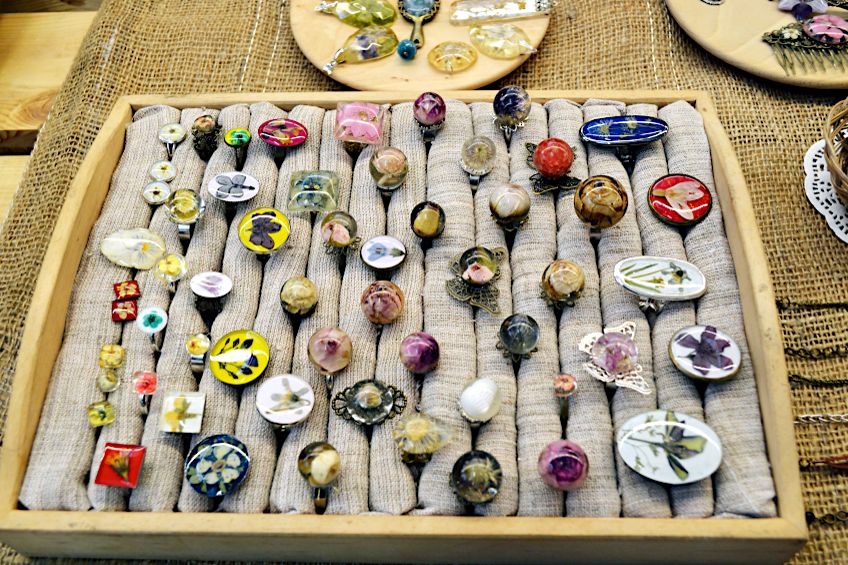 Best Epoxy Resin: PROMARINE Supplies Art Resin
Arguably the most commonly used type of resin for jewelry making, epoxy resin is hard-wearing, versatile, and easy to use. This not only makes it a great tool for beginners in the resin jewelry-making scene, but a favorite of long-time resin crafters.
The team over at Pro Marine understand how the resin is used and have designed an epoxy resin specially formulated for casting resin art and jewelry, which is perfectly illustrated in the quality of their resin and the fact that it contains little to no VOCs which means it can be used both indoors and outdoors without the risk of causing discomfort to you or those around you.
This comes in stark contrast to most epoxy resins that need to be mixed and applied in a relatively well-ventilated area and can pose considerable harm if handled without gloves and/or a face mask before they have cured completely.
Perfect for professional artists and avid DIY enthusiasts
Clear epoxy is made with non-toxic, premium-quality ingredients
Formula is self-leveling with a high gloss and intense shine
View on Amazon
Pro Marine's epoxy resin is what's known as art epoxy, which means that it cures into a shiny, nearly glass-like finish which is just perfect for making resin jewelry like a resin necklace, bracelet, or earrings.
The Pro Marine team seems to have gone out of their way to ensure that their resin isn't just impressive once cured into jewelry, but an absolute pleasure to work with too. Their formula is self-leveling which comes in handy when you're working with oddly shaped molds or smaller castings that can be a bit tricky to set flush in their molds.
Making resin jewelry with the ProMarine brand also means that you'll have rather durable resin jewelry thanks to their UV-resistant formula, which ensures that warpage and color loss won't be factors to consider when you're picking accessories for a day outdoors. Furthermore, this resin can be mixed together in a convenient 1:1 ratio which saves you a lot of time by avoiding complicated mixing ratios and allowing you to focus on your castings.
PROS
Versatile
Easy to use
UV-resistant
Mixes in 1:1 ratio
Highly durable
Cures to a glossy finish
Can be used indoors and outdoors
Ideal for beginners
CONS
Is not sold with molds
Containers can be challenging to manage for beginners
Only sold in one volume
Is not sold with mixing containers
Best Polyester Resin: ENVIRONMENTAL TECHNOLOGY Clear Cast Resin
If you're looking for a resin that is easy to use and doesn't require any mixing whatsoever, you should give the deep-pour polyester resin from the Environmental Technology team a try. If you've never used polyester resin, it can seem a bit intimidating, but in reality, it's actually much easier to use compared to conventional epoxy resin.
Instead of a resin and hardener, polyester resin uses the resin itself and a catalyst to set the curing process in motion, and thanks to this the curing process is a lot quicker than that of conventional epoxy resin. The advantage of Environmental Technology's polyester resin is that it not only dries quickly but is highly resistant to damage by UV light and happens to be submersible too! This is perfect if you're looking to make some summertime resin art jewelry that you never have to take off or risk misplacing at the pool or beach.
Can be easily used with a range of ink dyes and pigments
The epoxy cures to a crystal clear and durable finish
Comes with casting resin and a catalyst for curing
View on Amazon
Environmental technology's formula is also graded for use with dye agents, so feel free to use things like mica powder, acrylic paint, food dye, or alcohol ink to make your resin art jewelry unique. This wouldn't be a very good epoxy resin for jewelry if it didn't have a good finish. Thankfully, environmental technology's polyester resin dries into a crystal-clear finish which tends to be what you want when looking for a good epoxy resin for jewelry. Besides the crystal-clear finish, this epoxy resin forms incredibly robust castings and absorbs UV light to prevent color fading and cracking in your castings.
Overall, this is actually a really good resin for jewelry making, particularly for beginners as it involves no mixing at all (unless you're adding color) which means you can focus on filling your jewelry molds perfectly. We do wish that it was sold in larger volumes, so if you intend on casting resin jewelry in mass, you should probably go ahead and get two of these units.
PROS
Easy to use
Versatile
UV-resistant
Highly durable
Cures crystal clear
Great for beginners
Submersible
CONS
Sold in limited volumes
No molds sold with resin
No mixing cups included
Contains VOCs
Best UV Resin: SANAAA UV Resin Clear Hard Type
This type of resin has become popular recently, and understandably so considering that loads of people have become really comfortable and adept at jewelry molding and resin casting in general. What is UV resin? You could think of UV resin as the best of both worlds between polyester resin and epoxy resin, it has a nice crystal finish and a really fast dry time which makes it a great tool for time-sensitive projects and is a great jumping-off point for those who have cut their teeth on conventional resin and are ready to cast with something a bit more complex.
What makes UV resin so unique? Well, dries quickly when left in direct sunlight or under any source of direct UV radiation. Not all UV resins are created equal though, and the SANAAA team seems to be a cut above the rest, offering you a high-quality non-toxic resin that dries quickly and leaves behind no sticky residue, that you would otherwise spend hours cleaning up after casting. The cool thing about UV resin is that it cures in just a few minutes, all you need to do is place it in direct sunlight or under a UV light with an output of 36W or higher.
Resin is made from high-quality and non-toxic materials
Ready to use immediately and will cure instantly with UV light
The finish is crystal clear, glassy, anti-scratch, and anti-yellowing
View on Amazon
If you happen to be making a large batch of smaller jewelry castings this is great, it means that you could make nearly double the amount of resin jewelry than you would by using conventional resin. There's no particular ratio for the UV catalyst either, this means jewelry molding with SANAAA UV resin doesn't require the use of mixing cups, simply fill your jewelry molds using the easy squeeze applicators and add some of the catalysts at your own discretion to get started. You should probably use your own discretion when working with bigger castings though, as too little catalyst could result in your resin jewelry not curing correctly.
This particular UV resin is also pretty durable, being almost completely resistant to things like impact, abrasion, staining, and yellowing. In addition to being robust, you can still add things like dye, glitter, mica powder, and even food coloring to this resin without affecting the curing process or finish. Finally, the SANAAA team claims that their UV resin is self-degassing, which eliminates the need for a heat gun or pressure chamber!
PROS
Easy to use
No mixing cups needed
Versatile
Resistant to abrasion, impact, and yellowing
Cures and sets quickly
Non-toxic
Produces no sticky residue
Self-degassing
CONS
Expensive
Sold in limited quantities
Molds not included
Cannot be used for bigger castings
Best Resin Jewelry Kits
While it's a good thing to know which types of resin are available for jewelry making, it won't do you much good if you don't know just what the possibilities are when making resin jewelry. That's why we've decided to give you a quick overview of a few simple resin jewelry ideas like making a resin necklace, resin rings, or even resin earrings. While they are more intricate resin jewelry ideas, these are a good starting point for beginners, plus they're usable and really fun to make whether you're on your own or with your friends and/or family.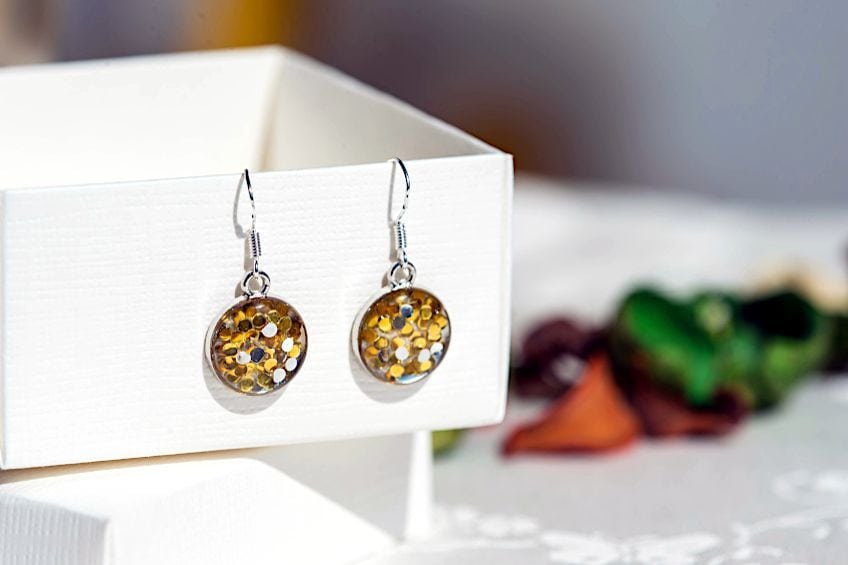 Best Resin Necklace Mold: TUNAN Jewelry Casting Molds
Necklaces are a great way to accessorize, finish off a look, or simply gift to your close friends and family for basically any occasion. It comes as no surprise then that resin necklaces have exploded in popularity among professional crafters, DIY weekend warriors, and kids alike.
Having one mold when casting your resin necklaces can be a bit limiting though, and the Tunan team knows this. This is why their silicone pendant mold kit comes with 20 pieces for you to choose from, ranging in shape and size to provide all the variety you need for your resin necklace-making needs. The nice part about their easy-to-use molds is that they're made of silicone, which means they're easy to clean, durable, and flexible, and reduce the struggle needed to get your castings out once they've fully cured.
Perfect for creating molded pendants, bracelets, and other items
Molds are made from soft silicone that is durable and flexible
Translucent color allows you to view the inside of the molds
View on Amazon
What's more is that they're completely clear, allowing you to see the effect of any coloring agents you've added to your resin, as well as any bubbles that have formed during the curing process from every angle before your casting has been de-molded.
The Tunan team has provided you with four shapes to choose from, these being rectangular, ovular, dewdrop, circular, and square molds. The pack contains about five of each shape which means you'll be able to work with multiple variations of the same shape if you're casting in bulk.
Best Resin Ring Mold: FUNSHOWCASE Resin Ring Silicone Mold
Rings have been a sign of commitment and adoration in society for thousands of years, and while they have taken on a more sensationalistic and status-oriented role in modern society, they're still an awesome way to display creativity and personal style. Resin rings in particular are fun, highly customizable, durable, and can be curated for any occasion.
This is why just like resin necklaces, they have become rather popular among amateur jewelry makers, DIY enthusiasts, and even those who have never made a resin casting in their lives but have been enticed by the sheer beauty of these castings. The Funshowcase team recognizes this and has designed their resin ring mold kit to be instantly usable and effective for users of any skill level, ensuring that everyone is able to create amazing resin rings for any occasion.
Clear silicone molds for resin rings in a wide variety of different sizes
Molds contain plenty of room for the addition of embellishments
The molds are reusable, you simply need to wash them after each use
View on Amazon
The variety isn't limited to the style of the rings either, the Funshowcase team has included a number of different ring sizes to ensure that you (or anyone you gift your resin rings to) aren't disappointed by a ring that's too big or too small. Once fully cured, castings made using these molds can be sanded down for a custom fit too! Ensuring that even those with tricky ring sizes can join in on the fun.
The molds themselves are really high quality too, featuring a silicone design that's easy to use, flexible for demolding, durable, easy to clean, and can be stored and reused without cracking or fading! These silicone molds are ideal for professionals, DIY enthusiasts, or kids who might not be particularly gentle when demolding their castings.
Best Resin Earrings: LET'S RESIN 198PCS Resin Jewelry Molds
Although they might not be everyone's cup of tea, earrings are a great way to accessorize your look, frame your face, or bring some well-deserved attention to that contour look you've been working so hard to perfect. Like necklaces and rings, they also make great gifts for your friends and loved ones by being customizable and easily personalized for any occasion.
Earrings also tend to be a bit more detail-oriented compared to other resin jewelry types and considering that they're literally attached to your face it comes as no surprise that they're designed to 'pop' a bit more than other types of jewelry. This is exactly why the let's resin team has gone out of their way to provide you with molds that you can use to design earrings for any occasion!
Contains molds for three types of earrings with couplings
Made with high-quality silicone that is durable, flexible, and reusable
Easy to de-mold after each project and cleaned with hot water
View on Amazon
Let's resin has become something of a household brand in the resin crafting industry, and considering the quality and versatility of their resin and casting molds this comes as no surprise. Their 198-piece resin jewelry mold kit is particularly well-curated for the creation of resin earrings, featuring a variety of shapes and sizes, including hoops and studs that could keep you busy for days on end.
This kit provides you with everything from studs to jump hooks, and even eye rings to make your jewelry-making experience (and more importantly, your castings) fun and easy to execute. The Let's Resin team prides itself on their easy release mold technology, which happens to be easy to clean and highly durable too, ensuring that that cleanup is just as easy as the casting process.
How to Use Resin Jewelry Molds
Now that you know what rein to use for jewelry casting and what some of the best jewelry molds on the market are, you're probably wondering how to use them.
This is why we've taken it upon ourselves to provide you with a short tutorial detailing how to use your resin and molds to create some top-notch resin jewelry. Here are some of the things you'll need, just remember to have a bit of patience with yourself, and more importantly to have fun!
Resin and hardener/catalyst
Mixing cups
Jewelry molds
Cloths
A tarp
Gloves graded for use with resin
A face mask
A heat gun
Prepare Your Workspace
When working with resin it's important to remember to prepare your workspace adequately. Why? Resin isn't only really difficult to remove from surfaces once it cures completely, it's also harmful while in its two-part state.
This is why it's important to prepare your workspace adequately by laying down a tarp over your floor and worktable to ensure that no resin accidentally gets on these surfaces.
Also, ensure that your workspace is well ventilated, and unless you're using UV resin, try and work outdoors whenever possible to minimize the possibility of damaging your furnishings and/or inhaling any harmful chemicals. In addition to preparing your workspace, ensure that you're wearing a pair of gloves and a face mask graded for use with resin products.
Prepare Your Molds and Resin
When casting anything with resin, the most important steps are often in the preparation process. In the case of casting jewelry, you want to do your best to prepare your molds as best you can. Why? Mold preparation not only ensures that you're able to pour your resin as easily as possible but also ensures that your castings are easy to remove once they have cured completely. How do you prepare your molds? Well, all you need to do is position them so that all of them are easily accessible, and by adding some mold release spray you ensure that they won't stick and tear when you're popping them out of the molds.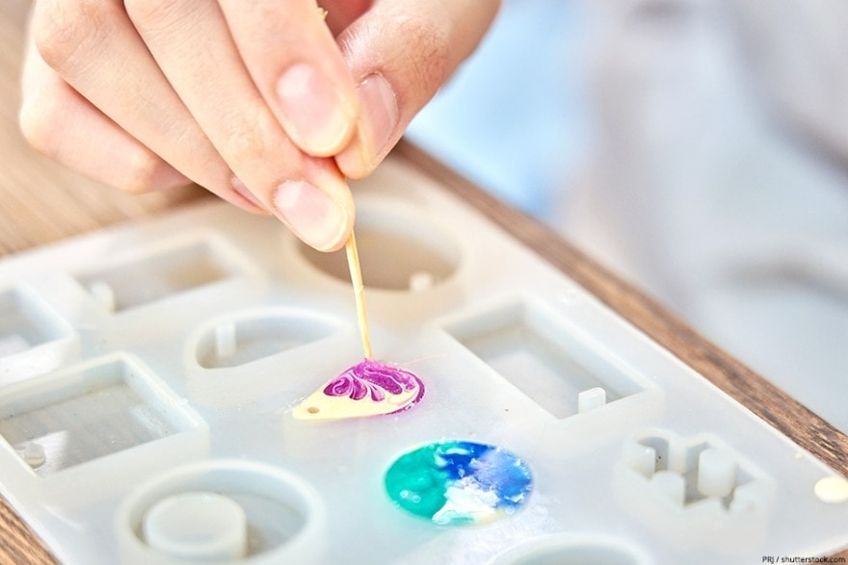 Once your molds have been prepared it's time for you to prepare your resin, this process can vary considerably depending on the type of resin you're using. When preparing epoxy resin, you're going to pour your resin and hardener into a separate container in a 1:1 ratio and mix them together. Polyester resin often already has its hardening catalyst mixed in, so all you need to do is pour it into your jewelry molds and allow it to cure.
UV resins only need a small amount of catalyst to do their thing, so pour your resin into the mold and add a small amount of catalyst using a drop applicator.
Pour Your Resin and Demold When Cured
Now for the easy part! Pour your resin into your mold and ensure that it's evenly distributed inside of the mold. Once your mold has been filled, you might notice that some bubbles have formed inside and on the surface of your freshly cast resin jewelry. You can remedy this by using your heat gun over the surface of your casting to make these little bubbles pop, just ensure that you keep a moderate distance from your casting so as not to upset the curing process.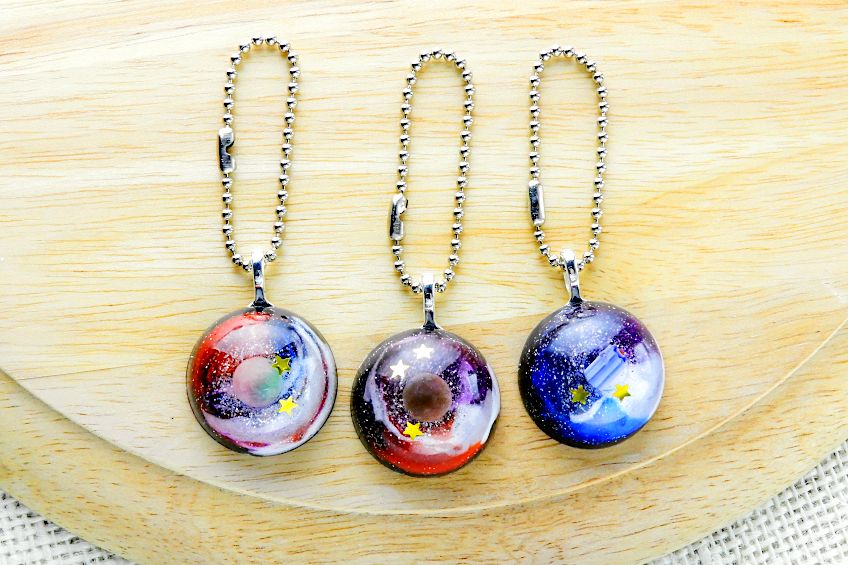 Once you're satisfied with your removal of all of the little air bubbles, allow your resin to cure for the manufacturer's recommended time period before trying to remove them from their molds. When removing your castings, the trick is to pop them out of their molds as opposed to prying them out to reduce the possibility of your castings tearing and/or splitting.
Now that you know what resin jewelry is, what types of resin are available for use in resin jewelry making, what types of resin molds are available for you to make your jewelry with, and how to use your resin and molds effectively, is time for you to get out there and put your newfound knowledge to the test. Remember to always work in a well-ventilated area and to use a resin that suits your application and skill level.
Frequently Asked Questions
What Is Resin Jewelry?
What is resin jewelry? Resin jewelry is any jewelry, accessory, or adornment that is cast from epoxy resin. These can range from rings to bracelets, to earrings, and even things like piercing heads can be made from epoxy resin and worn as jewelry.
What Should I Look for In Jewelry Molds?
While there are hundreds of companies out there who provide thousands of jewelry molds for you to choose from, not all of them are quite as good as you'd like them to be. Good molds are typically made of silicone, flexible, resistant to damage, and allow castings to be easy to remove.
Is Resin Jewelry Safe?
While resin does contain lots of volatile organic compounds when in its two-part state, once the resin has cured completely (usually within 12-24 hours of being mixed) these chemicals are completely inert and are 100% food safe. This being said, always ensure you're wearing the appropriate personal protective gear when working with resin in its two-part state.
In 2005, Charlene completed her Wellness Diplomas in Therapeutic Aromatherapy and Reflexology from the International School of Reflexology and Meridian Therapy. She worked for a company offering corporate wellness programs for a couple of years, before opening up her own therapy practice. It was in 2015 that a friend, who was a digital marketer, asked her to join her company as a content creator, and this is where she found her excitement for writing.
Since joining the content writing world, she has gained a lot of experience over the years writing on a diverse selection of topics, from beauty, health, wellness, travel, and more. Due to various circumstances, she had to close her therapy practice and is now a full-time freelance writer. Being a creative person, she could not pass up the opportunity to contribute to the Art in Context team, where is was in her element, writing about a variety of art and craft topics. Contributing articles for over three years now, her knowledge in this area has grown, and she has gotten to explore her creativity and improve her research and writing skills.
Charlene Lewis has been working for artincontext.org since the relaunch in 2020. She is an experienced writer and mainly focuses on the topics of color theory, painting and drawing.
Learn more about Charlene Lewis and the Art in Context Team.
Cite this Article