Resin seems to have exploded in popularity in recent years, with people of all age groups and occupations trying their hand at this awesome art form. People make some interesting things with resin, including but not limited to jewelry, coasters, cutting boards, shapes, letters, and even containers! Resin is typically clear though, so adding color really is up to you at the end of the day, but how do you add color to epoxy resin? Let's have a look at a few things you can use when coloring epoxy resin as well as how they work.
What Can You Use for Coloring Epoxy Resin?
As we mentioned previously, epoxy resin typically cures completely clear which means you have to add a colorant yourself, preferably when you are mixing the epoxy and hardener together, but what substances can be used to color to resin? Well, you could use alcohol ink, mic powder, food coloring, acrylic paint, resin dye, and even eyeshadow to add some color to your epoxy resin. Below is a more in-depth look at each of these coloring agents and how they work to bring some color to your epoxy resin.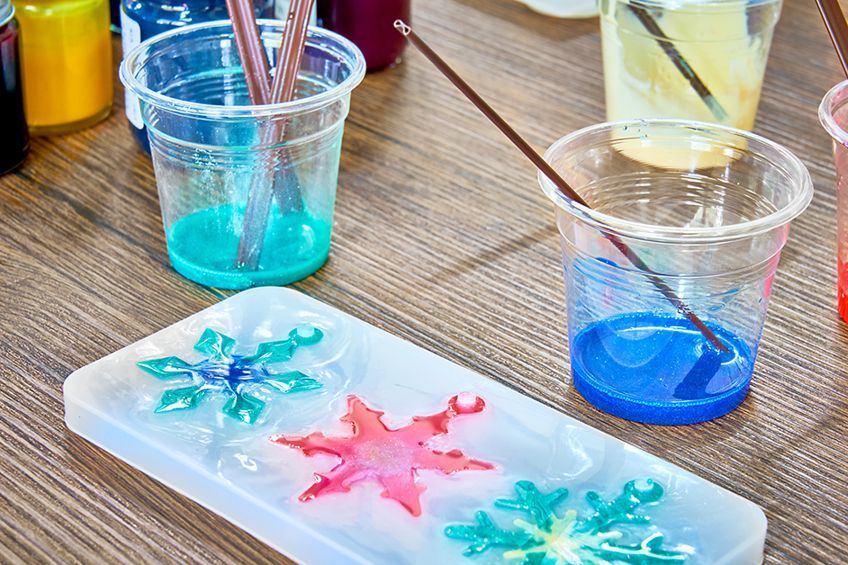 Resin Art eBook Recommendation
If you would like to start with resin art, we recommend the eBook "Epoxy Resin Arts and Crafts for Beginners" from the resin artists at acrylgiessen.com.
Epoxy Resin Arts and Crafts for Beginners
Your Go-To Guide for start working with Epoxy Resin. Learn creating fascinating Resin Arts and Crafts within minutes. All the tips and tricks that nobody tells you when you start. Including several detailed tutorials for your first projects.
Have a look inside the eBook
Using Resin Dye
Resin dye or epoxy dye as it is commonly known is technically the correct way of adding some color to your resin castings. It can be found in most craft stores or online if your local store doesn't stock it, and although they can be a bit pricey it is a quick and effective way to add some color to your resin crafting without much effort at all.
How does this dye work? Well, resin dyes are specially formulated to add color to resin in the most efficient way possible, which is dying the epoxy on a molecular level instead of simply saturating it.
The overall color effect of resin dye is an opaque color aesthetic that still very much allows some light to pass through liquid resin and cured castings. The epoxy dye makes resin castings look like stained glass, without the drawbacks of things like glare or magnification. This being said, if you're looking for a not-quite-solid color, resin dye might be right up your alley.
Using Mica Powder
Another dying agent which is believed by beginner and professional resin artists to be the right way of adding color to resin is mica powder. Mica powder is made of stone flakes that have been ground down into fine powder. The stones these powders are made from are often pigmented and shiny, which means the powder itself takes on these characteristics. You can think of mica powder as a type of glitter without the reflective properties, and like glitter, it spreads its color well when it comes into contact with epoxy resin.
The finish provided by mica powder is pretty solid and will not allow light to pass through it at all. This is great if you're looking to create solid resin shapes or letters with a high-quality color finish. The best thing about Mica powder is the sheer variety of colors you get if you choose to use it, and the best part is Mica powder tends to be really cheap too, this means that can stock up on a wide range of colors in case you find yourself needing to dye some epoxy resin the wide range of other substances and surfaces mica powder is capable of dying.
Using Eyeshadow Dye
Resin is a relatively easy substance to dye especially when compared to other plastic composite materials. It's so easy in fact that you could use some left-over eye shadow to add a bit of color to your resin. Surprised? We don't blame you, it's actually a trick that experienced resin artists know quite well because of how close the color tone resembles adding mica powder to resin.
All you need to do is take some eyeshadow and add it to your resin, then mix it with a toothpick for it to provide a beautiful aesthetic.
This is a useful workaround to know in a pinch, plus it's a good excuse to buy some really good eyeshadow colors and keep them around. Although the effect won't be as potent as it would if you used some mica powder, they definitely get the job done and can even be used in combination with other dye agents should the need arise.
Using Alcohol-Based Ink Dye
Although alcohol-based ink is very effective in adding some color to resin, it's not always suitable for beginners due to the potency of these inks. Alcohol-based inks are highly pigmented and really do provide a lot of "bang for your buck" compared to other dye agents. They can be tricky to work with if it's your first time though, as they cannot simply be added to the resin and hardener while they're being mixed.
Preferably, alcohol ink should be added to the resin while it is curing so it does not affect the initial chemical reaction between the resin and hardener. The ideal time to add your alcohol ink is once your resin has been added to your mold or tabletop, this will allow it to dye your resin without affecting the curing time and/or bonding process. There are other dyes that can be used to color resin, but alcohol-based ink is by far one of the most effective means of doing so, providing quite an intense color pallet with very little being needed to achieve this.
Using Acrylic Paint
Loads of artists are trying out resin for the first time, and if you're one of them, you might have some acrylic paint laying around. This is good news; acrylic paint is one of the few paint types that is graded for use with resin because the base substances are compatible. We should mention that if you are looking to make your resin "pop" with color, you might be disappointed with the intensity of the color that acrylic paint provides.
Why? Well, because the paint is typically used to create swirls and the general illusion of flow in resin castings, the overall intensity of the color isn't very potent.
Although this does depend on the quality of acrylic paint you find yourself working with, high-quality paints tend to provide a more vibrant color compared to those you might pay less for. The cool part about using acrylic paint to color your resin castings is that there is a wide range of colors and brands to choose from, ensuring that you have a color and finish to suit every occasion.
Using Glitter
Glitter can be used for much more than the odd birthday card or party decoration, in fact, you could use it to dye your resin castings if the mood took you. Although glitter doesn't add color in the conventional sense, using enough of it can add some color to your resin workpieces, and for half the price of most of the coloring methods, we have mentioned so far. The kind of glitter you choose to use is extremely important, as heavier flakes will sink to the bottom of your container. Finer glitter dust will stay suspended within the resin, which means you can mix it into the resin for equal distribution for your color.
The advantage you have with using glitter is being able to squeeze more than one color out of one workpiece, simply mix different colors of glitter dust together and add it to your resin before or during the casting process to achieve what will undoubtedly be an incredible aesthetic. Adding color to epoxy this way can create less of a mess while letting you use some glitter that might otherwise spend the rest of its years stuck in your supply drawer.
Substance
Can It Be Used to Color Resin?
Resin Dye

✔

Mica Powder

✔

Eyeshadow

✔

Alcohol Dye

✔

Acrylic Paint

✔

Glitter

✔

Chalk

✔

Oil Paint

✘

(must be mixed extremely thoroughly)
Enamel paint

✘

Wood stain

✘

Food coloring

✔
What Is the Difference Between Pigment Powder and Liquid Resin Dye?
Liquid resin dye and pigment powder (similar to mica powder) are two of the easiest ways to go about adding color to epoxy. They are pretty distinct in the ways that they add color to resin though, pigment powder is a combination of hundreds of thousands of fine particles that color resin by simply being present in the casting.
They are suspended evenly across the interior volume of the casting, which makes the resin appear to be the color of the powder. Liquid resin dye and alcohol-based inks work differently, they are liquid dye agents and function by diluting themselves into the resin to create a solution, which then takes on the color of the dye.
Dyes are great, but unlike pigment powder that tends to lose their color when exposed to direct sunlight for prolonged periods of time, which is a real shame considering how pretty castings treated with liquid resin dye look in the sunlight.
Pigment powders experience significantly less decomposition in comparison to resin dyes, this is due to them being less vulnerable to UV degradation, which is what you want if you're going to be making things like baby mobiles or windchimes from epoxy resin. This being said, the question you might find yourself asking the most is not how to color resin, but what to color resin with.
Considering things like where your workpiece will be situated, what type of resin you'll be using, and what forces will be acting on it are all things that should affect what substance you choose to color your resin with.
What Is the Best Pigment Powder and Liquid Dye?
Figuring out how to color resin castings can be tough, but since we know that pigment powder and liquid resin dye are among the most popular and most effective, let's have a look at some of the best liquid dyes and pigment powders the world has to offer. Remember that not all brands of resin dye products are created equal, therefore choosing a low-quality product could result in your workpiece being ruined. Always ensure that paint, pigment, dye, or chalk you choose will produce a decent color effect.
Best Pigment Powder: Let's Resin Mica Powder
You've probably heard someone say that variety is the spice of life, and while we're by no means philosophers, we think that having options is generally a good thing. The team of Let's Resin seems to agree with us in this regard, offering you a pigment dye kit with 24 original colors for virtually any occasion you can think of, all packaged in some of the cutest containers we've seen in a while. Each container gives you about 0.35 grams of pigment powder, all of which are either completely different in color or lighter and darker variants of one another.
Their colors are pretty strong too, being made especially for use with resin and resin-related materials offers exceptional value for money not only in variety but in the sheer intensity of the color these pigment powders produce in resin castings.
High-quality Mica Powder Color Set with 24 colors

Made from vivid and vibrant natural ingredients, non-toxic

Mica powder is UV-resistant and hardly fades or oxidizes
View on Amazon
This means that you don't have to use a ton of powder to get amazing results, just a pinch can add some well-needed intense color to your next resin workpiece. Considering the range of colors available to you, you could make anything from jewelry to coaters, to cutting boards, and even keyrings for your friends and family, while personalizing it with their favorite color!
Let's Resin claims that these pigment powders can even be used in hand soaps, wax candles, fiberglass castings, nail polish, and makeup. The Rolio team seems to understand that their customers want value for money, and who doesn't after all? You most certainly get what you pay for if you choose to go with the 24 pack of pigment dye colors, and considering the quality of dye and their versatility, it's essentially a steal at its current price.
PROS
Versatile
Easy to use
Good value for money
Vibrant color options
Long-lasting formula
Non-toxic
CONS
Mica Powder should be handled with a respirator

Does not instruct you on how much powder to add
Best Liquid Dye for Resin: Let's Resin Epoxy Resin Dye
We mentioned previously that pigment powder and liquid dye are in the same vein of color quality, and while this might be true pigment powder does last a lot longer than resin dyes do, especially when exposed to direct sunlight for long periods of time.
The Let's Resin Liquic Dye does offer a great selection of over 15 liquid resin dye colors for you to choose from, all of which provide vibrant translucent color to your epoxy resin workpieces. They have stated that the lighter colors, especially white, are noticeably more solid compared to some of the other colors in their pack, although when used in smaller quantities it also provides that awesome transparent color effect.
15 highly concentrated Vibrant Colors Resin Dye, translucent

Non-toxic and odorless

Mixes very well into clear resin and can be mixed with other colors
View on Amazon
Let's Resin has made their liquid resin dyes as versatile as possible, being graded for use with regular epoxy resin and UV resin, without ever compromising the color their dyes produce. Their dyes are pretty potent too, as just a pinch is able to provide intense color to any small- to medium-sized epoxy resin and UV resin castings. The application is one-part too, which means there are color enhancing additives that might affect the curing time of your resin.
If you're worried about storage, don't be. Even though storing liquid dyes can sometimes be a nightmare with things falling over inside drawers or storage cases, this dye kit comes equipped with a leak-proof nozzle to ensure that none of your dye is ever wasted while in storage or if accidentally knocked over. This characteristic also allows you to slowly drip your dye in which allows you to manage the intensity of your resin color in real-time, which is thoughtful considering how potent these dyes are.
PROS
Versatile
Easy to use
Easy to control
15 unique colors
Translucent finish
Extremely powerful dye agent
Works with regular and UV resin
CONS
Only transparent colors included
How to Color Epoxy Resin
Knowing what a good product looks like is all well and good, but knowing how to color epoxy resin with it is what really matters. This being said, we've provided a short tutorial detailing how to use both pigment dyes and liquid dyes for resin. If this is your first-time using dye agents on resin castings, we recommend starting small to get a feel for the dye's potency and how to lighten and darken your resin.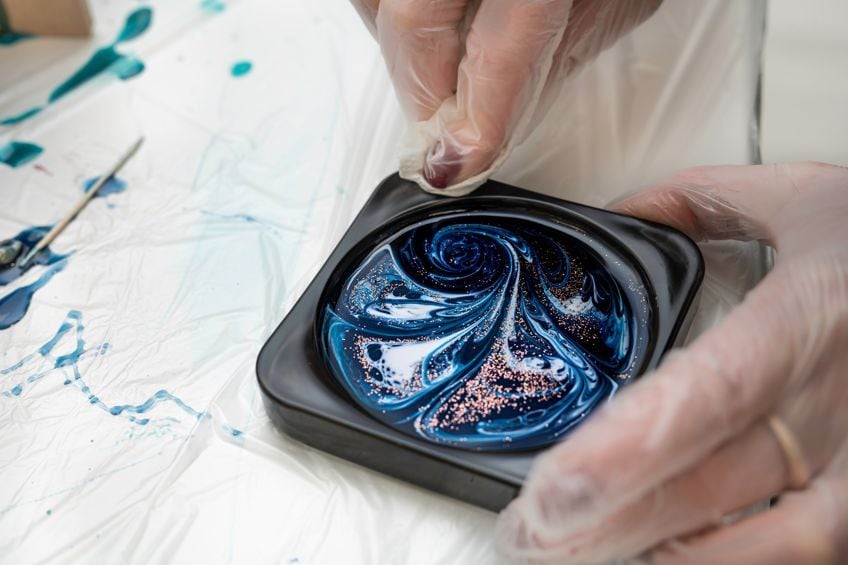 How to Use Pigment Powder
Using pigment powder is fun and really easy compared to other methods of adding epoxy colors. Pigment powder is fine and really gets into all sorts of places, so ensure that you wear a mask and some gloves to avoid inadvertently inhaling some.
Without further ado, here is how to color epoxy resin with pigment powder.
Prepare Your Resin
Get your resin ready. Mix your resin and hardener in a 1:1 ratio to get a perfect consistency, this will ensure that your resin isn't too runny or too lumpy. We recommend doing so in a transparent container so you can monitor the color of your resin and the amount you're working with at any given time.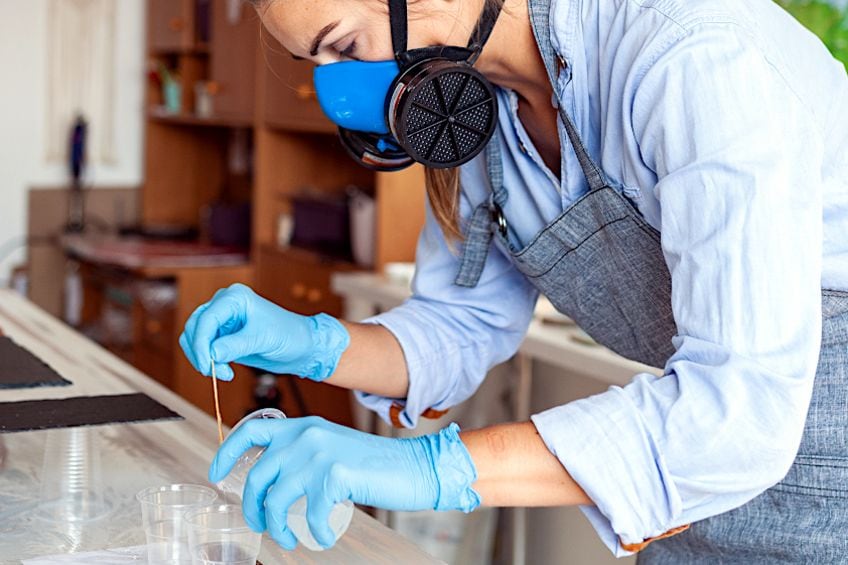 Add Your Pigment Powder
Once you're sure that your resin and hardener have been mixed together adequately, it's time to throw in your pigment powder. We recommend using a small spoon and adding a full, level spoon full of pigment powder to your container of resin.
Stir the resin and pigment powder using a mixing stick until you see the powder bond with the resin mixture.
You should be able to see the color change as you stir, and if you aren't happy with the intensity simply add some more pigment dye to the container. How do you know if the resin is ready? There should be no powdery consistency left in the container, which indicates that the pigment powder has been fully integrated into your epoxy resin.
How To Use Liquid Resin Dye
Using liquid dye can be tricky for beginners, but as long as you remain cautious and alert during the process the learning curve shouldn't be too steep. Creating epoxy colors with liquid dyes makes for intense color pallets, which means you get great value for money when using liquid dyes for epoxy resin.