Pottery Painting Ideas – A Guide to Painting Pottery for Beginners
Life today is very fast and can be very stressful, and there seems to be very little time in the day to relax. If this is something you are experiencing, why not try a hobby? Painting pottery can help with depression, and it is a hobby that is creative, great fun, and also gives you an outlet for your stress.
Pottery Painting Ideas
It does not matter if you have made the pottery yourself, or if there are some plates or mugs in your cupboard that you want to paint. In this article, we provide you with some very interesting and easy pottery painting ideas, that will not only keep you busy and relaxed, but you will be able to paint your own pottery and create unique pottery designs.
Painting pottery can give you hours of pleasure and fun, but most of us do not have a pottery wheel or kiln to bake the pottery in. So, how do we go about successfully painting pottery in our own homes? We all have old cups, mugs, or plates that might need a makeover or flower pots that would look great in the garden with a coat of paint.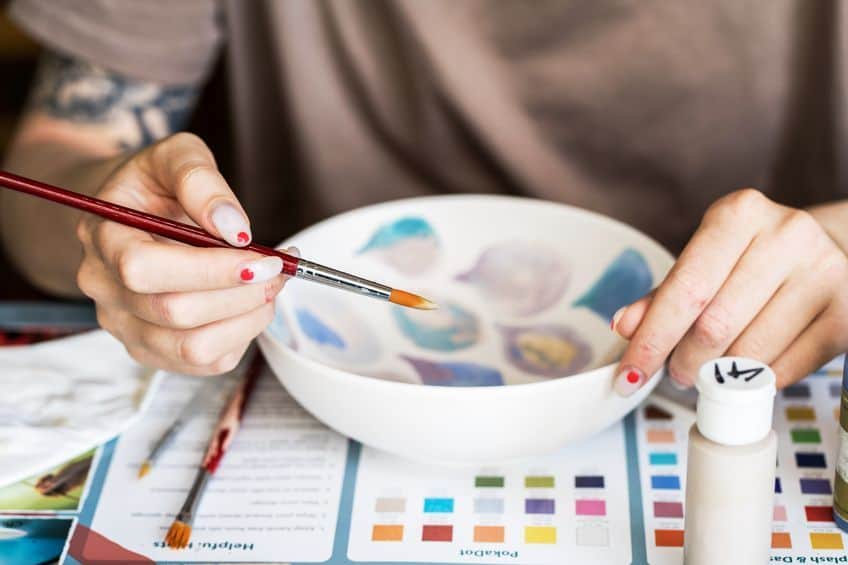 If you have some pottery that has not been painted or glazed, then the process of painting them is easy, but many ceramic items may already have been glazed to protect the painting designs on them, and if you want to repaint them there may be a slight problem. The glazing on these items is very hard and smooth and the paint will not stick to it.
You will need to take some 150-grit sandpaper and sand the entire surface of the item to give it a rough texture. Clean the item properly, then use a primer on the surface that will act as a bonding agent for the paint. Paint your own pottery design on the ceramic surface, using oil-based paints or acrylic paints. Make sure the paint is dry and then you can put on a sealing coat for protection.
Even the kids can get involved, which will keep them occupied when on holiday. Painting pottery is not only great fun for them, but it can also boost their confidence. Let us now consider some of the ceramic painting ideas that the whole family can do.
Ceramic Painting Ideas for Cups and Mugs
Once you have selected the cups or mugs that you want to paint, make sure you wash them thoroughly to remove any grease or dirt. Let this dry properly, and you are ready to start painting pottery. You may want to copy a design from a magazine or use some of your own ceramic painting ideas. However, here are some beginner ceramic paint ideas for you to use.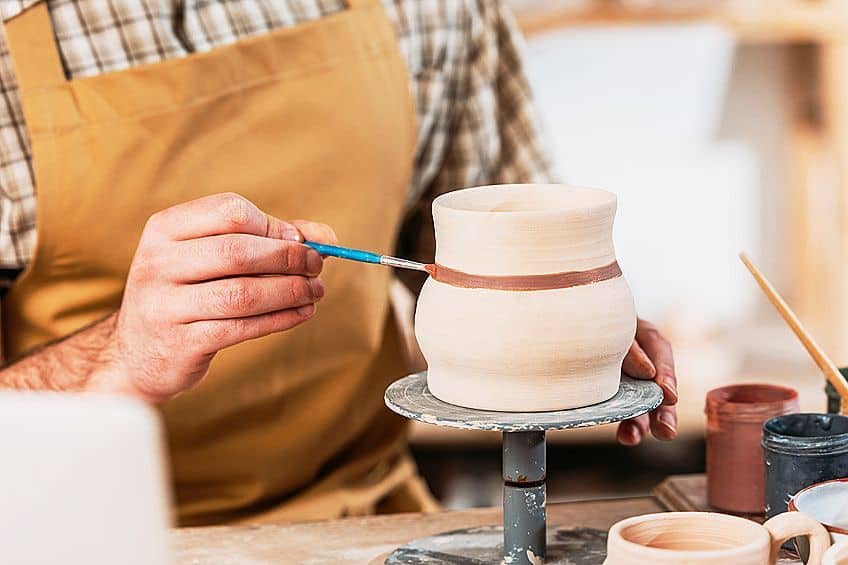 Bubbles All Over
These beginner ceramic paint ideas look simple but beautiful. You start by placing some water, dish detergent, and paint in a cup or a mug and mix them well. Then take a drinking straw and blow it into the cup or mug causing the bubbles to rise. Keep on blowing until the bubbles reach the lip of the cup, and then tilt the cup slightly allowing the bubbles to fall over the edge.
The bubbles soon begin to settle on the cup, this process can be repeated using different colors, making very impressive pottery designs.
Vibrant Glazes
This method does require a kiln to complete. This glaze ceramic painting idea also referred to as undercoat glaze or pottery glazes, is obtained when you use different glaze colors and apply them a couple of times. You will notice that the colors are more vibrant as well as glossy once they have been baked in a kiln. You also have a choice of using a matte or gloss finish.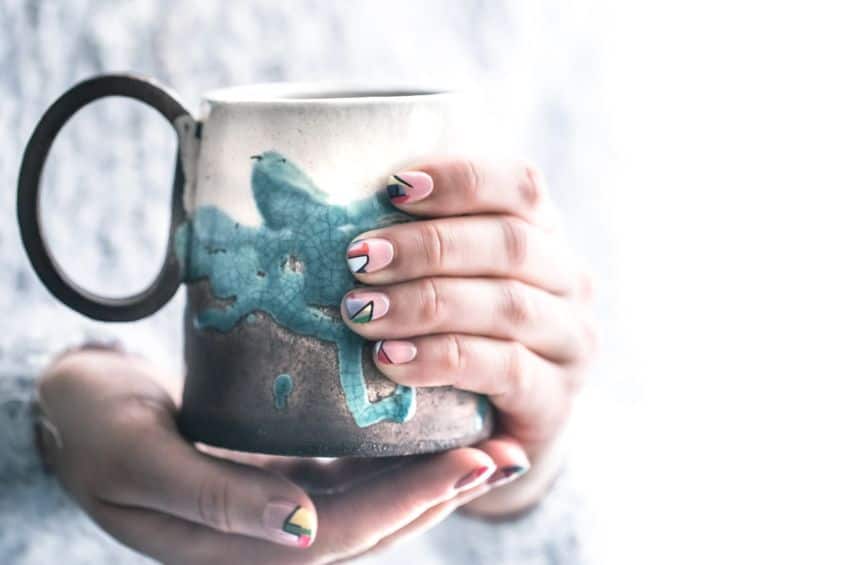 Lace Paint Effect
When you start painting pottery, it should be about having fun and enjoying yourself, then these ceramic painting ideas are definitely for you to try. Wet the cup or mug and while it is still wet place the lace you have onto the cup or mug, and just paint over the lace.
Then just peel the lace off and you are left with a beautiful lace pattern on your cup or mug.
Personalized Designs
Painting pottery is not only a hobby that keeps you and the family busy, but you can also use painted pottery as gifts for your family and friends. How about personalizing a cup or a mug by painting the person's name or initials on the mug or cup? The use of Sharpies may be a good idea for this type of pottery design. This not only makes a great gift, but it is also personal, making the person feel loved and appreciated.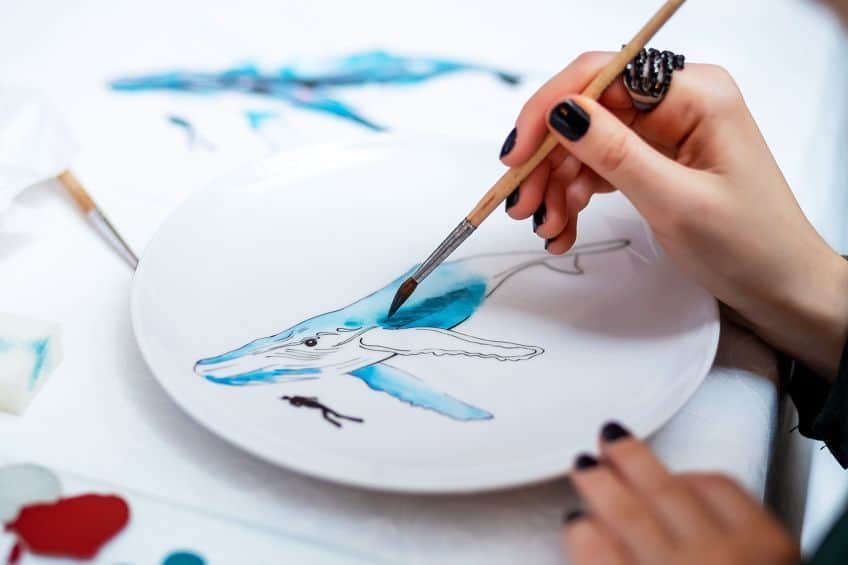 The Splatter Effect
This is the very easiest of all the beginner ceramic paint designs and can be done by everyone including the small children. All you need to do is pour some paint into a dish then take a toothbrush or a paintbrush dip then into the paint and start flicking the paint onto your cup or mug and the job is done.
The only precaution is to do this in a space where messing is not a problem, especially if your young kids are involved.
Ceramic Painting Ideas for Bowls and Plates
Painting pottery is fairly easy to do, and you only need a few materials and equipment to do it. There is no need for complicated patterns or intricate details, and the ceramic painting ideas are endless. Plate and bowl painting ideas can be achieved by using sharpies, acrylic paint, watercolors, and even markers. You can try different pattern ideas like lines, dots, flowers, and much more. So, let us see what plate or bowl painting ideas will suit you best.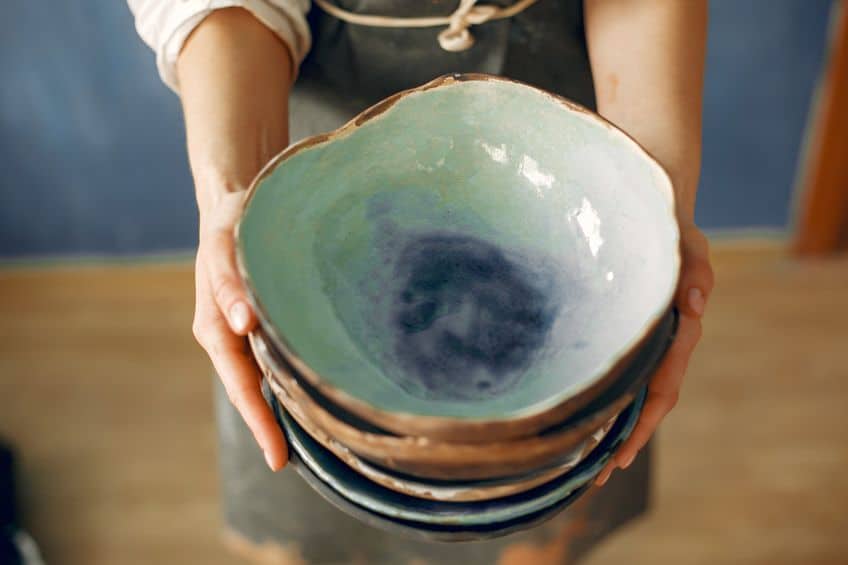 Transfer and Tracing Process
Do you have a favorite symbol or image you want to use? Why not use this as plate or bowl painting ideas. All you need is some tracing paper, and you can begin tracing the symbol or image onto the tracing paper using a graphite pencil. Place the tracing paper onto your bowl or plate and retrace the image or symbol.
The graphite will transfer the image to your bowl, and then you can fill in the details using your different colored paints.
Fluid Art
Begin by taking three or four of your favorite colors of acrylic pouring paint and pour some into three or four different containers. Now pour the contents of the three or four acrylic mediums into a separate container one at a time, but do not stir or mix them. Now you can pour this mixture over your bowl or plate and swirl it around until it covers the whole surface. Wipe off the excess paint using a wet sponge and your work is done.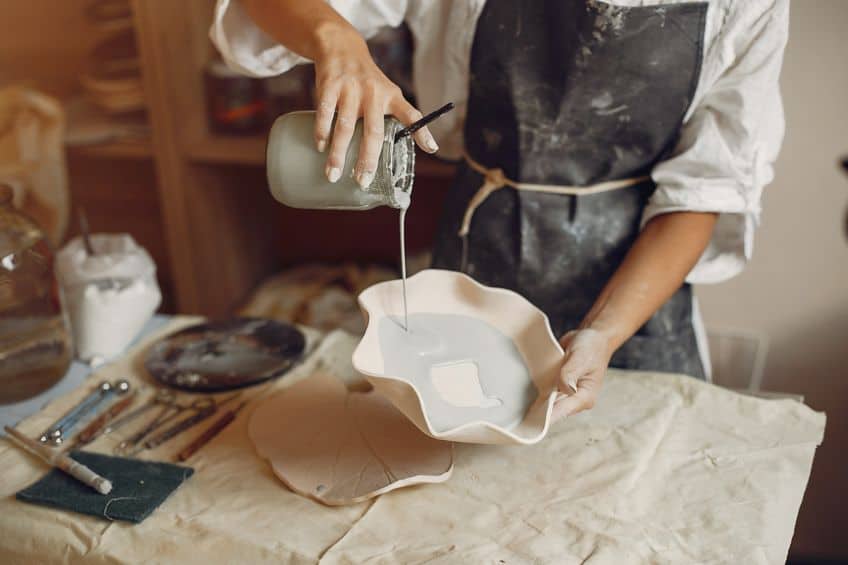 Nail Polish Pottery Ideas
You can create some exquisite pottery painting ideas and designs by using nail polish, and the patterns you can create on your bowls or plates can be done in any color. However, you need to bear in mind that nail polish is not traditional paint.
As such, it may peel and flake off when getting wet, so it is recommended to be used solely for display purposes.
Applying a Wash
The wash painting pottery technique is very similar to watercolor painting, where you start by diluting your paint in water, and then you apply the paint to your bowl or plate using a paintbrush. You can create whatever bowl painting ideas you desire, but you need to ensure the brush marks remain visible, making the design more effective.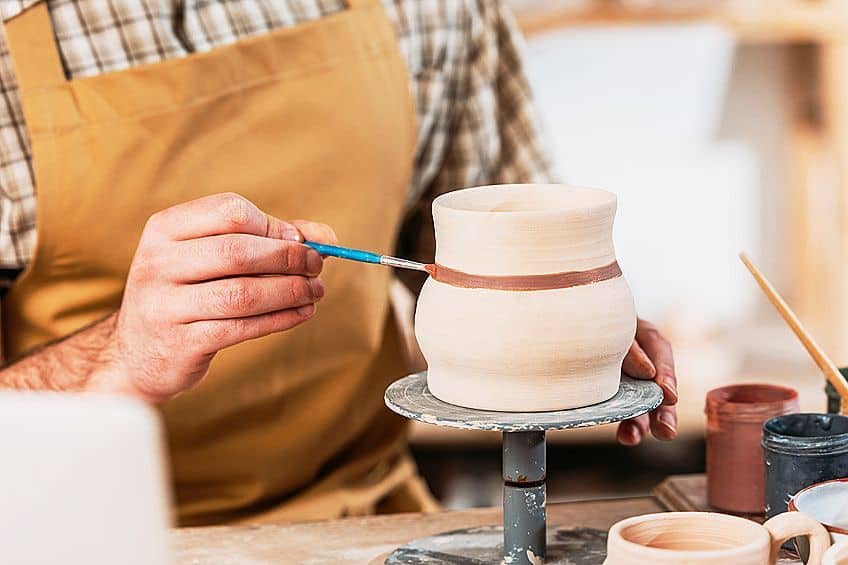 Sponge Painting
By using a synthetic sponge, you can create your bowl painting ideas and designs. Pour your paint into a container, then take the sponge and dip it into the paint, now dab the plate or bowl with the sponge and you have just created an amazing sponge painting design.
Alcohol Ink Pottery Designs
You can use alcohol inks to create your special ceramic designs by using various colors, which you can apply directly to the vase, allowing it to run slightly. You can also apply it with a piece of blotting paper that you dip into the ink. Another idea is to use a stencil to draw your image on the glass and then use the ink to fill in the design. However, the alcohol ink dries very fast so you need to work quickly.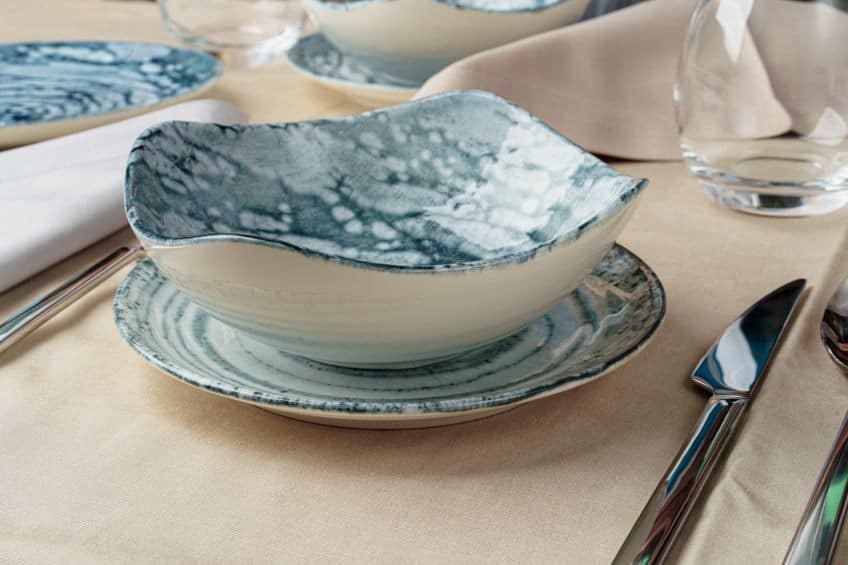 Ceramic Painting Ideas for Pots
If you are looking to add some color to your garden, then these garden pot painting ideas are just what you need to put you in the mood for the summer. What is also ideal with these garden pot painting ideas is that the whole family can enjoy them together.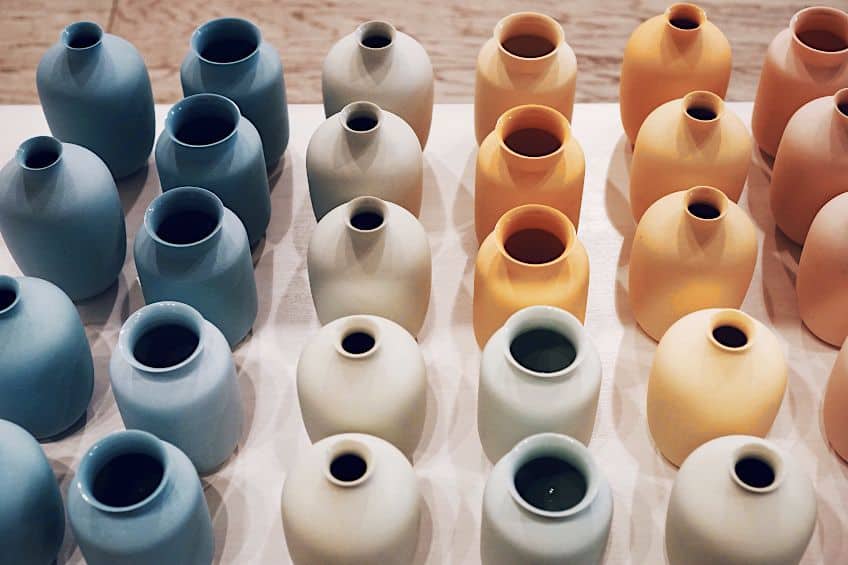 Geometric Patterns
For these pot painting ideas, you can take your selected garden flower pot and begin to create your special design by sticking some masking tape in areas where you do not want the paint to go. Take some paint and begin to paint the open space of your pot using different colors, allow the paint to dry, and then peel the masking tape off.
You now have a beautiful painted pottery design on your flower pot ready to be placed in the garden.
Mandala Painting
To start, you need to collect some tools of various sizes for producing the dots, such as toothpicks, small paint brushes, pens, nails, or any other item that can make a dot. Decide on a design you want to make, and start in the center, then dip your tool into the paint, and begin adding the dots. Continue with this process until you have completed your design, and your flower pot is now ready.

Fingerprint Flower Pot Art
This is a pot painting idea that is especially for young children, but people of any age may also find it enjoyable. Select the flower pot you want to use and paint it with your favorite color, then put it to one side and allow it to dry properly. Select the color you want the flowers to be and pour the paint into a container, get the kids to put a finger into the paint, and then press that finger onto the pot. Continue doing this in a circular pattern until you have flower petals in a circle.
To finish it off, you can glue something like a button in the center of the flower.
Drip Paint Flower Pot Ideas
Paint your flower pot with white paint and allow it to dry, and then turn the pot upside down and cover the hole with some tape. Choose the color of paint you want and pour it onto the bottom of the pot until it begins to flow over the edge, then turn the pot slightly and begin to pour a second color onto the bottom of the pot. Continue doing this with as many colors of paint as you want and allow it to dry.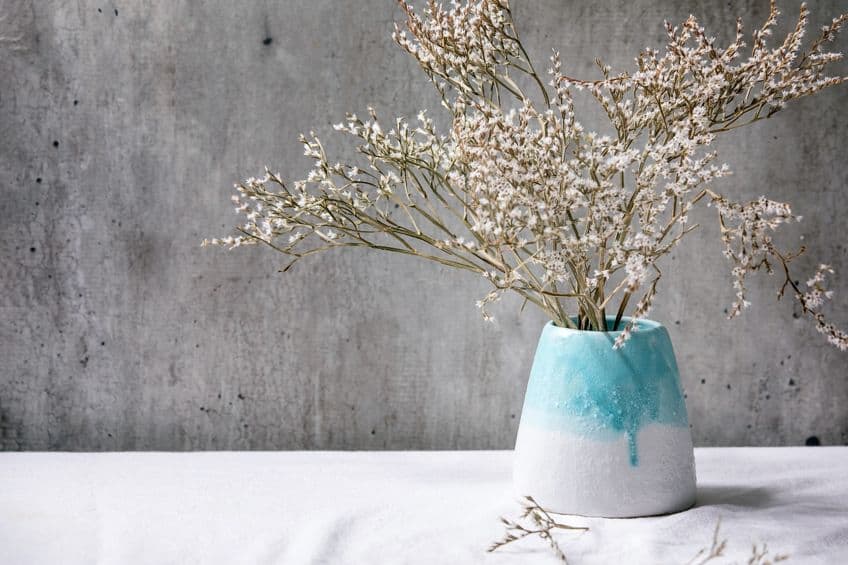 Marbled Flower Pots
Begin by painting the flower pot with white paint, and then select three different colors of nail polish that blend well together. Fill a container that is deep enough for the pot to fit into with water, and pour the nail polish into the water, which will float on top of the water. Now, take a toothpick and swirl the nail polish to form a marbled effect and then dip the pot into the water slowly, swirl it around and the nail polish will stick to the pot. Take the pot out of the water and put it on some paper towels to dry.
You now have a beautiful, marbled effect on your flower pot.
Ceramic Painting Ideas for Vases
You may have some old vases in your home that lost their appeal, and you feel it is time to freshen them up? We are here to help with some pottery painting ideas just for such an occasion. Boring clear glass vases can be instantly transformed into very modern-looking vases.

Tissue Paper Vase
Select a tall vase, and three different colors of tissue paper, preferably of the same color but different shades, like dark blue, mid-tone blue, and light blue. Cut out the design you want, like leaves, petals, or any other shape you want. Make sure you cut out the shapes in various sizes, so you have bigger and smaller pieces. Paint the vase with some mod podge and place the tissue paper shapes on the vase and paint the mod podge over them.
It is best to start with the dark color at the bottom and the light color at the top, and you can apply as many layers of the shapes as you want.
Line Art
Never underestimate the effects of some disorderly patterns, which is where the line art comes in. All you need to do is paint some lines on your vase, which you can randomly do, or you can use masking tape and make the lines more seamless. It is a lot more fun just to paint your lines in different directions, even if it makes a disorderly pattern. These are perfect for beginner ceramic paint designs.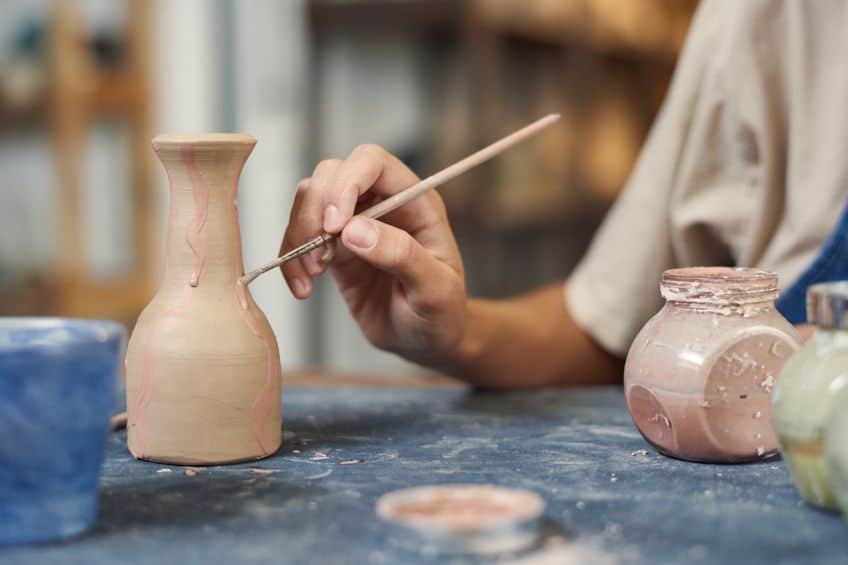 Flowers
Seeing that your vase is going to be used to hold flowers, is not fitting that a flower design should be used on your vase. We all have our favorite flowers, some love daisies, while others love sunflowers. Painting your favorite flower on your vase can produce some positive vibes.
The flower design can be your own or you can use a design or template to create the flower.
Enamel Painted Vases
Using enamel paint on your vase is a fun way to paint and can also give you a beautiful vase for your home. Start by taking a clean vase and pouring in some surface conditioner to cover the whole of the inside. Pour out the excess and allow the vase to dry properly. Take the color of enamel paint you want to use and pour some of it into the vase. Take a paintbrush to make sure the paint covers the whole inside of your vase. Turn the vase upside down on a piece of paper towel and allow the excess paint to drip off, then turn the vase the right way up and allow the paint to dry. You now have a beautiful colored vase with a gloss finish.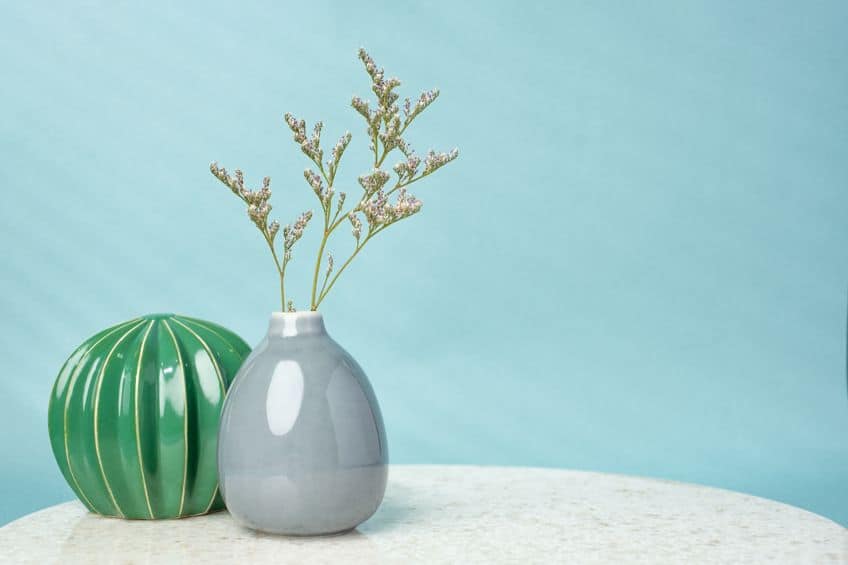 Pottery painting can give you amazing results, and you can have a lot of fun when doing it. In this article, we have given you only a few of the many pottery painting ideas available, but there are many more ideas out there. So, why not pick a piece of pottery and give it a try, you might be pleasantly surprised at the results you can achieve. Also have a look at our ceramic ideas.

Take a look at our pot painting ideas webstory here!
Frequently Asked Questions
Can You Use Acrylic Paint to Paint Pottery?
The perfect paint for ceramics is an acrylic paint that is specially designed for ceramics, and the paint needs to be water-based as well as non-toxic if you intend to use it for food or hot drinks.
How to Seal Acrylic Paint on Ceramics?
You can use an acrylic clear coat, mod podge, or water-based polyurethane varnish to seal your painted ceramics. However, for best results, the acrylic paint can be heat cured instead of allowing it to air dry, as this makes it food-safe.
Must You Prime Pottery Before Painting?
If you are going to paint on a piece of pottery or ceramics that is already glazed and has a very smooth finish, you need to use some sandpaper and a primer before you paint, or else the paint will not stick to the surface.
Can You Use an Oven to Bake Painted Pottery?
If you have used the right type of paint for ceramics and allowed the pottery to dry completely for about 24 hours, then you can bake the ceramic piece in your oven at 350 degrees Fahrenheit (177 degrees Celsius) for around 30 minutes. Turn the oven off and leave the pottery piece to cool with the oven.
In 2005, Charlene completed her Wellness Diplomas in Therapeutic Aromatherapy and Reflexology from the International School of Reflexology and Meridian Therapy. She worked for a company offering corporate wellness programs for a couple of years, before opening up her own therapy practice. It was in 2015 that a friend, who was a digital marketer, asked her to join her company as a content creator, and this is where she found her excitement for writing.
Since joining the content writing world, she has gained a lot of experience over the years writing on a diverse selection of topics, from beauty, health, wellness, travel, and more. Due to various circumstances, she had to close her therapy practice and is now a full-time freelance writer. Being a creative person, she could not pass up the opportunity to contribute to the Art in Context team, where is was in her element, writing about a variety of art and craft topics. Contributing articles for over three years now, her knowledge in this area has grown, and she has gotten to explore her creativity and improve her research and writing skills.
Charlene Lewis has been working for artincontext.org since the relaunch in 2020. She is an experienced writer and mainly focuses on the topics of color theory, painting and drawing.
Learn more about Charlene Lewis and the Art in Context Team.