How to Draw a Sofa – Create a Comfy and Stylish Sofa Drawing
Sofas are the ultimate comfort zone in any home, offering a perfect blend of relaxation, style, and functionality. From sleek leather designs to plush velvet textures, there's a sofa for every taste and budget. Whether you're snuggling up with a good book, binge-watching your favorite TV series, or hosting a lively game night with friends, a sofa provides the perfect setting for all your cozy moments. So, if you're looking to transform your living space into a cozy retreat, a stylish sofa is the way to go! Sit down, relax, and get ready to learn how to draw a realistic sofa step-by-step. Our easy-to-follow tutorial will guide you through the entire process, and in no time, you will be able to draw a couch that looks so comfy you'll want to sit on it!
Learn How to Draw a Couch Step-by-Step
If you're about to learn how to draw a sofa, get ready to discover a whole new world of creativity and artistic expression! Start by breaking down the sofa into basic shapes and components, such as the seat, arms, backrest, and cushions. Pay attention to the details, like the height of the backrest, the angle of the arms, and the depth of the seat, as these will affect the overall look and feel of your drawing. Consider the style of the sofa, whether it's modern, traditional, or a mix of both, and try to capture the essence of its design. Don't be afraid to experiment with different textures, such as leather or fabric, to add depth and realism to your drawing. With practice and patience, you'll soon be able to draw stunning sofas that bring life and personality to any space!
By following each step depicted in the below collage, you too can master the techniques necessary to create your own realistic sofa drawing!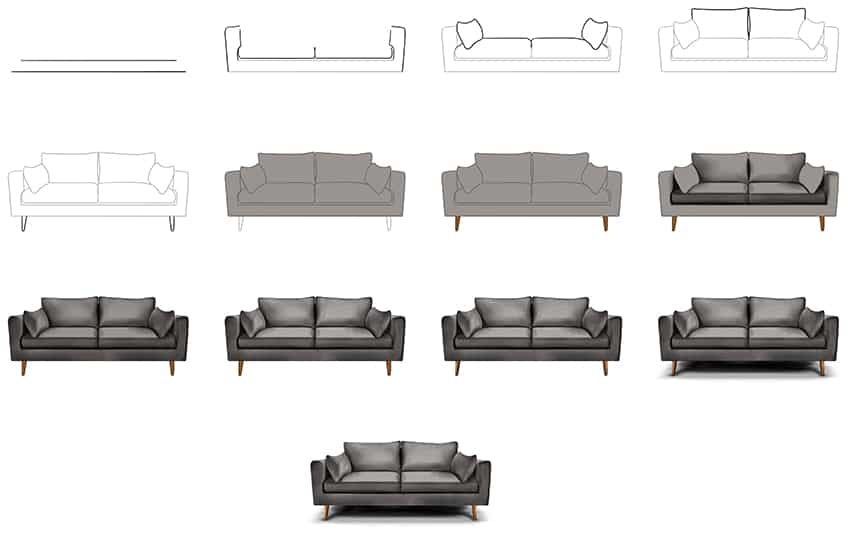 Step 1: Draw the Base of Your Sofa Drawing
Begin our tutorial on how to draw a couch, by drawing two parallel lines to represent the base of the sofa.

Step 2: Draw the Shoulders of the Sofa
On each end of your sofa sketch, draw the side shoulder of the sofa leading upwards from the base. In between the shoulders, outline the bottom cushions.

Step 3: Add the Pillows to Your Sofa Sketch
In this step draw a pillow against each shoulder. Finish this step by drawing the top lines of each bottom cushion.

Step 4: Drawing the Back of the Sofa
Draw the back cushions of the sofa represented by two large pillow-like shapes.

Step 5: Add the Sofa Legs to Your Couch Sketch
Draw two front legs, one at each corner, and below the base of your sofa drawing.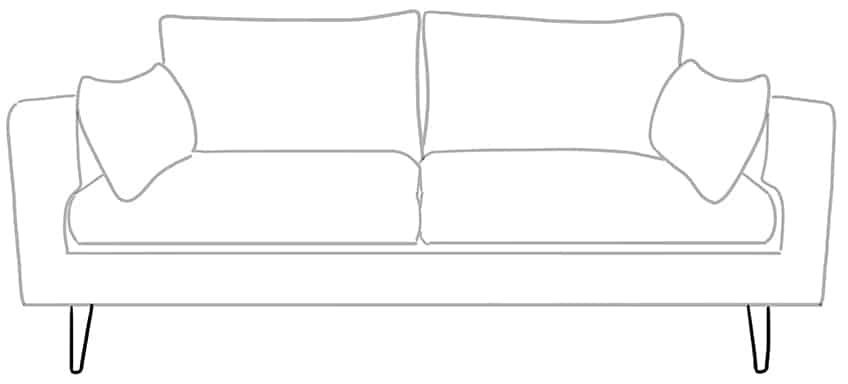 Step 6: Apply the First Color Coat to Your Couch Sketch
Select a regular brush and gray paint, and evenly coat the entirety of the sofa except for the legs.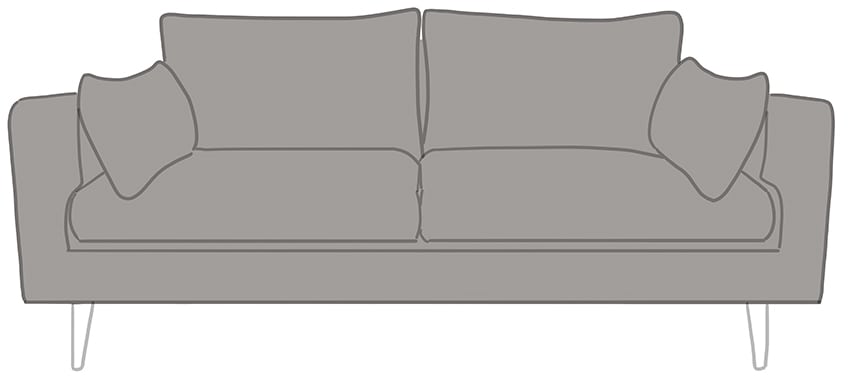 Step 7: Color the Legs of Your Sofa Drawing
With a fine, sharp brush and brown paint, evenly color each leg.
Step 8: Contour Your Drawing of a Couch
In this step, apply light contouring within each cushion, using a soft brush and black paint. Continue to darken the edges of the couch.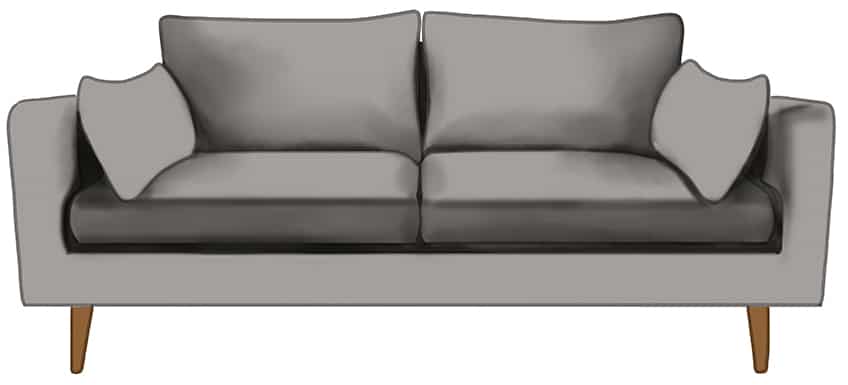 Step 9: Shade Your Sofa Sketch
In this step, simply enhance and spread the shading throughout the sofa. Continue with a small, soft brush and black paint, and shading the base and shoulders of the sofa leading onto the rear cushions and pillows.
Note! The first color coat should still be somewhat visible.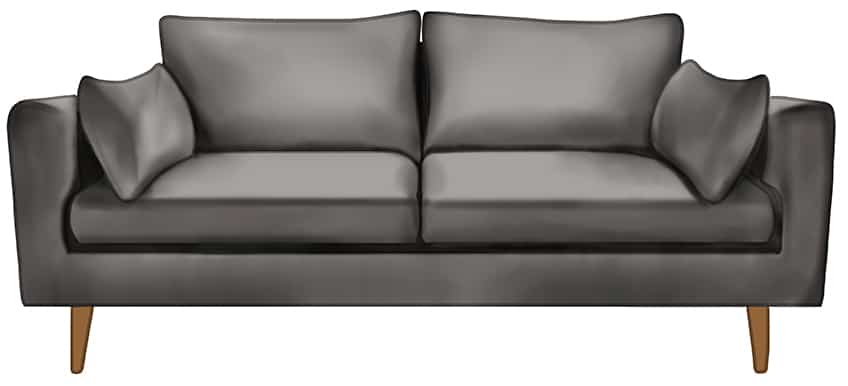 Step 10: Texture the Couch Sketch
This step can be tricky, however, take your time so you can achieve the best results! To achieve texture on your drawing of a couch, simply select a soft or rough brush and white paint, and paint diagonal lines and subtle dabs of white spots and patches. Repeat this step in the opposite direction and this should create a mesh-like pattern on your drawing of a couch.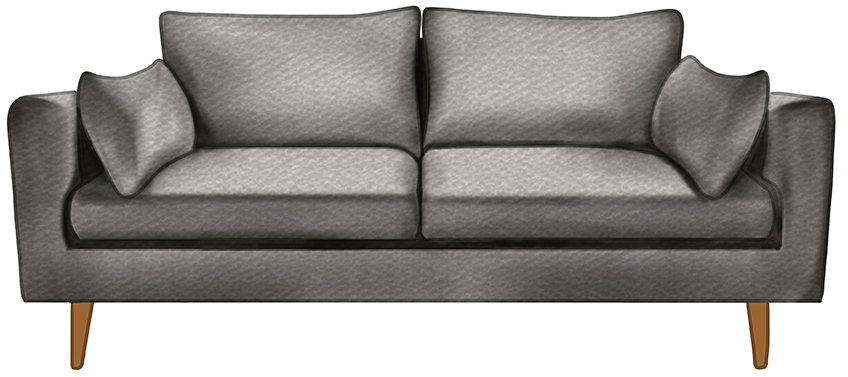 Step 11: Add Texture to the Legs
With a thin, sharp brush and a bright shade of brown paint, add fine hairline brushstrokes within each leg, leading downwards. Continue using black paint, and add subtle shaded lines within each leg.
Step 12: Apply a Ground Shadow
Use a small, soft brush and black paint, and paint a casted ground shadow beneath the sofa. Switch to a blending brush and spread the shading toward the rear of the couch. This will cast a sloping shadow beneath the couch.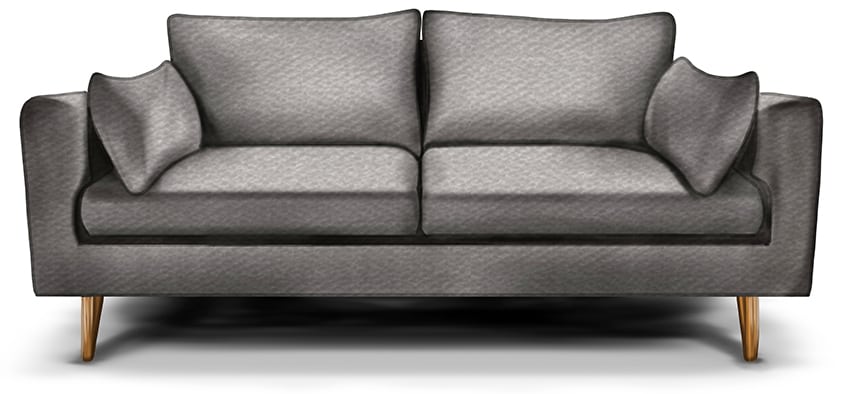 Step 13: Finalize Our How to Draw a Couch Tutorial
You are one step closer to finishing our how to draw a couch tutorial! To complete our drawing tutorial, simply erase any outlines that are still visible. Where this is not possible, select a fine, sharp brush and the corresponding colors and trace these outlines to create a final seamless realistic sofa drawing!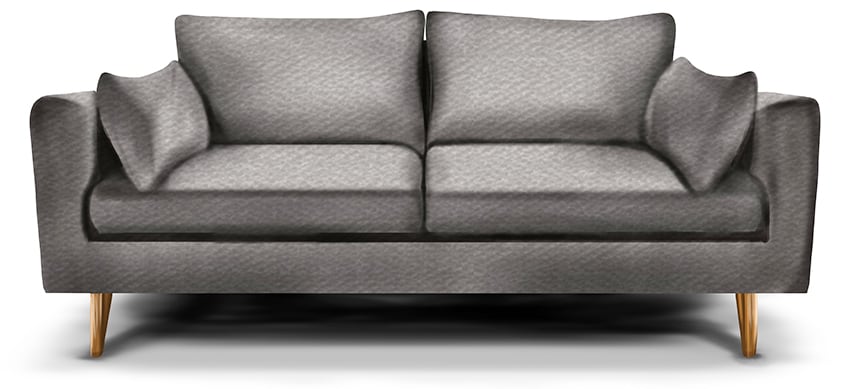 Congratulations on completing our step-by-step tutorial on how to draw a sofa! You should feel proud of yourself for achieving this creative milestone. Take some time to admire your finished artwork and appreciate the effort and dedication you put into it. Consider showcasing your masterpiece in your living space or giving it as a thoughtful gift to a loved one. Remember that practice makes perfect, so don't be afraid to experiment with different styles and techniques to further enhance your skills. You can also continue to challenge yourself by drawing other furniture pieces or even exploring other areas of art. Keep up the good work and happy creating!
Frequently Asked Questions
Can You Use Different Colors or Patterns in a Couch Drawing?
To add depth and realism to your couch drawing, consider using shading and highlighting techniques to create a three-dimensional effect. This can be achieved by using darker shades on the areas that are farther from the light source, and lighter shades on the areas that are closer to the light source. You can also experiment with using different strokes and textures to create a sense of depth and dimensionality. Additionally, paying attention to the details, such as the curves and contours of the couch, can help you create a more realistic and dynamic drawing.
How Do You Add Depth and Realism to Your Couch Drawing?
Of course, you can use different colors or patterns in your couch drawing to add more interest and personality! Depending on the style and design of the couch, you may want to choose colors and patterns that complement or contrast with each other. For example, if the couch is a neutral color, you can add pops of color with the cushions or blankets. If your couch has a bold pattern, you may want to keep the rest of the drawing simpler to avoid overwhelming the viewer. Consider the mood and theme you want to convey with your drawing and choose colors and patterns that support that vision.
Matthew Matthysen is an educated multidisciplinary artist and illustrator. He successfully completed his art degree at the University of Witwatersrand in South Africa, majoring in art history and contemporary drawing. The focus of his thesis was to explore the philosophical implications of the macro and micro-universe on the human experience. Matthew uses diverse media, such as written and hands-on components, to explore various approaches that are on the border between philosophy and science.
Matthew organized various exhibitions before and during his years as a student and is still passionate about doing so today. He currently works as a freelance artist and writer in various fields. He also has a permanent position at a renowned online gallery (ArtGazette) where he produces various works on commission. As a freelance artist, he creates several series and successfully sells them to galleries and collectors. He loves to use his work and skills in various fields of interest.
Matthew has been creating drawing and painting tutorials since the relaunch in 2020. Through his involvement with artincontext.org, he has been able to deepen his knowledge of various painting mediums. For example, watercolor techniques, calligraphy and lately digital drawing, which is becoming more and more popular.
Learn more about Matthew Matthysen and the Art in Context Team.