Lemons are wonderfully versatile citrus fruits. They can be sour and they can be very sweet depending on how you use them! In this drawing tutorial, we guide you through the process of creating a realistic lemon drawing. We begin this lemon drawing tutorial by creating the base of your lemon shape with construction shapes. We then create a more realistic lemon outline and then add realistic coloring. Join us as we explore the wonderful world of lemons!
How to Draw a Lemon in 13 Simple Steps
In our drawing tutorials, we love to break the subject down into easy-to-follow steps. The first steps always focus on constructing the base shape of the item, allowing us to create the right dimensions and overall shape. We then create a more realistic lemon outline and add details with color. You can see an outline of the whole lemon drawing tutorial in the image below.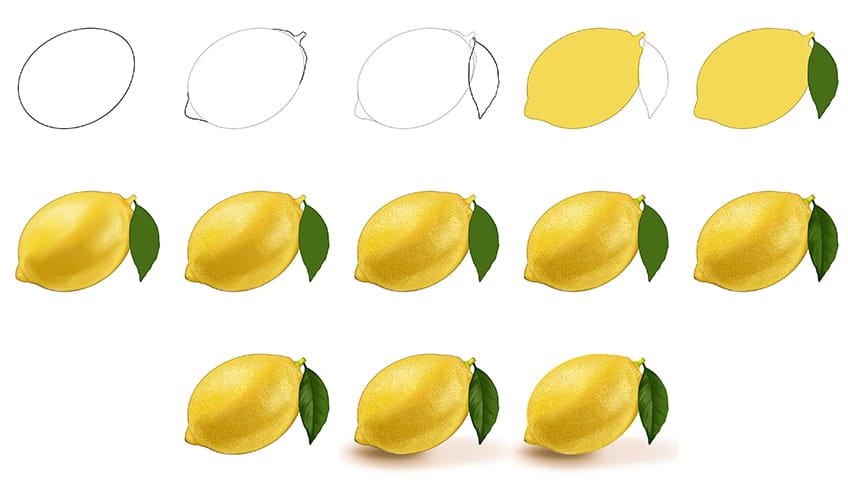 Whether you are a beginner artist or you have more experience, when it comes to the choice of drawing medium we suggest sticking to what you are comfortable with. If you are a digital artist, then you can use your drawing tablet, or if you prefer to work with coloring pencils then work in this medium.
Our steps are written for a painting medium, but you can easily adjust the coloring instructions to suit your chosen medium.
Step 1: Construct the Base Lemon Shape
We begin our drawing of a lemon with a single construction shape. Find the center of your drawing area, and draw a large egg-shaped oval. This oval should be slightly tilted with the right side raised a little.
Step 2: Enhance the Lemon Outline
Now that we have the base oval shape drawn, you can focus on enhancing the ends of the oval to create a more realistic lemon shape. At the top (right) and of the lemon, draw a small stem shape with a little heap on either side.
For the bottom of the lemon, create a protruding nipple shape.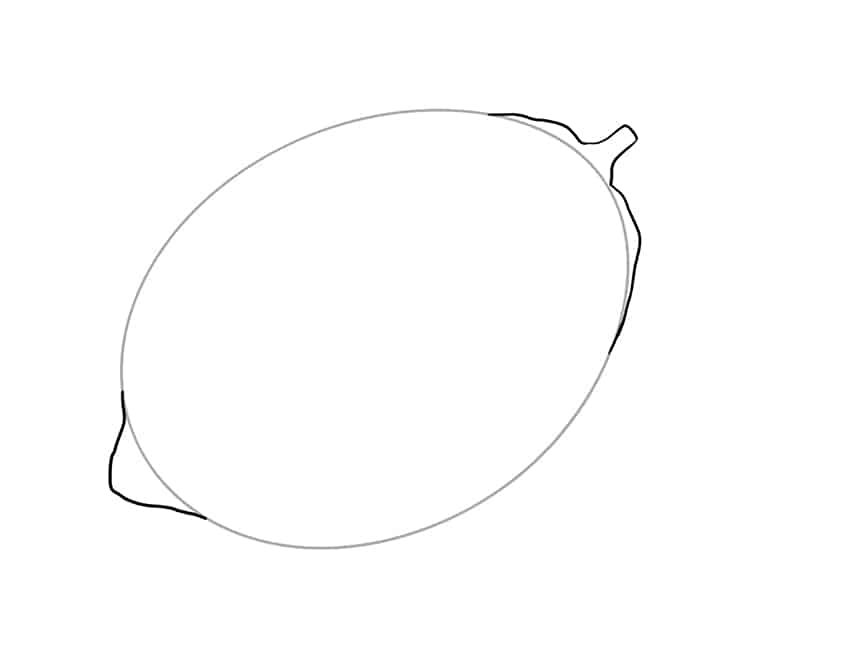 Step 3: Shape the Lemon Leaf
Attached to the bottom side of the stem from the previous step, draw a large leaf that drops directly down. Once you have completed this step, your final lemon outline is complete. You can now erase any of the remaining construction or overlapping lines.
Step 4: Add a Base Coat to the Lemon Outline
In this step, you are going to apply a single base shade to the lemon shape. Use a regular paint brush and some lemon yellow paint, and fill the entire shape of the lemon with an even coat. Remember to leave the lemon leaf blank for now.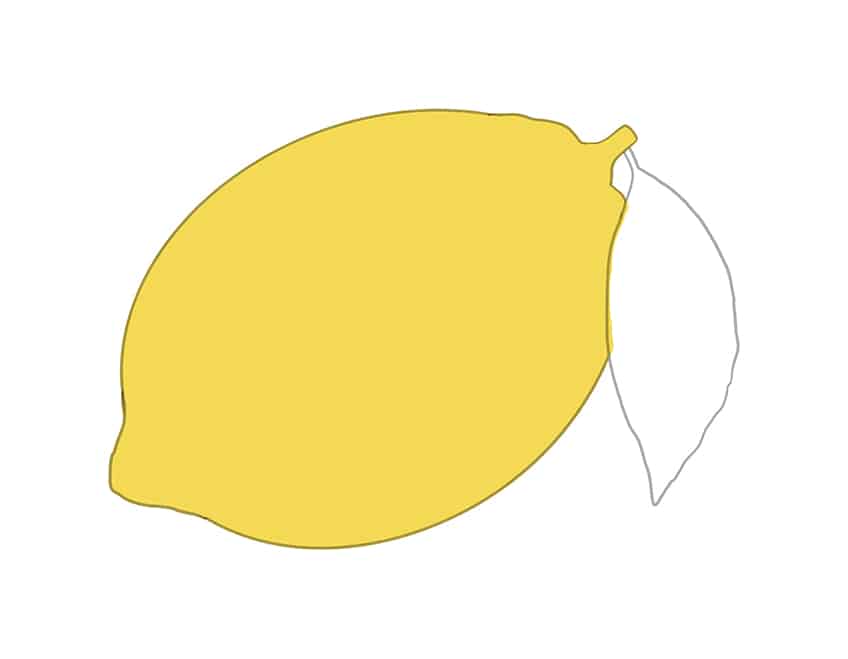 Step 5: Color the Lemon Leaf
For this step, you will need a regular brush and a dark green shade of paint. Use these tools to fill the leaf with an even coat.
Step 6: Add Color Definition to the Lemon
In this step, you are going to employ shading and highlighting techniques in order to create a more realistic blend in your lemon sketch. Begin with a small blending brush and a slightly darker shade of yellow. Use these tools to apply a darker shade of yellow to the outer edges and central strip of the lemon. Remember to leave most of the base coat visible still. Next, repeat this process with yet another slightly darker shade of yellow. This darker shade should sit in the middle of the previous shading, creating a realistic gradient. Finally, use a clean blending brush and some white paint to apply patches of highlight to the areas between the shading layers.
Tip: use a clean blending brush to smooth over all of the layers, creating a smooth and realistic blend.
Step 7: Create Texture on the Skin of Your Lemon Sketch
There are two possible methods for this step. Firstly, you could use a fine brush and apply each dot individually. Secondly, you could use a rough brush and create a stipple effect. Whichever method you choose, use a combination of olive green and dark yellow paint to apply fine spots throughout the body of your drawing of a lemon.
Step 8: Apply Highlight Texture
In this step, you are going to repeat the previous step using a combination of white and bright yellow paint.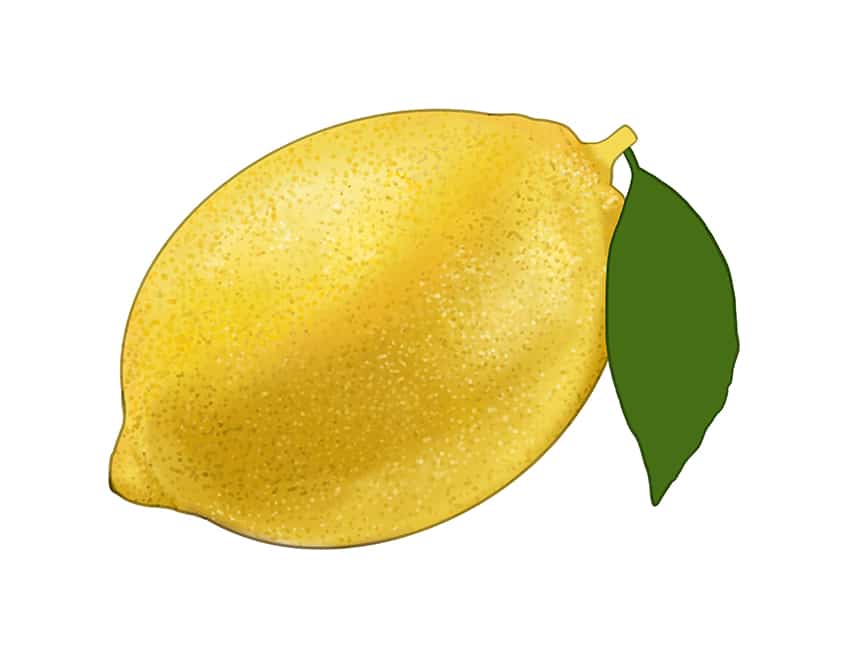 Step 9: Color the Lemon Stem
Now that we have spent some time coloring the body of our realistic lemon drawing, we can move on to focus on the stem. With a small blending brush and some bright lime green paint, color the stem with a full coat.
Finish this step with some white paint and the same blending brush, adding highlighted areas within the stem.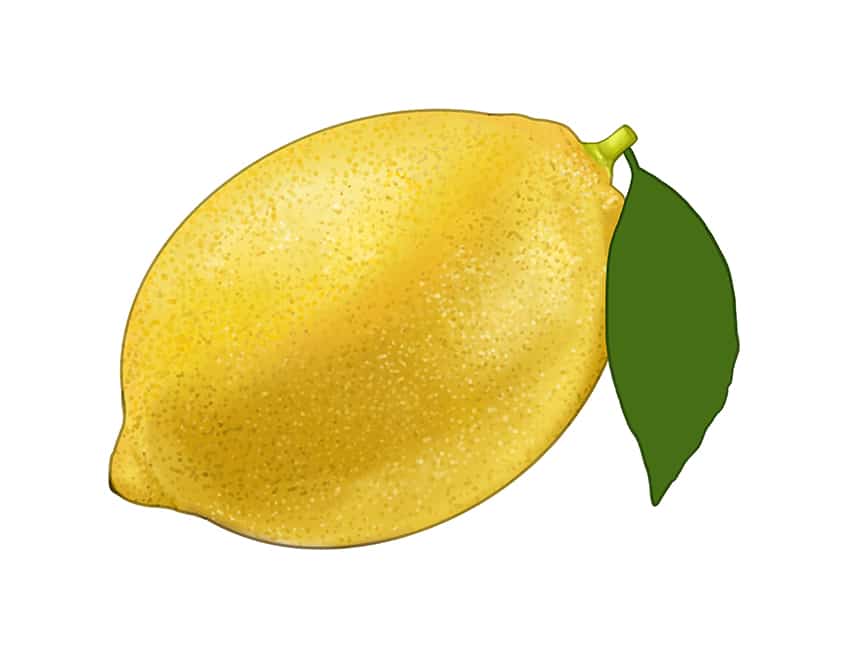 Step 10: Create Leaf Texture
To begin creating texture in the leaf of your lemon drawing, you will need a dark shade of green and a small blending brush. Carefully apply a light layer of shading within the center of the leaf, creating a central vein. You can then create some light out-flowing streaks to create realistic leaf texture lines.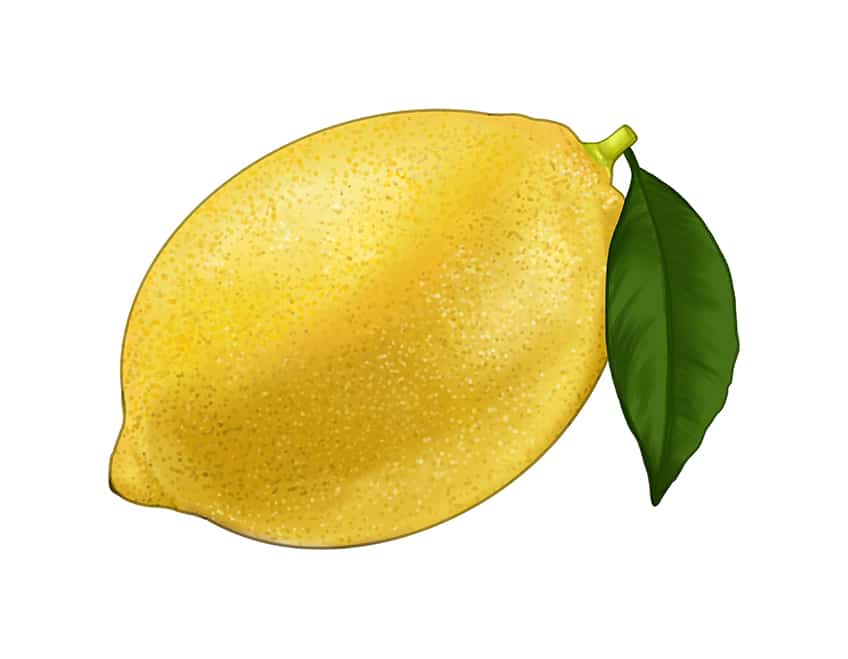 Step 11: Add Highlights to the Leaf
With a small blending brush and some white paint, apply some highlight strokes within the leaf and between the textured shading lines from the previous step.
Step 12: Paint the Ground Shadow
In order to create a more realistic lemon drawing, we are now going to add some dimensions to the drawing. With a small blending brush and some light orange paint, apply some light shading around the base of the lemon.
You can then repeat this process with some black paint, creating a soft casted shadow on the ground below the lemon.
Step 13: Finish Your Drawing of a Lemon
To complete your lemon sketch, the last step is to remove the outline. With a fine brush and the corresponding color at each point, carefully trace over the black outlines and any inner texture lines. This will create a more seamless realistic lemon drawing.
Just like that, you have created your very own realistic lemon drawing! From creating the lemon outline, to adding realistic coloring and texture, learning how to draw a lemon is not as difficult as you may have thought. Hopefully, you have enjoyed the drawing process and you are happy with your very own drawing of a lemon.
Frequently Asked Questions
How Do You Create a Realistic Drawing of a Lemon?
Learning how to draw a lemon that appears realistic is actually very easy when you break it down into simple steps! If you follow our tutorial, you will begin by creating a basic lemon shape, before adding realistic colors and texture.
How to Draw a Simple Lemon Sketch?
In our lemon drawing tutorial, we begin by using construction shapes to create a basic lemon outline. We then use a series of coloring steps to build up a realistic gradient and texture. Finally, we remove the dark outline to create a more realistic lemon drawing.
Matthew Matthysen is a multidisciplinary artist. He completed his fine art degree, majoring in History of Art and Contemporary Drawing Practice at the University of Witwatersrand, South Africa. The emphasis of Matthew's practice was a research-based approach into the philosophical effects on the human experience of the macro and micro-universe. Through various mediums, such as written and practical components, Matthew explores various ideas located within the conjoined space between science and philosophy.
Matthew has had various exhibitions before and throughout his year of studies and continues to do so. He currently works as an artist/ writer in various contexts. He has commissioned and sold various works to galleries and collectors. He currently sells work to an online gallery (Artgazette) and continues to make work for the public and private sector. Matthew continues to function as an artist, allowing his work and skills to be utilized in various areas of interest.
Learn more about the Art in Context Team.