Graphite Color – Learn About This Unique Shade of Gray
When considering colors, there is almost an endless list that you can come up with. When you think about gray, it would seem that there is not much more to the color. However, there are numerous shades of gray, ranging from lighter to darker varieties. Not only that, but many shades of gray can also have various color undertones. So, what color is graphite? Read further to discover more about this mysterious color!
What Color Is Graphite?
Graphite is named after the natural material and the color is expressed as a deep and dark gray that is quite versatile in designs. Is graphite black? It can be classified more as a shade of gray that contains a subtle blue undertone that you might not even discern when looking at it. Graphite can also be considered a cool neutral color, along with black, white, and other shades of gray.
When mixing paints, you can create the graphite color by experimenting with a blend of black, white, and blue.
In the table below, you can see two graphic versions of graphite, both very similar but having different identifying color hex codes. These colors can be described as being a dark grayish blue. You might notice that one shade is slightly lighter than the other. You might even come across many colors with the name of graphite, some that even have warmer orange undertones, such as the last graphite color shown in the table, which is the complementary color of the graphite blue color. However, since the slight bluish undertone is closer to the actual graphite gray color, this would be a more accurate choice.
| | | | | |
| --- | --- | --- | --- | --- |
| Shade | Hex Code | CMYK Color Code (%) | RGB Color Code | Color |
| Graphite 1 | #333f48 | 29, 13, 0, 72 | 51, 63, 72 | |
| Graphite 2 | #53565b | 9, 5, 0, 64 | 83, 86, 91 | |
| Graphite 3 | #5c5954 | 0, 3, 9, 64 | 92, 89, 84 | |
Graphite Color: A Brief History
Graphite is a soft, black, and lightly shiny metallic mineral that is formed from the carbon element. You should not confuse graphite with charcoal, as they have different chemical structures, even though they are both made from carbon. The mining of graphite can be traced back to the Middle Ages in Germany, but the use of graphite could be dated even further back than that. However, the more widespread use of graphite occurred in the 16th century in England, where large deposits were discovered in Borrowdale.
Graphite became popular among artists because it left a darker mark than lead.
Since the mineral is soft, it needed a holder, which started as a string wrapped around graphite sticks. This eventually led to the creation of the pencil we all use today, with the graphite fitting inside a wood casing. Today, you have many uses for both natural and synthetic graphite, which besides pencils, is used in electrodes and lubricants, among other things.
Meaning of the Graphite Color
Since graphite is a shade of gray, it will have similar meanings. For example, since gray is somewhere between black and white, it can be seen as having a balancing or grounding effect. It can be associated with neutrality as well as compromise. Graphite is a color that is calming and composed and offers a certain sophistication. The graphite color is also associated with responsibility, maturity, strength, and power.
A conservative color can also have a few negative associations, such as boredom, sadness, and indecisiveness.
Similar Shades of Graphite Color
Graphite is often confused with charcoal, but not only are these two different elements, but they are also separate colors. However, you can say they are part of the same color family, along with steel gray, ash gray, gunmetal gray, and pewter.
| | | | | |
| --- | --- | --- | --- | --- |
| Shade | Hex Code | CMYK Color Code (%) | RGB Color Code | Color |
| Graphite 1 | #333f48 | 29, 13, 0, 72 | 51, 63, 72 | |
| Charcoal | #36454f | 32, 13, 0, 69 | 54, 69, 79 | |
| Steel Gray | #767675 | 0, 0, 1, 54 | 118, 118, 117 | |
| Ash Gray | #b2beb5 | 6, 0, 5, 25 | 178, 190, 181 | |
| Gunmetal Gray | #818589 | 6, 3, 0, 46 | 129, 133, 137 | |
| Pewter | #899499 | 10, 3, 0, 40 | 137, 148, 153 | |
Best Graphite Color Combinations
The graphite gray color is quite versatile and can be applied as a neutral, which means it can pair wonderfully with most colors. Graphite especially goes well with other neutrals, such as white, brown, beige, and cream. However, it can also combine nicely with bold colors like fuchsia, different shades of purple, and ruby red. Since the graphite color we have chosen has a slight bluish undertone, you can work with the various color combinations available in color theory, as seen in the two more popular examples below.
Bold Complementary Color Combinations
For example, complementary colors. These colors are found on opposing sides of the color wheel and they produce an eye-catching contrast. In this case, the graphite gray color will work well with bold orange and yellow colors. The bold colors will make perfect energizing accent colors against the dark graphite color.
For an interior design, you can also consider gold elements, or other metallics like brass to add a bit of glamor to the look.
| | | | | |
| --- | --- | --- | --- | --- |
| Shade | Hex Code | CMYK Color Code (%) | RGB Color Code | Color |
| Graphite 1 | #333f48 | 29, 13, 0, 72 | 51, 63, 72 | |
| Burnt Orange | #cc5500 | 0, 58, 100, 20 | 204, 85, 0 | |
| Mustard Yellow | #ffdb58 | 0, 14, 65, 0 | 255, 219, 88 | |
Harmonious Analogous Color Combinations
You can choose similar tones or colors that find themselves alongside one another on the color wheel. This analogous type of color scheme provides a more harmonious combination. The graphite gray color will, therefore, pair well with other shades of blue and green. Remember, you can also select different shades of each color. Consider a dark shade of blue, or maybe a bold turquoise or emerald green.
Even though the turquoise and green share similar aspects with the graphite color, they can still create a visual contrast.
| | | | | |
| --- | --- | --- | --- | --- |
| Shade | Hex Code | CMYK Color Code (%) | RGB Color Code | Color |
| Graphite 1 | #333f48 | 29, 13, 0, 72 | 51, 63, 72 | |
| Dark Blue | #0000b1 | 100, 100, 0, 31 | 0, 0, 177 | |
| Turquoise | #40e0d0 | 71, 0, 7, 12 | 64, 224, 208 | |
| Emerald Green | #50C878 | 60, 0, 40, 22 | 80, 200, 120 | |
Using the Graphite Color in Interior Designs
As we have mentioned, the graphite color falls into the neutral category. So, it can be used to create a sophisticated space, especially when used with neutrals like white, brown, and beige. The graphite color is dark enough to create a luxurious and dramatic feel, without it making it feel too overwhelmingly black. When painting the walls, make sure the room has enough natural light or lighting. Maybe you would just like to add a touch of the graphite color? You can easily use the color in a much more subtle way.
Consider darker graphite gray for furniture or other accessories, such as drapes, rugs, cushions, or throws. This should provide a luxurious feel, without feeling too oppressive.
A dark-painted graphite accent wall can also provide a more subtle statement. The graphite color can easily be used in various design styles from your classic look to a more contemporary color scheme. The color is more commonly used in living areas and bedrooms; however, it can also add a touch of class to the kitchen. Consider graphite color kitchen cabinets with a white color scheme, and natural light color wood flooring. Below are some great ideas for incorporating graphite gray into your home.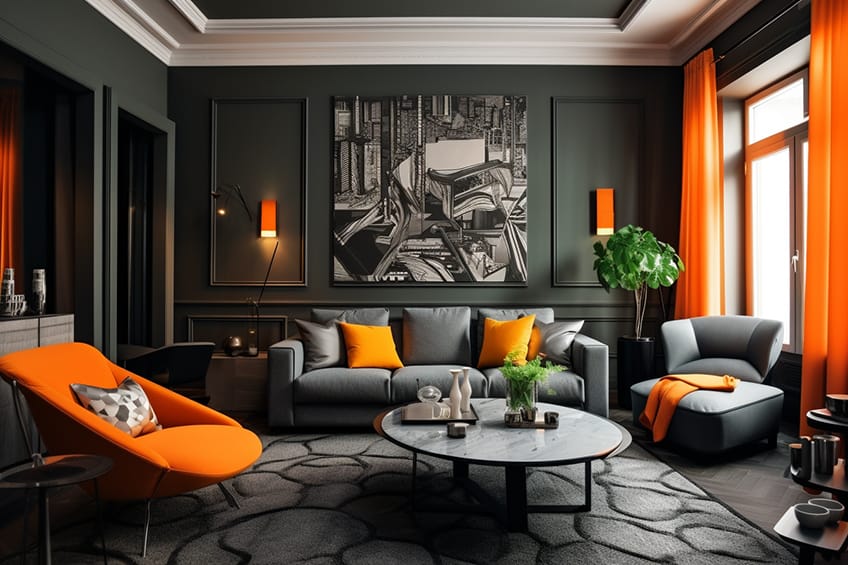 The graphite color is the perfect alternative to black, providing a softer and more luxurious look.
You can consider the graphite color for bathrooms as well, think graphite tiling, cabinets, and fittings.
When using a dark color like graphite gray, make sure to create balance. If you have dark walls, allow for lighter-colored accessories to stand out.
Do not hesitate to use bold colors with graphite gray, which can help to create a more interesting look.
Dark colors like graphite can be used in both larger rooms and small rooms.
The graphite color will make a statement every time, whether you use it in a small or big way. The graphite gray color is quite versatile and works easily with other colors and design styles. When choosing the graphite color to form part of your color palette, you cannot go wrong.
Frequently Asked Questions
What Color Is Graphite?
Is graphite black? The graphite color can be described as a shade of gray, but it can also be classified as a shade of white and is considered a black tone. Graphite also has a very subtle hint of a blue undertone and can be defined as a dark grayish blue.
Is the Graphite Color Easy to Work With?
Many say that the graphite gray color is quite versatile, as it can be used as the main color in a design color palette or as an accent. The color also pairs well with most colors, including softer pastels and bolder hues. Graphite can also work with different design styles from the classic look to a more modern look.
What Is Graphite Used for in Art?
The most common form of graphite an artist uses is that which is found in pencils. When the pencil moves across the paper's surface, it leaves a dark gray and slightly shiny color. Graphite pencils are used for drawing, sketching, or simply for taking notes.
In 2005, Charlene completed her Wellness Diplomas in Therapeutic Aromatherapy and Reflexology from the International School of Reflexology and Meridian Therapy. She worked for a company offering corporate wellness programs for a couple of years, before opening up her own therapy practice. It was in 2015 that a friend, who was a digital marketer, asked her to join her company as a content creator, and this is where she found her excitement for writing.
Since joining the content writing world, she has gained a lot of experience over the years writing on a diverse selection of topics, from beauty, health, wellness, travel, and more. Due to various circumstances, she had to close her therapy practice and is now a full-time freelance writer. Being a creative person, she could not pass up the opportunity to contribute to the Art in Context team, where is was in her element, writing about a variety of art and craft topics. Contributing articles for over three years now, her knowledge in this area has grown, and she has gotten to explore her creativity and improve her research and writing skills.
Charlene Lewis has been working for artincontext.org since the relaunch in 2020. She is an experienced writer and mainly focuses on the topics of color theory, painting and drawing.
Learn more about Charlene Lewis and the Art in Context Team.
Cite this Article