Futuristic Architecture – The Exciting World of Futuristic Design
If we look at the Futuristic buildings that emerged in the early 1900s, one could easily assume that perhaps the future has already happened. Although Futurism architecture is a term that refers to what lies ahead, it has its roots in the Futurism movement of the past, which was originally founded by the Italian poet Filippo Tommaso Marinetti. The movement that gave rise to Futuristic design captivated not just musicians, writers, and artists, but also a multitude of architects. Long flowing lines convey movement, energy, intensity, and lyrical beauty in Futuristic architecture.
Exploring the Exciting World of Futuristic Architecture
Futuristic design originally emerged in the 1900s and flourished in the realms of art and literature in Italy, striving to depict sensations of the past, present, and future all at the same time. The philosophy of the Futurism movement was to protest against the status quo. This movement was viewed as a discipline that investigated everything about the future, ranging from a psychological and sociological angle to a technological and ecological point of view.
The goal of Futuristic design is to establish a humane, sustainable, and progressive future.
This concept is evident in the field of Futuristic building design in forward-thinking modern-day cities that have fully embraced and displayed both technology and an awareness of ecology in their Futuristic skyscrapers and residential complexes. The fluidity and dynamism of the form are a few of the key characteristics of Futurism architecture. Before the futurist movement, designs were characterized by clean lines and rectangular or square shapes.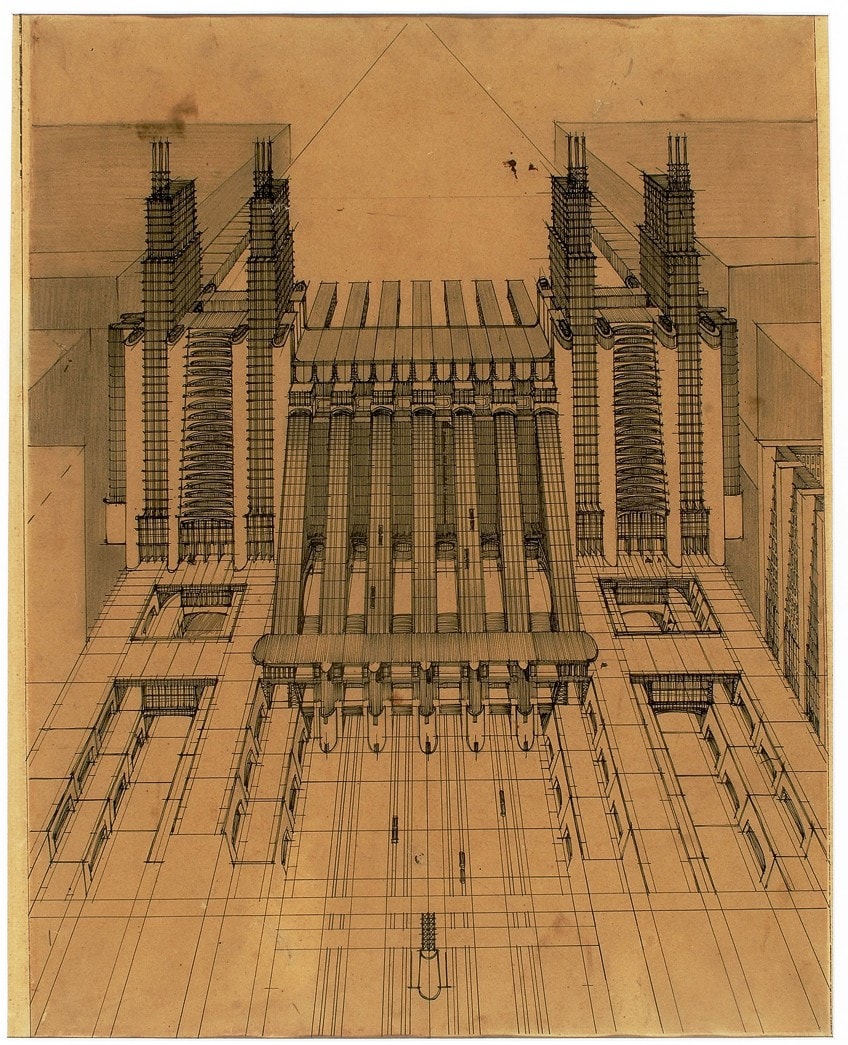 Air and train station with funicular cableways on three road levels perspective drawing from La Città Nuova by Antonio Sant'Elia, 1914; Antonio Sant'Elia, Public domain, via Wikimedia Commons
Futuristic building designs included unusual and sharp angles, domes, and triangles. This style, which incorporates structural components from the surroundings, accentuates a feeling of the structures' connection with their fluid features.
Futuristic buildings employ glass elevators, metallic materials, and mechanical parts to embrace technical advances aesthetically.
The Development of Futuristic Building Design
When it comes to architecture, most designers feel restricted by certain limitations, such as working within a budget and building purely for function rather than form. Most Futuristic designers, however, would never limit their incredible ideas to what is already achievable, but instead to what might be and what they aspire towards.
The concept of Futurism architecture or Futuristic buildings has evolved several times, all driven by innovations and technological breakthroughs that reshaped people's perceptions of what the future could look like.
The Emergence of Futuristic Architecture and Art Deco
In 1914, the concept of Futuristic architecture was provided by the Italian architect Antonio Sant'Elia, who exhibited a series of designs of a new city with his colleague Mario Chiattone. Their concepts of futuristic buildings were portrayed in the designs.
The illustrations by Sant'Elia feature Futuristic skyscrapers, industrialized architecture, and significant use of steel, all of which embody the essence of the machine era.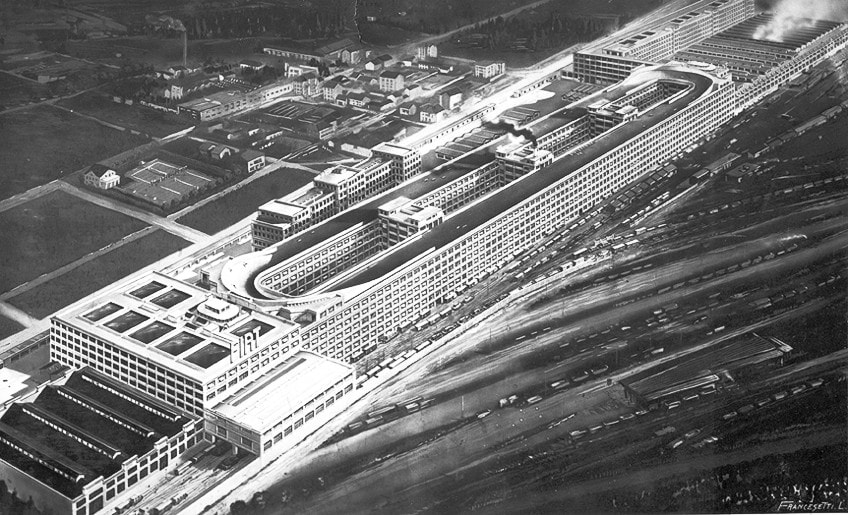 Lingotto factory in Turin, Italy. With its test track on the roof, it was recognized in 1934 as the first futurist invention in architecture; The original uploader was Dgtmedia – Simone at Italian Wikipedia., CC BY 3.0, via Wikimedia Commons
At about the same time, the Art Deco style emerged in France and expanded throughout the globe. It was influenced by the very same technological advancements that resulted in Italian Futurism. Art Deco blended geometric designs with vibrant colors, as well as a modern take on past civilizations' ornamental features.
The Space Age and Googie Architecture
Following World War II, emerging technologies offered people comfort that a brighter era awaited them. Space exploration was among the milestones that made that ambition seem possible. The cartoon series set in the future, the Jetsons, aired in the early 1960s. In it, one can observe elements of the Googie building style of the 1950s. Influenced by flying saucers and molecular diagrams, this aesthetic emphasized curved and circular features.
After 1945, Futuristic Architecture evolved into neo-Futurist Architecture, which included notable works by Oscar Niemeyer, Eero Saarinen, Santiago Calatrava, Zaha Hadid, and Cesar Pelli.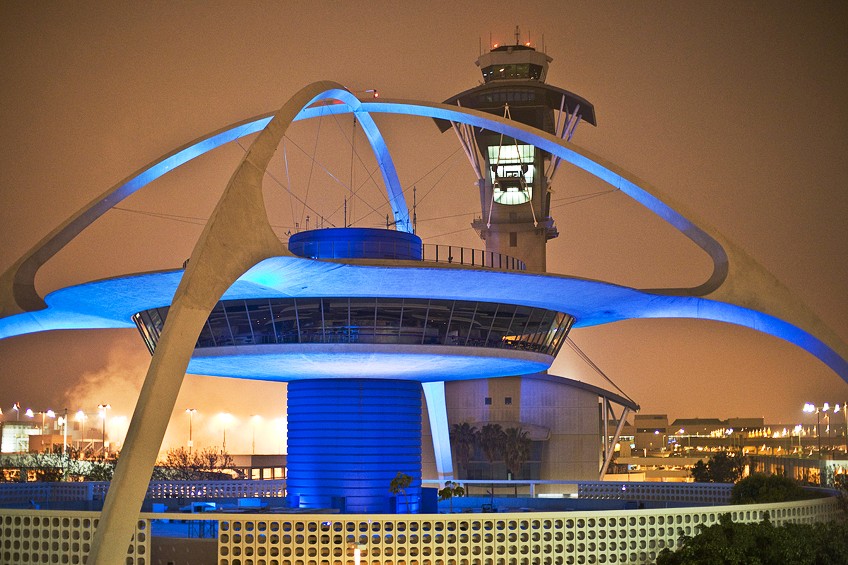 Theme Building and control tower at the Los Angeles International Airport (LAX) in Los Angeles, United States; monkeytime | brachiator, CC BY-SA 2.0, via Wikimedia Commons
Archigram, a London-based avant-garde movement, pushed futurism architecture to a greater level. It was established by Peter Cook and was very active in the 1960s and 1970s, producing numerous conceptual images and designs of futuristic metropolises most of which included Futuristic skyscrapers, and dynamic, highly mechanized architecture.
The Rise of the Digital Revolution in Futuristic Building Design
Architecture began to incorporate computers in the 1980s, and simulation models became a crucial component of the design phase. Because of advances in computer programming, what would become known as Parametric design took off in the 1980s.
One well-known instance is Frank Gehry's landmark, Walt Disney Concert Hall, which was constructed between 1999 and 2003.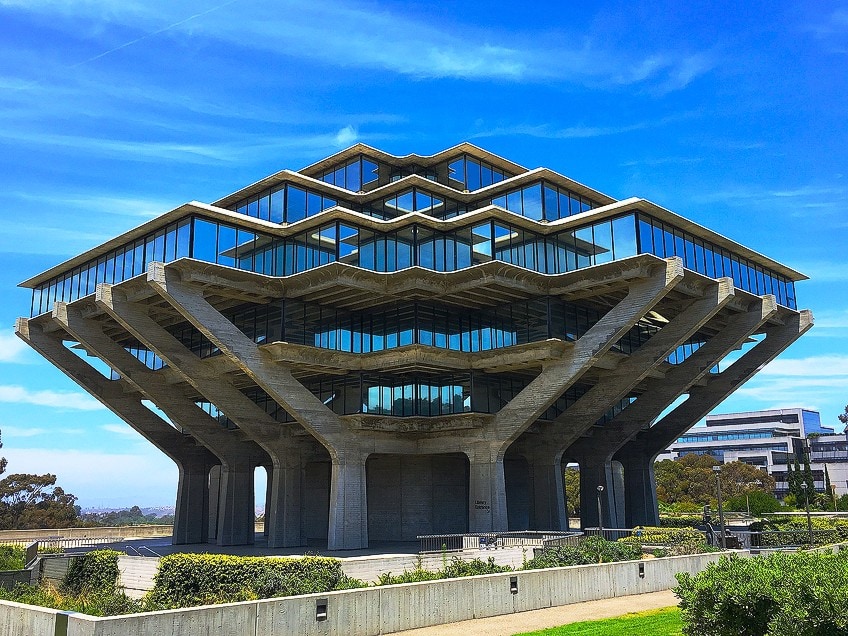 The Geisel Library at the University of California in San Diego, United States. Designed by William Pereira and completed in 1970; Codera23, CC BY-SA 4.0, via Wikimedia Commons
Proceeding towards the second half of the 20th century, academics began to notice the harmful impact of all technological advances and human activities during the previous 200 years on the environment, such as climate change. But by the early 21st century, this widespread recognition had resulted in ecological sustainability.
Sustainable architecture has now become an obligation rather than a choice.
As a result, assessment methods to grade projects based on their energy efficiency and ecological effect have been established. Green roof gardens, vertical forests, and green walls are examples of concepts that incorporate vegetation into the building design.
The Use of Timber in the Futuristic Skyscrapers of Tomorrow
Since the construction of the world's first skyscraper in Chicago in the 19th century, much has advanced to the point that a structure 20 times higher is presently being built in Saudi Arabia. Timber constructions are not precisely new, but what is revolutionary is the technology that they incorporate into the building process. Wood is one of those resources that has undergone extensive testing to be used as a construction or finishing component in structures.
Manufactured timber materials used in construction include veneer, HDF, and plywood.
Graduate Center (classroom building) at Oral Roberts University in Oklahoma, United States. Designed by Frank Wallace in 1963; Photo by and ©2004 Dustin M. Ramsey (Kralizec!), CC BY-SA 2.5, via Wikimedia Commons
New construction technologies, spanning from engineering structures to construction materials, have made it simpler to overcome gravity, with advances in aerodynamics studies intended to ensure the integrity of high-rise projects. Cross-laminated wood, on the other hand, is a genuinely revolutionary take on wood. The remarkable qualities and durability of cross-laminated timber have piqued the curiosity of architects in designing wooden Futuristic skyscrapers.
As a result, the notion of a completely ecological skyscraper may not be too far away.
Examples of Futuristic Architecture
Now that we have covered the history of Futuristic building design, we can take a look at a few original as well as modern examples of Futurism architecture. These architectural concepts, motivated by the future, integrate design, technology, material sciences, and creativity. These ultra-modern facades and gorgeous futuristic interiors will whisk you into the future. With Futurist and neo-Futurist architecture, a new architectural paradigm has arrived.
The Goetheanum (Domach, Switzerland)
| | |
| --- | --- |
| Architect | Rudolf Steiner (1861 – 1925) |
| Date Completed | 1919 |
| Function | Educational facility |
| Location | Domach, Switzerland |
When Rudolf Steiner the architect founded his Anthroposophy ideology in Germany at the start of the 20th century, he quickly realized that he needed a facility to promote its spiritual and scientific principles. The Goetheanum was therefore formed for this reason on the rolling slopes of the Jura Mountains above the Swiss town of Dornach. The Goetheanum, one of the biggest reinforced concrete structures of its period, has an intriguing form that blends Gaudi's dramatic volume with the expressiveness of an Orthodox tower dome and the commanding presence of a Brutalist masterwork.
Its shape evolved naturally from its use as a performance and educational space.
Steiner described the Goetheanum as a shell encircling its kernel. The dynamic and flowing action of the main auditorium with 1,000 seats was Steiner's nucleus at the center of the idea. From here, Steiner constructed performance venues, rehearsal spaces, classes, and offices from the inside out.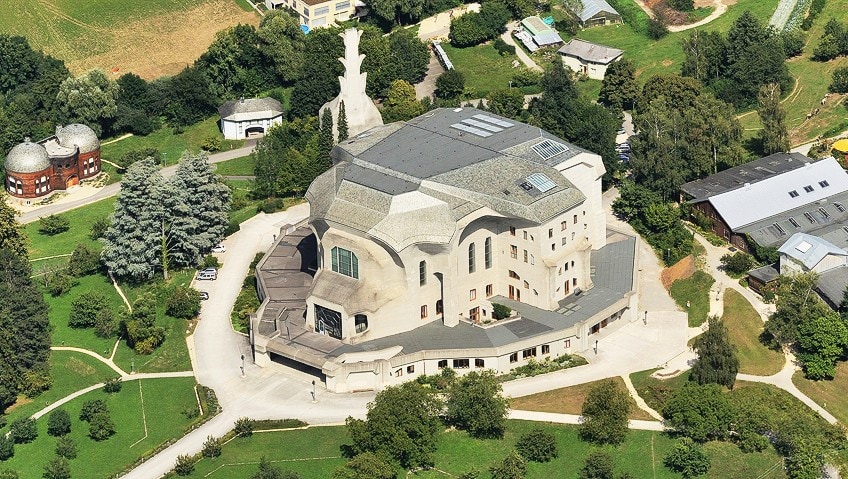 Aerial view of the Goetheanum in Domach, Switzerland; Taxiarchos228, CC BY 3.0, via Wikimedia Commons
Steiner implemented Goethe's transformation laws in his architecture, developing each component as a cog in a larger device serving a larger purpose: columned passageways continue to flow the main auditorium like dedicated veins transferring data into the heart of the organism, and staircases that rise, generating a sense of motion and space.
The sculptural flexibility of the design stems from Steiner's original timber structure, which existed in the same location and was destroyed by fire in 1923.
Visual Arts Building (Iowa City, United States)
| | |
| --- | --- |
| Architect | Steven Holl Architects |
| Date Completed | 2016 |
| Function | Educational facility |
| Location | Iowa City, US |
The newest addition to the Iowa University campus – which houses the departments of sculpture, ceramics, photography, metals, printing, and 3D multimedia – covers four floors of pupil and faculty studios, classrooms, and gallery spaces. The stylish new structure replaced an older structure that had previously housed similar departments but had been devastated by flooding in 2008.
A powerful three-dimensional structure of layered concrete-frame boxes produces a precisely integrated façade of interconnected components.
Twilight view of the University of Iowa Visual Arts Building designed by Steven Holl Architects in Iowa City, United States; Ericdean, CC BY-SA 4.0, via Wikimedia Commons
Seven courtyards, together with other basic square windows on the façades, offer ample access to sunlight within, allowing light to penetrate deep into the structure's wide floors. The perforated zinc coating also helps with this and at the very same time, its design provides complexity to the facility's exterior and gives it a cool, steely grey color.
Inside, a pristine white lobby with polished concrete flooring is located, surrounded by an integrated structure of ramps and stairs that serves as the structure's principal circulatory system.
The stairwells are designed to encourage gathering, contact, and conversation, with large platforms and occasional openings to lounge spaces. Translucent curving walls fill the rooms with gentle light while also providing character to the courtyard spaces and producing a delicate light play against the textured zinc panel motif that extends inside.
Salerno Maritime Terminal (Salerno, Italy)
| | |
| --- | --- |
| Architect | Zaha Hadid (1950 – 2016) |
| Date Completed | 2016 |
| Function | Maritime station |
| Location | Salerno, Italy |
The structure was opened in the Campania area of southern Italy, the first constructed by the business following the architect's unexpected death. There was no need for more confirmation that Zaha Hadid's legacy would carry on inspiring people, even after her passing. The initiative was undertaken by Vincenzo De Luca, the mayor at the time, to help assist in the economic, cultural, and environmental restoration of the neighborhood.
The facility was finished under the supervision of the following mayor Vincenzo Napoli.
Interior of the Salerno Maritime Terminal in Salerno, Italy; Jack45, CC BY 3.0, via Wikimedia Commons
During the busy summer months, the structure's harsh, the asymmetric concrete exterior was meant to shelter people from the area's intense heat. Its curvy shape, a Hadid signature, even echoes the water, abstractly like an oyster. Within, there are administrative offices for international border controls and commercial shipping routes, as well as a terminal for global ferries and cruise liners and a separate port for regional and local boats. Internal slopes crisscross the structure, improving connectivity between spaces.
The terminal is anticipated to boost ferry and cruise ship visits by 500,000 more people each year, while also contributing significantly to the town's infrastructure.
The remarkable structure of the terminal is illuminated at night, serving as a beacon to the seaside community. The new port acts as a seamless transition between water and land, both operationally and aesthetically.
Morpheus Hotel (Macau, China)
| | |
| --- | --- |
| Architect | Zaha Hadid Architects |
| Date Completed | 2018 |
| Function | Hotel |
| Location | Macau, China |
The unusual monolithic building is characterized by a nonlinear framework that emerges from the ground and wraps around a couple of towers and a core atrium to produce a massive block accented by three rippling gaps that mirror figure eight. The hollowed-out sections allow guests to encounter Morpheus' interior and exterior features as they move around the structure. This allows the interior and exterior to engage with one another.
Within, three innovative sky bridges link the major circulatory cores while also offering spectacular social dining and leisure areas.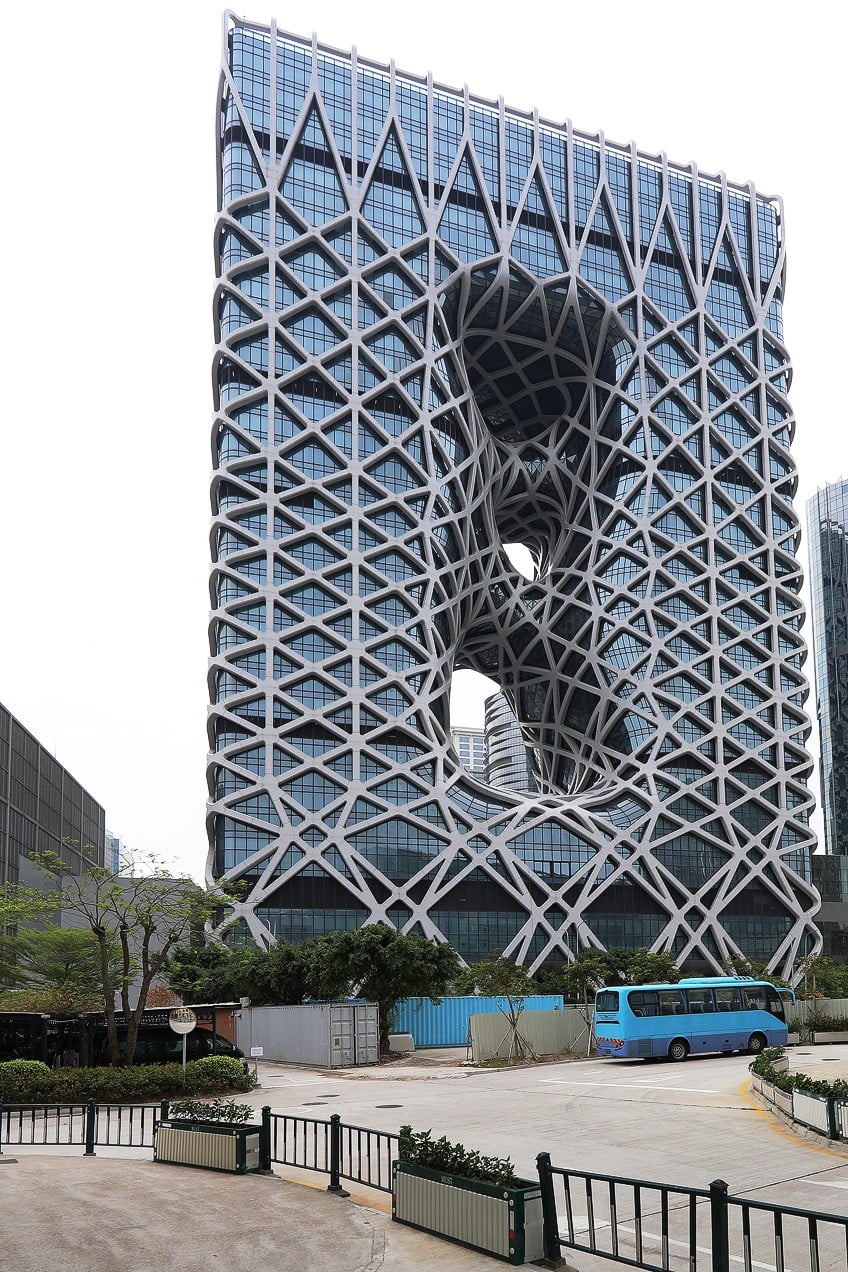 Morpheus at City of Dreams, Hotel in Macau, China; Foto: Störfix, Lizenz: Creative Commons by-sa 3.0 de, CC BY-SA 3.0 DE, via Wikimedia Commons
There are more than 780 guest rooms and casino facilities on the upper levels. Interior designer Peter Remedios draws inspiration from superyachts for his custom-designed fabrics and furniture. An all-white lounge area is partly contained in a geometric steel-angled frame on the bottom level.
The atrium lobby contains a reception area adorned with white marble fragments and workers dressed in uniforms designed by notable fashion designers.
DUO (Bugis, Singapore)
| | |
| --- | --- |
| Architect | Ole Scheeren (1971 – Present) |
| Date Completed | 2018 |
| Function | Residence and retail |
| Location | Bugis, Singapore |
The stunning silhouette of the structure more than holds its own against its elder neighbors. It is clad in a grid of hexagons, a design Scheeren employed to great success on his first project in Singapore, the Interlace. The eye moves restlessly along the outlines, vertical lines that curve without expectation into arcs that have the subtle effect of drawing visitors inside the passageways, while buttresses protrude outwards to disrupt any feeling of uniformity.
The accompanying 50-story DUO residential skyscraper, meanwhile, contains more than 660 individual units.
These range from studio apartments to family-size apartments, as well as penthouses over a landscaped plaza studded with eateries, boutiques, and beautifully crafted sculptures. These are supported by multiple gyms, an indoor lap pool, outdoor pools, dining rooms, and outdoor barbecue areas.
A Few Notable Futurism Architects
There are a few names that stand out in the world of Futuristic building design. These people envisioned a style of construction that embraced future technologies and developments. Let us now take a look at the individuals who paved the way for Futurism and neo-Futurist architecture.
Antonio Sant'Elia (1888 – 1916)
| | |
| --- | --- |
| Nationality | Italian |
| Date of Birth | 30 April 1888 |
| Date of Death | 10 October 1916 |
| Place of Birth | Como, Italy |
Integrating cutting-edge technology into his projects was critical to Sant'Elia, who considered fresh concepts, techniques, and materials as having the ability to transform the urban landscape. His structures are made of modern materials including concrete and steel and include large pieces of glass. In his design, he would include technically focused structures such as tramways and aviation hangars.
Geometric shapes, notably pyramids and cubes, serve as the foundation for most of Sant'Elia's work, firmly establishing him in the modernist tradition.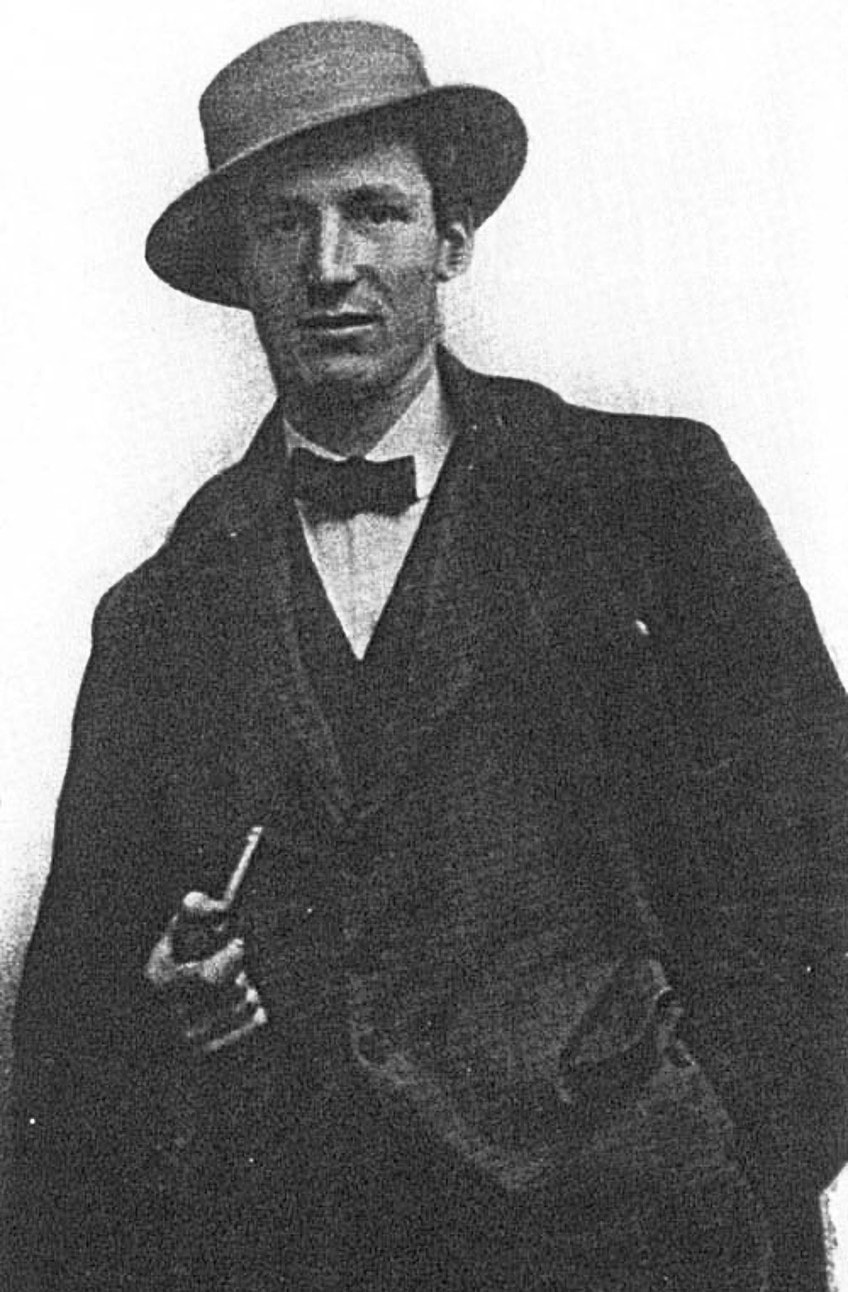 Architect Antonio Sant'Elia in his twenties in Milan, Italy; Unknown authorUnknown author, Public domain, via Wikimedia Commons
Several of his later works are similarly produced on a grand scale, and he used the large nature of the structures, together with their distinguishing forms, to physically symbolize their modernism. The most noteworthy of his concepts was his vision of the metropolis as a mechanical entity with both humans and machines at its core. Marinetti preserved and promoted Sant'Elia's tradition in the postwar era, and he became an example to the next generation of Futurists.
Many of Sant'Elia's designs were extraordinarily original, anticipating styles and machines that would not be implemented for many years.
The architect not only anticipated the larger inclusion of modern technology into structures, but also the 1920s and 1930s Art Deco style. Although the majority of Sant'Elia's ideas were never realized, his work impacted many contemporary designers and urban planners. Sant'Elia's massive structures and aerial walkways affected various kinds of art, notably the representation of architecture in sci-films films, due to its magnificence and futuristic character.
Enrico Prampolini (1894 – 1956)
| | |
| --- | --- |
| Nationality | Italian |
| Date of Birth | 21 January 1895 |
| Date of Death | 30 April 1960 |
| Place of Birth | Rome, Italy |
Enrico Prampolini was a Futurist artist and architect from Italy. He contributed to the creation of the Fascist Revolution Exhibition. By 1931, he had embraced a biomorphic abstractionism known as Cosmic Idealism which was distinct from his previous works. He became a key participant in the Futurist Movement as an artist and architect after studying at the Academy of Fine Arts in Rome.
He maintained strong ties with exponents of avant-garde art, including Dadaism, De Stijl, the Bauhaus, Piet Mondrian, Pablo Picasso, Wassily Kandinsky, and Jean Cocteau.
In 1917, he created the settings for Anton Giulio Bragaglia's futurist film Thais. He designed the inside of a dreamy and stifling home, with spirals, chessboards, and cryptic motifs adorning the walls. This movie had a tremendous impact on German Expressionism's anti-naturalistic sequences. Prampolini's work stands out in European abstract art because of its strong preoccupation with Organicism, which reveals itself in the grandiose ideas and visions of the 1930s and 1940s.
Following his futurist experience, he created many works, occasionally affected by microcosmic ideas. He stated that his goal was to convey the polarities of the introspective universe.
Zaha Hadid (1950 – 2016)
| | |
| --- | --- |
| Nationality | British-Iraqi |
| Date of Birth | 31 October 1950 |
| Date of Death | 31 March 2016 |
| Place of Birth | Baghdad, Iraq |
Dame Zaha Hadid was a renowned architect noted for her avant-garde neo-futurist creations. Hadid began her studies in mathematics in Beirut before moving to England in the early 1970s to enter the Architectural Association, where she later taught with Elia Zenghelis and Rem Koolhaas. She lectured at several different foreign universities during the 1980s.
During this time, she became known for her unique use of skewed perspectives, and strange geometric forms, most notably in competitive bids for Hong Kong's The Peak terminal.
In designs such as the Bergisel Ski Jump, she explored the structural possibilities of concrete in the shape of dynamic curves and arcs, gaining a reputation for pushing the frontiers of design and urban architecture. Despite her numerous plaudits, Hadid was not immune to controversies, and she was frequently chastised for costly projects that went over budget or were funded by countries with dubious human rights histories.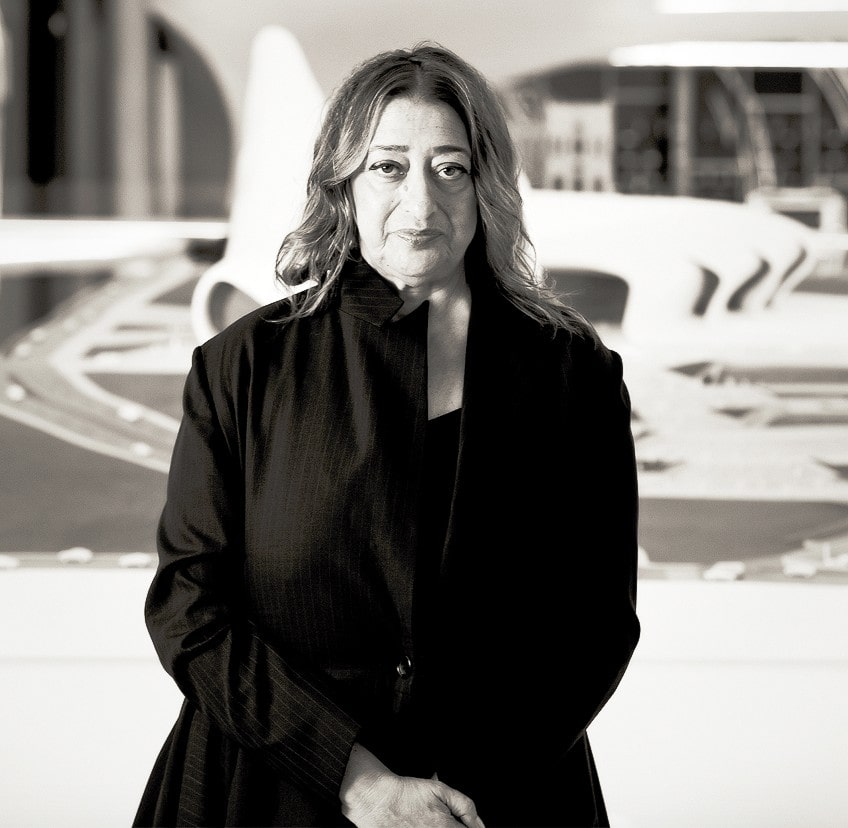 Zaha Hadid in Heydar Aliyev Cultural center in Baku, November 2013; Dmitry Ternovoy, FAL, via Wikimedia Commons
Hadid's imprint on the architectural environment is permanent. Her spectacular constructions adorn major metropolitan city skylines, and her product creations, which include jewelry, furniture, lighting, and shoes, can be spotted in houses all over the world. Throughout her lifetime, the designer – possibly the most recognized female architect of her period, received a slew of important accolades during her illustrious career.
Hadid's design style is hard to classify, and she has emphasized in the past that she is not a member of any one movement or style, although her style is often quoted as an example of neo-Futurist architecture.
Hadid welcomed the utilization of technology at a period when it was incorporated into architectural design, but she continued to hand sketch her structures and produce prototypes of the plans. This was due to her desire not to restrict herself and her creations to what computers could or could not achieve at that time.
Santiago Calatrava (1951 – Present)
| | |
| --- | --- |
| Nationality | Spanish |
| Date of Birth | 28 July 1951 |
| Date of Death | N/A |
| Place of Birth | Benimàmet, Spain |
Although some people believe his work to be in the Neo-Futurist style, Calatrava has never identified himself as a member of any architectural school or movement. Many various influences, according to critics, may be observed in his work. There are all of the expected inspirations on view, such as Eero Saarinen's shapes. Others regard his work as a progression of expressionism. When asked about detractors who divided him into distinct schools, Calatrava said that architectural analysts are still perplexed by his designs.
Calatrava himself stated that he was especially motivated by the works of engineers like Robert Maillart, whose works drove him to pursue basic shapes that might elicit an emotional reaction.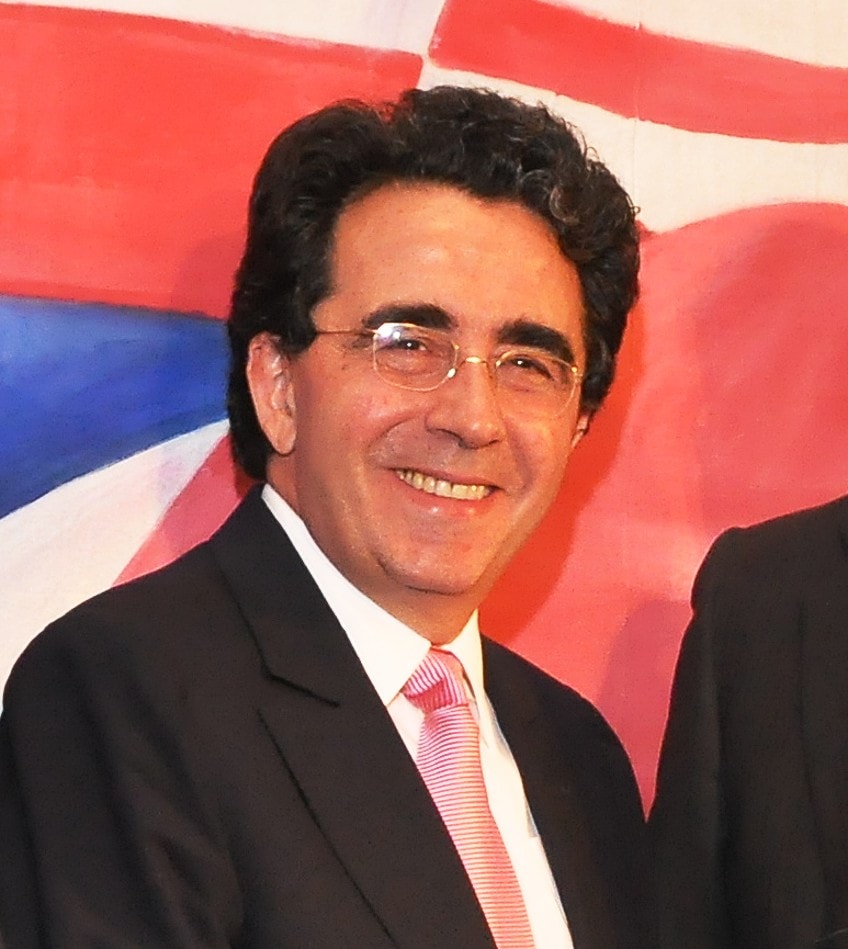 Santiago Calatrava at the Wilson Awards, 2010; Wilson Center, CC BY-SA 3.0, via Wikimedia Commons
Calatrava stated his goal as the development of a new technical vocabulary made up of forms that are appropriate for our era. Calatrava has also frequently remarked about the relationship between architecture and sculpture in his works.
In sculpting, he frequently employed cubes, spheres, and other basic forms that were often related to his technical skills.
He emphasized that his Turning Torso structure was initially designed as a piece of sculpture, and he commended Frank Stella's freedom in making sculptural artwork, but he also underlined the disparities. In 1997, he argued that architecture and sculptures are two rivers that run together. He considered sculpture to be purely plastic art, but architecture is plastic art that is subjected to utility while keeping the human scale in mind.
Futurists lauded the concept of the contemporary metropolis. Architects advocated utopian ideas for futuristic cities, eschewing historicism and attempting to alter urban life. These concepts, which include new technologies and industrial techniques that eliminate the need for interior load-bearing systems, showcase towering buildings with lightweight, and narrower facades. These Futuristic buildings of the past heavily influenced modern designers who continue to develop innovative Futuristic designs in their own architectural works.
Frequently Asked Questions
What Is Futuristic Architecture?
The Futurists, like their Bauhaus contemporaries, desired to eliminate the worship of the past using any means available. The Futurist movement also generated architectural designs that were extraordinarily foresighted but largely unfulfilled. Futurism architecture emphasized themes such as innovation, movement, and vitality. The founder of Futurist Architecture is regarded to be the Italian architect Antonio Sant'Elia, who imagined the development of cities based on the population's workplace culture and everyday habits. Today, his ideas continue to have a massive effect on the global architecture style.
What Is Neo-Futurist Architecture?
Neo-futurism is an architectural style that began in the late 20th century. It developed many of the same ideas and concepts as Futurism. It is considered a break from postmodernism's more critical and referential aesthetic, and a more utopian attitude toward the future. It attempts to reconsider the appearance and practicality of rapidly expanding metropolitan regions. Neo-futurism has been described as a complement to technology, consisting of constructions developed today using new materials to produce previously unthinkable designs. It integrates eco-sustainable urban planning, human emotional responses, ethical principles, and the utilization of innovative materials and technology. The movement's roots may be traced back to the mid-century architectural expressionist works of designers Eero Saarinen and Alvar Aalto, as well as Jorn Utzon and Henning Larsen, the renowned Danish architects.
Justin van Huyssteen is a freelance writer, novelist, and academic originally from Cape Town, South Africa. At present, he has a bachelor's degree in English and literary theory and an honor's degree in literary theory. He is currently working towards his master's degree in literary theory with a focus on animal studies, critical theory, and semiotics within literature. As a novelist and freelancer, he often writes under the pen name L.C. Lupus.
Justin's preferred literary movements include modern and postmodern literature with literary fiction and genre fiction like sci-fi, post-apocalyptic, and horror being of particular interest. His academia extends to his interest in prose and narratology. He enjoys analyzing a variety of mediums through a literary lens, such as graphic novels, film, and video games.
Justin is working for artincontext.org as an author and content writer since 2022. He is responsible for all blog posts about architecture, literature and poetry.
Learn more about Justin van Huyssteen and the Art in Context Team.
Cite this Article