As with many fields of work and art in the history of humankind, architecture was always seen to be the exclusive domain of men. Yet women architects are by no means a novelty, and many have risen through the ranks to become highly admired for their work. Women in architecture have always had to try harder than their male counterparts to stick out, and maybe that's why the quality of their work is so high. Today we will learn more about some of the famous female architects that made waves in their industry during their careers.
Famous Female Architects
Architecture can be regarded as one of the first professions, dating far back into prehistory. Yet despite the craft being an ancient one, the idea of women in architecture on a large scale is only a little over a hundred years old. Even architectural schools do not teach about women architects in their curriculum. Therefore, it is important to shed light on these pioneers who broke through barriers and paved the way for others to follow.
Lady Elizabeth Wilbraham (1632 – 1705)
| | |
| --- | --- |
| Date of Birth | 14 February 1632 |
| Region of Birth | Weston-under-Lizard, United Kingdom |
| Date of Death | 27 July 1705 |
| Famous Architectural Work | Weston Park St Andrew's Church, Weston-under-Lizard |
Lady Elizabeth Wilbraham is often cited as being the first woman architect in the United Kingdom. She was a prolific designer of large houses in a period where females weren't meant to be practicing the craft. Although no written records still exist, it is believed that she was responsible for designing around four hundred buildings. Included among these buildings are the Belton House in Lincolnshire, the Windsor Guildhall in Berkshire, and the Uppark House in Sussex.
This is largely based on the comparative studies of the architectural design elements between various grand houses that were said to have been possibly designed by her.
Painting of Lady Elizabeth Wilbraham by Sir Peter Lely, 17th century; Peter Lely, Public domain, via Wikimedia Commons
She is also credited with having designed Weston Park, her family home situated in Staffordshire. This building displays a few rather unusual architectural design elements which were at a later period also found at Buckingham Palace and Cliveden House in Buckinghamshire. It is also believed that Sir Christopher Wren was tutored by Lady Elizabeth Wilbraham when he was younger and that after the Great Fire of London in 1666, she helped with eighteen of the fifty-two churches that needed to be designed and built in its wake.
St Andrew's parish church, Weston-under-Lizard, Staffordshire, seen from the northwest; Richard Law, CC BY-SA 2.0, via Wikimedia Commons
It was during her extended honeymoon period in both Italy and the Netherlands that she furthered her architectural interests by studying the subject. When she started her building projects, she was not allowed to be seen on-site and would send men pretending to be the architects to oversee the projects for her. The disadvantage to that scenario was that her name remained anonymous and she received no acknowledgment for her work.
However, the advantage of not being on-site was that she could be very productive and worked on an average of eight projects annually.
Marion Mahony Griffin (1871 – 1961)
Date of Birth

14 February 1871
Region of Birth
Chicago, Illinois, United States
Date of Death

10 August 1961
Famous Architectural Work
Adolph Mueller House, Illinois

David Amberg Residence, Michigan
Marion Mahony Griffin is one of the greatest American female architects. She was one of the world's first woman architects to be licensed after graduating in 1894 from MIT. The prolific architect Frank Lloyd Wright took her on as his first employee a year later. Her work as a draftsman hugely influenced the style of Prairie architecture that was being developed by Frank Lloyd Wright. While working for Wright, she designed many of the mosaics, light fixtures, murals, furnishings, and leaded glass for a multitude of his projects.
She was known to be funny and strong-willed and did not bow to the notorious ego of her employer.
American architects Walter Burley Griffin (left) and Marion Mahony Griffin (right) in Sydney in 1930; Public Domain, Link
Marion Mahony Griffin is credited for designing the Adolph Mueller House in Illinois as well as the David Amberg House in Michigan, among others. She also created watercolor versions of Wright's plans but was never acknowledged for this work. When Wright relocated to Europe in 1909, he offered her his commissions, but she declined the offer. However, Wright's successor later hired her and she allowed free control over the designs.
Glassware by Marion Mahony Griffin, 1907; Sailko, CC BY 3.0, via Wikimedia Commons
In 1911 she got married and, together with her new husband, they set up their own practice in Australia after winning a competition to design the city of Canberra. There she spent 20 years managing their Australian office, handling the commissions, and training the draftsmen. Melbourne's Capitol Theater was one of the projects handled by Mahony Griffin and her team. In 1936 they moved to India to design the library of a university in Lucknow. She returned to America a year later following the sudden and unexpected death of her husband.
It was there that she wrote an autobiography about her work, and passed away in 1961, leaving behind her legacy as one the greatest American female architects as well as one of the first woman architects to be licensed.
Julia Morgan (1872 – 1957)
Date of Birth

20 January 1872
Region of Birth
San Francisco, California
Date of Death

2 February 1957
Famous Architectural Work
Hearst Castle, California

Chapel of Chimes, Oakland
Julia Morgan is regarded as one of the most accomplished American female architects. She had begun practicing architecture almost fifty years before women even had the right to vote. Unlike many other women architects of the time, she was one of the few that worked alone and did not have a partner that was also a husband as many did.
She was the first woman architect to study at École des Beaux-Arts, and it is believed that she designed around eight hundred buildings in her career which spanned over forty years.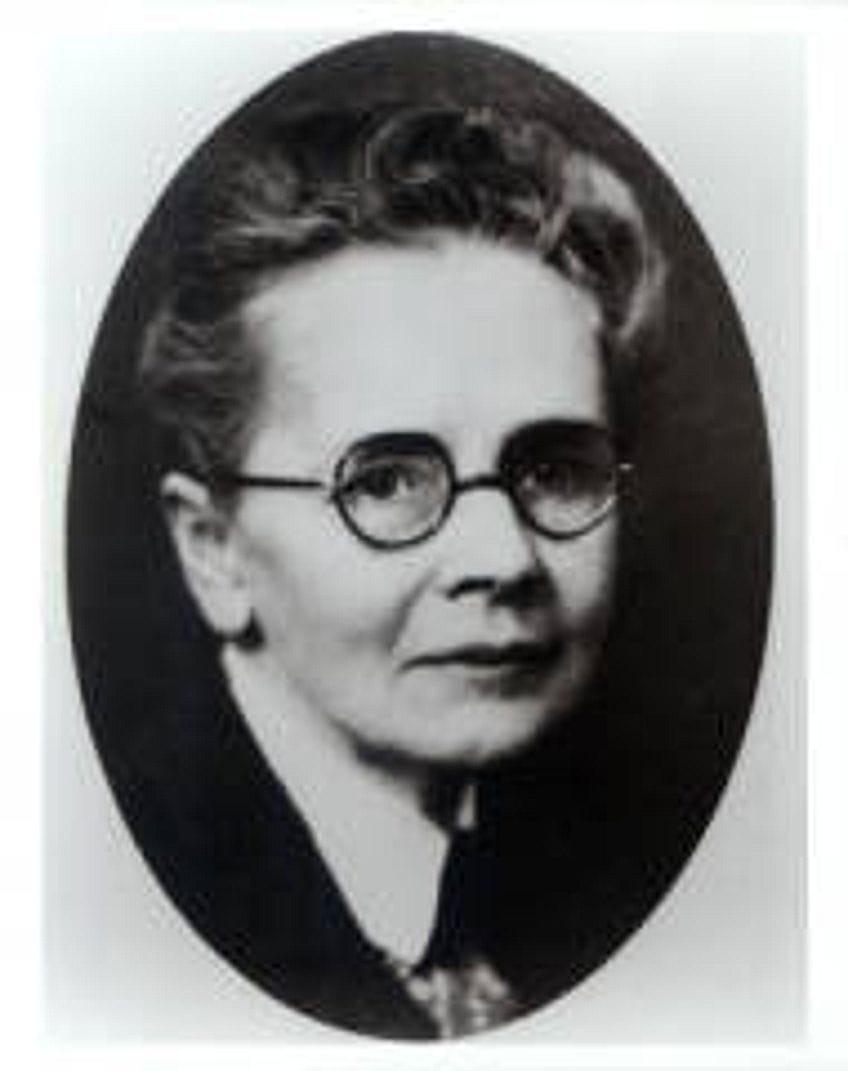 Photo of US architect Julia Morgan, c. 1926; Boyé Studio, San Francisco, Public domain, via Wikimedia Commons
Hearst Castle is her most well-known architectural work and most of her buildings were built around the Californian area. Julia Morgan had done work for Phoebe Hearst before she was commissioned by William Randolph Hearst to create the castle. He would become a long-term patron of the famous female architect, with Morgan spending around 28 years bringing his vision to fruition.
Hearst Castle by Julia Morgan; Sim.sravanthi, CC BY-SA 4.0, via Wikimedia Commons
Other projects she worked on ranged from public spaces meant for recreational purposes as well as private dwellings. She also built the Chapel of Chimes in Oakland, which contains winding walkways and features a Moorish architectural influence, an ethereal space where every room is unique and different.
Elisabeth Scott (1898 – 1972)
Date of Birth
20 September 1898
Region of Birth
Bournemouth, England
Date of Death

19 June 1972
Famous Architectural Work
Royal Shakespeare Theater

Newnham College, Cambridge

Pier Theater, Bournemouth
The first woman architect to win an international competition in the United Kingdom was Elisabeth Scott. In 1927 she won the competition due to her work on the Shakespeare Memorial Theatre which is situated at Stratford-upon-Avon. Out of the 70 applications received for the competition, she was the only woman to have entered. It is regarded as the most prominent and well-known public building to have been designed by a woman in the United Kingdom.
Her career first began as a student in 1919, studying in London at the new school of the Architectural Association and graduating five years later.
Royal Shakespeare Company Theatre, Stratford-upon-Avon, Warwickshire, England; Paul Downey, CC BY 2.0, via Wikimedia Commons
Elisabeth Scott wanted to hire as many females as she could to help with the construction of the Royal Shakespeare Theater. To help create acceptance in a male-dominated field and promote the role of women in architecture, she worked with the Fawcett Society. Most of her clientele were also women. Her work in Hampstead on the Marie Curie Hospital is one such example, where she expanded the building to accommodate 700 female patients annually.
She is also known for her architectural work on Newnham College in Cambridge. She also appears as one of two female figures that appear in the new passport for the United Kingdom. Upon returning to Bournemouth, her hometown, she designed the Pier Theater. It was opened by Edward VIII, the Prince of Wales, in 1932, and more than 100,000 people came to witness the ceremony.
Elisabeth Scott practiced architecture until the age of 70.
Dame Jane Drew (1911 – 1996)
Date of Birth
24 March 1911
Region of Birth
Surrey, United Kingdom
Date of Death

27 July 1996
Famous Architectural Work
Institute of Contemporary Arts, London

School for the Deaf, London

The Open University, Milton Keynes
Out of all the British women architects, Dame Jane Drew is regarded as the most highly regarded. Her interest in architecture began early on in life, building structures out of brick and wood as a young child. During her time studying at the Architectural Association, she was involved in the building of the Royal Institute of British Architecture. Later she would become the first woman architect to serve on the institute's council, and to become a lifelong fellow.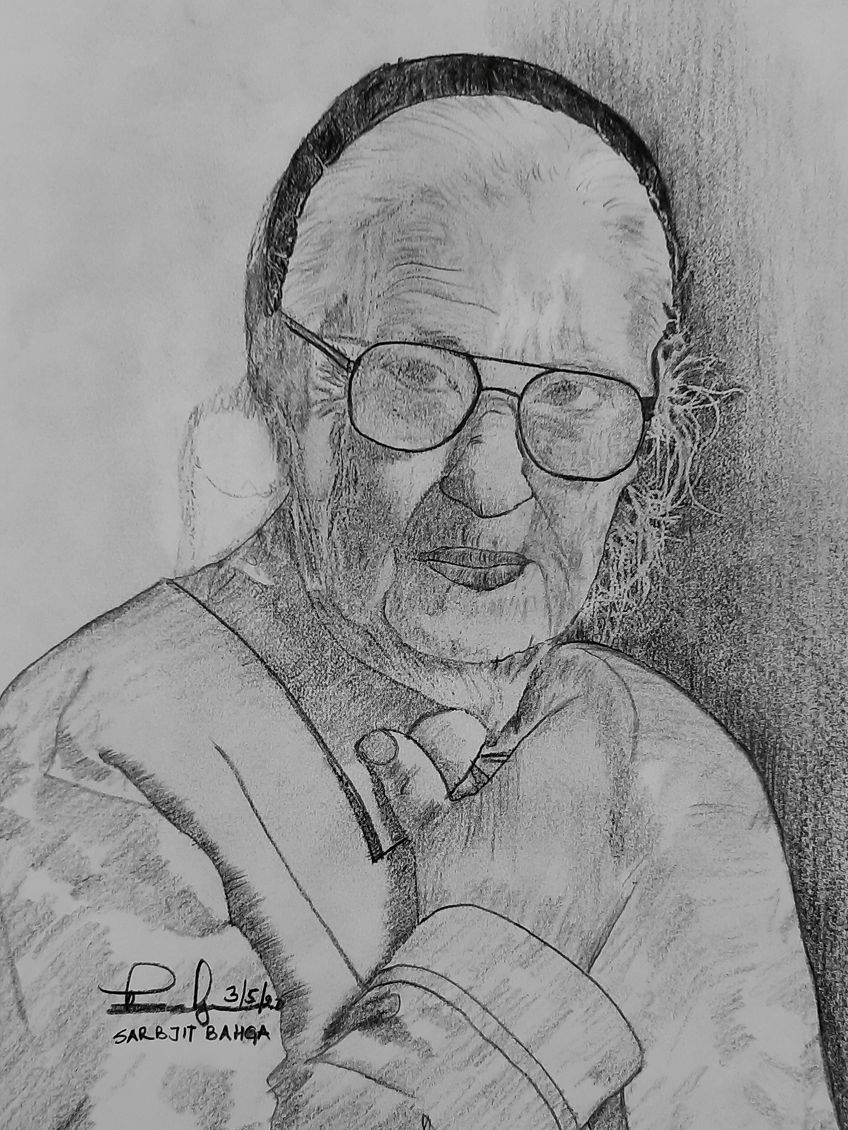 Jane Drew, a pencil sketch by Sarbjit Bahga; Sarbjit Bahga, CC BY-SA 4.0, via Wikimedia Commons
She was also one of the founders of the British Modern Movement and used her maiden name as a conscious decision throughout her career. She wanted to increase the number of women in architecture and started a practice in London during World War Two that consisted entirely of women architects. During this tumultuous period in British history, she undertook many projects, such as the construction of 11,000 shelters for the children of Hackney to use in the case of an air-raid.
Institute of Contemporary Arts in London; The original uploader was Denis Barthel at German Wikipedia., CC BY-SA 3.0, via Wikimedia Commons
Dame Jane Drew married Maxwell Fry, a fellow architect in 1942, and together they created an architectural partnership that saw the two build numerous universities, governmental buildings, hospitals, and housing estates across the globe, and especially in African countries such as Ivory Coast, Ghana, and Nigeria. The prime minister of India was highly impressed with her work in these African countries and asked her to assist in the design of Chandigarh, which was to be the new capital of Punjab.
During her lifetime, universities such as MIT and Harvard have awarded her with doctorates and honorary degrees.
Lina Bo Bardi (1914 – 1992)
| | |
| --- | --- |
| Date of Birth | 5 December 1914 |
| Region of Birth | Rome, Italy |
| Date of Death | 20 March 1992 |
| Famous Architectural Work | São Paulo Museum of Art |
Lina Bo Bardi is renowned for her striking and daring building designs. These buildings merged various architectural elements of Modernism with those of Populism. After graduating in 1939 from the Rome College in Architecture, she opened up her own practice in Milan after relocating to the city. In 1943 she became the director of Domus, a magazine specializing in design and architecture. Three years later she relocated to Brazil, and five years later was a naturalized citizen of the country.
She was then offered the opportunity to design the Museum of Art in São Paulo in 1947.
It is regarded as one of the most important museums in Latin America and has a unique design with the building suspended by four big red blocks on every corner, above a square which is around seventy meters long. A house she built for her husband and herself, known as the Glass House, is also considered one of her career highlights as well as her work on the sports and cultural center known as the SESC Pompéia.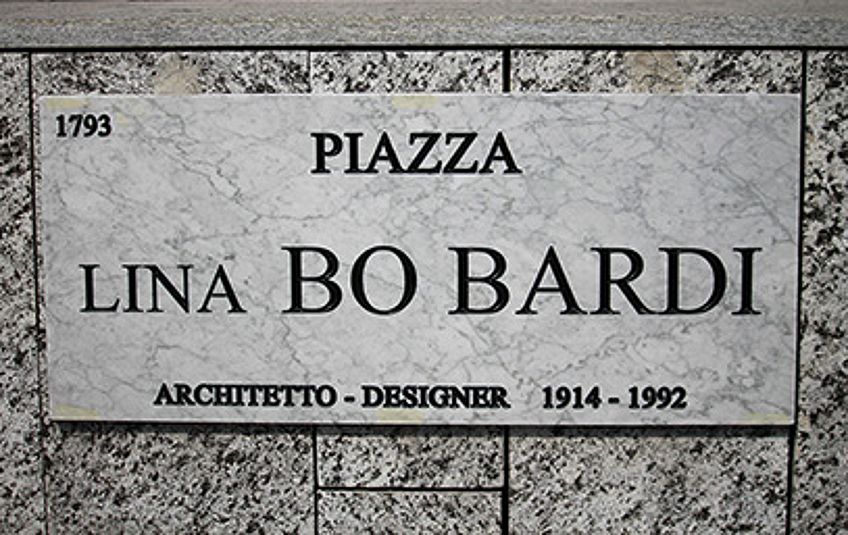 A plaque dedicated to Lina Bo Bardi; Rosa Enini, CC BY-SA 4.0, via Wikimedia Commons
Together with her husband, she co-founded Habitat Magazine which ran its first print in 1950 and remained the editor for three years until 1953. Habitat Magazine was Brazil's most prominent architectural publication and was highly influential during the postwar era in the region. Brazil's first industrial design course was also established by Bo Bardi, which could be taken as a course at the Institute of Contemporary Art.
Leaving behind her legacy of buildings as well as many unfinished projects, Bo Bardi passed away in 1992.
Norma Merrick Sklarek (1926 – 2012)
Date of Birth
15 April 1926
Region of Birth
Harlem, New York City
Date of Death
6 February 2012
Famous Architectural Work
United States Embassy in Tokyo

San Bernardino City Hall, California
Norma Merrick Sklarek was unique among American female architects. She was the first woman architect of color to receive her license in both California and New York. She was also the first of the black women in architecture to be accepted as a member of the American Institute of Architects. She was later also elected as a fellow of the institute.
What makes her accomplishments even more impressive is that she was able to accomplish so much despite the huge amount of discrimination she faced as both a woman and a person of color during her lifetime.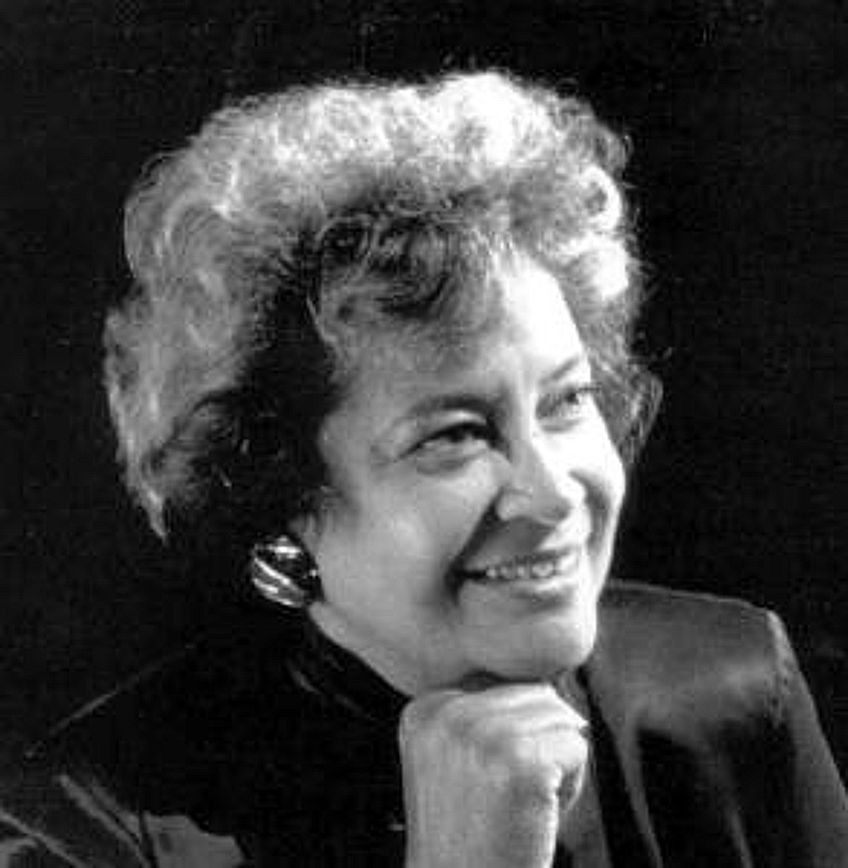 A photograph of Norma Sklarek; blackpast.org, Public domain, via Wikimedia Commons
She was able to study Architecture at Columbia University upon receiving her qualification for the liberal arts from Barnard College, which she attended for a year. There she found it difficult to keep up with many of the other students who had already received their Bachelor's and Master's degrees. Despite these challenges, she eventually graduated with a Bachelor's degree in architecture, the only African American in the class and one of only two women.
After graduating, she found it extremely difficult to get work and was rejected by around nineteen different firms that she had approached. In 1955 she would finally secure a position with the Skidmore Owings & Merrill firm.
Norma Merrick Sklarek used her intellectual personality and persistent drive to forge ahead in her career and was rewarded for all her efforts by becoming the director of Gruen Associates, an architectural firm. She was a huge supporter of women in architecture and the firm that she co-founded, Sklarek Siegel Diamond, was the largest architectural company in the United States to only employ women architects. Some of her notable projects include the United States Embassy in Tokyo and San Bernardino City Hall in California.
MJ Long (1939 – 2018)
Date of Birth
31 July 1939
Region of Birth
New Jersey, United States
Date of Death
3 September 2018
Famous Architectural Work
British Library, London

National Maritime Museum, Cornwall
Mary Jane Long was born in the city of New Jersey in the United States of America. She moved to England in 1965 after completing her architectural degree at Yale University. Upon arriving in England, she began working with fellow architect St. John Wilson, whom she married in 1972. Although they both worked on the building of the British Library in London, St John Wilson often solely receives the credit for it.
The library is listed as a Grade I building and it took around fifteen years for construction to be completed on the building. She is also remembered for her successful practice which she ran from 1974 until 1996 – MJ Long Architect. During this period, Long created several studios for artists such as RB Kitaj, Frank Auerbach, and Peter Blake. Long & Kentish was another company that she was involved in, started with her friend in 1994, Rolfe Kentish.
British Library, designed by MJ Long; Ziko van Dijk, CC BY-SA 3.0, via Wikimedia Commons
The first project undertaken by the new firm was a new library for Brighton University which would cost three million pounds to construct. The firm was also responsible for designing buildings such as the Jewish Museum situated in Camden, and the National Maritime Museum in Cornwall.
She worked right up to her death at the age of 79, submitting plans for the restoration of a studio only three days before she died.
Dame Zaha Hadid (1950 – 2016)
Date of Birth
31 October 1950
Region of Birth
Baghdad, Iraq
Date of Death
31 March 2016
Famous Architectural Work
Riverside Museum, Glasgow

Guangzhou Opera House

Generali Tower, Milan
Dame Zaha Hadid is considered one of the most famous female architects in history and was born in Iraq. She was the first woman architect to win the Pritzker Prize, which is regarded as a prestigious symbol of recognition among living architects for their vision, talent, and commitment.
She was awarded the top award given to architects in Britain – the Riba Gold Medal, which she received the same year as her death in 2016, leaving behind a fortune worth 67 million pounds.
Zaha Hadid in Heydar Aliyev Cultural center in Baku, 2013; Dmitry Ternovoy, FAL, via Wikimedia Commons
Dame Zaha Hadid gained much acclaim throughout Europe due to her buildings which always incorporated flowing, organic lines and forms into their designs. Before starting her career at London's Architectural Association, she studied art at the University of Beirut. She would go on to set up her own practice in 1979.
Guangzhou Opera House and Canton Tower; Ecow, CC0, via Wikimedia Commons
Some of the structures that brought her fame were the London Aquatics Center that was built for the 2012 Olympics, the Riverside Museum situated in Glasgow, the Generali Tower in Milan, and the Guangzhou Opera House. In 2010, Time Magazine announced that Hadid was among the top hundred influential people of the year.
Despite her death in 2016, the architects at her firm continue to keep her legacy alive and thriving.
Beverly Willis (1928 – Present)
| | |
| --- | --- |
| Date of Birth | 17 February 1928 |
| Region of Birth | Oklahoma, United States |
| Date of Death | Still Alive |
| Famous Architectural Work | San Francisco Ballet Building |
Beverly Willis was born in Oklahoma on the 17th of February in 1928. She was born during the period of the Great Depression in the United States and had to spend several years with her siblings in an orphanage until they were able to be supported by their mother once again. After a rocky start to her childhood, she became determined to follow her dreams of becoming a watercolor artist.
Gustav Ecke would introduce the young woman to the art and architecture of Asia, and Jean Charlot would introduce her to the art and frescoes of Europe.
A photograph of Beverly Willis; Wanda Bubriski, CC BY-SA 3.0, via Wikimedia Commons
Beverly Willis had already learned several other skills such as product design, industrial design, and interior design, and for her, architecture felt like the next natural step despite not having any formal training in architecture. Beverly Willis pioneered certain architectural concepts such as reusing the construction of historic buildings and adapting them to be used in a modern context in order to help revitalize inner-city areas, such as her work on the Vine Terrace apartments in San Francisco.
She also helped in the development of a software program that would assist architects in the creation of large-scale projects.
Entrance to the San Francisco Ballet Building; By <a href="//commons.wikimedia.org/w/index.php?title=User:Brunelleschi9&amp;action=edit&amp;redlink=1″ class="new" title="User:Brunelleschi9 (page does not exist)">Brunelleschi9</a> – <span class="int-own-work" lang="en">Own work</span>, CC BY-SA 3.0, Link
Denise Scott Brown (1931 – Present)
| | |
| --- | --- |
| Date of Birth | 3 October 1931 |
| Region of Birth | Nkana, Zambia |
| Date of Death | Still Alive |
| Famous Architectural Work | Children's Museum of Houston, Texas |
Denise Scott Brown is an urban planner, educator, author, and architect and is considered a modernist icon. She created very unique designs by avoiding the more minimalist tendencies of the modernist movement and adding elements that were inspired by multiculturalism. Denis Scott Brown is known for having a hand in many different projects ranging from building museums and universities for cities like Memphis and Miami Beach.
The postmodern movement was largely defined by the impact of Scott Brown's research into architecture and urban planning.
Denise Scott Brown photographed in her home, 1978; Lynn Gilbert, CC BY-SA 4.0, via Wikimedia Commons
Denise Scott Brown spent most of her years working in the firm that she shared with her husband Robert Venturi, called Venturi Scott Brown. She was in the news most recently when a couple of students from Harvard University created a petition that stipulated that the female architect should have been honored alongside her husband who won the Pritzker Prize in 1991. Despite working together for the same firm on many of the same projects, she had not been included as a recipient of the prestigious award.
Many former laureates of this prestigious prize also added their signatures to the petition, including Rem Koolhaus and Zaha Hadid.
The Guild House; Smallbones, CC0, via Wikimedia Commons
Despite all the efforts of those that created and signed the petition, she was denied a second time. However, she stated afterward that the appreciation for her work that had been displayed by her supporters was better than the prize itself.
Today we have learned about the famous female architects who fought the challenges of wanting to become women in architecture. They had to overcome the prejudices of the times they were born in and fight for their place as equals in a largely male-dominated field of work and study. Today, their architectural feats are admired by thousands and rank up there with the best of what their male counterparts were able to offer the world.
Frequently Asked Questions
Why Are There So Few Women in Architecture?
There was once a time when there were basically no female architects due to women not being allowed to receive a formal education. Yet today there are many women working in the field of architecture, and many of them are highly revered for their contributions to the world of architecture. Some architectural firms created by women only hired women architects, allowing for women to have more opportunities to enter the highly competitive field.
Where Do Most Women Architects Come From?
As we have seen from this list, women in architecture have arisen from all around the world. The first arose in England and the Americas, as well as others that were born in European countries such as Italy. One of our architects was even born in Iraq! So as we can see these women arose from all around the world to pave the way for others to follow.
Justin van Huyssteen is a freelance writer, novelist, and academic originally from Cape Town, South Africa. At present, he has a bachelor's degree in English and literary theory and an honor's degree in literary theory. He is currently working towards his master's degree in literary theory with a focus on animal studies, critical theory, and semiotics within literature. As a novelist and freelancer, he often writes under the pen name L.C. Lupus.
Justin's preferred literary movements include modern and postmodern literature with literary fiction and genre fiction like sci-fi, post-apocalyptic, and horror being of particular interest. His academia extends to his interest in prose and narratology. He enjoys analyzing a variety of mediums through a literary lens, such as graphic novels, film, and video games.
Learn more about the Art in Context Team.