We will know when we see one – a playful painting filled with colors, quite strange objects, and shapes arranged in all sorts of directions. It is as if we have walked straight into a painting playroom where we think we recognize an object, but then it could just be a remnant from a dream-like world. What is real and what is not? We are referring to the Joan Miró paintings and one of the famous artists from the Modern era, who we will explore in the article below.
Artist In Context: Who Was Joan Miró?
This article will explore the Joan Miró artwork collection as well as his life as an artist and a well-known Barcelona Surrealist. He was characterized by his abstracted, biomorphic compositions, which appeared playful and colorful.
He was a major proponent in many Modern art movements, creating and paving the way for new, innovative ways of depicting art.
We will start by looking at his early life, where he was born, and then explore his education and career path. We will then discuss certain artistic characteristics attributed to many examples from the Joan Miró art collection, important exhibitions, as well as discuss several examples of his paintings.
| | |
| --- | --- |
| Date of Birth | 20 April 1893 |
| Date of Death | 25 December 1983 |
| Country of Birth | Barcelona, Spain |
| Art Movements | Surrealism, Color Field Painting, |
| Genre / Style | Genre Painting, Abstract art, Non-Objective Art, Automatism |
| Mediums Used | Oil on canvas, Pastels, Gouache (watercolors), Charcoal, Sculpture (bronze), and others. |
| Dominant Themes | Figurative and abstract motifs, Biomorphic shapes, exploring the unconscious |
The Birth and Early Life of Joan Miró
His full name was Joan Miró i Ferrà, and he was born in Barcelona, Spain. His family already had experience in various forms of crafts. His mother, who was Dolors Ferrà i Oromí, came from a background of cabinet making, and his father, Miquel Miró i Adzerias, was a goldsmith and watchmaker who also came from a background of blacksmithing.
Portrait of Joan Miro, 1935; Carl Van Vechten, Public domain, via Wikimedia Commons
Education and Career
Joan Miró was involved in art from an early age. He started drawing at 7 years old and attended the school at Carrer del Regomir 13. When he was 14 years old, in 1907, he started his studies at the Escola de Comerç (The School of Commerce), at his parents' request, as well as at the Escola Superior d'Arts Industrials i Belles Arts (The School of Industrial and Fine Arts) at the building called La Llotja, which is in Valencia, Spain.
Here he studied decorative and landscape arts.
Miró studied until 1910, which is the same year he took on an accounts clerk job at a chemist called Dalmau i Oliveres. However, the artist soon left his clerking position because he had a nervous breakdown from studying and working pressures. He stopped his pursuit of business and dedicated his time to creating art.
Miró stayed in the village called Mont-Roig del Camp, where his family owned a farm called Mas Miró, which they bought in 1911. This was also a holiday home of his family and regularly visited and stayed there, especially after his nervous breakdown, which was the perfect place for him to recover.
Mas Miró; E.J., CC BY-SA 3.0, via Wikimedia Commons
Mas Miró as well as Mont-Roig was a significant place for Miró because it gave him the inspiration and space to paint. It was also the subject matter for many of his paintings as well as a place that set the foundation for his unique style of painting. He is remembered as saying that "Mont-Roig instills in me a great enthusiasm and I paint like a madman".
Miró joined the Francesc Galí's art school, otherwise Escola d'Art, in 1912 until 1915. Here the artist learned different artistic skills from his teacher, which included drawing while blindfolded. He also learned about various artists and poets and would continue his career delving into these creative disciplines.
He had an interest in poetry and is quoted as saying that he makes "no distinction between painting and poetry".
Miró also joined the Cercle Artístic de Sant Lluc ("Saint Lluc Artists' Circle) in 1913, which was a society of the arts established in 1893. This was another platform for him to learn additional artistic skills like drawing; he also showcased his artwork here.
He also worked alongside the architect Antoni Gaudí, however, according to sources from the Fundació Joan Miró, which is a foundation created by Joan Miró in 1975, they did not meet one another on a personal level. Nevertheless, Miró was greatly influenced by Gaudí's style.
There were a couple of notable people for Miró, including his friend Joan Prats, whom he met at La Llotja. Prat organized exhibitions for numerous artists including Miró, he also co-formed the Fundació Joan Miró. Another prominent figure in Miró's artistic success was Josep Dalmau, who was an artist and a painting conservationist/restorer. He also owned the Josep Dalmau gallery, which is where Miró had his first solo exhibition in 1918.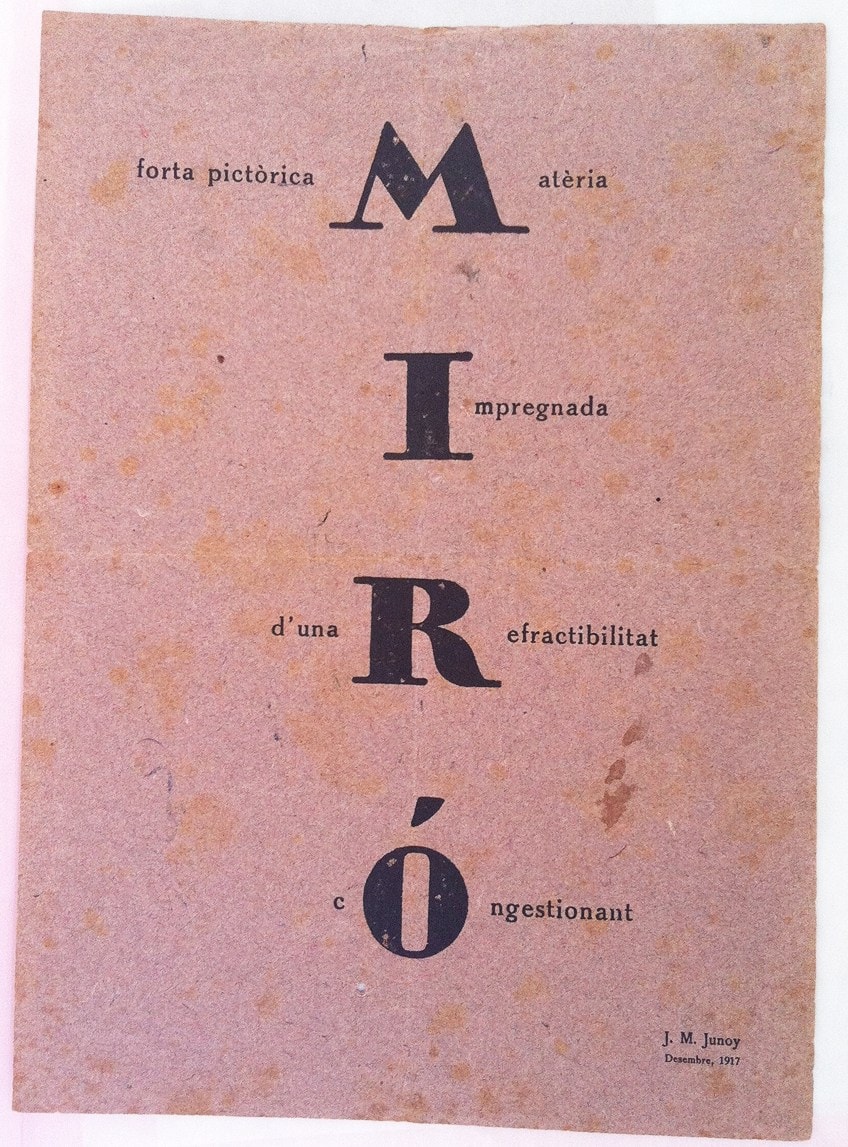 Catalog of Joan Miró's first exhibition at the Dalmau Gallery, 1918; Fundació Joan Miró, Public domain, via Wikimedia Commons
Miró visited Paris in 1920 where he also had a solo exhibition, held at the Galerie la Licorne in 1921, this was also organized by Josep Dalmau. He would end up living in Paris for a while, while still visiting the farm during the Summer months. He is quoted in writing about his life in Paris explaining how he came home on some nights without having eaten, due to financial constraints living in the city, he mentioned that he "saw things" and "jotted them down in a notebook. I saw shapes on the ceiling".
While Miró lived in Paris he met prominent artists like Tristan Tzara, Pablo Picasso, André Masson, and others from Dadaism and Surrealism, the latter group he became acquainted with within 1924. He was reportedly good friends with the Surrealism co-founder André Breton.
Although Miró joined the Surrealist group, sources state that he was not interested in signing the Surrealist Manifesto. He had different viewpoints regarding how the Surrealists approached the idea of "automatism", for Miró he still had a level of planning for his compositions.
Because of the Spanish Civil War Miró and his family, his wife Pilar Juncosa, and his daughter Dolores, had to remain in Paris, however, they eventually fled to Normandy in 1939 and from there they moved to Mallorca in 1941.
During this time Miró experienced a period of depression due to the war and what he and his family endured, he also produced his series titled Constellations. This series helped Miró feel better and took his mind off the "tragedy" he experienced.
Miró had numerous exhibitions throughout his life, and he influenced many artists and art movements like Abstract Expressionism in America, Color Field Painting, and numerous designers like Julian Hatton, Paul Rand, and others.
He was remembered for his experimental style and always innovating with a plethora of different media, not only restricted to painting.
He also received various notable awards like the Venice Biennale Grand Prize for Graphic Work in 1954 and the Guggenheim International Award in 1958, which was for the ceramic wall mural Wall of the Sun (1955 to 1958) for the Paris UNESCO building. The wall murals were titled the Wall of the Sun and the Wall of the Moon and Miró worked alongside the ceramicist Josep Llorens Artigas in their design and construction.
Important Exhibitions by Joan Miró
Below we will look at a few of Joan Miró's prominent exhibitions from when he started his solo exhibitions in Barcelona and Paris to some of his later retrospective exhibitions. There have been numerous exhibitions by the artist, and he led a fruitful artistic career, producing thousands of paintings and hundreds of sculptures.
Joan Miró's first solo exhibition was in 1918 in Barcelona by the Dalmau Galleries. It was organized and held by Josep Dalmau from February to March 1918. Miró reportedly exhibited around 64 artworks, however, the exhibition was not a success. The artist was criticized and made fun of by many.
During Miró's solo exhibition he displayed artworks from his former stylistic explorations of Fauvism, Cubism, and Impressionism. This was before he started exploring more dimensions in his artwork, in other words, Surrealism, and Magical Realism.
Catalog of Joan Miró's first exhibition at the Dalmau Gallery, 1918; Fundació Joan Miró, Public domain, via Wikimedia Commons
Furthermore, this exhibition led to his other solo show in Paris in 1921, also organized by Dalmau. It was reportedly more successful than the Barcelona show. This was the solo exhibition at the Galerie la Licorne. This was around the time Miró met the Surrealists.
In 1925 Joan Miró exhibited as a solo show at the Galerie Pierre in Paris, of which he was also included in the Surrealist exhibition during the same year.
Also referred to as the "first Surrealist exhibition" by many sources, it included many artists like Paul Klee, Jean Arp, Max Ernst, Giorgio de Chirico, and many more. Miró partook in a retrospective exhibition in 1959 in honor of Surrealism; he was alongside Salvador Dalí and other artists. The exhibition was called The Homage to Surrealism.
There have many retrospective exhibitions held in honor of Joan Miró's artworks when he was still alive and after his death. For example, the Museum of Modern Art held a retrospective in 2019 called Joan Miró: Birth of the World. In 2015 the Denver Art Museum held an exhibition titled Joan Miró: Instinct and Imagination.
During 1993 there were numerous exhibitions in honor of Miró's 100th anniversary, and these were held at various institutions including the Fundació Joan Miró and the Museum of Modern Art.
Joan Miró exhibition at the Mini Museum at Ferrocarril station in Palma, Mallorca; Antekbojar, CC0, via Wikimedia Commons
Artistic Characteristics of Joan Miró
What we know today of the Joan Miró art style is that it did not belong to anyone's art style or movement. He was a mixed media artist and excelled at pushing the boundaries to create new and different paintings, sculptures, and drawings, among others. Below we briefly discuss the main artistic characteristics that dominated Miró's art career, or as they say, oeuvre.
The Beginning: Catalan Fauvist Style
When he first started along with his artistic career his style was influenced by Paul Cézanne, Vincent van Gogh, the Fauves, as well as the Catalan heritage he shared. This period of his style has been termed the Catalan Fauvist art style.
A famous example from this period and style experimentation by Joan Miró is Portrait of Vincent Nubiola (1917). It was created from oil paints and is now housed in Germany at the Folkwang Museum located in the city of Essen. It depicts the portrait of Vincent (or Vicenç) Nubiola during his time at the Cercle Artístic de Sant Lluc.
This painting also shows Miró's experimentation with Cubism. Other examples include his Portrait of Cristòfol Ricart (1917) and the landscape of similar style Siurana, el camí (Siurana, the Path) (1917), which is one example of the numerous landscapes he painted in line with the Fauvist art style.
A Turning Point In Miró's Style: Magical Realism
The painting The Farm (1920 to 1921) has been widely considered a "turning point" painting in Miró's art style. There were several influences in this work, namely the artist's Catalan roots and that of Cubism, the latter we see in Miró's early works. In The Farm, we also see how Miró portrays his subject matter with more realism, which could point to his veer towards Magical Realism.
Miró is quoted as saying about this painting that it is "a summary of my entire life in the countryside", and rightfully so because the artist depicted almost everything from the countryside in the composition, as he also said, "from a huge tree to a tiny snail".
It depicts the beloved family farm that Miró annually frequented. We see an array of farming objects like buckets, a wagon, various animals like horses, a dog, chickens, a goat, birds, and the snail. There is also a woman in the far distance busying herself with farm work. In the center is a tree that reaches into the blue sky where we also see a moon to the right side.
Surrealism
The Farm was one of Miró's major artworks that showed his attention to detail and realism before his experimentation started with the Surrealist art style, which presented a dramatic shift in how the artist portrayed his subject matter. As noted earlier, he started associating with the Surrealist group in Paris around the year 1924.
Here we notice his new range of what is referred to as "biomorphic" shapes filling up his canvases.
There was an increased element of exploring the unconscious in Miró's Surrealist works, however, he did not believe in composition completely originating from the unconscious state as so many Surrealists did. This was in terms of the "automatism" that many employed on a more "psychic" level, whereas Miró still planned his compositions to some extent.
Some of Miró's paintings like The Tilled Field (1923 to 1924) and Harlequin's Carnival (1924 to 1925) became his popular Surrealist examples, marking a turn from his more "realistic" paintings. For example, Harlequin's Carnival Miró depicts a wide variety of his signature biomorphic forms, and they all appear to be having a festive time.
Towards the left we see an elongated figure that appears to have a guitar or violin-shaped body and a neck that reaches far upwards, it has a sad face with one-half blue and the other red. There are white and black checks on the figure's body as well as a small round hole that we can see through; this has often been thought to symbolize Miró's hunger.
Additionally, this Harlequin character resembles the figures from the Italian theatre called Commedia dell'arte.
Furthermore, there is a lot for our eyes to feast on in Harlequin's Carnival. To the far left, we see a ladder reaching into the distance; Miró even depicted it in a diminished perspective the further we look at it – it appears to lean against the wall. In the lower right corner, there are two creatures, that have been likened to cats, playing with a long thin string. They appear to be looking directly at us.
Seemingly swiftly moving past the harlequin figure is a long wavy black line with a white hand reaching towards the left of the composition. We also notice a window near the top right where there are three shapes outside, namely, a large black triangle, a red wave-like form, and a round, star-like form. Miró reportedly said that the black triangle was a representation of the Eiffel Tower.
There is a lot happening in this scene, and we see this in many of Miró's other paintings in this style.
Miró played on the idea of identifying familiar objects, which then, simultaneously appeared abstracted. We find ourselves asking, "Is that an eye, or just a round object or ball within an oval object?" Other famous works in this style include Dog Barking at the Moon (1926), and Dutch Interior (I) (1928). The latter was among his Dutch Interiors series of paintings created during 1928. There were three of these paintings all depicting various other paintings from the Dutch Golden Age.
The War Years Style: Constellations
Another important series Miró started during World War II was Constellations, which consisted of 23 paintings. This series has been described as one of Miró's best series and artworks from his painting career. They depict various elements around the theme of the night sky and all the beautiful wonders it brought with it. Miró has been widely quoted describing this series, he said:
"I had always enjoyed looking out of the windows at night and seeing the sky and the stars and the moon, but now we weren't allowed to do this anymore, so I painted the windows blue and I took my brushes and paint, and that was the beginning of the Constellations".
The name for this series, Constellations, was only given at a later stage with Miró's consent. He originally referred to these as "the series" and because they were all done on a small scale, most of them measuring 38 x 46 centimeters, he reportedly also referred to them as "little paintings". The medium Miró used was gouache and oil wash on paper.
Sculpting
It is important to note that Miró's style developed over the years, and he turned more regularly to other media, for example, sculpting. He created sculptures on large scales and displayed them publicly. Some examples from the Miró sculpture collection include Personnage (1970) and Woman and Bird (1982), among others.
These depict the biomorphic shapes that he dreamed of during his years of painting – Miró often refers to the period of his life where he hallucinated because of hunger, as we see alluded to from "Harlequin's Carnival".
However, Miró also drew inspiration from Catalonia and included elements of nature like the moon and birds, as we see in Pájaro Lunar (Moonbird) (1966). This abstract sculpture is made of bronze and appears bird-like, but almost as a "hybrid" bird. It has two arms, which could also be wings and its facial features are rounded in shape, it also appears to have horns, one on its forehead and two on the sides of its head, and another protrusion from its head.
Moonbird (1966) by Joan Miró, Museo Nacional Centro de Arte Reina Sofía; Joan Miró (sculpture) / soonsoon (photo), CC BY-SA 3.0, via Wikimedia Commons
Topping the "Moonbird's" head is a concaved shape that almost appears like a crescent moon resting on its side. Furthermore, the creature's body is also in a rounded, almost crescent-moon shape and stands on two short bulky legs. This is an example of how Miró played with the idea of various celestial elements like the moon as well as geometric and natural shapes like that of birds.
Miró has been quoted as saying, "it is in sculpture that I will create a truly phantasmagoric world of living monsters; what I do in painting is more conventional".
We see this move towards less restriction in the various examples from the Miró sculpture collection. The above-mentioned examples also appear smoothed in their surface and display that characteristic organic aspect that Miró so often portrays in both his paintings and sculptures, otherwise also known as his biomorphic depictions.
What characterized his art was how he painted shapes, it would often consist of geometric forms like triangles or squares, lines, as well as wave-like forms of all sizes. There was a combination of round and angular, amoeba-like forms as well as recognizable forms. As we have seen from the above-mentioned examples.
Sometimes Miró would include written words into his paintings, which is a testament to his love of poetry. We see this from his Peinture-poésie or "Painting Poetry" series, which he started from 1924 to 1927. A famous example includes his Photo: This is the Color of My Dreams (1925).
Here, Miró presents us with a blank canvas space with only several elements to it.
In the top left is the word "Photo" written in a black cursive script, near the bottom right is what appears to be a blue spot as if the artist dabbed paint onto the brush and then onto the canvas, directly underneath are the words, in French, "ceci est la couleur de mes rêves", which means "this is the color of my dreams".
A List of Joan Miró's Artworks
Below we will list some of the abovementioned Joan Miró paintings and sculptures as well as others not mentioned, for further reference. Some of these have become Miró's most widely referred to paintings and sculptures, by many sources, making them the best examples for anyone who has never heard of Joan Miró before or would like to learn more about his paintings and sculptures.
| | | | |
| --- | --- | --- | --- |
| Title | Date | Dimensions | Medium |
| Portrait of Vincent Nubiola | 1917 | 104 x 113 centimeters | Oil painting |
| Portrait of Heriberto Casany | 1918 | 70 x 62 centimeters | Oil on canvas |
| La Casa de la Palmera (The House with the Palm Tree) | 1918 | 65 x 73 centimeters | Oil on canvas |
| Vines and Olive Trees, Tarragona | 1919 | 72.7 x 89.9 centimeters | Oil on canvas |
| The Farm | 1920 – 1921 | 123.8 x 141.3 centimeters | Oil on canvas |
| Horse, Pipe, and Red Flower | 1920 | 82.6 x 74.9 centimeters | Oil on canvas |
| Les Cartes Espagnoles (The Spanish Playing Cards) | 1920 | 63.5 x 69.5 centimeters | Oil on canvas |
| The Tilled Field | 1923 – 1924 | 66 x 92.7 centimeters | Oil on canvas |
| Harlequin's Carnival | 1924 – 1925 | 66 x 93 centimeters | Oil on canvas |
| Photo: This is the Color of My Dreams | 1925 | 96 x 130 centimeters | Oil on canvas |
| Dog Barking at the Moon | 1926 | 73 x 92 centimeters | Oil on canvas |
| Animated Landscape | 1927 | 129.5 x 194.9 centimeters | Oil on canvas |
| Dutch Interior (I) | 1928 | 91.8 x 73 centimeters | Oil on canvas |
| Dutch Interior (II) | 1928 | 92 x 73 centimeters | Oil on canvas |
| Dutch Interior (III) | 1928 | 129.9 x 96.8 centimeters | Oil on canvas |
| Bleu II | 1961 | 270 x 355 centimeters | Oil paint |
| L'étoile matinale (Morning Star) | 1940 | 38 x 46 centimeters | Gouache and oil wash on paper |
| Le Lever du soleil (Sunrise) | 1940 | 35.6 x 42.5 centimeters | Gouache and oil wash on paper |
| Constellation: Women on the Beach | 1940 | 38.1 x 45.7 centimeters | Gouache and oil wash on paper |
| The Beautiful Bird Revealing the Unknown to a Pair of Lovers | 1941 | 45.7 x 38.1 centimeters | Gouache and oil wash on paper |
| The Passage of the Divine Bird | 1941 | 43.2 x 35.6 centimeters | Gouache and oil wash on paper |
| Constellation: Toward the Rainbow | 1941 | 45.7 x 38.1 centimeters | Gouache and oil wash on paper |
| Pájaro Lunar (Moonbird) | 1966 | 2.28 x 1.98 x 1.45 meters | Bronze sculpture |
| Personnage | 1970 | 200 x 120 x 90 centimeters | Bronze sculpture |
Book Recommendations About Joan Miró
Below we recommend several books about the famous Barcelona Surrealist, Joan Miró. Although there are hundreds of resources available about the artist, it is important to remember that when you are looking for information about Joan Miró to know what your purposes are, for example, are they for academic research, light read to skim over the artist's life and works, or simply a decorative coffee table book. Below, we give a few examples.
Joan Miró: I Work Like a Gardener (1964) by Joan Miró
First published in 1964, Joan Miró: I Work Like a Gardener, has become one of the most succinct resources about the artist's works. It features a "comprehensive" account of Miró's artistic process and ideas by the artist. He provides information about his art and life in a discussion with Yvon Taillandier, a French art critic, artist, and author.
There are over 80 pages with 10 accompanying illustrations. Many reviews rave about this publication as a "tiny treasure trove of firsthand insight". Miró was around 65 years old when he sat down with Taillandier and spoke about his life.
An in-depth discussion on Miró's life and work
An illuminating and insightful look into Miró's creative process
An updated English translation of Miró's invaluable text
View on Amazon
Joan Miró (MOMA Artist Series) (2008) by Carolyn Lanchner
This is part of a collection of books that covers various famous artists. It was published in 2008 and explores examples of Joan Miró art with accompanying text about the artist and his style. It is published by the Museum of Modern Art and is accessible as a collection or a stand-alone. The author, Carolyn Lanchner, worked as a curator at the Museum of Modern Art.
This book is a paperback and ideal as a gift for art enthusiasts or art lovers, however, it can also be used towards more research about Joan Miró of needed. There are over 40 pages and various illustrations featuring respective Joan Miró art.
A presentation of Joan Miró and his most memorable achievements
Reproductions of artworks in color with analyses of each piece
An excellent resource for those interested in the story behind Miró
View on Amazon
Miró: The Experience of Seeing – Late Works, 1963 – 1981 (2014) by Carmen Fernández Aparicio et al.
Published by Yale University Press, this is a hardcover that showcases many of Miró's artworks from his later years; there are over 50 artworks in this publication. There are positive reviews about the illustrations, that they are colorful and large – a "delightful visual experience" and of "good quality".
This is a good addition to the Joan Miró art book collection whether you are an art lover, a Miró fan, or doing research for academic purposes. This book gives us another look at the artist during his later years, from 1963 to 1981 – his drawings, paintings, and sculptures included. This is invaluable information to know especially for artists and art historians. Furthermore, this publication can double as a good coffee table book as it is a hardcover with large and clear illustrations.
A compelling look at the works of one of the greatest Modern artists
A reassessment of renowned modernist Joan Miró's late-career works
Includes color illustrations that show the breadth of his body of work
View on Amazon
Forever Playful
Joan Miró was really an artist of many talents, and he died on Christmas day in 1983. Although he suffered from bouts of depression, spurred on by various circumstances in his life, he nevertheless leaned on his art to express what he felt and perceived. He received many accolades during his career including an honorary doctorate degree from the University of Barcelona in 1979.
It is important to remember that throughout Miró's oeuvre he utilized different media and explored his perceptions and experiences through symbols and motifs that became his own unique art style. Therefore, it would be erroneous to believe he was only part of one art movement, as previously mentioned; Joan Miró was an art movement in and of himself.
Frequently Asked Questions
What Was Joan Miró's Art Style?
Joan Miró did not paint in any specific art style or art movement, in fact, he drew from various art styles like Fauvism and Surrealism, among others. He was a multifaceted artist. Miró was famous for creating biomorphic shapes in his paintings that appeared half abstracted and half real. His art style varied from paintings to sculptures.
Was Joan Miró a Surrealist?
It is important to remember that Joan Miró's art career was not all Surrealist. He started painting more Cubist/Fauvist artworks and was known as a Magical Realist. It was until he met other Surrealist artists, specifically André Breton, that his work changed in style. He was remembered as associating with the Surrealist group but never signing their manifesto. There were some differences of opinion from Miró's style compared to how the Surrealists approached the subconscious and so-called automatic aspects in art-making.
Where Was Joan Miró From?
Joan Miró was born in Barcelona, Spain. He is often referred to as a "Spanish Catalan" artist. Although he was from Spain he lived in Paris, France, for a few years and often visited his family farm in Catalonia.
Isabella studied at the University of Cape Town in South Africa and graduated with a Bachelor of Arts majoring in English Literature & Language and Psychology. Throughout her undergraduate years, she took Art History as an additional subject and absolutely loved it. Building on from her art history knowledge that began in high school, art has always been a particular area of fascination for her. From learning about artworks previously unknown to her, or sharpening her existing understanding of specific works, the ability to continue learning within this interesting sphere excites her greatly.
Her focal points of interest in art history encompass profiling specific artists and art movements, as it is these areas where she is able to really dig deep into the rich narrative of the art world. Additionally, she particularly enjoys exploring the different artistic styles of the 20th century, as well as the important impact that female artists have had on the development of art history.
Learn more about the Art in Context Team.