Scottish artist Jack Vettriano's art life began when his girlfriend gave him a watercolor set for his birthday in the 1970s. Jack Vettriano's paintings were inspired by imitating the Impressionists, the Old Masters, as well as a multitude of Scottish painters. Jack Vettriano's exhibition in 1988 at the Royal Academy was a major turning point in the artist's life, as two of the pieces he had submitted were both sold on the very first day.
Jack Vettriano's Artwork and Life
Jack Vettriano was born in Methil, Scotland on the 17th of November 1951. Jack Vettriano's paintings are renowned for their film-noir aesthetic and realism. One of his most well-known paintings, The Singing Butler (1992), was a very popular and well-known image in the United Kingdom.
| | |
| --- | --- |
| Nationality | Scottish |
| Date of Birth | 17 November 1951 |
| Place of Birth | Methil, Scotland |
| Most Known For | Contemporary Painting |
The Early Life of Jack Vettriano
Scottish artist Jack Vettriano was born in Fife's St. Andrews and grew up in Methil, an industrialized beach town around half an hour south of his hometown. He was reared in squalor, living in a primitive miner's home with his parents, and elder brother, splitting a mattress with his brother and using hand-me-down clothing. From when he was 10 years old, his father ordered him out to distribute newspapers and groceries, clean houses, and harvest potatoes – any task that paid. His father pocketed half of his wages. Vettriano dropped out of school at the age of 16 and went on to work as a mining engineer apprentice. He worked as a bingo announcer at Leven Promenade for a brief time in the late 1960s.
Vettriano became interested in painting on his 21st birthday in the 1970s when a lover gave him an artist's set of watercolors.
Under his real identity "Jack Hoggan," his initial works were reproductions or homages of painting styles; his first work was a replica of Poppy Fields (1873) by Claude Monet. His studies in the Kirkcaldy Museum and Art Gallery had a great effect on him. Vettriano first entered his artwork into an art show sponsored by Shell at the institution in 1984. Vettriano separated from his spouse Gail in 1987, at the age of 36, to follow in the footsteps of Paul Gauguin. He left his career in research to go to Edinburgh, whereupon he took his mother's maiden name. He registered at the University of Edinburgh to study Fine Art, but his application was declined.
Jack Vettriano's Art Career
Vettriano provided two paintings to the Royal Scottish Academy's annual display in 1988. Vettriano was solicited by numerous galleries after both works were bought on the very first day. Exhibitions were held in London, Edinburgh, Johannesburg, and Hong Kong. Jack Vettriano's art was initially featured in New York City in November 1999, when over 20 canvases were exhibited at The Armory's International 20th Century Arts Fair.
Over 40 buyers from the United Kingdom traveled out for the exhibition, and 20 artworks were purchased on the first night.
Vettriano was commissioned by Sir Terence Conran in 1996 to design a collection of works for his upcoming Bluebird Gastrodome in London. The seven artworks, based on Sir Malcolm Campbell's life, were displayed there for 10 years. To commemorate the 75th anniversary of Sir Malcolm Campbell's last World Land Speed Record, Heartbreak Publishing, Vettriano's own publishing firm, created a boxed set comprising signed, limited-edition reproductions of all seven works. Sotheby's auctioned off the Bluebird works of art on the 30th of August, 2007, and the priciest was Bluebird at Bonneville (1996), which sold for £468,000.
Vettriano utilizes his studios in both London and Scotland.
From 1993 through 2007, he was promoted by the Portland Gallery in London, and his clients included Sir Alex Ferguson, Jack Nicholson, Tim Rice, and Robbie Coltrane. So far, five books on Jack Vettriano have been produced, the most recent of which, Studio Life, was released in March 2008. Vettriano founded Heartbreak Publishing in February of 2009, as well as his own gallery, also named Heartbreak, which solely promotes him while also promoting new artists. Sir Jackie Stewart awarded Vettriano with the Great Scot of the Year Award on the 24th of March, 2010. The annual event was hosted at London's Boisdale Club. Following the prize, MSP Ted Brocklebank introduced a resolution in Parliament requesting that Vettriano's impact on Scottish society be recognized.
In April 2010, seven of Vettriano's ten works struggled to be sold at Sotheby's spring auction of artworks from Scotland. Those who did sell did so for half their asking price. Experts in the field of art advised that the commercial worth of Vettriano's paintings be reconsidered. It was declared in February 2011 that Vettriano's self-portrait The Weight (2010) will be featured in the re-opened Scottish National Portrait Gallery beginning in November 2011, marking the first time he has exhibited at a national gallery. Vettriano, according to Deputy Director Nicola Kalinsky, was "a character we have wanted on our wall for some time for understandable reasons."
"He is a fantastic artist of enormous talent and success," said First Minister Alex Salmond of Vettriano, "and this is a wonderful homage to the particular place he occupies in the hearts of the Scottish people."
Jack Vettriano's exhibition "The Ballroom Spy" launched in May 2011 at Vettriano's Heartbreak gallery – a new show by Vettriano in conjunction with Jeanette Jones, the photographer. Many people thought the exhibition's move to the Royal West of England Academy in July 2011 was a contentious decision. Stefano Ricci, a menswear company, debuted its Spring 2012 line in January, with a promotion influenced by the art of Jack Vettriano. The SS 2012 brochure, titled 'Stefano Ricci – a Tribute to Vettriano,' contained photographs by Vettriano as well as digital interpretations taken by Fredi Marcarini of Ricci 2012 clothing and apparel. The cooperation was immortalized in a short video about the 2012 Vettriano campaign. The Singing Butler (1992), Vettriano's most renowned painting, was on show at the Aberdeen Art Gallery in February 2012.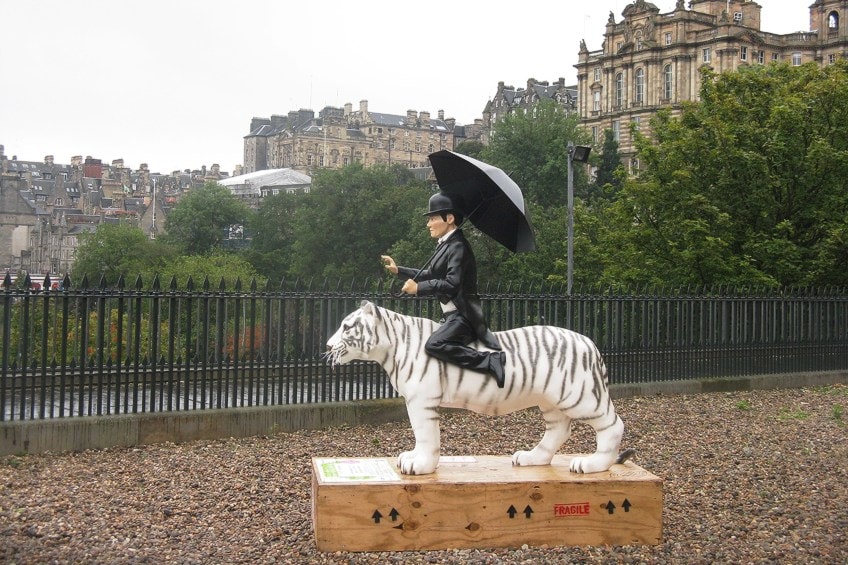 A sculpture of Jack Vettriano's Singing Butler in Edinburgh; Jack Vettriano's 'Singing Butler' in Edinburgh by M J Richardson, CC BY-SA 2.0, via Wikimedia Commons
He was among painters selected to create portraits of Billy Connolly, the comedian, to commemorate Connolly's 75th birthday in 2017. They were then shown at the People's Gallery in Glasgow, while the pictures were translated to murals across the city. It was the topic of a BBC Scotland program that aired on the 14th of June, 2017.
The Style and Criticism of Jack Vettriano's Paintings
Vettriano is a self-taught painter who uses opaque glazes and profound shadows to alter paint. Vettriano's approach has been likened to Sickert and Hopper's, and his scudded coastlines to Boudin's. Several of his works have a hidden storyline, in mysterious compositions that serve as a springboard for multitudes of short stories. Per the Daily Telegraph, he is the art world's Jeffrey Archer, a supplier of "poorly constructed soft porn" and a creator of "weak erotica." As per Vanity Fair, Jack Vettriano's paintings are "witless eroticism."
"He didn't paint, he simply colored in," remarked Sandy Moffat, head of painting and drawing at Glasgow's School of Art.
According to The Guardian's Jonathan Jones, Vettriano's works as a group are "witless," and Vettriano "is not even a painter." The Scottish National Gallery of Modern Art's director said: "I'd be delighted to declare that we believe he's a bad artist and that he's well below our priority list (whether or not we can buy his works, which we clearly can't at the present). His "fame" is based on low-cost commercial copies of his artworks."
Jack Vettriano's Art Collaborations
Vettriano had a cameo presence in a video with Saint Jude's Infirmary, an indie band from Scotland for The Music Show, with novelist Ian Rankin. The footage was shot on Edinburgh's Portobello Beach and includes references to two of Vettriano's most renowned works, The Singing Butler (1996) and Elegy for a Dead Admiral (2013). After spotting a Vettriano print on a bar wall in Rotterdam, Grant Campbell wrote the words to the song Goodbye Jack Vettriano. After listening to the band's first album, Happy Healthy Lucky Month, Vettriano was motivated to produce a work that was used as the front of the band's record, to which both Rankin and Vettriano contributed spoken word parts.
Jack Vettriano's Personal Life
Vettriano, who is separated from his first wife, splits his time between Kirkcaldy, and Nice. He received the OBE in 2004. He claims that his artworks are inspired by "25 years of sexual misbehavior." He told The Independent in 2010:
"I exist in a world filled with pain… "I simply tend to be more inventive when I'm in some type of mental difficulty," she continues, adding, "it has now been more than four years of deep inner soul-searching – cigarettes, booze, and pharmaceuticals."
He enjoys horse racing, but only wagers what he can manage to squander. He has established the Vettriano Trust and intends to give his money to it in order for it to do better. Vettriano was indicted on drug and alcohol charges in 2012 and was sentenced to an £800 fine and an 18-month driving suspension for consumption of stimulants.
Vettriano trained himself to paint when he was 21 years old, while also working in engineering and mining. Vettriano switched his surname from Hoggan to his mother's maiden name in 1987. After being denied entry from the University of Edinburgh's Fine Arts department, he eventually entered two canvases in the Royal Scottish Academy's annual show and managed to sell both, thereby establishing his career. One of these pieces, The Singing Butler (1992), went on to sell for approximately £750,000 at Sotheby's in 2004, becoming the best-selling art print in the UK at that date.
Further Reading
If you want to learn even more about Scottish artist Jack Vettriano, we suggest that you have a look at the following book recommendations.
Jack Vettriano: A Life (2014) by Jack Vettriano
In a tiny edition, Jack Vettriano's stunning paintings of a seductive yet terrifying universe are masterfully represented. Vettriano's pictures transport you to a timeless world where the past and present collide. Daylight landscapes of exuberant optimism, painted against settings of coastlines and racetracks, are offset with darker paintings depicting intricate evening liaisons in pubs, clubs, apartments, and ballrooms.
Jack Vettriano, who emerged from the odd background of the Scottish coalfields, untrained and unschooled, has become Scotland's most renowned and divisive modern artist, with his picture The Singing Butler selling for about $1.3 million. Prints of his art outsell van Gogh, Dali, and Monet, and his works have been collected by celebrities all over the world.
A mini edition of Jack Vettriano's powerful and alluring canvases
A look at Scotland's most successful contemporary artist
Vettriano's beguiling yet sinister world is aptly captured in this edition
View on Amazon
Lovers and Other Strangers (2002) by Anthony Quinn
The neo-realist paintings of Jack Vettriano, which reminds one of the realms of Raymond Chandler and Hollywood film noir, are featured in a gorgeous volume. The book is highlighted with 100 of his works of art and includes an exquisite biographical portrayal of the artist's lifetime and accomplishments. Written by Anthony Quinn and released in 2002.
A beautiful monograph filled with the neo-realist art of Jack Vettriano
Illustrated with 100 of Jack Vettriano's paintings
Accompanies by an elegant biographical portrait of the artist
View on Amazon
And that concludes our look into the world of Jack Vettriano's art. Vettriano trained himself to paint when he was 21 years old, while also working in engineering and mining. Vettriano switched his surname from Hoggan to his mother's maiden name in 1987. After being denied entry from the University of Edinburgh's Fine Arts department, he eventually entered two canvases in the Royal Scottish Academy's annual show and managed to sell both, thereby establishing his career. One of these pieces, "The Singing Butler "(1992), went on to sell for approximately £750,000 at Sotheby's in 2004, becoming the best-selling art print in the UK at that date.
Frequently Asked Questions
Who Is Jack Vettriano?
Scottish artist Jack Vettriano is recognized for his sexual paintings of males and females in the spirit of film noir. His art is characterized by a stripped realism evocative of Edward Hopper. It features fluid brushwork and lonely indoor situations in which his people look alienated from their surroundings and from one another.
What Style Are Jack Vettriano's Paintings?
Jack Vettriano is a well-known contemporary painter in Scotland and a key figure in British current art. His formulaic genre-painting manner, generally set in the 1930s at the seashore or in dance halls, cafes, and hotels is instantly recognizable for its sensual or provocative content. He gained popularity mostly via replication on calendars and greeting cards. Despite his immense economic success, Vettriano has yet to be embraced by the best art institutions. Replicas of his paintings outsell those of Van Gogh, despite being popular with the general public but not with curators or art critics.
Isabella studied at the University of Cape Town in South Africa and graduated with a Bachelor of Arts majoring in English Literature & Language and Psychology. Throughout her undergraduate years, she took Art History as an additional subject and absolutely loved it. Building on from her art history knowledge that began in high school, art has always been a particular area of fascination for her. From learning about artworks previously unknown to her, or sharpening her existing understanding of specific works, the ability to continue learning within this interesting sphere excites her greatly.
Her focal points of interest in art history encompass profiling specific artists and art movements, as it is these areas where she is able to really dig deep into the rich narrative of the art world. Additionally, she particularly enjoys exploring the different artistic styles of the 20th century, as well as the important impact that female artists have had on the development of art history.
Learn more about the Art in Context Team.