Can You Use Watercolor on Canvas? – A Guide to Watercolor Canvas Art
A lot of watercolor artists find themselves asking "can you use watercolor on canvas?" Well, if this thought has crossed your mind, then we are here to tell you that it is absolutely possible, although you can't use just any canvas with watercolor. You will either need a watercolor canvas or you will need to prime a canvas with a watercolor ground before the watercolor paint will take on the canvas. If this is what you are interested in, then read on! In this article, we will go through everything you need to know about watercolor canvas art.
Watercolor Painting on Canvas vs. Paper
If you are a watercolor artist then you almost definitely use watercolor paper for your work. Watercolor paper has been around for centuries and there are variations of watercolor paper available that suit any style or technique you could think of. Watercolor is the most versatile and suitable surface to apply watercolor to, which is not really a big surprise considering its name. What might surprise you though, is how well watercolor paper holds up to watercolor canvas.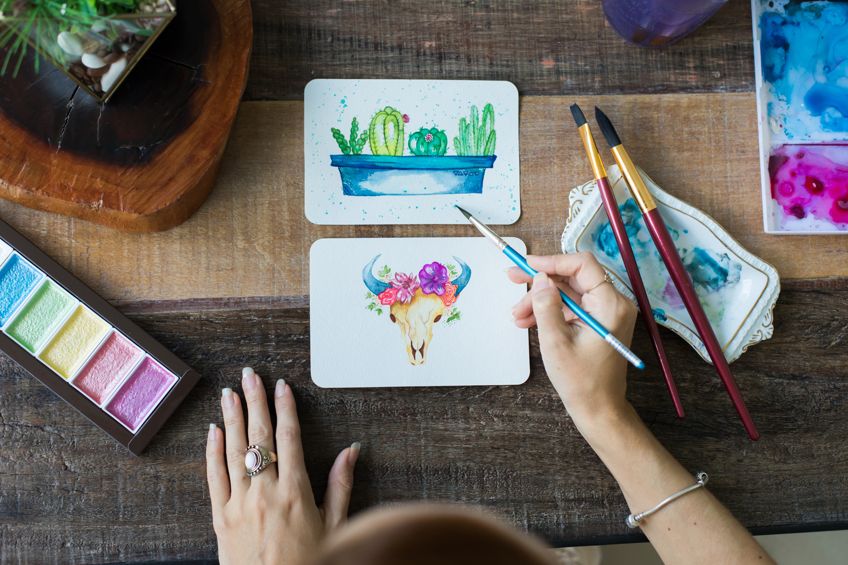 Absorbency
Watercolor canvases absorb paint and fix pigments to the surface almost as well as watercolor paints, but there is some discrepancy. You will need to be quite delicate while working so as not to disturb the underlying paint while you layer. There will definitely be a bit of a learning curve involved with learning to use watercolor paints on canvas. You will likely need to adapt your techniques to suit this new surface since watercolor canvas simply won't behave in the same way as watercolor paper.
Building up washes on canvas will be tricky, and glazing can be near impossible at first. Don't be afraid to experiment and try new techniques that help you overcome this issue.
Paint will rest on the surface of your watercolor canvas much longer than it would on watercolor paper. This lower absorbency is good for wet-on-wet painting techniques and gives you more time to work and play around with the paint. Less absorbency is what makes watercolor canvases great for blending too.
Available Sizes
Another important factor that comes from using a watercolor canvas is that sizing is no longer an obstacle since canvases come in a wide range of standard and non-standard sizes. If you opt to use a stretched watercolor canvas you will also be able to paint on the four sides of the canvas, which gives you more room and dimension to work with.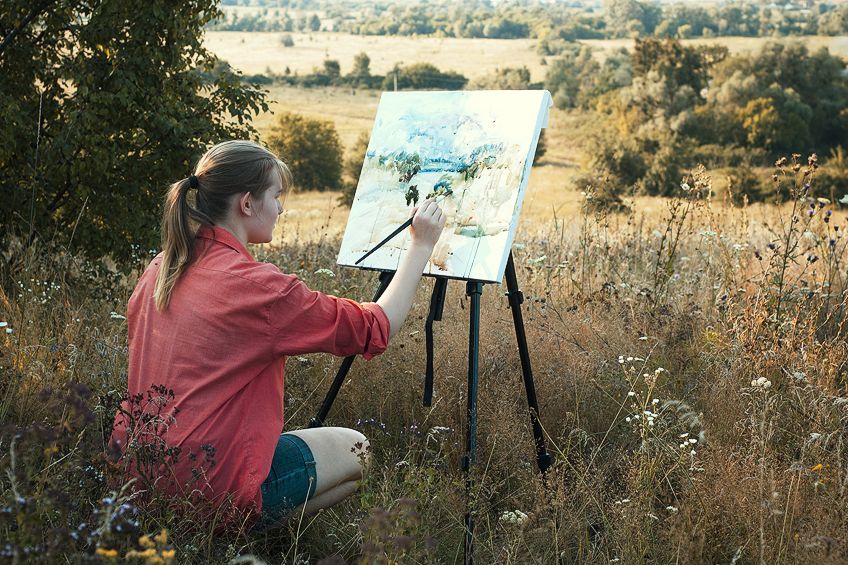 Versatility
Watercolor canvas is also very versatile because it accepts acrylic, ink, and pencil too. This means that watercolor canvas is great if you like doing mixed media art. Sketching outlines is very easy on watercolor canvas, and mistakes can easily be erased to show no trace. Once you complete your piece you will find that a stretched watercolor canvas is much easier to display than watercolor paper is.
If you have sealed your canvas then you just need to hang it up, you don't need a frame or protective glass.
Lifting Ability
Watercolor canvas has a good lifting ability. Lifting ability means that you can remove paint from the canvas or wash it off to start over. To do this you will use clean water with a brush, tissue, cloth, or sponge. Start by gently rubbing the surface of the canvas with a dampened cloth, tissue, or brush to remove pigment off of the surface of the canvas. You can lighten the error slightly and then paint over it or you could go completely back to white and start again. While lifting is also possible with watercolor paper it is not as effective, and it is only really possible with hot-pressed and not cold-pressed watercolor paper.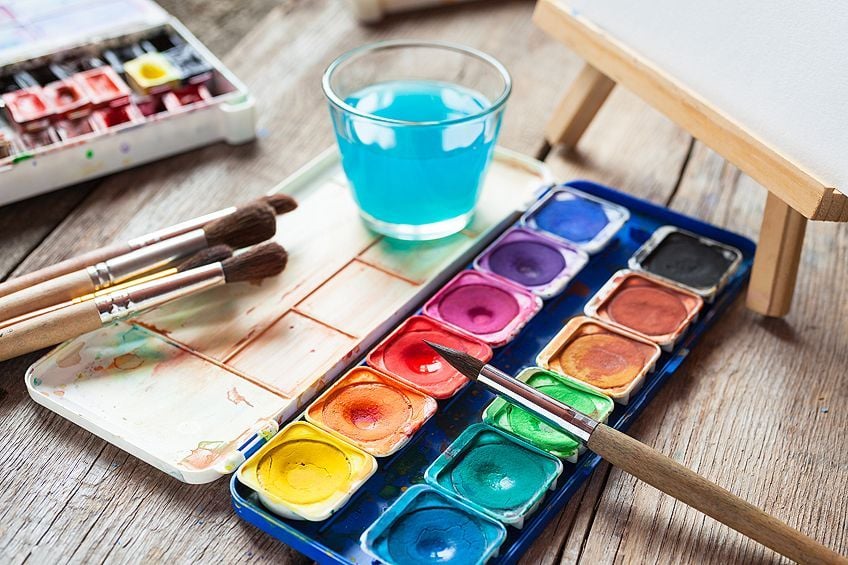 The lifting abilities of canvas can also be a disadvantage, however, especially if you are an artist that does a lot of glazing. Glazing is quite a popular technique for watercolor that can be tricky to do on watercolor canvas. This is because it is difficult to move paint around without lifting some of the previous layers and causing the colors to mix. It will take a gentle handle and a lot of trial and error to perfect glazing on a watercolor canvas. What you should practice doing is working quickly to avoid lifting and mixing while applying a fresh glaze.
Convenience
Watercolor paper often works best if it has been stretched before use, whereas store-bought watercolor canvases don't have this same issue. If you purchase a watercolor canvas, you can begin painting right away without the need to worry about prepping your surface in any way. Most watercolor canvases on the market are acid-free and 100% cotton while only artist-quality watercolor papers tend to have this quality. This means that getting an archival quality watercolor canvas can be more affordable than getting archival quality paper.
If you hope to complete craft
projects where you need paint that will work well for any number of surfaces, then craft paint is your
go-to! The consistency is smooth, creamy, and easy to use.
Durability
Canvas is also more resilient than paper and is not prone to warping or curling along the edges. Watercolor canvas is also better at resisting tears or breaks caused by excessive pressure or moisture. A problem that can arise from this quality however is that paint can sometimes pool on the surface of the canvas.
This is because the durability comes at the cost of being slightly less absorbent. A good idea to prevent this is to experiment with your paint. Try using less water than you normally would if you were working on paper.
| | | |
| --- | --- | --- |
| | Watercolor Paper | Watercolor Canvas |
| Absorbency | Very high. | High. |
| Range of Textures Available | Many different textures are available. | A few different textures are available. |
| Archival Quality | Artist-grade is archival. | Most are archival; Acid-free and 100% cotton. |
| Ability to Do Washes and Glazes | ✔ | ✔ |
| Durability | Fairly durable. | Very durable. |
| Easy to Display | Tricky to display. Needs framing and protective glass. | Can be easily sealed and hung up as is. |
| Ability to Do Mixed Media Art | ✔ | ✔ |
| Lifting Ability Can Help Correct Mistakes | ✔ | ✔ |
| How Long Does Paint Sit on the Surface | Not very long. | Quite long. |
| Requires Stretching Before Use for Optimal Performance | ✔ | ✘ |
| Can easily be made at home | ✘ | ✔ |
Considerations for Watercolor Painting on Canvas
When choosing a watercolor canvas to buy, try looking for a canvas that is pure cotton and acid-free. These two qualities are what contribute to the longevity of your piece by improving its archival qualities. Make sure that you are buying a watercolor canvas and not just a normal gessoed board. This might sound obvious but sometimes the labels can be very vague and misleading, and you don't want to waste your money on something that will ruin your watercolor canvas art.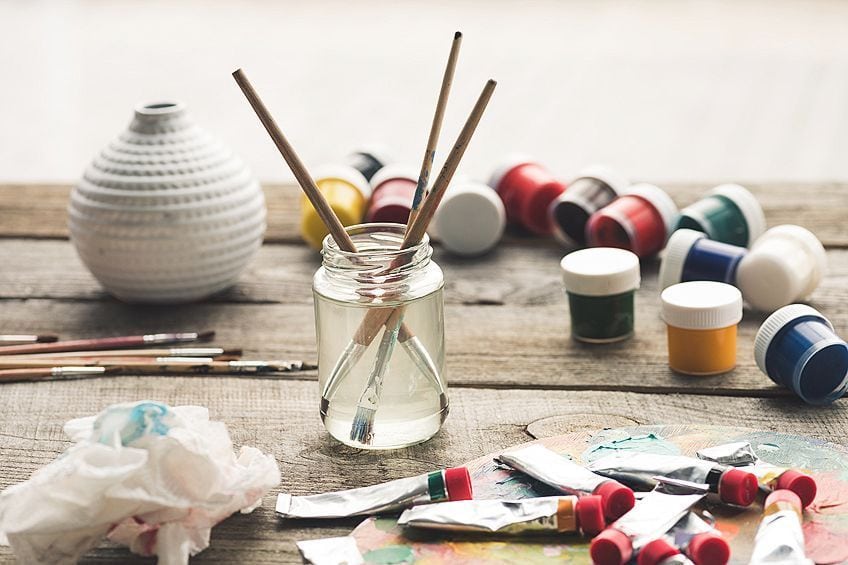 Look for watercolor canvas products such as the ones we have recommended below. You can use watercolor on canvas board, a stretched watercolor canvas, or watercolor canvas pads, as long as you make sure that the label clearly states it is made for watercolor canvas art.
You should also ensure that you are buying a high-quality canvas that is stable enough to paint on without the use of a canvas. This is important because some watercolor techniques may not work well if you have the canvas propped up vertically. Ideally, your canvas should be able to handle layers of color with ease so you should not shy away from spending a bit more money, at least when you are starting out.
Getting a cheap board from the get-go might make it even more difficult for you to adjust to the differences of watercolor painting on canvas compared to paper.
What Kinds of Canvas Can be Used with Watercolor?
As we mentioned above, there are two ways you can go about creating a watercolor painting on canvas. Your first option is to purchase a readymade canvas that is suitable for watercolor while the alternative means preparing canvas for watercolor on your own by using watercolor ground.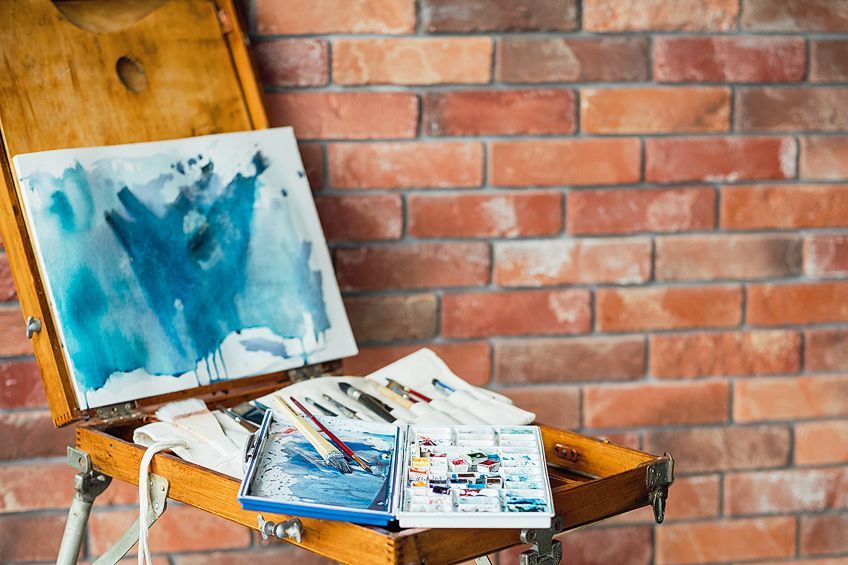 Our Recommendations for Watercolor Canvases
Watercolor canvases are a fairly recent invention, and they are extremely convenient. As the name suggests, these are canvases that are specially made to accept watercolor paints. This means that there is no extra effort required on your part, you just need to pick a canvas to purchase and you can get started right away! Using premade watercolor canvases means that you do not have to worry about preparing canvas for watercolor yourself.
When you are looking for a watercolor canvas, you will find three variations. These are namely canvas boards, canvas pads as well as stretched canvases. Below, we have chosen three different watercolor canvas products and reviewed each of them.
Best Canvas Pad: ARTEZA Watercolor Foldable Canvas Pad Pack
This set of 10 foldable canvas pads is great because they have the low price of a pack of canvas boards while also having the convenience of a stretched canvas. These are really easy to use if you want to display your artwork! You just fold it along the lines, then glue it together using the glue strip, and it is ready to be hung up. Each sheet is perforated to allow for easy detachment.
Easy to use and display your works of watercolor canvas art
High-quality cotton pulp sheets can withstand multiple layers
Each perforated sheet detaches cleanly from the pad
View on Amazon
These professional watercolor pads are also 300gsm pure cotton and can withstand multiple layers of watercolors, acrylic, gouache, and ink, and have great archival properties. Archival properties ensure the longevity of your artworks over time. The Arteza watercolor foldable canvas pad is extremely versatile and very convenient; all your sheets stay in one place and don't take up a lot of space while stored. They are durable and absorbent too, which makes them extremely good value for money at this very affordable price.
PROS
Easy to use
Affordable
Professional quality
Versatile
Durable
Absorbent
Best Canvas Board: ARTLICIOUS Watercolor Canvas Board Pack
This 12-pack of watercolor canvas boards is individually wrapped for protection and convenience. The use of watercolor on canvas board is suitable for children and adults of any skill level as they are durable and of high quality. They are also extremely affordable, acid-free and 100% cotton.
The bulk set includes 12 different panels for all kinds of paintings
High-quality cotton canvas panels are acid-free and durable
Versatile canvases can be used with almost all painting mediums
View on Amazon
The canvas boards in this Artlicious pack of watercolor canvases are white and can be used with many other different mediums such as oil, acrylic, and tempera. This means that they are not only very affordable and durable, but they are versatile too! If you would like to use watercolor on canvas board, then this is the product to choose.
PROS
Suitable for children and adults
Durable
High-quality
Affordable
Acid-free
100% cotton
Versatile
Best Stretched Canvas: PHOENIX Stretched Watercolor Canvas
For our premium choice, we have chosen this canvas board pack by Phoenix. The canvases in this pack are 100% pure long-staple cotton with a natural texture and great absorption. The canvas itself is triple primed with fine-grain watercolor gesso. This means that the canvases are great for watercolors but also for gouache, acrylic, pastels, tempera, and ink too. The high-quality canvases are stretched tightly onto the pinewood bars and stapled at the back to create clean and tidy edges.
Premium quality 100% cotton canvas with natural texture
High absorbency and fantastic diffusion effects for correction
Suitable for use with all water-soluble painting materials
View on Amazon
The bars themselves are as strong and sturdily constructed as the canvas. They are connected via mortise and tenon connections to ensure their firmness. Each canvas in this pack of four is individually vacuum-packed, lightweight, and easy to store. The lifting ability of these canvases means that you can easily clean and correct errors on your canvas. Overall, these premium-quality stretched canvases are a good investment for artists of any age or skill level!
PROS
Premium choice
100% cotton
Natural texture
Great absorption
Triple primed with watercolor gesso
Sturdy and durable
Great lifting ability
CONS
A little more on the expensive side
Preparing a Canvas for Watercolor
If you are looking to use watercolor on canvas and you prefer preparing your own canvas as opposed to buying them readymade, then you will want to get some watercolor ground. Watercolor ground is a specialized gesso that can be applied to a canvas to make it accept watercolor paint. Watercolor ground can also be called watercolor gesso for this reason. Watercolor gesso is necessary because normal canvases are not absorbent enough to accept watercolor paints. Even if you apply additional gesso onto a canvas, the watercolor will continue to run off unless it is gesso made for watercolor.
There are many watercolor grounds on the market, including this one by Daniel Smith. We recommend starting with a ground that is smooth and transparent but there are many different colors and textures to choose from. Watercolor ground spreads with ease and dries to an almost plaster-like finish. You can experiment with how thickly or roughly you apply the ground in order to achieve different textures on your canvas. Alternately, you could lightly sand the ground to achieve a smooth finish to paint on. Read on below to learn about preparing canvas for watercolor.
Preparing a Canvas for Watercolor: Step-by-Step Instructions
Another fun idea after you try this project is to use watercolor gesso to prime other surfaces too! Surfaces such as wood, stone, and metal can easily be primed with watercolor ground, but for the purposes of this article, we will only be covering the use of watercolor ground on canvas.
Once you have gotten your hands on some watercolor gesso and a canvas you can get started.
It's a really good idea to prepare a few canvases at once in order to save yourself some time and effort. So if you have a few canvases lying around why not give them all a coat in one go? That way you will always have canvases ready for whenever you feel like painting watercolor on gesso. You will need the following tools:
A large, stiff-bristled paintbrush
A store-bought or homemade canvas
Gesso (if you have a raw canvas)
Fine grit sandpaper (optional)
Instructions
If you have a raw canvas, make sure that you prime it with at least two layers of standard gesso. Allow the gesso to cure properly before applying the watercolor ground.
Apply anywhere from two to six thin coats of watercolor ground to your canvas. Allow each layer to dry completely before continuing. If you want a textured surface, you should apply the paint more roughly at this point in the process.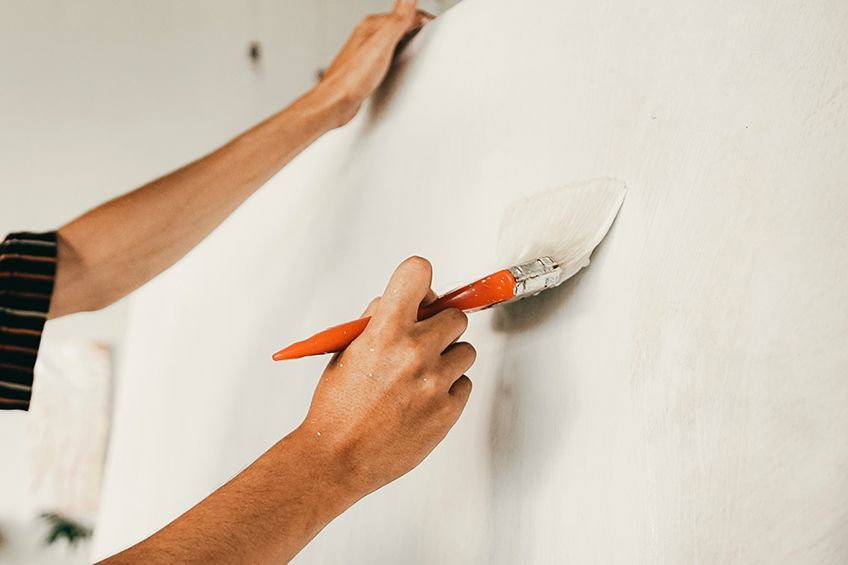 Keep in mind that if you want to keep the texture of the canvas you will want to apply fewer layers of watercolor ground.
Allow the watercolor gesso to cure for at least 24 hours before attempting to paint on it.
Start painting with watercolor on gesso once your canvas has completely cured.
Watercolor Painting on Canvas: A Basic Tutorial
By now you are aware of how different it will be to paint on watercolor canvas instead of watercolor paper and know that there is bound to be a period of adjustment and a bit of a learning curve once you get started. From staying wet longer to adjusting techniques in order to successfully glaze on canvas, there will be quite a bit of new techniques to discover, practice, and learn. We suggest making your first watercolor painting on canvas a bit of a practice run. Use the opportunity to experiment and test out different techniques. Try to take note of how your watercolor paints interact with the canvas.
Allowing yourself to experiment will save you the pain of making lots of mistakes while trying out a more serious or complicated painting later down the line.
Experiment with brushstrokes, paint concentration, and water dilution as well as your ability to lift, blend and layer paints. One of the best things to remember is that lifting allows you to easily correct mistakes so you can easily work towards the painting you are envisioning rather than starting again or having to incorporate mistakes as you work. As long as the area has not been sealed you can continue to correct mistakes with ease. Alternatively, you could coat the area with a watercolor ground and allow it to dry and cure, and then continue painting over that area. You will need the following supplies:
A watercolor canvas (homemade or store-bought)
A set of watercolor brushes
A cloth, brush, paper towel, toothpicks, or earbuds
A pencil (optional)
Transfer paper (optional)
Masking tape or masking fluid (optional)
Step-by-Step Tutorial
There are no strict instructions for painting with watercolor on canvas because each artist has their own unique approach. Instead, we have some basic suggestions which can help guide those who are new to using watercolor paint on canvas surfaces.
Use a pencil to lightly sketch the drawing onto your watercolor canvas. You can also use artist transfer paper for this because it helps leave a less greasy residue on the surface of your canvas. Masking fluid or masking tape is also a great way to protect any areas you want to ensure remain unpainted. If you plan on doing this you should get it done at this point
Begin painting. You can apply a background wash as the base for your painting to get started. Whether you add a wash or not you can begin adding layers, details, and glazing. Remember that glazing can be tricky so you should try experimenting with your mixing times as well as your paint to water ratio. Softer brushes may also work better for glazing techniques on watercolor canvas.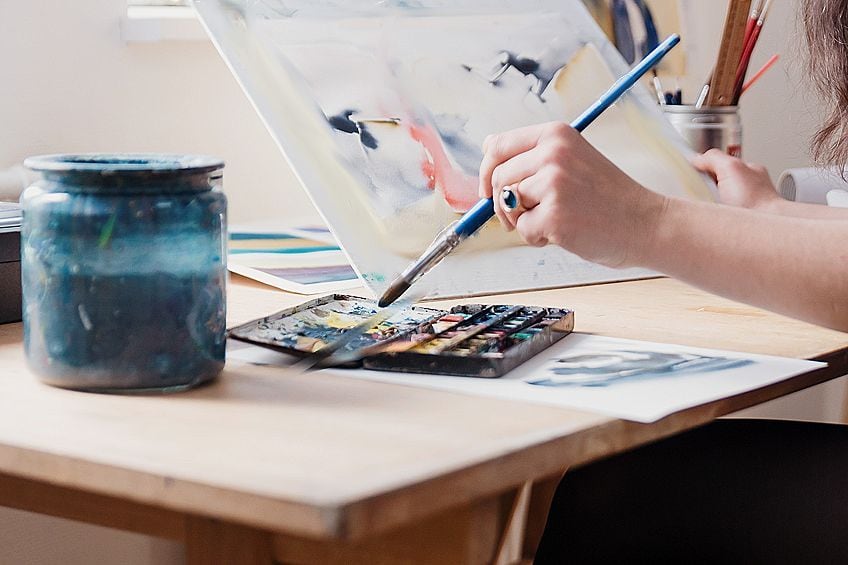 Consider trying some mixed media techniques. Remember that watercolor canvas can be used with other mediums, consider trying out some ink or acrylic paint on your canvas if you are feeling adventurous.
If you make any mistakes, you can lift paint in order to redo areas and correct mistakes. You could also use a toothpick or earbuds to scrape or scrub an area to remove mistakes. The canvas is quite durable so you can perform these correction activities without having to worry about the canvas ripping or tearing. You can continue to correct mistakes until you are happy with your painting and once it is complete. Even dried paintings can have water added to continue lifting the paint once again
Allow your painting to dry for at least 24 hours before attempting to seal it and put it on display. This allows the painting ample time to dry while also allowing you to decide whether you want to make any more changes before sealing. If you are interested in sealing your watercolor canvas art, we have added an additional tutorial below
Protecting Your Watercolor Canvas Art
As we mentioned earlier, many artists prefer working with watercolor paints on canvas once they give it a try because it makes it easier to hang up their finished pieces without needing glass and a frame. If you plan on doing this with your watercolor canvas art, then you must be sure to seal it with a UV-resistant acrylic spray sealant. You must use a spray sealant instead of a brush because brushing it on can smear or lift your watercolors. You can't add anything to your painting once it has been sprayed, so make sure you are happy with the final piece before sealing it up. Furthermore, you also can't seal your artwork before it has properly dried.
We suggest leaving your final piece to dry for at least 24 hours before sealing, this also allows you to make sure you don't want to make any changes. When you are ready to seal your painting just spray about three light coats over the canvas, allowing each layer to dry for about 20 minutes before continuing. Once you are pleased with the sealant coverage then it is best to allow the sealant to cure for another 24 hours before handling it. A sealed canvas does not need a frame or protective glass as the sealant provides a durable, UV-resistant, and water-resistant protective finish.
Can you use watercolor on canvas? Hopefully, after reading this article, you just need a bit of practice and you absolutely can! Whether you use watercolor on the canvas board you purchase or prime your own canvas and use watercolor on gesso, it's a great opportunity to try something new and different. Watercolor canvas art is convenient and unique, which makes it a great home or studio decoration and an even better gift. Since ready-to-use watercolor canvases are so readily available and preparing a canvas for watercolor is so easy, it is quite simple to experiment and get started with this non-traditional watercolor painting surface. The only thing left to do now is to give it a try!
Frequently Asked Questions
Can You Use Watercolor on a Raw Canvas?
If you use watercolors on a raw canvas, it will create a staining effect on the fibers. If this is something you would want then you absolutely can paint on a raw canvas.
Can You Sketch on a Watercolor Canvas Before Painting?
Yes, you can. Sketching on a watercolor canvas before painting is a great way to plan the layout of your painting and avoid any mistakes later on.
Do You Need to Prepare a Purchased Watercolor Canvas?
No, a store-bought watercolor canvas does not need any additional priming or preparation. You can begin using watercolor paints on canvas right away because the canvas has already been primed with a watercolor gesso.
Can You Use Mixed Media on a Watercolor Canvas?
Yes, watercolor canvases are great for mixed media art because they readily accept other materials such as ink or paint.
Matthew Matthysen is an educated multidisciplinary artist and illustrator. He successfully completed his art degree at the University of Witwatersrand in South Africa, majoring in art history and contemporary drawing. The focus of his thesis was to explore the philosophical implications of the macro and micro-universe on the human experience. Matthew uses diverse media, such as written and hands-on components, to explore various approaches that are on the border between philosophy and science.
Matthew organized various exhibitions before and during his years as a student and is still passionate about doing so today. He currently works as a freelance artist and writer in various fields. He also has a permanent position at a renowned online gallery (ArtGazette) where he produces various works on commission. As a freelance artist, he creates several series and successfully sells them to galleries and collectors. He loves to use his work and skills in various fields of interest.
Matthew has been creating drawing and painting tutorials since the relaunch in 2020. Through his involvement with artincontext.org, he has been able to deepen his knowledge of various painting mediums. For example, watercolor techniques, calligraphy and lately digital drawing, which is becoming more and more popular.
Learn more about Matthew Matthysen and the Art in Context Team.
Cite this Article