If you ever visit France, you will be delighted to visit the Le Café La Nuit otherwise, Café Van Gogh, in Place du Forum in Arles. This is not just any café, but the famous spot that Vincent van Gogh painted when he lived in Arles resulting in the Café Terrace at Night (1888) painting, which is what we will discuss in this article.
Artist Abstract: Who Was Vincent van Gogh?
Vincent Willem van Gogh was a Post-Impressionist artist born in the Netherlands in the town of Zundert; his day and year of birth were March 30, 1853. Van Gogh grew up exploring art and he was under the tutelage of Constant Cornelis Huijsmans when he attended a school in Tilburg.
In his adult years, he worked for a brief period as an art dealer for Goupil & Cie, and various other jobs. He also wanted to become a minister and was drawn to religion and a religious way of life.
He would continue to engage and learn about art and develop his drawing skills throughout his life, ranging from drawings, portraits, still-lifes, and various other genre paintings. Van Gogh also suffered from mental health problems and admitted himself into a mental hospital in 1889. He committed suicide in 1890 and died shortly after on July 29.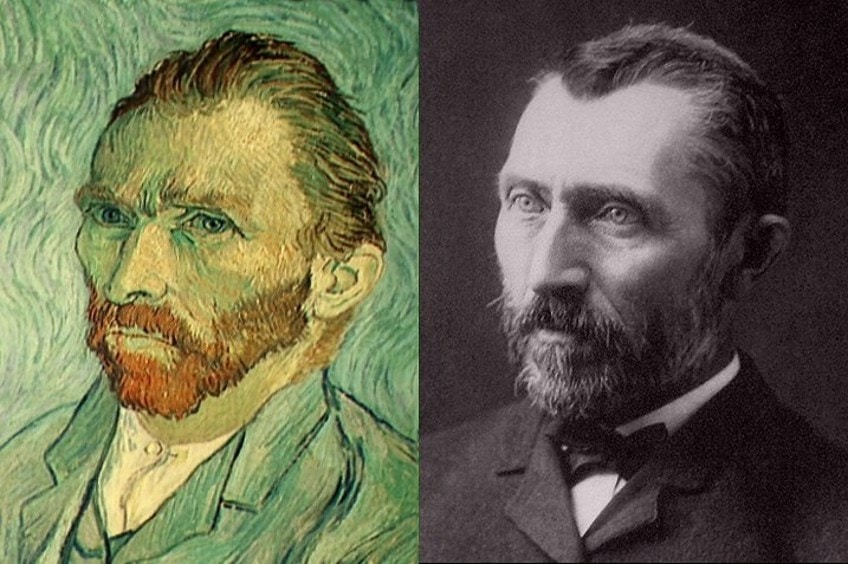 A painting (Self-portrait, 1889) and a photograph (c. 1885) of Vincent van Gogh; Van Gogh (Photographer unknown), Public domain, via Wikimedia Commons
Café Terrace at Night (1888) by Vincent van Gogh in Context
Van Gogh's Café Terrace at Night should not be confused with his other famous night scene painting that often steals the show titled, The Starry Night, which was painted in 1889, only a few months after. He also painted another iteration of the night and stars during 1888, titled Starry Night Over the Rhône (1888), which depicts the vast expanse of the Rhône River and the twinkling lights from the building beyond.
However, all three paintings depict night scenes and starry landscapes, which was one of Van Gogh's keen interests and explorations, coupled with his love of how color created these scenes.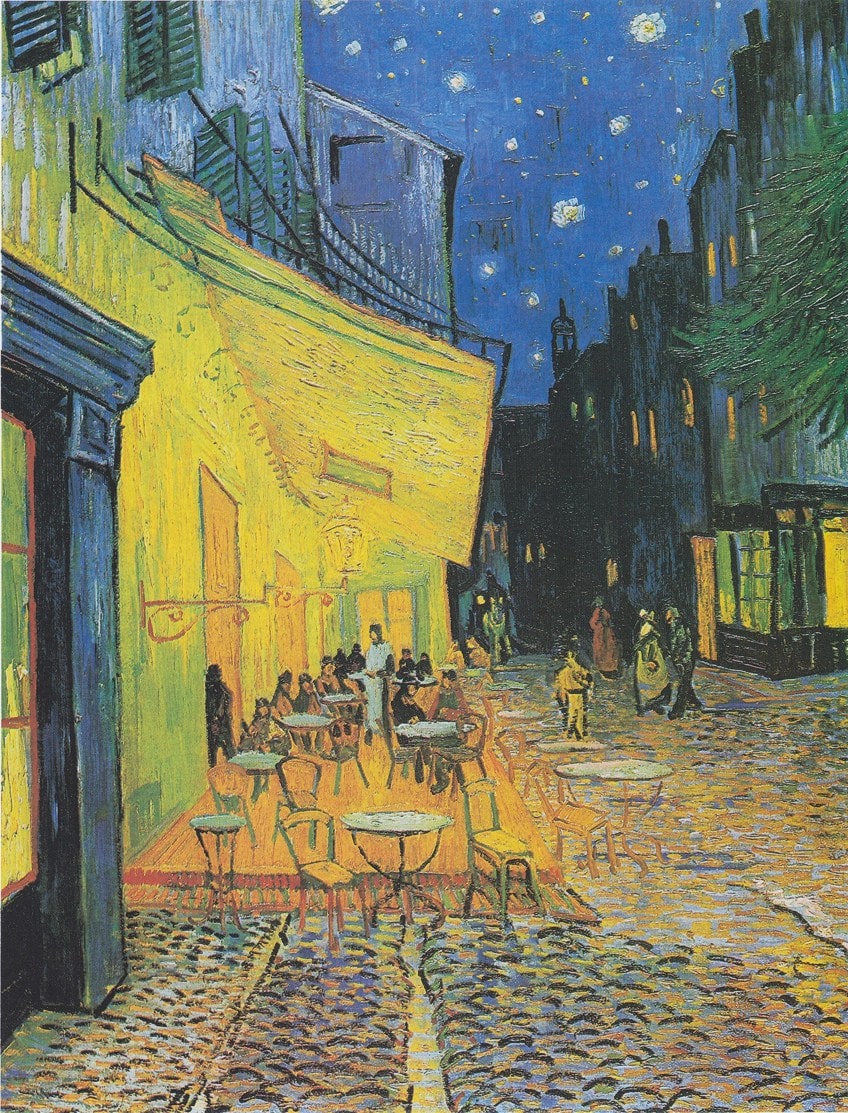 Terrace of the café on the Place du Forum in Arles in the evening, or Café Terrace at Night (1888) by Vincent van Gogh; Vincent van Gogh, Public domain, via Wikimedia Commons
In this article, we will briefly discuss one of the first paintings exploring the night-time, Café Terrace at Night, and where Van Gogh was in his life when he decided to paint this. He just relocated from living in Paris and had big plans to start an art community with Paul Gauguin.
Firstly, we will start by giving a brief overview of the art movement Post-Impressionism, which Van Gogh's art was categorized under.
We will then dive deeper into a formal analysis discussing the subject matter in Café Terrace at Night as well as Van Gogh's stylistic approaches and how he utilized color and brushwork to convey what he saw, but also deeply felt.
| | |
| --- | --- |
| Artist | Vincent van Gogh |
| Date Painted | 1888 |
| Medium | Oil on canvas |
| Genre | Genre painting |
| Period / Movement | Post-Impressionism |
| Dimensions | 80.7 x 65.3 centimeters |
| Series / Versions | The first painting from a series of paintings exploring the night |
| Where Is It Housed? | Kröller-Müller Museum, Otterlo, Netherlands |
| What It Is Worth | Not available for sale, and estimated to be priceless |
Contextual Analysis: A Brief Socio-Historical Overview
First, let us make a note about the art movement Van Gogh was remembered to have worked in, which was Post-Impressionism. This art movement started around the last decades of the 1800s until around the early 1910s.
Many artists who were known as Post-Impressionists, like Paul Gauguin, Paul Cézanne, Paul Signac, Georges Seurat, as well as our beloved Vincent van Gogh all created art differently, and one might wonder what they shared to have been labeled as Post-Impressionists, but the name of the movement itself says it all.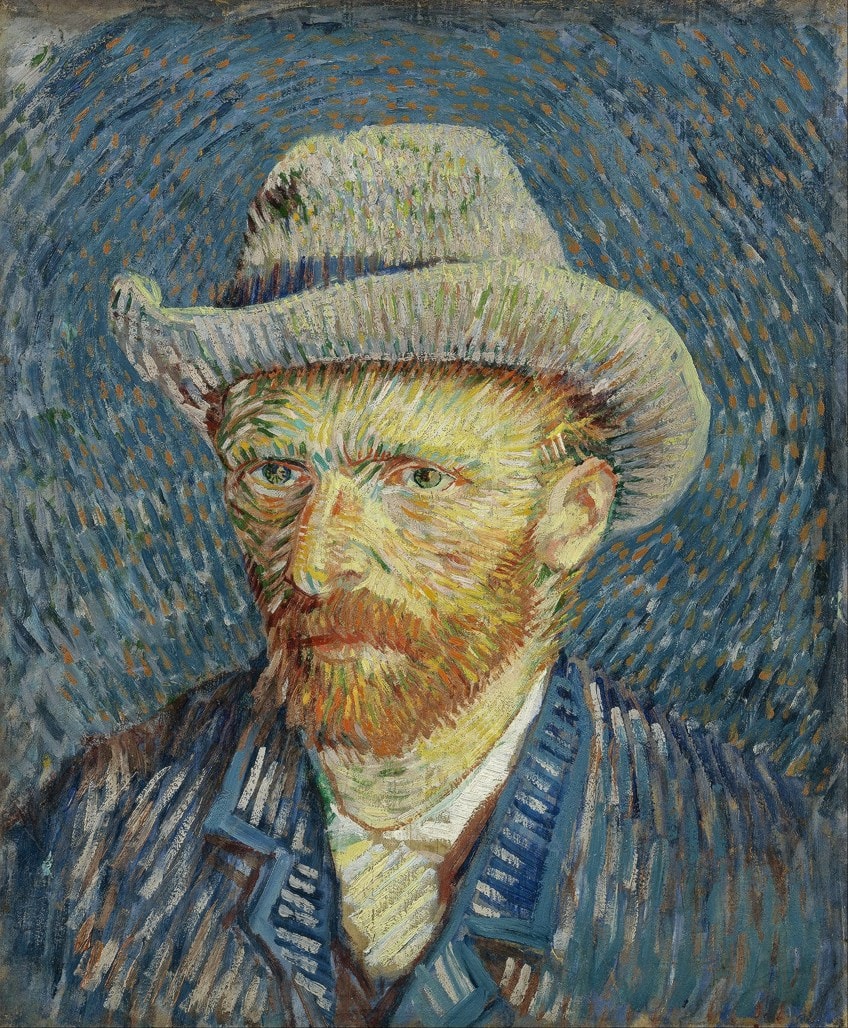 Self-portrait with grey felt hat (1887) by Vincent van Gogh; Vincent van Gogh, Public domain, via Wikimedia Commons
Post-Impressionism was after the widely revolutionary Impressionism, but many artists felt that the Impressionistic approach was just not their style. They wanted to paint with more subjectivity and allow their colors and shapes to convey deeper meanings than just the "en plein air" approach many of the Impressionists utilized.
If we look at examples of this, Georges Seurat approached his paintings with a more scientific method, looking at how colors interacted with one another when placed next to the other in smaller "dots" of paint. This was a sub-style of Post-Impressionism called Neo-Impressionism and Pointillism, an example of this is his masterpiece titled A Sunday Afternoon on the Island of La Grande Jatte (1884 to 1886).
A Sunday Afternoon on the Island of La Grande Jatte (1884 to 1886) by Georges Seurat; Georges Seurat, Public domain, via Wikimedia Commons
Then there was Paul Cézanne, who explored geometric shapes of color in his paintings and fundamental forms like "the cylinder, the sphere, the cone" as he stated how nature should be treated. He was also a significant influence on the Cubist Pablo Picasso.
Paul Gauguin approached his art with more symbolism attached to it, he was also influenced by Primitivism and relayed deeper meanings through his use of flat, or two-dimensional, colors and forms, which led to a style called "Synthetism". Although these are brief examples, they convey the nature of Post-Impressionism and its diversity, and this is where Vincent van Gogh thrived.
So let us look at what Van Gogh wanted to convey through his paintings, specifically his "Café Terrace at Night".
A sketch of Café Terrace at Night by Vincent van Gogh, September 1888; Vincent van Gogh, Public domain, via Wikimedia Commons

Van Gogh Moves From Paris to Arles
Where was Van Gogh when he created his Café Terrace at Night painting? It was apparently painted during September of 1888, which was when Van Gogh was living for a brief while in the French city called Arles, where he moved during February 1888.
He lived in Paris before he decided to move to Arles, this is where his brother Theo van Gogh lived.
Theo was an important part of Vincent's life, he was not only an art dealer, who helped Vincent sell his paintings, but he also helped his brother financially. There are hundreds of letters of correspondence between the two brothers ranging from Vincent discussing his myriad of paintings, ideas, and various miscellaneous inquiries.
Portrait of Theo van Gogh (1887) by Vincent van Gogh; Vincent van Gogh, Public domain, via Wikimedia Commons
During Vincent van Gogh's time in Paris, he was influenced by the Impressionists and met many of them. He also grew to love the famous trend that seemed to have pervaded art during that time, which were Japanese prints, these he collected too, and they became important influences on how he would paint. He also reportedly also had several exhibitions.
However, Vincent apparently became weary of his life in Paris, and he had a dream to move further south and be in the countryside. So, he moved to Arles, which to him also had the closest resemblance to a Japanese landscape, which he wanted to be a part of. He stated in a letter to Theo, dated June 5, 1888, that the south is the "equivalent" of Japan.
The Yellow House or The Street (1888) by Vincent van Gogh, Arles; Vincent van Gogh, Public domain, via Wikimedia Commons
It was here where Vincent van Gogh also rented the Yellow House, where he and Paul Gauguin eventually lived for a few months purely creating art, but eventually, the two parted ways because of various personality disputes.
This also marked the famous incident when Van Gogh cut off a piece of his ear, which led him to be admitted to the Saint Paul mental institution called Saint-Rémy-de-Provence.
Could It Be Based on Religious Fervor?
There are various scholarly debates about the possible reasons why Vincent van Gogh painted Café Terrace at Night. Some believe it was because of his need to find a connection with religion. He is often quoted from a letter to his brother Theo, which he wrote after he painted it; the letter was dated 29 September 1888.
In the letter, he explained and discussed the idea of doing what is difficult, and that it does not stop him from having a "tremendous need for" religion. He further stated, "so I go outside at night to paint the stars, and I always dream a painting like that, with a group of lively figures of the pals".
Some also believe that Van Gogh made a reference to Leonardo da Vinci's The Last Supper (c. 1490) in his Terrace at Night painting. There is a central figure among 12 other figures at the café, which some scholars believe are reminiscent of Jesus Christ and his 12 disciples. Although it is useful to explore various motifs that van Gogh could have included due to his religious fervor, it is also important to question whether these are based on conspiracy theories.
The Last Supper (1495-1498) by Leonardo da Vinci; Leonardo da Vinci, Public domain, via Wikimedia Commons
Formal Analysis: A Brief Compositional Overview
Café Terrace at Night was initially titled Coffeehouse, in the evening, or in French, Café, le soir, and it was this name that was also used for its initial exhibition in 1891. When Van Gogh painted it he spent his time studying the night sky and his nightly surroundings like the café at the Place du Forum. He was also remembered for creating some of his most prominent and popular artworks while he lived in Arles.
So, without further delay, let us take a closer look.
Subject Matter
In Café Terrace at Night Van Gogh painted the night scene from his vantage point on the street. Directly ahead of us, on the left-hand side of the painting, we see the café terrace, lit up by a gas lamp. There are over ten tables and chairs placed on the terrace with numerous figures sitting around the tables near the back end. In the center of the terrace, there is a figure standing and what appears to be a figure walking into the building through a wide doorway.
A close-up of Café Terrace at Night (1888) by Vincent van Gogh; Vincent van Gogh, Public domain, via Wikimedia Commons
Surrounding the terrace is a cobble-stoned street that leads into the distance of the composition as well as what appears to be towards the right-hand side where the painting is cut off by its border, which we can only assume the cobble-stoned street leads into another street. There is also part of a tree and its green shrubbery peeking into the composition.
There are around four fingers ambling on the street, again mostly towards the middle and background of the composition; the street in the forefront of the composition appears empty.
A detail of Café Terrace at Night (1888) by Vincent van Gogh; Vincent van Gogh, Public domain, via Wikimedia Commons
The figures are walking in different directions, one of them appears to be walking into the darkened street, others across the street, maybe towards the café? Towards the left of the street, as we move further into the darkness, there is also horse and coach riding in our direction.
To the right-hand side, there are also several attached buildings bordering the cobble-stoned street and each building becomes darker as their lights diminish into the distance where there is a tower peeking through the buildings, apparently a church tower.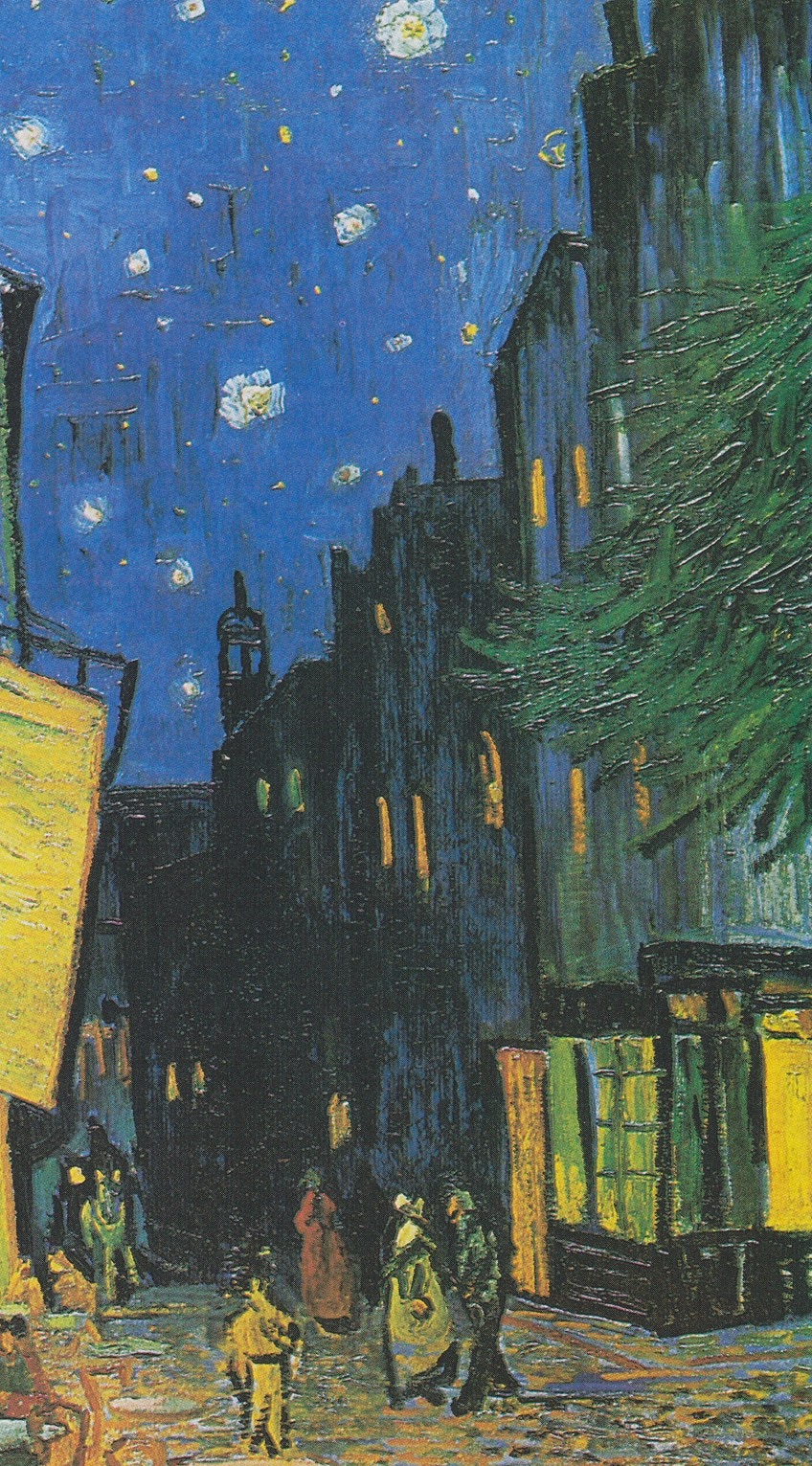 A close-up of Café Terrace at Night (1888) by Vincent van Gogh; Vincent van Gogh, Public domain, via Wikimedia Commons
Here and there we see the glow of a light bulb through the sliver of windows, but most of the light comes from the forefront of the composition, notably through the corner-side apartment or store on the lower floor of the buildings, also directly opposite the café terrace.
If we look at the lower portion of the composition, the light from the café terrace illuminates most of the lower forefront and as we look upwards the light begins to dim and we are met with a beautiful blue night sky and stars shining in their own equal brilliance, just like the warm yellow of the café light.
Color and Light
Van Gogh utilized contrasting colors, which also distinguished the lower and upper portions of the composition. We see bright and deep yellows and orange in the lower portion, also indicating a sense of artificial light from the gas-lit lamp. Then we see the various blues that make up the shadows and darkness between the buildings as well as the night sky above.
An important point to note here too is how Van Gogh created a shift from his brilliant yellows to his calming blues above by subtly creating green in between, noticed on the building to the left as the lower part meets the upper terrace.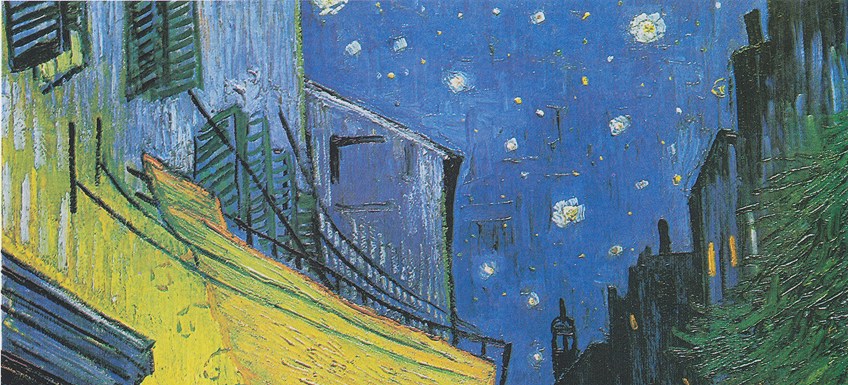 The use of color and light in the Café Terrace at Night (1888) by Vincent van Gogh; Vincent van Gogh, Public domain, via Wikimedia Commons
We also see thick black lines here and there to delineate shapes as well as the shapes of the cobblestones and part of the buildings and doorway near the lower left border of the composition. The buildings leading into the background also appear to be painted in black, which adds to the depth of the darkness, however, it should be noted that many sources state Van Gogh did not use black.
In fact, on 9th or possibly the 14th of September 1888, in a letter to his sister, Wilhelmina van Gogh, he wrote while explaining to her about the painting, "now there's a painting of night without black".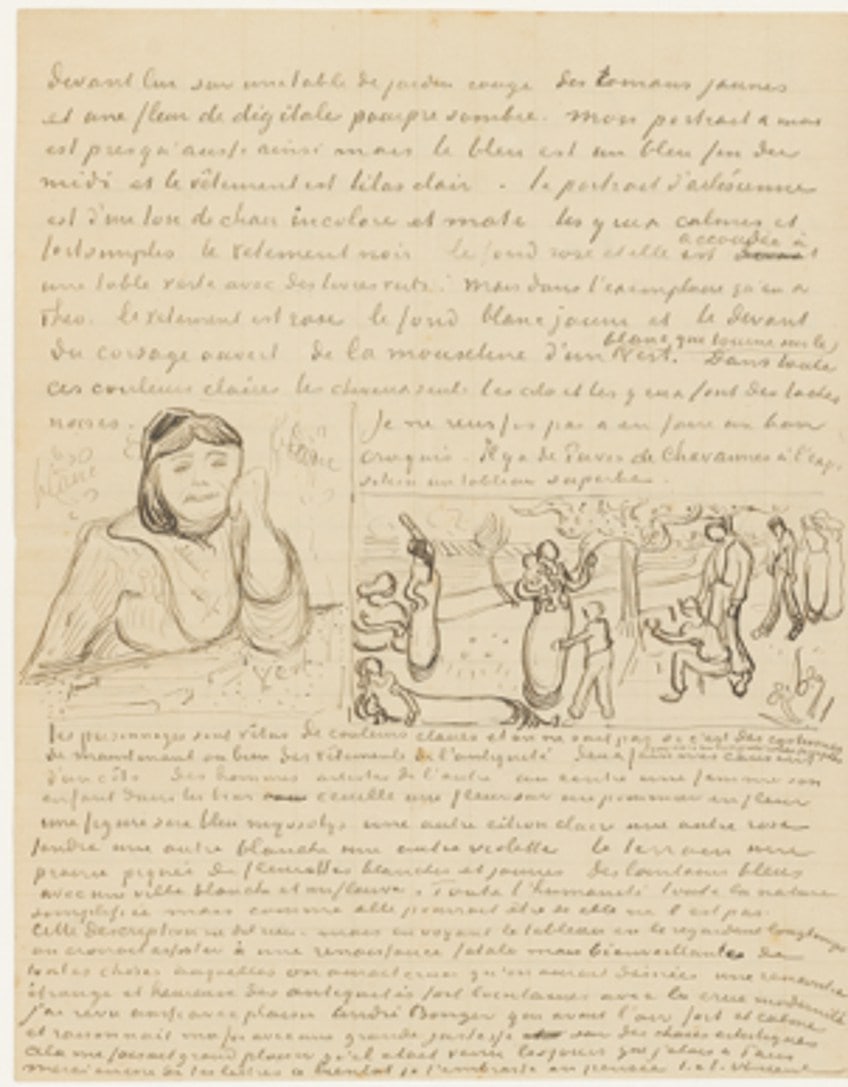 Sketch in an 1890 letter from Vincent van Gogh to his sister Wilhelmina ("Wil") van Gogh; Vincent van Gogh, Public domain, via Wikimedia Commons
In the same letter, Van Gogh also wrote about how much he enjoyed painting Café Terrace at Night. He also wrote about painting at night, compared to painting during the day, which would yield a completely different effect.
He stated how "it often seems to me that the night is even more richly coloured than the day, coloured in the most intense violets, blues and greens".
He explained how he might mistake some colors due to the dim lighting of the night, "It's quite true that I may take a blue for a green in the dark, a blue lilac for a pink lilac since you can't make out the nature of the tone clearly". However, he much preferred painting at night and wrote further that "a mere candle by itself gives us the richest yellows and oranges".
Brushstrokes
We will also notice Van Gogh's dynamic brushstrokes, which enhance the nightly life of the composition. His brushstrokes also follow the line and shape he painted, for example, for the more horizontal shapes, there are horizontal brushstrokes, and similarly so for the vertical lines and shapes.
Furthermore, Van Gogh utilized quite thick swathes of paint for some areas, if we zoom in on the night sky, we will see crisscrosses of the paintbrush and thick areas of applied paint. The tree to the right-hand side is also painted in thickened strokes of green, giving the tree a lush texture.
https://www.youtube.com/watch?v=ZEW41nXazOk&t=9s
Interesting Facts and Possible Inspiration
From the same letter to his sister mentioned above, Van Gogh was possibly inspired by the novel Bel-Ami (1885) by Guy de Maupassant and the type of setting that relates to his subject matter for Café Terrace at Night.
In the letter, Van Gogh wrote that the beginning of the novel describes a "starry night in Paris, with the lighted cafés of the boulevard, and it's something like the same subject that I've painted just now".
Apparently, in Bel-Ami a starry sky was not described, and this was possibly just on the part of Vincent van Gogh who loved the idea of the starry sky so much that it was his addition to the scene he described and painted.
Van Gogh: A Jewel Amongst the Stars
Vincent van Gogh produced nightly painted scenes that truly shone like the beacons of light they portrayed, whether stars or artificial light. In Café Terrace at Night Van Gogh painted a scene at night that exemplified his love for color and how this gave the night a new hue.
In a letter to his sister, he described how different colors arranged together "make them shimmer and stand out through their contrasts" and that is "like arranging jewels". Color was important to Van Gogh; he also wrote to his sister that the older he got, the more he wished to take "revenge by doing brilliant colour, well arranged, resplendent".
Vincent van Gogh died in July 1890 by committing suicide, almost two years after he painted "Café Terrace at Night". Little did he suspect that this would be a painting on the fringes of the end of his life. In many of his paintings, he did not paint scenes exactly from nature, but as a true Post-Impressionist, he embedded his own heart and soul in each application of pigment and gave it a meaning beyond its natural color.
Take a look at our Cafe Terrace at Night webstory here!
Frequently Asked Questions
Is Van Gogh's Café Terrace at Night (1888) Part of a Series?
Although Van Gogh painted Café Terrace at Night as a stand-alone painting, it was part of his series of paintings that explored the night and the stars. Some other examples from these explorations include his later works Starry Night Over the Rhône (1888), which is housed at the Musée d'Orsay in Paris, and his other painting The Starry Night (1889) housed at the Museum of Modern Art in New York City, United States.
What Is the Café Terrace at Night Real Location?
The Van Gogh's Café Terrace at Night real location is in the village of Arles' Place du Forum in the southern parts of France. The café is real and changed its name to "Café Van Gogh" to commemorate Vincent Van Gogh.
Where Is Vincent van Gogh's Café Terrace at Night (1888) Painting Now?
Café Terrace at Night (1888) is now housed at the Kröller-Müller Museum located in Otterlo, Gelderland, in the Netherlands.
Alicia du Plessis is a multidisciplinary writer. She completed her Bachelor of Arts degree, majoring in Art History and Classical Civilization, as well as two Honors, namely, in Art History and Education and Development, at the University of KwaZulu-Natal, South Africa. For her main Honors project in Art History, she explored perceptions of the San Bushmen's identity and the concept of the "Other". She has also looked at the use of photography in art and how it has been used to portray people's lives.
Alicia's other areas of interest in Art History include the process of writing about Art History and how to analyze paintings. Some of her favorite art movements include Impressionism and German Expressionism.  She is yet to complete her Masters in Art History (she would like to do this abroad in Europe) having given it some time to first develop more professional experience with the interest to one day lecture it too.
Learn more about the Art in Context Team.