Best Acrylic Paintbrushes – Which Brushes to Buy for Acrylics
If you have not used acrylic paint before, or are still learning the ropes of acrylic painting, then something that has probably crossed your mind is the subject of acrylic paintbrushes. What are the best acrylic paint brushes available? Should you buy single professional paintbrushes, or should you purchase an acrylic paint brush set? Do you even really need special acrylic brushes? The answer is yes, you most certainly do! If you want the job done properly the first time, investing in proper brushes for acrylic paint is of utmost importance! With our guide to follow, you will learn all about what the best types of paint brushes for acrylic are, which you should purchase for your particular project, and what kind of effects each brush can create within your artwork.
The Various Kinds of Brushes for Acrylic Paint
Many things come into play when choosing brushes for acrylic paint. Further on in this guide, we will discuss acrylic brush size and shape, but, for now, we will delve into the types of materials used to make the bristles of professional paint brushes. There are two categories, namely synthetic and natural bristle brushes.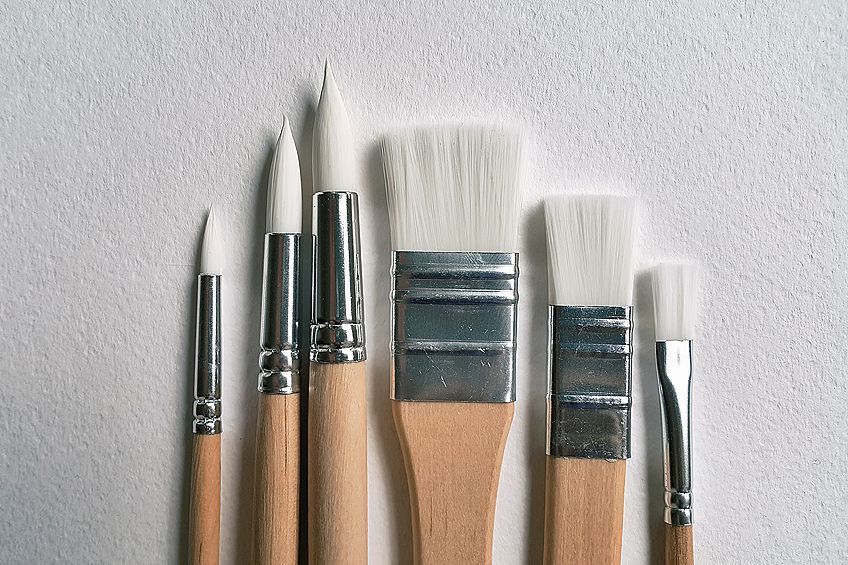 Are Natural or Synthetic Acrylic Brushes Best?
Choosing a type of brush for your acrylic painting is important. The bristles of natural brushes are obviously created with natural fibers. These include sable for softer bristled brushes and hogs' hair for brushes with stiff bristles. Some professional paint brushes are even made using hair from a camel! That said, the majority of natural fiber acrylic brushes are made from the hair of horses, goats, badgers, and ox, to name a few. Natural bristle brushes are best used for oil painting, rather than acrylic. This is because they can manage the heavy load of oil paints while still retaining their shape.
Many people will assume that natural brushes trump synthetic, but the truth is that acrylic paints work far better with synthetic brushes!
If you use natural brushes when using acrylic paint, you will likely cause damage to your brushes. You are unable to soak natural bristle brushes in water for too long, and this will cause your brushes to decay faster. Of course, you most certainly can still use natural brushes, however, it is important to remember to clean them and look after them properly after use. Another thing to remember is to make sure any residue oil paint has been removed using turpentine if you have used the brush to paint with oil before using it with acrylic paint. Oil paint repels acrylic.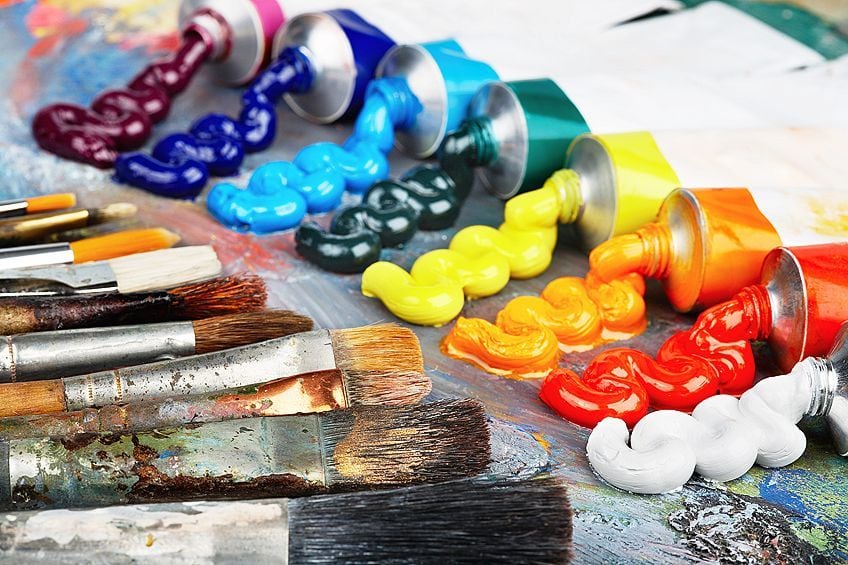 The best acrylic brushes would be those made with synthetic nylon. You are also able to purchase brushes made of polyester or even a combination of both synthetic materials. There is also a massive range of choices when selecting acrylic brushes made from synthetic materials. These brushes are available in softer or stiffer varieties and are easy to clean with no adverse effects on the bristles. This means that synthetic brushes are far more durable and also a lot more affordable than natural bristle brushes. The only real disadvantage is their inability to hold a lot of paint.
Different effects can be achieved with softer or stiffer bristles – Stiff bristles can help achieve more texture, while softer bristles work well for blending your pigments.
When one paints using acrylic paints, much of the paintbrush's life will be in the water. This is why using natural brushes is a poor choice. Imagine leaving your higher-priced sable bristle brush in water for half a day – it would cause irreversible damage! This is why buying proper acrylic brushes made especially for acrylic paint is so important – these brushes hold their shape after use and are far more durable – making them the ideal choice for anyone painting with acrylic paint, especially novices. Here we have laid out what to expect from every type of professional paint brush.
Natural Paintbrush
Synthetic Paintbrush
Expensive

✔

✘

More Affordable

✘

✔

Oil-based Paints

✔

✔

Acrylic Paints

✘

✔

Bristle Loss

✔

✘

Cleans Easily

✘

✔

Durability

✘


(needs more care)

✔

Smoother Strokes

✘

✔

Retains Stiffness With Acrylics

✘


(loses stiffness over time)

✔
Important Notes About Brushes for Acrylic Paint
We need to remember that a paint brush is not simply just a brush. There are more things to consider. When it comes to the design of professional paint brushes, each brush has a "toe end" and this is the part of the brush where its bristles come into contact with your canvas or whatever it is you are painting. The "belly" is the part of the bristles which has the widest section of hairs and the head of the brush is referring to all the bristles as a whole.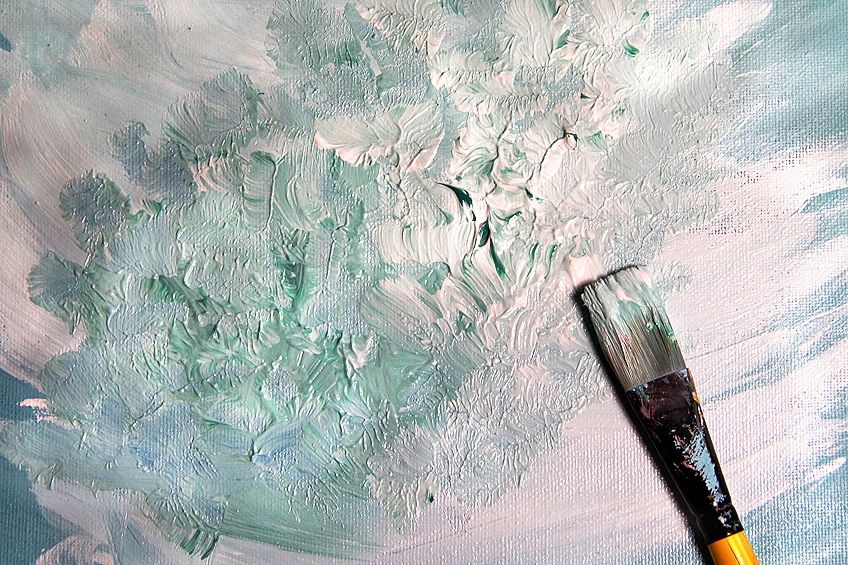 Most people have no idea that the metal part of the brush which helps connect and keep the bristles in place with the handle has a name! It is called a ferrule. This crimp-like metal section fastens the bristles in place. The heel section of the ferrule is the part that is squished. This is how the bristles are kept in place. Most brush handles will have stamped or engraved the size of the brush and often the style of brush, too.
If you are a beginner or novice when it comes to acrylic painting, you probably won't need that many brushes to start. It is best to try to choose a few acrylic brushes in various sizes.
This will enable you to experiment and find which are the best brushes for your unique tastes, style, and so on. Paint brushes are a personal thing, much like your choice of shoe! What works for one artist, may not work for another. In fact, you might be entirely satisfied with more affordable varieties of brushes and never need to spend the money on expensive, higher-quality brushes for acrylic paint. Since we have now compared natural brushes and synthetic ones and made the realization that synthetic brushes make more sense for affordability reasons, there are still a few things to consider when choosing types of paint brushes for acrylic.
The Size of the Acrylic Brushes
Professional paint brushes are available in many different sizes ranging from large to very small and fine. Your choice of brushes for acrylic paint will be dependent on what exactly you are painting, and what you are painting on. Different brush sizes are for different effects. For example, if you are painting fine and precise detailing, you would opt for a smaller brush. If you are painting a large area and need a lot of coverage, a bigger brush may be preferred.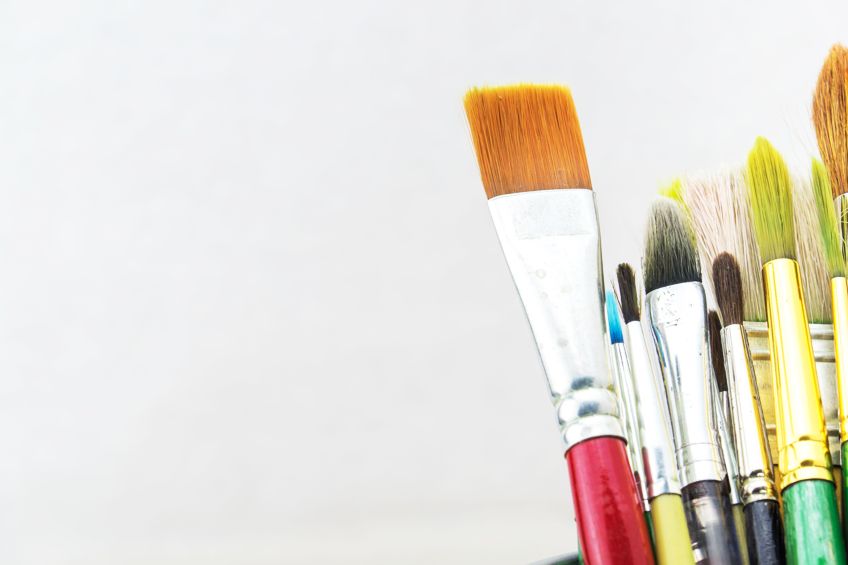 You can find brushes as small as size 0000 all the way up to a huge sized 24! As a beginner with this medium, it would make sense to choose three acrylic brushes. One small, one medium, and one large. This would be a good start to building your acrylic paint brush sets. Be sure to double-check if you are buying brushes online, as some manufacturers of brushes use different sizes with different numbers.
The Shape of Each Paintbrush
Each brush shape will create different and various patterns and effects. It is best to take time using different brush shapes to find which effects you like and want to recreate in your artwork. Some of the brush shapes available include the following shapes:
Mop
Rigger
Round
Flat
Fan
Angle
filbert
The Texture of the Bristles
When using a brush with stiff bristles, you can create texture. This is great for abstract pieces. Softer bristle brushes work well for blending. Depending on what you are looking to create in your artwork, will depend on which texture bristles you want to use.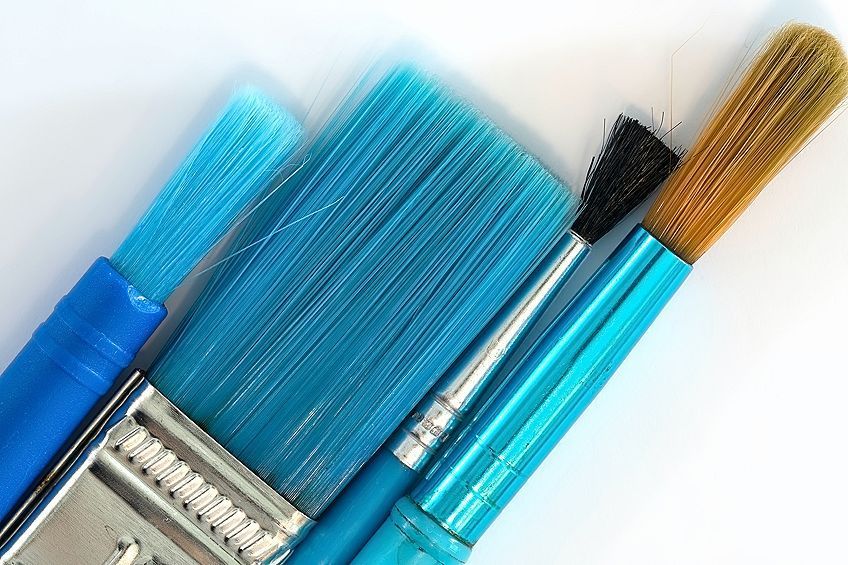 The Cost and Affordability of Brushes for Acrylic Paint
There are so many different types of paint brushes for acrylic available, and so many different brands who create them! Most of the time, the only thing that may hinder your choice is the price tag! That said, if you have an open budget, it will not hurt to choose brushes that are more luxurious and of higher quality!
If you want to, you can visit a physical art shop so you can hold the brushes and get a feel for them in your hands.
Once you know what you prefer, you can do your shopping online – there are so many more options and often specials online for you to take advantage of! Remember, if you are underpainting or needing to cover a large surface area, using a cheaper brush is just fine.
Which Acrylic Brush Sets are the Best?
There are not only a plethora of paint brush options but a huge range of manufacturing companies that make them. This means that there are tons of acrylic brushes available to suit a wide range of needs and budgets! When purchasing acrylic brush sets you will want to choose a high-quality one. You will need brushes that will hold up well, and also hold pigment nicely. If you do not know where to begin, thanks to all the options available, read on for our top acrylic paint brush set choice!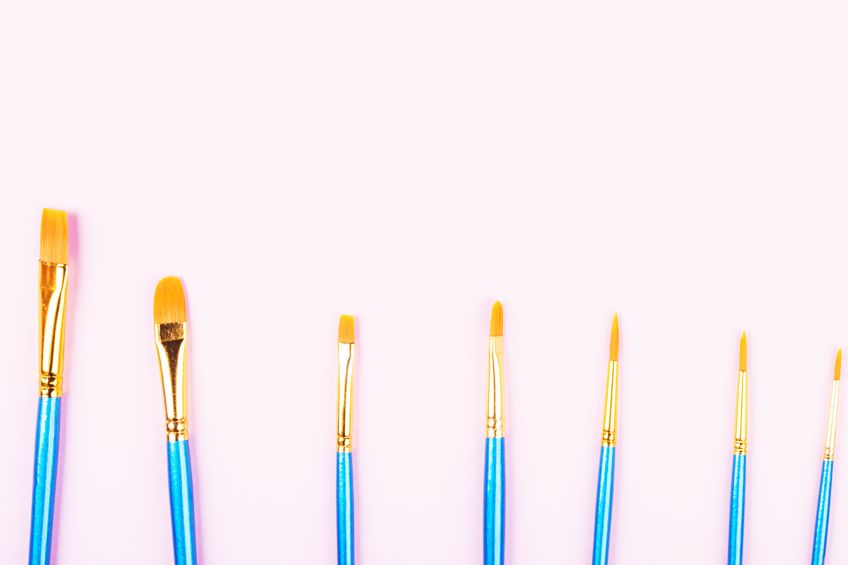 Top Choice Beginner Acrylic Paint Brush Set: SOUCOLOR Acrylic Paint Brushes Set
This awesome set from Soucolor has every brush you may require while painting with acrylic. Not only is this acrylic paint brush set easy on the wallet, but it is of decent quality as well. The brushes in the Soucolor set are also very versatile and you will be able to use them with both oil paint and acrylic. They are even a good choice for watercolor too!
This versatility makes it our top choice for almost any art and craft project. The brushes are also easy to clean and long-lasting. The nickel ferrule is double-crimped and will not rust, meaning it will last much longer and not lose hairs as many brushes do. If you have been searching for a gift for an arty friend, then this acrylic paint brush set is the ideal choice.
Includes 10 different sizes of professional paintbrushes
Multi-purpose brushes are suitable for many different paints
Soft and strong bristles with nickel ferrules and wood handles
View on Amazon
PROS
Affordable
Versatile
Durable
Cleans easily
CONS
There are more premium professional paint brushes available
Shapes and Types of Acrylic Brushes
It may seem difficult to choose a brush for your acrylic, thanks to all the options available! Finding the perfect-sized brush, the right shape, and the brand you like most may be very daunting. It is quite a process indeed! In order to help you make a good choice, we have created this list so that you can better understand what the various brush shapes, designs, and sizes will offer you.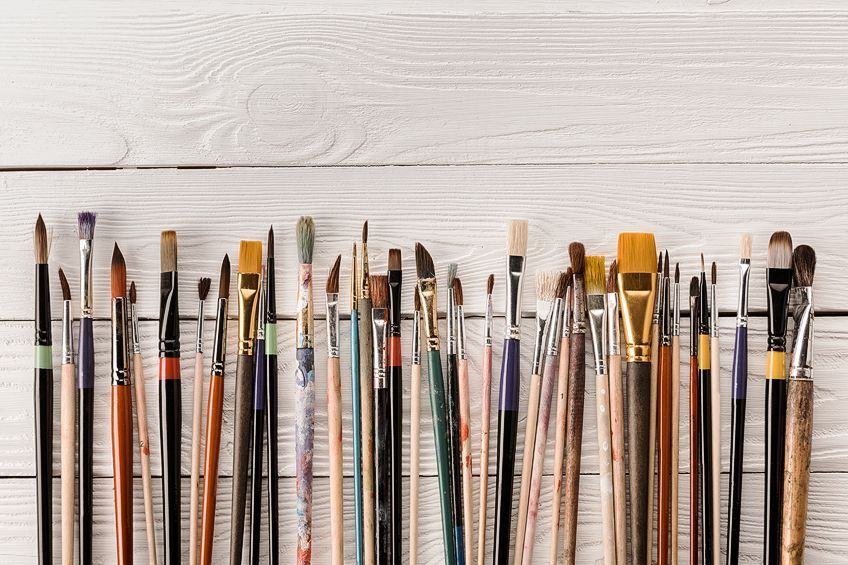 The Handle of the Brush
The size of the brush is not the only factor you need to think about when choosing a brush. The handle of the brush is important, too! What length of handle do you prefer? Shorter or longer? When painting on a canvas which is on an easel, a brush with a longer handle helps with ease of control.
If you are painting with your paper or canvas flat on a tabletop, using a shorter handled brush is often preferred.
Acrylic Brushes with Round Bristles
The rounded brushes work well for more intricate and detailed painting. They are also great to use when needing to fill small areas, offering a lot more control. Most round acrylic brushes come in smaller sizes. By adjusting your hand pressure, you can create lines that are thicker or thinner. It will also help to try to experiment with a rounded brush for wet and dry effects.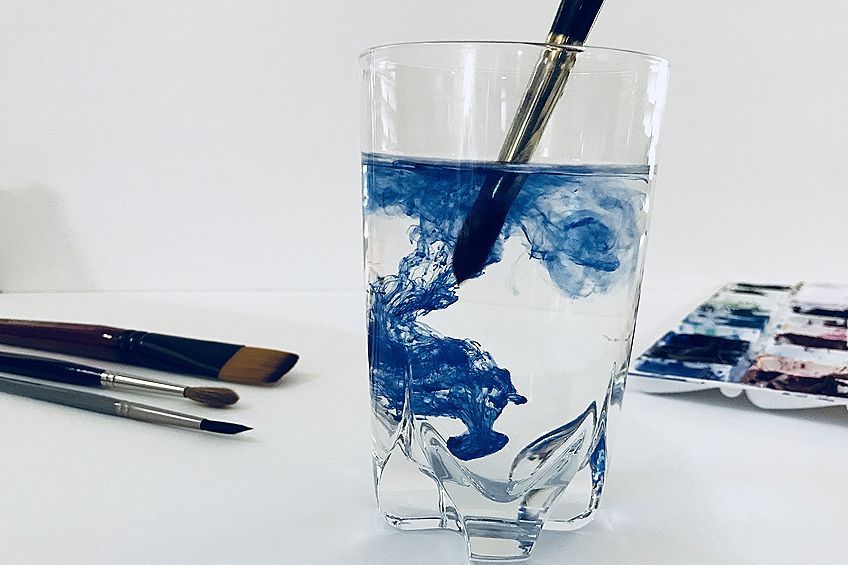 Top Choice Round Acrylic Brushes: AMAGIC 9 Pcs Pointed-Round Art Paintbrushes
This acrylic paint brush set comes with nine brushes, all of which have rounded bristles. Each brush comes in a different size. This set is also quite versatile and you can use it with oil, watercolor, and even inks too! All the handles within this set are solid wood, each one designed for hand comfort. These brushes are also durable and have an aluminum ferrule with bristles made from synthetic nylon. The brushes within this set all hold paint nicely and allow for a consistent paint flow.
The set includes 9 high-quality brushes in a range of sizes
The round pointed brushes are strong, absorbent, and springy
Feature solid wood handles and highly flexible nylon bristles
View on Amazon
PROS
Anti-shedding bristles
Easy to control
Durable
Good value for money
Versatile
CONS
Handles might be too long for some
Acrylic Brushes with Fanned Bristles
These acrylic paint brushes are the ideal choice when wanting to add special effects and textures to your artwork. Fanned bristle brushes also work well when blending if you apply a little more pressure with your hand. Fanned brushes are perfect to use if you are painting grass, shrubs, or trees. When you adjust your hand pressure you can create a wide array of effects, helping you to create wonderful textures in your artwork.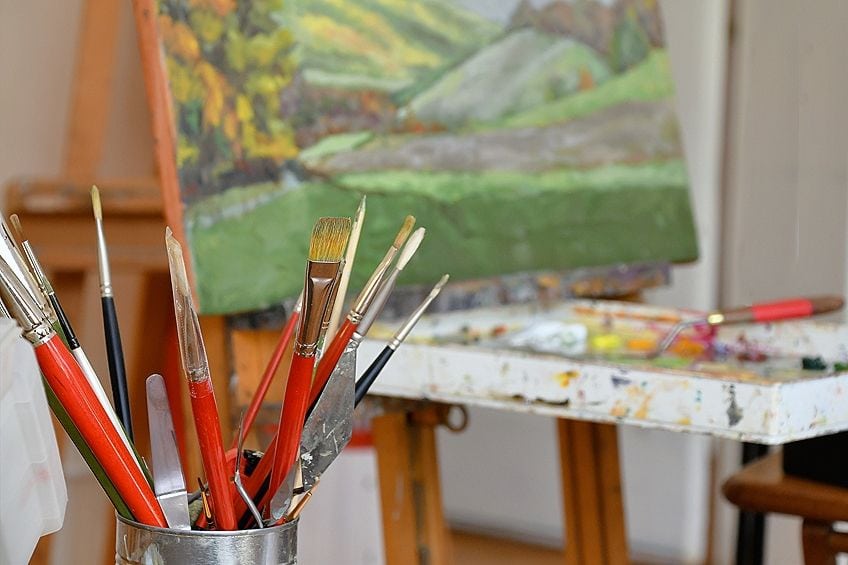 Top Choice Fan Acrylic Brushes: AMAGIC Fan Brush Set
Another wonderful set by Amagic, these fan brushes are ideal for creating varying textures and effects with acrylic paint. Fan brushes are so versatile you can even use them for other art projects such as nail art or even face painting. This awesome set of six brushes will also work well for other paint, like watercolor or oil paint. Each brush also has a good handle which aids in control. The bristles are non-shedding, so you will not have little stray hairs falling out.
The set includes six different sizes of fan brushes for versatility
The long wooden handle provides excellent balance and comfort
The durable brushes are built to last and will not fall apart
View on Amazon
PROS
Anti-shed nylon bristles
Good quality
Hold paint well
Durable and retain their shape
Good value for money
CONS
Only comes in the six fan-type brushes
Bristles may not be as soft as desired
Acrylic Brushes with Flat Bristles
Flat brushes will make up a large portion of your acrylic brush collection. These are the ideal brushes for covering large areas and getting your paint spread, ensuring good coverage on your canvas. If you want to have thinner lines, the brush can simply be rotated around 90 degrees. While the bristles are flat, these brushes are perfect for spreading paint and will give you a wide wash and great coverage. You can also rotate the brush about ninety degrees for thinner lines.
The tips of the brush are square-shaped; however, the volume is thin. Block in colors and create glazes with this brush. The flat brush is similar to a wash brush, but it is not as thick or rounded at the edges. The long bristles can be used for techniques such as impasto, and for creating bolder strokes. However, you can also use the edge to create finer lines if you wish. You also get the angle flat brushes, which you can read about further down.
Top Choice Affordable Flat acrylic Brush: TRANSON Flat Paint Brush Set
The Transon flat brush set is appropriate for various painting mediums like acrylic as well as watercolor and gouache. The nylon fibers do not shed and are flexible when in use. The handle is comfortable to use and is made from solid wood and helps with maintaining good control when painting. The aluminum ferrule is of good quality and creates a more durable brush for longer-lasting use.
The short=handled brushes are suitable for a range of mediums
The synthetic bristles are made from flexible nylon filaments
A solid birch wooden handle is comfortable and ergonomic
View on Amazon
PROS
Non-shedding
Aluminum ferrule for good durability
Comfortable handle
Excellent-grade nylon bristles
CONS
Seems to have problems with the bristles separating after a few uses
Acrylic Brushes With Angled Bristles
The angled brush will help you to feel more comfortable if you are working on an easel, it will give you more control over your movements. This paintbrush is a flat brush that is designed at an angle and may also be referred to as a chisel or slanted brush. The angle of the brush makes it easier to apply curves and can create clean lines and other shapes of varying thickness. You can paint some unusual textures, and the brush makes it easy to paint things like waves.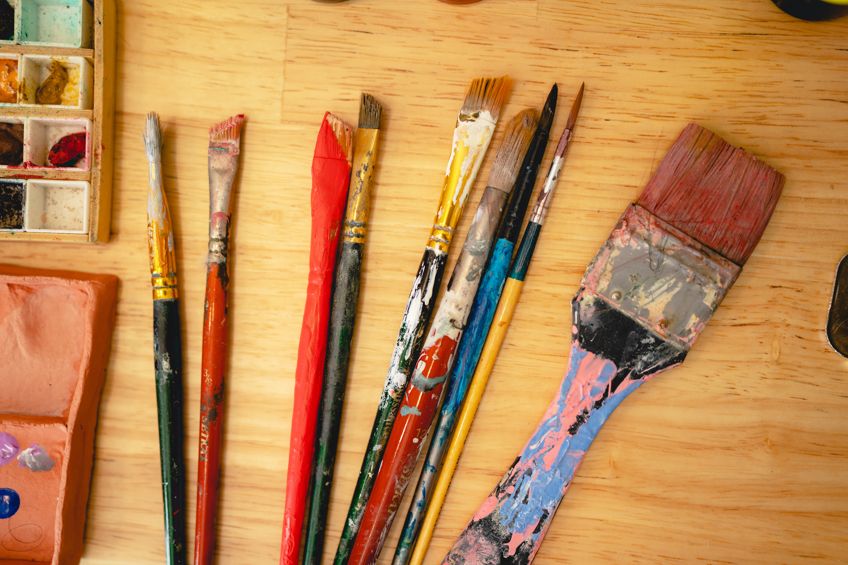 Top Choice Angled Acrylic Brush: AMAGIC Angled Flat Tipped Brushes
The Amagic Angle Flat Tip Brush is versatile and can be used not only for acrylic painting but also for watercolors and oil painting. You can even use them for face, body, and nail painting. The nylon hairs are easy to care for and can be reshaped after cleaning. The bristles are kept secure by an aluminum ferrule, which will help to prevent the brush from falling apart, so you can work with it for longer. The long wooden handles are designed for comfort and should help deliver even strokes every time. This set comes with nine brushes of varying sizes.
Filbert pointed tip brushes are strong, absorbent, and springy
The designed wooden handle is ergonomically designed
Comes in a translucent portable case for easy and safe storage
View on Amazon
PROS
Quality brushes at an affordable price
Versatile: works with acrylic paints as well as oil paints and watercolors
Easy to keep clean
Assortment of sizes
CONS
For some, the handle might be overly long
Best Acrylic Paint Brushes for Fine Details
These brushes are long and form a fine point, providing smooth and precise lines. The brushes are perfect for finer details and very thin lines. They can be used effectively with acrylic paint, or you can even use it with ink. The brush can also be used for creating letters and words on your page or canvas. Great for adding your signature to your artwork. The brushes can be worked when dry but produce better results when wet, as this helps with the flow of paint. These brushes are also commonly used for model or miniature painting.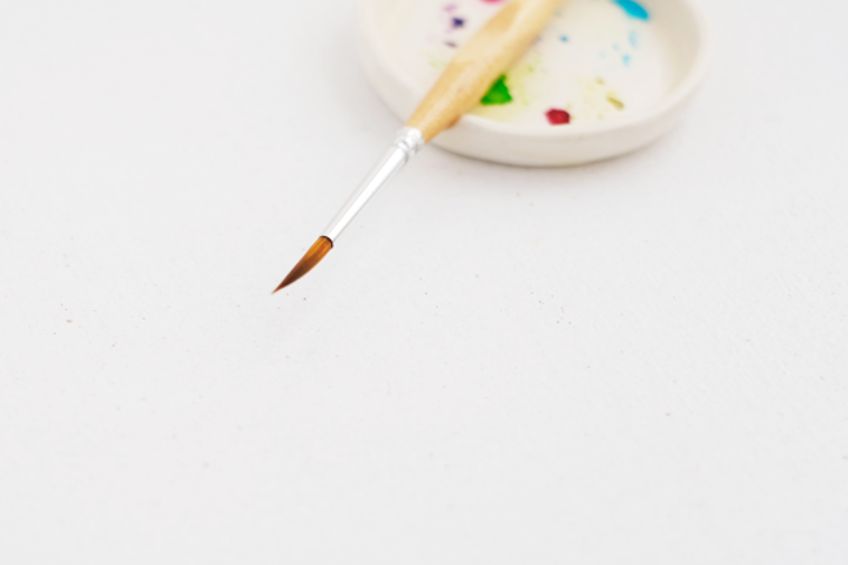 Top Choice Liner Acrylic Brush: ARTBRUSH TOWER Paint Brush Set
The Artbrush Tower Brush Set is a set of excellent quality fine detail brushes. The set comes with several brushes, each a different size. When used, the bristles stay together and keep their shape at all times. Keeping the brush together is a brass ferrule that is chrome plated. The brush handle is short and is comfortable to work with and the brush can handle acrylic, oil, and as well as watercolor paints. Not only can you use the brushes on canvas, but also works great on paint by numbers, models, or ornaments.
Fine detail brushes made from high-quality soft, synthetic bristles
The short wood handle provides durability, control, and comfort
The secure chrome-plated brass ferrules are sturdy
View on Amazon
PROS
Variety of sizes
Versatile and can be used for various applications from canvas to models
Comfortable grip
Sturdy double-crimped ferrules
Good price
CONS
Not professional paint brushes
Filberts Brushes for Acrylic Painting
This is a wide and round type of paintbrush, where the bristles are broader closer to the ferrule and forms a softer round top. These brushes are great for blending as well as for creating glazes. The brush is best used with a more low viscosity paint; however, you can get filbert brushes with stiff bristles. These are good to use for forming scumbles. The paintbrush usually has a thick ferrule, and the hairs are from medium to long and form a rounded, oval type shape. The filbert can be seen as in between a flat brush and a round brush.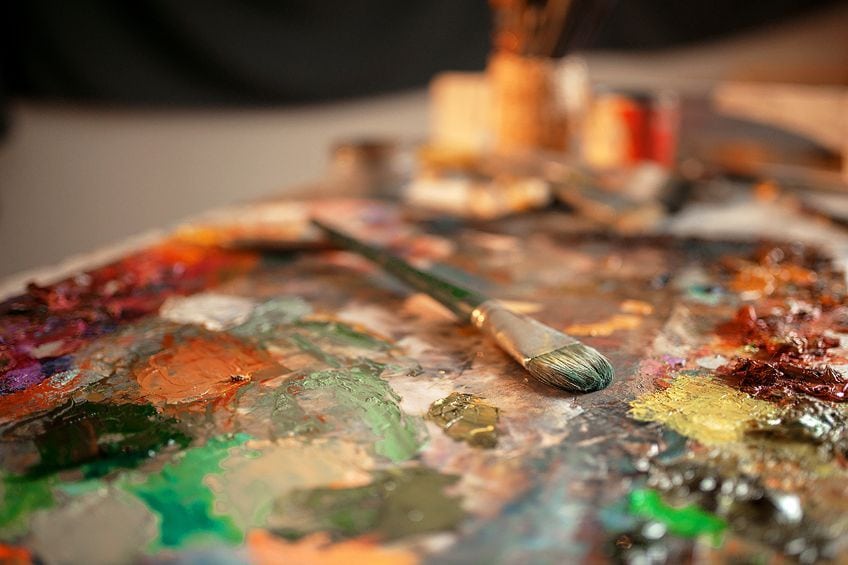 Top Choice Filbert Acrylic Brush: RED SABLE Filbert Paint Brushes
The Creative Colors Filbert Brushes can be considered professional paint brushes and can easily be used for oil painting, acrylic painting, and watercolors. You will have no problem with stray hairs while painting, as the chrome-plated ferrule holds everything firmly in place. The set includes the most popular sizes, and the brushes are handmade for the best quality. Comfortable and easy to use, making sure every stroke is smooth and lightweight.
Suitable for a range of painting mediums in addition to acrylics
The professional-grade bristles contain kolinsky sable hair
These artist paint brushes are easy to clean and store
View on Amazon
PROS
Durable and quality brushes
Contains popular sizes
Non-shedding
Can be used with acrylic paints, watercolors, and oil paints
CONS
Some complaints about loose ferrules and initial shedding
Bright Brushes for Acrylic Paint
These brushes are good for painting things like flowers or landscapes and when pressed on the side, they can make bolder and broader strokes. You can also hold the brush more lightly, to create thinner lines. Dragging the brush across the canvas will help to create a sweeping effect and layer. A bright brush is almost like a flat brush; however, it has shorter bristles. You have more control over your painting; however, the brush will not hold as much paint and give shorter strokes.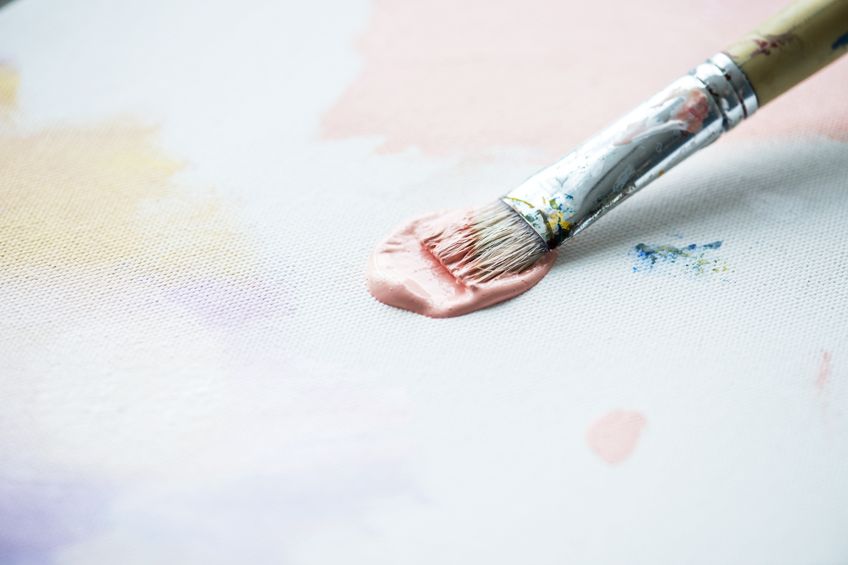 Top Choice Bright Acrylic Brushes: PRINCETON Velvetouch Paint Brushes
The Princeton Paint Brush is perfect for your mixed-media art and can be used with acrylic, oil, and watercolor paints. The bristles are a blend of synthetic filaments, which helps the brush hold color well. The brush is designed for comfort and provides excellent control. These are durable, yet affordable luxury brushes that come in a range of shapes including bright, round, fan, liner amongst others.
Suitable for multi-media projects requiring different paints
Bristles made with a unique blend of synthetic filaments
The smooth and comfortable wooden handle gives good control
View on Amazon
PROS
Versatile
Durable
Comfortable to paint with
Value for money
Excellent quality synthetic blend
Caring and Cleaning for Your Professional Paint Brushes
Looking after paintbrushes is extremely important if you want them to last and do their job properly. This involves proper cleaning and storage of your paintbrushes. Any problems like bent bristles or dried paint can be avoided if you take the correct steps. Some professional paint brushes can cost a small fortune, so you want to make sure you do the right things to keep them in top shape.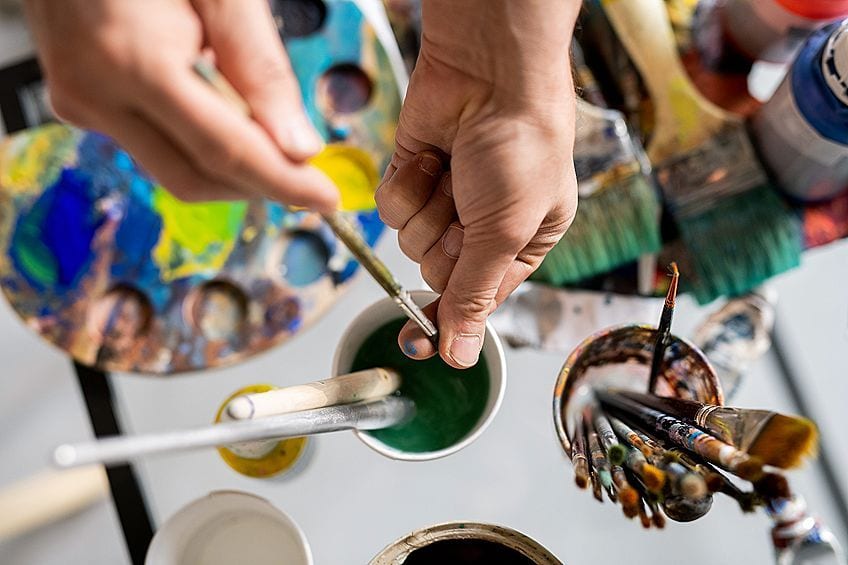 Cleaning Professional Paint Brushes
Never allow the paint to dry on your brushes. Once you have finished painting, try to remove any leftover paint from the brush. You can do this by rinsing the brush or wiping the brush with a cloth. When rinsing the brush, use some warm water in a bucket and rub the paint off the brush. If the paint has begun to dry, try using a stiff brush to loosen it. Wash again with some warm soap and water and rub the brush to remove the paint.
You can use some artist soap when cleaning, which is both kind to the brushes, and your hands. The soap is also good at helping to remove dried paint. We have a separate article about how to clean acrylic paint brushes.
Rinse the brush off in a clean bucket of water and shake off most of the water and leave to dry lying flat. When leaving a wet brush to dry standing up, the water could run down inside the ferrule, and this can loosen the glue, or it may even grow mold.
Storing Your Professional Paint Brushes
Once the brush has dried, you can store it laying it flat so that the bristles do not bend. Store in a dry and cool space, and not close to any heat sources. Try storing the brushes inside a paintbrush roll, which can be made out of cotton. You also get wooden containers and canvas zipper bags for paintbrushes. As mentioned, when working with acrylic paints, synthetic brushes are the best choice.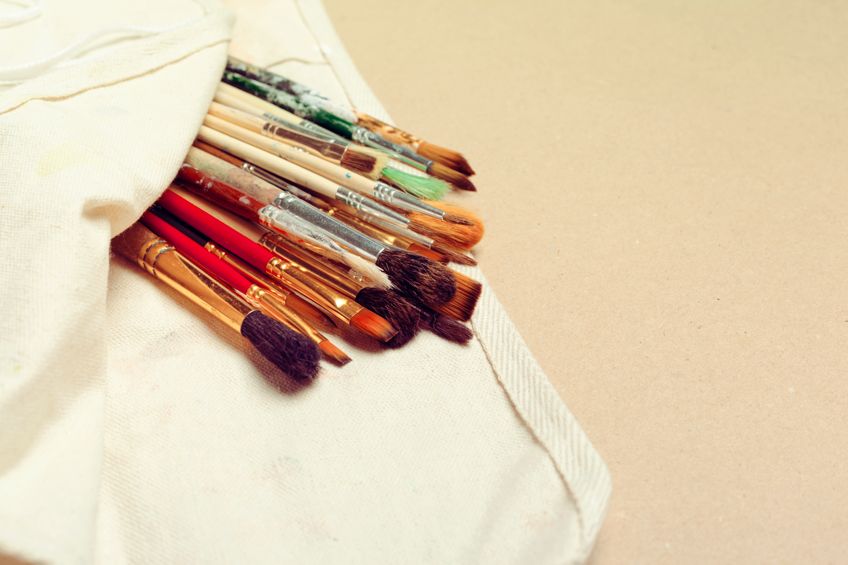 Synthetic brushes are cheaper, and they are more durable. The natural fiber brushes are a bit more sensitive and require excellent care. Even if you are gentle with washing and you store your brushes correctly, natural brushes can still easily become damaged. Before storing, reshape the brush hairs gently and when storing, make sure each brush has enough space. You do not want anything pressing down onto the brushes, causing damage.
Our Top Tips for Using Brushes for Acrylic Paint
There seems to be a lot to take in when comparing the types of paint brushes for acrylic art. You have to understand the different brush sizes, types, and shapes, it can get a little complicated. Not only that, but once you have the paintbrushes, how do you take care of them? Here are some tips about the best acrylic paint brushes and what to look out for.
Never let the paint dry on your acrylic brushes, it will ruin them.
When cleaning your brushes, try using an artist's soap for better results.
When drying your paint brushes, lay them flat on a surface.
When you are busy painting, never leave a brush in water for long periods.
Once clean and dry, you can store your brushes lying flat or upright. Never place the brush with the bristles facing down. This will damage and bend the bristles.
Preferably, use synthetic brushes for acrylic painting.
Avoid buying the cheapest brushes you can find as these tend to shed hair and the bristles eventually separate when you are painting.
You only need a few brushes to start with, you do not have to go for a full set. Try getting a flat and oval top filbert brush that comes in a few different sizes, to begin with.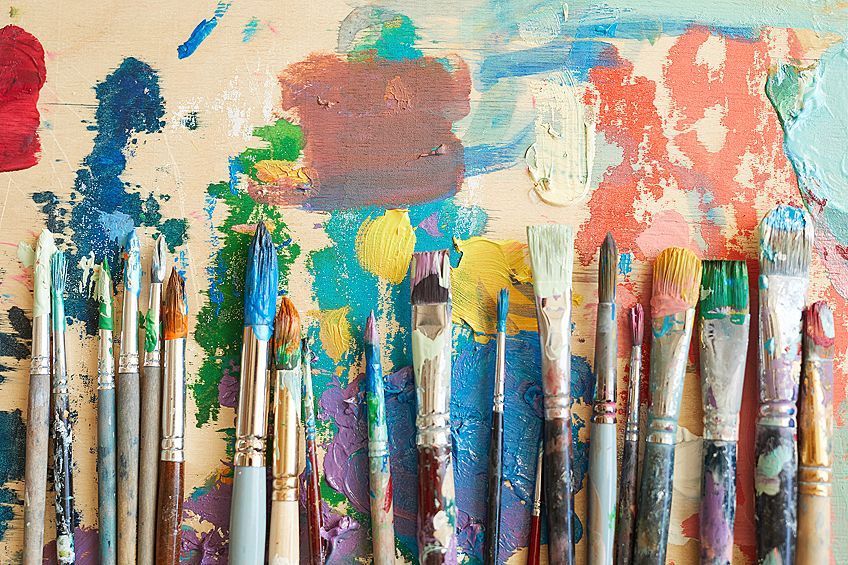 It is also good to have a finer brush as well as a large flat brush in your collection.
Once you have experimented and gotten a feel for the types of paint brushes for acrylic, you can increase your collection if you wish.
When painting, make sure to keep the brush moist at all times.
You can also use different size palette knives to mix and paint with. They are generally inexpensive, and you can create more textures and effects.
In place of the palette knife, a plastic knife can also work. You can also Disadvantagesider using an old credit card.
When painting, it is always a good idea to go for better quality brushes that can last longer. Also, you should purchase good-quality acrylic paint so you can produce your best work.
Brushes with metal ferrules like nickel or aluminum, can offer better protection and make the brush more durable. These help to prevent the bristles from coming loose – As well as from shedding onto your artwork.
We hope that our guide today will help you choose the best acrylic paint brushes for your artistic needs. There is the perfect brush or acrylic brush set for everyone, to suit every budget, so there is no excuse as to why you can not keep creating! Happy painting!
Frequently Asked Questions
What Are the Best Acrylic Paint Brushes?
Because they are far more durable than natural fiber brushes, the best choice of brushes for acrylic paint are synthetic bristle brushes. Often, these brushes have been specially designed for use with an acrylic medium, however, many synthetic paint brushes made today also work well with watercolor paint and oil paint too. If you do choose to use brushes made of natural hairs, remember that they will need extra care. They are also more costly.
What Are Synthetic Professional Paint Brushes Made From?
Synthetic brushes are created from nylon or polyester, and sometimes from a combination of both materials. This is what makes synthetic brushes last so much longer than brushes made from natural fibers.
How Do I Ensure That My Acrylic Paint Brushes Stay Soft?
When drying, remember to allow your brushes to dry in a horizontal position. This will help preserve the handle and ferrule. If you allow your brushes to dry upright, water will drip down, causing damage. Another nifty trick is to make sure that while painting, your bristles stay moist.
Can I Use My Acrylic Paint Brushes With Oil Paint?
Yes, for the most part, you can use your acrylic paint brushes with both oil paint and acrylic paint. That said, brushes that have been created and designed for use with oil or watercolor paint should not be used for acrylic paints.
In 2005, Charlene completed her Wellness Diplomas in Therapeutic Aromatherapy and Reflexology from the International School of Reflexology and Meridian Therapy. She worked for a company offering corporate wellness programs for a couple of years, before opening up her own therapy practice. It was in 2015 that a friend, who was a digital marketer, asked her to join her company as a content creator, and this is where she found her excitement for writing.
Since joining the content writing world, she has gained a lot of experience over the years writing on a diverse selection of topics, from beauty, health, wellness, travel, and more. Due to various circumstances, she had to close her therapy practice and is now a full-time freelance writer. Being a creative person, she could not pass up the opportunity to contribute to the Art in Context team, where is was in her element, writing about a variety of art and craft topics. Contributing articles for over three years now, her knowledge in this area has grown, and she has gotten to explore her creativity and improve her research and writing skills.
Charlene Lewis has been working for artincontext.org since the relaunch in 2020. She is an experienced writer and mainly focuses on the topics of color theory, painting and drawing.
Learn more about Charlene Lewis and the Art in Context Team.
Cite this Article