Although oil paint is often considered an artist's paint, acrylic is a super popular medium for beginners and pros alike. Why? It is fast-drying, water-soluble, versatile, and can be used on an interesting range of surfaces such as canvas, paper, and board, to name a few. In this tutorial, we discuss the advantages and disadvantages of acrylic painting on paper, as well as the various types of paper you can explore to your heart's desire with acrylic paint. We will also discuss the best way for you to prepare your paper for acrylic paint on paper.
Why Use Paper for Acrylic Paint?
If you are new to acrylic painting, which you probably are since you are reading this article, you may be wondering what your options are in terms of what surfaces you can paint on with acrylic paint. Well, acrylics are one type of paint that tick pretty much all the boxes when it comes to appropriate surfaces on which you can paint: canvas, board, paper, and even some more obscure options like leather – you name it, acrylic can paint on it.
We are not going to get into the finer details about the advantages and disadvantages of each kind of surface you can use, but we will say that paper has a lot going for it. One of its most appealing factors is that it is cheap – depending on the type of paper you buy, it can work out to be much more affordable than canvas. It is also relatively light and portable when compared to other possibilities, which is especially useful if you want to paint outside.
Even if you do want to paint on canvas at a later point, paper for acrylic paints can also serve as an inexpensive way for you to experiment with colors and designs before you paint your final piece. This can save you a pretty penny if you want to practice your design before putting it onto an expensive piece of canvas.
What to Look Out for When Buying Paper for Acrylics
However, pay heed – acrylic paint will not work well on just any paper. For the best results, there are several factors you need to consider before buying your paper. You should be on the lookout for a paper that is durable, glossy, and has just the right texture. In terms of durability, paper made from cotton or linen is generally stronger than those made from wood and is, therefore, less likely to tear and will last longer.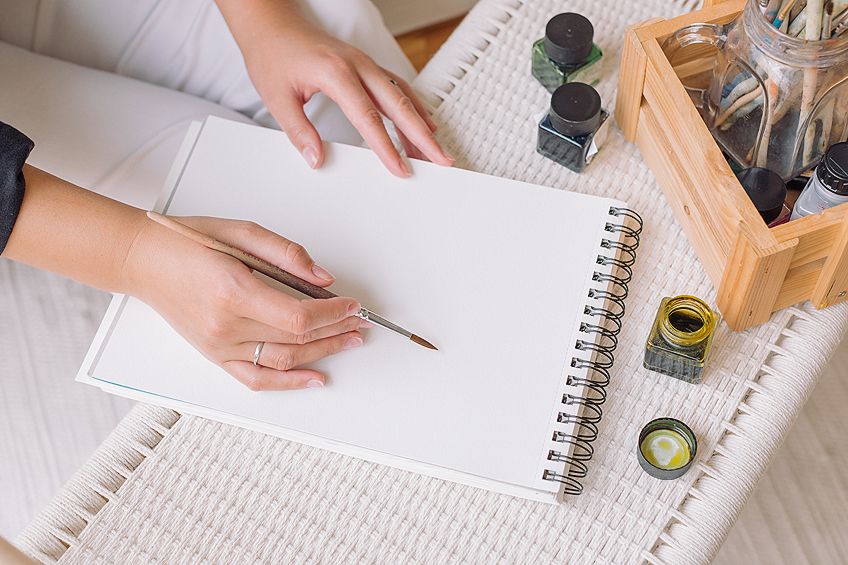 Paper Weight/Thickness
Your paper for acrylic paints should also be heavier than your run-of-the-mill printing paper, otherwise, it will buckle and wrinkle. One of the major challenges when it comes to painting with water-based paints such as acrylics and watercolor is learning how to prevent the paper you are using from warping as a reaction to the water. You can solve this by using the right paper and the right amount of water in your paint.
The weight of paper is either measured in grams per square meter (gsm), as it is in the U.S., or pounds (lb). Using paper that is lighter than 300gsm is not recommended. Plus, the heavier the paper, the easier it is to frame or mount on board, which can create a beautiful finish for any acrylic painting.
Color
If you are not going to be priming your paper before you paint, you should also consider what color paper you want to paint on. The color can show through your layers of paint and affect the overall color of your painting. If you plan to have a border on your painting, for example, does the color complement your painting in a way that is aesthetically pleasing?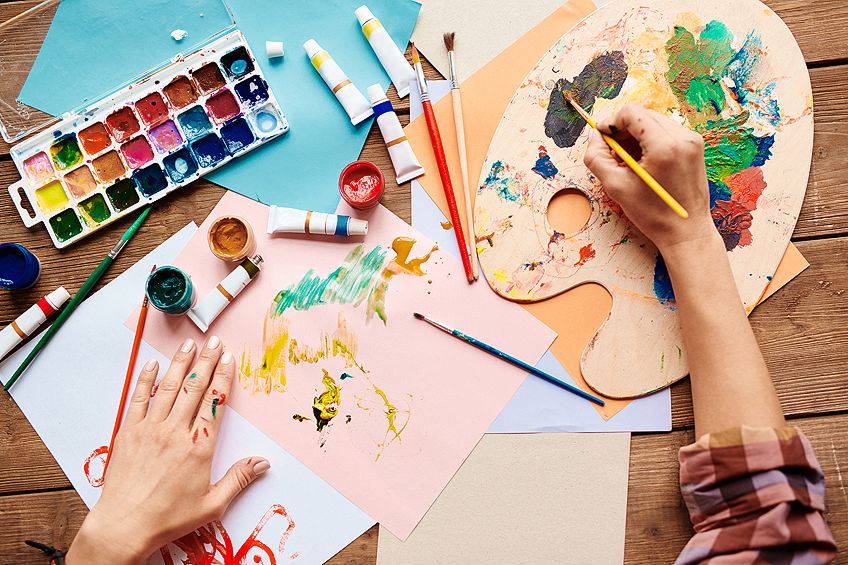 pH Level
The paper you use should be pH neutral. If it is acidic, it will start to discolor with age. Good art shops contain a large selection of different types of paper (we will discuss the most commonly used types of paper later in this article) – you will be able to tell which papers are higher quality by the fact that the absence of acidity will be shown on the paper itself when you buy it. You should be aware of which types of paper tend to undergo discoloration after a few months or years, and preferably before you purchase it, as you want your acrylic painting on paper to last, without wasting money.
Texture
Texture is another characteristic you should consider when choosing your paint. The degree of smoothness of your paper will determine how well your paint adheres to the surface. The extent to which your paint is absorbed by the paper is also determined by the consistency of the paint you are applying to the paper. Ultimately, it is a matter of experimenting, gaining experience with, and getting to know how the paint works on different types of paper.
Types of Paper for Acrylic Paint
Watercolor paints are essentially a watered-down version of acrylic paints, so there is no reason why you cannot use watercolor paper for your acrylic endeavors. Many artists do and have gorgeous results because watercolor paper is ultra-absorbent.
The trick is to choose paper that is heavy enough to bypass the possibility of the page warping from the use of thin paint, because nobody needs that. Heavier paper is also more equipped to deal with the heaviness of thicker paint. If you use heavy paper, you eliminate the possibility of your paint cracking. The same principle applies for drawing paper or cartridge paper – go with the heavier options.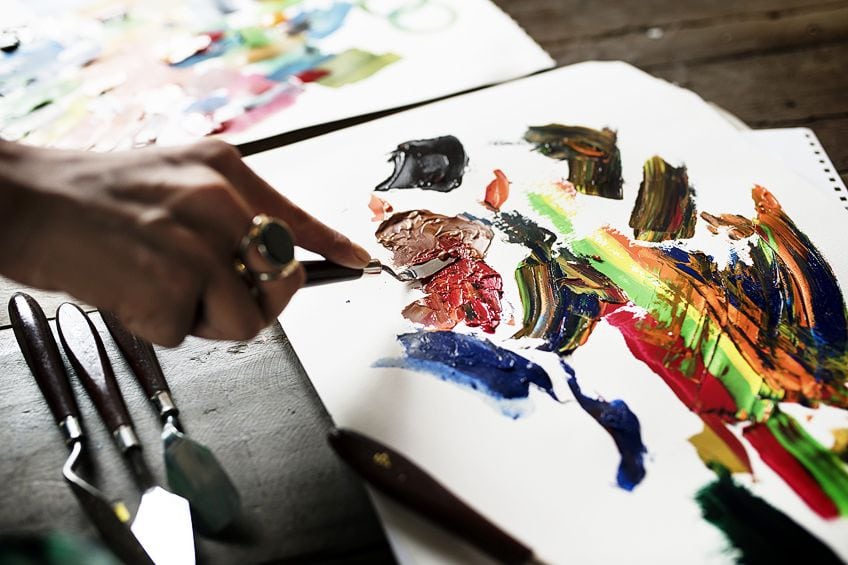 Watercolor Paper
Watercolor papers vary in texture. You can buy hot-pressed paper which is smoother, and cold-pressed paper which tends to be rougher and has more of a toothy texture. Which paper you choose depends on the style of your painting – our advice is to experiment on various types of paper before you start your final work of art so that you know what to expect.
Our Recommendation: UCREATE Watercolor Paper
This watercolor paper from UCreate allows you to use and experiment with any wet media, which is one of the main reasons it features on our list of best products for acrylic painting. Also, it is suitable for beginners. See more of what you can expect from this brand below:
Thick 140 lb. watercolor paper is acid-free and recyclable

Sturdy loose pages have a uniform texture and whiteness

Works well with wet and mixed media techniques
View on Amazon
PROS
pH neutral
Can be recycled
Can tolerate various wet media
Great for beginners
CONS
Susceptible to warping
Not ideal for wet-on-wet painting
Acrylic Paper
Acrylic paper is also an option. As the name indicates, it is designed especially for acrylic paint and has a bit of a textured surface to ensure that your paint sticks to it. This is a specialty paper that is more likely to be found online than at your local stores. The Canson brand in particular is an affordable option that checks all the boxes in terms of making sure your surface can cope with the unique demands of acrylic paint.
Acrylic and canvas paper pads are a convenient and more affordable way to buy this paper, which ensures that your paper is protected when it is not in use. As is the case when buying any paper for art, you will need to take stock of the size you require as well as the weight and texture.
Our Recommendation: CANSON XL Series Oil and Acrylic Paper Pad
The Canson XL Series Oil and Paper Pad is one of our favorite products from this brand. For various reasons, which you will see below, this remains one of the most popular products for thousands of artists across the globe. This is further indicated by the sheer number of satisfied customers providing reviews on Amazon.
Ready for oil or acrylic without priming or preparation

Features bleed-proof, canvas-like textured paper
Each pad contains 24 sheets of 136 lb/290 gsm paper
View on Amazon
PROS
No priming or preparation required
Available in three different sizes
Bleed-proof
Acid-free
Synthetic Paper
Synthetic paper is made from polypropylene as opposed to, say, wood or linen, and therefore has the obvious advantage of not being prone to warping. An added advantage is that this type of paper is created to be pH neutral, which means no unexpected yellowing. But be warned – this surface is the least absorbent of all your options, so it may require some extra effort to make your paint adhere to it effectively.
Our Recommendation: IMPRESA Alcohol Ink and Watercolor Paper
Although synthetic paper is not the most popular option for acrylic painting, we think that there are reasons to be curious about it. We would recommend the Impresa Alcohol Ink and Watercolor Synthetic Paper. Made from polypropylene, it is versatile and reusable, which means that if you are new to acrylic painting, you do not have to worry about making irreversible mistakes.
Versatile polypropylene art paper offers a range of applications

Helps you create clear and vivid abstracts with bold and vivid colors

This medium is fully erasable, pH-neutral, silky smooth, and strong
View on Amazon
PROS
Versatile: suitable for acrylic paint, watercolor paint, alcohol ink, pencil, and oil pastels
Re-usable
pH-neutral
Smooth surface
Strong
Available in multi-pack pads
CONS
Non-absorbent
May require extra work to make the paint adhere to the surface
Taking the factors that we have explored in this tutorial into account, you can explore how other types of paper respond to acrylic paint as well, provided you have gesso at hand. Cardboard is a great option, as it is free and, depending on the type of cardboard you use, can be quite thick. Other options include handmade paper or recycled paper.
Paper Preparation
If you are painting on high-quality, acid-free paper, you do not have to worry about priming your paper. However, as all paper has some degree of absorption, you may feel inclined to create a smoother surface that promotes less absorption – if this is the case, you can use acrylic gesso on paper. Gesso will also help to thicken thinner paper that is prone to bending and buckling.
Gesso is a binder that is mixed with chalk, gypsum, and/or pigment to be used as a base on a variety of different surfaces. There are various brands of gesso available online, such as the Handy Art Student Gesso or the Liquitex Gesso Surface Prep Medium.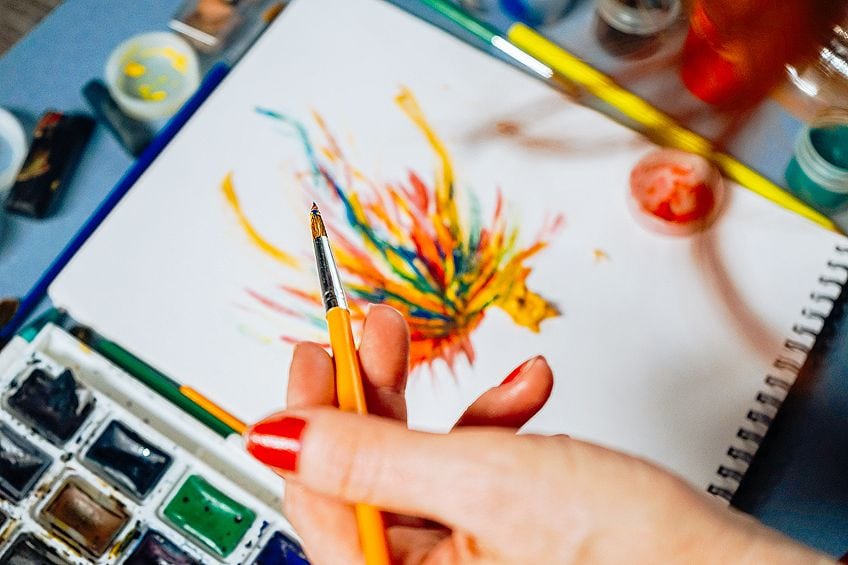 Impasto gel (an additive usually used with paint to thicken its consistency, creating the "impasto" effect that can be seen on the famous artworks of Van Gogh or Jackson Pollock, for example), such as the Liquitex Matte Gel or a binder medium can be used for the same purpose as gesso.
If you are not using a paper that indicates that it is non-acidic, you will have to use a primer before you start applying your acrylic paint. The same principle regarding surface acidity of your paper applies to the primer – ensure that the primer you use does not have acidic properties, as this will lead to discoloration and will affect the longevity of your painting.
When people ask us "can you use acrylic paint on paper?", you can see that our answer will always be a resounding "yes!" Not only can you use it, but it is one of the best decisions you can make as an acrylic artist, for reasons you have seen above. As you can see, acrylic painting offers landscapes of possibility when it comes to the kinds of surfaces you can paint on. More affordable than canvas, paper suitable for acrylic paints comes in a vast range of textures, sizes, and weights and is the ideal option for any artist.
Frequently Asked Questions
How Do You Use Acrylic Paint on Paper?
The most important thing to do is to find the right paper. If you are using thin paper (i.e. if the weight of the paper is less than 300gsm), you should use gesso on paper to prepare the surface to prevent the paint from bleeding through as well as to make the surface thick enough that it does not buckle. After you have applied a coat or two of gesso, wait for each layer to dry and cure, and then you can apply your first coat of acrylic paint.
Does Acrylic Paint Bleed Through Paper?
This depends on the paper you use. Paper comes in various weights, measured in grams per square meter (gsm). Thinner, lighter paper may lead to your acrylic paint bleeding through the page. If you have no choice but to use thin paper (it is admittedly cheaper than the heavier options), then you will have to apply gesso to prevent bleeding. Thicker paper is generally not susceptible to bleeding.
Can You Use Acrylic Paint on Paper?
Yes! Paper is one of the cheapest and most convenient options for acrylic artists, and for this reason it is one of the most popular options. It should be said, however, that as a water-based paint, acrylic is not suitable for all types of paper. It is worth spending some time finding good-quality paper that will lead to the best results. Alternatively, you will need to sufficiently prepare the surface of the paper before you begin painting.
What Paper Is Best for Acrylic Paint?
When it comes to paper that is suitable for acrylic paint, there are a few good options. Generally speaking, heavy and thick paper is the goal, but the texture is also something you should take into account. Watercolor paint that is heavier than 300gsm is great for acrylic paint – you will then have to choose whether you prefer hot- or cold-pressed paper, each of which has different degrees of roughness. You can also buy acrylic paper that resembles canvas in thickness and texture.
What Surfaces Can You Use Acrylic Paint On?
In terms of the different surfaces that you can use acrylic paint on, there are many. Acrylics are extremely versatile in the sense that they can be used on leather, paper, canvas, wood, metal, stone, and even plastic. Some surfaces require less preparation to produce the desired effect, such as canvas. Surface preparation can involve a number of things, such as sanding and applying a layer or two of primer or gesso before you apply your first coat of paint.
In 2005, Charlene completed her Wellness Diplomas in Therapeutic Aromatherapy and Reflexology from the International School of Reflexology and Meridian Therapy. She worked for a company offering corporate wellness programs for a couple of years, before opening up her own therapy practice. It was in 2015 that a friend, who was a digital marketer, asked her to join her company as a content creator, and this is where she found her excitement for writing.
Since joining the content writing world, she has gained a lot of experience over the years writing on a diverse selection of topics, from beauty, health, wellness, travel, and more. Due to various circumstances, she had to close her therapy practice and is now a full-time freelance writer. Being a creative person, she could not pass up the opportunity to contribute to the Art in Context team, where is was in her element, writing about a variety of art and craft topics. Contributing articles for over three years now, her knowledge in this area has grown, and she has gotten to explore her creativity and improve her research and writing skills.
Learn more about the Art in Context Team.