Bernini "David" – A Study on the David Statue by Gian Lorenzo Bernini
The goal of Baroque art is for us to be able to connect to the picture with our physicality as opposed to only our heads. Gian Lorenzo Bernini's David sculpture takes advantage of the area around it, extending out into the audience's area. What is the Bernini David statue holding and what is the David statue's height? Let us dive into the fascinating facts about Gian Lorenzo Bernini's David sculpture.
Gian Lorenzo Bernini's David Statue
| | |
| --- | --- |
| Date Completed | 1624 |
| Medium | Marble |
| Dimensions | 170 cm |
| Current Location | Galleria Borghese, Rome |
The statue was one of the numerous contracts for Bernini's patron Cardinal Scipione Borghese's residence, where it still currently stands. The work's particular topic is the scriptural David, who is about to hurl the rock that will take down Goliath, allowing David to decapitate him.
In terms of indicated motion and emotional intensity, the Bernini "David" statue broke new ground in comparison to previous works on the same topic.
Background
Bernini had been asked to create different sculptural works for one of his clients, Cardinal Scipione Borghese, from the year 1618 until 1625. In 1623, when he was just 24 years old, he was engaged on the statue of Apollo and Daphne when he deserted it for unexplained reasons to start production on the David statue.
Bernini began work on the sculpture in mid–1623, according to receipts.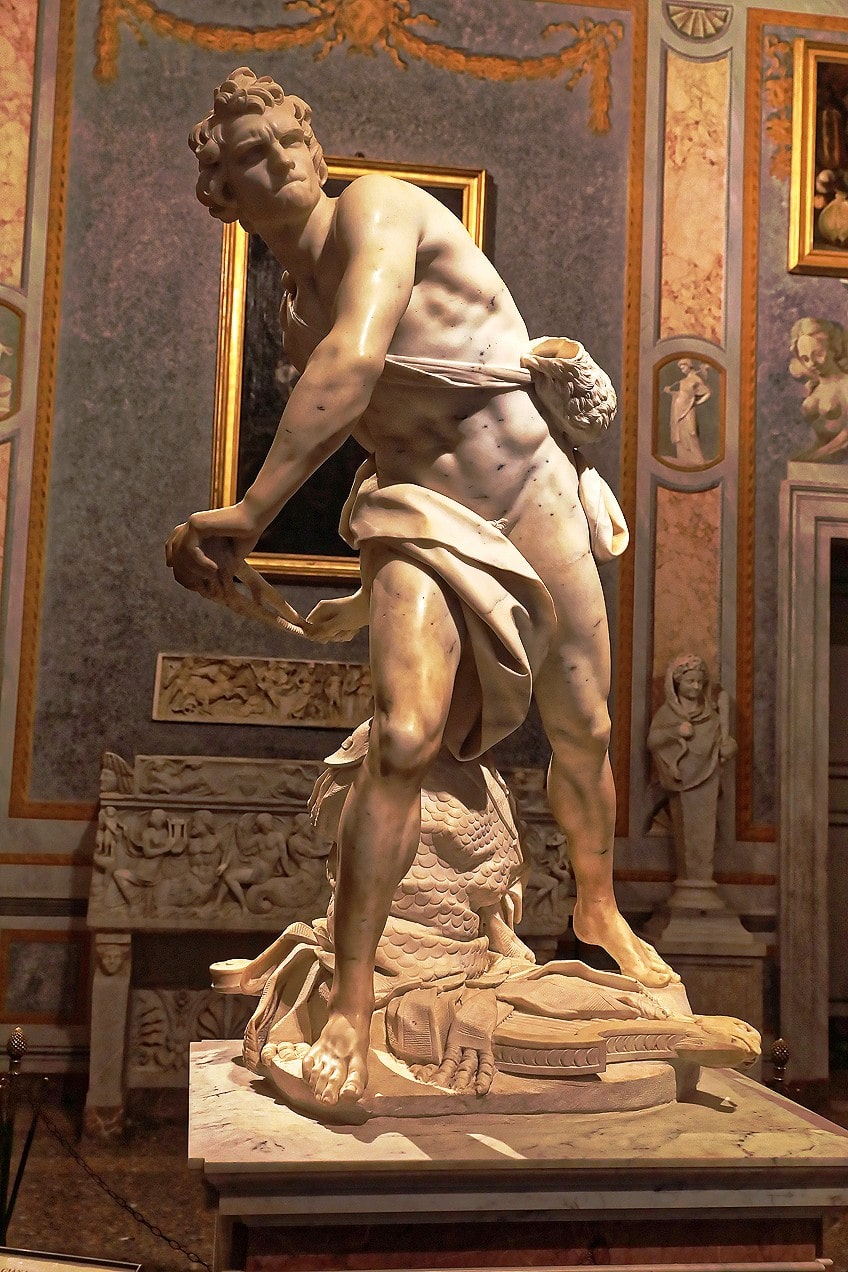 David (1624) by Gian Lorenzo Bernini, located in the Galleria Borghese in Rome, Italy; Gian Lorenzo Bernini, CC BY-SA 4.0, via Wikimedia Commons
His contemporaneous biographer, Filippo Baldinucci, claims he completed it in seven months. Scipione Borghese's final commission for Bernini was David. Even before the work was completed, Bernini's friend and guardian, Maffeo Barberini, was appointed Pope Urban VIII.
Subject Matter
The sculpture depicts a scene depicted in the Old Testament. The Israelites conflict with the Philistines, whose warrior, Goliath, has dared the Israelite armies to a single fight to resolve the dispute. David, a teenage shepherd, has just accepted the challenge and is ready to kill Goliath with a rock from his sling.
When the Philistine awakened and came closer to confront David, David rushed into the combat line to meet him. And David reached into his bag, pulled out a rock, swung it, and hit the Goliath on the head.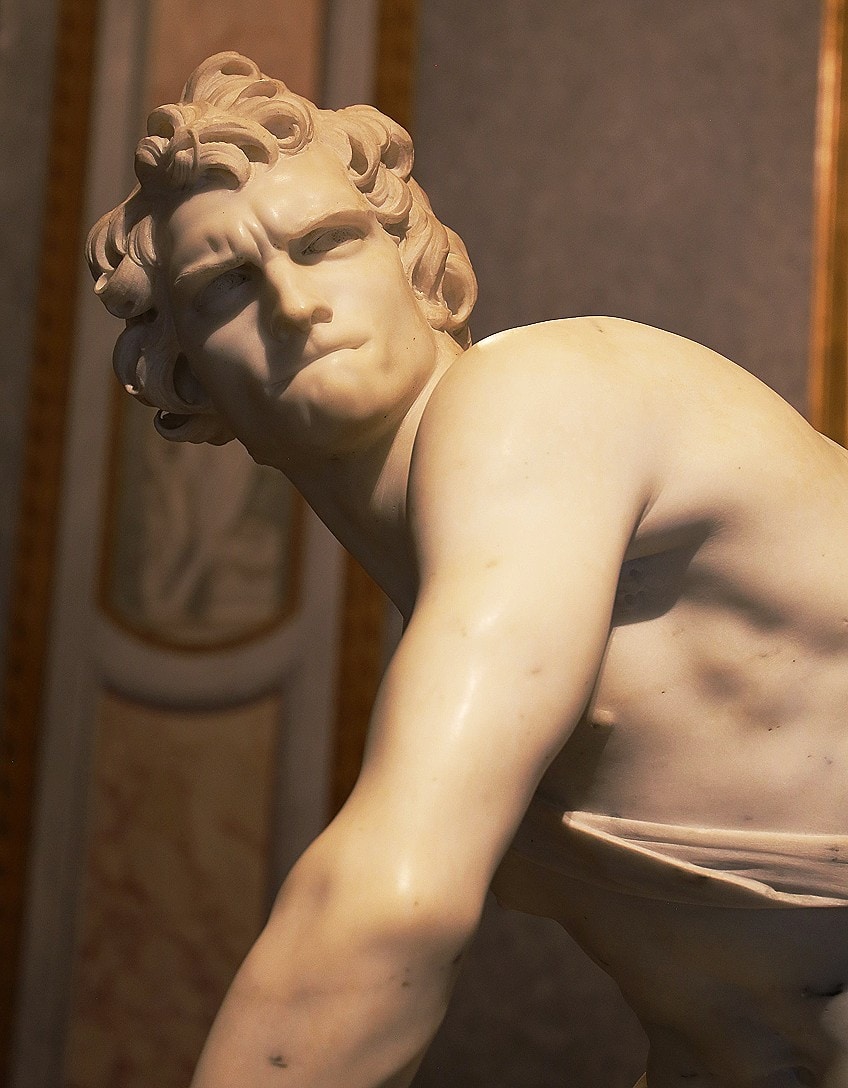 A close up of the face of David (1624) by Gian Lorenzo Bernini; Sailko, CC BY 3.0, via Wikimedia Commons
The stone sunk into his brow, and he collapsed on his face on the ground. David's clothes are characteristic of a shepherd. At his feet is the armor of Saul, King of Israel, which was handed to David for combat. David removed his armor since he was unused to it and felt he could fight better without it.
His harp, which is usually employed as an allegorical object of David in reference to David the Psalmist's ability as a harpist, lies at his feet.
Influences
The biblical David was a favorite topic among Renaissance painters, and sculptors such as Donatello, Verrocchio, and Michelangelo had all depicted him. Bernini's David statue, while connecting with these masterpieces, differs in major ways. For starters, the statue is no longer self-contained, but rather interacts with the environment around it.
Sculptures like those of Bernini had not been involved with their surroundings since the Hellenistic era, such as the "Winged Victory of Samothrace" (c. 200 – 190 BC). The Hellenistic Borghese Gladiator was a potential basis for Bernini's depiction.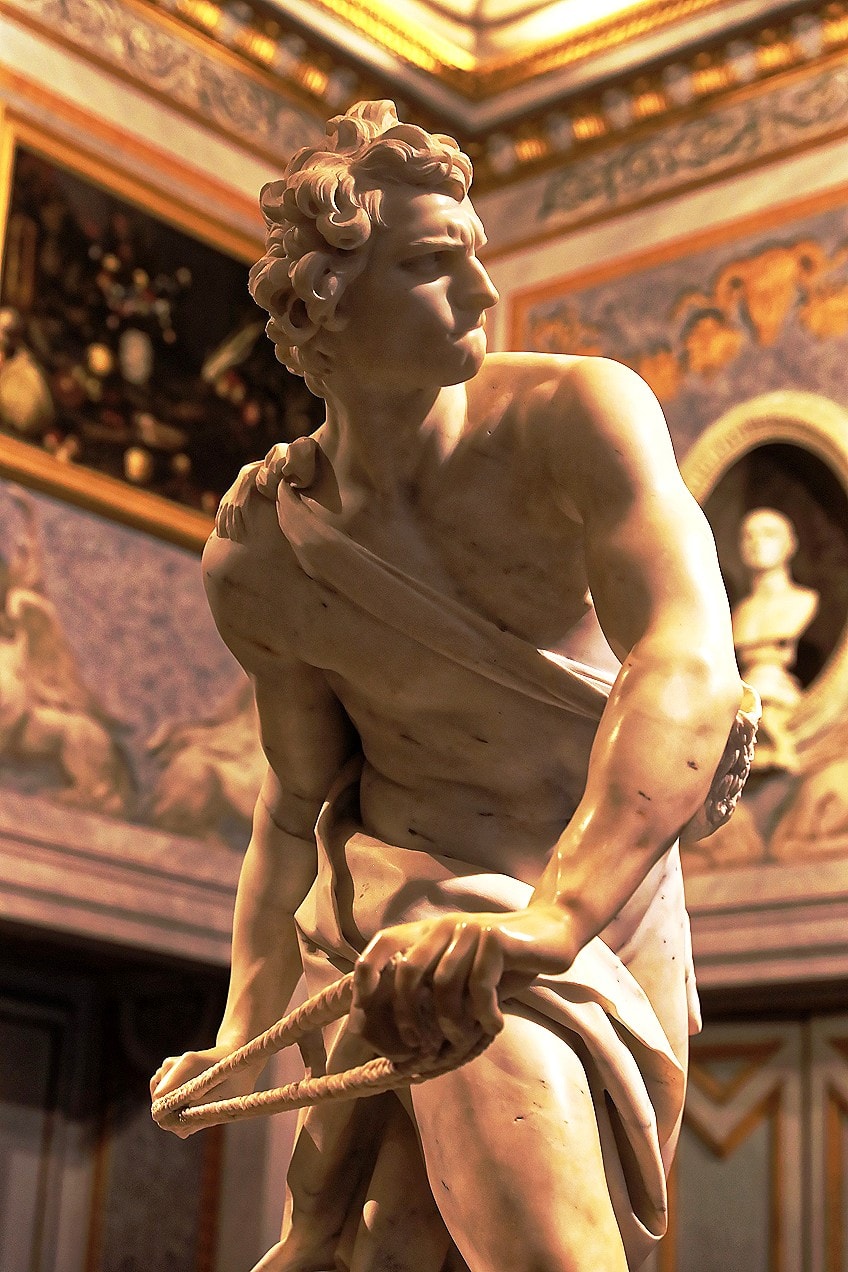 Detail of Gian Lorenzo Bernini's David (1624) sculpture; Burkhard Mücke, CC BY-SA 4.0, via Wikimedia Commons
The gladiator's move as he prepares to assault is identical to David slinging his sling. Yet another distinctive feather of the artwork is the moment that Bernini chose to portray. Michelangelo's David sculpture differs from those by Donatello and Verrocchio in that the sculpture portrays David getting ready for battle rather than the moment of triumph that follows.
Bernini chose to depict David starting to throw the stone. This was a first; throwing figures in post-Antiquity sculptures was exceptionally unusual.
Nevertheless, the movement concept did exist in art, as seen in Annibale Carracci's mural of the Cyclops Polyphemus tossing a stone. Bernini was probably familiar with Carracci's Polyphemus; Carracci was the artist Bernini placed fourth among the finest of all time. Bernini may have been aware of Leonardo da Vinci's works on the same topic. In his famous publication, the Treatise on Painting (1632), Leonardo da Vinci addresses the issue of how to depict a throwing figure.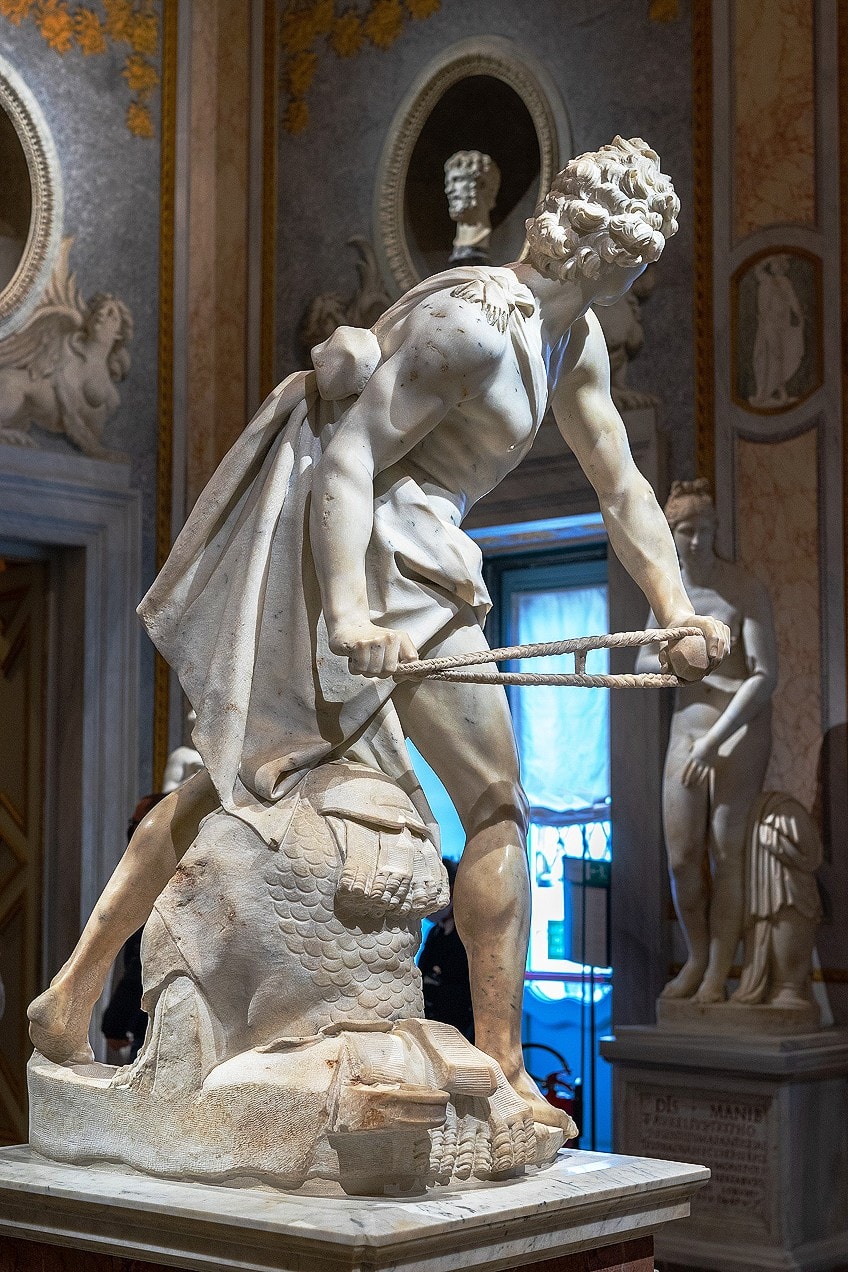 The back of the David (1624) sculpture by Gian Lorenzo Bernini; Fabrizio Garrisi, CC BY-SA 4.0, via Wikimedia Commons
Bernini may have applied this reasoning to his David: If you show him starting the move, the inner part of his extended foot will be in alignment with the sternum, and the opposing shoulder will cross over the sole on which his body is resting. That is, his weight will be supported by his right foot, while his left shoulder will be elevated over the point of his right foot.
Another possible source of influence for Bernini's David sculpture is Myron's famed 5th-century BC "Discobolus".
The difficulty with this argument is that the Discobolus was first recognized through literary sources in the early 17th century, and the torsos of duplicates that had survived were not accurately identified until 1781. Quintilian and Lucian also wrote about the monument, but their depictions were of a person extending or flexing rather than tossing.
Style and Composition
Sculpture experienced drastic change during the Baroque period, and Bernini was right at the front of this. The Renaissance masters' statues were absolutely frontal, requiring the observer to view them from only one side. The Bernini David sculpture is a three-dimensional artwork that requires space and invites the observer to stroll around it to examine its shifting nature based on the angle from which it is viewed.
The statue refers to an invisible force – in the guise of the giant, the target of David's aggressiveness – as well as to the observer, finding himself in the heart of the struggle.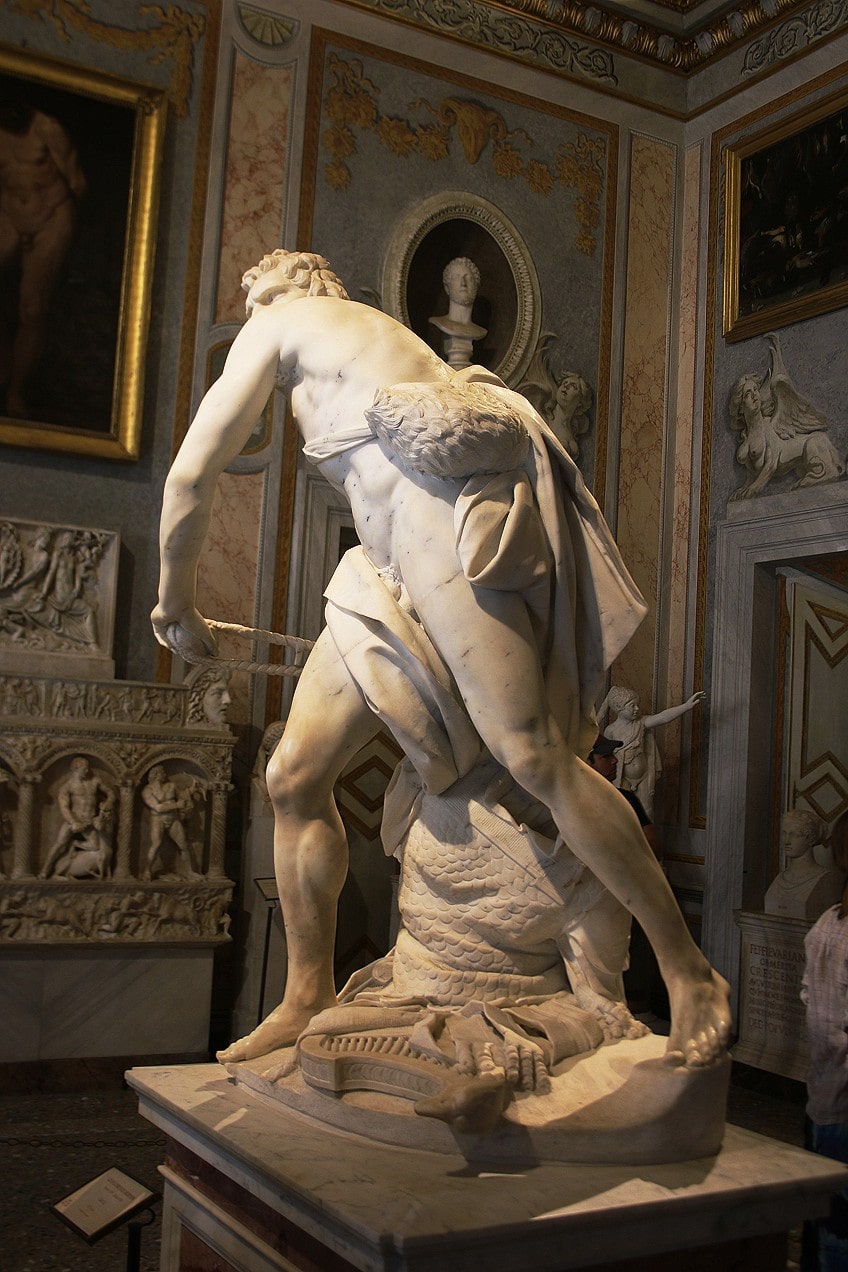 Side angle of Gian Lorenzo Bernini's David (1624) sculpture; FrDr, CC BY-SA 4.0, via Wikimedia Commons
The warrior even crosses the line between reality and art by placing his toes over the lip of the plinth. Time and space norms were both tested. Bernini has opted to portray a portion of time amid a continuous movement rather than the tranquil steadiness of, say, Michelangelo's David. Bernini's artworks were groundbreaking on an emotional level for addressing a variety of intense mental emotions, such as the rage seen here. David's face is distorted in rage, snarling and biting his bottom lip.
Barberini would hold a mirror up to Bernini's head so the sculptor could design the sculpture by himself. This attests to Bernini's working techniques as well as his deep bond with the future Pope.
In addition to attempting realism, David adhered to prevailing traditions of how a militaristic character should be shown. According to Albrecht Dürer, the "bellicose man" was best depicted with the relatively severe proportions of a 1:10 head-to-body ratio. Moreover, the warrior has a lion's face, with a receding forehead, projecting brows, and a curled nose.
The Artist
Bernini was a notable architect as well as a leading sculptor of his day. He was a great student of ancient art and is recognized as being a key factor in the development of the Baroque form of sculpture. Bernini's sculptures are praised for their ability to depict an almost startlingly genuine human experience.
He painted, wrote plays, and created metalwork and theatre sets in addition to sculpting. Bernini was also a talented sculptor who was much acclaimed.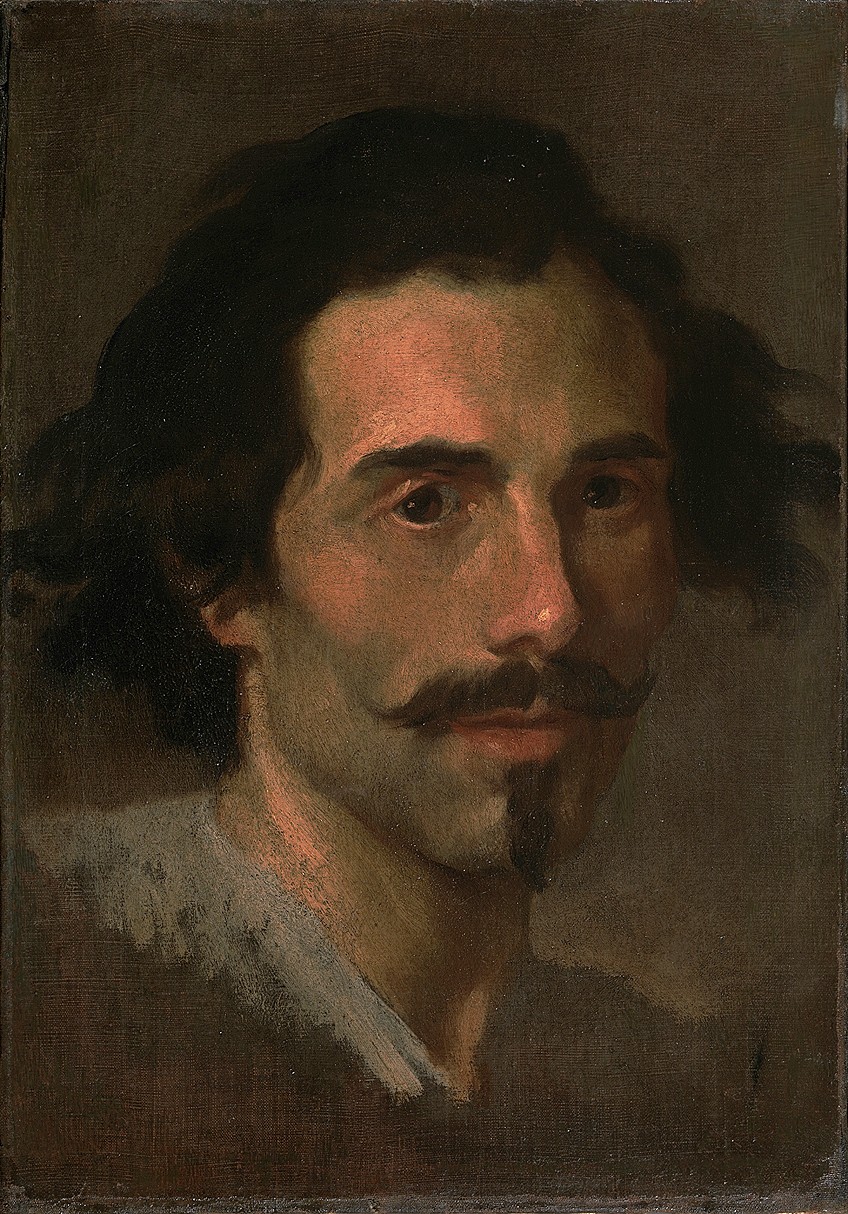 Self-portrait (c. 1635 – 1638) by Gian Lorenzo Bernini, located in the Museo del Prado in Madrid, Spain; Gian Lorenzo Bernini o anonimo seguace – Madrid, Prado. Nel catalogo del Prado l'opera figura come autografo del Bernini, alcuni studiosi tuttavia ritengono che si tratti di una copia di bottega derivata da un autoritratto dell'artista romano, Public domain, via Wikimedia Commons
He was able to impart a poignant reality to his subjects by using shadow and even giving skin and hair textural awareness. Bernini, in particular, deviated from convention by depicting figures in motion. This gave an extra depth of drama and passion, allowing the spectator to identify not just with the individual, but also with their particular time in life.
Gian Lorenzo Bernini's David statue is a life-size marble monument. It was ordered by Cardinal Scipione Borghese to adorn the Borghese Gallery. The masterwork was produced in seven months, from 1623 until 1624. The sculpture's principal subject is the biblical David, who is preparing to hurl the stone that would knock down Goliath, allowing David to decapitate him.
Take a look at our Bernini David sculpture webstory here!
Frequently Asked Questions
What Is the Statue of David Holding in His Hand?
David can be seen with a slingshot in his hand. The picture of David embodied strength and dignity, as well as heroism in all its radiance. As a result, he was acknowledged as the winner of 15th-century compositions. Bernini's work took a somewhat different path: dynamism, mental strain, and movement. His statue depicts the conflict in its entirety. Bernini positioned his piece beside other well-known works. He depicted David prepared to assault, collecting all of his power and will. On David's face, you can sense all of his emotions and moods.
What Is Bernini's David Statue's Height?
The height of the sculpture is 170 cm. Bernini generated his work as a pair composition that puts the focus on David's adversary, rather than as a separate figure. By looking and posing, one may tell where David's adversary is. The space between them carries a charge that belongs to the statue. This is the distinction between Bernini's works and classical baroque.
Isabella studied at the University of Cape Town in South Africa and graduated with a Bachelor of Arts majoring in English Literature & Language and Psychology. Throughout her undergraduate years, she took Art History as an additional subject and absolutely loved it. Building on from her art history knowledge that began in high school, art has always been a particular area of fascination for her. From learning about artworks previously unknown to her, or sharpening her existing understanding of specific works, the ability to continue learning within this interesting sphere excites her greatly.
Her focal points of interest in art history encompass profiling specific artists and art movements, as it is these areas where she is able to really dig deep into the rich narrative of the art world. Additionally, she particularly enjoys exploring the different artistic styles of the 20th century, as well as the important impact that female artists have had on the development of art history.
Learn more about Isabella Meyer and the Art in Context Team.
Cite this Article