"Madonna of Bruges" by Michelangelo – At the Church of Our Lady
The Madonna of Bruges by Michelangelo is a Madonna and Child sculpture situated in the Church of Our Lady in Belgium. Michelangelo's Madonna and Child image departs greatly from past depictions of the same theme, which typically depicted a devout Virgin gazing down on an infant carried in her arms. Rather, the child stands practically unaided, merely held back by Mary's left hand, and seems to be prepared to leave his mother and enter the world. Let u take a deeper look at the Bruges Madonna and Child sculpture.
Madonna of Bruges (1501) by Michelangelo
It is thought that the artwork was initially designed as an altarpiece. If this is the case, it would have been observed gazing down and a little to the right-hand side. The early 16th-century artwork also exhibits the High Renaissance Pyramid design, which was popular in Leonardo da Vinci's creations throughout the late 1400s. The piece is also significant for being Michelangelo's first sculpture to travel outside of Italy during his lifetime.
First, let us take a quick look at its creator – Michelangelo. We have created a separate overview of the most famous Michelangelo sculptures.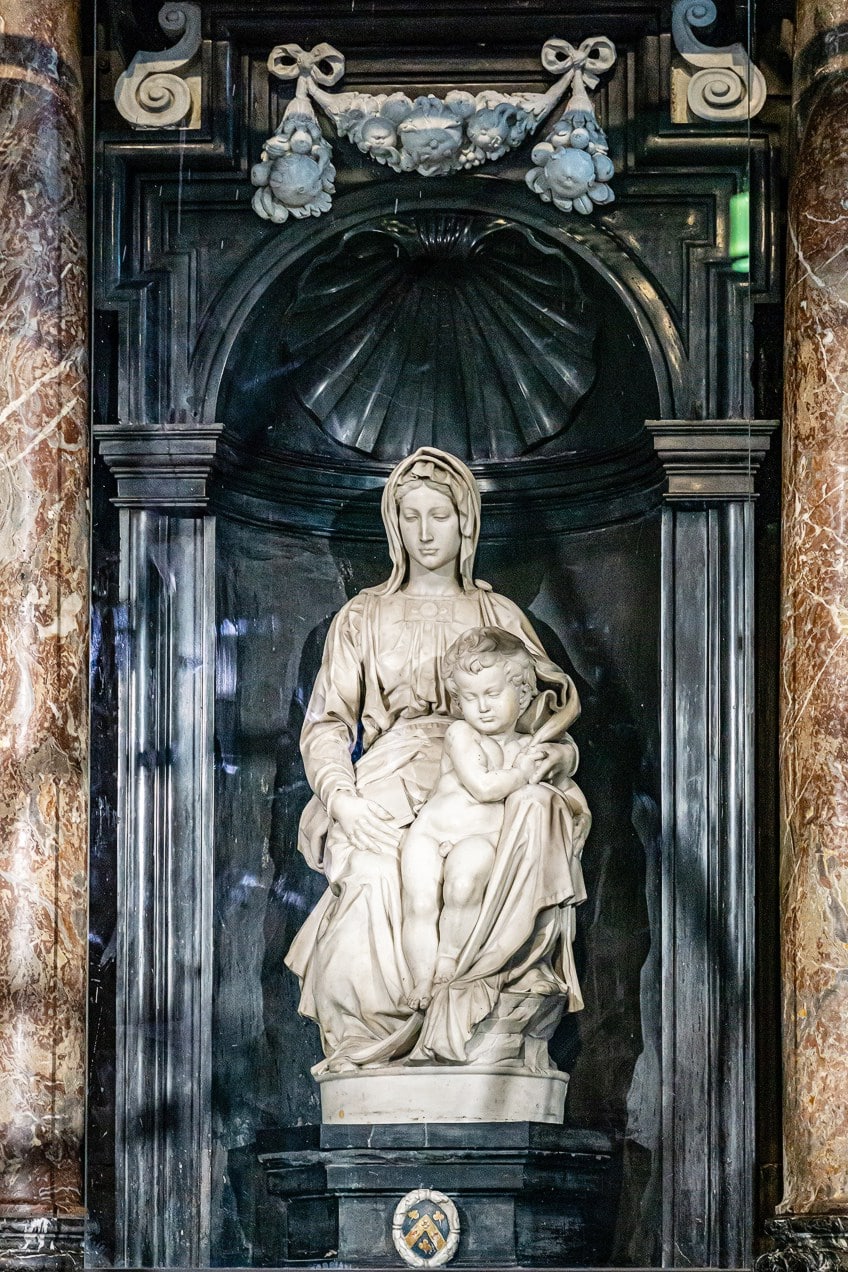 Madonna of Bruges (1501) by Michelangelo at the Church of Our Lady in Bruges, Belgium; Michelangelo, CC0, via Wikimedia Commons
Michelangelo: Creator of the Bruges Madonna and Child
| | |
| --- | --- |
| Nationality | Italian |
| Date of Birth | 6 March 1475 |
| Date of Death | 18 February 1564 |
| Place of Birth | Caprese, the Republic of Florence |
It was not simply his almost limitless creativity that established Michelangelo as a real master of Renaissance art, maybe only rivaled by Leonardo da Vinci and Raphael. He also worked his way into the world of Italy's wealthy and influential.
With them as supporters, Michelangelo earned an outstanding reputation – he was the first Western artist to have a biography published during his lifetime and a career that carried him to the pinnacle of the church.
Michelangelo remained at the center of the Catholic Church for the next 50 years, working under nine popes and creating an incomparable array of art throughout a period of theological division, Reformation, and Counter-Reformation. He sculpted a figure of Moses for Julius' scaled-down tomb; he worked on the design of the Medici Chapel, and at the age of 60, he contributed to the Sistine Chapel by creating The Last Judgment (1541) on its massive altar wall.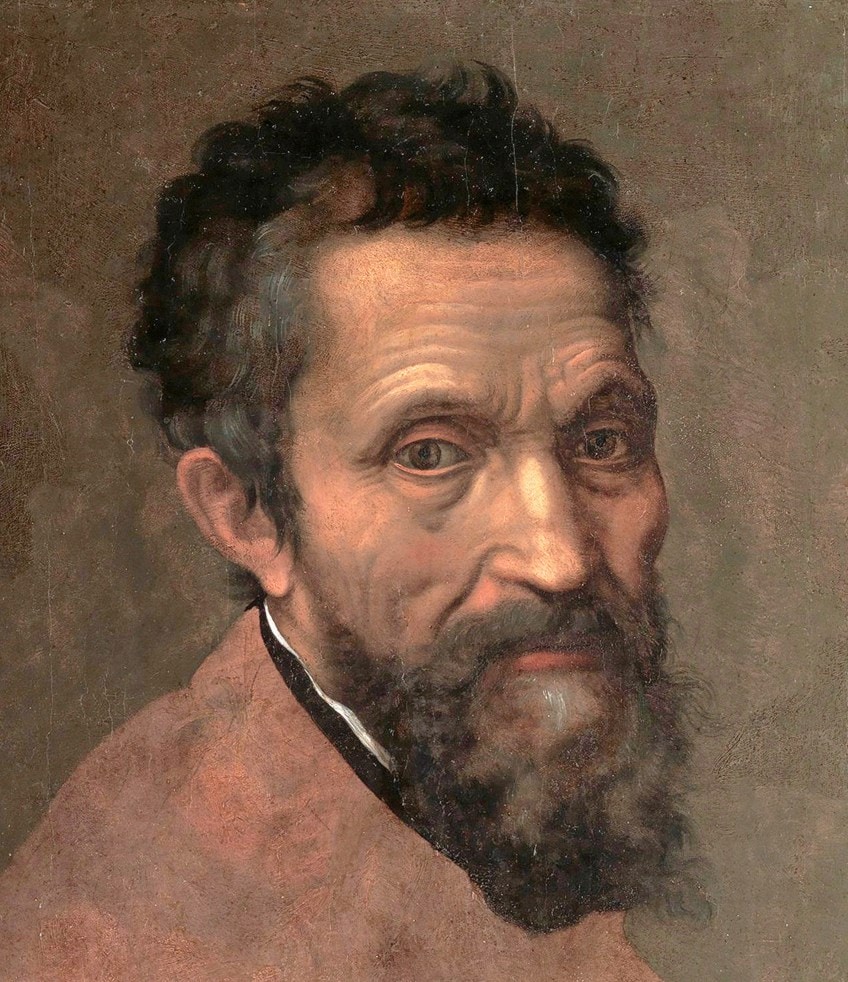 Portrait of Michelangelo (c.1545) by Daniele da Volterra; Attributed to Daniele da Volterra, Public domain, via Wikimedia Commons
The Bruges Madonna and Child
| | |
| --- | --- |
| Artist | Michelangelo (1475 – 1564) |
| Date Completed | 1504 |
| Medium | Marble |
| Location | Church of Our Lady, Bruges, Belgium |
The sculpture was completed and transported to Bruges by the wool trader who commissioned it, thus the name by which it is still known. It is believed that the sculpture was meant to be put on an altar. When depicting this frequently represented scenario, Michelangelo adopts a different method than his predecessors. Earlier painters depicted the Madonna as compassionately looking down on the infant while holding him in her arms.
Though Michelangelo's Madonna is looking down, her focus is not on the infant. She sits regally straight as if she were a queen on the throne.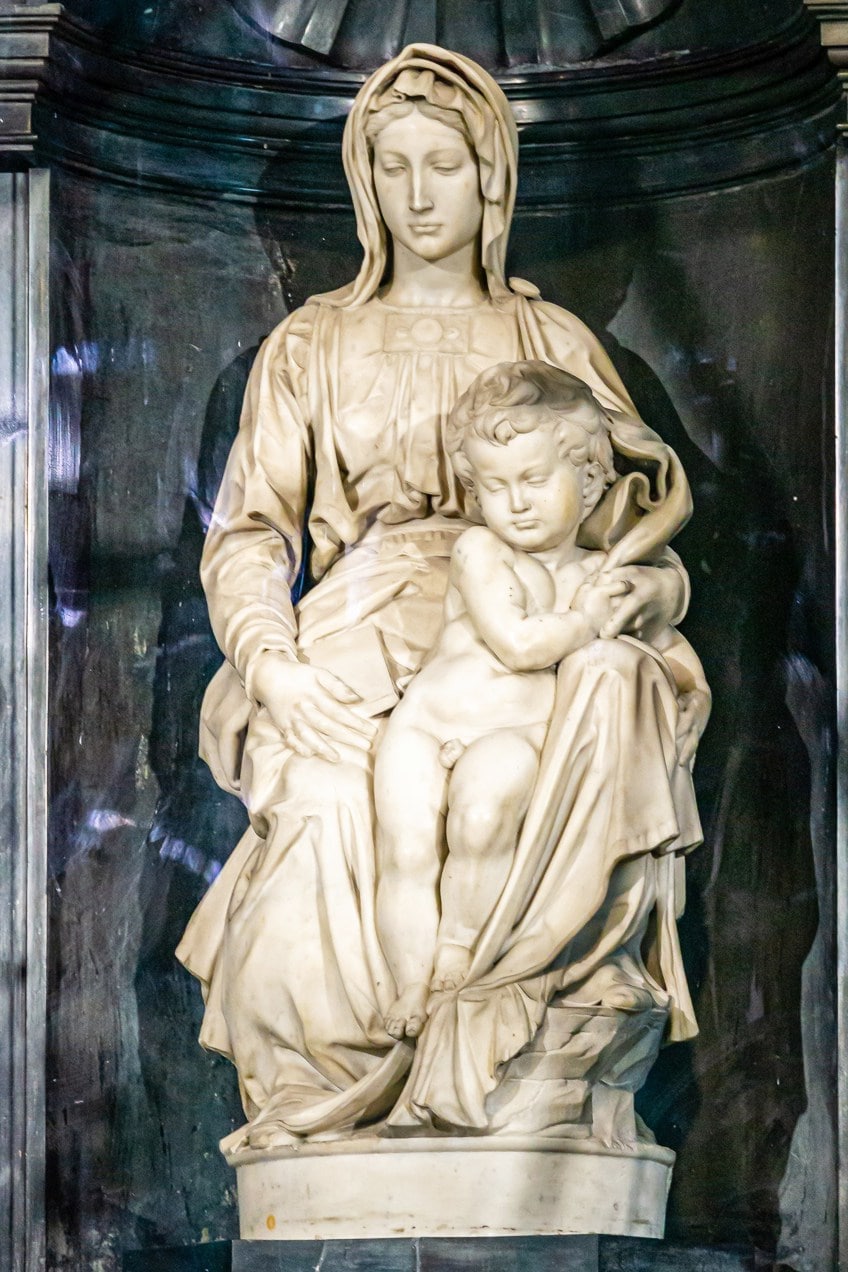 A close-up of the Madonna of Bruges (1501) by Michelangelo at the Church of Our Lady in Bruges, Belgium; Michelangelo, CC0, via Wikimedia Commons
Though her expression appears emotionless, this is not because she has no feelings for her baby; rather, she is attempting to stay stoic, understanding the awful certainty of her child's fate. Meanwhile, the child stands directly in front of his mother, supported only by her hand. His erect stance suggests that he is meant to be a leader – he is ready to venture out into the community and begin his mission.
His attitude is also solemn rather than fun; unlike earlier painters, Michelangelo did not try to make the infant appear cherubic or cute.
Some believe the infant is positioned in front of her womb to emphasize that she is God's mother. It might also be an aesthetic issue since there is a distinct contrast between Mary's rough folds and her child's smooth skin. Both the mother and the infant appear to be aware of an unseen assembly of worshippers. Michelangelo may have depicted the two figures as celestial beings who look down on humanity. It's almost as though Mary, as queen, is displaying Jesus to her followers.
Parts of the sculpture's stones and draperies are thought to have been sculpted by one of Michelangelo's helpers rather than the sculptor himself.
This has caused some to call it a "doubtful work" by Michelangelo, however, this is not universally regarded. The Madonna of Bruges was Michelangelo's only sculpture to be moved outside of Italy during his lifetime. It has, though, departed Belgium twice. After the French Revolutionists took the Austrian Netherlands in 1794, it was transferred to Paris. After Napoleon's downfall, it was returned to Belgium before being stolen again by German forces during World War II. It was finally restored to Belgium and installed at the Church of Our Lady in Bruges.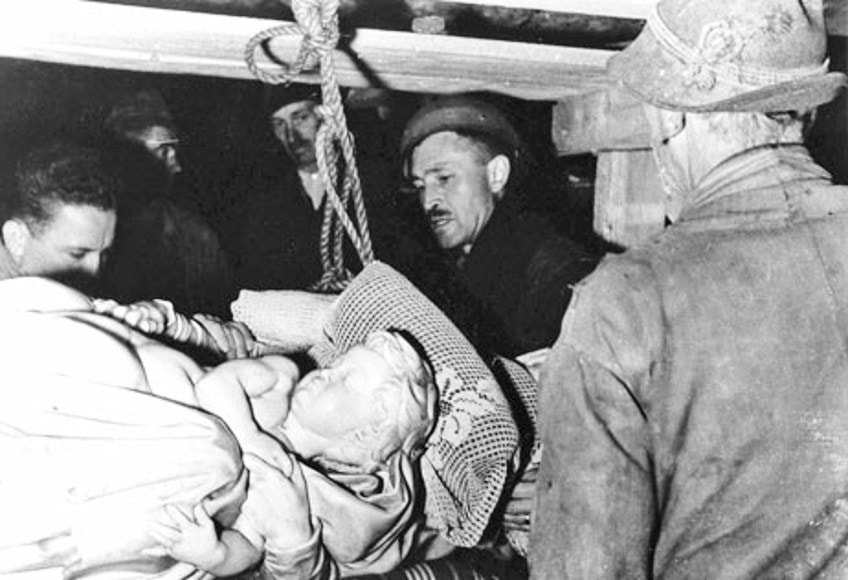 The Madonna of Bruges during recovery from the Altaussee salt mine, 1945; Bundesdenkmalamt Wien, Public domain, via Wikimedia Commons
The Madonna of Bruges is sometimes likened to Pietà (1499) another Michelangelo masterpiece. This sculpture depicts Christ's body lying in his mother's lap after the crucifixion. The similarities between the two are particularly noticeable in Mary's facial features, bent head, and flowing robe. In both sculptures, she has the same mournful look, symbolizing her son's awful destiny. Remarkably, she is depicted as a youthful lady in both paintings, despite the fact that she would have been in her 40s at the time of her son's death.
Michelangelo is claimed to have preserved her youth in order to depict her purity and virginity.
Madonna of Bruges (1501) by Michelangelo at the Church of Our Lady in Bruges, Belgium; Jean-Pol GRANDMONT, CC BY 3.0, via Wikimedia Commons
Though the parallels between the two artworks are evident, the Bruges Madonna and Child are much more compact and possibly more graceful than Pietà. There are some similarities between the Madonna of Bruges and the Pitti Madonna (1504), another Michelangelo masterpiece. Both were created about the same period and have comparable compositions. The model appears to have been utilized for the Christ child as well. When compared to the Bruges Madonna, the Pitti Madonna stands out because the child is smiling and joyous. His mother, in contrast, appears to be gazing over her shoulder, as if she is aware of the peril that awaits her son. This is in rather stark contrast to Mary's look in Madonna of Bruges.
Michelangelo didn't mind producing massive sculptures, and the Bruges Madonna and Child sculpture is no exception, standing about 2 meters tall. One of the most remarkable facts about Michelangelo's "Madonna of Bruges" is that it is Michelangelo's only sculpture to have departed Italy during his lifespan. The Madonna with Child was a popular form of sculpture in the period, with most depicting the mother looking down at her son while smiling and cradling her infant. Mary appears to be looking away from her son while holding him with her left hand in this statue. a noticeable change from previous portrayals.
Frequently Asked Questions
Where Is the Madonna of Bruges by Michelangelo?
Michelangelo's Madonna and Child sculpture is located at the Church of Our Lady. The old church can be found in the city of Bruges in Belgium. Important people from Bruges have been buried near the statue such as Françoise de Haveskercke.
What Makes the Bruges Madonna and Child Sculpture Unique?
The Madonna and Child was a common theme that had been portrayed by many sculptors other than Michelangelo. His was different from the usual depiction of a mother happily looking down at her baby. In this portrayal, she seems to be looking away as if in contemplation about his future, while the baby Jesus seems ready to leap from the statue and join the world awaiting him.
Isabella studied at the University of Cape Town in South Africa and graduated with a Bachelor of Arts majoring in English Literature & Language and Psychology. Throughout her undergraduate years, she took Art History as an additional subject and absolutely loved it. Building on from her art history knowledge that began in high school, art has always been a particular area of fascination for her. From learning about artworks previously unknown to her, or sharpening her existing understanding of specific works, the ability to continue learning within this interesting sphere excites her greatly.
Her focal points of interest in art history encompass profiling specific artists and art movements, as it is these areas where she is able to really dig deep into the rich narrative of the art world. Additionally, she particularly enjoys exploring the different artistic styles of the 20th century, as well as the important impact that female artists have had on the development of art history.
Learn more about Isabella Meyer and the Art in Context Team.
Cite this Article