Antebellum Architecture – A Brief Look at Antebellum-Style Homes
What is Antebellum architecture and where were Antebellum houses built? Antebellum houses are massive, opulent mansions (generally plantation estates) erected in the American South around three decades before the onset of the American Civil War. In this article, we will explore the history of Antebellum-style homes.
What Is Antebellum Architecture?
What is an Antebellum home and are there specific Antebellum architecture characteristics? Antebellum is not a specific architectural type or building style. Instead, it is a historical moment and setting – a time in American history that elicits strong emotions even to this day. Anglo-Americans, individuals who migrated into the area following the 1803 Louisiana Purchase and amid a surge of immigrants from Europe, brought the elements we identify with antebellum architecture to the American South.
"Southern" architecture had been defined by whoever resided in the territory – the French, Creole, Spanish, and Native Americans – but in the early 1800s, a new breed of entrepreneurs came to influence not just the market, but also the architectural design.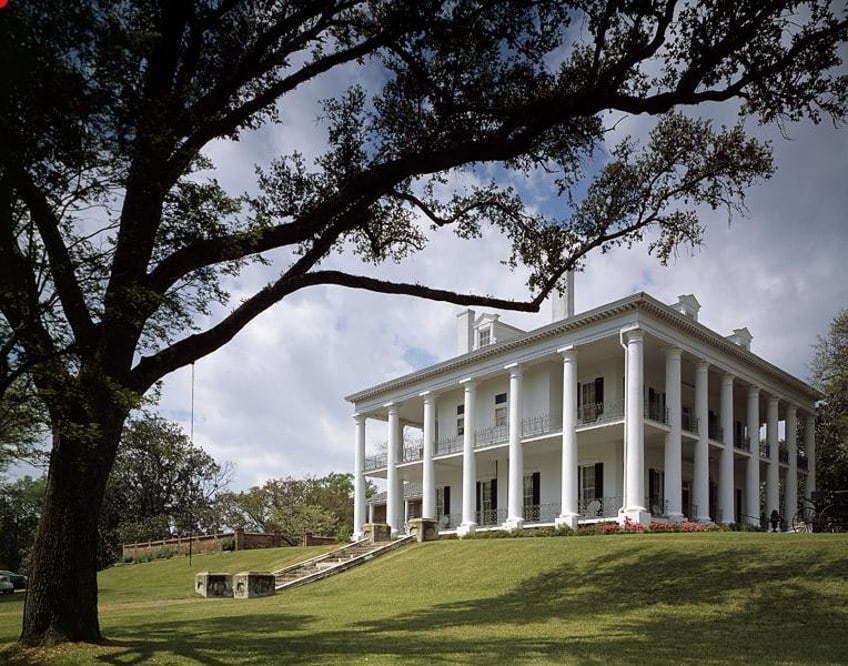 A photograph of Dunleith, an antebellum mansion in Natchez, Mississippi; Carol M. Highsmith, Public domain, via Wikimedia Commons
Following Napoleon's downfall and the conclusion of the War of 1812, a large number of Europeans pursuing financial prospects moved to America. These newcomers were traders and growers of commodities such as cotton, tobacco, sugar, and indigo. The enormous plantations of America's south thrived, partly due to a workforce made up of black slaves.
Many people feel that antebellum architecture is intrinsically tied with the memories of American slavery and that it should be eliminated.
Frederick Stanton, who was born in Northern Ireland, erected Stanton Hall in 1859. Stanton moved to Mississippi to become a prosperous cotton dealer. The southern plantation mansions, such as Stanton Hall, erected before America's Civil War, showed affluence and the grandiose Revival architectural styles of that period.
Antebellum Architecture Characteristics
What is an Antebellum home? Most antebellum mansions are big, boxy, and symmetrical with central doors in the front and back, terraces, and pillars or columns. When were antebellum houses built? This luxurious architectural style was prominent throughout the United States in the first part of the 1800s.
Architectural features include a gable roof, a symmetrical facade, regularly spaced windows, Greek-style columns and pillars, decorative friezes, a balcony and covered patios, a central doorway with a staircase, and even a formal ballroom.
From columned Greek Revival palaces to majestic Federal-style mansions, antebellum-era architecture in America portrays the power and aspirations of affluent proprietors in the American South before the Civil War. Plantation houses are still considered America's great estates, matching Gilded Age palaces.
What Happened to Antebellum-Style Homes?
This time-and-place design has served its original function, and the issue for these structures today is the question of what will come next. Many of these dwellings were destroyed during the Civil War – and again by Hurricane Katrina. Following the Civil War, private schools frequently occupied the estates. Many are now tourist sites, and some have entered the hotel business.
The issue of conservation is always inherent in this sort of building. But should this piece of America's history be preserved?
The exact amount of Hurricane Katrina's devastation is hard to determine. Communities along America's Gulf Coast lost many of their most important cultural resources, in addition to lives, houses, and jobs. Scholars and art historians started cataloging the devastation as citizens began to clear up the wreckage. During and after Hurricane Katrina, protecting beautiful architecture took a back seat to the saving of people's lives and public safety issues.
Examples of Antebellum Architecture
The emergence of the style in Europe followed the discovery of ancient Greek structures in nations surrounding the Mediterranean, which highlighted the traditional styles of architecture used by the Greeks and Romans. As a consequence, Americans adopted this design aesthetic for plantation houses and estates in both the South and the North, but especially in the Deep South.
Throughout the antebellum period, Gothic Revival and Italianate architecture were also popular.
Stanton Hall (Mississippi)
| | |
| --- | --- |
| Architect | Thomas Rose |
| Date Completed | 1850s |
| Function | Residence |
| Location | Mississippi, United States |
Stanton Hall was erected in the 1850s as a duplicate of Frederick Stanton's ancestral house in Ireland for Frederick Stanton, a cotton dealer. Stanton christened it "Belfast," but he only remained there for nine months before succumbing to yellow fever.
The house's size and luxury inflicted a significant financial strain on his descendants, yet it withstood the American Civil War and was converted into the Stanton College for Young Ladies in 1890.
It was purchased by the Pilgrimage Garden Club in 1940, and it now serves as its headquarters as well as a museum and function venue. The home, designed and constructed by Thomas Rose, cost around $82,000 in total. It is also stated that Mr. Rose desired that his magnificent work be signed somewhere on the site, but Frederick Stanton refused. Mr. Rose responded by having the wrought iron fencing around the home constructed with a profusion of roses as a mark of his silent opposition.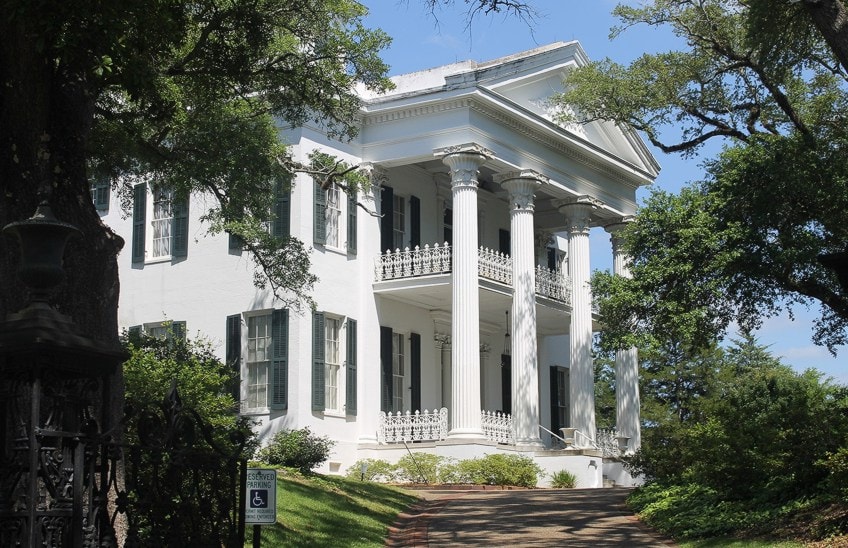 Stanton Hall in Natchez, Mississippi; Billy Hathorn, CC BY 3.0, via Wikimedia Commons
Nottoway Plantation (Louisiana)
| | |
| --- | --- |
| Architect | Henry Howard (1818 – 1884) |
| Date Completed | 1858 |
| Function | Residence |
| Location | Louisiana, United States |
John Randolph commissioned famous architect Henry Howard of New Orleans to create the huge home with the intent of sparing no cost in its construction. Newton Richards, a renowned mason, built the double-curved granite stairs that lead to the second floor. The left side of these steps was designed for females, while the right side was designed for gentlemen. The boot scraper at the bottom can also be used to identify the stairs for males.
The two stairs were designed to prevent males from seeing the women's ankles under their garments as they ascended, which was regarded as a serious breach of social decorum at the time.
A portrait of Mary Henshaw, whose eyes are supposed to follow the observer throughout the room, hangs above one of the fireplaces. The first-floor basement has been converted into a cafeteria and a museum about the Randolph household and the plantation's past. Initially, the area housed the dairy, laundry, wine cellar, and servants' lodgings, as well as a bowling alley for the children's entertainment.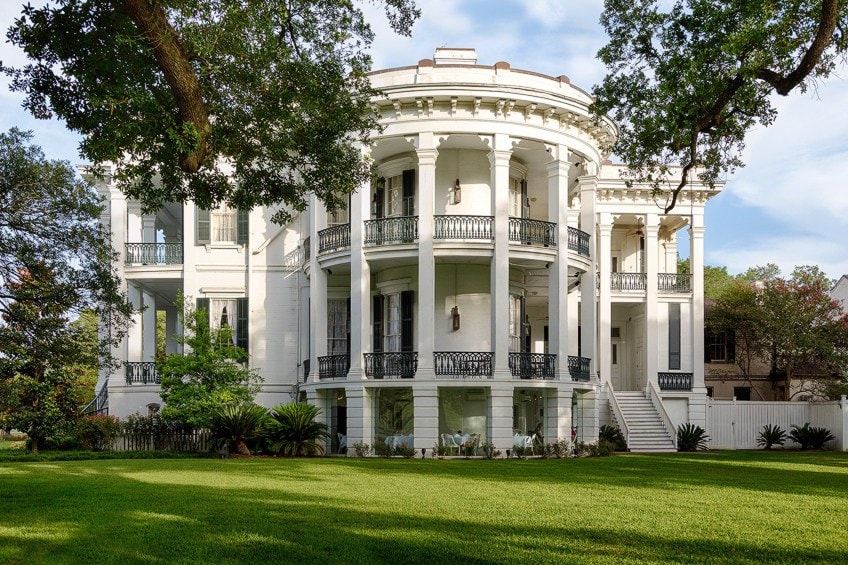 Nottoway Plantation House, Northwest of White Castle in Louisiana in the United States; Bogdan Oporowski, CC BY-SA 3.0, via Wikimedia Commons
Longwood (Natchez, Mississippi)
| | |
| --- | --- |
| Architect | Samuel Sloan (1815 – 1884) |
| Date Completed | 1864 |
| Function | Residence |
| Location | Natchez, Mississippi |
Longwood, America's biggest octagonal home, is a historic antebellum estate near Natchez, Mississippi. The home is notable for its intricate onion-shaped dome, octagon architecture, and the juxtaposition between the completed first and unfinished higher levels. Longwood is located in the United States. It is listed as a National Historic Landmark. Longwood was built in 1859 for cotton plantation owner Dr. Haller Nutt and his family by Samuel Sloan.
The construction of the building started in 1860 but was suspended in 1861 due to escalating Civil War tensions.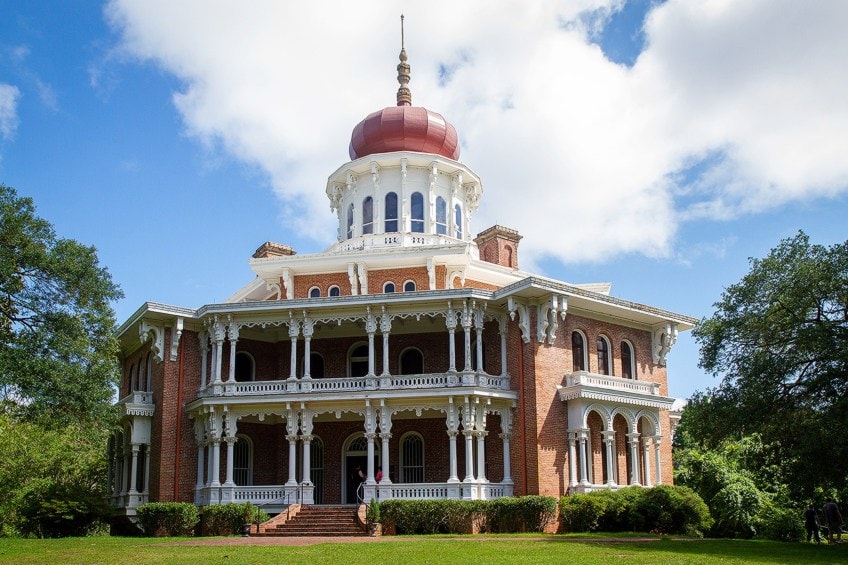 Longwood, the largest octagonal house in the United States, is an historic antebellum mansion located in Natchez, Mississippi. The mansion is known for its octagonal design, byzantine onion-shaped dome and the contrast between the finished first floor and the unfinished upper floors; Atlabar, CC BY-SA 4.0, via Wikimedia Commons
Workers from the northeast abandoned their equipment and escaped. The outside was mostly done, but the inside, with the exception of the lowest floor, was left incomplete. Haller died of illness in 1864, but his wife Julia and children remained on the completed first floor. The interior of the top five stories was never finished. The Pilgrimage Garden Club purchased the site in 1970, and in 1971 it was declared a National Historic Landmark.
What is an Antebellum home? The phrase "Antebellum house" conjures up images of large, magnificent palaces that functioned as plantation residences throughout the Deep South. They seem like mansions from the film "Gone With the Wind" (1939), with their majestic columns and large, covered verandas. While some characteristics define the Antebellum architectural style, the name encompasses a wide range of Southern residences erected prior to the American Civil War. The diversity and historical relevance of the style makes it so intriguing to examine. Due to the nature of these mansions, they obviously stir up negative connotations for their use as plantation houses during a period when slavery was rife.
Frequently Asked Questions
What Is Antebellum Architecture and When Were Antebellum Houses Built?
If you have ever seen one of these structures, you have probably wondered when were Antebellum houses built. Antebellum-style homes are mansions erected in the South before the Civil War in1861, often as part of a plantation. These houses may be found across the Southern states, although they are particularly frequent in Louisiana, Alabama, Georgia, South Carolina, and Mississippi. Following Napoleon's fall in 1815, an increasing number of Europeans came out to try their fortunes in America. Many of these immigrants purchased property to grow in-demand goods like tobacco, sugar, cotton, and indigo, or became dealers of these crops, ushering in the South's great plantation era. They also imported slave labor, allowing the planters to keep the majority of the income for themselves.
What Are the Antebellum Architecture Characteristics?
The Antebellum architectural style refers to a time and area known as the Old South, rather than a specific collection of elements. These magnificent mansions owe their presence to the affluence of the plantations that flourished during the period. Prior to their arrival, the region was colonized by French and Spanish immigrants, as well as native peoples such as the Natchez and Creek, who each constructed in their respective cultural traditions. The immigrants brought with them a passion for Classical Revival architecture, especially Greek Revival, which became fashionable throughout Europe following new architectural discoveries in Greece in the early1800s. After 1820, the design swiftly gained acceptance in North America as a representation of rationalism and national pride.
Justin van Huyssteen is a freelance writer, novelist, and academic originally from Cape Town, South Africa. At present, he has a bachelor's degree in English and literary theory and an honor's degree in literary theory. He is currently working towards his master's degree in literary theory with a focus on animal studies, critical theory, and semiotics within literature. As a novelist and freelancer, he often writes under the pen name L.C. Lupus.
Justin's preferred literary movements include modern and postmodern literature with literary fiction and genre fiction like sci-fi, post-apocalyptic, and horror being of particular interest. His academia extends to his interest in prose and narratology. He enjoys analyzing a variety of mediums through a literary lens, such as graphic novels, film, and video games.
Justin is working for artincontext.org as an author and content writer since 2022. He is responsible for all blog posts about architecture, literature and poetry.
Learn more about Justin van Huyssteen and the Art in Context Team.
Cite this Article