As an artist who is just starting out, your paintings represent more than just your livelihood. They are the result of your creativity which you will want to share with the world in the best possible way. No painter can share and show his work properly unless it is captured on canvas, and not just any canvas either. It has to be the perfect size and format, and that naturally begs the question: what are standard canvas sizes? Which are the best canvas dimensions for my painting? In this article, we are going to explore the world of canvasses in detail in order to equip you with the knowledge to ultimately make your own informed decisions.
What Are Standard Canvas Sizes?
There will be occasions when your painting dimensions will not fit a standard canvas size, and that is fine. However, you will find that by sticking to typical canvas sizes, you will reach more customers who will want your artwork in their homes. Canvas sizes have been standardized for a reason, and that is to make it easier for people to choose which size will suit their wall space and the size of their rooms. It follows that people who live in smaller homes and apartments will require smaller canvases, and the same is true for people who have larger homes.
Let us take a look now at the typical canvas sizes available. We have put together a canvas sizes chart for your easy reference.
| | | |
| --- | --- | --- |
| Measurements in Inches | Measurements in Centimeters | Size |
| 4 x 8 | 10.16 x 20.32 | Small |
| 5 x 7 | 12.7 x 17.78 | Small |
| 8 x 10 | 20.32 x 25.4 | Medium |
| 9 x 12 | 22.86 x 30.48 | Medium |
| 11 x 14 | 27.94 x 35.56 | Medium |
| 12 x 12 | 30.48 x 30.48 | Medium |
| 12 x 16 | 30.48 x 40.64 | Medium |
| 16 x 20 | 40.64 x 50.8 | Large |
| 18 x 24 | 45.72 x 60.96 | Large |
| 24 x 24 | 60.96 x 60.96 | Large |
| 24 x 30 | 60.96 x 76.2 | Large |
How to Choose the Correct Size of Canvas for Your Artwork
The canvas sizes chart above will be helpful to you when it comes to choosing the correct size of canvas for your paintings. It is important to ensure that the canvas you select fits your artwork properly, so you will not have to crop the image or distort it in any way. It is also important for you to know if the canvas you have chosen will suit the room it is going to be hung in.
So, besides looking at the various sizes of canvases available, we are going to take it a step further and look at the type of canvases that will work in the different rooms in the house. Therefore, if you know which room your artwork will be going into, it will help you to choose the correct size of canvas.
So let us look now at what are standard canvas sizes based on their dimensions.
Small Canvas Sizes
These are the typical measurements of small canvases:
4 x 8 inches (10.16 x 20.32 centimeters)
5 x 7 inches (12.7 x 17.78 centimeters)
These are the sizes of postcards and many greeting cards. The canvases are ideal for small, detailed paintings or a single image that stands out on its own. With these canvas dimensions, you could also easily turn your paintings and photographs into prints to sell online.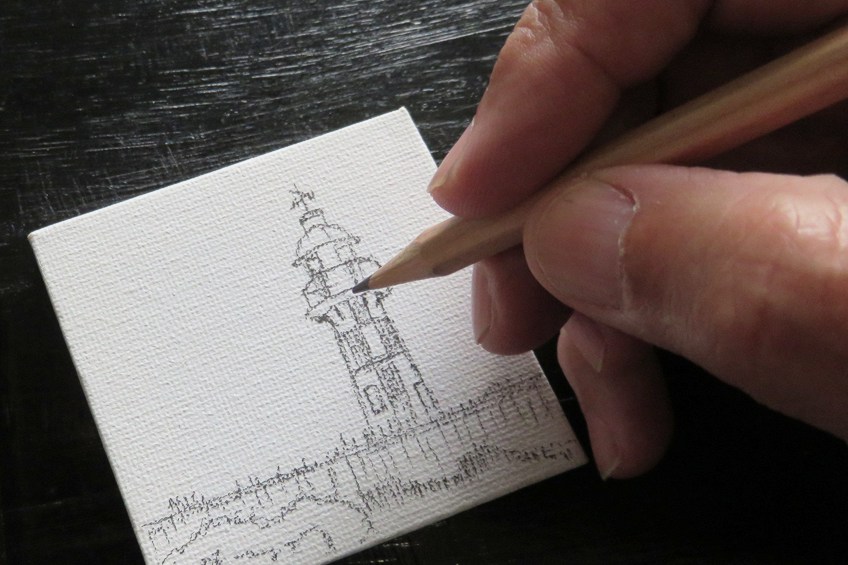 Medium Canvas Sizes
Medium-sized canvases come in more sizes than small ones do, namely:
8 x 10 inches (20.32 x 25.4 centimeters)
9 x 12 inches (22.86 x 30.48 centimeters)
11 x 14 inches (27.94 x 35.56 centimeters)
12 x 12 inches (30.48 x 30.48 centimeters)
12 x 16 inches (30.48 x 40.64 centimeters)
You will note while most of these canvases are rectangles, there is also a square canvas measuring 12 x 12 inches (30.48 x 30.48 centimeters), which is considered to be medium-sized. On a gallery wall composed of differing sizes of rectangular canvases, a square canvas can bring an extra dimension to the arrangement.
Most painters who are just starting out find that medium-sized canvases suit them best to begin with. There is obviously more space to work on than on small canvases but at the same time not too much space to be intimidating.
There is also room for you to experiment with various sizes of brushes and painting techniques without feeling cramped.
Large Canvas Sizes
Large-format paintings on the biggest canvases available are the showstoppers of the room, creating a focal point and demanding immediate attention. They are most commonly used for landscapes or seascapes and, when mounted on the wall, have no other pictures around them to detract from them. These are the measurements of the most common large canvas sizes:
18 x 24 inches (45.72 x 60.96 centimeters)
20 x 24 inches (50.8 x 60.96 centimeters)
24 x 36 inches (60.96 x 91.44 centimeters)
30 x 40 inches (76.2 x 101.6 centimeters)
36 x 48 inches (91.44 x 121.92 centimeters)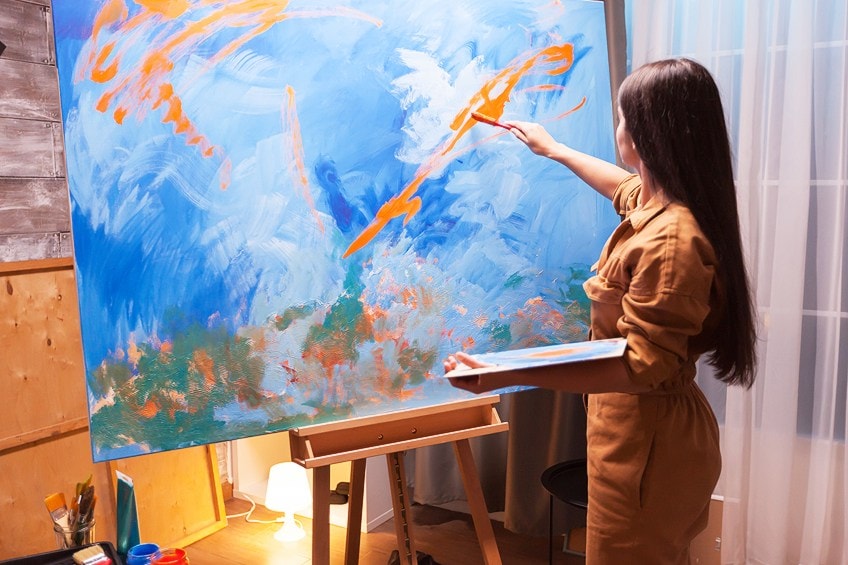 Other Canvas Shapes and Sizes
Canvases are available in other shapes and sizes besides the common ones mentioned above, although they are not as popular. That said, you may have a specific painting in mind that would only suit an unusual shape or size, so it would be worth your while to take note of them.
Mini Canvases
Mini canvases are usually only used by artists who paint in miniature, or whose painting dimensions are extremely small. A canvas that is smaller than 4 x 6 inches (10.16 x 15.24 centimeters) is considered to be a mini. Square mini canvases are also available, usually measuring 2 x 2 inches (5.08 x 5.08 centimeters) and 3 x 3 inches (7.62 x 7.62 centimeters).
Square Canvases
Square canvases are popular for displaying a series of pictures of the same or similar topic side by side. A good example is the famous Shot Marilyns by Andy Warhol, four square canvases hung in a square, each featuring a picture of Marylin Monroe in varying colors. Those particular canvases were very large, each measuring 40 x 40 inches (101.6 x 101.6 centimeters), and although you could probably find canvases this size nowadays, the more common square sizes are much smaller, namely:
Mini canvases
8 x 8 inches (20.32 x 20.32 centimeters)
10 x 10 inches (25.4 x 25.4 centimeters)
12 x 12 inches (30.48 x 30.48 centimeters)
20 x 20 inches (50.8 x 50.8 centimeters)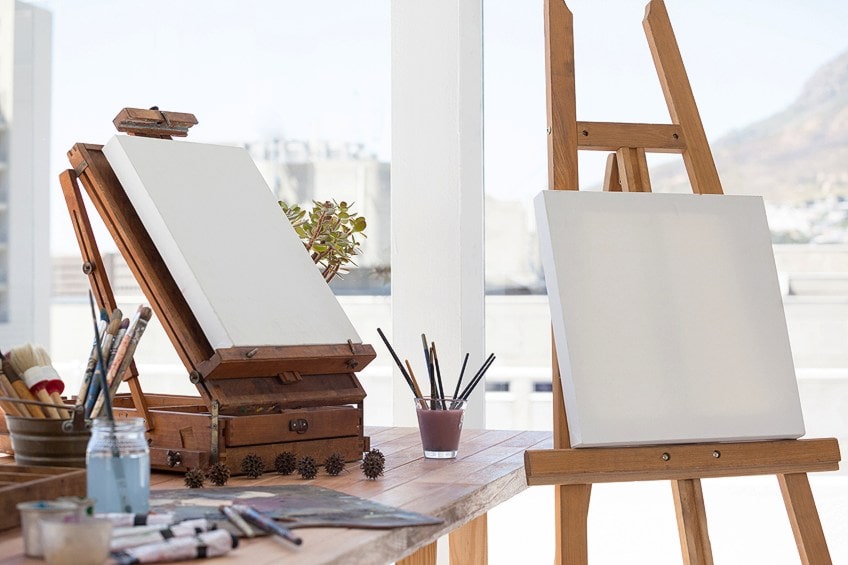 Oblong Canvases
Oblong canvases are similar to rectangle canvases but are usually a lot longer and more slender. They are designed to be mounted either horizontally or vertically, usually as diptychs or triptychs. They vary in size, with some as small as 3 x 6 inches (7.62 x 15.24 centimeters) and as large as 12 x 36 inches (30.48 x 91.44 centimeters).
Custom Sized Canvases
You may have an art project that requires a canvas that is bigger than the biggest of the standard sizes, in which case you would either purchase one or stretch it yourself to the size and shape you need. Bear in mind that they will be more expensive than the standard-sized canvases, and also quite costly to frame.
Choosing the Right Canvas for Your Space
We have explored the most common sizes of canvases available, and you will agree that there are many to choose from. We also suggested that once you know which room your artwork will be going into, you will be able to choose the right canvas for the room. Of course, the canvas you choose will also depend on your painting dimensions, but even so, choosing the right canvas is a lot easier than you might think.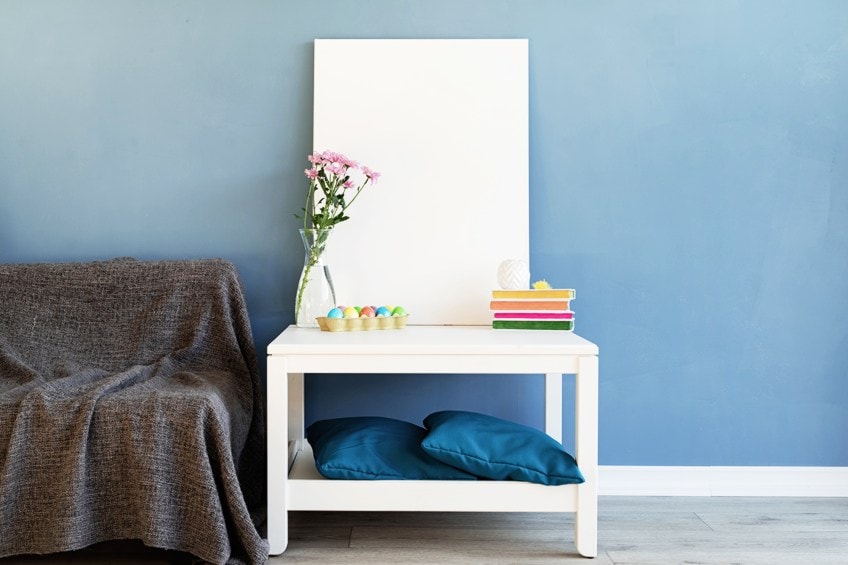 Small and Mini Canvases
It goes without saying that you would not hang a small or mini canvas on its own, and certainly not in bigger rooms like the living room and bedrooms. Small canvases come into their own when they are arranged in a group, for example, around a mirror in the entrance hall or above the desk in a home office. They also look great as a focal point above bookshelves. Some people like to hang them in kitchens, often around the coffee station, or in bathrooms around the mirrors above the sink.
Ideally, what you want to achieve is an arrangement of small and mini canvases that, together, look like a much larger artwork.
Medium and Square Canvases
If you want to create a photo collage on a single canvas rather than several small ones, square canvas sizes are ideal for this purpose. And being a uniform size makes it much easier for you to fit in all your photographs without necessarily cropping them to fit into odd-shaped spaces.
Medium-sized canvases work well for larger pictures even if you do not have a lot of wall space. And if you live in a relatively small house with a staircase, you could create a gallery wall of medium, square, and small canvases going up the wall above the staircase.
This is an excellent way of turning an otherwise difficult-shaped space into an eye-catching and interesting focal point.
Medium canvases also work well in the living and dining rooms of small apartments, as well as home offices and guest rooms, because they will not crowd the walls and make the rooms feel claustrophobic. You could also hang them in the bathroom above the tub if you have a blank wall rather than a window.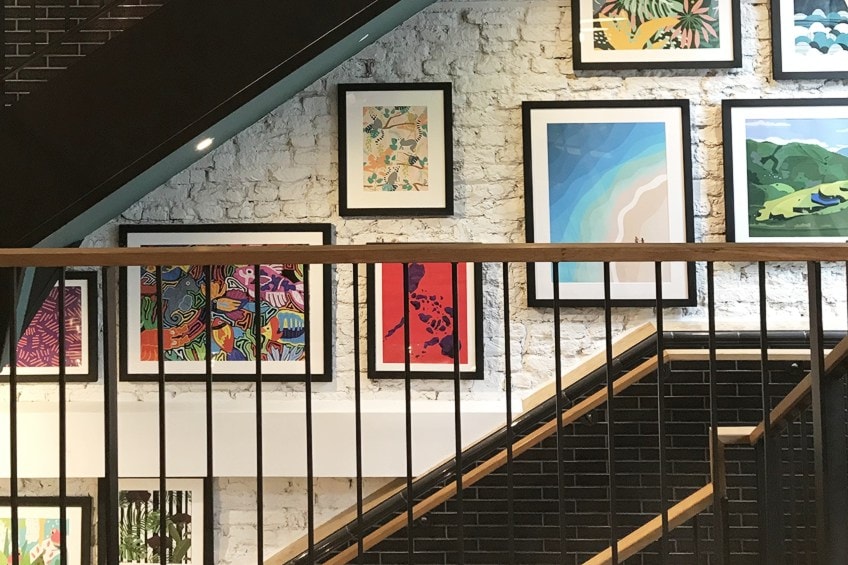 Large Canvases
While it is not entirely accurate to say that only those with large houses are able to hang big paintings or photographs, the typical large canvas sizes are far better suited for big walls on which they can hang in solitary splendor. Think of these artworks as the room's centerpiece, and hang them with their own lights above them to create the feel of a professional art gallery. An artwork this size will be part and parcel of the room's decor, particularly if your furniture is arranged around it, rather than around the television set. That said, large pictures also work well in more formal dining rooms and will often pull the room together.
Of course, there is nothing preventing you from hanging outsized canvases in your bedroom or the family's den, two rooms which, due to their functions, tend to be big rooms, certainly in larger houses.
What Is the Best Canvas Material For Painting?
We've talked at length about the typical canvas sizes and where they fit best in the house, but what about the best canvas material for artists to use for painting? No matter how magnificent a painting might be, it will be badly spoiled, if not ruined, if it has been painted on a canvas made of inferior material. Whether you are an artist who is just starting out or a consummate professional, you will want to have the best canvas to work on. Let us take a look at the options.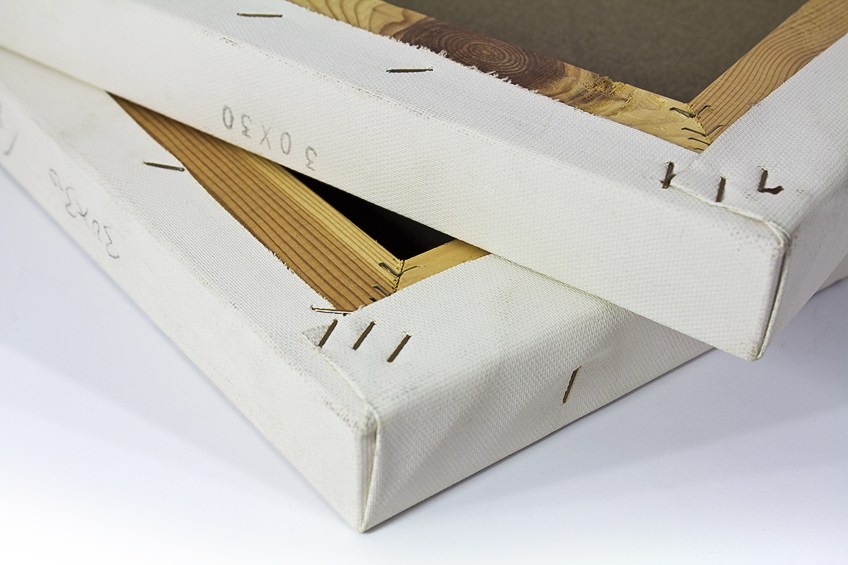 Canvas Materials
Canvases are made from linen, cotton, and synthetic fiber, the most popular amongst artists being linen and cotton. That is because they are suitable for any painting medium, be it oils, acrylics, or pastels. Cotton, also known as duck cotton canvas, is the most affordable of the three. It is available in various weaves and weights, as well as different types of surfaces, from a rough weave to an extremely fine surface. They are all able to handle detailed paintings with small brush strokes, as well as large and sweeping strokes that are often found in abstract paintings.
Linen is not as stretchy as cotton but is stronger and more stable. It is also of superior quality to duck cotton and synthetic fiber and therefore more expensive.
Canvas Structures
Based on your particular requirements, you can choose anything from rolls of canvas to canvas that has been stretched on a frame or attached to a panel. Many artists choose canvases on frames because they are easy to work with and ready to be hung once the painting is finished and dried. The downside is that you cannot change the shape of the canvas or the size of the frame. For this reason, professional artists tend to go for canvas rolls that they can size and shape themselves, depending on the paintings they will be doing.
In this article, we have presented a detailed overview of the various types of canvas shapes, sizes, and materials so that you, the artist, will be equipped to make an informed decision about which canvases will suit you best – not just in terms of creating your artwork, but finishing it in such a way that it will appeal to a number of people looking for that ideal painting for their homes. Ultimately, you will be the best judge of what will be most suitable, but at the same time, you should take the time to explore other options available to you by experimenting with different sizes and shapes of the canvas. It can only serve you well in the end.
Frequently Asked Questions
What Are Standard Canvas Sizes?
Canvases are available in small, medium, and large canvases. The small canvases are usually 4 x 8 inches (10.16 x 20.32 centimeters) and 5 x 7 inches (12.7 x 17.78 centimeters). Medium canvases start at 8 x 10 inches (20.32 x 25.2 centimeters) and go up to 12 x 16 inches (30.48 x 40.64 centimeters), which large which is anything from 18 x 24 inches (45.72 x 60.96 centimeters) to 36 x 48 inches (91.44 x 121.92 centimeters).
Are Canvases Only Available in a Square Shape?
No. You can get canvases that are rectangular and oblong too, as well as in unusual shapes like circles and hearts – although those are harder to find. There are also several square canvas sizes available, and if you cannot find one in the size you want there are many art stores that will cut a canvas to size for you.
What Is the Best Type of Canvas to Use?
There is no right or wrong answer because it is entirely up to you and your own personal preference. However, duck cotton canvas, being the most affordable, is the most popular choice, particularly if you are an artist who is just starting out. On the other hand, professional artists tend to go for linen canvases which are more expensive but are just a little bit more luxurious than cotton.
In 2005, Charlene completed her Wellness Diplomas in Therapeutic Aromatherapy and Reflexology from the International School of Reflexology and Meridian Therapy. She worked for a company offering corporate wellness programs for a couple of years, before opening up her own therapy practice. It was in 2015 that a friend, who was a digital marketer, asked her to join her company as a content creator, and this is where she found her excitement for writing.
Since joining the content writing world, she has gained a lot of experience over the years writing on a diverse selection of topics, from beauty, health, wellness, travel, and more. Due to various circumstances, she had to close her therapy practice and is now a full-time freelance writer. Being a creative person, she could not pass up the opportunity to contribute to the Art in Context team, where is was in her element, writing about a variety of art and craft topics. Contributing articles for over three years now, her knowledge in this area has grown, and she has gotten to explore her creativity and improve her research and writing skills.
Learn more about the Art in Context Team.